This file part of www.watertownhistory.org website
Miscellaneous set
Watertown Democrat, 03 03 1859
Mr. George L. Field of our city is the authorized agent for the sale of Messrs. Boardman, Gray & Co.'s superior Piano Fortes in Watertown and vicinity.  This firm has been engaged in manufacturing for over twenty years; their practical experience and extensive facilities for carrying on the business, which are unsurpassed, if equaled in America enables them to produce instruments which will bear the severest tests in regard of tone, elegance of style, finish or durability.  During the time they have been manufacturing, their instruments have been steadily advancing in the estimation of the public and have acquired a reputation second to none in the United States.  They have received the warmest commendations of the first [finest] artists, among whom can be named Jenny Lind, Catharine Hayes, Strakosch, Gottschalk, Thalberg and a host of minor musical celebrities.
Mr. Field has been engaged with Messrs. Boardman, Gray & Co. for five years and is thoroughly posted in all the details of the Piano Forte trade, which constitutes him the most reliable agent of this firm in the West.  He will order pianos for all who wish to purchase and guarantees perfect satisfaction in every instance.  We can cheerfully recommend him to all who intend adding this desirable article of furniture to their households.
Watertown Daily Times, 01 09 1959
Groundbreaking ceremonies were held yesterday at St. Paul's Episcopal Church for an addition which will house a church school classroom area of nine class rooms, a boiler room and storage area at a cost of between $30,000 and $35,000.  The classroom area will be modern and up to date for the expanding church school of the parish.  The present church building is 100 years old.  Among those present when the ground was broken were Joseph Wimmer, chairman of the building committee, Gene Chase, senior warden, James Bloor, junior warden and the Rev. Fr. William E. Krueger, rector of St. Paul's.
Watertown Daily Times, 01 05 1984
Carl Hayssen, owner of two Watertown businesses, has sold those concerns to separate owners.  Charles and Elizabeth Anderson, 401 North Washington Street, have purchased Minar Office and School Supply and Mark Pieper, 1204 Oak Street, and Larry Lebrun, 103 Fairview Street, are the new owners of Minar Business Machines.  Sale of the office supply business, located at 407 East Main Street, was completed Wednesday afternoon.  The Andersons plan to continue the same services at the store and will eventually change the firm's name to Minar Business Services of Watertown.
↓  More on Minar's   ↓
Watertown Daily Times, 08 09 1991
Minar Business Machines Inc. plans to make a small change in location — just two blocks east — but a significant move for its operations.
The business plans to construct a new building on a vacant lot at 108 S. Sixth St., the former location of a used car lot for the A. Kramp Co.  The new building will more than double the space available at the current location at 111 N. Fourth St., going from less than 2,000 square feet to 4,400 square feet.
Larry LeBrun, president of Minar Business Machines, said growth in the sales and service of copying machines led the business to seek more room.  "We've been expanding into the large-size copier machines," he said, noting that 70 percent of the company's business is with sales and service of copiers.  "That's where we're growing."
Watertown Square plans outlined
Watertown Daily Times, 12 31 2008
The Watertown Common Council Tuesday delayed taking action on a developer's agreement for the former Watertown Square property because the documents were presented minutes after the meeting started, but city officials gave an update on the proposed development plans for the approximately 10.5-acre site on the corner of South Church and Bernard streets.
Pick 'n Save on the east side of South Church Street will move to a new 60,000-square-foot building at the Watertown Square parcel, which is owned by E J Plesko & Associates in Madison. Plans also include a 500-square-foot building that will house a Bank of Lake Mills.
The current structures that were the former locations of Mimi's Hallmark and Walgreens will remain on the property and be refurbished.
Completion date and plans to be up and operating are in April of 2010.
Because the Watertown Square parcel is located within a tax incremental financing district, the city will provide E J Plesko & Associates with approximately $3 million if the property reaches a construction value of $16 million. The property is currently assessed at about $3.5 million.
Originally constructed in 1979, the Watertown Square Shopping Center was formerly anchored by a Kohl's Department Store, a Kohl's Food Store and a Walgreens.
Most of the existing complex has been vacant since April of 2002 when the Kohl's Department Store closed and a new location was constructed just south of Interstate 94 on state Highway 26 in Johnson Creek. The Kohl's Food Store has been closed since March of 2001.
Watertown Democrat, 03 03 1859
The undersigned would respectfully announce to the citizens of Watertown that he will be a candidate for the office of City Marshal and that if elected he will endeavor to meet the approval of the public in impartiality and promptness in discharging the duties of his office.
March 2, 1859.    John Staub
City Treasurer
Watertown Democrat, 03 03 1859
To the Citizens of Watertown—I take this method of offering myself as a candidate for the office of City Treasurer and respectfully solicit the suffrages of the people.  If elected it is hardly necessary to say that I shall take the utmost care to discharge every duty with the greatest promptness and integrity.
Watertown, Feb. 24, 1859.    Matthew Norton
City Election
Watertown Democrat, 03 03 1859
To My Fellow Citizens—In compliance with the solicitations of my friends and it being in accordance with my own desire, I offer myself to the electors of the City of Watertown as a candidate for the office of Treasurer at the approaching municipal election, and should feel grateful to my fellow citizens should I receive their support.  In early life I was instructed not to ask or accept an office the duties of which I was not competent to discharge and if elected to this I shall cheerfully give my entire attention to the prompt and full discharge of its duties.
Watertown, Feb. 16, 1859.    Henry Graves
↓  More on Election of 1859   ↓
Annual Charter Election of 1859
Watertown Democrat, 03 31 1859
Election Notice.  Notice is hereby given that the Annual Charter Election will be held in the city of Watertown on Tuesday, the fifth day of April next for the following officers, to wit"  Mayor, Police Justice, Treasurer and Marshal, one Alderman, one Assessor, one Railroad Commissioner, and one Constable for each Ward.  The polls will be opened at the following places:  1st Ward, Watertown House; 2nd, Buena Vista House; 3rd, Union House, 4th, Germania House; 5th, at the school house in said Ward; 6th, at the office of Chas. Beckman, 7th, at the school house in said Ward; 8th, at the house of Robert Crangle. – S. Baird, City Clerk.
↓  More on Election of 1859   ↓
Charter Election
Watertown Democrat, 04 07 1859
Our annual Charter Election, for choosing municipal officers, took place.  It was a badly mixed affair—all the political elements having been mingled together in endless confusion, or rather, we might more correctly say, politics had very little to do with the result.  It was a scrub contest from beginning to end, in which persons, not parties, were victors and if it had been conducted on the principles on which certain donkey races are managed in England, how brilliant would have been the victory of those who came out behind, so far did they distance all rivals.  But out of this mess a set of good officers have been selected by the people . . . A more quiet, peaceable and orderly election we have seldom or never witnessed.  There was little or no excitement and noise and we heard nothing like a quarrel occurring through the entire day.
Watertown Democrat, 03 03 1859
First and foremost among the institutions of our city stands the Young Men's Association, which during the past four months, under the energetic direction of its present board of directors, has attained a prominence and is exerting an influence in our community that is worthy of special notice.  It may not be amiss to state a few facts with regard to the progress and present standing of the Association of which many of our citizens are doubtless not aware.
The Reading Room is now opened daily between the hours of 6 1/2 and 9 1/2 o'clock p.m. and is supplied with ten newspapers, comprising daily, semi-weekly and weekly issues of standard papers from the principal cities of the Union, also with eight periodicals, among which will be found the North American Review, London Quarterly, Edinburgh and Westminster Reviews and Blackwood's Magazine.
The number of books in the library has been trebled since the annual election, by valuable donations and by the purchase of standard historical works and writings of eminent men.  In this late addition may be found Bancroft's United States, Prescott's Philip II, Macaulay's History of England and Miscellanies, Motley's Dutch Republic, Their's French Revolution, Dick's, Webster's and Clay's works, Autocrat of the Breakfast Table, and many others of equal worth.
The number of paying members has been nearly doubled since September last, which at the present time, including honorary members, number eighty-one members.  We are informed that in order to accommodate the wants of the members the capacity of the room is to be doubled by the addition of the room adjoining the present reading room by means of folding doors.  The new room will be devoted to the purposes of a Library and Directors Room . . .
↓  More on Young Men's Association   ↓
Watertown Democrat, 03 24 1859
There was a large attendance of ladies and gentlemen last Monday evening at the first debate of the Young Men's Association in their new rooms.  This society now has over 100 members and is in the most flourishing condition.  Every young man especially should belong to it and take an active part in its interesting proceedings.
↓  More on Young Men's Association   ↓
Watertown Gazette, 05 05 1859
. . .  Since the organization of the "Debating Department" of the association the list of its members has nearly doubled and it is now in a very prosperous and healthy condition.  Its library has been greatly enlarged and it has, in all probability, become one of the prominent and useful institutions of the city.
Watertown Daily Times, 01 16 1959
Watertown's observation tower, used as the headquarters for the Watertown unit of the Ground Observer Corps, will be kept intact for the present despite the fact that the Ground Observer Corps, on a national basis, is to disband on Jan. 31.  Announcement that the ground observers would be inactivated was made out of Washington several months ago.
F. P. Brook & Co
Watertown Democrat, 03 03 1859
Have fitted up in good style the store on the south side of Main Street bridge, formerly occupied by Maes & Roper, and are keeping on hand a complete assortment of candies, nuts, green and dried fruits, pickles, preserves, oysters, sardines, lobsters, bird seed, raisin, citron and, in short, everything belonging to the confectionary and fruit line.  We have a most complete assortment of fancy soaps, hair oil, pomades [a perfumed ointment, especially one used to groom the hair], colognes, perfumery and flavoring extracts which we will sell cheaper than anybody else in the city.  Ice cream and soda water always ready.   F. P. Brook & Co.
↓  More on Brook & Company   ↓
Watertown Democrat, 03 10 1859
F. P. Brooke & Co. have now about as large and fine a stock of apples, oranges, lemons, coconuts, oysters, maple sugar and most everything else the markets can afford that we have ever seen at that well filled establishment.  "Peter" believes in and practices the principle of ready pay, small profits and the best articles it is possible to find for his customers.  Better fruit than he now has we have seldom seen for sale in this city.
↓  More on Brook & Company   ↓
Watertown Democrat, 03 17 1859
Watertown Oyster Depot.  F. P. Brook & Co.'s confectionary fruit, cigar and tobacco store, on Main Street bridge, where they are prepared to furnish their old customers and all new ones with any amount of shell, can and keg oysters, which they receive daily and warrant fresh.  Oysters, sardines, etc., served up at all hours in the best style at their eating rooms. 
↓  More on Brook & Company   ↓
Watertown Gazette, 05 12 1859
Ever mindful of the wants of the public and determined to supply the visitors at his saloon with all things appropriate to the season, E. P. Brooks & Co. have fitted up and put their Soda Fountain in operation and now draw from it a most delightful and gently exhilarating beverage.  They have all kinds of syrup—sarsaparilla, lemon, strawberry, raspberry, etc—which they know how to mingle in the right proportions to give the most agreeable taste and flavor.  Peter says he is bound this year to be the first in the market with all the welcome luxuries of spring and summer—to have the best and cheapest on hand at all times, and he will do it.
↓  More on Brook & Company   ↓
Watertown Gazette, 05 19 1859
We predicted last week that Peter Brooks was wide awake for the first fruits of the blooming spring time.  Last Tuesday he received an invoice of strawberries, peas and cucumbers and threatens to follow these fine things up with the best that money, the weather, the soil, the sunshine, the rain, and the express can bring from the southern lands, until our own gardens furnish a supply.  If Peter will remember us, we will remember him.
Watertown Democrat, 03 03 1859
H. & F. Gilman keep the best of imported wines and liquors at their splendid restaurant and billiard rooms on Main Street, Stimpson's block.  Where meals are served up at all hours.  Fresh oysters received daily.  Free lunch daily at 10 a.m.
Watertown Democrat, 03 03 1859
Ten acres of land with a large and commodious brick house, a new horse barn, young orchard with all the conveniences usually about a comfortable and pleasant dwelling, situated one mile from the Bank of Watertown and Planter's Hotel.  The above property is in good order and pleasantly situated, having a good view of Rock River.  I will sell cheap, as I bought cheap.  If not sold by the first of May, will rent.  Terms of payment will be made to suit the party purchasing.
H. W. Blanchard
Lumber!  Lumber!
Watertown Democrat, 03 03 1859
I am manufacturing all kinds of lumber from timber usually found in the valley of Rock River and vicinity of Watertown, which I propose to sell cheap to suit the times.  Those intending to build the coming season would do well to call at my mills in this city as I can cut bills[?] of timber from 20 to 30 feet long with my new circular mill.  I have an open buggy, mostly new, that I will exchange for saw logs of any description or will exchange for oxen or horses.  H. W. Blanchard
Watertown Democrat, 03 03 1859
PIKE PEAK'S WAGON for sale.  The subscriber has a number of first rate lumber wagons, new and all ready for use, which he will dispose of on favorable terms.  Those in want of a good wagon will do well to call and examine them.  Call at the hardware store.   S. P. Day
S. P. Day  / Number 30 Main St.
Watertown Republican, 10 05 1860
All kinds of hardware, iron, steel and nails, tin ware, glass and sash, farming tools, blacksmiths tools, genuine Morgan grain cradles, carriage trimmings, plows of our own manufacture, or Goodnow & Snow's patent.  Lumber wagons constantly on hand and warranted.  Coal, box and parlor stoves.  Cash, and the highest price paid for rags and old copper.  And we purchase for cash only and intend to sell all our articles at the lowest prices.
S. P. Day, Watertown.
Watertown Democrat, 03 10 1859
The next spring election will be fully as important as any ordinary fall election.  An Associate Justice of the Supreme Court and a Judge of the Circuit Court of this District are to be chosen in addition to the usual number of municipal officers.  For the offices of City Treasurer, Police Justice, City Marshal, and Aldermen of the different wards there is not likely to be any scarcity of candidates from which to make good selections . . . It does not seem as if either the Democrats or Republicans intended to make party nominations and put forward regular tickets, as no conventions have as yet been called, though there is time enough for that yet.
The only citizen we have heard named in connection with the office of Mayor is Mr. F. E. Shandrew, a gentleman admirably qualified for the position and [who] would discharge its duties with the promptness and intelligence that would reflect credit alike on himself and the community whose official head he would then be.  Mr. Shandrew is well known as one of our most enterprising and energetic business men, well acquainted with the wants and interests of the city, sufficiently familiar with Parliamentary rules to make a capital presiding officer, and would take a pride and pleasure in promoting the welfare of the city, with the prosperity of which his own is permanently identified.  Though he is not among our very oldest residents he has been here long enough to become familiar with the past history, present condition and future needs of the place and would make such a Mayor as would win the confidence and respect of all with whom he might be brought in official contact, whether fellow-townsmen or strangers.  Of course we do not mean to intimate that he is the only gentleman who would make such a Mayor as we all would like to see occupying that purely honorary but not irresponsible position, for that would be neither true nor candid, but he is one of them, and if no more preferable candidate appears we certainly shall not regret his election.
↓  More on F. E. Shandrew   ↓
Watertown Democrat, 04 14 1859
One year of success has crowned our efforts in building THRESHING MACHINES that have proved in every respect equal to any other machine manufactured.  And having made decided improvements during the past winter we shall be able by the first of June next to offer to farmers as good an eight horse power machine as any other manufactured in the state.  One great consideration in purchasing a Threshing Machine is to get it as near home as possible, in order to save a large amount of time and money in having it repaired whenever necessary.  We hold ourselves in readiness to do all repairs on the shortest notice and on the most reasonable terms.  We are also prepared to do all kinds of mill jobs or any other business pertaining to a foundry and machine shop.  F. E. Shandrew & Co., Watertown
Watertown Democrat, 03 10 1859
To the Editor of the Watertown Democrat: 
Dear Sir—An anonymous writer in your paper of this day assumes that I wrote the article which appeared in the Transcript of 23d ult., on the subject of Police Jurisdiction by T. M. Knox, Esq.  I would say in replay that I neither wrote the article referred to nor had I any knowledge of it whatever, until I saw it in print.  I have been acquainted with Col. Cullaton some years as an editor and so have you and I think that you will agree with me in the remark that he is capable to writing his own editorials.
I would say in this connection, for the information of your correspondent, and for that of others who may be interested, that I have had nothing whatever to do, either directly or indirectly, with any of the articles which have appeared in our city papers for a year past, relative to the office of Police Justice, or my jurisdiction as such Justice.  These articles have all been written and published unsolicited by and unknown to me.  Allow me, therefore, to express the hope that your correspondent, before again charging me with having called in question through the public press, the right of Mr. Knox to act in criminal causes arising within our city, may find something more tangible than the vagaries of his own imagination upon which to base his charges.  
J. A. Hadley
Live Yankee
Watertown Democrat, 03 10 1859
Under this head the last Oconomowoc Free Press contains the following allusion to an individual whose operations in this city have given an odor of rascality to his name.  If he ever gets justice done him it will not be as difficult to find his whereabouts as it now seems to be:  "Mr. Frederick P. Bement alias the "Live Yankee," alias the "Honest Man," the individual who left these parts last September very suddenly, on suspicion that some other place would answer for him just as well, is informed that if he will call upon the German hired girl who lived with him last summer he will find something belonging to him which his creditors have not levied upon."
River Ice-Free
Watertown Democrat, 03 10 1859
The river is entirely free from ice and the ground from frost.  It is not often that these two things happen so early as this in the month of March.  The roads are all broken up and traveling is about as difficult as it can be.  A few more days of favorable weather will change all this.
Watertown Democrat, 03 24 1859
The going, which has been horrible during the past ten days, is getting better.  The ground is settling and work in field and garden will soon commence in earnest.  The evidence of reviving life begins to appear.  The buds are swelling and in spots the meadows have quite a green look.  An early, and we hope, a fine season is opening upon us.  What a happy revolution in the conditions of the people of the west ample crops and good prices would make!  The shadows of care would quickly vanish from thousands of clouded brows.
The Duty of Owning Books
Watertown Democrat, 03 10 1859
. . . Men are not accustomed to buy books unless they want them.  If, on visiting the dwelling of a man of slender means, I find the reason why he has cheap carpets and very plain furniture to be that he may purchase books, he rises at once in my esteem.  Books are not made for furniture but there is nothing else that so beautifully furnishes a house.  The plainest row of books that cloth or paper ever covered is more significant of refinement than the most elaborately carved etagere [piece of furniture with open shelves for displaying small ornaments] or sideboard. 
Give me a house furnished with books rather than furniture!  Both, if you can, but books at any rate!  To spend several days in a friend's house and hunger for something to read, while you are treading on costly carpets, sitting upon luxurious chairs and sleeping upon down, is as if one were bribing your body for the sake of cheating your mind.
– Henry Ward Beecher
Avocation of Farmer
No avocation in life is more respectable and useful than that of the farmer.  The time has gone by when "contempt is cast upon the husbandman."  Agriculture, as a science, is becoming more important, and more honorable.  It is the noblest, for it is "the natural employment of man."  The intelligent and independent farmer is ever respected; he holds an important and responsible place in society.  Upon him devolve many duties; upon him rest many obligations. In him we look for examples in patriotism, virtue and intelligence.  Living, not in the "hum of human cities," where he would be continually in the whirlpool of political and other excitement, he can examine questions of a moral, religious and political nature, with a cool head, a calm mind, and an unbiased judgment.  To him we look for correct opinion, and in him we should ever find a safe counselor and a correct adviser.  Our farmers should cultivate their minds and their hearts, as well as their fields.  Agriculture is a science that requires experience and study.  Men must be educated to be farmers, as well as to be lawyers or doctors.  And there are thousands of young men who are in stores and offices who should go into agricultural pursuits.  It would be better for them, better for the country.  And who would not rather be an independent farmer, than a small shopkeeper, or a fourth rate lawyer or doctor?  Let young men seek for land, rather than for situations. 
-- From the Genesec Farmer.
Watertown Democrat, 03 17 1859
The Annual Festival in celebration of the birth of Ireland's Patron Saint will be held at the American House, to which is extended to all who like to mingle in the social dance an invitation to be present.  Nothing will be wanting to render the occasion delightful and pleasant.
[Advertisement]  The Annual Festival in Celebration of the Birth of Ireland's Patron Saint will be held at the American House, Thursday evening, March 17th, 1859, to which yourself and lady are respectfully invited.  Managers:  Thomas Moore, Ernest Grossman, Edward Johnson, E. Sweeney, B. O'Bryne, Henry Bertram, Robert Crandall, John Staub, D. S. Chadwick, Harris Gilman.  Floor managers:  S. W. Barnes, Francis Smith, Thomas W. Smith.  Tickets, one dollar.  Peter Rogan, Proprietor.
Watertown Democrat, 03 17 1859
A writer in the Madison Journal is furnishing that paper with a series of sketches in which an attempt is made to describe the appearance and characteristics of the members of the present Legislature.  Some of the delineations are correct while others are mere caricatures and intended to cast reproach on a political opponent who has been found too bold, honest and straightforward to suit the thick and thin organ of the Republicans at the capital.  The following is the style in which the Assemblyman from this city is drawn and while we insert it so that his constituents can see the favorable impression which his care and vigilance has made at Madison, we will take this occasion to thank MR. COLE for his kind remembrance of us in the transmission of valuable public documents, particularly the able and elaborate report of the State Superintendent of Public Instruction:  "By the side of Mr. Lyon sits the Republican representative from Watertown, a city hitherto not much given to selecting such representatives—Luther A. Cole.  He, too, is a Vermonter, and built up to a height of something more than six feet—broad shouldered, strong limbed, erect—a fine specimen of the physical man.  Face full, with a healthy glow on it, eyes dark, and somewhat gray.  I have called him plain Luther A. Cole, but I should have said Gen. Luther A. Cole, he being a live Brigadier General at this time.  He is a miller, and forty-six years of age—a man of kindly nature, popular with his associates and a faithful and watchful representative.  If he goes to Pike's Peak the State will lose one of her most worthy citizens."
Pike's Peak Emigration
Watertown Democrat, 02 02 1860
Emigration to the auriferous region of Pike's Peak and the Rocky Mountains has already commenced.  By March next, or sooner perhaps, the grand Hegira [the flight of Muhammad from Mecca to Medina in 622] from the eastern states will be fairly inaugurated.  The St. Joseph Gazette of the 19th inst., announces the arrival in that city of one hundred and twenty gold seekers from Ohio on their way to the land of golden promise.  The discoverer of the "Gregory" diggings was to have left that city for the mines on Thursday last.
One or more have left Watertown within the past week, and we know of many who talk of starting with the first opening of spring.  The amount of the immigration the approaching season, while much larger, will also be better organized than heretofore and emigrants taught by the sufferings of the foolish ones of last summer, who went out unprepared with even the necessaries of life to pursue their long and unknown journey will not be so unwise as to go unless fully equipped with all the means essential to their protection, preservation and sustenance after arriving at their place of destination.
Watertown Democrat, 03 17 1859
The German Lutheran Congregation has completed their arrangements for building a school house of the dimensions of 28 by 45 feet.  In this school the German and the English languages will both be taught, according to the wishes of the pupils.  Great credit is due to the Rev. Mr. Sans for his efforts in this enterprise.
Watertown Democrat, 03 17 1859
A few thousand fine, thrifty, grafted apple trees for sale at very reduced prices.  The trees are four years old and grown upon the summit of the hill near the residence of J. A. Hall of this city, which will make them hardy and healthy trees.  For further particulars inquire of the undersigned.  Heber Smith.  [Location is in vicinity of Fairview Street]
Watertown Democrat, 03 24 1859
The Dodge County Citizen states that there are now in the Poor House of Dodge County 58 paupers, which is 8 less than there were a few months ago.  The number of those who have received assistance to a greater or less extent from the county during the past winter is not far from 300.  Most of these are of foreign extraction and came into the county when railroad work was progressing.  Considering that the population of the county is over 35,000, the number is not large.
Watertown Democrat, 03 24 1859
New Depot.  The Milwaukee, Watertown and Baraboo Valley Railroad Company are building a very handsome depot building at Ixonia Station.  The line of this road is now in an excellent running order and a good business is done on it.  Everything is in readiness for the spring trade.
↓  More on Milwaukee, Watertown and Baraboo Valley Railroad   ↓
Watertown Gazette, 05 12 1859
A new car building has recently been put up by the Milwaukee, Watertown & Baraboo Railroad Company, in this city, on the West side of the river.  It is nearly a hundred feet in length and is intended to shelter passenger cars.
↓  More on Milwaukee, Watertown and Baraboo Valley Railroad   ↓
Watertown Gazette, 05 19 1859
Milwaukee, Watertown & Baraboo Valley Railroad.  On and after Monday, April 4, and until further notice, a passenger train will leave Milwaukee from the Depot, foot of Second Street, for Pewaukee, Hartland, Pine Lake, Oconomowoc, Watertown, Lowell and Columbus.  Passengers arriving at Milwaukee by the Milwaukee & Chicago R.R., La Crosse & Milwaukee R.R., Milwaukee & Mississippi R.R., or by boat can proceed to the above places. 
Connections are made at Watertown with stages for Lake Mills, Jefferson, Waterloo, Hanchetville, Sun Prairie, Cottage Grove and Madison.  Also at Columbus for Lodi, Merrimac, Otsego, Fall River, Leeds Corner, Hampden, Lowville, Dekora, York, Alington, Bristol and for all points to the West and North West.
↓  More on name Ixonia   ↓
Watertown Republican, 11 29 1890
We have often speculated as to the origin of the name of one of the best towns in this county.  Riding on the cars the other day in company with Gov. Ludington we passed Ixonia station and the Governor gave us the following account of how the town came to bear the singular name:  In Nov. 1838 a party of pioneers composed of Harrison and Lewis Ludington, Harvey Burchard and John Hustis came to Watertown in a heavy snowstorm and stopped with James Rogan.  In the course of the evening conversation turned upon the names of the various towns, and it was proposed on slips of paper and put into a hat and each member of the party drew a slip; when put together in the order drawn, the town I-X-O-N-I-A was spelled out and that town has borne the name ever since.--Ft. Atkinson Union.
Watertown Democrat, 03 24 1859
I take this method of offering myself as a candidate for the office of City Marshal.  Should I be elected I will devote my time and attention to the discharge of the duties of the office, such as I hope will meet the approval of the public.  In soliciting the office from you I am not actuated by motives of gain or profit but from the desire to share in the administration of the affairs of the city.   Martin Curley.
City Marshal
Watertown Democrat, 03 24 1859
The undersigned proposes to be a candidate for the office of City Marshal at the Spring Election.  He has been Constable and Deputy Marshal of the city and flatters himself that his experience in this business is such as will enable him to discharge the duties of the office to the satisfaction of the public.  If elected he will give his entire time and attention to it.  R. Th. Fox.
Watertown Democrat, 03 17 1859
Let the game birds alone.  A few days since, a couple of lads from Ixonia offered a lot of partridge taken out of time for sale in this city.  They were arrested and brought before Justice Ducasse, who promptly inflicted the penalty imposed for the violation of law in such case made and provided.  They were fined and obliged to pay or go to Jefferson.  This was right.  A few more such salutary warnings will do much to prevent the wanton destruction of those birds which are such a nice dainty in their season.  We are told that partridges, quails and prairie chickens are very plenty in our meadows and groves and if let alone will afford sportsmen fine sport next fall.  In the older States laws have been enacted protecting all the common birds that enliven the fields in summer.  It should be so here.
Watertown Democrat, 03 24 1859
Dealers in wines, liquors, cigars and best rectified whiskey.  Stop on West Main Street, 5th ward, opposite Mr. Dennis' residence.
↓  More on Jacob Bauman & Co  ↓
Watertown Democrat, 01 19 1860
Jacob Bauman & Co., dealers in wines, liquors, cigars and best rectified whiskey, would respectfully announce to their friends in Watertown and vicinity and the public generally that they have opened an extensive stock of all kinds of pure wines, liquors and cigars and they will sell cheaper than any other establishment of that kind in the city.  Store on West Main Street, 5th Ward, opposite Mr. Dennis' residence.
Watertown Democrat, 03 24 1859
It is much to be regretted that the first settlers of this finely wooded country did not take more pains to preserve, in their proper places, suitable shade trees of that commanding size and beauty, which cannot now be procured, save at great expense and difficulty.  Yet is was hardly to be expected that the sturdy pioneers, who looked upon the thick standing forest as an enemy to be subdued, would be inclined to show much mercy to the scattering survivors, who could be saved from the fire, their serviceable yet vindictive ally, only by the exertion of clemency for which they had neither taste nor inclination.  When from any cause such trees have been spared, what a glory to the landscape they are.  We can look now upon the giant elm—its buds just redding in the spring sunshine—which makes picturesque and redeems from utter homeliness the scene beneath.  Its pendent branches through the summer, spread the idea of shade and beauty over the meadow, with a grace and power which no other means could so well accomplish.
One cannot imagine a more lonely and un-home-like looking object than a dwelling house situated on a lone plain without the protection and embellishment of trees. Let its architectural pretensions be what they may, it can never seem the prized home of cultivated, tasteful people, until adorned with appropriate trees and shrubbery.
Watertown Gazette, 03 05 1909
Just before going to press a rumor has reached the editor that Chas. MacKay, who has given his best years and spent his own money as Supt. in the interest of the Gas Co. in this city, has been told by Manager Comstock that his services are no longer needed.  Mr. MacKay is one of Watertown's most prominent and esteemed citizens and taxpayers, and we hope the rumor is not true.  It has raised a "brainstorm" in the city, and the probabilities are that a public meeting will be called remonstrating against Mr. MacKay's discharge.  He knows the gas business from A to Z and all gas users in the city have always held him in high esteem.  They want him retained in his present position at all hazards because of his truthfulness and reliability on all occasions.
↓  More on Charles MacKay   ↓
Watertown Gazette, 03 26 1909
Charles MacKay, the efficient ex-superintendent of the Watertown Gas Co. in this city for over 20 years, is being pushed by his friends for alderman of the First ward and his nomination papers are now being circulated.  Mr. MacKay would make an excellent alderman and his many friends in the First ward say they are going to elect him.  Alderman MacKay would sound well.
↓  More on Charles MacKay   ↓
Petition Nearly a Block Long
Watertown Gazette, 04 02 1909
A petition nearly a block long has been signed by our citizens, and addressed to John I. Beggs, asking for the reinstatement of Chas. MacCay as superintendent of the Watertown Gas Co., and everyone who has signed it, on being asked to place his signature to it, said:  "You bet your life we'll sign, we want Charley back in his old position."
Lenten Sermon
Watertown Gazette, 03 05 1909
Rev. Dr. O'Hearn of St. Francis Seminary, Milwaukee, will preach the Lenten sermon every Tuesday evening at St. Bernard's Church services in this city.  He is an eloquent speaker and St. Bernard's should be crowded every Tuesday evening to hear him.  People of other denominations are cordially invited to be present.  Father O'Hearn delivered his first sermon Tuesday evening and a large congregation was present to hear him.  His remarks were very edifying and instructive.
En-route Chicago-Portland Special
Watertown Gazette, 03 05 1909
Joseph E. Davies has been on a business visit "out west" for the past two weeks.  He writes to the editor "en route Chicago-Portland Special" under date of February 22d:  "For the last ten days I have been in Salt Lake on legal business, and am now en route to Tacoma and Portland with my client.  It is a long way from home and rather tiresome; although the country is highly interesting.  What a wonderful country it is!  And what tremendous possibilities it contains!"
Watertown Daily Times, 10 09 1982
In order to provide badly needed additional space, the Daily Times will utilize the vacant building it owns immediately to the west.  The business office will be expanded by taking over the first floor, and larger quarters for the news room will be made possible by occupying the second floor of the adjacent building.  The news department is now located on the front portion of the second floor of the existing building.  The project will include some remodeling work in the building the Times now occupies.  A new front, to match the front of the existing building, is included in the project.
Watertown Gazette, 03 05 1909
The Watertown baseball team has been admitted into the Milwaukee City League and, judging from the make up of the 1909 team, the Watertown club will give a good account of itself, and the people of this city will give it every encouragement.
Watertown Gazette, 03 05 1909
Archie Bros., monument builders of this city, have purchased of Roach & Copeland a Model R Mitchell touring car for $1785 to be used in connection with their business.  Last year they purchased a Rambler of Mr. Roach and have been using it in their business in connection with their Waterloo branch.  Automobiles are growing in favor every day for business purposes, and Roach & Copeland have just what you want at reasonable prices. [The Mitchell Motor Car Co produced automobiles from 1903-1923 and was based in Racine]
Watertown Gazette, 03 05 1909
Notre Dame Scholastic:  High on the walls of the Administration Building of the University of Notre Dame there hangs a painting by an artist whose brilliant prospects an early and tragic death cut short—a painting that found its inspiration in the rare combination of courage and piety that is so peculiarly characteristic of the Celt.  It represents the famous Irish Brigade of the Second Army Corps at the commencement of the great battle of Gettysburg.  In the distance is seen the smoke of confederate batteries, all around are evidences of the destructive havoc wrought by the shot and shell of the enemy, while above this great concourse of kneeling soldiery, the red, white and blue of the banner of freedom commingles with the green that, by association, symbolizes an oppressed and long suffering race that are "homeless in the land of their nativity."  Before them on a rock stands a black-robed priest, bearded and haggard, braving the dangers of an exposed position, with his hand extended in benediction over the kneeling group.  The picture is that of the Rev. William Corby, C.S.C., granting the last benediction to the Irish Brigade, just as the battle was beginning.  It is a representation true not only to life but to a historical fact attested by the few—the very few of those then present who survived the war.  [Rev. William Corby, C.S.C was pastor of St. Bernard's 1872-77]
Hanging Game Wardens in Wisconsin
Watertown Gazette, 03 26 1909
The "pediment" illustrating the resources of the state in sculptural form has been received at the capitol and has been placed on a scaffold in the rotunda for exhibition.  This design will be placed in the gable of the new west wing.  The exhibit has attracted general attention and scores of visitors are coming to the rotunda to look at it.  It was related that last night two well known Irishmen were going through the rotunda of the building when the scaffold was being erected.  They fell to discussing what the carpenters were up to.  "Sure they're building a scaffold," remarked one.  "I suppose they are going to hang some game wardens," interspersed the other, looking up the stairs toward the assembly chamber but in the direction of the senatorial investigating committee.  Mindful that St. Patrick's day was near, the first Irishman started down the corridor singing "The Wearing of the Green."
Possible law that ticked off the Irishman
Watertown Gazette, 10 09 1907
Under law passed by the last legislature the game wardens are given additional power and under the provisions of said law have the right to make a search and seize property without a warrant.
Not only is this power given to the warden but also to his deputies and the change from the old law may be of interest to the people of this section.  Besides having the power to seize and take possession of any game or fish taken or held in violation of the laws of Wisconsin, such officer may arrest with or without a warrant, anyone whom he believes to have been guilty of violating the fish and game laws of the state.
Conservation Warden
Watertown Daily Times, 10 14 1998
David Walz has been assigned to a permanent post as conservation warden in Watertown and began work the beginning of September.  Walz is one of 16 warden recruits who graduated in April from an intensive, 14-week specialized DNR program to become a field warden and uphold the state's natural resources and environmental laws.  Walz worked previously as a conservation officer in South Dakota for the Department of Game, Fish and Parks.
St. Patrick's Day in Watertown
Watertown Gazette, 03 19 1909
On Wednesday last, St. Patrick's day in Watertown was appropriately observed by the people of Irish birth and their descendants, and in fact people of all nationalities took a more than ordinary interest in the day this year, and the shamrock and green ribbon was noticeable everywhere.
The weather was bright and clear—ideal holiday weather.  High Mass was celebrated at St. Bernard's Church, Father McBride of Oconomowoc preached a very eloquent sermon on the history of Ireland and St. Patrick.  From 5 o'clock till after 8 o'clock p.m. the married ladies of St. Bernard's served an oyster supper at Masonic hall, which was largely attended, over $80 being realized.  The tables reminded one very forcibly of the day, the green flag of Ireland in miniature and napkins with a shamrock design border being conspicuous in the table settings.  The supper was most excellently served and the ladies in charge certainly are to be complimented on the success of the affair.
Following the supper St. Patrick's Dramatic Club of the Sacred Heart College presented "A Night Off" at Turner opera house.  This is a very interesting high-class drama, full of very interesting situations, pathetic as well as laughable, and the young men all did well.  There was not a hitch or prompt in the whole program, and every one in the large audience was surprised at the excellence of the performance.  We believe it to be the best that has been put on in many years by the students of Sacred Heart.  The leading characters . . .
Watertown Gazette, 03 12 1909
Rural free delivery of mail is now eleven years old.  Uncle Sam has 40,000 carriers on the pay roll.  It may be some satisfaction for those who would like to bust the trusts to know that these large organizations are helping to pay for this luxury of ours.
Watertown Gazette, 03 12 1909
On almost every railroad in the country this old sign occasionally puzzles the traveler who sees it flash past the window, and does not understand its meaning, yet it is very simple, indeed, and the motto might very well be adopted as a daily maxim by a good many of us who are prone to hasty speech.
"Shut your ashpan" signifies that the train is nearing a wooden bridge, and warns the firemen to take precautions against live coals setting it afire.
There are occasions in daily life that very closely compare with the wooden bridge.  Words of almost any kind are sparks to tinder in some situations, and every time that happens the man who keeps silent has all the advantage over the man who is quick with a retort.  It would reduce friction a whole lot and make life a deal happier if the average citizen would learn to recognize danger signals in such instances and practice the railroad advice, "Shut your ashpan."
German Club
Watertown Gazette, 03 12 1909
Last Friday evening the German Club at the High School gave a banquet in the assembly room at the High School in honor of the boys of the junior class who participated in the recent playette given at the High School.
Watertown Gazette, 03 12 1909
Prof. W. P. Roseman is in receipt of a letter from Frank A. Hutchins, secretary of the extension division of the state university which has charge of the tuberculosis exhibit now being shown throughout the state. The letter in part says:
We hope to be able to reach Watertown with the exhibit for a week's stay on Tuesday, March 23, and to remain during the week.  It will be at Janesville, during the preceding week.  This exhibit has had so many accidents and mishaps on rail that I dislike to make too definite promises, but we shall be able to meet this engagement unless we have another railroad wreak or blockade or other serious disaster.
The exhibit shows in graphic and striking forms the great losses resulting from the ravages of tuberculosis, the best preventative measures and the most effective and economical means of cure.  An experienced demonstrator will be in charge of the exhibit to explain the various charts, models of houses, sleeping bags, window tents, photographs, etc.
In Portage, where the original exhibit was shown some time ago, the woman's clubs divided the city into ten districts and two members visited each home to invite the homemakers.  As a result there was a large attendance of those who most needed education in the methods of fighting the white plague.  It is hoped that the trip of the exhibit will lead many communities to organize local associations to cooperate with the Wisconsin Anti Tuberculosis Association in stamping out this terrible disease in our commonwealth.
The exhibit will be shown in the public library where everyone is invited to call and view it.
t     More Tuberculosis Exhibit      t
Tuberculosis Exhibit
Watertown Gazette, 03 26 1909
The exhibit of the Wisconsin Anti-Tuberculosis Association has been placed in the city library and is open to the public every afternoon and evening.  Every afternoon at 4 o'clock and every evening at 8 o'clock the gentleman in charge of the exhibit will give talks on the cause, prevention and cure of tuberculosis.  Saturday at 11 o'clock the demonstrator will talk about this disease in cattle and hogs and its possible eradication.  All farmers and those interested are invited to attend this lecture.  The exhibit will close Saturday at 6 o'clock and everybody ought not fail to attend this rare opportunity.
Watertown Gazette, 03 12 1909
A little over a hundred years ago it took John Adams 54 days to go from London to Amsterdam.  Now he could belt the globe in less time.  When the railroad supplanted the stage coach it made the world smaller.  But when Lyman H. Howe takes a whole audience around the world in a brief two hours as he virtually does via of his Lifeorama at Turner opera house on next Sunday and Monday evenings the world becomes small indeed.
The route of the new program takes the audience to what has been hitherto a more or less forbidden land—Russia.  It reveals the magic capitol—St. Petersburg, the only world metropolis built to order and then inhabited by the Imperial decree.  The whole city is a monument to what was regarded an impossible achievement on an impossible spot.  This wonder city conceived, built, peopled and ruled by one man is impressive.  Moscow, also shown in detail by Mr. Howe, is fascinating because of its massive Kremlin predominating the entire city.  It is the very heart of Russia and the scene of all coronations.  The pictures are unique because both cities are so much unlike each other and still more unlike all other cities.  The street life, dress, vehicles, bridges, buildings—everything—is peculiarly picturesque.  Everywhere in "Holy Moscow" may be seen the domes and crosses of its innumerable churches which remind one that religion with the Russian is an affair of every day, and almost every minute of every hour.
Seat sale opens Friday morning at 10 o'clock.
Terbrueggen Celebrates 70th Birthday
Watertown Gazette, 03 19 1909
Thursday evening of last week a banquet was given at the home of W. D. Sproesser in Clyman Street in honor of the 70th birthday anniversary of Joseph Terbrueggen, in which a number of business men and prominent citizens of this and other cities participated.  Mr. Terbrueggen was the subject of hearty congratulations, and the following named gentlemen sounded his praises in appropriate little speeches:  Circuit Judge George W. Grimm and George Kispert of Jefferson; William Schroeder of Milwaukee, Ulrich Habhegger, Hon. Wm. F. Voss and Dr. C. R. Feld of this city.  Several vocal selections were rendered by a male quartette composed of Edward L. Schempf, Wm. Sproesser, Max Rohr and Julius Wiggenhorn.  Mrs. W. D. Sproesser and her amiable corps of daughters served the banquet in a very creditable manner. 
Mr. Terbrueggan is one of Watertown's most esteemed and enterprising gentlemen and this compliment to him on his 70th birthday anniversary was a worthily bestowed one.  He was born March 11, 1839, in Nordwalde, Germany, and in 1864 he located in Watertown, since which time he has been connected with many of our local enterprises.  For a number of years he was engaged in the wholesale liquor business here with the late W. J. Toussaint, and in 1889 he and his partner, in company with L. H. Cordes, established the Watertown Electric Light plant, which was disposed of three years ago to the John I. Beggs interests.
For 28 years past he has been a member of the brick manufacturing firm of L. H. Cordes & Co., and he was one of the incorporators of the Merchants' National Bank, which was established in 1892, and was its first president.  He resigned the office some years ago and is now the bank's vice-president.  Following is a list of those present at the banquet . . .
Watertown Gazette, 03 19 1909
Peter Connors has sold his old homestead in the town of Emmet, consisting of 140 acres, residence, good farm buildings and also all his personal property to Michael Duffy of this city, consideration $22,000.  Mr. Duffy has already taken possession of the place.  Mr. Connor took in exchange Mr. Duffy's residence at 319 North Montgomery Street, and is now occupying it with his sister.  He also took in exchange the Brown lots in Church Street which Mr. Duffy purchased last fall, on which he will erect two new houses this coming season.
Watertown Gazette, 03 19 1909
The hatchet plays an important part in the care of my poultry.  Table scraps and meat scraps are not plentiful with us, but I save a great deal that many people would waste.  I have a hard wood block upon which I chop and pound bones and all meat and vegetables that I do not cook.  Onions, cabbage, cabbage stalks, beets, potatoes, apples and clover are all made fine so that the poultry will eat them.  Broken dishes, mortar and limestone are made into grit upon a large flat rock.  Gravy dishes and greasy skillets I clean with a little corn meal, before washing them, and I save the meal to help thicken the cooked feed for my chickens.  In this way my hens always have a variety of food and lay well.—["Edna," Whitewater, Wis.]
Improvements at Masonic Temple
Watertown Gazette, 03 19 1909
Masonic Hall is being enlarged by adding a kitchen.  The kitchen will be placed in the basement of the building and also a dining room fitted out adjacent thereto.
Fire Department Elect Officers
Watertown Gazette, 03 19 1909
Last Monday evening the Watertown Fire Department elected the following officers.  John Glaser receiving 53 to 32 votes for chief over George Kunert.  The new chief has been a member of the Phoenix Fire Co. for over 20 years, and has served as chief of the department heretofore.
Chief—John Glaser.
Assistant Chief—A. A. Hardie.
Fire Wardens—First ward, Edwin Kohl; Second and Sixth wards—John A. Gruel; Third and Fourth wards—Chas. E. Kerr ; Fifth ward, Albert Borchardt.
Watertown Gazette, 03 19 1909
Mrs. H. Jaedecke has sold her family goods business at 409 Main Street to Mrs. Lena Neugebauer, who will conduct the business at the old stand.  Mrs. Jaedecke left on Monday for St. Paul, where she will conduct a millinery and fancy goods business.
Watertown Gazette, 03 19 1909
Frank Lothamer, an old Watertown boy, now engaged in the painting and decorating business at 509 Broadway, Milwaukee, writes:
Friend James:  Your posters at hand; also reprints from The Gazette.  I am very glad to think that there is one man in Watertown who occasionally thinks of me.  I also received the pamphlets of Watertown homecoming for which accept my thanks.  I have seen so much written about the old Phoenix Fire Co., but there is never any note of our prize hose team [c.1895].  Do you not remember when we went to Jefferson and won second money, also won first money at Watertown?  Well I happen to have been a member of both teams that ran and I notice that there are quite a few of the boys who are now among the dead.  I cannot at present recall all those who were in the running team, but those who have passed away that I know of are Pat McDonald, Louis Eckner and Albert Stoll.  Well at any rate it always makes me feel good to read something about the Phoenix Fire Co.
Watertown Gazette, 03 26 1909
The committee having in charge the building of the new Lutheran Home for Feeble Minded in this city, consisting of Herman Tetzlaff, Albert Wegemann and Leonard Schempf, have opened the bids and report the following, the lowest bidders and contracts will be drawn up accordingly:
S. Schmidt, mason work           $9537
A. Bartelt, lathing and plaster  3118
C. A. Kleppe, carpenter work     11886
Andrae & Co., wiring               431
O. Biefeld & Co., iron work        785
O. Biefeld & Co., heating        2855
O. Biefeld & Co., plumbing         4558
Grossert & Kuehn, tin work         780
W. C. Raue & Sons, painting        965
Watertown Gazette, 03 26 1909
Edward L. Bartlett of this city bid on the street paving work at Beaver Dam, the contract being let for $26,000.  Mr. Bartlett was the second lowest bidder in 15.
Watertown Daily Times, 01 21 1984
Health Maintenance Organizations will approach Watertown businesses soon in an attempt to cover them under their health insurance plans, said a health care consultant to Watertown Memorial Hospital Wednesday during a hospital luncheon with area business representatives.
Greg Griffen, a health care consultant with The Lakewood Group Limited in Madison, who has helped form several HMOs in the Madison area, informed the group on the theory and procedures of the health organizations.  Representatives included corporate personnel from city government, the Watertown Unified School District, Watertown Memorial Hospital and major city industries.
↓  More on HMOs   ↓
Watertown Daily Times, 03 07 1984
Watertown Memorial Hospital, local physicians and Watertown businesses are working to gather the information needed to make intelligent decisions about health maintenance organizations, according to hospital President Leo Bargielski.  Local dialogue on HMOs continued at Monday's noon luncheon of the Watertown Rotary Club with a talk by Greg L. Griffin, a health care consultant working with the hospital and its medical staff concerning HMOs.
Watertown Daily Times, 01 21 1999
Product labels are big money to a Watertown industrial firm, but soon the plant might be rolling in real money.  The Watertown division of NorthStar Print Group, a sophisticated label finishing facility, will be laminating money for an Asian country to keep bills in circulation longer and prevent counterfeiting.
The new process is a nontypical labeling operation for the Watertown plant, but the project could be a profitable venture for the NorthStar Print Group if enough countries become interested in the new technology.  The development of duranote-polymer based bank notes is the result of ongoing research projects by NorthStar, which is owned by Journal Communications.  NorthStar has plants in Milwaukee and Green Bay as well as Watertown and Michigan's Upper Peninsula.
Watertown Gazette, 03 26 1909
Fred Ullrich and wife and Fred Sydow and wife have incorporated a new cement company with a capital stock of $2,000.  The company will manufacture cement block and do a general cement and concrete business.
Watertown Gazette, 03 26 1909
John Thauer & Son, not being able to renew their lease on the livery barn in [116?] North First Street where they have conducted a livery business for some time, disposed of their horses, rolling stock, etc., at public auction last Wednesday.  There was a large attendance.
Watertown Gazette, 03 26 1909
Dr. Albert E. Voss, who for the past five years has been in full charge of the dental practice over Hertel & Hoffmann's clothing store under the name of Solliday & Voss, has disposed of his interests to Dr. A. F. Solliday, who will continue the business at the old stand.  Dr. Voss will open dental parlors over John E. Heismann's grocery store in the rooms formerly occupied by Dr. Shinnick, where he will be pleased to meet all his friends and old patients after April 1st.
Watertown Gazette, 03 26 1909
Within a few weeks the Wells Fargo Express Co. will take charge of the express business on the C.M.&St. Paul lines, heretofore looked after by the U. S. Express Co.  The U. S. Express agent, J. J. Lietz, will be retained here by the Wells Fargo Co. as well as drivers Edgar Schmutzler and Ira J. Humphrey.
↓  More on Edgar Schmutzler  ↓
Appointed Messenger
Watertown Gazette, 07 02 1909
Edgar Schmutzler, for a number of years past the efficient and genial driver of the United States and Well-Fargo Express companies in this city, has been appointed railway express manager between Sparta and Viroqua, making his headquarters at the former city.  His many Watertown friends wish him success in his new position.  Jay Vaughan, son of Charles Vaughan and wife, succeeds him as driver for the Wells-Fargo Co.
↓  More on Wells Fargo Express  ↓
Wells Fargo Express Co.
Watertown Gazette, 05 07 1909
On last Friday at 12 o'clock the United States Express Co. was succeeded by the Wells Fargo Express Co. in carrying express on the C.M.&St.P. Ry.  Express rates remain the same.  J. J. Lietz, the agent for the U. S. Express Co. here for several years, has been retained by the Wells Fargo Co. and Edgar Schmutzler and Ira J. Humphrey, express drivers, have also been retained.
Watertown Gazette, 03 26 1909
L. B. Millikan and Co., are building a $12,000 addition to the Van Camp Packing Co. plant in this city.  It is 70 x 70 feet, two stories high and will be used principally for storage purposes.  During the month of February $26,000 was paid out to farmers for milk at this plant.
Watertown Gazette, 03 26 1909
At a meeting of the Motor Boat Club held last week Thursday evening the following officers were elected for the ensuing year:
Commander—Julius Draeger
Vice Commander—Arthur Kleck
Fleet Captain—Emil Draeger
Secretary—John A. Knick
Treasurer—John Chapman
Board of Advisors—George Cooley, E. W. Wolfram, James Archie, Clifton Parks, Paul Knick.
Watertown Daily Times, 10 25 1958
Donald Marquardt, now on a vacation leave from his duties with the local department of the Arabian-American Oil Co., is visiting the city with his wife and three children after flying here from Europe and the Middle East where he has been on duty.  He said today they plan to leave here Nov. 8, going east before flying to London where they will visit for some time with his wife's family after which they will return to the area of the Persian Gulf.  Mr. Marquardt got his family out of Beirut, Lebanon, on the last company plane which was taking families of civilian workers out of the country at the time of the recent upheavals there.  He stayed for two months longer and then met his family in Amsterdam.  They had visited in London in the meantime.
Watertown Daily Times, 10 22 1958
William Urban has been elected president of the Watertown Male Chorus for the ensuing year, it was announced today following the annual meeting.  Robert Peterson is vice president, William Schmidt is secretary-treasurer.  The chorus, which is sponsored by the Watertown Vocational and Adult School, meets every Monday evening at 8 o'clock in the chorus room of the new high school addition and there is still time to join the chorus for this year.
Watertown Daily Times, 10 22 1998
Clarence and Jean Lemacher of Watertown know the joy of helping others - and of receiving help.  Last week they were part of their neighborhood watch effort to collect food for the hungry.  And on Saturday, the delightedly watched as a team of Watertown High School students volunteered to rake their expansive lawn.  It was a circle of caring in Watertown on Saturday, as well as the days leading up to national Make A Difference Day.  Hundreds of area residents participated in Make A Difference Day, a national day of helping others.  The annual event is sponsored by USA Weekend, a Saturday publication in the Watertown Daily Times.
Watertown Daily Times, 01 17 1959
The Watertown Association of Commerce, at a meeting held at the Carlton Hotel this morning, went on record as favoring the proposed airport expansion program.  The vote was almost unanimous.  Only two dissented.  The proposed project, which has been recommended by the State Aeronautics Commission, calls for the expenditure of approximately $30,000, the money to be used to acquire land and easements at the ends of the major runway at the port.  This is the blacktop runway which runs diagonally across the port in a northeast, southwest direction.
Watertown Daily Times, 01 17 2009
LaVerne J. Jine (Bergdoll) [1928-2009]
She worked at F. W. Woolworth's as the manager of the lunch counter, then Zwieg's Grill and later was a sales clerk for Sears Watertown for 25 years, retiring in 1988.  She and her husband operated Jine's Popcorn Stand first located at Sixth and Main and now at Riverside Park.  She was survived . . .
Watertown Daily Times, 04 15 1902
Mr. Frank A. Hutchins, of Madison, Secretary of the state Free Library Commission, was in our city Thursday and Friday, the guest of Mr. M. J. Woodard.  Mr. Hutchins was here in the interest of starting a Free Public Library.  The meeting was held at Mr. Woodard's Thursday evening with twenty-five or thirty of our leading citizens in attendance.  A committee of nine was chosen whose duty it will be to formulate a plan of organization and work.  Of the meetings of this committee and its progress the public will be kept fully informed.
Watertown Daily Times, 04 15 1952
Bennett Wright, of Douglas school, became king of the city's marble shooters Saturday afternoon when he defeated six other boys in the championship finals staged at Washington Park.  Wright won 11 of the 12 games in the title match to case the crown off the head of defending champion Richard Klug.  Klug, defending champion from junior high, finished third back of Larry Pike of St. John's.  Wright and Pike are eligible to compete in the Jefferson county tournament that leads to district play and then the state meet.  A total of 130 boys from seven schools took part in the marble tourneys sponsored by the city recreation department.  Webster school led in individual enrollment with 36.  Title contenders and their scoring:  Bennett Wright (Douglas) 11-1; Larry Pike (St. John's) 10-2; Richard Klug (junior high) 7-5; Don Zimmermann (Lincoln) 6-6; Dan Zeiner (St. Henry's) 4-8; Steven Pfeiffer (Webster) 4-8; Roger Borchardt (St. Mark's) 0-12.
Watertown Daily Times, 04 15 1977
Miss Betty Faber, librarian in Watertown for 37 years until retiring last month, was honored at a dinner Sunday evening at Lindberg's by the River.  Miss Faber was presented with several gifts including a ''custom made" golf club.  Among those participating in the program were Mayor Carl V. and Marcella Kolata, Dr. Marie Jo Kwapil, a member of the library board; Mrs. Evelyn Rose, Ray Rose who was master of ceremonies, Miss Faber, and Dr. Elmer and Esther Kiessling.
Watertown Daily Times, 04 15 1992
Mayor David Lenz said goodbye to members of the Watertown Common Council Monday night in an emotional speech filled with warnings about the city's future.  Lenz, who leaves office today after 21 years of service to the city, told aldermen that they will be lacing some tough issues in the coming years, including a certain property tax increase in 1993.  "You are facing an automatic tax increase of 6.8 to 7.2 percent," said Lenz, who added that this increase doesn't reflect raises for city employees or any additional spending on programs such as recycling.
Madison Area Technical College
Watertown Daily Times, 07 02 1984
Mrs. Lynette I. Hertel, 201 North Church Street, Watertown, a member of the staff of Madison Area Technical College-Watertown, has been named area coordinator for the local campus.  Her selection was announced today by Norman P. Mitby, district director, who said she was selected from a list of 51 applicants for the position.  Mrs. Hertel is already working on her new position.  The salary for her one-year contract is $31,361.  She succeeds Miss Eileen Scott who retired earlier this year.  Mrs. Hertel received her bachelor of science degree in 1963 from Stout State University with a major in home economics education and a minor in English, and subsequently received her master of science degree from Stout with a major in guidance and counseling.
___________________________  More on Lyn Hertel   ___________________________ 
Watertown Daily Times, 01 23 1999
Remodeling of the office area at the Madison Area Technical College was the first step in a construction and remodeling project proposed for the facility at 1300 W. Main St.  During the holiday break, the office area at the technical college was remodeled to move the guidance counselor's office closer to the main office area and to improve the lighting, according to Lyn Hertel, director of the Watertown facility.  It was the first part of a three-phase project to increase the size and update the facility, Hertel said.  MATC officials are planning a $930,000 renovation and expansion of its facilities here in Watertown.
___________________________  More on MATC   ___________________________ 
Watertown Daily Times, 09 10 1990
With vocational and technical education playing an ever-growing role in the employment picture, and a possible recession on the horizon, the Madison Area Technical College is assessing its future.  That future could include expanding the programs and the classroom space at the MATC-Watertown campus, according to officials of the MATC District.  In Watertown, MATC's fall enrollment of students taking degree-credit courses increased 19 percent from 479 in 1989 to 574 this year, according to Lynette Hertel, Watertown campus administrator.
Watertown Republican, 06 26 1895
The E. Kunert Manufacturing Company has been let the contract to build the new iron bridge over Rock River at Horicon for $1,950.  The bridge will be of iron, a single span of 95 feet, 18 foot roadway, and a walk of 5 feet.
Watertown Republican, 06 12 1895
At about 12:30 o'clock Sunday morning the family of Mrs. Anastasia Ryan, a widow residing at 308 West Milwaukee Street, was awakened by a loud kicking and pounding at the door.  The discovery was made that the midnight visitor was a stranger, and becoming alarmed at his persistence Mrs. Ryan notified her next-door neighbors, John Smythe and John Fellerman, who with their families occupy the house at 306 West Milwaukee Street, while her son Thomas guarded the door.  Mr. Fellerman, when aroused from his slumbers, lost no time in responding to the call for assistance.  Armed with his 38-calibre revolver he made his appearance in a rather airy costume and soon ascertained the cause of the disturbance.  In the excitement Mr. Fellerman fired three shots, one of which took effect in the stranger's head, and causing him to fall on the ground.  Immediately after the shooting Mr. Fellerman walked downtown, notified the night police of what had happened and offered himself for arrest . . . John Fellerman is one of our well-known young business man (sic), being the senior member of the west side dry goods house of Fellerman & Fischer.  The occurrence is a most unfortunate one, and is generality regretted in the community.
Watertown Republican, 06 12 1895
Charles C. Schiffler has reduced his price on suits, overcoats and trousers made to order for the cash purchasing customer, also on every article in his store.  Just think of it—an all-wool, heavy weight suit, of new, desirable and seasonable woolens, made by skilled workmen (such as he has employed for years), trim and fit guaranteed.  It will more than pay every customer to look over my stock and convince himself of the above facts.  Just think of it! ! !  An all-wool suit for $12.00 and upwards; an all-wool overcoat for $12.00 and upwards; an all-wool pair of trousers for $3.50 and upwards.  You will say, how is this possible? ?  Come and see! ! !  Get your order in first and avoid the rush.  Above work and prices will take effect August 1.
CHARLES C. SCHIFFLER,
Popular Price Tailor 217 Main street, corner Third.
Watertown Daily Times, 10 01 1983
E. James Quirk, chairman of the board of Brandt, Inc., has retired from active service with the company.  The retirement was effective Sept. 29, and employees of the firm were told of the decision on Tuesday.  While he continues as Brandt's chairman, he will no longer be involved in its day to day activities.  Quirk's career with the company, founded by his grandfather, Edward J. Brandt, spanned over 39 years.  As a summer employee and later during a period following World War II military service, he worked in all 26 of the then-existing departments of the company, giving him a broad knowledge of the organization.
↓  More on Brandt's   ↓
Brandt's to be sold
Watertown Daily Times, 10 03 1983
Brandt, Inc., one of Watertown's oldest industries, is to be sold in the near future, according to announcement today by officials of the firm.  Central Jersey Industries, a New York-based financial firm, has signed a letter of intent to acquire Brandt, according to Lawrence Johnson, president and chief executive officer.  The purchase price is $34 million.  Johnson told the Daily Times this morning that he would be in New York much of this week to begin planning for the transition to the new owner, and added that further information on the sale will be made available in the near future.
Watertown Daily Times, 10 16 1998
Cutler-Hammer of Watertown/Ixonia has been recognized for its world-class quality performance among Wisconsin employers.  On Thursday, the company received a Mastery Forward Award from Gov. Tommy Thompson at a ceremony at the Monona Terrace Community and Convention Center.  "Cutler-Hammer has experienced a major business transformation since the early 1990s," Thompson said.  "This has meant major investment in new technology, the introduction of new manufacturing processes and increased employee involvement."
Watertown Daily Times, 10 13 1958
Arthur Kuenzi, president of the Otto Biefeld Co., has been named to the legislative committee of the Wisconsin Manufacturers Association.  His appointment is for the 1958-59 term.  The appointment was made by C.F. Van Pelt of the Fred Rueping Leather Co., Fond du Lac, president of the association.
High School Musical Organizations
Watertown Daily Times, 10 13 1983
Three Watertown Senior High School musical organizations will be featured in this evening's opening concert of the 1983-84 season including the Concert Choir, Sophomore Choir and Jazz Ensemble.  Leading the 7:45 p.m. concert in the WHS auditorium is the 58-voice Concert Choir pictured above.  The choir is open to any junior or senior on a volunteer basis - a number of singers who have had little or no previous singing experience.  The Sophomore Choir, second on the concert, is made up of a volunteer membership, and this year includes 52 singers.  The Jazz Ensemble is a select group of 21 musicians chosen from the instrumental department.  They meet outside of the school day, with rehearsals every Monday evening.
The program for tonight's concert features the music of Rodgers and Hammerstein in keeping with this year's high school production of "Oklahoma" to be presented Nov. 10, 11 and 12.  The program is as follows: Concert Choir: "It's a Grand Night for singing," "A Renaissance Madrigal," The Gift of Love," and "Oklahoma." Sophomore Choir: "Great Expectations," "Come Again, Sweet Love," "Aura Lee" and "You'll Never Walk Alone." Jazz Ensemble: "The Opener" by Strommen; "Corazon" - King; "The Surrey With the Fringe on Top" - Rodgers and Hammerstein, arr. by Anestico; "Now Here's That Rainy Day" - Burke; "Heliopolis" - Beckenstein-Foley.  There is an admission charge, and the concert is open to the public beginning at 7:45 p.m. in the high school auditorium.
Watertown Daily Times, 10 13 1998
Donald P. Kwapil of Watertown has been named to the Advisory Board of Directors for Bank One offices in Watertown, Beaver Dam, Cambria, Pardeeville and Randolph.  He is the first director to be named from Watertown in some time.  Kwapil has served as president of River City Distributing Co. Inc. since 1981.  He was employed by the Wisconsin Department of Revenue from 1974 to 1977, and owned and operated Towne Beer and Liquor from 1977 to 1993.
Watertown Daily Times, 10 11 1958
Five Watertown High School faculty members have been named to a special scholarship committee to serve in an advisory capacity to the high school administration in the areas of scholastic achievement and standards, the Board of Education was informed last night.  The announcement was made by Eugene Tornow, principal of the high school.  He named the five as Miss Jessie Gruner, Miss Eleanor Griffith, Fred J. Kessler, Jerome Herreid and Miss Myra MacInnis.
Lakeside Meadows Subdivision
Watertown Daily Times, 10 11 1983
Construction is expected to begin next month on a 40-unit low- to moderate-income apartment complex in the Lakeside Meadows subdivision on the far south side of Watertown.  Rooftree Inc., a real estate developer located in Rockton, Ill., plans to build 10 single-story four-family apartment buildings on 11 lots it is purchasing from subdivision owner Braun's Inc. of Jefferson.  The apartments will be built on both sides of Lakeside Terrace from Clark to Franklin Streets, comprising all but the last lot to the south on the west side of the street.  Four of the apartments will lie adjacent to the east edge of the St. Luke's Lutheran Church property. Lakeside Meadows is a new subdivision bounded generally by Clark, Boomer, Third and Ninth Streets.
Korth Farm
Watertown Daily Times, 10 03 1998
JEFFERSON - Korth farm in the town of Lake Mills could be donated to Jefferson County as a park under a proposal by an anonymous donor.  The donor has proposed building a house on a small portion of the 93-acre Korth farm and then donating the remaining property to Jefferson County.  The proposal was discussed recently at a Jefferson County Parks Committee meeting held at the courthouse in Jefferson.  The estimated price of the land, which overlooks Rock Lake, is $1.5 to $2 million.  The county is interested in buying the land for a park, but no money has been set aside for the purchase in the 1999 proposed county budget.
Watertown Daily Times, 10 10 1998
Several small businesses located within the newly opened Riverplace Center on South Church Street are enjoying high visibility the busy road is providing them.  Riverplace Center features a shopping mall as well as a combined restaurant facility.  "There's so much more traffic, business has been very good," said Tom Nelesen, who with his wife, Mary, owns St. Charles Furniture.  Manager is Doug Bentz.
Watertown Daily Times, 09 30 1983
Sgt. 1st Class Robert A. Franz, 917 Reinhold Street, Watertown, was among some 50 members of Wisconsin National Guard and Reserve units honored in Madison Sept. 25 by Sentry Insurance for outstanding military service.   Franz received the John Parker Military Achievement Award after meeting the highest standards in his military job, leadership abilities, military bearing and citizenship qualities, and was nominated by his unit commander.   A member of Co. E, 2nd Battalion, 128th Infantry of the Army National Guard, Sgt. Franz is a self-employed seafood broker in Watertown and an associate of Century 21 Realty, Watertown.
North American Manufacturing Facility
705 South 12th Street
2008
Talaris is the leading provider of cash automation equipment to financial institutions and retailers worldwide. From cash dispensers and recyclers to self-service coin deposit centres.  Around the world, financial institutions and retailers use Talaris equipment to dispense, count and sort notes quickly, reliably and in large quantities. Wherever money has to be dealt with securely and efficiently, you will find Talaris technology.
Prior to September of 2008, Talaris was known as De La Rue Cash Systems, a division of De La Rue plc.  Now as a part of The Carlyle Group, Talaris is focused on providing cash handling and automation solutions through experience, expertise and innovation.  Talaris is a global business comprising of 2,300 personnel including over 1,000 service and support staff operating from more than 30 offices globally.
01 29 1915
WATERTOWN MAN GETS POSITION
Moritz F. Blumenfeld is Selected by Gov. Philipp for Superintendent of Public Property
APPOINTEE IS A DEMOCRAT
Last Monday Government Philipp appointed Moritz F. Blumenfeld, of Watertown, State Superintendent of Public Property to succeed Otto Onstad of Cambridge.  The salary is $3500 per year.
The new appointee was born in Watertown in 1859, learned the printers trade and was associated with his father, the late D. Blumenfeld, in the publication of the Watertown Weltberger, the paper now owned and published by former county clerk, O. R. Krueger.  Eight years ago he retired from the publishing business and has since been employed as an expert on the cost of printing by many large firms.  He is married and has one son.  The family will move to Madison in the near future.
Mr. Blumenfeld is a man of strict integrity and high ideals.  He is exceptionally well qualified for the position to which he has been appointed.  Gov. Philipp, in the appointment of Mr. Blumenfeld, has demonstrated that he places efficiency above partisanship in selecting public officials.  Mr. Blumenfeld is a democrat in politics.
01 22 1915
Word was received at Baraboo last Sunday of the death of Henry Bertram, which occurred at some place in New Jersey.  Mr. Bertram was an old Watertown boy.  He was proprietor of the Commercial Hotel at Watertown for some time and later was the owner and proprietor of the well-known Beaumont Hotel at Green Bay.  Henry Bertram was a nephew of the late General [Henry] Bertram, a former resident of Juneau and at one time sheriff of Dodge County.
Cody Closes Saloons on Sabbath
WATERTOWN WOES
1915
Watertown is wide-a-wake.  The question of closing the saloons on Sunday has resulted in much talk and considerable activity.
W. G. Cody was a candidate for justice of the peace, to fill the vacancy caused by the death of the late Judge W. D. Stacy.  Cody secured a big petition signed by many of the leading business men asking for his appointment as Justice of the Peace.  Mayor Kading sent his nomination to the council, where it was turned down.  Soon after that Cody got after the saloons and closed all of them up on Sunday.  He made complaints against saloons in several neighboring villages, such as Pipersville, Ixonia, Lebanon etc., and closed those places, also on Sundays.
But when matters blew over a bit some of the saloons began to open up Sundays, and Cody got busy again.  He had several saloon keepers arrested and taken to Jefferson for trial.  Some trials were had and other cases are now pending.  Some defendants were found not guilty and others paid fines and costs, according to reports.
A few days ago a petition signed by three citizens of Jefferson County was presented to Judge Kirkland asking that Cody be examined to determine whether he was sane or insane.  Such examination was held but no result was reached.  Another hearing was held yesterday.
Now it develops that an organization of business men has sprung up to take revenge on "Cody's Persecutors."
A peculiar feature of the situation is that Cody denies that he got after the saloons because he was not appointed justice of the peace, and the saloon keepers deny that they have had anything whatever to do with the petition to examine Cody for insanity.
The law of "cause and effect" seems to be out of commission in Watertown if all statements are to be fully credited.
↓  More on Saloons and Sundays   ↓
03 05 1915
Juneau, WI.—The saloon closing war at Watertown goes merrily on.  As yet no air machines nor submarines have been pressed into service, but various skirmishing expeditions to justice courts in Jefferson and Lake Mills have been reported.  Mr. Nolle Contenderie is in commission frequently.
↓  More on Saloons and Sundays   ↓
Watertown Democrat, 03 31 1859
A good law, the salutary provisions of which it will be well for those whom it concerns to observe, is the following:  If any tavern keeper or other person shall sell, give away, or barter any intoxicating liquors on the first day of the week, commonly called Sunday, or on the day and at the place of the annual town meeting, or the annual fall election, such tavern keeper or other person so offending shall be fined for each of such offenses in a sum not exceeding five dollars, to be collected before any Justice of the Peace in the proper county.
Watertown Daily Times, 01 27 1959
Arthur Kuenzi, president of the Otto Biefeld Co., today came out with a statement in which he declared that only a referendum on the question of installing a new street lighting system in the Watertown business area would settle the issue fairly and squarely.  He declared that at the meeting of the Watertown Business Men's Association, held last week, approximately only 20 business men were present when they came out in support of the system.  He said that this is "a very fractional percentage of the total population, and a referendum would give the true facts of whether or not the majority of the people are in favor of it."  The city's special lighting committee which has been studying the lighting issue for the past year, after it was first introduced in the City Council by Councilman Carl V. Kolata, has come out in favor of a new system and the subject is now in the process of securing bids which are due to be filed on Feb. 11.
Downtown Renovation
Watertown Daily Times, 01 27 1984
Altering and improving the aesthetics of the public sector will be the first step in the renovation of the Watertown downtown area, said City Planner Harlan Clinkenbeard Monday, but implementation of any projects will not occur before 1985.  According to Clinkenbeard, the Downtown Revitalization Committee and himself are currently developing two or three alternative plans on the exact aesthetic alterations in regard to public parks, streets, traffic patterns and parking.  Clinkenbeard hoped that a plan could be developed simultaneously with a plan for alternations in the private sector, such as changes in storefront design. Trees, lights, traffic signs and signals, and benches would certainly be a part of any design, said Clinkenbeard.
Watertown Chronicle, 06 30 1847
We have examined a specimen of brick from the first kiln burnt at the new yard of L. E. BOOMER, Esq., one mile below the village, on the east side of the river.  It is of a beautiful cream color, very hard, and is pronounced by builders equal to the best article of the kind made in Milwaukee.  The clay at this point appears well adapted to the making of brick, being free of marl, and very pure.
Messrs. CHADWICK & PLATT have a new yard now yard near Mr. Boomer's.  We have not yet seen a specimen of their brick, but understand that they are made from a very fine quality of clay.  The brick heretofore made in this village and vicinity, have been of an inferior quality, the proportion of lime they contained being so great as to cause them to crumble to pieces upon their exposure to water.  This difficulty now appears to have been overcome and we are in hopes that of the buildings in the future to be erected here, a fair proportion may be of brick.
The yard of Mr. BOOMER is under the management of W. J. STEVENS and ANDREW STORER, and Messrs. CHADWICK & PLATT'S under that of ANDREW WILLARD. 
The advertisements of the proprietors of these yards will be found in another part of our paper.
↓  More on Brick Making in Watertown   ↓
Watertown Chronicle, 07 07 1847
The Watertown Chronicle, in alluding to the brick made in the brick-yard of that city an enterprising village, exhausts its praise when it says that it is equal in color to the best article of the kind made in Milwaukee.  [Daily Wisconsin]
Why not print our "praises" in full, Mr. Cramer?  We said that the Watertown brick were not only of a "beautiful cream color, and very hard, but they were pronounced by builders equal to the best article of the kind in Milwaukee."  The Milwaukee brick are very deservingly winning the public favor abroad, as well as at home.  They are already exported in considerable numbers to different towns on the lake, and this trade must increase as the qualities of the article become better known.  But fine as they are, the most competent and disinterested judges pronounce them no better, in any respect, than the Watertown brick.  Do our brick justice, therefore, MR. CRAMER; for when you recollect that the city from which we respectfully hail, are separated by the Milwaukee and the Watertown woods, you need not apprehend any serious danger from competition in this line of manufacture!
Since writing the above, we have been shown a specimen of brick from the yard of Messr. CHADWICK & PLATT, near this village.  All that we have heretofore said in relation to the good qualities of the Watertown brick may with justice apply to this new article.  It appears to be right in every respect, and as such we cannot too strongly recommend it to the public favor.
Betty Crocker Homemaker of Tomorrow
Watertown Daily Times, 01 31 1959
Miss Carol Ann Ruesch, daughter of Mr. and Mrs. Roland Ruesch, 701 South First Street, has been named 1959 Betty Crocker Homemaker of Tomorrow at Watertown High School.  She received the highest score in a 50-minute written examination on homemaking knowledge and attitudes taken by graduating senior girls in her school.  She will receive a homemaking pin manufactured by Josten's, which represents the slogan, "Home is Where the Heart Is."
Educational Foundation of Watertown
Watertown Daily Times, 01 31 1999
The Educational Foundation of Watertown Inc. recently held its annual meeting and elected its first board of trustees. Ray Kubly was named as president of the organization. Other officers are Cathy Kwapil, vice president; Belle Luhman, secretary; Mark Sweet, treasurer; Wanda Udovich, Bill Mullen, Don Richards and Dennis Bailey, trustees with terms to expire in 2001; Sweet, Neale Jones, Mike Siegrist and Cathy Egan, trustees with terms to expire in 2002; Luhman, Kubly, Randy Phelp, and Kwapil, trustees with terms to expire in 2003; Victor Miller, board of education representative; and Dennis Mudler, superintendent or designee.
Watertown Chronicle, 07 07 1847
A few young men of this village are making another attempt to get up a band of music.  It is proposed that our citizens purchase the instruments and give the band the use of them.  About $150 would be required for this purpose—a sum which we presume might readily be raised.  A good band is much needed here, and we see not why we may not have one.
Watertown Daily Times, 01 31 2009
In January 1951 five men who shared a love of archery formed the Watertown Archery Club.  Those men included Roland Freitag, Bob Lessner, Al Krueger, Don Nesta and Gene Brennan.
A total of 18 people were at the first meeting of the club in 1951 that was held on the third floor of the Savoy building, now the site of the Town and Country Bank . . . Today, there are about 50 members in the club and some become a member of the Wisconsin Bowhunter's Association.
Watertown Chronicle, 07 28 1847
Mr. GREEN [Cross reference: Virgil D. Green's wagon-shop] has just completed a large two-horse peddling wagon for Mr. HEAD, our village baker.  It is one of the best made articles of the kind we ever saw, and will not suffer by comparison with anything of the kind made at the east.  It is painted in PURDY'S very best style.  Persons wanting any article in the wagon line can be suited at GREEN'S, if they can be suited anywhere.
Watertown Chronicle, 06 23 1847
We cannot learn that any arrangements are on foot, or are likely to be, for the due observance of the 4th, in this village, the nearest approximation to it which has yet transpired, are two balls - one to "come off" at the American on the 2d, and the other at the Planter's on the 5th.
t    Fourth of July, 1847      t
"The Day We Celebrate"
Watertown Chronicle, 07 07 1847
Owing to the absence of the 4th, the 5th was observed in this village in such a manner as seemed best to suit the individual whims or inclinations of our citizens, great and small.  As a prerequisite, the liberty pole received a slice of 40 feet [?] on Saturday afternoon, and at dusk a beautiful streamer kissed the breeze at its top, 112 feet above the heads of the delighted multitude.
Before the 5th had fairly dawned, the reports of anvils, muskets, pistols and firecrackers were to be heard in different quarters of the village.  This species of amusement was continued through the day, though the patriotism of the gunners was somewhat dampened in the forenoon by a brisk shower of rain.  The skies brightening up about noon, people from abroad commenced pouring into the village from all directions.  Among the number were a fragment of a band of musicians, accompanied by the stars and stripes; and if they did not "discourse eloquent music" for the few hours they remained, it was not because they lacked the apparent disposition to do so.  A band of marshal music, so far as a fife and a snare drum are entitled to the designation, also operated extensively during the afternoon, and only ceased their labors as the nightingale attempted, by her evening melody, to rival their sweet and spirit-stirring sounds.  If to this be added the sport of the wrestling ring, the more important doings of the day may be considered as faithfully chronicled.
In the evening fire balls made their appearance, and were kept upon the wing until the empty stomachs and exhausted frames of our patriotic juveniles reminded them of their uneaten gingerbread and their inviting pillows.  Thus began and thus ended, so far as we are cognizant in the premises, our first Independence Day in Badgerdom.
If the doings were not upon as grand a scale as we have witnessed in the eastern cities, we must say that they were marked throughout by a feeling alike creditable to all who participated in them.
We regret to state that quite a serious accident occurred in the forenoon.  A little son of Mr. PLINY B. BASSFORD [Basford] received in his thigh the wad from a pistol, making a frightful wound some three inches deep.  The wound was extracted by Dr. HAMILTON, and the boy, who exhibited the greatest fortitude throughout the operation, appears to be doing well.
[Note: Wis. became a state in 1848]
A Domestic Necessity
Watertown Democrat, 04 07 1859
Every house should have as an inmate a good-natured, tidy, sensible old lady.  This important fixture should always be, if possible, a grandmother, or, as next best, an aunt; yet so indispensible to the respectability, comfort and convenience of a well regulated household is the old lady, that if this system of housekeeping become general, it will become quite natural to find, under the head of "wants" in newspapers, inquires for proper old ladies to supply the lack of dear old folks gone to the better home.  Indeed, old ladies, discovering themselves to be in demand, would keep in preservation much longer, not begin to make winding sheets and grave caps full ten years before the great reaper came . . . Old ladies are needed.   Providence designed such to fill a large space in the domestic circle—a class remarkable as living not for themselves but for others—the most beautiful specimens of disinterested love this side of heaven.
Donations help police buy new crime dog costume
Watertown Daily Times, 01 29 2009
Through donations from local businesses and residents, the Watertown Police Department has purchased a new McGruff the Crime Dog costume.
The Crime Dog reaches children through commercials, songs and booklets from the National Crime Prevention Council and talks about drugs, bullying, safety and the importance of staying in school.
The police department's former McGruff costume, which was over 20 years old, was so tattered by making countless appearances that it was essentially retired.
Watertown Chronicle, 08 25 1847
NARROW ESCAPE
On the afternoon of Thursday last, one of the beams of Mr. STEPHEN MARCH'S cabinet factory gave way, precipitating to the floor some two or three tons of chair and bedstead stuff.
Fortunately, the only person in the room at the time, was Mr. FREDERICK ROUSH, a German, whose escape was almost miraculous.  He was struck upon the head by a scantling which fell a moment before the beam, and knocked under a stiff board he was sawing, which rested upon two "buck," and was thus protected from the falling mass.  He received two or three wounds upon his head and face, none of which were very severe.  Had not the accident happened when the other workmen were at tea, the consequences would doubtless have been fatal.
If basswood is to be used for beams upon which it is designed to store any great amount of furniture or freight, braces should at least be added.
Watertown Chronicle, 09 08 1847
The agent for the "Eclipse" carriages, manufactured by the T. H. Brown & Co. of Milwaukee.  These vehicles are regarded as the best now in use.  Anyone wishing to buy a first class carriage will do well to consult with Mr. Kennedy before buying elsewhere.  For lightness, strength and durability, his carriages are unsurpassed.
Watertown Chronicle, 09 01 1847
LOST AN EYE
A fracas took place at a Fare Table in this village, on Saturday night last, in which an eye was lost.  This we believe is the only gambling instrument of the kind in town. It has been here but a short time, and for the credit of the place it is hoped that it will remain but a short time longer.
Watertown Daily Times, 02 03 1999
Inspector Larry Sukow, a veteran of 30 years with the Watertown Police Department, is retiring at the end of today.  Sukow, who is the senior member of the department in years of service, is second in command to Chief of Police Charles McGee.  Sukow said, "It's been fun. I certainly enjoyed my years here with the police department.  It's difficult leaving, but the time is right."  During his tenure which began on Jan. 1, 1969, Sukow has worked under four different chiefs.  First it was Marlin K. Mann, the man who hired Sukow.  Then it was Gerald Donovan for several years before Richard Reynolds was promoted from within the department, and most recently he has been the assistant to McGee.
Rock River Pilot    12 02 1847
Indian John, the old Menomonee, so well known to the early settlers on Rock River, is yet among the living, his sad remnant of a once numerous band, whose favorite hunting ground was here.  He cannot give up his old home, though it is to him a home no longer.  We have seen him a happy, cheerful savage, surrounded in his lodge with plenty, and by a large and contented family; but how changed he is now!  But two of his family remain - liquor and vice have destroyed his children, and the white man has his home.  He is now a wretched object, left like a lonely sentinel to watch over the graves of his tribe until they are gathered in, when he will fade away "as the leaf," and the remembrance of him and his tribe will be to us as a dream.
Watertown Democrat, 04 07 1859
Common Council Proceedings
Ald. Pease introduced the following resolution which was adopted: 
Resolved, That the Clerk cause notice to be served on all the Assessors elected in the several wards of the city on the first Tuesday of April, to meet at the council room on the last Monday of May for the purpose of organizing and to establish a basis for general assessment and that each and all of said Assessors assess the property in the wards where elected and receive compensation from the funds of the same.
Father of his Country
Watertown Democrat, 04 14 1859
Wanted.  In every town and county in the United States agents to sell by subscription one of the grandest and most beautiful pictures published in America, being a highly ornamented picture of GEN. WASHINGTON, the Father of his Country.  He is represented in the garb and regalia of a Free Mason, standing in the great and magnificent temple of King Solomon and presents one of the most gorgeous specimens of oriental magnificence of which the mind can conceive.  The likeness is striking and grand; and for the sublimity of attitude and the ease and dignity of manner, is unsurpassed by any other painting ever executed either in this country or Europe.  Publishers of newspapers giving the above advertisement, including this notice, four or more insertions in a conspicuous part of their paper shall have one of the highest priced of these pictures mailed to their address. –Queen City Publishing, Cincinnati.
Watertown Daily Times, 02 03 1959
A former Watertown resident, Herbert May and his wife, have purchased what is said to be the first privately owned Viscount Turbo-Jet plane, according to a report from Washington, D.C.  Mr. and Mrs. May were married last year.  He is a retired Pennsylvania industrialist and she is the former Marjorie Post, second wife of the late Joseph E. Davies, a native of Watertown who died in Washington last year.  She is heiress to the Post Toasties fortune and the principal owner of General Foods.  Mr. and Mrs. May now make their home in Washington where she completed a fabulous new home a year ago.  Mr. May was born in Watertown, his family being in the milling business here.
Watertown Daily Times, 04 12 1968
Mrs. Marjorie Merriweather Post, heiress to the Post Toasties fortune and owner of General Foods, who was married to the late Joseph E. Davies of Watertown at the time he was American ambassador to Russia is having her attorneys study a plan whereby one of her estates, the 115-room Mar-a-Lago in Palm Beach, Fla., may be presented to the United States government to become a new summer White House for future presidents and also for use by high government officials.  Reports of such a plan have appeared in the Washington Post.  Mrs. Post divorced the late Mr. Davies some years before his death ten years ago and married another Watertown native, the late Herbert May who left Watertown to become an important Pennsylvania industrialist.  After his death she took the name of Post which was her family name.
Spring, 1859
Watertown Democrat, 04 28 1859
Though we have had little April warmth during the Spring month now nearly closed, last Sunday was a jewel of a day, worthy the coronet of Summer itself.  The grass is starting rapidly upon the fields and in the yards early flowering plants are well up and almost ready to bloom, and the lilac bushes are on the point of putting out their leaves.  Thus far we have had every variety of weather—gentle southern breezes, bright sunshine, frosty nights, clouds, rain and snow . . . About the last week in April, when there is such a backward season as the present, there comes a marked and miraculous change over the face of nature.  The buds swell to bursting, the plants and trees assume their glorious foliage robes, the flowers bloom, the fresh grass carpets the earth, and the lingering vestiges of Winter disappear . . . Up to the present date the season has not been very favorable for outdoor operations, but the prospects are a little better now.  Yesterday it was sun-shiney, warm and dry.  Every farmer was abroad in his fields, with plow and drag, getting the ground ready for the crops.  Though Spring is advancing, yet with fair weather all may be made up yet.  If the skies are clear there will be busy and hurrying times for the next few weeks.
Watertown Chronicle, 08 04 1847
This house, situated three miles north of this village [town of Emmet], on the Fond du Lac road, is now open, and ready for the reception of visitors.  Its enterprising keeper, THOMAS NOYS, is a prince of landlords.  He has long been in the business, and is not only conversant with the wants of the traveling public, but has every means of gratifying them.  Every body is acquainted with "Tom," and every body who travels in those "diggings" will, of course, call upon him.
<![if !vml]>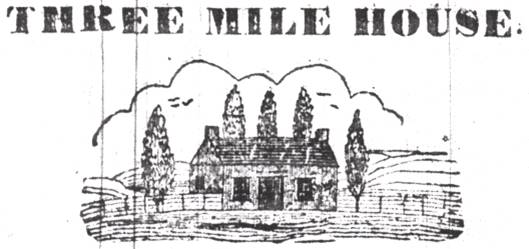 <![endif]>
Advertisement of Three Mile House of Emmet in Watertown Chronicle, 08 04 1847
The subscriber has the pleasure of announcing to his friends and the public, that he has thoroughly repaired and greatly enlarged the Three Mile House, situated three miles (north of the village of Watertown on the main traveled road to Oak Grove, Beaver Dam, Waupun, Fox Lake, Fond du Lac and Green Bay; and that he is now ready to receive their calls and to contribute to their wants.  He has long been engaged in tavern keeping, and flatters himself that he is able to do up things in his line quite "brown."  His friends will find the "creature comforts" of his house equal to any west of the lakes, and his charges very moderate.  His accommodations for teams are upon an extensive scale and every one acquainted with Robert, the old Hostler, is aware that animals may be safely entrusted to his charge.
If good liquor, a full larder, clean beds and courteous attendance present inducements to the traveler, then must the Three Mile House become the traveler's favorite.
Thomas Noys, Emmet
↓  More on Three Mile House  ↓
Three Mile House / Fred Donner
Watertown Gazette, 10 01 1909
Fred. Donner and wife of Osage, Iowa, are visiting old friends and neighbors in this city.  Mr. Donner formerly resided at what is known as the Three Mile House north of this city on the North Road and left here 31 years ago for the west, and his present visit is the first he has made since leaving here.  He still finds familiar faces but says many of his old-time friends have passed away to the other world or moved away.  He has prospered in the west at farming and is at present leading a retired life on a well-earned competency.  Among those whom he and his wife are visiting are Mrs. W. Kuhn, North Water Street, Henry and Michael Bock of Emmet and Charles Eggert of Shields.
Wool Trade in Watertown
Watertown Democrat, 03 31 1859
The Watertown Woolen Manufactory is now ready for spring operations under the agency of the old and well-known pioneer in that branch of business, Simon Ford [1].  His advertisement—as full of life, hope and energy as ever—will be found in this paper.  Wool growers will do well to give him a call, as he is prepared to pay the highest cash for all varieties, and a large variety is wanted.  His establishment is now in fine running order and he is ready to accommodate all customers on the shortest notice.  Give the Old Pioneer a friendly visit.
↓  More on Simon Ford   ↓
Mrs. Simon Ford
Ford, Adoline, b. 1808, d. 1910
Watertown Gazette, 01 28 1910
Mrs. Simon Ford, a former resident of Watertown, died at Minneapolis last Monday, aged 102 years.  Her remains were brought here on Wednesday and interred in Oak Hill Cemetery.  Deceased was born in Seneca County, New York, in 1808.  November 2, 1828, she was married to the late Simon Ford at Lockaport, New York, and in 1844 they came west and located in this city, where Mr. Ford built and operated a woolen mill on the west side of Rock River, just north of the Globe Mill.  The family resided for many years in the house now occupied by E. L. Bartlett, [305] Washington Street.  Mrs. Ford is well known to the older residents of Watertown, and all her old friends mourn her death as that of a most excellent lady and an old neighbor for whom they have the highest regard.
Cross Reference:
[1] Daniel Jones remained in the mercantile business until 1864, when he associated himself with the late S. Ford & Co. in the manufacture of woolen goods, and later conducted the business under the name of D. Jones & Co.  He continued this business till 1877 when he leased it to D. P. Price.
↓  More on sheep and wool  ↓
Large Flock of Sheep
Watertown Weekly Register, 09 03 1853
On Wednesday a drove of about 1800 sheep passed through our city on their way to Waupun.  They were from Ohio, and were mostly common stock.  We hail with pleasure every advance made by our farmers in the rearing of sheep, as we believe wool is destined to prove one of the great staples of our farmers.  It is, however, desirable that fine wooled animals should be reared, as it costs no more to raise a quality much finer than common sheep produce, and as profit is the great end of wool raising as well as every other pursuit in which men engage, we think a sheep producing a quality which will bring 50 cents of more value than one bringing wool worth 30, it costing no more to keep a thoroughbred and getting nearly the same amount of wool.
↓  More on sheep and wool  ↓
Wool Trade
Watertown Democrat, 06 16 1859
Thus far during the season the wool trade has not been very brisk in this city.  On the contrary, it has been unusually dull.  Comparatively little has been brought in, though what has been offered has found a ready sale at the figures which the buyers are willing to give.  The largest amount sold in any one day was a thousand pounds.  The prices range from 20 to 35 cents per pound, according to quality, and there is no reasonable probability that much more will be paid.  Whether this is owing to the general depression of business throughout the country or the large quantity which is supposed to be raised this year we are unable to say, but it surely is the fact.  Buyers here at present are by no means as numerous as they ordinarily are and consequently there is scarcely any competition among them.  The chances are that nothing will be made by holding back but as good a way as any is to sell immediately, get your money, and make the best use of it.
↓  More on sheep and wool  ↓
Wool Crop
Watertown Democrat, 05 17 1860
The wool crop, which should be large and profitable in this state, will soon be ready for marketing.  A glance at our advertising columns will show the fact that the buyers in this city are prepared to take all they can get.  At all events, wool growers will find a ready sale for their clips this year and the sharp competition will enable them to obtain a paying price.
↓  More on sheep and wool  ↓
Wool
Watertown Democrat, 05 31 1860
As the time is rapidly approaching when the next clip of wool will come into market, much anxiety is felt among growers and dealers in that great staple in relation to future prices.  The question is often asked, what will be the ruling price of wool?  There are many things to be considered before a correct opinion can be formed as to this matter.  There are many disturbing elements at work in this country which will more or less effect the price of wool.  The large importations of woolen goods will very much affect the price of raw material, as those goods come directly in competition with the goods manufactured in this country from our native wool.  We are informed that an article made of old woolen clothing called "shoddy" is imported into this country in large quantities and sold to our manufacturers at from 7 to 9 cents per pound, which takes the place of wool.
↓  More on sheep and wool  ↓
Wanted:  50,000 lbs. of Wool
Watertown Democrat, 06 07 1860
[advertisement] Wanted:  50,000 lbs. of Wool, for which will be paid cash the highest market price at the Watertown Woolen Factory.  Farmers and wool growers having wool to sell for cash, exchange for cloth or woolen yarn, will find it to their interest to give me a call.  I have on hand and am constantly manufacturing woolen cloths of all varieties, also woolen yarns of different grades and color, to exchange for wool and sell for cash, on better terms than ever before offered in this market.
Custom Carding—The Mammoth carding machine has been covered with new cards and is in the first order for roll carding which will be promptly attended to.  Customers living at a distance can have their rolls carded the same day to take home with them.  Wool must be clean in good order. 
S. H. Ford
_____________ more on sheep and wool  _____________
Wool!  Wool!
Watertown Democrat, 06 07 1860
[advertisement] Wool!  Wool!  Connected with the best eastern markets, we are now ready to pay the highest market price in cash for wool and respectfully solicit all having the article for sale to give us an opportunity to bid.
L. J. Kadish & Co.
Milk from Different Cows
Watertown Democrat, 04 28 1859
That there is a great difference in the milk of different cows, every one of limited experience must have noticed, and that there is an equal difference in cream, and consequently in the butter made from it, is a fact equally apparent to an observer.  If a cow is driven a long distance or driven fast shortly before milking, it injures the quality of the milk, and it will not produce so much or so good cream.  If milk is disturbed after it cools and before the cream rises, it injures its quality and diminishes the quantity.  Care should, therefore, be taken to strain the milk as soon as possible after it is drawn from the cow and before it cools. If milk be kept warm for any great length of time after it is strained, the cream will not rise to any degree of perfection.  Therefore, the quicker the milk cools after it is in the pans, the greater quantity and better quality of cream will you obtain.  Wholesome pure air is also an essential to raising cream in any degree of perfection.  Cream is lighter than milk, and the better the quality of the cream the lighter it is. Consequently, the cream that first rises to the surface is the best. None but the richest and lightest particles of cream can rise through thick milk; therefore, such milk gives cream of a superior quality, but less in quantity than thin milk. But the milk is better as it retains a portion of the cream in it.
Watertown Democrat, 04 21 1859
Mrs. A. M. Heep, just arrived from the East with a complete assortment of spring styles of millinery, which will be ready of inspection at the rooms recently occupied by Mrs. E. M. Brown, 3rd door from Cole's Block, on Second Street.  She would invite the ladies of Watertown and vicinity to call and satisfy themselves.
↓  More on Mrs. Heep  ↓
News for the Ladies  —  Spring Styles of Millinary
Watertown Democrat, 07 12 1860
Miss A. M. Heep is now receiving her new stock of spring goods.  The ladies of this city and vicinity are invited to call and examine them.  They will find a large and choice variety of Bonnets, Ribbons, Flowers, Ruches, Silks, etc., all of the latest and most  fashionable styles, which will be sold on the most reasonable terms.  Her rooms are in Jussens Block on the north side of Main St. Bridge.
<![if !vml]>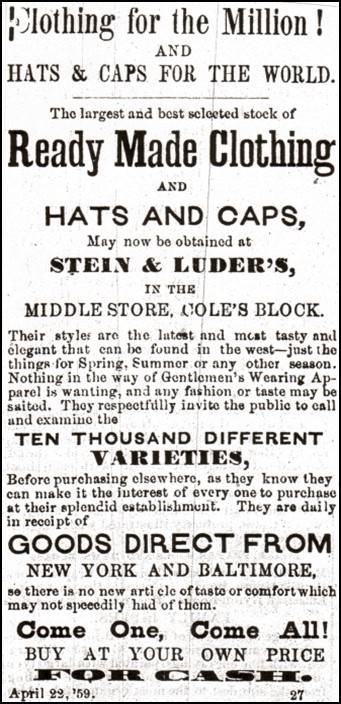 <![endif]>
Watertown Democrat, 04 21 1859
The largest and best selected stock of ready-made clothing and hats and caps may now be obtained at Stein & Luder's in the middle store, Cole's Block.  Their styles are the latest and most tasty and elegant that can be found in the west.  Nothing in the way of gentlemen's wearing apparel is wanting and any fashion or taste may be suited.
_____________ more on Stein & Luder's _____________
Fall and Winter Clothing
Watertown Democrat, 09 15 1859
Stein & Luders have just filled their store with extensive and new stocks of every variety of ready made clothing.  Their styles are the latest and most fashionable, and those customers must be hard to please who cannot suit themselves out of the endless choice of article which they can offer.  We call attention to their advertisement in another column.
_____________ more on Stein & Luder's _____________
Watertown Democrat, 11 09 1865
Singer Sewing Machines.  Messrs. Stein & Luders are the agents for this city of Singer's celebrated sewing machines, which they can sell at Chicago and Milwaukee prices.
Watertown Daily Times, 02 04 1984
Menasha Corporation is planning to construct a 19,000 square foot office building at the intersection of Boughton Street, Hospital Drive and highway 16 bypass if rezoning of the property is given formal approval.  The building being planned is about 120 by 160 feet.  The new facility would be for the sales, accounting and marketing personnel of Menasha's LEWISystems division which currently has space in the Menasha complex at 426 South Montgomery Street.
↓  Menasha Corporation  ↓
Watertown Daily Times, 02 19 1984
The Watertown Common Council Tuesday evening cleared the way for Menasha Corporation to construct an office building at 128 Hospital Drive, and also reversed itself to purchase 22 acres of property in the southwestern section of the city for industrial development.  The 19,000 square foot facility will be the divisional headquarters of LEWISystems and house approximately 100 clerical, sales and professional employees, according to David Rao, operating engineer of the firm.  The 120 by 160 foot building will also include a laboratory which will take up about one-eighth of the structure, he said.  Rao compared the laboratory to that of a radiology department in a hospital.
Watertown Democrat, 03 31 1859
Anonymous correspondents who send us [Watertown Democrat] communications without their real names might just as well keep their productions to themselves, for we take no notice of them whatever.  We do not insist on this for the purpose of making disclosures when concealment is desired, but to guard against imposition.  We have just kindled a bright warm fire with about a bushel of letters of unknown sources, some of which we attempted to read and some we did not, and shall dispose of others we receive in the same summary way.  We have once before stated the rule we have adopted and now repeat that in no case will it be departed from.  With your articles send your real names and we will do as we think best about inserting them, but in all cases acting in good faith towards them who place confidence in us.
Lake Winnebago, the largest and most beautiful sheet of water within the limits of our State, is now free from ice.  The steamers will commence making their regular trips in a few days.
Chicago, St. Paul and Fond du Lac Railroad
Watertown Democrat, 04 21 1859
Common Council Proceedings
To the Gentlemen of the Common Council – Having been called from home by a severe domestic affliction and returning with health seriously impaired upon the eve of this meeting, I find myself unable to prepare and lay before you the annual communication required by the City Charter, in relation to the condition of the affairs of the city, but shall do so at the earliest convenient opportunity.  It seems necessary, however, to call your attention at this time to the relations of the city with the Chicago, St. Paul and Fond du Lac Railroad Company.  This company being hopelessly insolvent, a general meeting of the stockholders, bondholders and creditors was held in the city of New York, in February last, at which meeting a plan was arranged for the organization of a new corporation, the details of which were published in the Watertown Democrat, the official paper of the city, of March the 10th, and the particular provisions relating to stockholders and contained in the communication herewith submitted.
I am informed that should the city deem it advisable to assign its stock according to the plan proposed, it is necessary that it be done by the first of May next.
I am further informed that the road is to be sold on a foreclosure on the 2d of June next, by which Stockholders and Creditors will be entirely cut off, but that by the assignment of the stock now held by the city, and taking in lieu thereof, there is a possibility of securing something to the city.  I trust that you will give this matter your attention and that such action will be taken as will, as far as possible, protect our interests.
C. B. Skinner
Watertown, April 18, 1859.
↓  More on Chicago, St. Paul and Fond du Lac Co.  ↓
Watertown Democrat, 04 28 1859
A party composed of Directors of the Chicago, St. Paul and Fond du Lac Company passed over the line of the road a few days since on a tour of inspection to see for themselves the condition of things.  We presume this is preliminary to making arrangements for letting contracts and going on with the work.
↓  More on Chicago, St. Paul and Fond du Lac Co.  ↓
Watertown Gazette, 05 12 1859
A few days since, we stated that a party composed of Directors of the Chicago, St. Paul and Fond du Lac Company made a tour of inspection over the unfinished portion of the line of this road for the purpose of ascertaining its present condition.  We now find in the Chicago Tribune of the 4th inst., the following statement, which gives additional confirmation to the probability that the people of Rock River Valley will soon have the pleasure of witnessing the consummation of this important enterprise.  The company now in process of organization will have the means of carrying on to completion this road and when once in operation, there can be no doubt but what it will be a paying institution.  It passes through a region of country singularly well calculated to furnish it with a large, reliable and steadily increasing business.  "Our readers will be glad to learn that the difficulties which hitherto prevented the completion of this road from Janesville to the La Crosse Junction, fifty-six miles, have at length been definitely adjusted and arrangements now perfected to complete the road by or before the 1st of October . . . This announcement will be received with great satisfaction by all our citizens as it will open up to the direct trade of our city [of Watertown] the best and most densely populated portion of Wisconsin, as well as give us another route to the Upper Mississippi through its connection with the La Crosse road.
New Eating Saloon
Watertown Democrat, 03 31 1859
The Home is the name of a new Eating Saloon which is about to be opened by Major Bernhard Miller, whose old friends will remember the taste and care with which he has been accustomed to provide all good things for his customers.  His rooms are nearly fitted up in the building on the north side of Main Street bridge and will be found a pleasant place of resort.
Miller, at his News Room in the Post Office, has received the Atlantic for April, which is a most delightful and brilliant number; Harpers, beautifully illustrated and filled with a hundred rich things; and the Great Republic contains a vast amount of choice and instructive reading—many of the articles set off with a variety of finely executed cuts.
Cross references:
Miller, Bernard
Forty-Eighters: Builders of Watertown, pg 17
1858, Billiard table violation
Forty-Eighter, operated saloon, cigar wholesaler, had a flouring mill
↓  More on business on North Side of Main St Bridge   ↓
Werner's Bathing Establishment &
Barber Shop
[1870, Werner bldg (with canopy, north side of bridge, washed away in 1881 flood]
Watertown Democrat, 09 08 1859
The subscriber has just fitted up in the most convenient manner a suit of Bathing Rooms, under his Barber Salon, on the north side of Main Street Bridge, which are now open.  Those who wish to regularly indulge in this most healthful exercise will find every comfort and convenience to enable them to do so.  Shaving and Hair Dressing done in the Salon above in the most neat, prompt and fashionable manner.  F. WERNER
↓  More on business on North Side of Main St Bridge   ↓
Werner's Bathing Establishment & Barber Shop
Watertown Democrat, 07 12 1860
Werner's Bathing Establishment & Barber Shop—The subscriber has just fitted up in the most convenient manner a suit [suite] of bathing rooms under his barber saloon, on the north side of Main Street Bridge, which are now open for the reception of visitors.  Those who wish to regularly indulge in this most healthful exercise will find every comfort and convenience to enable them to do so.  Shaving and hair dressing done in the saloon above, in the most neat, prompt and fashionable manner.
Watertown Democrat, 03 31 1859
The Charter Oak Insurance Company—of which Mr. T. R. Mott is agent for this city—ranks among the most sound and reliable in the Union.  It has a heavy capital actually paid in, a large surplus fund, and in case of fire, where there is no appearance of fraud, it fairly and promptly adjusts all losses.  Mr. Mott is also agent for a life insurance company of the same name in which a policy could be very wisely and prudently taken.
Watertown Democrat, 04 28 1859
At the annual parish meeting of St. Paul's Church the following gentlemen were elected officers.  Wardens: Daniel Jones, A. Medberry, Jr.  Vestrymen: A. L. Pritchard, W. H. Clark, Theodore Prentiss, R. S. Little, P. V. Brown, H. B. Gallup, W. F. Logan, W. B. Folds.  Bishop Kemper officiated last Sabbath and confirmed fifteen persons, including two in private.
French and German Essences
Watertown Democrat, 04 07 1859
[In our paper] Mr. Silas J. Lee, of Chicago, announces to the public that he has on hand and is prepared to supply the trade with one of the best assortments of French and German Essences and Extracts ever imported to this country.  In manufacturing, flavoring and coloring wines, liquors and cordials, it is sold to be unequalled.
Watertown Democrat, 04 14 1859
All who call and examine them cannot fail to be pleased with the extent, quality and cheapness of the superb stock of dry and fancy goods which now crowd the shelves and load down the counters of Ralph Lord's store. 
Mr. A. Peterson is now opening a rich and extensive stock of Now [New?] Goods.  All styles and varieties of fine and fashionable articles may now be found at his well filled store.
Lettuce, radishes and other spring delicacies have been on the always profusely supplied tables of the Exchange for more than a week.  We cannot see that Mr. Van Alstine's election to official honors has made him any the less attentive to the guests that constantly assemble at his model hotel.
↓  More on Peterson store  ↓
An Extension
Watertown Republican, 09 28 1860
We notice that Peterson is building an addition of twenty feet to his store on Main Street.  This is rendered necessary by his increased business.  He found his former quarters too diminutive, and hence has been compelled to large.
Watertown Republican, 11 24 1875
Mr. George P. Mathes is making arrangements for doing an extensive business in the shipment of pressed hay from this place the present season.  He has recently built an addition to his barn on the corner of 5th and Spring streets capable of containing a large quantity of hay, where it is pressed with a machine and made ready for market.
Watertown Republican, 11 24 1875
Governor Taylor has issued a proclamation designating Thursday, Nov. 25th, as a day of Thanksgiving and Prayer, the same day that has been set apart by President Grant for a National Thanksgiving.  At St. Paul's Episcopal Church the usual Thanksgiving service will be held at 10-30 A.M., Rev. S. K. Miller officiating.  At the Methodist Episcopal Church a Union Thanksgiving service will be observed with a sermon by Rev. Mr. Hendrickson of the Congregational Church.
Watertown Democrat, 11 22 1855
The Bank of Watertown has now completed its arrangements for raising its capital to $100,000.  The bills are already struck off, and by the first of January 1856, the bank will commence operations with greatly increased means for accommodating one of the most profitable and growing business communities in Wisconsin.  The Bank of Watertown commenced business in this city a little more than a year ago with a capital of $25,000.  A short time since its stock was raised to $50,000, and now this latter amount is about to be doubled in order to keep pace with the calls that are made on it for larger accommodations.  This short and plain story speaks volumes in favor of our city, and tells with unerring certainty that rapidly as we are going ahead, we are going along safely.  Mr. A. L. Pritchard is the President, and Wm. H. Clark, the Cashier of the Bank of Watertown—gentlemen in whose experience and ability the public may repose the utmost confidence.
A New Store
Watertown Democrat, 11 29 1855
It will be seen by their card that H. W. Graves & Co., are about to open a new store in this city.  We understand that this firm has received one of the largest stocks of goods and groceries ever offered for sale in this city.  They will be on "full tide of successful experiment" in a few days.
↓  More on H. W. Graves & Co   ↓
The New Store
Watertown Democrat, 12 13 1855
The New Store, just started on the West side of the river, in the same building recently occupied by C. & R. Chatfield, is now in full operation.  A new and splendid stock of goods, cheap, plenty and first grade, are the inducements which GRAVES & Co., offer the public to give them a call, as will be seen by reference to their advertisement in the city.
Watertown Democrat, 12 27 1855
We learn that the Post Office of this city is soon to be removed to one of the rooms in the new block recently erected on Second Street.  The building now used as Post office is about to be taken away to make place for a three story brick block, to be put up early in the spring , and which will make a decided improvement in the appearance of Main street.
The new location of the Post Office is not so central as it should be, but we do not know as it is easy or possible to get a more convenient point at present, all the stores on Main Street and West Avenue being occupied, and a brisk demand for more still continues.  According to present arrangements, there are only three hundred and seventy boxes and forty drawers.  We understand that is it the design of the Post Master to add one thousand more boxes, eighty drawers, and make such changes as will be a public accommodation.  There is no doubt that the rapid and steady growth of our population has made an enlargement to this extent at least necessary, and is one of the many indications might named of our prosperity as a place.
Cross reference:  This Second St post office location was later used as a school.
Removal of the Post Office, Again
Watertown Democrat, 04 28 1859
The Post Office of this city was removed last Monday to a building situated on the corner of West Avenue [Main St] and Water streets, West side of the river.  The new place is not far from the center of business and is easily accessible at all times and seasons, but for convenience and accommodation there is no better location than the one which has just been given up.  We know nothing of the causes that have led to this change but there will be no reason to complain of the transfer, as the new point is as good as any other that can be procured just now.
Still Enlarging
<![if !vml]>

<![endif]>Watertown Democrat, 12 27 1855
The Milwaukee and Watertown Railroad Company have just completed another structure, nearly a hundred feet long, for the purpose of storing freight.  The new building runs parallel with the main depot, which, large as it is, has been found much too small to hold the immense amount of freight that is now passing over the road, on its way into the interior.  All around the buildings, as well as within them, huge piles of boxes, bales, barrels, stoves, hardware, and  merchandise of all kinds, were to be seen in the open air, it being impossible to put them under cover, notwithstanding the promptness with which the goods are generally taken away.  The road is now doing a heavy business, may be inferred from the necessity of making such an improvement.
Watertown Daily Times, 02 06 2009
A 50-year-old rotating beacon at the Watertown Municipal Airport is replaced with a new light.  The former marker, which had stopped rotating and needed refurbishing, was replaced through budgeted funds from the Wisconsin Department of Transportation.  The sale of the old light to an airfield in Mississippi financed the labor involved with the replacement.  The new light, which is smaller and brighter, began operation Thursday evening.  At top, Dave Mack assists in the removal of the old lamp, while above, workers unpack the replacement.
↓  More on Beacon  ↓
Project paid for by State Funds
Watertown Daily Times, 03 24 2009
Gov. Jim Doyle has approved a $5,605 project that involves replacing the rotating beacon at Watertown Municipal Airport.  The governor's action releases the full $5,605 in state funds for the project and the city of Watertown is contributing personnel and equipment to install the new unit.
New beacon greatly enhances safety during night and low light conditions by making it easier for pilots to locate the airport from the air.
Watertown Daily Times, 02 06 2009
It was brought to the attention of the Finance Committee that several of the firefighters are exceeding the 600 hours per year which triggers covering them under Wisconsin Retirement and means that the city must contribute 16.6% of their wages to the retirement fund.  Those that have exceeded the 600 hours will be placed under retirement and changes will be made to the scheduling to ensure that others do not exceed this limit.
Watertown Gazette, 04 02 1909
At the annual meeting of Watertown Lodge No. 666, B. P. O. Elks held at the EIks lodge last Friday evening, Oscar E. Wertheimer was elected exalted ruler and the other offices were filled as follows:
Exalted Ruler—O.  C. Wertheimer
Esteemed Leading Knight — Carl Melzer
Esteemed Loyal Knight—Oscar E. Meyer
Esteemed Lecturing Knight—Frank McAdams
Treasurer—Charles  E. Frey
Secretary—Arthur  N. Thauer
Tyler—A. Barker
Trustee three years—W. E. Brandt
Delegate—A. Mulberger
Alternate—Edward McAdams
Watertown Gazette, 04 02 1909
In conversation with Dr. T. F. Shinnick, recently elected manager of the Elks baseball team, we learn that the following members have been decided upon to land the championship for our local organization:  H. Barr, c[center field]; A. Ushling, p; O. Barker, p; W. E. Brandt, 1st b; O. Wertheimer, 2d b; E. F. Fuller, ss; F. McAdams, 3d b; A. Thauer, If; J. Lietz, cf; T. Weber, rf.
Substitutes C. A. Comstock, A. Frattinger, W. Miller and A. Bickner will be given a two weeks' outing at the springs [in the spring] for a general bang up. [Chapter on Watertown baseball]
City League's Championship Season
Watertown Wins
Watertown Gazette, 04 30 1909
An immense crowd turned out for the opening of the City League's championship season at Washington Park last Sunday and were treated to a swell game of ball.  Watertown won the opener, defeating the Ripple & Meyers team of Milwaukee, 5 to 0.  Frank Lange, last year's star twirler of the Wisconsin State league, who was tried out by the Chicago White Sox this spring, was in the box for Watertown and pitched a great game.  He blanked Ripple & Meyers in every inning and let them down with four hits.  Besides doing good box work he was also there with the stick, securing two of the five hits.  Rades for the Ripples was also in good form, but his teammates did not accord him the best of support.  In the third inning he struck out every man that faced him . . .
Frank Lange was the pitcher for the White Sox against Watertown at Washington Park in 1913.  The above game ended up being the only game he played as a member of Watertown in 1909.  However he played for Watertown a couple of years prior to that.
Watertown Daily Times, 02 06 1959
Roger B. Holtz, Superintendent of Schools, yesterday afternoon announced his resignation in a letter he sent to George W. Block, president of the Board of Education and a statement he gave to the Daily Times.  It was announced last month that his present three year contract will expire on July 1.  Mr. Holtz said that he will remain until July 1 when his resignation is to go into effect.  His letter was brief and said merely that after due and careful consideration he had decided to terminate his superintendency as of next July 1.
Watertown Daily Times, 02 06 1984
Furnishing bids for Watertown's new library came in nearly $1,000 lower than budgeted and $5,000 below expectations.  The library Board of Trustees accepted furnishing bids for library equipment, wood and metal furniture, meeting room furnishings, draperies and signage totaling $153,640.50.  Final approval of the furnishing contracts must come from the Watertown City Council.
Watertown Democrat, 04 21 1859
A petition is now in circulation asking the Common Council to pass an ordinance providing for paving or macadamizing Main Street.  The petition has been cheerfully signed by those owning property and doing business on our principal thoroughfare and will no doubt be granted.  The proposed improvement is indispensable and should no longer be delayed.  During the present season thus far the condition of Main Street has been not only disgraceful to any community but almost impassable.  Interest and economy both dictate that this discreditable and inconvenient state of things should be permitted to exist no longer.  As this change must be made [at] some time it is evident that the sooner it is effected the better.  The materials can be easily procured and the work done as low now as at any other time, and there is no reason why every team that passes through our city should be compelled to wallow and toil through mud and mire, from one end of the street to the other.  Let the street which is most traveled and visited be pleasant, dry and clean, so that it will not only be passable and commodious, but will make a favorable impression on the stranger when he makes a fleeting sojourn with us.
↓  More on Main Street   ↓
Watertown Gazette, 05 05 1859
A much needed improvement is now going on in a portion of Main Street.  Some two feet of earth are being removed to make room for hard stone, finely broken, which will make a clean, dry, passable road at all seasons of the year.  If the whole street is thoroughly improved in this way it will be a lasting and general benefit.  It certainly ought to be done and we presume will be.
↓  More on Main Street   ↓
Watertown Democrat, 06 09 1859
An Ordinance to improve Main Street on the East side of Rock River . . . from the East end of Main Street bridge to the West line of Fourth Street shall be improved by removing the earth therefrom to the proper depth and covering the same with broken stone so that when said improvement is completed the surface of the center of said Main Street shall be on a line with the established grade of the street and one foot above the gutters on either side thereof and the stone twelve inches in depth at the center and six inches at the gutters, properly leveled and rounded off and in all respects similar to that portion of said street in front of the Watertown Exchange and the Planter's Hotel.
↓  More on Main Street   ↓
Enforce the Ordinance
Watertown Democrat, 09 15 1859
Some time since an ordinance was passed by the Common Council providing for the macadamizing of Main Street.  It has been partly completed with but a portion of that business avenue, and streets which most need improvement, has not been touched.  The time when this work can be best and easiest done is rapidly passing away, and there is danger that fall may find this thoroughfare in the disgraceful and almost impassable condition in which it has heretofore been.  We hope our attentive and watchful City Fathers will have an eye to this matter and see that the ordinance relating to this matter is promptly carried out.  A little more delay and it may be impossible to do this much needed work.  Let us at least make it a point to have the principal street of our city in as good a state for traveling as a newly made road in the woods.  Ordinary city pride should induce us to make one more effort to reach this very common standard of excellence.
Cross reference:  Condition of Main Street in 1849
Ordinance
Watertown Democrat, 04 28 1859
A side walk of the width of eight feet shall be constructed on the North side of Wisconsin Street, from First Street to Fourth Street, in the First Ward, according to the established grade of said street.  Said walk shall be curbed with 2 by 10 inch oak plank, firmly staked down.  Said walk shall be constructed of oak plank one and a quarter inch thick, eight inches wide and four feet long, and laid in the middle of said walk, crosswise on three 2 x 4 oak stringers firmly embedded in the ground.  Cross walks shall be constructed across Second and Third streets in a line with said side walk, of the width of four feet, and similar to those on Second Street.
Cross reference:  Sidewalk would be in front of Congregational Church
Oconomowoc
Watertown Democrat, 04 28 1859
The Oconomowoc Free Press says that the "village has a population of over 1,000 and that one would suppose that there would be a few rooms to let during these hard times.  But everything inhabitable is filled.  There is not a vacant house or shop in town.  Several strangers have been here recently looking for stores and shops but none can be had without building them."  The village of Oconomowoc is one of the prettiest and smartest places of its size in the State.  It is well located for business, and being situated in the midst of a fine farming country, will eventually become a place of considerable importance.
Mace's Patent Portable Gas Generator
Watertown Democrat, 04 28 1859
This is an entirely new invention, generating a pure gas from burning fluid.  The light is equal in brilliancy to the best coal gas, and much cleaner.  Each lamp burns at a cost of about one cent an hour and gives a light fully equal to ten tallow candles.  It is adapted to all wants, public and private.  It is perfectly safe, perfectly clean and perfectly inodorous.  The streets of every village may be lighted at a cost of one cent an hour for each light, with no outlay but the cost of the lamp.  For churches it is indispensible.  We have lamps of all kinds suitable for parlors, halls, stores, churches and streets, at all prices.  Shades of various patterns.  John Perkins, agent.
Organization Effected and Protection
Will be Afforded in Case of Fire
Watertown Gazette, 04 02 1909
Organization Effected and Protection Will be Afforded in Case of Fire
Clyman village is taking time by the forelock these days. They are not waiting for the horse to be stolen before the stable door is locked and the people are also not waiting for a disastrous fire to wipe out the business portion before taking steps to secure fire protection.
Tuesday evening the company organized by electing the following officers:
Chief—Louis Kronitz
Secretary—James Walsh
Treasurer—Emil Kressine
Trustees—Theo. Schraven, Frank Klatt, John Collins.
Articles of incorporation were filed with the secretary of state at Madison and the work has already been begun on a large cistern to have a capacity of 15,000 gallons.
The department will also erect a sixty foot steel tower with a 30,000 gallon tank mounted on the same and will also put in a system of piping in the streets.
The cost of these improvements will be about $3500, it is estimated, and when completed it will give the little village far better fire protection than the average village of its size in the state, many of which would be almost at the mercy of devouring in case a fire got a good start—[Horicon Reporter]
Watertown Gazette, 04 02 1909
There will be a free public Chi-Namel demonstration at our store from April 3d to 8th by a special expert demonstrator sent here to instruct our trade how to produce wonderful hard-wood effects on any old floors, oil cloth or linoleum to imitate the latest fashionable finishes done in a cheap and most durable manner.  Remember Chi-Namel will outwear ordinary floor varnish many times over.  Free samples given out while they last.
Respectfully, THE J. B. MURPHY CO., WALL PAPER, PAINTS, OILS, WINDOW SHADES
Watertown Daily Times, 02 12 1959
Three Watertown persons connected with the operation of bowling alleys, Mrs. Dale Chase, Foster Pagel and Ray Seibold, have been awarded certificates as instructors after successfully completing a four-day course of instruction in bowling offered by Joe Wilman, Hall of Fame kegler.  The Watertown trio attended the four-day school in Madison along with 26 others from throughout the state.  A four-hour written quiz concluded the school and Seibold scored a 98 in the test to post the third highest score ever recorded in the exam.
Watertown Daily Times, 05 20 1958
At the annual meeting of the Watertown Association of the Commerce Promotive Corporation held last evening the three directors whose terms expire this year were re-elected for another term. They are Karl Fischer, John D. Clifford and Floyd Brinkman. Officers of the corporation are to be elected later by the board. Holdover directors are L. J. Lange, E. T. Hornickle, John E. Salick, Arthur Kuenzi, Ray Kern and William V. Resneck.
↓  More on Promotive Corp   ↓
Watertown Daily Times, 02 12 1984
Bertram Beltz, owner of Ray's Shoes in Watertown, today was elected to the board of directors of the Watertown Area Chamber of Commerce Promotive Corporation.  Beltz succeeds Paul Kehrer, vice chairman of the board of directors of First State Savings and Loan Association, who resigned his position on the promotive board.  The promotive corporation is the industrial development arm of the chamber.
↓  More on Promotive Corp   ↓
Watertown Daily Times, 05 26 1961
The annual meeting of the stockholders of the Watertown Association of Commerce Promotive Corporation will be held in the lower hall of the Elks Club on Thursday evening, beginning at 8 o'clock. Three directors will be elected.
The terms of the following three directors expire: Karl Fischer, Clifford Warren and John D. Clifford. Warren was elected to the board last year to fill the unexpired term of Floyd Brinkman, who had resigned. Other board members are W. V. Resnick, Ray Kern, John Salick, L. J. Lange, Arthur Kuenzi and Arthur Hilgendorf. Officers are: Clifford, president; Lange, vice president; and Edgar Kellerman, secretary-treasurer.
"Union Depot for a Day"
Watertown Gazette, 04 02 1909
The greatest aggregation of dramatic talent ever put upon any stage in Watertown will be seen at Turner opera house, Thursday evening, April 15, when the above-named comedy will be given under the auspices of the Clover Club [First Congregational Church organization].
The Kaleidoscopic picture of a railroad station will be produced with life-like fidelity.
Between sixty and seventy people will be employed from all the walks of life, including the best talent in the city.  You'll see all kinds of people—funny people, cross people, rich people, poor people, cheerful people and sober people—all doing things to interest you, or make you roar with laughter.
Good acting, good singing and good scenic effects make the production one of great merit.
It's only for "a Day," but the laughs will come to stay.
Watertown Gazette, 04 02 1909
The editorial staff of the ''Black and Red," the Northwestern University paper, celebrated its annual banquet Saturday night, when under the auspices of the new staff the retiring members were given a reception.  The retiring senior editors are S. Probsh, P. Bergmann, H. Schaller and H. Koch.  The new staff members are E. Berg, R. Ziesemer, F. Schweppe, M. Whyte, A. Werner, O. Dornfeld, H. Schroeder, P. Froehlke.
Watertown Gazette, 04 02 1909
Clem Stacy, who went to Fergus, North Dakota, a few months ago, has been appointed postmaster at that place.  He is a son of W. D. Stacy of this city and his many old friends here will read of his appointment with much pleasure.
Watertown Daily Times, 02 13 1984
With a product demanded in locations such as Panama, Venezuela, Ecuador and most recently China, Baker/Rullman Manufacturing Inc. of Watertown has made great strides in the age of the computer.  Baker/Rullman, with offices located at 104 West Main Street and manufacturing facilities located in South Water Street and highway 19, designs and manufactures bulk bin and mills systems for all types of feed including cattle, hog and poultry feed.  The firm also produces bulk storage facilities for seed, grain and food products for processing facilities such as Proctor and Gamble.  Wood and industrial material storage facilities are also built under the Baker/Rullman name.
Watertown Gazette, 04 09 1909
The resignation of Miss Margaret McGrath, teacher in the first grade No. 2, was accepted and Miss Lillie Habhegger was appointed to fill the vacancy till the close of the school year.
Watertown Daily Times, 02 14 1984
Watertown School District will run its own special education program in 1984-85 following unanimous approval by the school board at Wednesday night's meeting.  The board also took a preliminary look at a proposed administrator and teacher performance valuation system to be initiated for the 1984-85 school year.  Watertown currently contracts for special education services with CESA 13 which is to be dissolved.  Under the new arrangement, Watertown will be one of 74 schools in CESA 2, while most of CESA 13 joins CESA 6.
Watertown Gazette, 04 09 1909
Otto Gerbitz has sold his new residence at 603 West Main Street to Otto Tessman, consideration $2900.
Watertown Gazette, 04 09 1909
The Methodist Ministers' Association of the Janesville district will meet in Watertown on April 12 and 13.  The local pastor, the Rev. M. L. Eversz, expects an attendance of about forty.  On Tuesday morning at 8 o'clock, if the weather permits, by the courtesy of local auto firms and private owners, the members will be given an auto ride about the city.  The three sermons preached during this association meeting will be delivered by the Rev. J. S. Lean, D. D., of Whitewater, the Rev. J. R. Shaw of Jefferson and the Rev. W. E. Lowther, missionary to Malaysia, will deliver an address on "The Challenge of Islam" Monday evening, April 12.  The public is most cordially invited to attend the lessons provided next week.
Are You a Father or Mother?
Watertown Gazette, 04 09 1909
Are you a father or a mother?  If so, we want to say a word to you.  We are not going to talk about the boys and girls in Watertown, but about the boys and girls in Reeseville. Your sons and daughters, now granted . . . that we live in a glass house, and should not throw stones, we are going to say just what we are going to say.  For thirty years, we have been familiar with the doings of people here in this village, and we may say that we have just now about as tough a bunch of kids as we ever had.  This may sound kind of strong, but we have the proof.  Take [last year's] Halloween night for instance.  The boys that did these pranks were all at church Sunday, the next day, and they didn't all go to the same church either. They perhaps told their parents they were at the rally, but it is a lie. Now we are going to tell something. Young boys have keys to buildings where they congregate and they are not always alone. Young girls of good respectable parents, are not behaving as they should and they are drawing down on themselves some remarks which they perhaps deserve. Now mothers, don't turn up your nose at this, but just think, when you see your daughter out with other girls who you do not know, where they are the rest of the time?  When the shades of night fall where are your boys and where are your girls?  If they are not at home, where are they?  We saw four little girls start out Sunday evening.  The parents thought they were together.  They were not, each one had a fellow as soon as the shadows fell, and if anyone went and told the parents, there would be a row.  Are your little daughters old enough to have a fellow or are your sons doing what's right? You may say it is none of our business, but it is your business. Have a care. [Reeseville Review]
Watertown Gazette, 04 09 1909
Register E. C. Busch Monday received for record the transcript of the post office site at Watertown.  It comprises 35 pages and is the longest document received by him since he assumed the office last January.
Watertown Gazette, 04 09 1909
Real Estate.  Chas. Voy of Fort Atkinson has purchased Joseph Leschinger's store and saloon property in [114] North Water Street, giving in trade a fine farm at Fort Atkinson.
Watertown Gazette, 04 09 1909
Rev. Fathers Henry and Charles, Passionist Fathers of St. Louis, are conducting a mission at St. Bernard's Church.  It began last Sunday morning and will close next Sunday evening.  Both are excellent speakers and the morning and evening services are largely attended.  Masses are read at 6 and 9 o'clock A. M. at which sermons are delivered; in the afternoon at 3:30 o'clock services are held for children and at 7:30 in the evening mission prayers are said and a short instruction given, followed by a sermon and benediction.  People of all denominations are welcome at the services, especially in the evening.  Nothing is said that will offend anybody, hence non-Catholics need have no fear of attending on account of hearing anything that might embarrass them.
↓  More on Mission at St. Bernard's   ↓
Mission at St. Bernard's Church
Watertown Gazette, 04 16 1909
One of the most successful Missions that has ever taken place in this city came to a close at St. Bernard's Church last Sunday night, and that large and beautiful church was packed to the doors with people.  Aside from members of the congregation, many Catholics from surrounding towns and parishes were present as well as a great many people of other denominations. Through the week all the services were largely attended, and the efforts of Rev Fathers Henry and Charles, Passionist Fathers of St. Louis who conducted the Mission, certainly produced good results. It was a most edifying sight on the evening of Good Friday to see the large number of people, and among them quite a few Protestants, who went to the altar railing and kissed the crucifix; again on Easter Sunday morning, as one viewed the immense crowd of people, young and old, rich and poor, who received Holy Communion, one could not help being inspired and having a feeling of goodness of heart take possession of them; and then on Sunday evening when that magnificent audience arose as one person, renewed their baptismal vows and pledged themselves to do all things possible in the future to avoid sin and the calling down the blessings of God by Father Henry on all the members of the congregation, on all who made the Mission as well as on those who failed to do so, and on the people of Watertown in general, his appeal being made before a large crucifix, who was there present that could not profit and feel the better in conscience and heart for being so favored a witness to this inspiring scene.  Fathers Henry and Charles, and the beloved Pastor of St Bernard's, Rev. Father Boland certainly accomplished a great deal of good by the giving of this Mission and its influence for good in Watertown will certainly be felt for a long time to come.  People want more of such good work, especially so, when as this Mission has been, it is freed of narrowness and fanaticism, and people of all denominations and callings can be present, and profit by it without prejudice to their own beliefs and religious practices.
Watertown Gazette, 04 09 1909
Connor & Spiegelhoff, Headquarters for Farm Lands and City Property.  First mortgage loans on farms and city property.  We now have for sale a large number of beautiful homes in this city and many fine farms in the surrounding country, which we will sell at fair prices and on reasonable terms.  With an outlook for an increase in the values of realties, now is the time to buy.  For particulars inquire at 115 North Third Street, Watertown, Wis
The Girl Who Works
Watertown Gazette, 04 23 1909
God bless the girl who works!  She is not too proud to earn her own Iiving nor ashamed to be caught at her daily task.  She smiles at you from behind desk, counter or printers' case.  There is a sweet memory of her in everything she touches.  She is like a brave mountaineer, already far up the precipice—climbing, struggling, rejoicing.  The sight is an inspiration.  It is an honor to know this girl and be worthy of her esteem.  Lift your hat to her, young man, as she passes by.  She is queen in the realm of womanhood.  She's a princess among the toilers.  Her hands may be stained by dishwashing, sweeping printers' ink, or factory grease.  But they are honest hands.  They stay misfortune from the home; they support the invalid loved one, maybe; they are moving a family from the poor house.  God bless and protect the girl who works.
Clean Up
Watertown Gazette, 04 09 1909
It will enhance the health and augment the beauty of the city, if every householder will at once begin to clean up his premises.  With the advent of April, spring will soon be here in earnest.  April showers will take the little remaining frost out of the ground in a hurry.  Nature will revive and adorn herself with the fairest robes of spring.  The warm rays of the sun will give life to everything that can live.  The outdoor accumulation of the winter will furnish a striking contrast to reviving nature.  They will not only be an eyesore if allowed to remain but will endanger the health of the community.
Every street, alley and back yard in the city ought to have a thorough-going cleaning, and the work should begin at once.  Every householder should have a personal interest and pride in this cleanup and thus feel that he is doing his part in beautifying this already beautiful city.
Basketball
Watertown Gazette, 04 16 1909
Basketball followed by a dance is billed for the Turner opera house on Friday evening, April 16.  The local high school girls will meet the North District high school girls of Milwaukee and the high school boys will play the local city team.  The first game will be called at 8 P.M, and dancing will be indulged in from 9 until 12 o'clock.
Watertown Gazette, 04 30 1909
A fine new bell has been hung in the belfry of the Methodist church in Main Street.  It weighs 800 pounds and was manufactured by the Cincinnati Bell Foundry Co., of Cincinnati, Ohio.  On the bell is inscribed "Presented to the First Methodist Church, Watertown, by Benjamin Lilley, of Sharon, Wisconsin, Feb., 1909."  It will be rung for the first time on Sunday, May 23, when Bishop McIntyre of St. Paul will be at the church.
Of Interest to Old Soldiers
Or their Heirs
Certain old Soldiers have land claims
coming to them from the Government
Watertown Gazette, 04 16 1909
Any old Union Soldier or Sailor who served 10 days or longer in the late War of the Rebellion, and who went west after the war and made a homestead entry in any state in the Union for either 30, 80 or 120 acres before June 22nd, 1874, has a claim coming to him from the Government.
It does not make any difference whether he proved up on [improved] his homestead entry or simply left it.
There were thousands of old soldiers who went to Kansas and Nebraska after the war and took up eighty acre homesteads and when the grasshoppers and hot winds came along simply left their entries and went back east.  Each of these men have claims.
Under a Supreme Court decision these claims are assignable. R. H. Peale, Judge Building, Salt Lake City, Utah, perfects the title to these claims and will pay the highest market price for same.
If the soldier is dead the widow or heirs can sell this right.
If a soldier never made an entry he has nothing to sell.
Mention this paper when writing.
its democratic ideals?
Watertown Gazette, 04 16 1909
We are moved to ask this question by the reports from Washington which indicate that it is almost impossible for President Taft to attend church on Sunday without being almost mobbed by curious throngs of sightseers on the streets of the national capitol.  On Easter morning a great concourse of people who gathered outside of St. John's Church, where Mr. Taft attended service with his wife, practically compelled Mr. Taft to stop and hold an open air reception before he could return to the White House.  We have always been ready to ridicule the English who make fools of themselves over their royal family, standing on the streets for hours to see its members pass by and cheering themselves hoarse on such occasions, but if we are not careful we will give the British press an opportunity to indulge in no end of sarcasm at our expense.  Moreover such conduct is un-American and un-democratic and there seems to be little excuse for intruding to such an extent on the privacy which even the president ought to be permitted to enjoy on one day of the week.
Watertown Daily Times, 02 11 1959
At 11:37 o'clock last night Watertown's controversial airport expansion plan was still alive and kicking back in the City Council chamber where it had been unmercifully kicked around in argument and debate in the longest council session on record since the manager-council form of municipal operation came to Watertown in 1949.  A second later it was as dead as the proverbial door-nail.  The death blow was struck by Councilman Carl V. Kolata when he cast his "no" vote on a resolution which would have appropriated the $7,500 which was to be the city's share of the proposed project, and made it available for use by the state and federal governments in acquiring additional land and easements to enable expansion of the airport as proposed by state aeronautics engineers.
Watertown Daily Times, 03 21 1959
Fred W. Kehl, 829 Richards Avenue, has been elected president of the Watertown Rotary Club for the year commencing July 1.  He now is club vice president.  Ralph Ebert was re-elected secretary.  Three board members were elected at yesterday's club meeting. They are George Wolff, Harold Blaesius and Dr. E. E. Burzynski (incumbent).  Other directors are S. J. Luchsinger, Kehl and S. J. Gamroth, retiring president.
↓  More on Rotary   ↓
Watertown Rotary Club
35th anniversary
Watertown Daily Times, 05 11 1959
The 35th anniversary of the founding of the Watertown Rotary Club was observed last night with a ladies' night inter-city dinner program, held in the upper hall of the Elks Club.  A total of 225 Rotarians and Rotary Anns from Jefferson, Lake Mills, Fort Atkinson and Watertown, together with special guests, were present to mark the occasion.  The Watertown club was organized by the Madison Rotary Club. The charter night was held on January 16, 1924, with 150 Rotarians from various cities, including Madison and Waukesha, present.  The Madison club was represented by 80 Rotarians who came over by special train.  The Waukesha club made the trip by interurban.
↓  More on Rotary   ↓
60th Anniversary
Watertown Daily Times, 02 11 1984
The 60th anniversary of the founding of the Watertown Rotary Club was observed with a Ladies Night Dinner held Saturday night at the Watertown Country Club with President Gary R. Smith presiding. The local service club received its charter at a Charter Night dinner held at the Elks Club on the evening of Jan. 16, 1924. The Watertown club was sponsored by the Madison club. A special train was chartered to bring 79 Rotarians from Madison. Also present were 10 Rotarians from Milwaukee, 19 from Waukesha, one from Manitowoc and one from Antigo. Eighteen Watertown Rotarians were present.
↓  More on Rotary   ↓
Watertown Daily Times, 09 09 1999
Donald L. Abraham of Watertown is retiring from Rotary Club after being an active member since 1970.  Abraham has had a perfect attendance record for the past 29 years.  Among his many achievements, he has served as president of two clubs, and also as governor of District 6250 (formerly District 625).  Abraham will have his last day in Rotary on Oct. 4, after joining the international organization on Oct. 1, 1970.  He was district governor from 1987- 1988.  While he was governor, the district raised $598,211 for the Polio Plus project; began admitting women as members; and added two new clubs.
Watertown Gazette, 04 23 1909
The American House in Water Street has been sold by James Spear to A. L. Merriman of Fort Atkinson, possession to be given June 1st.  Mr. Spear took in exchange a farm in the town of Koshkonong and a certain amount of cash.
↓  More on American House   ↓
New Hotel Proprietor
Watertown Gazette, 06 18 1909
On Tuesday last a new proprietor took charge of the American House in Water Street, this city.  A few weeks ago it was sold by James Spear to J. Merriman of Fort Atkinson, who has leased it to William Cooper of this city.  The new proprietor took charge on Tuesday and will have the hotel remodeled in fine shape.  He will put in city water, sewerage, toilet rooms, etc.  Mr. Spear and wife and daughters will henceforth reside at Appleton, but their sons, James, rural mail carrier, and William, driver of No. 2 fire apparatus, will still make Watertown their home.  Our citizens will part with Mr. and Mrs. Spear and their estimable daughters with a great deal of regret and all wish them long life, prosperity and happiness in their new home.
Watertown Gazette, 04 23 1909
Among those who have been granted certificates by the state board of pharmacy are R. A. Zimmermann, Herman Barganz, Walter Weber and Irvin Stemple of this city.
Watertown Gazette, 04 23 1909
"Dolly," the old family horse of Mrs. C. W. Jones, died on Tuesday.  The horse was a familiar member of the animal kingdom in Watertown, and did noble service in the Jones family for many years.  [Charles W Jones]
Watertown Gazette, 04 23 1909
BUILDING STONE FOR SALE.  Very good quality.  Prices reasonable.  Apply to Frank Cowen, 812 North Monroe Street, Watertown, Wis.
Cross references:
Cowen, Frank E    1904, Builder of Globe Mill Dam
Cowen, Frank E    1906, Mention of
The Theology of the Cross:
Reflections on His Cross and Ours
Book review by Gregory L. Jackson, PhD
Northwestern Publishing House, 283 pages, paperback, $17.99.
Professor Daniel Deutschlander was loved and respected by his students at Northwestern College, Watertown, Wisconsin (WELS).  Many took the German courses just so they could have him as a teacher. His courses were marked as German language classes, but he also taught Lutheran theology. He was a tough teacher who expected preparation for each class.
Now retired, Deutschlander has written a book that will be influential for many years to come.  The Lutheran Church Missouri Synod would be wise to distribute and promote this book.
The preface to the book would make a good conference essay by itself, an excellent summary of the situation today. One quotation indicates the wisdom and wit of the book that follows:
"The phony and the artificial church turns worship into a spiritual happy hour devoid of repentance, with cheap absolution, with no thought of taking God seriously in either the law or the gospel. And people love it. They still get to be their own god, their own bible, their own source of ultimate truth and salvation." (p. vii)
Watertown Gazette, 04 23 1909
At 10:30 o'clock Saturday night John Schempf, after locking up, returned to his drug store in Main Street for an umbrella, and as he stepped inside he heard a noise in the rear of his store.  He notified Officer G. Butzler and on investigation they found a window in the rear open but no one could be seen around the place.  The windows in that part of the store Mr. Schempf says are never opened in the day time and he thinks some one opened it after he closed the store for the purpose of robbery.
Council OKs Fire Department Rates
Watertown Daily Times, 02 17 2009
The Watertown Common Council Monday night set Fire Department rates for area towns.
The fire and EMS protection rates for the towns of Emmet, Milford, Shields and Watertown were unanimously approved by the council.  The four towns will pay about $214,289 for fire and EMS services this year.  Shields will be asked to pay $38,958; Emmet will be asked to pay $49,892; Milford will be asked to pay $27,323; and Watertown $98,114.
The contract also states when water is supplied by the city for suppression or protection purposes, the town in which the fire occurred will be charged $1.96 per cubic foot, which is the amount required by the latest Public Service Commission rate.
According to the contract, in the event several calls are received by the city's fire department, firefighters respond to fires in the city before responding to the ones in the town.  If calls are received by more than one town, firefighters will respond to the town that placed the first call for assistance.
The agreement also includes a clause in which the city fire chief, or his designee, has the authority to enforce the Wisconsin Fire Protection Code.  Each town board that signs the agreement has to adopt an ordinance pertaining to the town fire protection code.
Carl Baumann
Watertown Gazette, 04 30 1909
Carl Baumann, who has for a year past been employed in the office of the Van Camp Packing Co in this city, has been appointed assistant superintendent of the Van Camp Packing Co.'s plant at Ferry, Iowa.  This is a well-merited promotion, and all his friends are pleased to hear of it.  He is a son of A. F. Baumann and wife, and is a graduate of the Watertown High School, and for a time attended the state university.
Watertown Republican, 05 19 1875
Mr. N. W. Pierce, ticket agent at the Junction of the Chicago Milwaukee and St. Paul Railway, informs us that he has received for sale Excursion Tickets from Watertown to Denver city, Colorado, to be sold from May 15th, to October, 15th, 1875, good for ninety days from date of sale for eighty-eight dollars and sixty cents, over either routes out of Chicago. This is a fine opportunity for parties contemplating a journey to the Rocky Mountains.
Watertown Daily Times, 01 20 1957
Washington and New York circles were buzzing today with reports that Adlai Stevenson, twice Democratic candidate for the Presidency, and former governor of Illinois, and Mrs. Mary Woodard Lasker are to be married in the spring.  Rumors to that effect have been heard for some time, but yesterday the Washington columnist, Drew Pearson, in a report from Washington brought the rumor into the open.  Mrs. Lasker is the former Mary Woodard of Watertown, daughter of the late Mr. and Mrs. Frank E. Woodard.  Her father was for many years president of the Bank of Watertown.  The Woodard family home was at 400 North Washington Street.  Mrs. Lasker is the widow of A. D. Lasker, a leading advertising agency executive and patron of the arts and philanthropist.  She resides in New York.