website  watertownhistory.org
    ebook  History of Watertown, Wisconsin
Joseph E. Davies
<![if !vml]>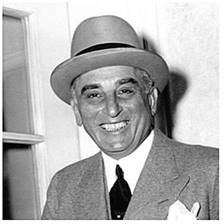 <![endif]>
Born Nov. 29, 1876, Watertown, Wis.
1869
07 26       J. & E. DAVIES, WAGON & CARRIAGE MAKERS
Have now on hand the LARGEST Assortment of Wagons and Carriages, of their own manufacture ever in this city.  As we use none but the best of stock, and employ the most skillful workmen, persons in want of Wagons and Carriages of any kind will consult their own interests by giving us a call before purchasing, as we are bound not to be outdone either in quality of work or price.  Repairing of all kinds done promptly and in the best possible manner.  Shop on First Street, two Blocks South of Main, Watertown, Wisconsin.
J. & E. DAVIS. Watertown, July 26, 1869.
08 18       EDWARD DAVIES & BROTHER (JOSEPH)
Davies & Bro.—We should have called attention before to the advertisement of Messrs E. Davies & Bro., Wagon and Carriage makers in this city.  Among our numerous establishments of this kind, none stand higher than theirs, and we do not believe that better or more creditable work can be done in this section than that of this firm.  Having a large stock of seasoned material constantly on hand and bestowing their personal supervision upon all the work done in their shops, they are enabled to warrant it in every case.     WR
Webmaster's note:  Brothers Edward and Joseph Davies ran this wagon shop, located at 311 S. First Street (NE corner S. First & Dodge).  Edward was the father of Joseph E. Davies and Joseph was an uncle of JED.
1875-76
EDWARD DAVIES, FATHER OF JOSEPH
<![if !vml]>

<![endif]>
1875-76 Watertown City Directory
<![if !vml]>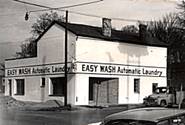 <![endif]>    311 S. First (NE corner S. First & Dodge)
This was originally the Edward Davies wagon factory, father of Joseph E. Davies
Cross reference note regarding this location:  05 14 1890 - Angers, Humphrey & Hackett.
Another new and promising manufacturing enterprise for Watertown is a cheese box manufactory of Angers, Humphrey & Hackett, located in the Davies building on First Street [311 S. First, NE corner S. First & Dodge], opposite the Ph. Heinrich Co. factory.  The proprietors have had a long experience in this line of manufacturing and are satisfied with the prospect that Watertown affords in this direction.  Their boxes give general satisfaction and their business is steadily on the increase.  We hope the Watertown cheese box manufactory will have abundant success.      WR
Cross reference note regarding this location:  04 25 1890 - Mannegold & Erickson.
Mannegold & Erickson have rented the Davies building on First Street [311 S. First, NE corner S. First & Dodge], opposite the Heinrich manufactory, and are fitting it up in good shape for manufacturing gas and electric light fixtures.  The machinery will be operated by steam.  Their business in this line has been greatly increased of late, hence they found more extensive quarters necessary for their works.      WG
JOSEPH E. DAVIES AS A YOUNG MAN

    c.1888, with mother Rachel          

1894
-- --           HIGH SCHOOL GRADUATION
Joe Davies' High School Classmates 'Saved His Head' at Graduation
by Louise Marston, Society Editor, Wisconsin State Journal 18 May 1958
This is an interesting little anecdote about the late Joseph E. Davies, the Wisconsin-born lawyer who rose to great heights, politically and socially, in Washington, D. C.  Mr. Davies died May 9 in Washington at the age of 81.  He was ambassador to Russia during World War II and was a special envoy for Presidents Franklin D. Roosevelt and Harry S. Truman.  A graduate of the University of Wisconsin.  Mr. Davies also was considered one of the leading attorneys in the nation's capital.
This little story about Joe Davies was told to me by Miss Hilda Volkmann, 1010 E. Gorham St., who spent her youth In Watertown, Mr. Davies' hometown, and knew him well.  Miss Volkmann said that when she was in grade school and Joe Davies was a senior in the Watertown High school, he had a severe case of typhoid fever and lost every hair on his head.  Out of deference to their temporarily bald classmate, the other senior boys voted to wear mortar boards on their heads for the graduation exercises, a dramatic and bold gesture as Watertown had never had them previously.  "It was the talk of the town, the kind gesture on the part of the boys and it made such an impression on us younger children," says Miss Volkmann.  Later on Mr. Davies' aunt lived with Miss Volkmann's family for seven years so that Miss Volkmann heard his name as a daily byword.  The aunt died many years ago in San Diego, Calif., in her late 90s.
Note:  Davies graduated from Watertown High in 1894 as valedictorian of his class
1898       A.B. DEGREE, University of Wisconsin, Madison, Wis. (Some colleges call their BA an AB, as in artium baccalaureus, to make them sound fancier.)
12 21       WISCONSIN DEBATING TEAM
Joseph E. Davies, of this city, a junior in the law school of the state university, has been elected a member of the Wisconsin debating team to take the place of Theodore Brazeau, resigned.   WR
12 28       PREPING FOR DEBATE
J. E. Davies, of the state university, was home over Sunday, returning to Madison Monday evening in order to prepare himself for the debate with Illinois next.   WR
1899
01 29       DEBATOR
Joseph E. Davies, of this city, is one of the three orators selected from among the State University students to debate the question "Resolved, That the best interests of this country would be promoted by the adoption of the bill known as the McCleary bill."  The contest will be held in Madison on or before April 15th next.  The Milwaukee Sentinel in a write-up in its issue of last Sunday on Wisconsin's participants in the contest says, "Joseph E. Davies was born in Watertown about twenty-two years ago and was graduated from the High School in '94 as valedictorian of the class.  He entered the university in the fall of the same year and soon became one of the most popular men in the university.  Mr. Davies has to his credit a string of honors that is bewildering.  His particular talent lies in the direction of oratory.  WG
1900
A Watertown young man, Joseph Davies, carried off the honors in the second annual dramatic contest of the State University at Madison.  Mr. Davies assumed the title role of the comedy, "Monsieur," which was decided as the prize play by the judges.  The State Journal says: "'Monsieur' was a delightful little comedy in two acts.  Mr. Davies in the title role did by far the best work of the evening.  The part was by no means an easy one, but Mr. Davies handled it with a naturalness and finish that was charming."   WR
06 05       MEMORIAL DAY 1900
The weather conditions of last Wednesday were all that could be desired for a proper observation of Memorial Day, and the exercises as arranged by the O. D. Pease Post, No. 94, G. A. R., and the Woman's Relief Corps were generally participated in by our citizens.  The principal ceremonies were held in the afternoon and were of an order to invoke reverence and honors for the noble soldier dead.  At 1:30 o'clock the procession formed at Grand Army hall and marched to Oak cemetery . . . . At the cemetery memorial services according to the Grand Army ritual were held over the grave of Lafayette Damp, a member of the post who died last fall, the customary salute being fired at the conclusion of the services.  Thereupon the line of march was resumed to Turner Opera house, where the exercises were opened with an address of welcome by A. E. Needham, commander of the post . . . .  The Opera house was filled to overflowing and Mr. Davies' oration was listened to with the greatest interest.  His effort was a masterly one and delivered with the eloquence and feeling that stamped him as a public speaker of rare genius and wonderful resources.  Not in many a day has Watertown had the pleasure of hearing a more able address or a more cultured orator.   WR
c.1900
-- --           GLOBE MILL FLOUR
Somewhat later there also came trudging [to the Globe Mill] young Joe Davies to carry home on his cart the flour needed by his gifted ordained Baptist Mother; the same Joe Davies to become his country's ambassador at Moscow and Brussels.      Source:    "The Globe Milling Company, Watertown, Wisconsin, 1845-1945."
1901       LL.B DEGREE, University of Wisconsin, Madison, Wis.

      Graduated in law at UW in 1901, president of senior law class, commencement orator at graduation
1901
07 04       Joseph E. Davies speaker at Fourth of July celebration 
11 08       OPENS LAW OFFICE.   Joseph E. Davies has opened a law office in a suite of rooms especially fitted out for him over the post office, where he will do a general law, loan and insurance business, and will make a specialty of collections.  Mr. Davies is a young man who is well equipped in every way to successfully conduct a business of this kind — he completed a regular course in the University of Wisconsin, and then spent four years more in fitting himself for the legal profession, graduating from the law course of the university with the highest honors.  He is an able orator; in fact one of the best in the state, which combined with his knowledge of law, will make him an able advocate in the courtroom.  Aside from this, he is an upright, energetic genial young man, and fully deserves a share of the patronage of the people of this city and vicinity.  Any business entrusted to his care will be properly and faithfully looked after.     WG
1902
01 10       "WALES AND HER FUTURE"
The Milwaukee Journal of a recent date contained the following dispatch from Racine:  "J. E. Davies, of Watertown, who soon will deliver an address on "Wales and Her Future" at the Eisdetefod held in this city, is one of the best known orators among the younger lawyers of the state.  He is a graduate of the University of Wisconsin and also of the university law school.  During the last two years spent at the university Mr. Davies was assistant gymnasium instructor and before entering on those duties he was granted a six months' leave of absence to visit the gymnasiums of the east.  At present he is practicing law in Watertown.  Mr. Davies is an ardent admirer of his native country and has spent considerable time in Wales."   WG
1902
MARRIED EMLEN KNIGHT
1902-1906
STATE'S ATTORNEY, WISCONSIN
1905
08 02       FLOWER BEDS ON S. MAIN ST.
One of the prettiest and most inviting streets in this city is Second Street, south from Main.  It is lined on either side at regular distances with flower beds which are watered and cared for by the owners of the abutting properties.  The flowers were bought and paid for out of a private subscription funds contributed by the owners of the property and were set out by L. Lotz & Co. florists, No. 406 Main Street.  The flowers are an object lesson and demonstrate what can be done by individual efforts in beautifying the city, and should be an incentive in the future for those living on the other residence streets.  We are informed that the project was the conception of Mr. Joe E. Davies, who carried it to a successful issue by interesting all the property owners in the work of making either side of the street a flower garden.
11 01       A HORSE DENTIST IS A VETERINARY SURGEON
Saturday afternoon, Dr. H. A. Andrew of Illinois, a horse dentist, appeared in the court of Justice George Henze charged with practicing as a veterinary surgeon contrary to the state law which provides that a man to practice as a veterinary surgeon, he first must have obtained the necessary certificate to entitle him to practice as such, which it is claimed by the state he had failed to do.  The trial ended Monday forenoon, Justice Henze holding that a horse dentist is a veterinary surgeon.  Joseph E. Davies county attorney appeared for the state and Skinner & Thauer for the defendant. 
12 28       REPUBLICAN PRAISE FOR DEMOCRAT
Our democratic friends are already engaged in arranging the state ticket for the state election next year.  It will be necessary for that party to nominate a strong, clean ticket which will commend itself to the voters.  While the writer has no right to butt in, he cannot resist the temptation to call the attention of the leaders to the fact that there is a man residing in the city of Watertown who would make an ideal attorney general and would give strength to the ticket. 
Reference is made to Mr. Joseph E. Davies.  He is a good lawyer, an eloquent speaker, able, clean and popular.  Mr. Davies is a product of Wisconsin, a graduate of our State University and has the rare faculty of making and retaining friends.  If men and principle are to obtain in the next political campaign in this state, his party will surely make Mr. Davies its candidate for attorney general.
1906

01 24       JOSEPH E. DAVIES FOR GOVERNOR
The editor of the Columbus Democrat favors our esteemed and talented young townsman as the democratic nominee for governor.  In an editorial which recently appeared in the Democrat, he said in part:
"There has been considerable said of late in the newspapers throughout the state regarding the candidacy of Mr. Joseph E. Davies, the talented young lawyer of Watertown, Wisconsin for the nomination on the democratic state ticket this fall for the office either for Lieutenant Governor or Attorney General. 
"We have taken considerable pains to sound prominent leaders of the democratic party in this state regarding the probability of his success in securing the nomination for either the above named offices and we are thoroughly convinced that his friends are entirely too modest in their demands upon the democratic party for its proper recognition of the ability, character and talent of this prominent, unswerving and popular young democrat.
"If he is entitled to anything at the hands of the democratic party this year it is that he take his proper place as the leader and standard bearer in the coming campaign which is certain to be one of the most celebrated in the political history of the state.  Why not give him the unanimous nomination for Governor?  We need exactly this style of a man to fill that exalted position and the democratic party can never hope to attain the success it deserves until it nominates as their candidate for Governor a man who has the complete confidence of the people of this state regardless of party lines.  We are certain that there is no man in the entire state who has a greater hold upon the people of Wisconsin than has Joseph E. Davies of Watertown.
"Born of Welsh parents in Dodge county, he grew up to manhood the same as many other Wisconsin young men.  He completed the prescribed course of study at the public school of his native city and afterward graduated from the law department of the state university, where he carried off the honors of his class.  Returning to his home he entered into the active practice of his profession, and soon established a well-earned reputation for honest dealing with his fellow men in conducting their legal affairs.  As an orator he is second to none in the entire state.
"His fellow citizens, irrespective of party, recognizing his ability and integrity insisted upon his accepting the office of District Attorney of Jefferson County, his home.  After a hard fought contest for the nomination in opposition to one of the oldest and ablest attorneys in the county he was placed in nomination by his party and from that moment his election was a foregone conclusion."   Watertown Republican, 01 24 1906
1907
09 22       Mayor Arthur Mulberger disposed of his law business to District Attorney Robert Lueck of Waterloo, and J. E. Davies, his present partner.
1909
03 05       JOSEPH E. DAVIES, EN ROUTE TO CHICAGO-PORTLAND;
      what a wonderful country
Joseph E. Davies has been on a business visit "out west" for the past two weeks. He writes to the editor "en route Chicago-Portland Special" under date of February 22d: "For the last ten days I have been in Salt Lake on legal business, and am now en route to Tacoma and Portland with my client. It is a long way from home and rather tiresome; although the country is highly interesting. What a wonderful country it is! And what tremendous possibilities it contains!"     WG
1910
04 22       JOSEPH E. DAVIES ELECTED CHAIRMAN
Joseph E. Davies of Madison was elected chairman of the democratic state central committee to fill the vacancy caused by the resignation of former Chairman H. H. Manson of Wausau, which was tendered at a meeting of the committee held in the Plankington clubroom in Milwaukee last Wednesday night.  But two candidates were placed in nomination for chairman, Mr. Davies and Frank E. Walsh of West Allis.  There were no nominating speeches and but one ballot was taken, Mr. Davies received seventeen out of twenty-one votes cast, and Mr. Walsh received four.
The selection of Mr. Davies is a most excellent one, for he is one of the ablest democrats in the state, a good organizer, and a man of the best character.  Watertown democrats are particularly well pleased with his election, this being his old home. The Gazette wishes him success in the office of state chairman.   WG
1911
07 06       LEAVES FOR ENGLAND
Joseph E. Davies of Madison will sail from Montreal, Canada, on the White Star line steamer on Saturday next for London, England, where he will transact business for about two months for a number of his Pacific coast clients.  While abroad he will pay a short visit to Wales and possibly to the continent of Europe.   WG
07 27       JOSEPH E. DAVIES FOR NATIONAL COMMITTEEMAN
That Joseph E. Davies, chairman of the democratic state central committee, now in Europe on a business mission, will be a candidate to succeed the late Timothy E. Ryan of Waukesha as a member of the national committee, is not doubted by his friends here.  Throughout the state, too, account has been taken in the councils of the faithful of the probability that Mr. Davies would seek the honor.  He will return soon and no doubt will at once make known his attitude upon the question.  As chairman of the state committee Mr. Davies has taken a progressive stand and in the councils of the party has proven a leader of commanding and exceptional ability.  Several prominent democrats in the state have proposed that it would be wise for the state central committee to call a conference of democrats to be held soon, to forget personalities that have entered into contests of the past and select a man for the national committee who has stood for the things that fully 90 per cent of the democrats of Wisconsin stand for, and one of large acquaintance.  –Madison Democrat.   WG
08 17       WRITES FROM LONDON
Joseph E. Davies writes the editor from London, England:  "It has been my good fortune to be here in the midst of the constitutional crises, that means a revolution in the constitutional history of England.  It is wonderfully interesting and instructive."   WG
08 24       MET ENGLISH STATESMEN
Chairman J. E. Davies of the Democratic State Central Committee declares he enjoyed his European trip this summer very much indeed.  While in London Mr. Davies met Lloyd George, John Burns and others of the coalition statesmen and had several talks with them.  An uncle of Mr. Davies was formerly a member of parliament.  Mr. Davies was greatly impressed with John Burns.  The confusion in parliament, Mr. Davies says, is greater than any other legislative body in this country.  At times, he says, there is not even a semblance of order.   WG
08 24       DAVIES IS ELECTED NATIONAL DEMOCRATIC COMMITTEEMAN
J. E. Davies, Madison, was elected member of the Democratic National Committee from Wisconsin at the meeting of the Democratic State Central Committee held at the Plankinton, Milwaukee, Wednesday afternoon.  Mr. Davies immediately tendered his resignation as chairman of the State Central Committee . . . Mr. Davies was elected by a vote of 20 to 2 on the first formal ballot . . . As an evidence of their feeling toward the retiring chairman, the members of the State Central Committee presented Mr. Davies with a gold-headed cane . . . Mr. Davies, after expressing his thanks for the gift and paying a tribute to others who had been spoken of in connection with the office to which he had been elected, said there was no factionalism in the party as was proven by the vote on state chairman.  "I want to say to you," said Mr. Davies, "that one year ago you turned over into my keeping the honor of the democratic party of the state.  I turn the honor of the Democratic party back to you as pure and unsullied as when I received it."
The selection of Joseph E. Davies as Democratic National Committeeman is a compliment most worthily bestowed, and we feel confident that our Joe will compare most favorably with the representatives on that committee from the other states of the union, in ability, affability, honesty and fair mindedness in everything political.  The people of Watertown, Joe's old home and birthplace, are particularly delighted over the selection, and The Gazette joins his hosts of friends here in extending hearty congratulations.   WG
09 14       MRS. DAVIES WILL BE HOSTESS
Mrs. Joseph E. Davies, 418 North Livingston Street, will be hostess at luncheon Friday.  Among the guests will be Mrs. Davies' mother and sister, Mrs. J. H. Knight and daughter, Miss Pauline, who leave soon to spend the winter in Chicago.  Miss Knight has just returned from an extended visit in Oshkosh, and Mrs. Knight from Elkhart, Ind., where she was a guest of her daughter, Mrs. Percy Cochran.   WDT, reproduction of article from Madison Democrat
1912
04 11       CHAIRMAN, WESTERN HEADQUARTERS, DEMOCRATIC PARTY CAMPAIGN
Joseph E. Davies will Organize West for New Jersey Governor.  Madison, Wis., April 10. — Joseph E. Davies, democratic national committee-man of Wisconsin, has taken charge of the western headquarters of the Woodrow Wilson campaign at Chicago at the request of William F. McCooms of New York and Senator Gore, in general direction of the Wilson supporters.
Davies will organize the Wilson forces of the entire west and will launch the fight in Nebraska, where primaries are to be held soon, in a few days.
Commenting on the result of the Illinois election, Mr. Davies declared that the anticipated victory in Pennsylvania will more than offset the Illinois defeat.  The Illinois campaign, he stated, had been restricted entirely to publicity effort, and no Wilson workers were [went] to the polls.   WG
07 18       JOSEPH E. DAVIES IN CABINET, THE LATEST GOSSIP
Madison, Wis., July 8 – Joseph E. Davies of this city, democratic national committee man for Wisconsin, is currently reported to be a prospective beneficiary of a choice political reward if Woodrow Wilson is elected president.  Some of his friends go so far as to suggest that he will be selected as a member of the cabinet, and some less enthusiastic believe he will be Wilson's adviser and disperser of political offices in the western states.
The Wilson boom had scarcely started a year ago when the University of Wisconsin extension division invited Gov. Wilson here to address a national social center conference.  Davies and his friends used this opportunity to start an organized campaign for Wilson presidential delegates in Wisconsin.  Wilson was impressed with Davies' ability and selected him for his western campaign manager.  Since last February Davies has devoted his time entirely to the western campaign.  After the primaries in Wisconsin Davies helped in the organization of the campaign for Wilson delegates in Illinois, Minnesota and Michigan.
As soon as the Clark boom became formidable in the east, Woodrow Wilson sent for Mr. Davies to take charge of the campaign in Massachusetts.  At its close Davies remained in charge of the Chicago office directing the Wilson campaign.  From good authority it is estimated that Davies has spent upwards of $4,000 of his own money in Wilson's cause.
Davies' law partner, John A. Aylward, is president of the Woodrow Wilson League of Wisconsin.  Another partner is Michael B. Olbrich, a strong LaFollette partisan, who placed the senator's name in nomination at the Chicago convention.   WG
08 01       JOSEPH DAVIES CHAIRMAN OF THE NATIONAL CAMPAIGN COMMITTEE
Waterloo Democrat – In making Joseph E. Davies of Madison the chairman of the national campaign committee Governor Wilson displayed excellent judgment.  Mr. Davies is well fitted in every way to perform the very important duties of the position. 
A young man of naturally fine ability, Mr. Davies has from his university days made an excellent record.  From the day when, a week or two after his graduation from the university, he officiated as temporary chairman of the democratic state convention, he has grown steadily in the estimation of the members of his party. 
His splendid training, his well balanced judgment, and his fine moral character give assurance that he will perform worthily the duties of national secretary – and of whatever position that may come to him.  Even now he is talked of as a cabinet possibility in the event of the election of Wilson.   WG
08 08       JOSEPH E. DAVIES HEAD OF CHICAGO HEADQUARTERS
Following a conference in New York between Governor Woodrow Wilson and Wm. F. McCoomb of the national democratic committee, it was announced Sunday that National Committeeman Joseph E. Davies of Madison would be in charge of the western democratic headquarters in Chicago.  Mr. Davies will soon take charge of the democratic campaign in the west.   WG
08 29       CORRESPONDENT TELLS OF DAVIES; CALLS IT YOUNG MAN'S FIGHT
Oliver P. Newman who wrote "The Fortunes of the Sun" is now a correspondent "covering" the democratic end of the presidential campaign, on Joseph E. Davies of Madison. — Editors
By Oliver P. Newman.
Once upon a time there was a young man named Davies who lived at a boarding club at the University of Wisconsin with another young man named Pitchard.  Neither had any more money than he needed.  One day Pitchard looked out of the window of the room occupied by both and said:
`
"There comes Burton, to collect my share of the last month's board, and I haven't got the money.  What'll I do?
"Crawl under the bed," suggested the wily Joe.
Pitchard crawled.  Burton entered.
"Is Pitchard in?" asked Burton.
"Sure," replies Davies.
"Where is he?" asked Burton, looking about the room.
`
"Under the bed," said Davies, nonchalantly.
Which is about as good an example as you could find of the malicious, good natured sense of humor of the Honorable Joseph E. Davies, national democratic committeeman from Wisconsin and lately elected secretary of the donkey organization that's taken over the job of shunting Woodrow Wilson into the White House.
He has just taken charge of the democratic headquarters in Chicago, and will run the campaign in the west and Middle West.
Davies is another of those inexperienced youths possessed of nothing but brains and energy, to whom the conduct of the Wilson campaign has been turned over — much to the surprise of the old war horses, who are used to think that a man can't be a regular politician until he's bald or has gray hair.
As a matter of fact Davies has most of the ancient captains defeated 48 ways for the Sabbath when it comes to politics, for he's been neck-deep in that little game since he toddled out from under the parental roof at Watertown, Wis., in pursuit of education and honor in 1894.  He's been playing college politics — which, as every college man will admit, is about 99 and 44/100 per cent of the real thing.
Having impressed upon the university world that he could orate better than old Mr. Orator himself, Davies decided four years were not enough to give him what he was entitled to, so he took a three years' law course, winding that up in 1901 as commencement spieler and president of the senior class.
Joe Davies father was a Welsh blacksmith who came to America a few years before Joe was born to find room enough to swing his sledge, so Joe just naturally had to be "agin the government," which of course meant he must be a democrat.  Now being a democrat in Wisconsin during the last 10 years has been an all fired hard job.  Most of the boys gave it up long ago and became La Follette republicans, but not Joe.  He stuck it out, and orated, and tried law cases in Madison — where he hung up his shingle — and organized campaign clubs, and made speeches, and held democratic conventions, and wrote pieces for the papers — and now look at him!
In spite of devoting eleven-tenths of his life to law and politics, Davies has managed to save about half of his time for making one of the most ideal homes in America [1].  At Madison his young wife and two children wait patiently for their broad-shouldered, black-haired smiling, happy-natured daddy to get through with those horrid politicians, knowing that when he's home again, a team of Missouri mules couldn't drag him off his front porch — Madison Journal.   /  WG
[1] The house mentioned is 428 North Livingston Street, Madison.  Mary Emlen Knight Davies (whose whole family is buried in the Forest HIll Cemetery in Madison; Grandmother of Mia Grosjean) never wanted to leave the city.  However after Wilson was elected they never again returned to live there staying for the rest of their lives in Washington, D.C.  Mary Emlen Knight Davies however did  keep a lodge on the Brule River until after her death in 1971.
09 26       WILSON'S AIDE & YOUNGEST COMMITTEE MEMBER
Joseph E. Davies of Madison, Wilson's Aide, and Youngest Committee Member, Because He "Delivers the Goods."
Joseph E. Davies, 36 years old, is the youngest member and secretary of the Democratic National Committee, because he is ''delivering the goods."
If Gov. Wilson is elected president Davies may become a conspicuous figure in the affairs of the nation.  If Wilson is not elected, Davis will be found where he has always been found —standing by his guns and making the fight for the things he believes right.
He has always been a good democrat.
In the days when he was a student at the university and John A. Aylward was a candidate for congress against Herman B. Dahle, Mt. Horeb, he was up bright and early on election day to do a little missionary work among students going to and from breakfast.
He spied a fellow on State Street who looked as though he might be taking the agricultural course.
"Going to vote?"
"Yes."
"You're going to vote for Aylward for congress, aren't you?"
"No."
"Why, you, as a Wisconsin man, can't vote against him."
"Yes, I can."
"Well, you can't.  You're a Wisconsin man and so is he.  He is educated and qualified to fill the place.  Aylward is just the kind of a man we want to send to congress. You can't vote against him."
"To ____ I can't.  I'm going to vote for my father — he's the man running against Aylward."
Davies caught the eye of Gov. Wilson because he showed courage and executive ability when he was sent to Chicago to tackle a badly muddled situation in the Wilson headquarters.
He reaches the heart of things in his characteristic clear-headed style.  Friends of the New Jersey governor had raised several thousand dollars, and spent it the way they thought would bring the best results.  Illinois and neighboring states were poorly organized.  The young national committee man outlined a campaign that took the democratic workers off their feet.  Men called him aside and told him the democrats were facing a deficit. They told him to go slow.
"Where are we going to get the money?" they asked.
"Don't know," replied Davies. "That's up to you fellows. I'm here to direct the campaign, and we must have money."
And they got it.
He has the faculty of making men do things.
Although comparatively young in politics, gray-haired men, old and seasoned in the ranks of democracy were quick to see him a leader, and were glad to be followers.
Under his direction the Wilson headquarters showed a keen appreciation of conditions in middle-western states.  Results were accomplished.  That is why Gov. Wilson said that Davies was the man to be made secretary of the national committee.
His work at Baltimore justified the early admiration Wilson expressed for him. He was a man of action, full of ideas, fearless, decisive.  Party leaders from all over the country flocked to him.  He was one of the heroic figures in the fight for Bryan and Wilson.
Davies is as clean as a "hound's tooth "--personally, morally, politically.  He fights in politics like he lives — clean and fair.  Men who have worked with him say he is tactful, diplomatic, sympathetic, lovable.  In the rush of a political campaign, dealing with varying conditions in several states, surrounded by men , full of suggestions and advice, it requires a balance wheel to keep going straight ahead, directing an army of workers, having something for everyone to do, and seeing to it that each man does his part.  Davies is one of that kind of men.
As a young attorney he stands high, intense, clear, forceful, red-blooded and simple in his language.  If he thinks a man is a "trimmer" he says so.  If he thinks a man is sailing under false colors he says so.  There is never doubt as to where he stands—that is why his enemies respect him.
Davies showed the right stuff when he attended the university.
"There never was a more likeable or democratic man at Wisconsin," said Harry Sauthoff, who took gymnastics under the present national committeeman.  "Brilliant as a student, favored in a manner that would have turned the head of men lacking the sterling qualities possessed by himself, he preferred to be 'one of the boys.' 
"When he had charge of gymnastics and was brought into contact with a large number of men, he spoke to everybody.  If he didn't happen to know their names — and it was impossible to remember the names of so many — he always had a pleasant 'hello' for all of the students as he passed along State Street.  We all knew him as 'Joe,' and swore by him.''
They tried to "get" Davies in this state early in the campaign, and the way he met the situation shows how he plays the game.
Under the caption "Let the Masses Rule," an upstate paper printed:
"If they want the endorsement of the democracy of Wisconsin let them first come with clean garments.  Why not give a correct account of that $10,000, received from the national committee?  Why doesn't Joseph Davies answer the question often asked "What has he done for the democrats of Wisconsin?"  The press stands for good, clean politics and anything that borders like graft or upsetting the will of the people don't go.
The language, in effect, at least, was believed to charge the Madison man with graft.  He engaged attorneys, and the person who inspired the attack received a letter containing the following paragraphs:
"We are advised by Mr. Davies, and are satisfied of the fact, that neither as national committeeman, state chairman, nor in any other capacity, personal or otherwise, did he ever receive $10,000 or any sum whatever from the national committee, either directly or indirectly, and moreover, that, in accordance with law, he duly made and filed a correct account of all money received or expended by him as state chairman.
"We have advised Mr. Davies that under the foregoing facts the article in question is libelous.  Before proceeding further to enforce the rights of Mr. Dayies, we thought it proper to afford an opportunity to retract the charge thus made against him.  It is unnecessary to add that if a retraction is made it should be given equal prominence and scope with the article itself, not only as to size of type and place of publication, but as to extent of circulation."
The retraction was complete.  Davies was completely exonerated, and the incident was closed before it got a good start.
Davies was blessed early in life — he was born of common folk.
His father's people were blacksmiths in Wales.  His father thought well of the trade, but Wales with its splendid roads drove him to Indiana, where blacksmithing offered greater inducements.  He reached there in 1840, and later joined the Welsh colonies then settling in eastern and southern Wisconsin, locating in Watertown.  A man of his qualities was not destined to long remain a blacksmith, and he soon became a wagon maker, then a manufacturer and successful businessman, retiring at the age of 40 with a comfortable fortune.
His mother was a woman of unusual talent.  She was of Welsh and Norman French extraction.  Her father was a barrister, which probably accounts for some of the grandson's legal acumen.  At the age of 22 his mother was an ordained minister, and while still a young woman she came to America on a lecture tour at the request of the combined Welsh religious societies in America.  This lecture tour came to an abrupt ending, when she came to Wisconsin for it was here she was met, wooed and won by the father of Davies.
In 1901 Davies graduated from the law school at the University of Wisconsin, was a commencement orator and during the same year was president of the senior law class.  The following year the democratic state convention made him its temporary chairman.  More important to him than political and other honors in his career was his marriage the same year to Miss Emlen Knight, daughter of Colonel J. H. Knight of Ashland.  Mr. and Mrs. Davies have two daughters, Eleanor 8 years old, and Rachel 2 years old.
As a practicing attorney at Watertown for nearly six years, four years of which were given to the duties of district attorney of Jefferson County, he made a creditable record.  Later he came to Madison to practice law and has been in constant practice ever since.  He is a member of the law firm of Aylward, Davies, Olbrich and Hill, the senior member being John A. Aylward, '84.
In May, 1910, he was made permanent state chairman of the Democratic Party, which later re-elected him, and after the death of T. E. Ryan, late national democratic committeeman from Wisconsin, elected Mr. Davies as his successor.  His election to the secretaryship of the national committee is a great tribute to one so young in years.  WG
11 14       STANDS CLOSE TO PRESIDENT
Position Declared to Control Scores of Federal Appointments and Hundreds of Post Offices.
Joseph E. Davies of Madison, member of the Democratic National Committee from Wisconsin, will be the "referee" in all matters connected with federal patronage in the state after the fourth of March next when Woodrow Wilson becomes president.  This is the information which drifted in from the east.  It is said to be the policy of Gov. Wilson to turn over matters of patronage in states which have no democratic senators to the national committeeman from that state.  This of itself would place Mr. Davies right in line for the "refereeship," but in addition to this few men in the country have been closer to Gov. Wilson in the last few months, and it is only natural that he should have great influence in deciding who is to have the plums which are to be dropped from the democratic tree in Wisconsin. 
It will bring about a curious condition within the Democratic Party in the state.  While the Anti-Aylward democrats have control of the state central committee, they are not likely to have much to say when it comes to distributing patronage.  Nor are they likely to keep much of a hold on the rank and file when Mr. Davies on the other side holds in his hands not only scores of federal appointments throughout the state, but hundreds of post office appointments as well. 
In the three districts represented by democratic congressmen they will have the power of recommending postmasters, but outside of these districts, with no democratic United States senator from this state, the matter of who shall get the places will be referred, according to present advices, to Mr. Davies.
Outside of a post office here and there, which will fall in now and then, it will be rather a weary wait for those who aspire to hold down jobs in Uncle Sam's service.  In the eastern and western districts of the state, where the best places from a monetary point of view are located, most of the present incumbents have from one and one-half to three years still to serve. 
Nor is this likely that they will be disturbed until their time expires.  In the last ten or twelve years it has become an unwritten law that the appointee to any of the big federal offices shall be permitted to serve out his term, and it is not at all probable that this law, unwritten though it is, will be broken at this time. 
For this reason any conjecture as to who will be appointed is not only premature but liable to go widely wrong when the time really comes for the making of the appointment.  That they will go to the winning faction in the democracy of the State there can be no doubt.  Nor will this be conducive to future harmony within the party ranks — but that is another question. — [Milwaukee Sentinel]   WG
1913-15
UNITED STATES COMMISSIONER OF CORPORATIONS
1913
01 23       LEFT FOR LIVERPOOL
On Wednesday Joseph E. Davies sailed from New York for Liverpool to visit his mother, who has been ill in that city for some time.  Mrs. Davies went abroad to see a sick sister early last year, who has since died, and on the death of her sister became ill herself.  Under the seal of the state Governor McGovern issued to Mr. Davies a formal letter of presentation to British officials to aid him in making acquaintances and serve as an identification if found necessary.   WG
1914
03 12       MR. AND MRS. DAVIES IN EXECUTIVE GALLERY.
Washington, March 5 — Commissioner and Mrs. Joseph Davies, upon invitation of President Wilson, occupied seats in the executive gallery today during the reading of the president's message on canal tolls in the house today.  With them were the Misses Wilson, Mrs. Wilson not having recovered sufficiently from her recent fall to be out.  After a joint meeting Commissioner Davies conferred with Democratic members of the Senate committee on interstate commerce, concerning the trade commission bill.
06 04       BACCALAUREATE ADDRESS BY JOSEPH DAVIES.
Hon. Joseph E. Davies, U.S. Commissioner of Corporations, delivered the Baccalaureate address on June 1, 1914, before the University of Louisiana.  Among other things he said:
The individual and his well-being has been one of the great motive forces in the history of the social movement of the world.  Napoleon, the arch-exponent of individualism and selfishness, all but changed the world's history — then failed dismally.  The Carpenter of Galilee preached the salvation of the individual through altruism, and died; but He succeeded gloriously, and his benign spirit and influence lives in untold multitudes of good deeds, and in the aspirations of men, to whom He ministered in life and whose salvation He secured in death. Thus, whether manifested through selfishness or through altruism, the force of the individual has moved the world.  Government, indeed, came into being for the protection and development of the individual.  Institutions were created by men for men — men were not created for things.  That is the fundamental principle upon which our perspective as to the social values and purposes of life should be grounded.
The force back of the birth of our nation was the conviction of our fore-fathers that the great purpose of government was the well-being and happiness of the largest number of men going to make up that government.  It is this conception of society and government in its relation to the individual that is responsible for the change in the attitude of men as to the true function of government in the changing conditions of modern industrial life.
09 17       DAVIES TO RESIGN FROM DEMOCRATIC BODY
Watertown native Joseph E. Davies arrived in Madison from Washington late last night and expects to return to the national capitol this evening where he will soon take up his enlarged labors as chairman of the Federal Trade Commission.  Mr. Davies announced his intention of resigning as secretary of the Democratic National Committee, and as national committeeman from Wisconsin.  His reasons for so doing are that his work on the lines of party organization and direction would in some measure be inconsistent with his official duties in Washington.  Mr. Davies spent the day conferring with prominent progressive Democrats as to the political situation in Wisconsin.  He reported the President to be in unusually good health, considering his great bereavement and the heavy burdens that fall upon his office at this time.—[Madison Journal, Sept. 12]   WG
03 04       MR. DAVIES' APPOINTMENT
Wisconsin is proud of the distinction that Mr. Davies has received at the hands of President Wilson in his appointment as head of the Trade Commission.  This is one of the highest offices in the administration of the national government.  As a new position it is especially important.  That it should be given to a Wisconsin man, a young man who is peculiarly a native of Wisconsin, should make every Wisconsin man, regardless of his politics, rejoice.
Mr. Davies has displayed unusual ability.  When he went into the campaign of 1912, he was sneered at as a mere boy.  But he won the confidence of Mr. Wilson, he held his own against the old hands and came out triumphantly.  Since he has been Commissioner of Corporations, Mr. Davies has grown wonderfully; he has proved his ability in that position, and is everywhere looked on with great favor.  In his new position, Mr. Davies has a wonderful opportunity to which those who knew him best do not doubt he will be equal.  He has the great responsibility of inaugurating and making a success of the work of the new Federal Trade Commission.  Briefly stated, the commission's task is to make effective the federal laws against unfair methods of competition.  Its first duty is the collection of information about business.   
It is empowered to require reports from business organizations at regular periods and special reports at any time. It is empowered also to advise with business organizations and with the department of justice to assure compliance with federal laws.  It is also given authority to collect trade information about foreign manufacture.
A very important power given the commission is that of issuing orders to prevent unfair competition.  This especially is a new departure in business regulations; the process hitherto has been to bring matters into court for redress only after the acts alleged to be in restraint of trade had been committed.
As a new instrument of administration, with a highly important work entrusted to it, the Federal Trade Commission must very largely blaze the way for itself.  It has been impossible to lay down specific rules.  On the carefulness, the judgment and the good sense of the members, the success of the new trade laws must largely depend.  It is this that makes the personnel of the commission particularly important and Mr. Davies' appointment as its head a particular honor.
The only way to judge a man's ability in a new office is by his faithfulness and success in the positions he has held.  Those who know Mr. Davies and know of his work have every confidence that he will succeed.—Milwaukee Journal.     WG
1915
11 17       CONFERS ON DISHONEST ADVERTISING
Chairman Joseph E. Davies of the Federal Trade Commission will confer next week with Herbert S. Houston, secretary of the Associated Advertisers' Club of the World, and James Keeley, editor of the Chicago Herald, on dishonest advertising.  Several weeks ago Mr. Davies spoke in Chicago on dishonest advertising and emphasized the moral wrong involved. He said dishonest advertising was not only harmful to business and costly to the public, but one of the worst forms of unfair competition. Dishonest advertising, he said, injured not only the guilty man or firm, but reacted against innocent men and firms.  Secretary Houston and Editor Keeley agreed with Chairman Davies' views on the moral side of the question. They have arranged to confer with him here on the legal phases of the subject and the possibilities of enacting laws or promulgating regulations. — The Washington Times
1915-16 CHAIRMAN, FEDERAL TRADE COMMISSION
c.1915
-- --           PRESIDENT WOODROW WILSON SIGNED PHOTO TO J. E. DAVIES
<![if !vml]>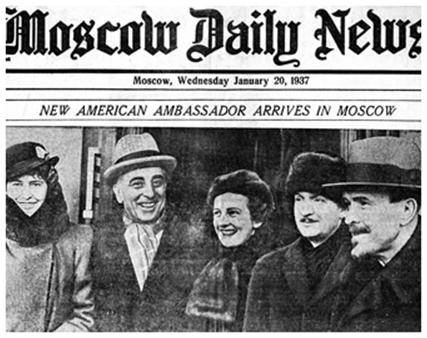 <![endif]>  
To my very dear friend, Jos. E. Davies  /  Woodrow Wilson      
1918       ECONOMIC ADVISER TO PRESIDENT Woodrow Wilson, Versailles Peace Conference, Versailles, France
03 10       PRIMARY ELECTION:  "WIN WITH DAVIES"
<![if !vml]>

<![endif]>  
03 27       JOSEPH E. DAVIES FOR U.S. SENATE SEAT
<![if !vml]>

<![endif]>       Endorsement by Ohio Governor Cox
03 29       DAVIES THE MAN
         Career of Administration Candidate for the U. S. Senate
<![if !vml]>

<![endif]>      Large format campaign ad  
Davies is a self-made man. Born the son of a blacksmith of Watertown, in forty-two years he climbed by his own efforts to a position of trust in the nation, second only to that of a member of the President's cabinet. 
Davies is a forward-looking man.
Davies is a public-spirited man.
Davies is a man of ability.
Davies is a two-fisted fighting man.
Davies is loyal.
This is the man the President wants from Wisconsin.
09 04       DAVIES MAY HEAD RUSSIAN COMMISSION
Hon. Joseph E. Davies, former Watertown resident and former member of the federal trade commission, was in Wisconsin the forepart of the week visiting friends in Milwaukee and Madison.  Mr. Davies has been mentioned as the probable head of the Russian Commission to be named by President Wilson.  This is a very important post, but the knowledge gained by Mr. Davies while on the trade commission will help to fit him for the duties of the new position if he receives the appointment and his appointment will be pleasing news to many warm friends in Watertown.     The Watertown News, 09 04 1918
09 06       DAVIES MAY RETURN TO HIS MADISON OFFICE
Joseph E. Davies was in Madison from Washington to vote in the primary, and probably will re-establish his old law partnership with M. B. Olbrich and re-engage in business in Madison.  "I came home to vote," said Mr. Davies, "and to look after business.  I will probably go into partnership again with Mr. Olbrich and make Madison my permanent home, although I shall likely be in Washington on war work until we have won the war."  Mr. Davies, who resigned the chairmanship of the Federal Trade Board last spring to become a candidate for United States senator, has been devoting his time since last April to war work in Washington, being connected with different departments of the government.      The Watertown News, 09 06 1918
1919       AYLWARD, DAVIES, OLBRICH, BROWN & SIEBECKER
<![if !vml]>

<![endif]>  
1935
12 15       MARRIED MARJORIE POST
<![if !vml]>
<![endif]>   Post married her third husband, Joseph E. Davies, a Washington, D.C. lawyer.  They had no children and were divorced in 1955. 
Newlyweds Marjorie Merriweather Post and Joseph E. Davies leave her penthouse apartment after their marriage in New York City.   Post, heiress and philanthropist, and Davies, 59-year-old Washington attorney, honeymooned on her yacht.
c.1935
-- --           PRESIDENT FRANKLIN ROOSEVELT PHOTO
<![if !vml]>

<![endif]>       
"To Joe- Successful Jack of All Trades"
1936       VICE CHAIRMAN, DEMOCRATIC NATIONAL COMMITTEE
1936-38
AMBASSADOR TO THE SOVIET UNION
1937       <![if !vml]>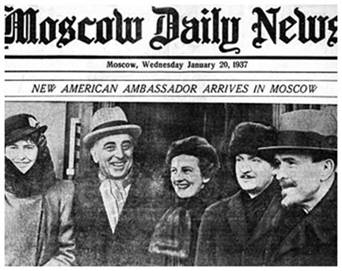 <![endif]>
Sag Harbor, NY resident Mia Grosjean has researched and expertly restored images from family photo albums back to 1937, when her grandfather, Joseph E. Davies, served as the U.S. ambassador and special envoy to the Soviet Union.  The mostly black-and-white images depict a bygone era, when Mr. Davies and Ms. Grosjean's mother, Emlen Knight Davies, stayed at Spaso House, the Moscow residence of American ambassadors to Russia.
1937
03 15       TIME MAGAZINE March 15, 1937, cover story: "RUSSIA: Babbitt Bolsheviks." 

       Ambassador Joseph E Davies and wife
The new U. S. Ambassador to the U.S.S.R. and Mrs. Joseph Edward Davies had definitely hit their stride in Moscow.
SOCIETY COLLECTION
<![if !vml]>

<![endif]>    
"To My Old Friend - Edward Broennimann - with his admiration and affectionate regard. Joseph E. Davies, Moscow 1937"
Edward Broennimann was Gladys Mollart's half-brother, known as "The Flour King".  He dealt in grain and flour and was known also as one of Watertown's big three--Davies, Blumenfeld, and Broennimann. 
1938-39 Ambassador to Belgium and minister to Luxembourg
1939
05 23       DAUGHTER OF AMBASSADOR DAVIES AND FIANCÉ GUESTS ON YACHTING PARTY
      Davies-Grosjean
<![if !vml]>

<![endif]>      Washington, D.C., May 23
Gay Emlen Knight Davies, daughter of Joseph E. Davies, ambassador to Belgium, and her fiancé, Robert Grosjean of the London office of General Foods, were guests of honor aboard the yacht, Venture II, with Mrs. Breckinridge Bayne as hostess.  Original plans for the marriage were that the ceremony would take place aboard in the event of European war, but the date has now been set for May 27 at the estate of Senator and Mrs. Millard Tydings of Maryland.  The couple will make their home in London after the ceremony.
1939-41 SPECIAL ASSISTANT TO CORDELL HULL in charge of war emergency problems and policies
1940
05 26       DAVIES DAUGHTER SAILS FOR WAR ZONE
WASHINGTON - Mrs. Emlen Davies Grosjean, blonde daughter of Joseph E. Davies of Watertown and Madison, special assistant to the secretary of state, and Mrs. Emlen Knight Davies, formerly of Ashland, sailed from New York Saturday to serve as Red Cross workers in Paris.  Mrs. Grosjean, after some hesitancy on the part of the state department, finally obtained a passport to accompany her husband, Robert Leon Grosjean, who received orders to join his regiment in the Belgian army several days ago.  The young couple will celebrate their first wedding anniversary Monday on the high seas.  Their marriage here last year was one of the highlights of the spring social season.  Mrs. Grosjean enrolled in the Red Cross training school here last winter.  When her husband received orders to go to the front, she applied for a passport to accompany him.  The state department withheld action on her request until the last minute.    Wisconsin State Journal, 26 May 1940, Sun
-- --           VISIT TO WATERTOWN
<![if !vml]>

<![endif]>  
Carl Nowack, Jane Lord, John Clifford, Mrs. Max Rohr, Joseph E. Davies, Max Rohr, Mrs. Max Rohr, Jr., Gene Killian
1941       CHAIRMAN, FRANKLIN D. ROOSEVELT'S INAUGURAL COMMITTEE
PUBLISHED MISSION TO MOSCOW. New York: Simon and Schuster
1941
Re: Octagon House:  "The Board of Directors was often plagued with the question of what constituted good repairs.  Were the porches a part of that pressing need?  As early as June 1940, Architect George Fred Keck offered to draw plans for the porch restoration project.  A year later a five hundred dollar donation accompanied blueprints for the restoration of the verandas.  These funds were made available from the Honorable Joe. E. Davies, Ambassador to Belgium and Russia."   - John Richards: The Hill and The Mill, page 99.
1942
-- --           STATEMENT ON PAN-AMERICANISM        1942 Watertown High School, pg 71   
With the World at war, and with our government stressing more than ever the idea of Pan-Americanism, it is our duty as students and as citizens of the United States to try to better understand our Central and South American neighbors.  The following pages contain letters written by authorities on the Pan- American question.  These were written in reply to letters written them by members of the Orbit staff.   Of the several letters one of great interest to us, is the one sent us by Joe Davies, Watertown's favorite son.  He is a graduate of our high school, Class of 1894.
Statement by Joseph E. Davies, (Class of 1894), for the Annual Year Book of the Watertown High school:
It is distinctly creditable to the Watertown High School that it should have the enterprise to issue a Year Book.  The Senior Class of 1942 have chosen an excellent subject in the "Pan-American Good Neighbor Policy" as its theme.
Pan-American friendship has been of the greatest importance for many years.  It is now peculiarly so.  President Roosevelt has contributed enormously to Western Continental Solidarity through his "Good Neighbor Policy."  It is, of course, vital to our defense, as well as to the defense of this Western American Continent, that there should not only be friendship, but unity through this terrible war.
The countries of the American Continents all desire nothing more than to be permitted to live in a world where the nations of the earth can live together as good neighbors, under a policy of "live, and let live," and where all differences between nations shall be settled, not by the application of force, or of arms, but by the processes of peaceful negotiation, and the application of rules of fairness and equity, which is incident to, and a part of, the Christian way of life.  That world system has been attacked, and is in great jeopardy.
Pan-American solidarity is one of the things which is of the utmost importance.  It is the bastion of our Liberties, and our Way of Life.
JOSEPH E. DAVIES.
Former Ambassador of the United States to Russia and Belgium, and Special Advisor to the Secretary of the United States on War Emergency Problems and Policies.
1942-46 CHAIRMAN, WAR RELIEF AND CONTROL BOARD
1943       SPECIAL ENVOY WITH RANK OF AMBASSADOR TO CONFER WITH JOSEPH STALIN
06 21       DAVIES ON WMAQ TONIGHT
Joseph E. Davies will speak on a national radio hookup tonight at 9 o'clock when he addresses the 35th annual conference of governors at Columbus, O.  His address will be carried in this area by WMAQ, Chicago, starting at 9 o'clock.  The Watertown-born former American ambassador to Russia recently returned from Moscow where he delivered a personal message to Josef Stalin from President Roosevelt and returned with a personal reply.
1945       CHAIRMAN, FRANKLIN D. ROOSEVELT'S INAUGURAL COMMITTEE
Special envoy with rank of ambassador to confer with Sir Winston Churchill
Special adviser with rank of ambassador, Potsdam Conference, Potsdam, Germany
07 14       PRESENTS FIRST CONGREGATIONAL CHURCH WITH A PAINTING
Picture is given as Congregational Jubilee Memento  
1946-47 VICE CHAIRMAN, PRESIDENT'S COMMITTEE TO STUDY UNIVERSAL MILITARY TRAINING
1951
11 16       INSTALLED INTO PHI DELTA PHI, the UW law fraternity.
<![if !vml]>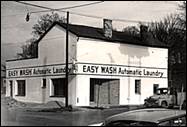 <![endif]>  
11 18       VISIT TO WATERTOWN FOLLOWED UW EVENT
<![if !vml]>

<![endif]>   
Visit followed installation into phi delta phi, UW law fraternity, on 11 16 1951
[Rahel Davies (daughter of Joe) Gladys Mollart (Watertown Historical Soc), Joseph E. Davies.  At home of John Clifford.
1952
06 01       FIRST DAVIES SCHOLARSHIP PRESENTED
One of the happiest and big moments of his life was experienced by the Hon. Joseph E. Davies of Washington, D.C., here on Thursday afternoon when he personally presented the first Joe Davies scholarship during the Honor Day program in the gym of the Watertown High School.  The first scholarship was presented to Jane Weaver, 17, daughter of Mrs. Lois Weaver, 317 1/2 North Washington Street.  Mr. Davies, at the close of his remarks, called her to the platform and presented her with the certificate for the four-year scholarship, and extended hearty congratulations to her.
Cross Reference:  Max Rohr, Sr. (1875 – 1952), widely known Watertown banker, was a close friend of Joseph E. Davies, Watertown-born former ambassador to Russia and when Mr. Davies and his daughter, Mrs. Burdette W. Fitch of Washington, D. C., visited Watertown last Nov. 18 they were guests at the home of Mr. and Mrs. Rohr.  The two men had begun their friendship during their school days and it had lasted throughout the years.  They had kept up a correspondence for many years and Mr. Rohr had at various times handled local financial business for Mr. Davies.
At the time of his November visit Mr. Davies announced plans for a high school scholarship at the University of Wisconsin and had chosen Mr. Rohr as one of the men who were to administer it.  The other two are Attorney William H. Woodard and John D. Clifford.  Roger Holtz, superintendent of schools, also is to work with the committee on the matter.
1955
-- --           Scholarship Recognition Dinner
06 25       DAVIES' D. C. ESTATE
Joseph E. Davies, the 78-year-old Watertown-born diplomat and international lawyer, has made his will and has set aside his palatial estate in Washington, D.C., for the federal government to be used either as a future official residence for United States Vice Presidents or as a graduate school for students of international affairs.  Davies disclosed these facts at his home in Washington Saturday night and the news was carried in press dispatches in Sunday's newspapers.  He recently visited in Watertown, meeting many of his old friends and classmates.  The estate includes a 20-room mansion in which he has entertained some of the world's most noted personages during his residence in Washington.  He has occupied the home for the past 20 years.
07 13       NEWSWEEK ARTICLE
There is a "New Look" in Russia, although Soviet goals haven't changed but Russia's methods of achieving that goal have changed.  That is the view of Joseph E. Davies, Watertown-born former ambassador to Moscow, and he expresses it in an article which he has prepared for the current issue of Newsweek magazine, which will be on the nation's newsstands tomorrow.  Mr. Davies, who recently visited in Watertown, is one of a group of distinguished men whose views on the present trends and policies on the part of Russia were sought by Newsweek.  The series appears in the current issue.  Mr. Davies was ambassador to Russia in 1936 to 1938.  He was also there in 1943 on a diplomatic mission.
1956
05 18       VISIT TO SMALL STORE IN SMALL TOWN

07 27       DONATION TO ST. JOSEPH'S HOME
Joseph E. Davies, Watertown-born former U.S. ambassador to Russia, has sent a check to the sisters who operate St. Joseph's Home for the Aged in Watertown.  Mrs. Bertha Voss, a resident at the home, said she read an article in the Times some months ago about Mr. Davies' plans to turn over his Washington estate [Tregaron] to the Federal government as an official residence for vice presidents and that this inspired her to write to Mr. Davies.  She suggested that if he wished he could do some good by helping the "good sisters who operate this home in Watertown."  He wrote back asking to whom he has to make out the check and Mrs. Voss replied to his inquiry and today the check was received.
1957
WATERTOWN HIGH SCHOOL ORBIT dedicated to Joseph Davies

1958
05 09       DEATH OF JOSEPH E. DAVIES, May 9, Washington, D.C.
Joseph E. Davies, 81, Watertown-born former ambassador to Russia and international conference maker for three Presidents, died at his home in Washington, 3029 Klingle Road, early this morning.  He passed away in his sleep, having been gravely ill for some months.  He suffered from low blood pressure and recently had been confined to bed with around the clock nursing care.  In addition to serving as United States ambassador to Russia from 1936 to 1938, he served as ambassador to Belgium and minister to Luxembourg from 1938 to 1939.
08 08       Scholarship securities transferred to Merchants National Bank   WDT
1959
02 03       Marjorie Post, second wife of the late Joseph E. Davies, married former Watertown resident, Herbert May   WDT
05 14       Tregaron, Washington estate, sold; proceeds to Joe Davies Scholarship Foundation   WDT
Wisconsin – Its Story and Biography, 1848-1912,
by Ellis Baker Usher, Vol VIII, 1914.
HON. JOSEPH E. DAVIES.
In the wonderful success gained by the Democratic party in the presidential election of 1912, there flashed suddenly into public notice the name of Joseph E. Davies, of Madison, Wisconsin, a young attorney, a member of the law firm of Aylward, Davies, Olbrich and Hill.  In 1913 President Wilson appointed Mr. Davies to the responsible position of commissioner of corporations.  Prior to the Democratic Convention at Baltimore, Mr. Davies was but little known outside of his native state, but his activities in the securing of the nomination of Woodrow Wilson in that body, and his subsequent invaluable services in behalf of his party, brought his name into nation-wide prominence, and as western manager of the Democratic campaign he was given a large share of the credit for the great landslide of 1912 which swept all before it.  Mr. Davies has had a remarkable career.  In little over ten years of time he has risen from the ranks of unknown lawyers to the head of his profession and to an undisputed position as a force in national politics, and this through the force of his own personality, his indomitable perseverance and inherent qualities of character which have come down from a long line of sturdy forebears.
Mr. Davies' father was a blacksmith in Wales and came to the United States in 1840, when still a young man, taking up his trade in Indiana.  Later he joined the Welsh colony in southern Wisconsin, settling at Watertown, and when he was forty years of age he was a retired wagon manufacturer of that place.  The mother of Mr. Davies was of Welsh and Norman French extraction, the daughter of a barrister, and at the age of twenty-two was an ordained minister.  She is probably more widely known under her nom de plume, Rahel o Fon, among the Welsh people, than any other woman of her nationality in this country.  She came to America on a lecture tour at the request of the combined Welsh religious societies in America, but her tour stopped at Watertown, for it was there that she met and married Mr. Davies.
Joseph E. Davies received his early education from his mother at home, and subsequently attended the public schools of Watertown, graduating from the high school as valedictorian of his class in 1894.  The same year he entered the University of Wisconsin and was elected president of the freshman class, and four years later finished the letters and science course and at his graduation was both class-day and commencement orator and was awarded special honors on his thesis.  While still a student at the University of Wisconsin, he was made athletic instructor.  In the following year, while a student in the law school, he was one of the winning team in the Illinois Wisconsin Intercollegiate debate.  He graduated in law in 1901, having been president of the senior law class, and was commencement orator at graduation, and the year following was made temporary chairman of the Democratic State Convention.  It may be said that he entered law and politics at the same time, his ability as an orator helping him in both.  He commenced the practice of his profession at Watertown, where he remained for five and one-half years, and during four years of this time acted in the capacity of district attorney of Jefferson county.  Since settling in Madison, he has been a member of the firm of Aylward, Davies, Olbrich and Hill.
In May, 1910, Mr. Davies was made permanent state chairman of the Democratic party in Wisconsin, and after the death of the Hon. T. E. Ryan, he was elected to the Democratic National Committee, being the youngest member of the national committee of either of the big parties.  He subsequently became secretary of that body, and its treasurer pro-tem.  It was in consideration of his long time friendship for former Governor Wilson and William H. McCoombs that Mr. Davies took charge of the Democratic campaign in the middle and far west.  The following excerpt from the New York Herald of July 3, 1912, is a fair expression of the impression made by Mr. Davies in the convention at Baltimore.
"When the break came this afternoon and the National Convention joined in a wild rush to nominate Governor Wilson, two young men on the speakers' platform observed the development without any special display of interest, although it meant that they were just budding into national prominence as politicians.  They were William H. McCoombs of New York, and Joseph H. Davies of Wisconsin, who managed the entire Wilson campaign and piloted their candidate to victory."
In 1902 Mr. Davies was married to Miss Mary Emlen Knight, daughter of Colonel J. H. Knight, of Ashland, Wisconsin, and they have two children.
Mr. Davies is still in the fullness of his strength with the best years of his career before him, and it will be interesting to note just how far this young son of Wisconsin will go.  If the accomplishments and successes of the past may be taken as a criterion of the future, high honors await him.
1964
12 08       TREGARON
Tregaron, the former Washington home of the late Joseph E. Davies, Watertown-born internationally famous attorney and one-time ambassador to Russia, may become the official residence for the vice presidents of the United States.  Rumored for some time, the estate is now being made available for such purpose.  If the plan is completed, Hubert H. Humphrey, who takes office as vice president next Jan. 20, would be the first vice president to occupy the residence.   WDT
1968
05 07       FOUR ANNUAL SCHOLARSHIPS
The number of Joe Davies scholarships for Watertown High School graduates has been doubled by action of the Board of Trustees of the Joe Davies Scholarship Foundation.  Two scholarships have been awarded each year.  From now on, starting with this year's graduation class, four scholarships will be awarded annually.  The first awards, under the expanded program, will be made at Awards Day to be held at the high school gym on May 22.  Under the expanded program in four years there will be 16 scholarships for Watertown.  Each Joe Davies' scholarship is valued at $2,800.  A recipient each year receives $700 for four years of study at either the University of Wisconsin-Madison, or the University of Wisconsin-Milwaukee.   WDT
2018
08 04       TALK ON JOSEPH E. DAVIES
<![if !vml]>

<![endif]>    
The Watertown Historical Society will host a special public presentation on Saturday, Aug. 4, on the life of Joseph E. Davies, a Watertown native who became a United States diplomat and served in many high-ranking government positions including ambassador to the Soviet Union.
The presentation will be led by Davies' granddaughter, Mia Grosjean, whose labor of love has been the documentation of her grandfather's life.  There is no cost to attend the presentation, which will start at 5:30 p.m. at the Towne Cinema. Popcorn, soda, and other refreshments will be available for purchase at the theater.
Davies was born in Watertown in 1876 and died in 1958 in Washington, D.C.  He graduated from the University of Wisconsin-Madison Law School in 1901.  He was appointed by President Wilson to be commissioner of corporations in 1912, and first chairman of the Federal Trade Commission in 1915.  He was the second ambassador to represent the United States in the Soviet Union, and U.S. ambassador to Belgium and Luxembourg.  From 1939 to 1941, Davies was special assistant to Secretary of State Hull, in charge of war emergency problems and policies.  From 1942 through 1946, he was chairman of President Roosevelt's War Relief Control Board.
Grosjean's dedication to studying her grandfather's extensive political career led her to Russia as a Fulbright scholar, were she spent months studying files at the American Embassy and various Soviet archives.  Grosjean recently moved from Sag Harbor, New York, to Washington, D.C., in large part to conduct research on her grandfather's career at the Library of Congress.
In April 2011, Grosjean traveled to Madison and Watertown to conduct research on her family, and on Davies, in particular.  The information collected on Davies by the Watertown Historical Society and kept on file at the Octagon House Museum is featured prominently in Grosjean's research on her grandfather.
Part of Davies' legacy is the Joseph E. Davies Scholarship Foundation which was formed in 1951 and the first scholarship was issued a year later.  Scholarships have been awarded annually since that time, both in Watertown and in area high schools.  Since its inception the Davies scholarship program has awarded several million dollars to students.
2019
08 04       DAVIES COLLECTION DONATED
A collection of framed pictures pertaining to Joseph E. Davies, from the Davies family.
Tom Schultz was contacted by Dr. Maribeth Clifford Kuzmeski, who is now chairman of the board of directors of the Davies Scholarship Foundation, asking if a home could be found for some of the Davies framed pictures pertaining to Joseph E. Davies, and donated by the Davies family.  Arrangements were made for the Watertown Historical Society to add them to their archives.  The photos and other related information were delivered to Tom by Maribeth who had received them from Eleanor Gollob of McLean, Virginia, a great granddaughter of Joe Davies.
WDTimes article on donated collection
\\\\\\\\\\\\\\\\
1871:  148 years ago - THE GREAT CHICAGO FIRE
The Great Chicago Fire burned October 8–10, 1871.  The fire killed approximately 300 people, destroyed roughly 3.3 square miles of the city, and left more than 100,000 residents homeless.  The fire is claimed to have started at about 9:00 p.m. on October 8, in or around a small barn belonging to the O'Leary family.  The shed next to the barn was the first building to be consumed by the fire.
One dark night, when people were in bed,
Mrs. O' Leary lit a lantern in her shed,
The cow kicked it over, winked its eye, and said,
There'll be a hot time in the old town tonight.
Accession Nos. 190823_A-O
JOSEPH E. DAVIES COLLECTION
DONATED TO TOM SCHULTZ BY DESCENDANTS OF THE DAVIES FAMILY,
     TRANSFERRED TO WATERTOWN HISTORICAL SOCIETY
A)  POSTDAM CONFERENCE, July 1945
DAVIES, TRUMAN, CHURCHHILL, STALIN, ETC.    (31.5x34)
B)  TO HON. JOSEPH E. DAVIES WITH KINDEST REGARDS FROM HIS GOOD FRIEND
HARRY TRUMAN, WHITE HOUSE, JAN 22, 1952      (14x18)
C)  TO AMBASSADOR DAVIES, WITH WARMEST PERSONAL REGARDS AND ESTEEM
GEORGE MARSHALL      (12x15)
D)  TO MY VERY DEAR FRIEND, JOS. E. DAVIES
WOODROW WILSON       (12.5x15.5 in)
E)  TO JOSEPH DAVIES, FROM HIS OLD AND DEVOTED FRIEND (13.5x16 in)
DWIGHT EISENHOWER      (13.5x16 in)
F)  TO JOE- SUCCESSFUL JACK OF ALL TRADES
FRANKLIN ROOSEVELT       (9x11 in)
G)  TIME MAGAZINE COVER, 03 15 1937
(9.5x12)
H)  FOR OUR FRIEND, CLARENCE N. F_____,
JOSEPH E. DAVIES, SEPT. 22, 1912      (12x14)
I)  DEAR JOE:  HERE IS A REPRODUCTION OF THE NEWS CUT OF PRESIDENT WILSON, YOURSELF, AND JOE TUMULTY,
AT A BASEBALL GANE IN 1913, WHICH I SPOKE TO YOU ABOUT THE OTHER DAY
DEC. 1943   C.W.W.      (19.5x20)
_____________________
ADDITIONAL ITEMS IN COLLECTION:
J)  CAPT. JOHN H. KNIGHT, CIVIL WAR CERTIFICATES, 1861
KNIGHT'S DAUGHTER, EMLEN, MARRIED JOSEPH E. DAVIES
(13x31)
K)  CAPT. JOHN H. KNIGHT, CIVIL WAR CERTIFICATES, 1867
(13x20)
L)  NEWSPAPER ARTICLE ON KNIGHT HOTEL DEMOLITION, 1974, ASHLAND, WI
(12x15)
M)  1969 LETTER SIGNED BY SVETLANA ALLILUYEVA (residing in Princeton, NJ)
Svetlana Alliluyeva, later known as Lana Peters, only daughter of Soviet Premier Joseph Stalin and Nadezhda Alliluyeva, Stalin's second wife. In 1967, she caused an international furor when she defected to, and later became a naturalized citizen of, the United States.    [source: Wikipedia]
(11.5x13.5)
N)  TELEGRAPH OF 02 05 1862, JOHN H. KNIGHT TO MISS SUE J. CLARK
(9x11.5)
O)  OVAL PICTURE OF JOHN H. KNIGHT, WITH BIO PASTED ON BACK
(7.5x10)
\\\\\\\\\\\\\
<![if !vml]>

<![endif]>   <![if !vml]>

<![endif]>   < PORTFOLIO OF PICS
Cross References:
Death of Emlen Knight Davies, 01/09/2014, last surviving daughter of Joseph E. Davies.     WDTimes article  
A Photographic Journey of the Ambassador's Daughter in Moscow - 1937 - 38
Praise of, by Ralph Blumenfeld
1905, Milwaukee-Watertown Club, Homecoming Day
Davies, Joseph E, Attorney, Davies and Mulberger, 1906, cartoonist drawing, WDT, WHS_005_443
Joseph Edward Davies Papers: A Finding Aid to the Collection in the Library of Congress
Russia Beyond the Headlines:
An American in Moscow, 1937-1938
                <![if !vml]>

<![endif]>
<![if !vml]>

<![endif]>
History of Watertown, Wisconsin