website  watertownhistory.org
    ebook  History of Watertown, Wisconsin
Sears & Roebuck
207 S Third
1940 - 1981
1956
CITY ASSESSOR IMAGE
<![if !vml]>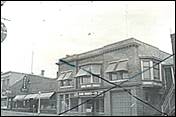 <![endif]>  
1967
08 01          NEW MANAGER
A new manager has taken over the operation of the Sears' store here, located at 209 (?) South Third Street.  He is F. R. McNutt, who comes here from the Sears' central office in Minneapolis where for the past three years he has been a zone merchandise manager.  The new manager replaces Earl Bittner, who had been manager of the local store for a little over two years.  He has been named manager of the large Sears' store at La Crosse.  McNutt has been associated with Sears for the past 11 years.  He joined Sears in 1956 at Huron, S. D.  After being employed there for six years, he was transferred to the Sears Store at Minot, N.D., where he was employed as assistant manager for two years.  From Minot, he was transferred to the central office at Minneapolis.
1981
   Watertown Daily Times, 01 02 1981
Sears, Roebuck and Company has announced it will close its retail store in Watertown Jan. 31.  Robert J. Walstad, general manager of Sears retail operation in Wisconsin, said the decision to close the store was made because of its failure to produce satisfactory sales and profits for the past several years.  The local store opened in 1939 and was relocated to its present location at 207 South Third Street in 1940.  Sears in Watertown employs nine fulltime workers and 16 part-time people.  According to Walstad and Francis R. McNutt, local manager, all fulltime employees will be offered positions at other Sears stores in the area.
1981
   Watertown Daily Times, 01 16 1981
Sears Roebuck and Company announced it will continue to operate a catalog merchandise sales facility at its 207 South Third Street location here.  The firm announced a week ago that the retail store would be closing on Jan. 31 because the operation had not been profitable.  A Sears spokesman said that customers can continue to order and pick up catalog merchandise at the present location until a new location for that portion of the business is found.
1981
   Watertown Daily Times, 03 07 1981
Sears Roebuck and Company has announced Jerry Frank has signed a contract to operate a Sears Catalog Merchant Store in Watertown. After operating in the city for several years, Sears announced it was closing the doors of the downtown store, located at 207 South Third Street.  Although the retail store was closed Jan. 31, the catalog department has remained open for business and a new location for the facility will be announced. The new catalog store will include 2,400 square feet of space and will feature off-street parking.  An appliance display will be part of the store's offerings and all service for Sears products will be continued. Customers may order repair parts and make Sears charge payments at the store.
1981
   Watertown Daily Times, 09 27 1981
OPENING ANNOUNCED
Sears Catalog Center, located at 111 North Second Street, will conduct grand opening festivities Thursday, Friday and Saturday.
The new center contains 2,550 square feet of space, of which 1,050 is used for display purposes. The store features plenty of parking to the south of the building and across the street, with parking at the rear of the store for easy pick up.
Employees at the local Sears center represents 87 years of retail service. Employees include Georgene Schramm, teletype and sales; LaVerne Jine, Dorothy Rein and Donna Nimm, sales; and Irene Neitzel, service and sales. The building is owned by Jerry and Sue Frank, who also manage the facility.
1988
LaVerne J. Jine (Bergdoll)  [1928-2009] was a sales clerk for Sears Watertown for 25 years, retiring in 1988   WDT
1993
03 01          CLOSING ANNOUNCED
The Watertown Sears Appliance and Catalog Sales outlet located at 111 N. First St. will close its doors within two months according to the relatively new owner of the business, Georgene Schramm.  Schramm and her husband, Dennis, were just welcomed by the city's chamber of commerce as new business owners in November 1992 and already they are planning to close their doors.  The move comes at the direction of their regional office in Washington state and is the result of the Sears, Roebuck and Co. announcement it is discontinuing its catalog.  It is part of a massive shutdown of Sears catalog stores throughout the country.  Stores in West Bend and Hartford also announced they are planning to close their doors in May.  Schramm couldn't list an exact date for her closing but said that it will take place in the ''near future'' and ''within two months.''  ''It's just a little early to say specifically yet,'' she said today.  ''We'll have to wait eight or nine days to announce when we'll close.  (The home office) has some plans made and we'll have to wait for definite dates.  We're not supposed to say now.''
03 02          SEARS HOUSE (HOME)
In considering the recent demise of many Sears catalog stores around the country, including the one in Watertown, it's difficult not to think of the giant chain when it was at the top.  At its peak, the chain of stores had its famous catalog which featured everything from women's undergarments to houses.  Yes, there was a time when a person could look in the Sears catalog, pick out a house, and be living in the structure within a matter of months.  This happened all over the U.S., and Watertown was no exception.  There are several examples of Sears homes in the city, but one of the most remarkable is located at 625 S. Twelfth St. It is a brick structure.  The home was purchased by Northwestern College in 1966 and before that it was owned privately.
<![if !vml]>

<![endif]>
History of Watertown, Wisconsin