website  watertownhistory.org
    ebook  History of Watertown, Wisconsin
Schempf's Department Store
George S. Schempf
Schempf Brothers
209-213 East Main Street
____________________________________________
Schempf's Drug Store
1848      GEORGE SCHEMPF ARRIVAL
In the spring of 1848, there came Dr. Fischer, John C. Halliger, Hohrmann and Ernst Achilles together with families, then the first Baptist Fried. Schielemann with wife, Nottorf, Grossmann and Lorenz Fribert, Wilhelm Wiggenhorn with family, among whom were his sons Constanz, Alexis, Eugen and August; Adolf Beurhaus and Adolph Lange, both married, Henry Maldaner, Fritz Herrmann, Chas. M. Ducasse, Gustav Schnasse, Martin Hopf, George Schempf and family, Schmidt Toelle, Henry and Louis Mulberger, Carl Roedel, Georg Koenig, Louis Stallmann, Leonard Meth with wife and several others.   Bad roads and "Latin" farmers: Watertown in 1848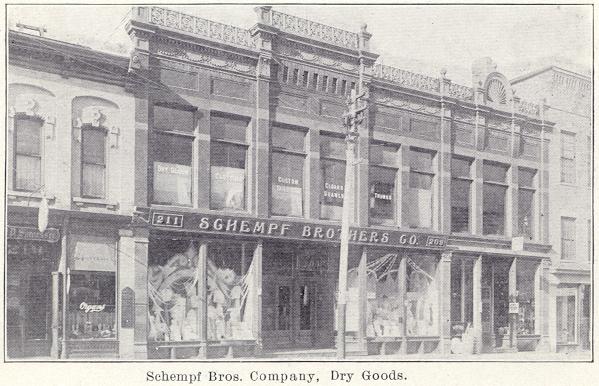 1902, Building at 209-211 E Main.   Founded by George Schempf. 
Image is prior to 1903 addition of a third floor and later (after 1910, before 1913) expansion into 213 E Main
Schempf Bros. department store was the leading
store in the city from the late 1840s to closing in 1936.
Schempf's "Big Cash Store" was the local Gimbel's or Chapman's in earlier days.  With three floors of merchandise and a grocery department in its large building (later occupied by Kresge's), it had a real passenger elevator and an overhead money shuttle service that used to fascinate youngsters.
The store was founded in 1855 by George S. Schempf (married to Wilhelmina "Minna" Koenig ) after his return from the California gold rush.  He brought in his nephews, Leonard and John, as partners, and they were the proprietors of the store in its golden age.  The last of the family to run the store were Max Kusel, who had married Amanda Schempf, and Edward L. Schempf, a gifted singer who often appeared as soloist in choral concerts.  The Schempf store was taken over in 1936.
1854      Transfer of property from George S. to George F.
<![if !vml]>

<![endif]>   Block and lot on which Schempf Building sits.
1855
Store founded by George S. Schempf (married to Wilhelmina "Minna" Koenig) after his return from the California gold rush
1892

   Weltburger Ad, 1892
1894
CHRISTMAS:  SANTA APPEARS IN WEST WINDOW
<![if !vml]>

<![endif]>  
1895
03 20          SHOES AT SCHEMPFS
Schempf Bros. are arranging for a shoe department on the second floor of their store, the necessary shelving, etc., being now put in.  The stock of L. Schempf at 112 Main Street has become the firm's property and it will shortly be removed to the quarters now in preparation.   WR
<![if !vml]>

<![endif]>
10 23          CLEVER PRETENSE
That clever pretense of a big break in the plate glass window at Schempf's Cash Store has deceived many a passerby the past few days.  It is said that upon first noticing it the police made minute inquiries as to when and how the irregularity occurred.   WR
<![if !vml]>

<![endif]>  
1896      SCHEMPF BROS. CO. INCORPORATED
02 12          "Chief" the Shetland Pony
Schempfs' Cash Store has an attraction this week – "Chief," a Shetland pony with a phenomenally long tail, measuring fifteen feet.  The pony is quite a novelty and well worth seeing.  The children are especially interested.   WR
1898      George S. Schempf, Limb Amputated
11 16          An unfortunate accident befell George S. Schempf Saturday afternoon on the Chicago, Milwaukee & St. Paul Railway, while he was taking his daily stroll.  Mr. Schempf was walking towards the Junction and it seems stepped from the main track on to a side track in order to allow a train to pass.  But in doing so he only placed himself in the way of another train a special freight which was moving along the siding slowly and which he failed to see approaching.  This train struck him and his right leg was caught under the wheels, severing it just above the ankle.  The accident was witnessed by several men in the yards, who hurried to Mr. Schempf's assistance and carried him to the Junction Hotel.  The flow of blood from the wound was stopped and Drs. Moulding, Whyte and Werner summoned.  As soon as practicable Mr. Schempf was taken to his home at 403 S. Second Street.  He was not unconscious at any time and his system withstood the shock very well.  Late Saturday night the crushed portion of the limb was amputated and the attending physicians look for a speedy healing of the wound and Mr. Schempf's ultimate recovery.  WR
1900      Five Hundred Silk Worms at Schempf's
06 05          Schempf Brothers will have a most interesting and unique window display this week.  A collection of five hundred silk worms has been secured from Missouri and they will be set to work in a vented enclosure in the east show window.  The insects will first begin to crawl and hunt for a suitable place in which to spin.  Then they will be seen in the act of spinning and subsequently in the process of finishing up their work.  This is the first opportunity most of the people of Watertown and vicinity will have to watch these industrious little animals performing their valuable labors and no doubt great interest will be taken in the attraction.  It will afford a valuable object lesson in the industrial stages of the very important industry of silk manufacture — an industry which has made France famous.   WR
08 22       EDWARD SCHEMPF MANAGES SCHOOL OF MUSIC
The Watertown School of Music will be under the management of Edward Schempf and Wm. S. Mullen, and will occupy the third floor of the building at 107 and 109 Main St. 
1901
<![if !vml]>

<![endif]>   1901 Fire Insurance Map, 200 block E Main, compared to 1909
<![if !vml]>

<![endif]>  
<![if !vml]>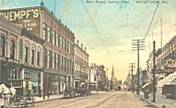 <![endif]>
10 25       ELSA SCHEMPF PRESIDED OVER PUNCH BOWL
On Tuesday evening the Watertown Lodge of Elks gave an informal reception at their new club rooms on Main Street, the affair taking the nature of a house-warming, and was for members of the lodge and their families only.  The rooms were most tastefully decorated for the event.  Luncheon was served at 9:30, followed by dancing, music being furnished by Hardege's orchestra.  Misses Clara Hoermann and Elsa Schempf presided at the punch bowl.  It was one of the most delightful informal affairs ever given here, and greatly appreciated by those present.  WG
11 22       EDWARD AND JOHN SCHEMPF ENTERTAIN
Turner Opera House was well filled with people Thursday evening of last week to witness the entertainment given by the Watertown Dramatic Club, and the Amateur Musical Club, assisted in vocal numbers by Miss Lula Bertram, and Wm. Sproesser. Edw. L. Schempf directed the musical part of the program in his customary efficient manner.  The music furnished was high-class and was most excellently rendered. The singing of Miss Bertram and Mr. Sproesser was very much appreciated, both responding to enthusiastic encores.  Miss Lydia Pease accompanied the former, and the latter was accompanied by his wife.
"Mr. Bob," presented by the Watertown Dramatic Club is a very funny little comedy and in every detail was perfectly portrayed. Mrs. W. J. Lee as Patty, was very clever indeed, and came in for a good share of the applause of the evening.  John Chapman, as Jenkins, with whom Patty was in love, provided a capital actor; and John W. Schempf, as Phillip Rayson, was placed in so many ludicrous predicaments that he furnished no small amount of the amusement of the evening.  The whole affair was excellently carried out, and about $135 was realized.  WG
1902
<![if !vml]>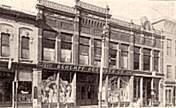 <![endif]>  
Sproesser building, 213 E Main BECAME PART OF SCHEMPFS BUILDING SOMETIME AFTER 1910
1903      Death of George S. Schempf, 1828-1903
02 06       Deceased was a native of Hessen, near Darmstadt, Germany, where he was born May 23, 1828, hence was in his 75th year.  When quite a boy he came to America and located at Cleveland, Ohio; from there he went to Milwaukee, and in 1846 located in this city and engaged in the general merchandise business.  In 1849 he went to California, where he stayed for nearly two years, and again located in Watertown and opened a general store with his brother at the site of where Schempf Bros. Co. now conduct their business, the firm's name being G. & F. Schempf.
The firm dissolved partnership after a short time, and the former [George] continued in the business until about seventeen years ago, when he retired on a well-earned competency and has since led a retired life.
Cross reference:  Chapter on George Schempf family  
10 30       Cloak, Suit and Fur Dept. will be on New Third Floor
<![if !vml]>

<![endif]>   New Cloak, Suit and Fur Dept. will be located on our New Third Floor as soon as ready – within a few days.  It will be the best lighted and best appointed show room in this part of the state . . . As soon as our new Third Floor is completed, these goods, together with all other Infant's Goods will be found in the infants department on this floor.
11 13       Grand Opening of Third Floor of Enlarged Schempf Building
The formal opening of Schempf Bros. third floor, the new addition to their large dry goods house, will take place on next Saturday, November 14th.  It will be the beginning of a week's sale of exceptional values in every department of their business.  An orchestra has been engaged for the occasion, and the store will be beautifully decorated for the occasion, and besides, the display of cloaks, suits, skirts, furs, carpets, rugs, curtains, draperies and fancy art goods will be the finest ever shown here.  Don't fail to attend this great opening sale.  WG
11 20          <![if !vml]>

<![endif]>   Ad of 11 20 1903
11 20       Opening Attracted Thousands
     First Passenger Elevator in Watertown
Last Saturday Schempf Brothers' Third Floor opening attracted thousands of people. A third story has been added to their business block, and has been recently completed.  This is stocked with a large assortment of cloaks, shirts, waists, furs, carpets, rugs, curtains, draperies and fancy arts goods, and on Saturday the very large crowd that visited the opening were highly pleased with what they saw in the line of elegant goods, and also the arrangement of this large, well-lighted and well-arranged addition to Schempf Bros. Co. business house.  It was beautifully decorated with palms and greenery, and in the evening eight Humphrey four-glow gas lamps illuminated the place to perfection.  The Apollo Orchestra, stationed on the second floor furnished music in the afternoon and evening.  The elevator just placed in the store was a great convenience for the visitors on this day, and nearly every visitor took advantage of it and visited the third floor, it being the first and only passenger elevator in use in Watertown.  Schempf Bros. Co. is to be congratulated on the success of their opening, and the people of Watertown and vicinity have every reason to feel proud of this old and reliable business house.  WG
  <![if !vml]>

<![endif]>   Get a Flannelette Night Gown at Schempf's !
1904
05 13       Electric Cable Cash System
A new electric cable cash system has just been installed in Schempf's store whereby change can be made from any part of the store to the office and returned.  It is one of the finest cash systems now in use and will greatly facilitate business at this popular establishment.
05 20       Opening of Remodeled Store
(advertisement)  We are glad to announce that the formal opening of our remodeled store will occur Saturday, May 28.  There have been many delays but the store is now entirely completed and is conceded one of the best is this state.  We're proud of the store – proud of its arrangements – proud of the superb stock of merchandise it contains.  The opening day will be a memorable one – including beautiful decorations and orchestra music both afternoon and evening.  Besides, we will begin on that day a One Week's Sale which will include every department in the store.  We will offer such unusual bargains that you can't afford to stay away.  We expect to make our opening sale the most important event in the history of the retail trade in Watertown.  Arrange to come on the opening day if you can.  You'll find it interesting and profitable.
<![if !vml]>

<![endif]>    <![if !vml]>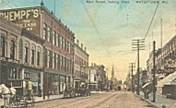 <![endif]>
06 03       GRAND OPENING OF SCHEMPF BROS. CO.'S BIG STORE.
Last Saturday the formal opening of Schempf Bros. Co.'s, remodeled store took place, at which a one week's sale was inaugurated.  Throughout the entire day the store was crowded with people, which included very many from the surrounding towns of Jefferson, Dodge, Columbia and Waukesha counties  The people who attended the opening can well repeat the firm's own words:  "We're proud of the store — proud of its arrangements — proud of the superb stock of merchandise it contains."  The entire three floors of this big store were most beautifully decorated with greenery and flowers.  Conspicuous among the decorations were a large cluster of American beauty roses and a large floral horseshoe, an insignia of good luck.  An orchestra in a balcony overlooking the first floor discoursed fine music during the day, which added greatly to the pleasure of the visitors, and the many bargains offered and taken advantage of sent each purchaser away rejoicing.  The sale continues until Saturday evening, and as many as possibly can should take advantage of it. 
Schempf Bros. Co.'s store is now one of the largest and best-arranged in the state, being supplied with a passenger elevator, the latest in cash delivery systems, and every convenience that makes th« store a popular one to visit.  It is well lighted with both natural and artificial light, and the evening display of electric lights in their store and show windows the past week was most beautiful.  Their stock is one of the largest and best in the state, and it includes everything usually found on sale in a department store.  Each department is presided over by experienced accommodating salespeople who delight in waiting on visitors whether they intend purchasing or not.  Visit the store of Schempf Bros. Co.'s this week if you wish to secure unusual bargains.   WG advertisement  
c.1905
<![if !vml]>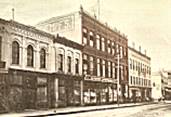 <![endif]>  
1906
<![if !vml]>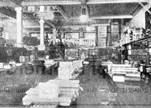 <![endif]>    <![if !vml]>

<![endif]>        First floor, 1906
<![if !vml]>

<![endif]>         Second floor
<![if !vml]>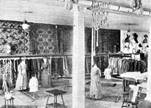 <![endif]>   <![if !vml]>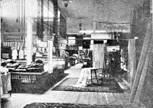 <![endif]>         Third floor  /  There was also a basement level of this store.
<![if !vml]>

<![endif]>   Sale clerks, ladies department, Ella Knaak, John Goodnetter
<![if !vml]>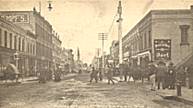 <![endif]>   1906
1906      Edward L. Schempf Stabbed on Leonard Schempf farm in Clyman
08 16          Edward L. Schempf lies suffering at his home at Jones Street, the result of a stabbing affair in the town of Clyman yesterday afternoon in which he received three ugly wounds, the offender being a farm laborer by the name of Fred Mundt.  It appears that trouble had been brewing between Mundt and Schempf, both of whom were working on the Leonard Schempf farm in the town of Clyman, the owner of the place being the step-father of the victim of the stabbing affair.  It is said that the parties had an altercation a couple of weeks ago, but finally became reconciled and shook hands and became friends once more.  Just how the trouble started yesterday, the Leader representative was unable to learn.  It is said that the two men were engaged in harvest work and were standing on a stack of grain, when Mundt suddenly pulled a knife and flew at Schempf in a rage and began cutting him.  The result was that Schempf received a couple of bad gashes in the arm and another bad wound in the chest.  The latter, it is reported, was not far from the heart, a spot the offender no doubt attempted to reach.   Watertown Leader
09 11          John W. Schempf Sells Drug Store
It has been known for several days that there has been a change in the Schempf Drug Company and the Leader has been anxiously awaiting the time when it could impart the information to its readers, but was requested not to do so by Mr. John Schempf and the new purchaser of his interest for certain reasons best known to themselves.
After a business career here for several years, Mr. Schempf has disposed of his interest in the business to Mr. W. G. Atwell, who has already assumed charge of the business.  It is with much regret that Mr. Schempf's many friends learn of his retirement from the business which he began seven years ago with modest beginnings, till he has worked up an enviable reputation and an excellent business - in fact a drug store that is a model of beauty and one that would be a credit to any city much larger than Watertown.  The regrets are more keen when it is known that Mr. Schempf at no great distant date is to engage in business elsewhere.   Watertown Leader
1906
09 14       John W. Schempf has disposed of his interest in the Schempf Drug Co. to W. G. Atwell, of Colby, who has already taken charge of the business.  Mr. Schempf has been closely confined in his business for the past seven years and he found that it is necessary for him to take a vacation for the benefit of his health, and he knew of no better way of doing so than to dispose of his business and be relieved of all cares.  He intends taking a trip to Boston, and Atlanta, Georgia, and other places in the east and south.  He will be absent from the city for about two months, and at the end of that time may decide to engage in business again, but outside this city.  Our people regret his move, so far as it taken him out of the business life of this place, for he was looked up to as one of Watertown's most enterprising and popular young business men, and all wish him success wherever he may locate.  His successor, W. G. Atwell, comes to: our city well recommended — being a first-class druggist and possessing an interesting and progressive spirit.  Our people welcome himself and wife to our city, and all trust that they will find Watertown a pleasant and profitable place to reside.   WG
1907
04 25       Meyne Drug Company.  A deal was closed last evening, whereby the Schempf Drug Store was sold to Mr. William H. Mayne of Ely, Minn., that gentleman to take possession today, the same having been sold by W. G. Atwell who bought the business a few months ago, but retained the old name . Hereafter the place of business will be known as the W. H. Meyne Drug Company.  Mr. Atwell will remain in the store about a week when he will go to his former home, Stevens Point, Wis., where he will remain during the summer and where he may engage in business . . . Mr. Mayne comes here a stranger, but The Leader ventures to say that he will soon possess many friends . . . He is an exceptionally pleasant person to meet and has all of the gentlemanly bearings . . . He is German by birth, a fact that will add materially in the success of his business.  He is a man of family and will soon remove to Watertown to become a permanent resident.   WL
1908
10 23          Arthur Heide and bride surprised by store  
Last Monday evening the clerks of Schempf Bros. Co. surprised Arthur Heide and bride at their home in North Warren Street, where all passed a few hours very pleasantly.   WG

   1908, Main and Third, Schempf's is on the left
1909
02 19       Edward Schempf had singing part in sacred cantata at St. Paul's Episcopal    WG
04 23       Robbery at store    WG
09 10       Ed Schempf and John Goodnetter returned from New York; selected fall and winter goods     WG
07 23       Fire at Store; Imitation Palm
At about 10:30 o'clock last Monday evening an alarm of fire was turned in from box 17, corner of Main and First streets, on account of an imitation palm being on fire in Schempf's drug store.  Mr. Schempf had only been away from the store a short time, and being in the vicinity his attention was called to the fire and he went to the store and with the aid of others he removed the palm to the street where it was entirely burned.  There was no other damage.  Had the blaze not been so quickly discovered a bad fire might have been the result.  It is supposed the fire took place from someone throwing a lighted cigar stump into the palm.  WG
12 18       <![if !vml]>

<![endif]>
1910
<![if !vml]>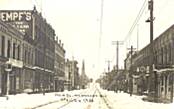 <![endif]>

   209-211 Main
12 30     Aaron Meade, for ten years past salesman in the white goods department of Schempf Bros. Co. store, has resigned, his position and on January 2nd will enter the employ of the J. M. Bostwick Co., Janesville, and will have charge of the white goods and linen department in their store.  Mr. Meade is one of Watertown's most popular residents, and our people will regret the departure of himself and wife from our city very much.   WG
1911
03 16          Capital Stock Increased.  The capital stock of Schempf Bros. Co. store has been increased from $75,000 to $100,000, making it one of the strongest financial mercantile establishments in Wisconsin.  The firm now does an annual business of over $250,000 and the business of the firm is increasing from year to year.  Over 50 sales people are employed in this popular store and more sales people are being added from time to time.  The officers of the firm are John Schempf, president; Max G. Kusel, vice president; Edward L. Schempf, secretary treasurer.   WG
06 22       The employees of Schempf Bros. store enjoyed an outing at Silver Lake last Monday evening, making the trip on the Interurban railway.   WG
1912
MUNSING UNDERWEAR, only the Schempf's
<![if !vml]>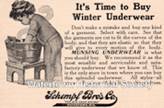 <![endif]>  
1913
06 19       Schempf Bros. Enlarging
<![if !vml]>

<![endif]>
Added story to the east end and 20 feet in the rear
Owing to a large increase in their business Schempf Bros. Co. have increased their capital from $100,000 to $150,000, and are adding another story to the east end of their building [former Sproesser bldg, 213 E Main] and also adding 20 more feet in the rear [same bldg], which will allow more room to display the large stock of goods carried by this popular dry goods firm.   WG   .
<![if !vml]>

<![endif]>   Sponsoring ad in 1913 Orbit
01 09          Schempf Bros. Store Robbed.
Sometime during Sunday night thieves entered Schempf Bros. Co. store and stole about $600 worth of goods.  They entered through a rear second story window, reaching it by means of the fire escape.  They searched the entire three floors and helped themselves to the most valuable articles.  At 11 o'clock Sunday night, a member of the firm visited the store and nothing had been disturbed at that time.  Judging from the articles stolen it is supposed a lady had a hand in the robbery.
Following is a partial list of the articles taken:
1 lady's near seal coat (black) size 38, $75; 1 Russian mink coat (brown Marmot) size 38 or 40, $75; 1 natural mink neck scarf, $50; 2 natural mink neck scarfs ($40 each), $80; 1 natural mink neck scarf, $35; 3 skirts, estimate value $5-$6 each, $16.50; 3 dresses, estimate value $12, $36; several corsets and brassieres, $5; 1 man's size 44 suit, $13.50; 1 man's size 48 raccoon coat, $75; 1 man's dog-lined (black outside shell) coat, $28.50; 1 suit case, brown leather, $3.75; 1 handbag (man's) brown, $6; 1 telescope suit case, grey, $1; 1 man's fur cap, size 7 or 8, $6; 1 either black or brown, size 46, man's cardigan jacket, $3; 2 lockets (lady's) $3.50 each, $7; 1 set cuff links, 50c; 1 necklace, about $1.50; 16 pairs ladies cotton hose at 39c, $6.24; 5 pairs silk hose, $5; 1 pair silk hose, $3.50; 2 pair silk hose at $2.25, $4.50: 2 pair silk hose at $1.75, $3.50; 2 pair silk hose at $2.50, $5; 2 pair silk hose at $.75, $1.50; 1 pair silk hose, $1.75; 4 pair silk hose at 75c, $3.
On Wednesday three men were arrested on suspicion of being connected with the robbery.  They had new fur coats in their possession and on Monday tried to sell them to Moritz Kramer, agreeing to return on Wednesday to conclude the sale, and were arrested by Chief of Police Block when they put in their appearance.  One of them is also suspected of stealing copper wire from the electric road here some time ago.  The coats found in their possession were not the ones taken from Schempf Bros. Co.  They gave their names as George Goff, Chas. Miller and George Gilman.   WG
07 03          Have New Ramblers.  Edward L. Schempf and William Hartig have recently purchased two of the latest model Ramblers.   WG
1914
03 26          Saturday evening the 50 employees of Schempf Bros. Co. left the store and assembled at the home of John Schempf, on Clyman Street, and had possession of his home upon his arrival, to his great surprise.  They met there to congratulate Mr. Schempf on his 70th birthday anniversary and in honor of the event presented him with a handsome loving cup, on which was inscribed: 
"A token of highest esteem presented to
Mr. John Schempf by his employees
on his 70th birthday, March 22, 1914."
A fine supper was served all present and the guests tarried till after 12 o'clock midnight to make the affair a real birthday greeting.  Mr. Schempf is president of the Schempf Bros. Co. and has been in active business here for over 50 years.   WG
1914      Schempf Drug Co. Sells Out
04 23       Erwin Bitttner and Max Tetzlaff take over the old John Schempf drug store.
The Schempf Drug Co. has disposed of its business interests to Max Tetzlaff, son of Ex-Alderman Herman Tetzlaff, and Erwin J. Bittner, son of William Bittner.  Both young men have been engaged in the drug business in Racine a number of years and are well qualified to conduct a drug business.  Hosts of friends here wish them success.  John W. Schempf, the former proprietor of the business, may decide to locate in the west.   WG
12 24       Christmas Eve ad of 1914, Watertown Gazette
<![if !vml]>

<![endif]> 
1915

   Schempf Ad, 1915
1915
01 28       Edward L. Schempf Purchased Home
Mrs. Florence McGolrick has disposed of her residence property at the corner of Sixth and Clyman streets [601 Clyman] to Edward L. Schempf, who has also purchased of C. H. Jacobi, the lot adjoining the McGolrick property on the west.  The consideration of the McGolrick sale was $3350.   WG
03 25       Robbery at Schempf Bros. Co. Store
Wednesday night of last week burglars entered Schempf Bros. Co. store by means of climbing the fire escape in the rear of the building and then getting down through the scuttle hole in the roof thereof.  Goods to the value of $150 to $200 were taken, including three suits of clothes, mittens, neckties, underwear, shirts, stockings, suspenders, cuff buttons, two grips, a fur coat and a rain coat.  Burned matches were scattered all over the rooms from where they took the goods, indicating that they piloted themselves in the darkness by lighted matches. 
Thursday afternoon, William Klatt, Nashota Street, while at play with other boys on the 7th ward dump at the old clay pit between Third Street and River Drive, ran onto two suitcases and a fur coat, hidden under an old box covered with straw.  The lad notified his parents and the police were communicated with by phone.  Chief of Police Block went to the scene and on opening the suitcases most of the things taken from Schempf Bros, were found in them including an old suit of clothes, one of the suits stolen evidently having been put on the thief who left the old suit.  The thieves were evidently not professionals, the supposition being that they stole the goods to replenish their own wardrobes.   WG
07 15          "THE BARNUM OF THEM ALL"
<![if !vml]>

<![endif]>    Ad makes play on the Barnum & Bailey circus coming to Watertown on August 18, 1915.
12 11       CHRISTMAS AD commands page 1 of Weltburger
<![if !vml]>

<![endif]>  
1916
YOUR STORE
<![if !vml]>

<![endif]>   We call this "your store" for the reason that you are at liberty to come and go as you please, whether for sight-seeing, rest, recreation or shopping.  It is not only a mercantile establishment to make money but to offer you every convenience in the way of the little luxuries that will come to you at no cost whatever.  Whenever it has been possible for us to install new fixtures that would help you in your shopping, and make more satisfactory to you every purchase, we have done so, and in our merchandise we have tried to give you always a little better value for your money than you expected.  As a result, ofttimes our advertisements may seem to you a little far-fetched, but we want to impress upon you that each and every item advertised by us is exactly as represented.  – Schempf Bros.
1920      SIGNAGE AND FLAG POLE, note regarding
<![if !vml]>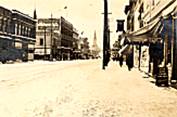 <![endif]>   Believed to be of the winter of 1919-20.
If one follows the timeline of Schempf images one notices that the early block letter signage on the outside east wall was apparently converted over to script sometime between 1910 and 1920.  The script signage/logo is seen in this c.1920 image.  The flag would have had special significance during the years of WWI (1914-1918).  Another flag can be seen on a building in the next (100) block of E Main.
Most images seem to have a pole on the top of the Schempf building.  Unfortunately, most of the time the top of the pole is cropped, but I am assuming a flag pole normally graced the top of Schempfs and certainly would have been nicely seen from both ends of Main Street.  / Ken Riedl
1920      DEATH OF JOHN SCHEMPF
John Schempf
1844 - 1920
ANGEL OF DEATH CALLS JOHN SCHEMPF
PIONEER RESIDENT
One of Watertown's Foremost Business Men
and Worthy Citizens
<![if !vml]>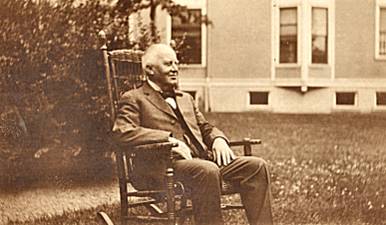 <![endif]>
click to enlarge
WHS 006 965                       Undated
John Schempf, b. 1844 , d. 1920
John Schempf, son of George F. Schempf, nephew of George S. Schempf
In 1875 Mr. Schempf formed a partnership with his uncle, George S. Schempf, and
brother, the late Leonard Schempf, under the firm name of George S. Schempf & Co.,
which continued until the retirement of George Schempf, the business
being conducted by the brothers under the name of Schempf Bros. Co.,
of which Mr. Schempf was president at the time of his death.
Cross reference:  Chapter on John Schempf family  
1920      Schempf Bros. Employees, clothing (garments)
<![if !vml]>

<![endif]>  Miss Ruby Elver, John Goodnetter, Miss Margaret Goodnetter, Miss Ruth Grant, Miss Anna Hoelzel, Miss Martha Hoelzel, Richard Krueger, Miss Selma Krueger, Henry Kulm, Mrs. Kyle, Miss Mary Link, Miss Edna Zimmerman.
1920s    Schempf Billboard
<![if !vml]>

<![endif]>     <![if !vml]>

<![endif]>     <![if !vml]>

<![endif]>  
1921
SCHEMPF FLOAT in Fourth of July Parade
<![if !vml]>
<![endif]>   Schempf float in front of Schempf Store
1921 Ads
<![if !vml]>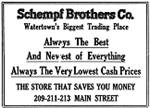 <![endif]>   <![if !vml]>
<![endif]>
1924      75th ANNIVERSARY AD
<![if !vml]>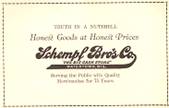 <![endif]> 
1927
12 03       EDWARD L. SCHEMPF DIRECTED WATERTOWN ELKS CHORUS
The memory of 38 departed members of the Watertown Lodge of Elks will be honored at the annual memorial service of the order.  The Watertown Elks chorus, under the direction of Edward L. Schempf, will sing and Frank Bramer, violinist, and Mrs. Bramer, pianist, will render two selections.  The ritual will be in charge of the officers of the lodge, headed by F. W. Koenig, exalted ruler.   WDT
1930
07 12       Edward Schempf attended Kading-Nelson Wedding  
1936
<![if !vml]>

<![endif]>   1936 Centennial Parade
1936      SCHEMPF'S CLOSES
After its closing the Montgomery Ward and the S.S. Kresge Companies took over the building, dividing it in two.
1944
<![if !vml]>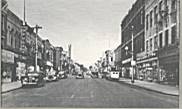 <![endif]>   Montgomery Ward, Kresge's and Penney's
1954
<![if !vml]>

<![endif]>  
1950s, mid-late MONTGOMERY WARD CLOSES
The future occupancy of the store building at 209 Main Street, now occupied by the Montgomery Ward and Company, is still in doubt.  The Montgomery Ward concern made known last Oct. 19 that it would close its store here on Jan. 15 of this year and plans to that end are now being carried out.  So far no tenant has been announced for the store, once known as the Schempf Bros. Co. department store.  There have been many rumors concerning future occupancy of the four story building but all have proved to be rumors and nothing more.  One deal that was contemplated has not materialized.  Schempf Bros. operated the store for 88 years before it went out of business in 1936.  The doors closed on May 16 of that year.
Schempf Bros. Department store, known as "The Big Cash Store", was the leading store in the city from the late 1840s to 1936.
After its closing the Montgomery Ward and the S.S. Kresge Companies took over the building, dividing it in two.
1957
<![if !vml]>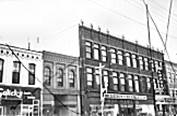 <![endif]>    Before Kresge's bought Montgomery Ward (Schempfs) bldg.  City Assessor file image, c.1957
08 07       KRESGE'S PURCHASED THE MONTGOMERY WARD BUILDING
               <![if !vml]>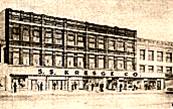 <![endif]>  < Artist's sketch
Enlargement and alterations to be completed in September.  The remodeled and enlarged Kresge's will be more than double its original size.
1967
KRESGE'S FIRE, 207 E Main
<![if !vml]>

<![endif]> 
c.1968
<![if !vml]>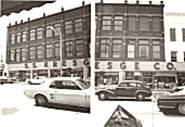 <![endif]>  '67 Mustang in pic
c1970s
<![if !vml]>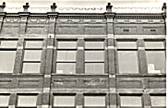 <![endif]>   Upper floors of Kresge's.  Part of an architectural display.
1983
KLINE'S MOVES TO 205-209 E MAIN
<![if !vml]>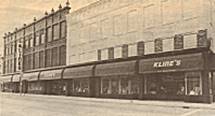 <![endif]>   1987 photo
Kline's opened in Watertown in 1954 and expanded several times before locating at 205-209 E Main in October of 1983.
Kline's moved into the building now occupied by the S. S. Kresge variety store in early fall.  A major renovation project, including a new front and completely redone interior, is planned.  Kline's takes possession of the building at 207 East Main Street July 5 and will continue at its current location until the renovation is complete.
Its presence was made known by use of adjacent awnings and display windows.
1993
06 15       KLINES CLOSES AFTER BEING IN WATERTOWN SINCE 1954
<![if !vml]>

<![endif]>  
2012
04 24       MID-TOWN SHOOTING RANGE, GUN SHOP, GETS APPROVAL
The Watertown Plan Commission granted a conditional use permit to allow a retail gun dealership and a shooting range to open at 209 E. Main St.  The new business would be called Martz' Muzzlez Range and Dealership.  In the initial phase, the business is planning on opening the firing range, retail space and a member's lounge.  The building at 209 E. Main St. has been vacant since Calico Cottage moved out five years ago.  The company also plans on renovating the second floor to open an education center for gun safety and training classes, advanced laser ranges for police training and a gunsmith shop.  The company will also be purchasing and renovating 207 E. Main St. and will look to rent the space out to a separate business.  They also plan on renovating the third floors on both 207 and 209 E. Main streets to rent out as residential living spaces.   WDT
2014
SCHEMPF BUILDING UNDER NEW OWNERSHIP
07 22       <![if !vml]>

<![endif]>    www.schempfbuilding.com
07 26       A BYGONE ERA TO RETURN
WDTimes article:  This week's announcement that the old Schempf Bros. Store building, for nearly a century a retail anchor store in Watertown, had been sold, is big news indeed.
11 21       <![if !vml]>

<![endif]>   <![if !vml]>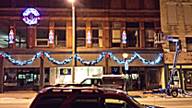 <![endif]>   
<![if !vml]>
<![endif]>   <![if !vml]>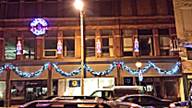 <![endif]>   <![if !vml]>

<![endif]>
2015
06 26&27  SCHEMPF BUILDING / MAIN STREET
The Schempf Building and Main Street history celebrated    
06 26          SCHEMPF BUILDING, formal dedication of as an official WATERTOWN HISTORIC LANDMARK
<![if !vml]>

<![endif]>     <![if !vml]>

<![endif]>        <![if !vml]>

<![endif]>  Image Portfolio 
06 27          SCHEMPF BUILDING and Main Street HISTORY CELEBRATED
2016
10 20          WORK BEING DONE ON SCHEMPF BUILDING
Nearly all of its windows will be removed in the coming weeks.  The windows will be restored and rebuilt off-site under the requirements of preservation guidelines of the state and National Parks Service.  The restored windows will return in spring and the additional restoration of the sills and frames will continue.  The existing metal cladding will also be demolished in spring and a new period-appropriate storefront glass system will be installed.
10 20          CHRISTMAS STORE IN SCHEMPF BUILDING
[same date] Beginning Oct. 28, the building will play host to Bethesda Lutheran Communities' Christmas store which features a selection of Christmas items at bargain prices including decorations, lights, ornaments, wreaths and artificial trees.  The temporary store also provides a chance for disabled youths to attain retail store operation experience.  The storefront windows, which won't be replaced until spring, will feature decorations and lights, making the building a festive attraction for the holiday season.
_________________
<![if !vml]>

<![endif]>  Image Portfolio    COMPLETE SET OF

   The Big Cash Store
<![if !vml]>

<![endif]>   Now and then
Cross-References:
Schempf's shopping bag handle
Nephew John was originally proprietor of Schempf's Rexall Drug Store, interior of store (WI His Soc link)
1909:  The singing of the Apollo Club was directed by Edward L. Schempf   WG
Harry Huth, druggist apprenticeship in the Schempf drug store.
This photo doesn't seem to fit the timeline.  Need to check:
Schempf's General Store, street scene  / Image needs to be relabeled; c.1903?
The image, which dates to 1886 (I believe) most likely shows the original facade.  By the 1890s or early 1900s--certainly by 1903, the building front was re-done and then later a third floor was added.  You have to begin with a clean slate before you can "pretty things up." - jannkster2

History of Watertown, Wisconsin