website  watertownhistory.org
    ebook  History of Watertown, Wisconsin
Buena Vista House
300 N Fourth
In 1847, the Battle of Buena Vista took place during the Mexican-American War.
U.S. troops, led by General Zachary Taylor, fought Mexican General
Santa Anna's forces, who ended up withdrawing.
Buena Vista House.  Built by Henry Boegel.  Opened Feb 1848.  Boegel was in Mexican War and had taken part in the Battle of Buena Vista, hence its name.  In 1849 Boegel sold to William Wiggenhorn, who rented it 6 years later to son Constance Wiggenhorn.  In 1855 sold it to A. Meiswinkel; later sold to Franz Gebhardt and A. Bertling.
___________________
The Buena Vista House, now (2016) known as Yangers Pub.  It opened in 1847 and was soon afterwards purchased by Wilhelm Wiggenhorn and his family who ran the place very successfully for many years.   They served some of the finest food west of Milwaukee it was claimed.
The tavern was home to the German refugees of the Revolution of 1848 and many a political debate was heard there.  It was also the site of the first gathering of what later became St. Luke's Lutheran Church in 1847, as well as the site of the formation of the first German singing society, known as "Der Liedetafel," in 1847.
After the Wiggenhorn family (pioneer cigar makers here) sold off the property, it was run by a succession of different owners.   During Prohibition it ceased selling drinks and became more of a rooming house/restaurant. 
It lost its distinctive name, pronounced "Byoon-a-vista" by Watertowners, in the mid-1990s and took on the name Yangers and also adopted a green and gold paint job.   The building, I believe, is essentially the original one from over 150 years ago.  - William F. Jannke III
1848       WIGGENHORN PROPRIETOR
In the spring of 1848, there came Dr. Fischer, John C. Halliger, Hohrmann and Ernst Achilles together with families, then the first Baptist Fried. Schielemann with wife, Nottorf, Grossmann and Lorenz Fribert, Wilhelm Wiggenhorn with family, among whom were his sons Constanz, Alexis, Eugen and August; Adolf Beurhaus and Adolph Lange, both married, Henry Maldaner, Fritz Herrmann, Chas. M. Ducasse, Gustav Schnasse, Martin Hopf, George Schempf and family, Schmidt Toelle, Henry and Louis Mulberger, Carl Roedel, Georg Koenig, Louis Stallmann, Leonard Meth with wife and several others.
Wilhelm Wiggenhorn arrived here with his family in the month of October, 1848, after he had been on the farm with Averbeck for several weeks, and bought the Buena Vista House and the opposite lot from Henry Boegel for the sum of $1680.  The house [hotel] at that time, however, was in only a half-finished condition, and only plastered one time, but it was furnished comfortably as an inn and the upper story was even used for divine services of the Evangelical Protestant parish, which, in the absence of a regular preacher, was presided over by Mr. Senator Meyer.  In his absence, Louis W. Ranis led the parish, and special religious functions such as weddings, christenings, etc. were performed by Pastor Dietrichsen from Milwaukee who came here from time to time. 
In the vicinity of the Buena Vista House, a German lathe operator had erected a windmill on a stump, in order to operate his turning shop with it.  His name, not accurately determined, was declared by some as Schiess, by others as Spiess.  He did not however achieve his wish with his windmill, and for a long time afterward its rudder stood there, without being used until finally this and other buildings had to make way for the [St. Henry's] German Catholic church.
1848
WATERTOWN: "SECOND CITY" IN WISCONSIN,
     PLANK ROAD BONANZA FOR LOCAL TAVERNS
"After the completion of the plank road, Watertown, early a place of promise, became the second city in the State and a bonanza for taverns; their story, however, has been well told in local histories.  People and produce from the country to the west and north for many miles PASSED THROUGH WATERTOWN TO MILWAUKEE, and land seekers made it their headquarters.  J. B. Van Alstine, for years the popular landlord of the Exchange, declared that he thought business dull in those palmy days unless he had a hundred guests and as many horses to care for.  Two of the old taverns are still running [in 1915], the Watertown House, now the Commercial, and the Buena Vista, which was opened in February, 1848, by Capt. Henry Bogel, a veteran of the Mexican War.  During the regime of William Wiggenhorn and his son, Eugene, the Buena Vista was the rendezvous of German revolutionist refugees, among them Carl Schurz and Emil Rothe, while on Sundays German services were held in its hall."
Derived from "The Taverns and Stages of Early Wisconsin" by J. H. A. Lacher, 1915.  Contracts for construction of the road were let in October of 1848.
1900
08 24       PROTESTANT CHURCH HELD SERVICES AT BUENA VISTA HOUSE
The German Evangelical Protestant church on North Fourth was organized here in 1850, and the congregation first held services at the Buena Vista house.
1851       BALL ALLEY
<![if !vml]>

<![endif]>       Ball Alley at the Buena Vista House, bowling
1866
GEBHARDT PROPRIETOR
Francis Gebhardt, proprietor, Buena Vista House.  Gebhardt was paid rent for Pioneer fire dept engine room in 1859.
c.1895
GROUP PICTURE
<![if !vml]>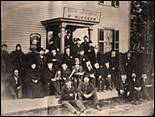 <![endif]>   
Mrs. John Goodnetter, Regina Ruecker, Annie (Anna) Ruecker, Mr. Ruecker, Mr. Schoechert, father of Paul S., Mr. Krebs, father of Hugo.
04 30       BUENA VISTA HOUSE SOLD
Louis Kronitz, who recently moved to this city from Clyman, has purchased the Buena Vista House of Otto Knoll, paying therefore $9000.  Louis is an old Watertown boy, and his hosts of friends here and elsewhere wish him success in his new venture in Watertown business circles.   WG
1929
11 05       BUENA VISTA HOTEL IS ACQUIRED
Acquired today by R. C. Winkler.  One of the oldest hotels in this section of the state, the Buena Vista located at 300 N. 4th Street, changed hands today when it became the property of R. C. Winkler.  This popular hotel was famous in the early days as a meeting place for the "48'ers and the intellectuals of that period."  Before the past 7 years the hotel has been under the management of Carl F. Gossfeld, a genial and efficient landlord. . . .
1966
<![if !vml]>

<![endif]>        City Assessor picture
1968
06 20       BUENA VISTA HOUSE SOLD
Mrs. Rose Surdick, who has been owner and operator of the Buena Vista House at 300 North Fourth Street, has sold the place to Elmer L. Kuehl of 106 Main Street, where he operates the Main Cafe.  Mr. Kuehl will take over the Buena Vista House on July 1.  Mrs. Surdick, who has been operating the place since the death of her husband, John Surdick, in 1938, had applied earlier for a renewal of her license but withdrew it in favor of Mr. Kuehl when she sold the property to him.
1987
<![if !vml]>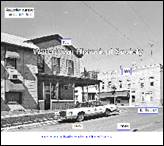 <![endif]> 
Cross References:
                Poll was at the Buena Vista House, Annual Charter Election of 1859.

History of Watertown, Wisconsin