website  watertownhistory.org
    ebook  History of Watertown, Wisconsin
Savoy Theater
106 W Main
This address was site of first Fischers Store
Savoy Opened in 1938  /  The Savoy, which was launched in August of 1938 by Milwaukee interests.
It operated for some years and then closed and was taken over by the Classic Theatre management.
1940
 <![if !vml]>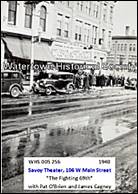 <![endif]>     <![if !vml]>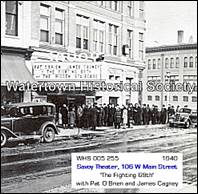 <![endif]>     <![if !vml]>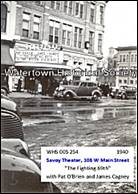 <![endif]>
"The Fighting 69th" attracts viewers in 1940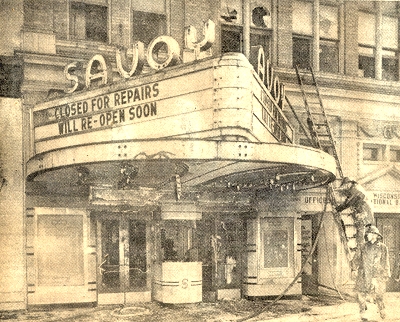 Savoy Theater Fire, 1950
In later years the theater building was added to the offices of the Wisconsin National Bank.  The entire structure was razed in the mid 1980's.
1946
"AMBUSH TRAIL"
<![if !vml]>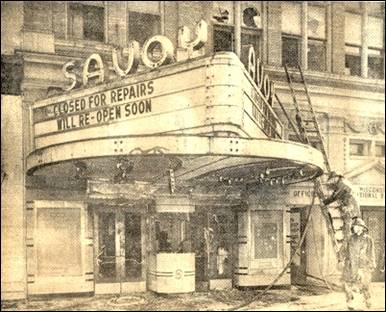 <![endif]>   Agnes Loukota
1951
  <![if !vml]>

<![endif]>   Memorial Day parade
1952-53
From the demolition of the original Immanuel Lutheran Church structure through the completion of new construction the congregation held worship services in the old Savoy Theater.
1961
07 01       Of the thousands upon thousands of persons who passed through the portals of the Classic Theatre and the Savoy Theatre here over the years that A.W. (Doc) Schmeichel served as doorman, handing their tickets to him, very few were aware of the part he played in Watertown music and entertainment circles for two generations. The fact is that Doc has had a most unusual musical career, having played with bands and orchestras, including his own musical organization and a combo. Doc's start in the entertainment field dates back to 1912, nearly a half century ago, when he began to play with the old Imperial Band of Watertown, then a leading musical organization here.   WDT
1965
12 18          WISCONSIN NATIONAL BANK UTILIZING FORMER SAVOY THEATRE BLDG
Work was started this morning on the Wisconsin National Bank project in West Main Street whereby the bank will add to its services a drive-in banking facility, utilizing the former Savoy Theatre building directly west of the bank.  First step in the project is the removal of the theatre marquee.  The Beaver Wrecking and Salvage Co. of Beaver Dam had a crew of men on the job today.  WDT
1966
06 10          PLANS FOR DRIVE-IN BANKING FACILITY
The Wisconsin National Bank in Watertown is ready to open its new facility — TV Auto Banking.  The new department will be in operation for the public starting Monday, but tomorrow, June 11 the bank will hold a sort of "Open House" from 9 a.m. to 3 p.m. and invites the public to drop in, inspect the drive-in facility and register for prizes which will be presented.  Saturday's event is being arranged to open the new facility and will be a forerunner to the regular TV Auto Banking service which begins Monday morning.  The new facility occupies the former Savoy Theatre building directly west of the bank building which the bank acquired last year.   WDT
Cross-References:
Image of Savoy Theater's movie projector:  WHS_005_254-257
Review article on Watertown movie theaters

History of Watertown, Wisconsin