website  watertownhistory.org
    ebook  History of Watertown, Wisconsin
Main Street Bridge
The Cole Memorial Bridge
THIS FILE IS UNDER CONSTRUCTION
<![if !vml]>

<![endif]>    <![if !vml]>

<![endif]>     Image Portfolio        
IMAGE PORTFOLIO BEING ADDED TO
<![if !vml]>

<![endif]>
Click to enlarge                  Main Street Bridge, 1898                                      WHS_005_601
1844
THE FIRST MAIN STREET BRIDGE ACROSS THE ROCK RIVER was erected in 1844 and was replaced several times.
1847
12 22       THE BRIDGE IS OLD AND UNSAFE
We have been requested to call the attention of our citizens to the necessity of taking some steps for the erection of a new bridge in place of the present one at this place.  The bridge is old and unsafe – it has been strained and weakened repeatedly by the element in which is rests; and it is more than probable that the high water of another spring will sweep it away.  Now is the time to prepare for a new bridge, while the ice affords a safe means of crossing the river, the old one should be torn away and a new and substantial one erected.  If it is done during the winter, no inconvenience will be occasioned; but it it is left until spring, the business of our town will be materially affected by the inconvenience which the building of a new bridge must necessarily create at that season.   Rock River Pilot
1856
02 21       LAYING GAS PIPE UNDER MAIN STREET BRIDGE
The Gas Company is laying the main pipe under the bridge in order to cross the river and form a connection with Main Street and West Avenue.  So severe and steady has been the cold of the past few weeks, that is has been impossible to do anything towards completing the Gas Works.  All the iron is now here, and a large number of skillful and experienced mechanics are waiting to improve the first opportunity that occurs to resume operations and complete the works as soon as it is practical to do so.   WD
05 01       NEW BRIDGE PROPOSED
On motion of Heber Smith, it was resolved that the new Main Street bridge proposed to be built over Rock river shall be sixty-six feet broad, with foot-walks twelve feet wide on each side.   WD
09 25       CROSS BRIDGE WITH CAUTION
Great caution should be used in crossing Main Street bridge at all times, especially in the night.  It is well known that a part of it has been taken down, and large opening left through which people may fall.  Some accidents have already happened, fortunately none of a fatal nature. Until the old bridge is entirely superseded by the new, no one should attempt to cross the river when barriers are placed across the road as a warning that the bridge is not passable.  The stone piers of the new Main Street Bridge are now being laid.  They appear to be solid and durable specimens of masonry.  We have no doubt that they will last as long as they are wanted.   WD
12 11       BRIDGE BEING COMPLETED
The work on Main street bridge is progressing more rapidly now.  The last set of arches is being put in, and a passage track has been laid, making crossing far more safe and easy.  We are told that there is to be no unnecessary delay in the completion of this important structure.  The public inconvenience occasioned by the interruption of a highway so constantly used as this is has been very serious.  WD
NOTE:       HENRY STEGER was city engineer and responsible for construction of the Main St. bridge [1856]. 
1858
09 23       FINE FOR DRIVING OVER BRIDGE FASTER THAN A WALK
A NEGLECTED ORDINANCE—There is one city ordinance which seems to be so entirely forgotten as to be generally disregarded, but which should be rigidly and impartially enforced.  There is a fine for driving over Main Street bridge faster than a walk, and yet every day teams are rushed over that structure on a full run.  No bridge built of wood can long stand such usage, and must be damaged by allowing this constant use of it.  We hope the Marshal will direct his attention to this violation of a plain law, and promptly bring every offender before the Police Justice, and see that he gets his dues.  One or two examples will be a wholesome warning.   WD
09 30       A RACE COURSE
Though not very long, yet it [the Main St. bridge] is so smooth and wide, that travelers cannot resist the temptation of commencing a run or a trot the moment they come in sight of it—or they rush at full speed, jarring and shaking every timber and plank in the structure.  The city authorities should put an immediate stop to this practice by taking up and fining every individual who makes himself liable to action.  It is not of much use to talk about this matter, but a few arrests will be likely to furnish a warning that will be heeded.   WD
Image showing portion of above sign on bridge
11 11       ORDINANCE RELATING TO RACING HORSE TEAMS OVER BRIDGE  
Notice is hereby given that the ordinance relating to driving teams over Main Street bridge at a rate of speed faster than a walk, will be strictly enforced.  All who render themselves liable and are convicted of violating the ordinance will be subjected to its penalty. 
H. Bertram, Mayor   WD
1859
03 31       HOME EATING SALOON
The Home is the name of a new Eating Saloon which is about to be opened by Major Bernhard Miller, whose old friends will remember the taste and care with which he has been accustomed to provide all good things for his customers.  His rooms are nearly fitted up in the building on the north side of Main Street bridge and will be found a pleasant place of resort.
Miller, at his News Room in the Post Office, has received the Atlantic for April, which is a most delightful and brilliant number; Harpers, beautifully illustrated and filled with a hundred rich things; and the Great Republic contains a vast amount of choice and instructive reading—many of the articles set off with a variety of finely executed cuts.
Cross references:
Miller, Bernard
Forty-Eighters: Builders of Watertown, pg 17
1858, Billiard table violation
Forty-Eighter, operated saloon, cigar wholesaler, had a flouring mill
09 01       BRIDGE ONCE MORE A SAFE STRUCTURE
Main Street Bridge is now being thoroughly repaired and when finished will be once more a safe structure for teams and wagons to pass over without danger of having planks fly up and tip over carriages or frighten horses.  To get the first cost out of that institution we must use it fast and use it much.  As there is no reason to believe that posterity will ever do anything for it, so there is just as little reason to suppose posterity will ever have the use of it.  That makes it all even and right.   WD
09 08       F WERNER BATHING ROOMS
The subscriber has just fitted up in the most convenient manner a suit of Bathing Rooms, under his Barber Salon, on the north side of Main Street Bridge, which are now open.  Those who wish to regularly indulge in this most healthful exercise will find every comfort and convenience to enable them to do so.  Shaving and Hair Dressing done in the Salon above in the most neat, prompt and fashionable manner.  F. WERNER   WD
[1870, Werner bldg (with canopy, north side of bridge, washed away in 1881 flood]
09 08       A. Trank, for repairing Main Street Bridge, $4.00 [Common Council]   WD
1860
01 26       ORDINANCE AGAINST FAST DRIVING ACROSS BRIDGE
As our city readers well know and as some of them have found out to their cost, there is an ordinance against fast driving across the bridges spanning Rock River and a fine imposed for its violation.  For a long time, however, no attention was paid to it, and it was an every day, if not hourly, occurrence to see nags trotting over the Main Street bridge at a 2:40 gate.  It finally became such a grievance that the City Marshal gave public notice that after a certain date the law would be enforced, since which time Police Justice Hadley has frequently had occasion to restrain the fast horse propensities of several of our citizens by inflicting on them a slight fine, which it was thought would have a tendency to fix upon their minds indelibly the fact that we have laws and that they cannot be outraged with impunity.
The Marshal was promptly on hand at all times ready to arrest any one offending against his manifesto, and so was his Deputy.  They would not suffer the dignity of the law, the city and themselves to be trampled underfoot, particularly by horses traveling faster than a walk.  And in this they were right.  All concede that the majesty of the law should be maintained at all hazards.
But, as the old saying says, "it is a long lane that has no turns."  The Deputy Marshal is unfortunately given to fast driving himself and on one occasion, not long since, was seen to commit the very same offence that he had been instrumental in having others punished for, at so many different times.  A complaint was duly entered against him therefore, and Justice Hadley, as in duty bound, dealt out with an unsparing hand to the offending officer the same measure that, at his instigation, had so frequently been meted out to others.  Public opinion has pronounced her verdict of "served him right" and the Deputy aforesaid is bound to concur, being a firm believer in the doctrine that "what is sauce for the goose is sauce for the gander."   WD
07 12       WERNER'S BATHING & BARBER SHOP
Werner's Bathing Establishment & Barber Shop—The subscriber has just fitted up in the most convenient manner a suit [suite] of bathing rooms under his barber saloon, on the north side of Main Street Bridge, which are now open for the reception of visitors.  Those who wish to regularly indulge in this most healthful exercise will find every comfort and convenience to enable them to do so.  Shaving and hair dressing done in the saloon above, in the most neat, prompt and fashionable manner.   WD
1864
08 04       COVERED WITH PINE PLANK
Main Street bridge is now being newly covered over with heavy and thick pine plank – an improvement much needed.  When the work is completed the bridge will again be in first rate condition for travelling.   WD
1865
04 06       REPLANKING SIDEWALKS
Alderman Moak, Chairman of the Committee on Streets and Bridges, reported to allow the accounts of A. Bornschein, $105 for repairing Cady Street bridge, $15.75 for replanking sidewalks on Main Street bridge.  Clerk directed to issue orders for the amounts on the city general fund.  Common Council Proceedings.   WD
1867
BIRDSEYE VIEW
<![if !vml]>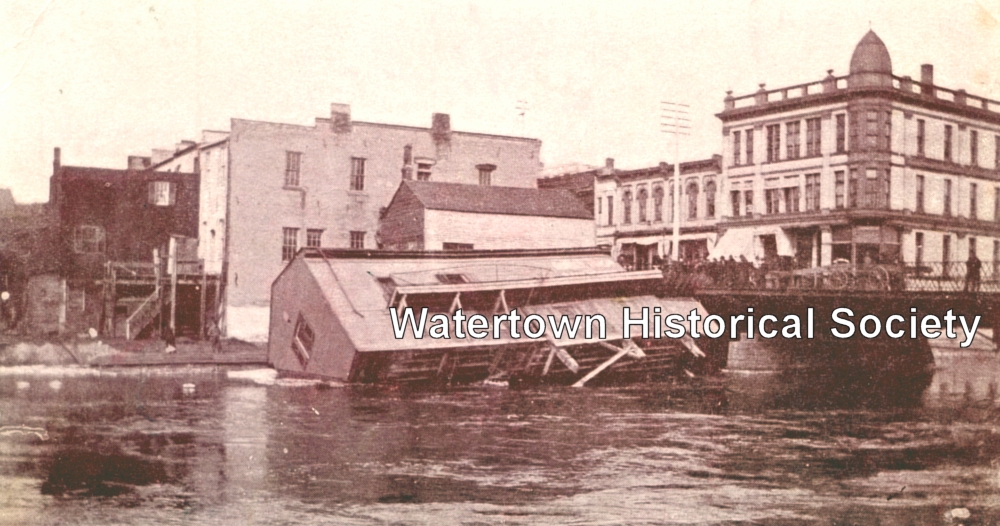 <![endif]>  
1870
1870, Werner bldg (with canopy, north side of bridge, washed away in 1881 flood
1878
06 19       NEW PLANK COVERING
Main Street bridge is receiving a covering of new plank, under the supervision of N. Nettleton, the contractor.  This is a much needed improvement.  WD or WR
1881
MAIN STREET BRIDGE, DESTRUCTION OF, 1881 FLOOD
Phoenix engine house, bell-tower, distant right
Reconstruction of, after flood of 1881
04 07       Main Street Bridge has been partly carried away.  The ice, high water and swindling contractors were more than she could stand.   WD
04 20       A Poor Thing.  Now that Main street bridge has been laid open to inspection by the disaster that befell it last night, there is scarcely any one who looks at it but what is thoroughly disgusted with its manner of construction. It was evidently never built with a view to beauty, strength or durability as shown by the lightness of the timbers and the bungling workmanship displayed in its erection. We hope there is a determination to have it replaced by a more substantial and handsome structure.   WR
04 27       At the regular meeting of the Board of Street Commissioners held Monday evening, the following resolution introduced by Commissioner Voss, was adopted:  Resolved, That it is the sense of the Board that an Iron bridge be built across the Rock River, connecting Main Street with West Avenue, and that the Committee on Streets and Bridges present a plan at the next regular meeting of this Board, embodying the following principles, to wit:  That the bridge be shortened 35 feet on each end, and new abutments be built for a bridge of 36 feet wide, and also a pier, in the middle, the whole to be covered by an Iron arch bridge of 2 spans, of 66 feet each.
Ought not our good city fathers to go a little slow on their project as contemplated by the above resolution?  To properly carry out these plans for an iron gm bridge would involve an expenditure of from $12,000 to $16,000. In view of the additional expenditures that must be made to put other bridges within the city limits in order, would it be wise in us to go to such a great expense at this time in building a bridge at Main Street?  We believe a calm survey of the field would dictate that such an outlay as is outlined in the resolution would be both unwise and uncalled for under our present circumstances, and we do not hesitate to affirm that our tax-payers generally take this view of the matter.  The present Main Street bridge can be restored to as good condition as before for an outlay of not more than $800.  Under ordinary circumstances it would be then be good for ten years more.  By that time, perhaps, we would be better able to afford the luxury of a handsome iron bridge.  Besides all this, shall business suffer and languish waiting perhaps five months for completion of an iron structure.  WR
05 04       At a special meeting of the Board of Street Commissioners, held last evening, the following resolution was adopted:
Resolved, That the Committee of Streets and Bridges is hereby directed and authorized to build a wagon bridge across Rock river connecting the two extreme bents now standing of Main Street by a bridge not to exceed sixteen feet in width, and to use as much of the old timbers of Main Street bridge as are available.
We do not think our community stands ready to endorse the action of the Board as embodied in the above resolution.  It is calculated that the temporary bridge will involve an outlay of about $300.  Three times this amount will restore Main Street bridge to its former condition for travel, a small sum compared with what an iron bridge will cost such as the Board are evidently aiming at erecting.  In our present situation the former conditions of things in the bridge line is good enough.  Let us repair Main Street bridge and bide our time for a better one.  The city will be well repaid for waiting a few years before building an iron bridge.  Just now war prices have to be paid for iron bridges, owing to the great demand, and we have no doubt that by waiting even one year thousands of dollars could be saved in the matter.  The restoration of Main Street is what is demanded at this time - anything done on a mere temporary character will be simply throwing so much money away.  The Street Commissioners should see the matter in this light.   WR
05 12       The watery chasm between the east and west sides of the river on Main Street is being bridged by a temporary structure.  An iron bridge will supersede it as soon as possible.  So say the powers that be.  There is a vast difference between work done under contract and the same work done by the day.  We have reference to Main Street bridge -- what is left of the old, and what is now being done on the temporary structure.  Kind reader, do not judge harshly.   WD
05 19       The public meeting, called to instruct the Board of Commissioners in regard to the Bridges, we are informed, was not an entire success.  A resolution to leave the matter in the hands of the proper authorities was unanimously adopted, after which the crowd adjourned itself rather unceremoniously, and without delay.    WD
05 26       The Proceeding of the Bd. of St. Comm:  A proposal from the Wrought Iron Bridge Co., Canton, Ohio, for building an iron bridge on Main Street was read and on motion placed on file with the other proposals already received.  On motion from Com. Voss a matter of considering the building of Main street bridge was made a special order for a meeting to be held next Monday, May 30th at 8 o'clock PM.   WD
06 30       We will wager a new hat that the proposed piers for Main Street bridge will not be as good and durable as the ones it is supposed to pull down.  "Length of piers to be 34 feet, with ice-breakers extended 6 feet at the base, and the same to be carried to a height of 12 feet from bottom of river at an angle of 45 degrees."  Now let us know the length of the wall above icebreaker with an angle of 45 degrees taken out to a height of 12 feet.
Did any member of Street Commissioners know that Herman Bentert Co. could not furnish stone 18 inches thick.  Perhaps not.
Shakespeare said: "Damned be he who moves these bones."  We say, wicked is he who pulls down those walls.  We have reference to the Main street bridge piers.
Why have the icebreakers only 12 feet in height, when the water was much higher than that when the ice went out this Spring?   WD
07 29       The erection of a bridge connecting Main Street with West Avenue has finally been settled upon.  This morning, the Board of Street Commissioners closed a contract with J. A. Burmhom, agent for the King Iron Bridge Company, of Cleveland, for a plate girder bridge composed of 3 spans each 66 feet long and 36 feet wide, costing $8,360.  The piers and abutments of old Main Street bridge will be used.  Some additional stone work to be built on top.  We believe this settles the bridge question a manner satisfactory to our citizens generally.
08 11       "THE BRIDGE"
Last Monday evening there was a special meeting of the Board of Street Commissioners for the purpose of finding out how to build Main Street bridge.  The commissioners were all present and Com. Rohr occupied the chair.  The Committee on Streets and Bridges asked for a little time to prepare the report; they having been so busy for a few days past that they did not have time to write it out.  Allowed.
The same committee made their report after some remarks by Com. Voss.  The clerk then read the plans and specifications for building the bridge.  The plans drawn up by Com. Voss.  An informal recess was taken (a very common occurrence for the Board).  Though the recess was ordered for only five minutes, it extended into half an hour.  Finally the chairman called the board to order, and on motion of Com. Becker the report of the committee was adopted, but on motion of Com. Becker the report of the committee was adopted, but afterward amended by appointing a Supt. to oversee the work of the business.  Com. Zautner, who was determined to make an orator of himself, whether nature or education intended him to be so, moved that the Supt. be appointed to inspect and "boss" the bridge.  A good deal of wrangling occurred between different members of the board in regard to the quality and cost of the stone already furnished by Baxter, and some of the members got their "back up", as the saying is, and finally the whole matter of building the bridge was left to the Committee on Streets and Bridges.  It was generally understood that a Supt. was to be appointed, but Com. Becker thought it would be better to have said Supt. under the supervision of the Committee on Streets and Bridges, and made a motion accordingly, which was carried.  More talk took place in regard to the powers of the Supt. and wound up in —wind.  Finally the board appointed Henry Jaeger superintendent of the bridge.  Com. Baxter at the "eleventh hour" presented an account for $70 for services on Main Street bridge, which was referred to the Committee on Streets and Bridges.
There is now every probability that the bridge will be built before the next centennial celebration, which by the way the matter has been handled lately there was some doubt.   WD
10 26       FALLING OF A DERRICK
 An accident that only through a miracle was not accompanied by a great fatality occurred last Thursday afternoon on Main Street bridge, directly in front of Hawkin's building.  The heavy derrick that is in use of the erection of the new bridge, while being moved to the end of the bridge fell over and came down with a tremendous crash, escaping the front of Hawkin's store only by a few inches, but in its descent struck Mrs. B. H. Robinson, of Brookfield, whose husband is temporarily employed at the Milwaukee and St. Paul carpenter shop at the Junction.  Fortunately for Mrs. Robinson the wooden railing broke the fall of the derrick or she would have been instantly crushed to death . As it was, Mrs. Robinson received a terrible blow on the shoulder and head and one of the spikes struck her under the arm inflicting an ugly wound.  Mrs. Fred Spink, who was with Mrs. Robinson at the time, had one of her knees badly peeled by one of the large ropes that struck her.  Mrs. Robinson was conveyed to her home at the Junction and received prompt medical attention.  Her wounds, although very serious, are not necessarily fatal, but even under the most favorable circumstance it will take some weeks before she can get up from her bed.  Taking into consideration the number of people passing and repassing while the derrick is at work, it is great wonder that the accident was not more serious in its results.   WR
1885
BIRDSEYE VIEW
<![if !vml]>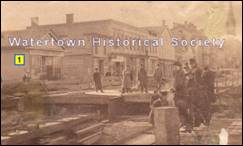 <![endif]>  
12 06       WIDENING BRIDGE PROPOSED
The Board of Street Commissioners are considering the question of widening Main Street bridge. It would greatly improve the appearance of that prominent thoroughfare and can be widened 12 feet for about $1300.  We believe most of the people having property on Main Street favor its widening, and it is an improvement that a great many of our citizens desire.   WG
12 11       WIDENING BRIDGE ABANDONED / SHORTENING OF PROPOSED
The plan talked up to some extent of widening and improving Main Street bridge has been given up for the present, at least.  There is now some idea, in the near future, of filling in some twenty-five feet at both ends of the bridge, thus lessening the length fifty feet, and then either repair the present structure to conform with the change, or build a new bridge.   WR
12 11       WIDENING MAIN STREET BRIDGE
[same date]  There seems to be a general expression among those whose attention has been called to the subject in favor of widening Main Street bridge, giving a wider and better roadway and making it much safer and pleasanter for pedestrians than at present.  The estimate of the expense places it at $1,300.    WR
1890
06 06       REMODELING AND WIDENING BRIDGE
The Board of Street Commissioners at its last meeting awarded the contract for putting in a new iron bridge in place of the old Boughton bridge to the Milwaukee Bridge and Iron works for $4,577, and the contract for remodeling and widening Main Street bridge to the E. Kunert Manufacturing Co. of this city for $4,500 with an additional cost of $1.00 per foot for hand railing.  We are pleased to see that a Watertown institution has secured one of these contracts, and hope the day is not far-distant when all work of this kind wanted in this city and vicinity will be manufactured here.    WG
1898
07 04       FARMER'S PICNIC, FOURTH OF JULY, 1898
<![if !vml]>

<![endif]>      <![if !vml]>

<![endif]>    
Main Street bridge, view from, to the south, Image of, WHS_006_387
1899
04 12       NAG WON'T CROSS BRIDGE
Two good-looking young fellows came to town yesterday to dispose of a little 900-pound "nag."  But unfortunately they came into town on the west side of the river, and the "nag" drew the line at Main Street bridge.  They commenced quite early in the morning, and at 10 o'clock had only succeeded in getting the little animal over the east end of the bridge.  This was accomplished by pushing pulling and much coaxing.  The young fellows worked faithfully to accomplish their object, and in good-natured patience and perseverance, proved themselves veritable heroes.    WR
1904
Peters Shanty went out with Flood in 1904
Peters Shanty on middle of bridge went out with flood, ice jam.
<![if !vml]>

<![endif]>
WHS_002_PC_370
<![if !vml]>

<![endif]>
1906
02 29       Al Kraft, chief engineer of the Milwaukee Electric Railroad, and Light Co. with his force has for the past few days been examining and testing the Main Street bridge for the purpose of ascertaining its strength and the probability of its being strong enough to hold fifty tons, which would be the maximum weight it would have to sustain when the trolley line was in operation and the cars passing to and fro over the structure.   WL
1908
08 28       First electric car crossed Main Street bridge.    WG
09 11       Rebuilding of bridge completed   WG
1911
1931
MAIN STREET BRIDGE CONSTRUCTED
<![if !vml]>

<![endif]>   Form for arch span; later below street level.
     click to enlarge
10 16       MAIN STREET BRIDGE DEDICATED
MEMORIAL TO WATERTOWN PIONEER JOHN W. COLE
<![if !vml]>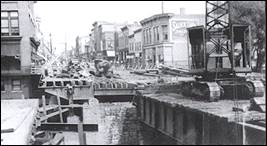 <![endif]>      <![if !vml]>

<![endif]><![if !vml]>

<![endif]>   Milwaukee Journal photo and article
The October 16, 1931 dedication of Watertown's Main Street bridge, known as the Cole Memorial Bridge, was a festive occasion.
According to the historical record, "it brought to the downtown section of the city one of the largest throngs of people ever assembled in that area."
Gov. Philip F. LaFollette came here to help dedicate the span which cost $34,000 and over which three highways cross.  Mayor Charles Lutovsky took part in the ceremonies.  Milwaukee newspapers sent reporters and photographers to Watertown to cover the event.
The bridge was constructed by Cunningham Bros, of Beloit.  The Otto Biefeld Co. provided the steel, George H. Lehmann did the concrete work and Ed. L. Bartlett furnished the cement, while the Hutson-Braun Lumber Co., the West Side Lumber Co., and the Gateway Lumber Co., provided other materials.  Arthur Ruesch was in charge of the electrical wiring and Ben Johnson was the general superintendent.
The cost of the bridge was borne by the state, Jefferson County and Watertown, the city taking its share from a fund of $10,000 which had been paid the city under an agreement by which T.M.E.R. and L. Co., Milwaukee, was allowed to remove its tracks and abandon its interurban service.  Don V. Smith, then Assemblyman from Jefferson County, sponsored the necessary legislation providing for the payments by the state and county and the bill was signed by Gov. LaFollette.
The 1931 bridge replaced one that had been built 50 years earlier.
Lee E. Williams was the designer of the bridge.  At the time of its completion he announced some facts about it.  It weighs a total of 5,225,000 pounds.  It has in it 20 miles of steel; the total number of pieces is 7,000.  If all the steel that went into its construction were converted into No. 18 gauge wire it would reach one and one fifth times around the earth.   A total of 1,200 yards of concrete went into its construction.  The parts from the old bridge which went into the new span weigh approximately 60 tons.
Ben E. King was city engineer at the time of its construction and helped supervise the work. 
    Program and Parade
The program the night of the dedication was as follows:
Selection / 105th Cavalry Band
Presentation of bridge on behalf of contractor
Acceptance of bridge on behalf of city
Mayor Charles Lutvosky / Formal opening and cutting of ribbons
Selection / Star Spangled Banner, 105th Cavalry Band
Address / Mayor Charles Lutovsky
Address / Gov. Philip F. LaFollette
Selections / Watertown City Band
A parade, arranged under the auspices of the Watertown Business Men's Association, predecessor to the Watertown Association of Commerce, followed the dedication program.
The bridge was named after and dedicated to John W. Cole, the city's first merchant, who left a bequest under which the city was able, among other things, to build the addition to the Watertown Free Public Library which houses Cole Memorial Hall.
Merle and Walter Evanson of Oshkosh, who cut the ribbons, formally opening the bridge, were the great-great-grandchildren of Mr. Cole.    This section derived from WDT article of 06 26 1954.
Cross Reference Note:  August Gauerke, has killed by a piling during the construction of the bridge in 1931.
1964
<![if !vml]>

<![endif]>  Two homes moved from Kroger property, East Main St, to lots on Milford St.
1967       RECONSTRUCTION OF

1983
08 08       EVELYN ROSE. Named "Evelyn A. Rose Bridge"   WDT
1984
08 06       DR. LOUIS W. NOWACK
Dr. Nowack, longtime Watertown physician who currently serves as medical director of Marquardt Memorial Manor, has been named winner of the downtown Main Street bridge naming contest.  Nowack was nominated for his work in the community and the many hours of caring for residents and employees at Marquardt, will receive the award in a ceremony at 8:15 tonight at the Riverside Park bandshell.   WDT
1986
08 08       MYRA MACINNIS
Retired Watertown High School history teacher Myra MacInnis chosen to have her name given to the Main Street bridge, nominated by Saturday Club.   WDT
1987       ROBERT LINERS
07 30       Main Street bridge will officially be named the Dr. Robert Liners bridge, kicking off opening ceremonies of this year's River Days and sesquicentennial celebration.  The ceremony will take place at the Riverside Park band shell, the main stage of the celebration, where the Milwaukee-based pop/rock group Gerard will highlight the evening's entertainment.  Liners was notified of the honor at about 3 o'clock Wednesday.  "I'm in a state of shock, there's no doubt about it," said Liners, who has practiced dentistry in Watertown since 1951.  WDT
1988
0812        JAMES AND CATHERINE QUIRK
Two members of a prominent Watertown family were honored by having the downtown Main Street bridge named after them during ceremonies at Riverfest Friday evening at Riverside Park.  E. James Quirk and Catherine Jean Quirk, members of the family that formerly owned Brandt, Inc., were selected for the honor from a list of names submitted to the Watertown Clergy Roundtable.  The award was presented by the Rev. T. Thomas Nustad of Christ United Methodist Church, president of the clergy roundtable.   WDT
1990       MARY J. CONNOR
08 05       The Main Street bridge will be named the "Mary J. Connor Bridge" through the next year.  Connor was presented with a plaque honoring her at the bridge naming ceremony at RiverFest Sunday afternoon.  The presentation was made by Thomas Schultz, RiverFest chairman.  Connor's name will be permanently inscribed on a plaque at the river walkway.  Her name will join the list of past recipients.  WDT
1992
08 09       DAN BRANDENSTEIN BRIDGE
The Main Street bridge will be named the Captain Dan Brandenstein bridge for the next year, the Watertown Riverfest Committee announced Sunday evening at the festival. Each year the bridge is named after a resident or native of Watertown who has made a special contribution to the community. Brandenstein, who is retiring after a long military career that included 14 years as an astronaut and four space shuttle flights, was selected from a list of names submitted for consideration. A plaque honoring Brandenstein was given to his parents, Walter and Peg Brandenstein, on the main stage of the festival Sunday evening. The award was presented by Arthur Turke, a member of the Riverfest committee. Brandenstein's name will be placed on a permanent plaque at the southeast corner of the bridge at the entrance to the Rock River Walkway.  WDT
1993
08 04       REV. M. FRED HIMMERICH
The Main Street bridge in downtown Watertown will be known as the "Rev. M. Fred Himmerich Bridge" for the next year.  Himmerich, pastor of St. Paul's Episcopal Church, was honored at a bridge naming ceremony at Riverfest Saturday evening on the main stage.  Each year the Riverfest committee selects an individual for this honor who has been a leader in the community through service activities. Himmerich was presented with his award by Arthur Turke, a member of the Riverfest committee, and Thomas Schultz, chairman.   WDT
10 08       BRIDGE RECONSTRUCTION COST
State transportation officials have agreed to pay the entire cost of reconstructing the East Main Street bridge in 1994, a project with an estimated cost of $1 million.  The Watertown Common Council will consider a resolution to authorize the project Tuesday.  The meeting will start at 7 p.m. in the council chambers of the Watertown Municipal Building.  Bids for the project will be accepted in March of 1994 with construction starting in the spring.  The cost of construction is estimated at $900,000 with engineering and design work expected to cost an additional $100,000.  The existing bridge was built in 1923.
1995       JOHN MODEL
1996       BOBBY MAAS
1998       LARRY MISTELE
08 08       Named "Lawrence J. Mistele Bridge"   WDT
2004       JOE READY
Named "Joe Ready Bridge" 
2005
08 04       ART TURKE
Named "Arthur L. Turke Bridge"  Turke, who has contributed decades of public service, was honored at Watertown's Riverfest celebration Saturday by having the Main Street bridge named after him for the next year.  He was presented with a plaque by Thomas Schultz, Riverfest chairman, and will also have his name engraved on a plaque at the Main Street bridge and the entrance to the Rock River Walkway.  The nominator also said, "All who have worked with Art over these many years deeply appreciate his broad knowledge, his sense of humor and his sincerity.  His goal was and continues to be working to make Watertown a better community."
2007
08 05       ORA KUCKKAN
Ora Kuckkan, a tireless volunteer for community projects, was honored at Watertown's Riverfest celebration Saturday by having the Main Street bridge named after her for the next year.  Kuckkan received a plaque and her name will be engraved on a plaque at the Main Street bridge and entrance of the Rock River Walkway.  "First of all, at this point, I am very speechless," Kuckkan said of the award.
2008
08 06       ARCHIE LOEB
Archie Loeb, a well-known business man in the Watertown community, was honored at Watertown's Riverfest celebration Saturday by having the Main Street bridge named after him for the next year.  "His company, Loeb Industries, along with Chickens Unlimited, has paid for the entire cost of the shuttle buses for Riverfest, an undertaking that runs into the thousands of dollars every year," Watertown Riverfest Chairman Tom Schultz said at the presentation.  Loeb received a plaque and his name will be engraved on a plaque at the Main Street bridge and entrance of the Rock River Walkway.
2013
08 12       RAMONA HACKBARTH
Longtime Watertown resident Ramona Hackbarth was honored at this year's Riverfest by having the Main Street bridge named after her for the next year.  Continuing the tradition that started in 1982, Hackbarth will have her name engraved at the Main Street bridge entrance of the Rock River Walkway.  Ramona Hackbarth has been involved with the Watertown Arts Council, downtown art walk in May and Friends of Watertown Public Library where she is a past president and board member.  She is also active at St. Henry Catholic Church.  Ramona taught and was a substitute teacher in the Watertown Unified School District for over 40 years.  She plants a vegetable garden on the south side of town and shares the fruits of her labors with her neighbors and the firefighters at the municipal building.
Past award winners are:
River Days
1982       William Connor
1983       Evelyn Rose
1984       Dr. Louis Nowack
1985       Raymond Dobbratz
1986       Myra Mclnnis
Riverfest
1987       Dr. Robert Liners
1988       E. James and Katherine J. Quirk
1989       Rolland Freitag
1990       Mary Connor
1991       Robert Krueger
1992       Daniel Brandenstein
1993       Rev. M. Fred Himm-erich
1994       Larry Schultz
1995       John Model
1996       Bobby Maas
1997       John wanke
1998       Larry Mistele
1999       Richard Block
2000       Richard Minning
2001       Clarence Mess
2002       Dr. William "Bill" Ehlinger
2003       Chris Huhti
2004       Joe Ready
2005       Arthur Turke
2006       Ray Kubly
2007       Ora Kuckkan
2008       Archie Loeb
2009       Bob Lueck
2010       Kenneth Ceithamer
2011       William "Bill" Jannke
2012       John Schloemer
2014       JERRY PETERS, Main Street bridge naming award
2016
03 15       BRIDGE STRUCTURAL REPAIRS PROJECT
Council Proceedings of 03 15 2016:  Review & approve STH 19 (Main St.) - Rock River Bridge Structural Repairs Project Contract #6-16. Assistant City Engineer Andrew Beyer and Engineering Technician Jay Haberkorn were present to explain the bridge proposal.  As part of the Downtown Redevelopment effort, the City has determined that the Main Street Bridge needs some structural and aesthetic repairs to bring the bridge up to the standards that we would like to see downtown.  An RFP was issued for repair work on the bridge, which includes new sidewalks, repairing holes, work on the railings and some work on the exterior side surfaces of the bridge.  Two bids were received for the project.  The bidders were NorCon Corporation and Zenith Tech.  There was a bid amount and an alternate, to do some work on the outside surfaces of the bridge, which are spalling and have exposed rebar in places.  The Finance Committee discussed this in great detail and it was decided to do the base bid along with the alternate.  Motion was made by Alderperson Smith, seconded by Alderperson Larsen to approve the base bid and the alternate, the low bidder being NorCon Corporation with a bid of $295,970.90.  The money to pay for this will come from the funds in TIF #5 Account #09-58-05-28.   Motion passed unanimously.
STRUCTURAL REPAIRS TO THE BRIDGE
The bridge on Main Street bridge between Water and First streets will be closed to vehicular and pedestrian traffic beginning Monday.  This closure is expected to be for 45 calendar days due to the necessity of structural repairs to the bridge.
06 22       BAN PARKING ON BRIDGE
Public Safety & Welfare Committee.  Review & approve ordinance to amend parking on the Main Street (Cole) Bridge.  An inspection of the Main Street Bridge, performed by Ayres Associates, after the incident with the roto milling machine, revealed additional deterioration of the structure.  It is being recommended for the best interest of safety, to remove parking on the bridge deck, as well as the approaches.  An ordinance will be presented to eliminate this parking.  The report was received and placed on file.
07 20       NEW PLAQUE, NAMING OF BRIDGE, 1982-2015
<![if !vml]>

<![endif]>  
08 16       STEVE HEPP
Named "Steve Hepp Bridge"
The final day of Watertown's 30th annual Riverfest celebration was capped off, in part, with recognition of Steve Hepp for his contributions to the city with the renaming of the Main Street bridge in his honor.
"Today we continue a tradition of honoring an individual who has given much to the community by having the Main Street bridge named in his or her honor for a period of one year," Riverfest Chairman Tom Schultz said as he recognized Hepp for his local contributions.  "But much more than that, he is a community-minded citizen who has been involved and led countless activities.  He has served on the Watertown Transit Commission for eight years and the Watertown Police and Fire Commission for 13 years. Steve is the person who designed the Marine Corps League Aero Park at the airport property on Boomer Street.  He is a consummate fundraiser, having played a key role in generating contributions for Aero Park, Watertown Military Show, Fourth of July Parade, Christmas Parade, veterans programs, the honor flights and the vets roll," Schultz said. "He is deeply involved with the Marine Corps League, AMVETs, American Legion, VFW, Vietnam Veterans of America, Elks Lodge, Moose Lodge, Tavern League of Wisconsin, Jefferson County Tavern League, B-Cause We Care, Fire and Iron, Embassy Marines Association and Sea Going Marines Association."   
Hepp also designed a monument and secured a piece of the World Trade Center for a 9-11 memorial at the park, and is chairman of a Neighborhood Watch Awareness program.  Schultz said Hepp's two businesses have sponsored, and been involved with, countless local sports teams for decades.   WDT story   
2018
-- --           REV. TIM MUELLER, Main Street bridge naming award.
06 14       AGREEMENT TO REPLACE BIRDGE
Mayor David signed an agreement with the Wisconsin DOT to begin the process for replacement of the Main Street bridge in 2023
<![if !vml]>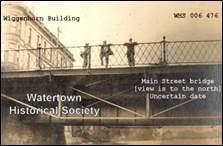 <![endif]>    <![if !vml]>

<![endif]>     Image Portfolio        
| | |
| --- | --- |
| Main Street Bridge | |
| Main Street Bridge | |
| Main Street Bridge | View from, looking north, Fuehman Brewery, WHS_004_NT_116 |
Cross References: 
Peter Brooks' barber shop and candy store, in (on) middle of Main St bridge, south side of

History of Watertown, Wisconsin