This file portion of www.watertownhistory.org website
   File on Railroad spur, North Water St.
       ebook  History of Watertown, Wisconsin
Chapter on Railroads
<![if !vml]>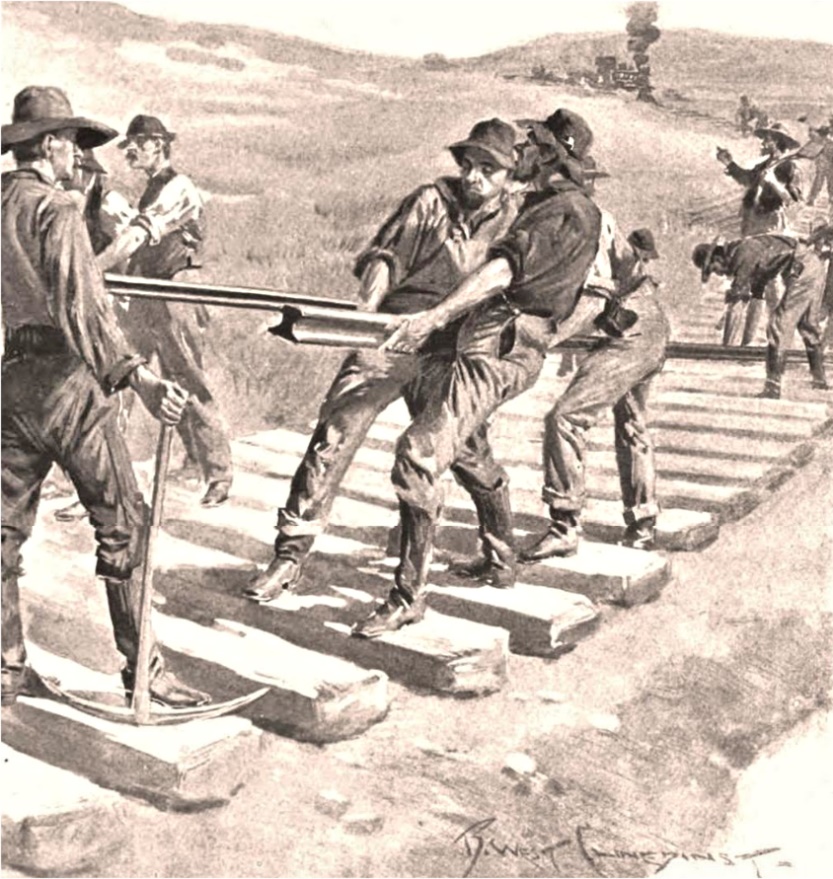 <![endif]>
Click to enlarge
Watertown Historical Society Collection  
Watertown's railroad history began during the administration of Theodore Prentiss.
At that time $80,000 was voted for railroad bonds
 to cover the cost of constructing the Milwaukee-Watertown Railroad.
1853
  <![if !vml]>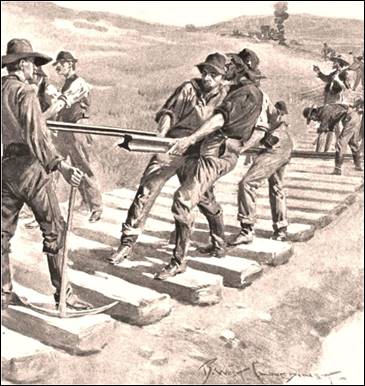 <![endif]>  Portion of Digital Inventory Item 00098
A prospect of getting a few cents more in price will induce the carrying of grain to Milwaukee over the plank road.  The only remedy is a railroad between these interior markets and the lake towns.  Farmers cannot compete with a railroad in carrying grain, therefore they will find it to their advantage to sell at the nearest R. R. depot.  This consequently induces a home market, and the money laid out for necessaries by the farmers retained in the interior.   State Register, 05 28 1853
1854
M&StP 42, "D.A. Olin", Class H, was built by Niles & Co. in 1854 as Watertown & Baraboo Valley "Watertown".  It became M&StP 42 in 1868.  On April 11, 1899, it was renumbered 1438.  It was scrapped on September 20, 1904.  This engine featured Davis Balanced Valves, which were an early piston valve.
<![if !vml]>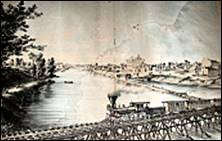 <![endif]>     <![if !vml]>

<![endif]>     <![if !vml]>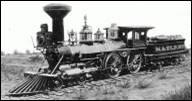 <![endif]>
M&StP 40, "L. B. Rock", Class H, was built by Menominee in 1854 as Milwaukee Watertown & Baraboo 1. It became Milwaukee & Watertown 1 almost immediately.  In 1856 it became La Crosse & Milwaukee 56 "Luther A. Cole".  In 1863 it became M&StP 40, "L. B. Rock".  It was gone by 1899.   http://donsdepot.donrossgroup.net/dr385.htm    
1855
12 27     Milwaukee and Watertown Railroad built new freight house, parallel with the main depot   WD
1858
08 05     Our Railroad interests.  Land Grant Road   WD
09 & 10 The Milwaukee, Watertown and Baraboo Valley Railroad Company to lay their line from Columbus to the Wisconsin River   WD
09 16     Trip over the Milwaukee, Watertown and Baraboo Valley Railroad; one of the pleasantest to be had in Wisconsin   Milwaukee Sentinel
10 14     Completion of section of Chicago, St. Paul and Fond du Lac Railroad between the Watertown and the La Crosse Junction   WD
12 09     Coupons [bonds] sold liberally, trouble when presented for payment   WD
1859
04 21     Relations of city with Chicago, St. Paul & Fond du Lac Railroad; hopelessly insolvent, city deemed advisable to assign stock according to plan proposed   WD
07 21     La Crosse and Milwaukee Railroad Co; extend Watertown railroad by building of short section between Columbus and Portage   WD
08 11     With hardly an exception, uncompleted western railroads have been at a standstill for the eighteen months, but large gangs of men are now busy in our neighborhood in grading and laying the track upon two different roads leading through this place—the first running to the west, connecting Watertown with Madison, the state capitol, being an extension of the Milwaukee and Watertown Road, and the other completing the Chicago, St. Paul and Fond du Lac Road, between Janesville and the La Crosse junction.
The latter is now called the Chicago and NorthWestern Railroad, and it is certain that by the middle of October, the cars will be running upon it from Chicago to Oshkosh, a distance of one hundred and eighty miles through the richest part of the state . . .   WD
09 01     Regular trains running over Chicago and North Western Railroad between city and Oshkosh
     New Chicago and North Western depot building a few rods south of the plank road   WD
1860
02 16     Milwaukee, Watertown & Baraboo Valley RR Co, acquires rights, property and privileges of both earlier RR's   WD
05 24     Chicago and Northwestern derailed, struck cow  WD
05 31     Junction House, kept by H. B. Sherman   WD
07 05     Farm property for railroad stock subscriptions, mortgages   WD
08 09     Twenty freight cars have built in city at machine shop of Milwaukee, Watertown and Baraboo Valley Co   WD
12 06     Milwaukee, Watertown & Baraboo Valley RR Co to change name to that of the "Milwaukee & Western Railroad Co."   WD
1861
04 04     The Long Train.-- We believe the longest train of cars one engine ever hauled north passed through this city last Monday.  Conductor W. C. Green took with him, over the Chicago and North Western track, 62 cars, with the engine Wisconsin -- John Hunter, engineer.  They will return to the South freighted with the productions of the North.   WD
05 02     Trains now run regularly on the Chicago and North Western Railroad as far north as Appleton.  The track between that city and Oshkosh is being ballasted and will shortly be in the best running order.  Passengers can go straight through to Chicago without delay.   WD
06 06     Last Monday we passed over the line of the Milwaukee and Western Railroad, which is now doing a heavy carrying business.  The cars were crowded with passengers, every warehouse along the road was filled with wheat ready to send forward, the only trouble being to get freight cars enough to take it away.  At Ixonia station a new side track has recently been put down and several new buildings are being put up.  There was everywhere an appearance of business, activity and prosperity — it was a pleasure to witness.  We saw some fields of rye and winter wheat heading out finely, which made us think we were on the verge of another harvest, instead of having just passed from spring to summer.   WD
11 28     Railroad Accident
The Chicago papers give an account of an accident on the NorthWestern Railroad, on the 20th, by which the conductor of a construction train on the NorthWestern Railroad, named Bennet, and an engineer by the name of D. A. Lowell, were seriously injured.  The train was drawn by the locomotive Watertown, and when running at the usual speed between Carey and Barrington stations, a rail broke and threw the engine from the track, the cars following.  The conductor and engineer both leaped from the train and were caught by the cars and jammed terribly.  Bennet, the conductor, had one of his thigh bones fractured and was otherwise seriously injured.  Lowell had both legs broken, one below, and the other in the region of the knee.  A box car between the locomotive and gravel cars contained twenty-one men, and though the car was badly broken up, all the men escaped without serious injury.   WD
1862
02 05     A Slight Railroad Smash.  Last Saturday, about four miles from this city, the freight train of the Chicago and NorthWestern Railroad, going south, met with a slight accident.  The cold was severe and one of the wheels on the next to the hind car broke.  That and the last car, with several passengers on board, were thrown off the track, and three or four rails torn away.  Nobody was hurt and the damage was soon repaired by the activity of the men running the train.  The passenger train was detained about four hours, and that was pretty much all the harm done.  The road has since been thoroughly repaired and all is in good running order again.   WD
05 09     Following is a list of the names of those who sang at the raising of the flagpole and flag at the C. M. & St. P. Ry. shops in this city in 1862.  C. Southwell and wife, Miss Mary Mileham, Miss Anna Mileham, Nelson Barrett, Miss Amanda Barrett and John Austin.   WG   [Glimpse from the past, WDT of 05 09 1912]
07 10     New Railroad Car
Last week a new railroad car, built in this city under the direction of Mr. B. T. Wells, made its first appearance on the Watertown & Madison Railroad.  It is designed to answer the double purpose of both a passenger and freight car – and is admirably arranged for such use.  It is strongly and substantially built of the best materials and is capable of resisting a tremendous shock, yet it is well furnished and finished and glides along lightly and smoothly over the iron track.  It will be put on the route between this city and Sun Prairie, on which our young and attentive friend, Mr. O. F. Willis, acts as conductor.
While on this subject we will state the fact that some 25 freight cars are in course of construction at the machine shop of the Milwaukee & Western Company in this city.  As good cars are made there as can be found on any railroad in the west.  This establishment gives steady employment to a large number of skillful mechanics and all goes on like clockwork under the supervision of Mr. Wells.   WD
1864
02 11     Railroad Accommodation
The Legislature of this state has conferred on railroad corporations certain privileges and franchises, which are intended to be mutually beneficial to both the public and these organizations.  While it is the right of railroad companies to exact of those using their line the observance of indispensable rules and regulations, it is also the duty of railroad directors and agents to afford the public every facility which convenience and safety require.
We know such to be the intention of the officers of the North Western Railroad, one of the most important railways in the West, but some conductors – though most of them are careful, courteous and gentlemanly – occasionally display a disregard of the claims of travelers which calls for immediate correction.
The habit of passing depots in such haste as not to allow passengers, particularly the ladies, in the night, to get on or off the cars with any degree of safety, and then carrying them beyond their destination, and causing them to wait at the next station until another train arrives to take them back, should be stopped at once . . .   WD
04 28     Laying Track
The Portage Register, speaking of the railroad extension between Columbus and Portage, says:  "A considerable force of men is now busily at work in laying the track on the railroad between this city and Columbus.  The work is well along across the marsh, south of the canal, in this city, and within about three weeks more we shall have a railroad connection with Wyocena."  WD
1866
In 1866 the largest employer in Watertown was the St. Paul Railroad with 306 men on its payroll.  About two-thirds of these employees worked in the train car repair shops until the company moved to Milwaukee in 1868 [ source ].
1867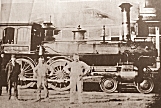 Railroad locomotive built in Watertown at local railroad shop, under the supervision of F. J. Hall, master mechanic.
1870
11 16     Railroad a great consumer of wood
The Chicago and Northwestern Railway Company, heretofore a great consumer of wood in this section, are making arrangements for the use of coal on the entire line of road, and after this winter will purchase no more wood along the route.  South of Janesville, we understand, they have adopted the use of coal altogether.  The Jefferson county woods have been a source of great supply for the company and our timberland owners always had a most excellent customer in the Northwestern Railway Co., giving a great impetus to the wood market for many years past.  Thousands of cords have been bought at Johnson's Creek, nine miles south of here, every year.  The great demand about being cut off will have a tendency to bring down the price of wood with us, and our citizens may be prepared for lower figures in consequence.  The increasing use of coal also with us will likewise have its effect on the wood market.  All things considered, wood has been unreasonably high here for a long time, and the prospect of lower prices for this necessary commodity will be good news to many.
1871
The tunnel under the railroad, on Second Street, is now opened, and ready for travel.  Watertown Republican, 10 25 1871
1872
H. J. Darton, locomotive engineer for the Milwaukee Road; mention of engineer C. E. Straw     Watertown Gazette, 02 12 1909
1877
               Fierce fire broke out in a warehouse at the C.&N.W.Ry. depot and spread rapidly   WG, 02 26 1909
1886
07 21     Good times are at hand says the Railway Age.  The grain and stock markets are climbing upward, railway building is going on with great vigor, manufacturers are busy, money is plenty and cheap, the labor question is settling itself with some assistance from the law – and the new railway receiverships are few and far between. Good times are here.  WR
1887
06 23     Junction fire; rail mill, machine shop, carpenter shop and blacksmith shop of the C. M. & St. Paul RR   WD
1899
02 22     A wreck occurred Thursday evening about 9 o'clock in the cut a short distance east of the Milwaukee & St. Paul depot.  Through freight No. 61, which was due here at 9:30 o'clock, broke in two while on the downgrade, and the rear end overtaking the front section, there was considerable of a smash up, the cars being piled high on top of each other, and considerable freight was scattered in all direction.  Conductor Miller and his crew escaped injuries.  WR
1900
01 23     The baggage man on the passenger train that arrived here at 7:05 p.m. on last Friday kicked Alvin Garity of Jefferson from the baggage car when the train was near Jefferson Junction and while it was in motion.  The boy had his face bruised considerably and his left arm injured.  The boy had no right to be on the car, nor did the baggage man have a right to throw him off while the train was in motion, and were he our son the company would pay for his injuries.  Too many of our young lads steal rides on the train and a stop must be put to the practice, but this does not give the employee a right to injure them and endanger their lives.   WR
01 23     Guard Gates.  A communication from the mayor recommended that the council enact a measure compelling the railroad companies to place guard gates at all principal crossings in the city.    WR
01 30     Three cars of a freight train on the Northwestern Road jumped the track and were wrecked while passing over the crossing at the Junction Wednesday afternoon, the 2:20 passenger on the Milwaukee Road being delayed a few minutes in consequence.  A wrecking crew was set to work and in a couple of hours the debris was cleared away.   WR
02 06     G. H. Edwards, a young farmer of Dousman, had one of his legs crushed Thursday evening under the wheels under the passenger train which arrives here from Chicago at 9:30 O'clock over the Northwestern Road.  The unfortunate man and his brother were taking a free ride from Jefferson Junction to this city, and when the train stopped at the West Street crossing they alighted, thinking the depot had been reached.  When their mistake was discovered they attempted to board the train while it was in motion, but Edwards missed his footing and was thrown under the train, the wheels passing over his legs.  He was taken to the Junction Hotel and medical aid was summoned.  It was found necessary to amputate the injured member above the knee.  The brothers were on their way to Columbus on business.  They had considerable money with them.   WR
02 13     W.R. Thomas and Henry Lange, of this city, have been granted a patent on a new device called the "Combination Gauge Lamp and Railroad Meeting Point Recorder." It is a very practical contrivance and if brought into general use would be a certain preventative against head end collisions on railroads.  So far as shown it has met with universal approval by railroad men.  It is designed as a reminder to engineers and firemen of all train orders they have received.  Messrs. Thomas and Lange, after it has been generally introduced, expect it will be in great demand.  WR
1905
05 05     A special train of several coaches containing officials of the Pennsylvania railroad passed through this city Monday morning for the west.  The run from here to Portage, including a slow up at the junction here and drawbridge at Portage, was made in 52 minutes.  The distance is 48 miles, almost a mile per minute for the entire distance.
1906
11 03     Watertown and other cities on the Janesville-Fond du Lac divisions of the Northwestern road are to have improved railway mail service.  Official notice to this effect has just been received at Fond du Lac. Full railway post office service is to be installed on Chicago & Northwestern train No. 25 and 28.  This will give full railway post office services on all the Fond du Lac-Janesville passenger trains. The time that the new order will take effect has not been announced.
1907
01 16     Train wreck at the Junction
02 24     William Reichert, residing on the Coffee Road, is still a great sufferer from the injuries he received in the accident at the Coffee Road crossing in this city a few weeks ago, when his rig was struck by a Milwaukee Road engine.  It is understood that attorneys for the road have visited Mr. Reichert at his home on two occasions with a view of effecting a settlement.  According to information obtained, the legal department of the road is awaiting the recovery of the gentleman before finally offering terms of settlement.  It is also understood that if the offer is not satisfactory, the victim of the accident will bring suit for damages.  The crossing is one of the most dangerous in the city and yet the city council keeps sides tracking the movement inaugurated a long time ago for better protection to the public.  It would seem that this accident alone would be a warning of the danger in the several "death traps" in this city and definite action should be taken without any further delay.
08 16     Robbery of box cars at Northwestern depot   WL
08 23     Another train wreck at Junction
1908
01 XX     The Chicago & Northwestern is placing telephones in the depots on their line.  The telephones will be used only in the running of trains or the block system.  That is, in place of telegraphing the arrival and departure of trains from one station to another, the telephone will be used.  According to a law passed by the last legislature the operators are only allowed to work eight hours and this will necessitate the services of another man after the first of January.   WL
09 04     Engine in River.  Sidetrack gave way north of Eaton & Son's ice houses; large C. & N. W. Ry. locomotive tipped into river.     WG
1909
03 12     "Shut your ashpan"   WG
Nov        Chicago and North-Western accident, 12 killed   WD
1912      Signal or Switch Lights
05 23     William W. Mitchell of Kansas City, Mo., died April 28, 1912 . . . The editor of The Gazette recalls his first acquaintance of "Billy" Mitchell, long before The Gazette was known.  He was born and raised on a farm east of our city limits, and when school days were over he first began labor and was enrolled with the bread winners, acting in the capacity of attendant of the switch lights and other light labor on the west side in the vicinity of the Junction.  Only a lad, tall and straight and of fine appearance; making fast friends of all he met.  The signal or switch lights were then gathered in every morning and were replaced and were filled every night, and the writer readily recalls how punctual the signals were out at sundown each day and burning for the night.  The white light ever shone as a beacon for the guidance of the engineers and train service men and guaranteed safety to the journey's end.  The writer is inclined to believe that the "lights were white" at the "beautiful gates ajar" on Sunday, April 28, 1912, when Billy Mitchell passed from earth.   WG
1915
05 15     Hold-up at Watertown Junction; Northwestern depot broken into   WLeader
07 29     Barnum and Bailey Circus comes to town, five railroad trains needed    WG
1926
10 20       Milwaukee Road Depot began operations Oct 20, 1926,
  <![if !vml]>

<![endif]>  
1940s
<![if !vml]>

<![endif]>   West Main St RR bridge
1955
01 17     A proposal that the Milwaukee Road be permitted to install automatic gates and signals on each side of its tracks at two grade-crossings in Watertown was laid before the City Council last night and the council agreed to go along with the plan so the railroad can proceed to formally consider the installation and present a request to that effect to the State Public Service Commission which must approve the plan before work can begin.  Installation costs will be $32,000. The installations would be at the South Third Street and the Milford Street crossing of the road.   WDT
1957
01 03     The City Council last night moved a step closer to a point seeking the return of a human guard at the Milford Street crossing of the Milwaukee Road, long the center of controversy growing out of repeated traffic tie-ups because of the present automatic signals and long stoppage of switch engines and lengthy freight trains. WDT
09 01     Fred Fenner retired from Milwaukee Road; 50 years of service    WDT
12 06     Milwaukee Road has been denied permission to discontinue the Milwaukee Road train stops in Watertown.    WDT
1958
09 12     Hearing into discontinuance of Milwaukee Road's commuter train which operates between Watertown and Milwaukee   WDT
09 23     Milwaukee Road's "Cannonball" commuter train between Watertown and Milwaukee, public hearing on    WDT
1959
06 19     Petition to discontinue Railway Express Agency in Watertown   WDT
1960
09 04     Thirty-Three Freight Cars Derail
Thirty-three Milwaukee Road freight cars were derailed here a few minutes before 8 o'clock this morning.  The accident occurred a short distance east of the Union Depot, with the principal pile up of box cars occurring between the depot and the Milford Street crossing.  Of the 33 cars, 22 cars were part of a 100 or more east bound freight train, and the other 11 were attached to a switching engine.   cars on the switching train were knocked off the track by the impact of the derailed freight cars.  No one was injured in the accident.  As a result of the wreck, there was no train service of any kind today and it is anticipated that service will not be resumed until sometime on Wednesday, according to E.G. Stewart, Milwaukee Road Agent.  From one-quarter to one-half mile of tracks were torn up.  Repair of this damage is under the supervision of Frank Herleby, road master.   WDT
1960s
               In the early 1960s, the old Watertown train roundhouse which housed the cars of the train companies was demolished. 
1972
Milwaukee Road Depot served as a passenger and freight station until the "Cannonball" commuter train to Milwaukee was discontinued in 1972.
  <![if !vml]>

<![endif]>  
Passenger trains which allowed residents to catch 30 different trains a day in the 1930s and 1940s have been gone since 1972.
1977
06 23       Junction of Chicago and North Western with Milwaukee Road tracks removed   WDT
1982
03 28       The Chicago and North Western Transportation Company is considering abandonment of its east-west railroad track in Jefferson County and re-establishment of north-south rail connections through Watertown.  Bob Milcik, C & NW assistant vice president of planning, said from his Chicago office that preliminary studies have indicated that service to Jefferson County could be handled most economically via the north-south line from Clyman Junction to Fort Atkinson.  He said that the line from Jefferson through Watertown to Clyman had originally been planned for abandonment, but further study has shown it as the better route to serve Jefferson County.  The north-south diamond at Watertown Junction was taken out several years ago, and Milcik said it would be rebuilt.  He added that other improvements would have to be made on the track between Clyman and Jefferson junctions.
1983
02 16       The Chicago and North Western Railroad tracks south of Watertown abandoned in 1977 will be restored to service this summer if the railroad gets permission to abandon its line from Waukesha to Cottage Grove.  About two miles of east-west track at Jefferson Junction will be retained so that customers there can be served, said Chris Mills, senior commerce counsel of the Chicago-based railroad.  The railroad's biggest customer at Jefferson Junction is Ladish Malting.  Mills said train cars will be dropped off at Clyman Junction, loaded at Jefferson Junction and returned to Clyman.  That system should be more efficient, because cars going from Minneapolis to Chicago now have to go all the way to Milwaukee and double back to Jefferson Junction," Mills said.  The new arrangement could also eventually result in more train service to Watertown, Mills said.  Restoring the tracks here could cost $700,000.  WDT
05 03       Workers installed a crossing diamond where the Milwaukee Road and Chicago & North Western railroads will intersect in Watertown north of West Street.  C & NW plans to abandon east-west track through Jefferson County this summer and to restore north-south track from Jefferson Junction to Clyman, abandoned several years ago.   WDT
1984      Milwaukee Road discontinues freight service in Watertown
02 25       In 1855 modernization brought Watertown the railroad with an abundance of freight and passenger service.  On March 15, modernization will cause the departure of the last of those services when the Milwaukee Road discontinues freight service in Watertown.  Other eras have similarly ended over the past year.  In the early 1960s, the old Watertown train roundhouse which housed the cars of the train companies was demolished.  The passenger trains which allowed residents to catch 30 different trains a day in the 1930s and 1940s have been gone since 1972.   WDT
03 15       In 1855
  <![if !vml]>

<![endif]>  After 58 years, the Milwaukee Road Depot closed when freight operations ended on March 15, 1984.  The depot, which began operations Oct 20, 1926, served as a passenger and freight station until the "Cannonball" commuter train to Milwaukee was discontinued in 1972.
10 21     Derailment; tanker cars of Milwaukee Road freight train; in the Watertown yards.    WDT
1989
01 31     The Chicago and North Western Railway is reviving discussions with the Soo Line for use of the Soo's mainline tracks for much of its traffic from Milwaukee to Minneapolis-St. Paul, an official of the Chicago and North Western has confirmed.  The use of the Soo Line tracks from Milwaukee to the Twin Cities has been discussed in the past, but it has never been put into effect.   WDT
1998
07 02     Hiawatha Extension service from Watertown to Milwaukee will continue to operate for only nine more days.  WDT
11 13     Canadian Pacific Railway installs new track from the city west to Columbus   WDT
1999
09 15 &
10 02     Support for Amtrak stop in Watertown; demo ride Columbus to Watertown   WDT
12 18     Possibility of rail passenger service for Watertown   WDT
2000
02 03     Study of high-speed rail, Madison to Milwaukee; stop in Watertown   WDT
04 02     Train horns to return; local ordinance pre-empted  
The sound of train horns in Watertown is likely to return under a proposed federal rule that will pre-empt a local ordinance banning the whistles. The proposed rule, scheduled to take effect in January 2001, says that train horns are to be sounded at public highway-rail grade crossings unless they are located in a quiet zone and equipped with safety equipment approved by the Federal Railroad Administration (FRA). In 1995, Watertown implemented a 24-hours-a-day ban on train horns in response to some residents near the crossings who said the horns were a disruption. The city is at least one of 27 state municipalities which have whistle bans at crossings except in the event of an emergency.   WDT
07 02     Thirty Wisconsin communities, including Watertown, that forbid trains from blowing air horns at railroad crossings may have to pay an estimated $60 million to comply with proposed federal safety rules.  The proposed rules require train horns to be sounded at public highway-rail grade crossings, unless they are located in quiet zones and equipped with safety equipment approved by the Federal Railroad Administration (FRA).  The proposed rules are scheduled to be approved next year.  They would take effect in 2002.  Most whistle ban communities would be allowed at least one year to install the equipment. Installation of safety equipment in Watertown would cost about $2 million. There are 19 crossings in the city.   WDT
10 08     Wisconsin & Southern rails, Dodge Cty Board members got the feel of   WDT
2003
11 20     Canadian Pacific Railway, which operates the main railroad line through Watertown, has sold a 32.5mile line of track from Madison to Watertown to the Wisconsin & Southern Railroad.  Years ago the route was a bustling line which carried passengers and freight between Madison and the main line of The Milwaukee Road.  The line connects with the Canadian Pacific Main Line and the Union Pacific line at the railroad intersection just west of the Montgomery Street rail crossing.  Wisconsin & Southern, a privately owned railroad based in Milwaukee, had leased this line, known as the Waterloo Spur, from Canadian Pacific in 1998 and exercised an option granted then to purchase it.
2008
07 23     The Wisconsin & Southern Railroad Company services 1,400 communities in the state.  The city of Horicon is the hub of operations in Dodge County as it is home to the locomotive repair operations, paint shop and switching system.
2009
02 25     Stimulus bill raises possibility of rail service for Watertown; engineering plan calls for a complete upgrade of the tracks to accommodate the high speed passenger trains in addition to the 30 or more freight trains that pass through the city each day.   WDTimes story
2010      New High-Speed Train Depot Proposed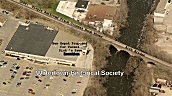 Vacant Pick 'n Save store proposed as site for new high-speed train depot, adjacent to historic arch railroad bridge.
07 29     Agreement signed releasing $46.5 million for high-speed rail between Madison and Milwaukee, includes Watertown station.   WDTimes story
12 09     $1.2 billion in high-speed rail money being taken away from Ohio and Wisconsin and awarded to projects in other states.  Governor-elect Scott Walker had vowed to kill the planned 110-mph Milwaukee-to-Madison passenger train route that was to be funded with Wisconsin's share of $8 billion in federal stimulus dollars. Ohio Governor-elect John Kasich had issued a similar promise for a planned 79-mph line connecting his state's three largest cities, funded by $400 million in stimulus cash.  In a meeting with reporters in Pewaukee, Walker called the decision a "victory" because he sees the rail line as a symbol of excessive government spending.
Outgoing Democratic Gov. Jim Doyle had suggested Walker's stand also would jeopardize a separate $12 million grant for upgrades to a Hiawatha crossing and the Mitchell International Airport station platform, but the federal announcement made no mention of withdrawing that money.  Doyle called the loss of the high-speed rail funds a "tragic moment for the state of Wisconsin."
The Milwaukee-to-Madison line would have been an extension of the Hiawatha. It eventually could have been extended to the Twin Cities, as part of a Midwestern network of fast, frequent trains.
12 11     Killing the train plan an opportunity lost
U.S. Transportation Secretary Ray LaHood this week sounded the death knell for the high-speed rail project in Wisconsin in an announcement that was a surprise to hardly anyone.  Gov.-elect Scott Walker made stopping the train project a major plank in his election campaign and he based that vehement opposition to the project on the estimated $7.5 million annual state subsidy the train was expected to have.
We have been strong supporters of the extension of the Hiawatha line from Milwaukee through Watertown and on to Madison as the first step in a broader plan to extend the service to Minneapolis-St. Paul. This line would have also been the first of many which would have comprised the Midwest Regional Rail Initiative, connecting a number of larger cities in the Midwest.  We strongly believe the train extension would have stimulated the economy of Watertown and others along the line and near it.  Not only would it have been another option for travelers who don't want or are unable to use the increasingly congested highways, but it would have improved freight service dramatically.
But, now those hopes are all history. The train is dead and the opportunities are lost.  And, it's likely they will be lost for a long, long time.
No one knows for sure just how big the impact of the expanded service would have been but suffice it to say it won't be long before many who opposed the train will change their thinking.  A more robust economy will certainly put more pressure on higher gas prices and that in turn will have people longing for transportation options other than their personal car.  And, over time industries will look for more options in shipping and receiving goods from long distances.  The train would be a solid option.  Still, the world isn't ending.  We'll move ahead as a community with or without the train.  Certainly the Highway 26 bypass of Watertown, currently under construction, will have a positive economic impact on the community when it's completed over the next couple of years.
It's just too bad the debate on the high-speed line was framed simply on the $7.5 million operating subsidy and not on economic potential.  Had the economic impact been the issue, we suspect the outcome would have been different.
It's simply an opportunity lost.  WDT
Cross Reference: Mayor Ron Krueger stands where a proposed train station was to be built.
Additional Cross References:
Railroad crew at work in Watertown, Thomas Beggan [1878-1956]