website  watertownhistory.org
    ebook  History of Watertown, Wisconsin
    Website for St. Paul's Episcopal Church
St. Paul's Episcopal Church
Organized June 7, 1847
Duly Incorporated February 13th, 1849
In 1845 Episcopal Priest Melancthon Hoyt began holding services in Watertown.  He traveled on foot from Fox Lake. 
In 1847 he organized a small group of English and Welsh settlers as the congregation of St. Paul's Episcopal Church.
The Episcopal Church is sometimes called The Protestant Episcopal Church in the U.S.
1845
The first service was held by Rev. Melancthon Hoyt in June, 1845.  The parish was organized in 1847, and duly incorporated February 13th, 1849.
1847
06 30       An Episcopal Church, bearing the above name, was organized in this village some two weeks since; and services may hereafter be expected every third Sabbath, in the Methodist Church, by the Rev MELANCTHON HOYT, of the General Domestic Missionary Society of the Protestant Episcopal Church.  Mr. H. for the past eighteen months has labored in the interior of this territory: but now preaches, upon each alternate Sabbath, at Watertown, Whitewater and Fox Lake.  The society here is as large as is generally to be found in the interior of any new country, though the number of communicants is small.
Three years since there were but three preachers of the Episcopal denominations in Wisconsin - now there are twenty-two.     Watertown Chronicle
1847
The Journal of the Proceedings of the First Annual Council of the Diocese of Wisconsin records that St. Paul's church, Watertown, had been organized on June 7 of 1847 and was thus exactly seventeen days old when this council met in St. Paul's church, Milwaukee.  Another parish had been organized on the same day, St. John's, Milwaukee, and thus these two churches came to this first Council as newly organized twin parishes.  The minister of St. Paul's, Watertown, was the Rev. Melancthon Hoyt, who also had Christ church, Fox Lake and St. Luke's, Whitewater, under his charge.  The Watertown parish had only five members at the time, but attendance at services is reported as more than a hundred.
The original church structure stood on 3rd Street between <![if !vml]>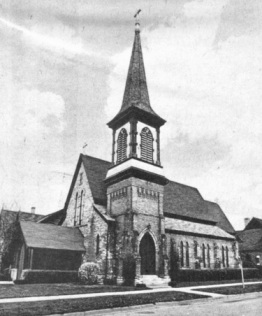 <![endif]>Market and Jefferson Streets.  The cornerstone of the present church was laid in 1859 by Bishop Kemper.  The tower was added in 1890 by two parishioners during the rectorate of the Rev. Dr. Jewell.
The rectory was built in 1884 while the Rev. David Sanford was rector.  Recent remodeling has made it a very comfortable and enjoyable home.
In 1886 the chapel was given by Miss Susan Cady in memory of her parents.  About twenty-five years ago it was de-consecrated and was used as a parish hall and the marble altar was presented to St. Barnabas' Mission, Richland Center.  In 1931 the present Parish House was erected and is in memory of Mr. George Hawkins, who was largely responsible for its erection.  The chapel has since then been reoccupied for services and St. Agatha's Guild has been working toward its restoration.
One of the most courageous moves of the parish was the dropping of the system of pew rents in 1868, a bold move for those days, and the inauguration of the pledge system. At the same time the rector's salary was doubled, truly a venture of faith.
In the same year the rector, the Rev. Dr. Dafter, organized a vested boys choir, not so unusual today, but then distinctly rare, as there were only two other such in the state, one in Janesville, the other at Racine College.  The choir became immensely popular and St. Paul's maintained a splendid choir down to about a generation ago.  Today, like so many churches, the musical efforts are largely congregational.
For a church of its size St. Paul's has a very unusual pipe organ.  It contains seventeen stops, nine of which are from the original organ.  Mr. George Hawkins the donor, said: "The soul of the old organ is in the new."
Wagner, Harold Ezra, "The Episcopal Church in Wisconsin, 1847-1947.  A History of the Diocese of Milwaukee," Courier Printing (Waterloo, WI), 1947, pp 262-263.
1848
02 23       Lots 4 and 5, block 15, on Third Street, in the residence of L. R. Cady, Esq., have been selected as the site for the new Episcopal Church.  The lots were donated by the Mill Company.  The location is central and very pleasant.    Watertown Chronicle
1849
The parish was organized in 1847, and duly incorporated February 13th, 1849.  The corner stone of the church edifice on Third Street was laid by Bishop Kemper on the 21st of May, 1849.  The church was consecrated by Bishop Kemper on the 7th of November, 1849. 
1858
10 21       A very desirable improvement is now being made on Third Street in the way of building a sidewalk from Main Street to St. Paul's church.  Hereafter in the rainy seasons it will be possible to approach that house of worship without wading through any amount of mud and any depth of water.   WD
10 23       Annual Sunday School [Christmas] Festival; the school is free to all, the German, Irish and American child, each interested in learning his duty to his Maker   WD
1859
02 17       Rev. L. W. Russ, pastor, paid a Donation Visit at his residence    WD
04 28       Officers elected   WD
08 25       Builders should not pass by unnoticed the advertisement in this paper calling for proposals for building a new church in this city.  The members of St. Paul's church have long found their house of worship too small to accommodate all who would like to assemble there for Divine service and are making efforts to provide a larger and better one.  There is now a fair prospect that they will succeed.
[advertisement] WHO WANTS WORK.  Sealed Proposals will be received for ten days by either of the undersigned for BUILDING A CHURCH in this city.  Proposals must be made for building and finishing the same entirely ready for occupation.  Cash will be paid every three month.  Plans and specifications can be examined at the Jefferson County Bank.
—Daniel Jones, R. S. Little, A. L. Pritchard – Building Committee, Watertown, Aug. 20th, 1859        WD
New Church Cornerstone Ceremony
1859
09 22    The corner stone of the new church edifice, to be erected by the members of St. Paul's Episcopal church in this city, will be laid on this Thursday morning, at half past 9 o'clock.  The congregation will assemble at their present edifice at 9 o'clock in the forenoon.  The Bishop and Clergy present, followed by the Wardens and Vestry men, members of the congregation and others, will move in procession to the ground on Second Street, where the corner stone will be laid by Bishop Jackson Kemper with the usual services.  The address will be delivered by the Rev. L. A. Kemper of the Nashotah faculty.
The stone was prepared by Davidson & Green, of this city, and is fourteen inches square.  The cavity is eight inches square by four deep.  The stone has this inscription:  on side is a Latin Cross resting on the monogram I. H. S.  On another side, "St. Paul's Church, Sept. 22, 1859." 
The deposits in the stone are as follows;
1st.  A copy of the Holy Bible.
2d.  A copy of the Book of Common Prayer.
3d.  A copy of the Journal of the last Convention of this Diocese.
4th.  A copy of the Church Journal and of the Gospel Messenger.
5th.  A copy of the Watertown Democrat, containing this article, and also copies of the two German papers, vis, The Weltburger and the Volks Zeitung.
The new church will be built of brick, from the yard of D. S. Chadwick of this city.  It will be in the modern Gothic style of architecture and when finished will be one of the most chaste and beautiful structures in the state.  The whole length of the building, including recess chancel, will be seventy-eight feet; length of the nave sixty feet; width of nave including buttresses, thirty-eight feet.  In addition to the main entrance on Second Street, there will be a south entrance through the tower, which projects eight feet from the main wall.  The roof will be finished partly open.  All the windows, which will be mullioned, will be of stained glass.  The choir will be in the chancel.  The building will be warmed by a furnace and lighted by gas.  It will provide sitting for about four hundred people.
The architect is James Douglas of Milwaukee.  The builders are Samuel Vaux and William Honey of this city.  The masons are John and James Ford of this city.
It is to be completed by next July and will cost, when finished, including lot, about four thousand dollars. 
It may be interesting to add a brief history of the parish.
The first service was held by Rev. Melancthon Hoyt in June, 1845.  The parish was organized in 1847, and duly incorporated February 13th, 1849.
The following named persons were the first elected Wardens and Vestrymen:
Wardens—William Grange and Samuel Sutton.
Vestrymen—Laurence J. Fibert, William M. Grange, Hobert Clifford, Daniel Jones, D. J. Pulling, W. H. Besley and James Norris.
The corner stone of the present church edifice on Third Street was laid by Bishop Kemper on the 21st of May, 1849.  The church was consecrated by Bishop Kemper on the 7th of November, 1849. 
The Rev. Mr. Hoyt continued in charge of the parish until 1854.  The church numbered then about thirty communicants.
The Rev. C. C. Edmonds was called to the rectorship of the church on the 13th of August, 1854, and continued in charge one year.  Under his ministry nine persons were baptized and four confirmed.
The Rev. L. W. Russ was called to the rectorship of the parish on the 23rd of March, 1856.  The parish then for the first time became self-supporting.
During the rectorship of Rev. Mr. Russ he has baptized seventy two persons, adults, eighteen, infants fifty four.  Thirty seven persons have been confirmed.  The present number of communicants is seventy.  During this time the parish has contributed for parochial objects, including the subscriptions for the new church, the amount of $7,204.74.  And during the same period, but three years and a half, the parish has contributed for various benevolent objects, extra parochial, the sum total of $527.58.  It is believed that few parishes in the country, of the age and size of this, can show a fairer record.  To God be the Praise.
The following persons are the present officers of the church:
Rector—Rev. L. W. Russ.
Wardens—Daniel Jones and Abraham Medbury [Medberry], Jr.
Vestryman—Albert L. Pritchard, W. H. Clark, Theodore Prentiss, R. S. Little, Peter V. Brown, H. B. Gallup, and W. B. Folds.
It may be proper to add that the seats in this church will be free to all.  Persons selecting seats, however, will be allowed to occupy them as long as they may attend the services of the church.
It should be stated that the new building will be paid for when completed.  No debt will be incurred to hereafter embarrass the operations and cripple the energies of the church.  No obligations of the past or enterprise of the present will be allowed to cast a shadow over the fair prospects of the promising future.
The church established here fourteen year ago has steadily grown with the growth of the city, within whose limits it has been planted, until it has become necessary to enlarge the dimensions of its consecrated place of worship, so that all who desire can assemble there and engage in acts of devotion.  The welcome day which this happy and encouraging state of things imposed on its members has been cheerfully and gladly met and promptly discharged, and under the blessings and smile of God, when the day shall again arrive, as it must, in which it will once more be necessary to build a yet more fit and beautiful Temple of Praise to the Most High, may our successors find something in the example now set before them worthy of remembrance and imitation.  May the Savior's command, "Go and do likewise," be mingled with soft whisperings of the spirit's voice, calling all to works of charity, beneficence, gratitude and reverential thankfulness to Him from whom alone flows every good and perfect gift.   WD
1860
04 26       Rev. L. W. Russ, rector of St. Paul's church, this city, has received and accepted a call to the Rectorship of St. John's church, Lafayette, Indiana.  He closes his labors with his people here on Sunday next.   WD
05 03       Pastor Rev. L. W. Russ departure   WD
08 02       St. Paul's church—The Rev. William Green, late Rector of Christ church, Green Bay, has consented to become the Pastor of St. Paul's church of this city.  Mr. Green is a clergyman of such wide experience, high order of talents, and fine social qualities, as would secure him a cordial welcome anywhere.  There is no reason to doubt that his services here will be as useful as they will be well directed and zealous.  We hazard nothing in saying that he will satisfactorily fill the vacancy created by the departure of Rev. L. W. Russ, and fully meet the expectations that have been based on his unblemished purity of character, learning, devotion and eloquence.  We wish him abundant success in his efforts in this community.   WD
08 16       The Green Bay Advocate pays the following parting tribute of respect to the clergyman who is about to become Rector of St. Paul's church of this city:  "Rev. William Green, who has for several years held the pastorate of Christ (Episcopal) church in this place, has resigned his trust and preached his farewell sermon on Sunday.  He goes to Watertown to take charge of a church there.  Our Watertown neighbors are fortunate in their acquisition.  Mr. Green took charge of the parish here when it was much divided by dissention and in anything but a prosperous condition.  During his administration all these difficulties have been healed and the church was never more flourishing than now.  We wish him good fortune wherever he is."
Mr. Green will enter upon his pastoral duties, in this city, next Sabbath and preach in the new Episcopal Church, on Second Street, that day.   WD
08 16       St. Paul's church of this city, will open [its new edifice] next Sunday for the first time, under the charge of the recently elected Rector, Rev. William Green.  This church, now completed, has been built during one of the severest financial reverses ever known in the west, and unlike most western projects, has been carried through without embarrassment and is now free from indebtedness of any kind. 
It is both an ornament to the city and a credit to the taste and enterprise of the congregation.  It is built of our beautiful cream colored brick, in modern Gothic style of architecture and is capable of commodiously seating some four hundred persons.  The windows are of stained glass, finely conceived and skillfully executed, tingling with a soft and mellow radiance the brilliancy of the light within. 
The pews are without doors and FREE to all who desire to occupy them.  To those who wish to attend regularly and permanently, a portion of the seats will be rented, as will be observed by a notice in this paper.  Another feature, which we like, is the setting apart of a pew for each of our principal hotels, where strangers preferring to attend Divine service will always find themselves cordially welcome.  This is as it should be, though new in the West. 
There is something beautiful and satisfactory in the reflection, that go where you will, among all nations, kindred and tongues, in any part of the habitable globe where the Protestant Episcopal Church is known, and you hear the same liturgy, the same lessons, and the same prayers which have been used over eighteen hundred years.  That church knows no North, no South, no East, nor no West, but is everywhere alike.  We admire these features of it; and to those educated in and professing this faith, it has peculiar attractions.  The church is pleasantly and conveniently located and so accessible that none need stay away.  And for those who have no belief or object beyond temporary gratification there is no place more suitable or handy than this church. 
The new Rector comes among us with the highest recommendations and under the most flattering prospects. 
The church is to be consecrated in a few weeks, when we are desired to say the public are ALL invited to attend.  Due notice will be given of the time.   WD
08 16       Pews in St. Paul's church can now be selected and persons and families desiring seats can secure them by calling on the undersigned, who is fully authorized to allot and rent the same.  No other rule will be adopted, than "first come first served."  Geo. L. Field, Secretary   WD
09 28       CHURCH CONSECRATION
St. Paul's church will be consecrated by the bishop of this diocese, on Thursday, October 4th, at ten and one-half o'clock a.m.  The public are respectfully invited to attend.   WR
1861
01 25       LADIES FESTIVAL.  We understand that the ladies connected with St. Paul's church propose to give a festival some time next week, the proceeds of which are to be applied towards liquidating the indebtedness incurred by the society in the building of their House of Worship and the various improvements connected with it.  We fail to remember, it is so long ago, when the ladies of this church have solicited any aid of this kind at the hands of the public and we trust that upon the present occasion they will meet with a hearty and substantial response to their call.  They are certainly entitled to a liberal patronage and we shall be greatly mistaken if the same is not freely extended to them.  The entertainment will be of such a character that none who attend will have any cause to regret it.  The time and place for it have not yet been fixed upon, but it will be announced in due time.   WR
06 20       ANNUAL CONVENTION OF THE EPISCOPAL CHURCH - The Fifteenth Annual Convention of the Episcopal Church of the Diocese of Wisconsin met on Thursday, June 11th, at St. Paul's church, Watertown, one of the most church-like edifices in the Diocese . . . A sermon was preached by the Rev. J. B. Pradt, from the text: "Go ye into all the nations and preach the gospel to every creature."  It was one of the most earnest and effective missionary sermons we ever heard.  At the close of the sermon the Bishop confirmed eighteen persons and addressed the candidates in his usual affectionate and impressive manner.  This closed the exercises of the first day . . .    WD
1864
08 11       Rev. L. W. RUSS, formerly pastor of St. Paul's church of this city, but now of Lafayette, Ind., arrived in town last week on a visit to his many friends here among all classes.  Mr. Russ has received the cordial and hearty welcome which the grateful remembrance of his zeal and earnestness in former years of faithful and successful service so well merited.  In the best sense of the word, he is a popular clergyman – everywhere winning and exercising the influence which follows talent, eloquence and devotion to the sacred cause in which it is alike his duty and pleasure to labor.   WD
08 25       Rev. WILLIAM GREEN, for the past four years pastor of St. Paul's Episcopal church in this city, has resigned and on the 14th delivered his farewell sermon.  It is enough to be able to say of any minister of the Gospel that he has made his sacred mission his only business and by his fidelity and earnestness won the respect and confidence not only of the members of his charge, but of people among whom he has lived, and this can be said of Mr. Green without any more flatter than the utterance of the truth will give.  The single object of all his unwearied efforts here has been to promote the prosperity of his congregation and he leaves it more numerous and flourishing than he found it, which is the best evidence that his labors have been well directed and crowned with the blessings of the Divine Master.  A gentleman of learning, culture, talents and fine social qualities, with a character not only blameless but without reproach, he is a clergyman whose services it will be good fortune for any church to secure, and we are sure he will carry away with him the best wishes of the congregation and community he is about to leave, after years devoted to the faithful discharge of his duty.  WD
1865
10 26       EPISCOPAL CONVENTION
An Episcopal Convocation of the Bishop and the other clergy of this diocese will meet in St. Paul's Church in this city at 7 o'clock p.m. on the 7th of November next.   WD
1875
07 07       Some evil disposed persons made themselves quite officious in disturbing the services at St. Paul's Episcopal church Sunday evening by firing off firecrackers in front of the windows and doors. Those who engage in such acts of maliciousness are entitled to no more respect or consideration than the worm that crawls the earth.   WR
11 24       Thanksgiving service
1876
08 23       The Sunday school scholars, teachers and parishioners of St. Paul's will hold a picnic in Richard's Grove, Wednesday of next week, August 30th.  The children and others wishing to attend, will meet at the church at ten o'clock a.m. and proceed to the grove.  With a fine day a pleasant time may be expected.   WR
1880
10 06       ST. PAUL'S CHURCH UPGRADED
The first services in St. Paul's church since the completion of the work of decorating and improving the interior were held last Sunday before large congregations.
In connection with its permanent embellishments with pencil and brush the church was decorated with fruit, grains and flowers in commemoration of the Harvest Home which was observed along with the reopening services.
The church has undergone a thorough repair without and within.  The interior presents one beautiful harmony of design and color planned and executed by P. M. Almini of Chicago.  Such a combination of rich and delicate colors is rarely seen.  The painting is all done in flat color which give it all a subdued and soft appearance making it pleasing for the eye to rest upon.  The pillars and brackets which are of wood are relieved by light lines and the drops in the center of each panel are gilded, while along the running timbers a neat arrangement of the trefoil leaf runs the whole length of the nave on each side.
Over the chancel arch is the sentence, "The Lord is in His Holy Temple" with an ivy vine running round above the upper line of the ground work of the text.  The east end of the chancel has been arranged so as to represent a handsome reredos [a decoration behind the altar in a church] with Alpha and Omega at each end of the altar panel and the text "I am the Bread of Life" running between them.  The walls of the chancel are dark rich colors finished and divided into panels.  To the furniture of the chancel has been added a pair of elegant chairs.
In the midst of all these improvements the Sunday school has not been forgotten, eighty new volumes having been added to the library and in every department of parish work there are signs of renewed life and activity.     The Watertown News
1882
10 18       DEATH OF CHARLOTTE A. CLARK, wife of William H. Clark, cashier of the Bank of Watertown   WR
08 18       NEW PARSONAGE
Ground has been broken for the erection of the new parsonage building of St. Paul's church on Second Street.  The building will be brick veneered, of gothic architecture and to cost $2,050.  It will be ready for occupancy December 1.  L. Kapet is the contractor.   WR
Additional Information: Built in 1885 as St. Paul's Episcopal Church Rectory, this cream brick house exhibits the multiple steep gable roofs, gable ornaments and hood molds over the windows that are associated with the Gothic revival style. Gabled wall dormers and a rectangular south bay window further characterize this simplified Gothic Revival building.  Part of the St. Paul's Episcopal church complex nominated to the National Register in 1979, St. Paul's Rectory is significant under Criterion C as one of the very few examples of Gothic Revival residential architecture remaining in the city.  Bibliographic References: (A) National Register Nomination, St. Paul's Episcopal Church, Files, Preservation Division, State Historical Society of Wisconsin.
1888
<![if !vml]>

<![endif]>  
c.1889
<![if !vml]>

<![endif]>      <![if !vml]>

<![endif]>      
1890
A BELL TOWER ADDED IN 1890
<![if !vml]>

<![endif]>  
11 12       NEW TOWER AND SPIRE
St. Paul's Episcopal church will be graced with a handsome spire, a memorial from Daniel Jones, senior warden of the parish, to his wife, Elizabeth Harger Jones.  The spire will be 87 feet and 10 inches in height and will contain a fine bell of 600 pounds weight, from the Meneely Bell Company of Troy, N.Y.  John E. Dornfeld is the architect and contractor.  It Is expected to have the spire completed and the bell mounted by next Christmas day.     WR
11 26       NEW TOWER AND SPIRE PROGRESSING
The new tower and spire of St. Paul's Episcopal church is progressing rapidly and already shows something of the fitness and beauty which will mark the improvement when completed.  Unfortunately, the noble finish which it will give to the southwest angle of the church, already reveals the great want of a correspondingly elegant porch on the west front.  That will look more naked and unfinished than before, besides being, as it is, cold, inconvenient and comparatively useless.  The beauty of the one improvement may, however, lead to a generous supplying of needed utility of the other.    WR
11 26       WALNUT RETABLE FOR THE ALTAR
[same date] St. Paul's Episcopal church has recently been provided by an unknown donor with a new and elegant black walnut retable for the altar, from the establishment of Foulke & Howard, Chicago.  It is in three sections: the central one, the full height, for the support of a cross, the other two, side sections, being provided with two gradines for the use of the other ornaments of the altar.  The three middle panels in the front are enriched by the thrice "holy" in raised letters, gilt; the end panels bearing the maltese cross, in corresponding workmanship.     WR
11 26       CHRISTMAS GIFTS FOR SALE
[same date] The ladies of St. Paul's parish guild have placed a case of fancy articles suitable for Christmas gifts for sale in the window of Mrs. W. N. Hawkins' fruit and confectionery store, near the west end of the Main Street bridge.  Orders for such work filled by leaving word with Mrs. Hawkins.     WR
12 31
   &           NEW TOWER DEDICATED ON CHRISTMAS EVE
01 02 1891
On Christmas eve the new tower and spire of St. Paul's Protestant Episcopal church in this city was completed and the new bell placed in it and used the first time. . . .  The tower, spire and bell are a gift to the church by Col. Daniel Jones as a memorial of his departed wife, who from the foundation of this parish was his faithful helpmate and co-laborer in every labor to build up and develop the church in Watertown, so that now she "being dead yet speaketh."  In this work Col. Jones has given another illustration of how to utilize memorial efforts to the benefit of the community, and the community in general, as well as the church, appreciates the deed.     WR
The tower up to the bell is of Watertown brick, the belfry is of massive timbers, and has ample room for a full peal of bells.  The spire is very neat and simple, its graceful outlines calling for no fretted ornamentation whatever, its apex is surmounted by a well-proportioned gilded cross.  The height from the ground to the top of the cross is 87 feet 10 Inches.  The design and execution of the work has been done by Dornfeld, architect and builder, and is in perfect keeping with the architecture of the rest of church building, chapel and rectory, the whole forming a beautiful pile of ecclesiastical structures, an ornament to the city and a credit to all concerned as well as a cherished mecca of the church people of Watertown. 
The bell is from the Meneely foundry of Troy, N.Y., and weighs 610 pounds. the following inscription is cast on it:
ST. PAUL'S CHURCH, WATERTOWN, WIS. To the glory of God, and in memory of ELIZABETH HARGER JONES, who was born July 21, 1818, and died March 11, 1890.  This bell and tower in which it hangs were erected by her husband, Daniel Jones, A.D. 1890, for many years Senior Warden of this church.  "I CALL ALL"      WG
1891
03 27       RITE OF CONFIRMATION
Right Rev. C.F. Knight, bishop of Milwaukee, will administer the rite of confirmation next Tuesday evening in St. Paul's Episcopal church at 7:30 o'clock.  A misunderstanding occurred in the appointment made for last Tuesday evening.    WG
1894
12 26       "THE DESTINY OF THE JEW"
The Rev. Dr. Johnson preached a strong and interesting sermon Sunday evening at St. Paul's church on "The Destiny of the Jew."  He recalled the ancient prophecy of this wonderful nation being scattered to the four corners of the earth and how truly it has been fulfilled and that the signs of the times indicated that the predictions concerning the Jews being again gathered in their original domain, Palestine, would also be realized.   WR
1898
04 13       EASTER SERVICE
St. Paul's Episcopal church has perhaps never enjoyed more beautiful services than were those of last Sunday.  Beginning with early communion at 6 a.m., there were very large congregations present at each service.  The edifice was made particularly pretty and attractive with a profusion of potted plants and flowers, the chancel and choir being the chief centers of decoration, and withal the environments and conditions were such that betoken the glads of Easter-tide...   WR
12 21       SUCCESSFUL BIZARRE
Never before has the Woman's Guild of St. Paul's church given a more successful bizarre than the one held in conjunction with St. Margaret's guild last Thursday evening in the Concordia Opera House.  And perhaps never before has an affair of like nature here been deserving of such liberal patronage . . . The menu, while it lasted, was an excellent one, but many patrons where compelled without having their inner appetites satisfied, as the demand was greater than the supply.  The ladies regret that there was such an unpreparedness for the lunch and promise better results in the future.  The sales in all departments were very extensive and hardly an article remained over.  Nearly $200 was the amount of the gross proceeds.   WR
1899
03 15       WOMAN'S GUILD / Old Maids' Convention
The Old Maids' convention is advertised to meet in Watertown after Easter.  They must have heard of the spring sale of shirt waists, aprons, dressing sacks and sun — bonnets, to be held by the Woman's Guild of St. Paul's Parish at that time. We know the peculiarities of old maids.  They are hard to suit and hard to fit; but at this time these difficulties and all others will be overcome.  They will be well repaid for waiting and attending our sale.  We extend a cordial invitation to the "Old Maids" of this convention, and also to the young maids and matrons of Watertown. – Woman's Guild.   WR
1900
01 05       PIPE ORGAN FREEZES UP
The congregation of St. Paul's Episcopal church was treated to a rather unseemly spectacle at the morning service Sunday.  The cold weather of last week caused the freezing up of the connections to the water motor, which furnishes power for the pipe organ, and this inconvenience had to be obviated by the employment of hand power.  Things ran along smoothly for a while, but in the midst of the rendition of the "Te Deum" the wind supplying apparatus of the organ broke, and there was a most unpleasant sound of rattling parts and shattered connections .  The choir was compelled to cease singing and to be seated, and then the rector, nothing daunted, requested that some of the male portion of the congregation to go to the chapel and convey the reed organ from there to the church, which was done with becoming celerity and ceremony.  The services were then proceeded with, but it was plain to be seen that the incident, exasperating as it was, had nevertheless provoked no little amusement in an appropriate place.   WR
1903
09 19       SCHEMPF-POOLER WEDDING
Edward L. Schempf and Miss Pauline Grace Pooler
1904
12 16       CHRISTMAS BAZAAR
The bazaar by the ladies of St. Paul's Episcopal church which opened at the rectory last Tuesday and closes this (Thursday) evening is being well patronized, as it deserves to be.  The rooms are nicely arranged and decorated in the rectory for the occasion - one being assigned for the fine luncheon that is served afternoons and evenings, one to the grocery and notions department, and one to fancy work and the candy stand.  The ladies have on sale a fine line of articles suitable for Christmas presents, as well as articles that are useful in everyday housekeeping. They have still a number left and the public is cordially invited to call and see them.  The bazaar (this Wednesday) evening promises to be especially interesting.
1905
10 18       ARCHDEACON WEBBER
Those who failed to hear Archdeacon Webber Sunday afternoon at St. Paul's church missed a rare intellectual and oratorical treat.  As the address was to be for men exclusively, the Archdeacon took for his subject; "Manhood" and for an hour and a half held his audience spell-bound by his eloquence and the presentation of what makes and that which destroys true manhood.  He appealed to men to be men in the fullest and this acceptation of the term take for their standard the Christ man, which would make them good husbands, fathers and citizens, worthy of the grand liberty of a perfect manhood, of free men, not slaves to passion, appetites and diminishing inclinations.      WR
1908
10 23       The Harvest Home Supper held at Masonic Hall.     WG
1909
02 19       SACRED CANTATA
The choir of St. Paul's Episcopal Church is actively engaged in rehearsing Stainer's sacred cantata, "The Daughter of Jairus," under the direction of Edward L. Schempf, to be sung Friday evening, February 19, in St. Paul's Church. Some of the best musical talent of Watertown are assisting in this work and it undoubtedly will be one of the musical events of the season. Mrs. William Sproesser will sing the leading soprano parts; Edward L. Schempf, tenor; William Sproesser, baritone. The augmented choir will be accompanied by the organ, with Mrs. Elizabeth Green as organist, and a small orchestra, including a cellist from Milwaukee who has been specially engaged for this occasion. The fact that the cantata is the work of the celebrated musical writer, Stainer, is sufficient evidence as to its worth. It abounds with beautiful solos, duets and choruses. A treat is in store for all lovers of music who take advantage of this opportunity. The effect of the combined chorus, organ and orchestra is truly grand and inspiring. This cantata was sung by St. Paul's choir a number of years ago and the concert proved a splendid musical event. The price of admission has been fixed at thirty-five cents. Tickets may be obtained from members of the choir and at Eberle's and Schempf's drug stores.    WG
09 24       50TH ANNIVERSARY
A beautiful and impressive service was held on Sunday, September 19, at St. Paul's Episcopal church, it being the fiftieth anniversary of the laying of the cornerstone.  The Rt. Rev. W. W. Webb, D. D., bishop of the diocese, was present, and delivered the memorial sermon at the morning service; Canon H. B. St. George of Nashotah House gave a historical sermon in the evening. 
The church was recently beautified by a number of memorial windows, which add greatly to the appearance of the edifice.  On Sunday there was a profusion of flowers in every available spot until the interior was a veritable bower [a shaded, leafy recess].  The customary choir was augmented by the presence of Mr. and Mrs. William Sproesser, Mr. and Mrs. Max Rohr, Mr. Edward L. Schempf, Mr. C. D. Wiggenhorn, Miss Elsa Wiggenhorn and Miss Minna Sproesser, and some excellent music rendered. 
There were present at the morning service quite a number of former members of the parish who returned to be present at this service, among them were Mr. and Mrs. George Fields and daughter, Mrs. Barnes of Ripon, Mrs. A. J. Earling, Mr. and Mrs. Lawrence Fitch, Mr. J. J. Moulding of Chicago, Mrs. H. S. Howell, Miss Howell, Mr. and Mrs. Smith of Milwaukee, Miss Grace P. Jones, Mr. and Mrs. Harry Baum and daughter of Oconomowoc.
Fifty years in anticipation seems a long, long waiting—in retrospect it is not so endless.  There are a few who have seen the parish grow from a very small beginning to its present size, not large now, but greater, more prosperous than when the people worshiped in the modest little brown wooden church on Third Street.  When the present structure was completed and ready for occupancy it seemed palatial by contrast. 
The cornerstone was laid on September 22, 1859, and it was a year later when the church was completed.  It seemed very fitting that Mr. and Mrs. Field should be present at this recent memorial service, as it was an anniversary for them as well, their wedding being the first service held in the church.   WG
     More on 50th anniversary     
St. Paul's Church Golden Jubilee
Watertown Gazette, 09 24 1909
On Tuesday, Sept. 21, 1909, St. Paul's Episcopal church of this city was 50 years old and in honor of the event the golden jubilee religious services were held at the church last Sunday, large congregations being present at all the services.  Rt. Rev. W. W. Webb, D. D., bishop of the Milwaukee diocese, was present and delivered an eloquent memorial sermon at the 10:30 a.m. service.  Rev. H. B. St. George, professor at the Nashotah seminary, delivered the historical address at the evening service at 7:30 o'clock.
CHURCH HISTORY
The first Episcopal church in Watertown was built in 1847.  Prior to that time the Rev. Melancthon Hoyt of Fox Lake used to visit Watertown in the capacity of a missionary, walking the entire distance, almost thirty miles, but in 1847 an organization was effected with Lawrence J. Fribert and William M. Grange as wardens and Daniel Jones, James A. Norris, Robert Clifford, David J. Pulling and H. Besley as vestrymen.
The first services were held by Mr. Hoyt in schoolhouses and later in a building that was formerly a bowling alley and on the present site of John W. Cole's block in Second Street.  The first church was built in 1847 in Third Street at a cost of $600, most of the material and labor being contributed.  The present church edifice was built in 1859 at the corner of Second and Spring streets at a cost of about $6000, but many improvements have been made since that period.  The cornerstone was laid on September 22, 1859, and the golden jubilee was celebrated Sunday, the Sunday before the anniversary. 
The rectors since the establishment of the church are:
Rev. Melancthon Hoyt, 1845 to 1854
Rev. Charles Edward, 1854 to 1855
Rev. Lorin W. Russ, 1856 to 1860
Rev. William Green, 1860 to 1865
Rev. William Dafter, 1865 to 1870
Rev. F. W. Boyd, 1871 to 1879
Rev. Harry Thompson, 1879 to 1881
Rev. Horatio Gates, 1881 to 1883
Rev. David A. Sanford, 1883 to 1885
Rev. J. B. Finn, 1886 to 1889
Rev. Frederick S. Jewell, 1889 to 1894
Rev. Myron A. Johnson, 1894 to 1896
Rev. H. S. Foster, 1896 to 1899
Rev. Thomas C. Eglin, 1899 to 1904
Rev. John Barrett, 1905 to 1907
Rev. R. M. Laurenson, 1908 –
The present wardens are Messrs. H. T. Eberle, Dr. F. C. Moulding
Vestrymen:  Messrs. John Robinson, Robert Dent, Gustav Buchheit, George J. Nichols, Edward L. Schempf, Richard E. Krueger, Herman H. Beers, Constance D. Wiggenhorn.
Organist, Mrs. Elizabeth Green.
THE PROGRAM
The program was a most excellent one and included musical selections by the church choirs, Mrs. Elizabeth Green being the organ accompanist.  Following is the program at these services:
Holy Communion, 7:30 a.m.
MEMORIAL SERVICE, 10:30 a.m.
Evening Prayer
Processional Hymn     "Onward Christian Soldiers"
Kyrie Eleison         Gounod
Gloria Tibi           Gounod
Gratias Tibi          Gounod
Hymn                 "For All Thy Saints"
Sermon               Bishop Webb
Anthem               "O Praise the Lord of Heaven"
Offertory             Doxology
Sursum Corda          Gounod
Sanctus              Gounod
Benedictus            Gounod
Angus Dei             Gounod
Gloria in Excelsis    Gounod
Nunc Dimittis
Hymn                 "Through the Night of Doubt and Sorrow"
HISTORICAL SERVICE, 7:30 p.m.
Holy Communion
Processional Hymn     "We Love Thy Place, O God"
Magnificat            J. C. Marks
Nunc Dimittis         J. C. Marks
Hymn                 "Christ is Made a Sure Foundation"
Sermon               The Rev. H. B. St. George
Anthem               "The Lord Reigneth," Frey
Offertory             Doxology
Hymn                 "Crown Him With Many Crowns"
Among those from out of town at the services were . . .
1910
05 06       MARY E. BOYD, wife of former rector Rev. W. F. Boyd
After a long illness, Mrs. Mary E. Boyd, aged 87 years, and wife of the late Rev. W. F. Boyd, former rector of St. Mathias Episcopal church in Waukesha, died there Thursday evening.
The above notice was clipped from the Milwaukee Sentinel on April 19.  Mrs. Boyd had lived in Waukesha thirty-five years.  Before going there the family resided in Watertown several years, Dr. Boyd being rector of St. Paul's Episcopal church [Rev. F. W. Boyd, 1871 to 1879].  Memory carries us back to the winter of 1873-74 which was extremely cold with great quantities of snow.  Being a native of Mississippi Mrs. Boyd felt the cold severely, but there was always a warm welcome and cheery smile, with true southern hospitality to all who came to her home.   WG
06 10       WOMAN'S GUILD LAWN PARTY AT CHADWICK HOME
The afternoon of Wednesday, June 8, the Woman's Guild of St. Paul's Episcopal church met at the Chadwick home, 519 West Street. It was purely a social gathering, and as Wednesday proved to be a perfect June day, filled with warmth and brightness and beauty—every one preferred to be on the porch or the lawn, rather than in the house where we have been so long imprisoned on account of cold, stormy weather. Croquet was indulged in by some, while others spent the time in conversation.
At five o'clock a delicious luncheon was served upon the lawn on small tables arranged in a semi-circle with one at the opening of the circle, at which was seated the Rev. and Mrs. R. M. Laurenson, Mrs. Gallup and Miss Harger. This meeting was in the nature of a farewell to the president of the guild, Miss Harger, who expects to sail for Europe the eighteenth of June to be away for three months, possibly a longer time. When all were seated Mr. Laurenson, in the name of the guild, wished Miss Harger a safe voyage, a pleasant trip while abroad and then we will certainly give her a glad welcome home.   WG
c.1910
<![if !vml]>

<![endif]>  
Uncertain dates
<![if !vml]>

<![endif]>    <![if !vml]>

<![endif]>  
1912
At a meeting of the vestry of St. Paul's Episcopal church held in the rectory Friday evening it was formally decided that a new pipe organ shall be purchased for the church.  A committee has been investigating the matter for some time and reported progress but a final decision as to what make of organ shall be selected had not as yet been made.  The new organ will be of Tabular-pneumatic action with electric blower and independent two-manual console, so placed that the organist will face the choir.  The console will have concave radiating pedals and all the latest and most improved couplers and accessories of the most modern type of organ.  It will have seventeen speaking stops arranged as follows: In the great organ (lower keys) open diapason viola d'gamba, dulciana, melodia, octave, fifteenth, twelfth.  In the swell organ, bourdon, stopped diapason, vox celeste, salicional, aeoline, rohrfloete, oboe.  In the pedal organ, bourdon lieblich, gedeckt, violin cello.  There will also be a series of adjustable combination pistons, pedal control, etc.  Nothing will be omitted that the science of organ building can produce to make this a perfect instrument.
The old organ will be removed shortly after Easter and it is hoped that the new instrument will be in place in the course of a few months.  Funds are now in hand to cover the entire expense of this very valuable improvement to the church. 
The vestry also voted to accept a beautiful oak Litany desk, the gift of St. Mary's guild; and extend a vote of thanks to the girls and those who helped them.  This guild will in the future be merged with the Girls Friendly, which is to be organized shortly after Easter.   WG
1914
02 19       SACRED CANTATA REBEKAH
The choir of St. Paul's is rehearsing Barnaby's sacred cantata "Rebekah" to be given at St. Paul's Episcopal Church on Tuesday evening, February 24, with organ and orchestra, with the assistance of some of the leading singers in the city.  The soloists will be Mrs. William Sproesser, soprano, Mr. William Sproesser, baritone, and Mr. Edward Schempf, tenor.  The cantata is very beautiful and a most affective rendition is promised.   WG
02 26       A FINE CONCERT
St. Paul's Episcopal church was crowded to the doors with people last Tuesday evening to enjoy the sacred concert given by local talent.  The Cantata "Rebekah" was given in a very creditable manner.  Miss Elizabeth Green officiated at the pipe organ in a most artistic manner.  This beautiful sacred vocal music was sung in a manner that would do credit to professionals.  It was under the able direction of Edward L. Schempf, and the leading parts were taken by William Sproesser as Eliezer, and Mrs. William Sproesser as Rebekah.  The chorus parts showed excellent training.  Mrs. Carl R. Feld sang "How Long Wilt Thou Forget Me, O Lord," and Mr. Frank Bramer gave a beautiful violin solo.  The entire program was decidedly well given and a better pleased audience was never assembled in Watertown.    WG
c.1925
CHRISTMAS
<![if !vml]>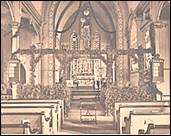 <![endif]>  
08 10       THE FIRST COMMANDMENT
<![if !vml]>

<![endif]>       Sponsored by Woman's Guild of St. Paul's, Riverside Park
Cast of more than 70 characters:  Rev. Henry Friedman, L. M. Mears, Mrs. Henry Friedman, Christine Grady, Donald Schmutzler, Rev. Don M. Gury, P. D. Joseph, George Dieter, Henry Amann, Arthur Kehl, Ray Hoppe, Donald Gottschalk , Robert Coon , James Anderson , Edward Thies, Kenneth Nowack, Jack King, Dr. J. R. Casanova, Gerald Kehr, Max Gaebler, John Moore, Dr. Arnold Nenahlo , Mrs. J. M. Wright, Paul Jaedecke, Max Rohr. Jr., Louise Kusel, Evelyn Jones, Marcus Day, Charles Jones , Paul Abelmann , Jim Moore, Dr. Donald Craine, Erwin Keepman, Mrs. E. L. Grady, Fred Alt, Orville Weseman, John Bennes, Harold Draeger, Mrs. Charles Kading, Mrs. A. M. Ellington, Helen Prentiss, Harry Thies, Louis Becker, Harold Hartwig, B. V. Krueger, Winston Krueger, William Rhoda, Jack King., Kenneth Nowack, Jack King, Mrs. P. D. Joseph, Mrs. Edwin Faber, Mrs. L. H. Kusel, Mrs. Fred Alt, Mrs. F. S. Brinkman, Mrs. L. W. Hutson, Miss Ada Rick, Miss Helen Gruetzmacher, Mrs. J. Platos, Mrs. Frank Persson, Miss Zayda Grube , Mrs. Alexander Platz , Mrs. Frank Atkins , Miss Eugenia Nowack, Arthur Krause , Roscoe Conklin , George Richards , Edward Schoechert , Walter Schlueter, George Dieter , B. V. Krueger , Harold Hartwig , Louis Becker.
1956
11 27       CADY MEMORIAL CHAPEL DEDICATION
<![if !vml]>

<![endif]>  
A service of dedication and blessing was held Sunday afternoon at the Cady Memorial Chapel of St. Paul's Episcopal church.  For several years, the work of restoration of the chapel has been underway.  However, the project gained impetus this past year when the chapel's original marble altar was returned and installed.  Since that time a new communion rail has been installed and the chapel has been carpeted.  The installation of the pews makes the chapel a self-contained unit for worship accommodating 56 people.  It is used for daily services and the early mass on Sunday as well as for church school.
1957
12 26       CELLINI CHALICE
A 400-year-old chalice, the work of Benvenuto Cellini, was used at St. Paul's Episcopal church at the midnight Christmas mass and at the Christmas Day mass at 9 a.m.  The chalice was given in legacy to the rector of the church, the Rev. Fr. William E. Krueger, by the Rt. Rev. Benjamin F. P. Ivins, one-time bishop of Milwaukee.  The chalice is of hand wrought silver which forms the base, hammered silver leaf on the outside of the cup with hammered gold leaf forming the interior of the cup.  When not in use at the church here it is kept in the vault at the Episcopal Cathedral of All Saints in Milwaukee.
1959
01 09       GROUNDBREAKING FOR ADDITION, classrooms, a boiler room and storage area
Groundbreaking ceremonies were held yesterday at St. Paul's Episcopal church for an addition which will house a church school classroom area of nine class rooms, a boiler room and storage area at a cost of between $30,000 and $35,000. The classroom area will be modern and up to date for the expanding church school of the parish. The present church building is 100 years old. Among those present when the ground was broken were Joseph Wimmer, chairman of the building committee, Gene Chase, senior warden, James Bloor, junior warden and the Rev. Fr. William E. Krueger, rector of St. Paul's.   WDT
12 15       ANNUAL "EVERY-MEMBER CANVASS" 
Members of St. Paul's Episcopal parish will be called upon Sunday afternoon for the annual "every-member canvass." Canvass committee chairman is Gene Chase; Joseph Wimmer is chairman for special gifts; while Gordon Scott will serve as initial gifts chairman. Others participating in the canvass will be: Lester Zick, Robert Stupka, Don Gottschalk, Al Maas Jr., James Bloor, Robert Bauch, Robert Miller, Roger Marg, Dr. Paul Clark, Beatty Burke, Robert Steinbach, Harris Grabow, Gordon Humphrey, Harold Schultz, Paul Loeffler, Roland Gibson and Arthur Archie. Frank Adams is serving as recorder.   WDT
1965
06 29       Rev. Fr. M. FRED HIMMERICH
St. Paul Episcopal church today announced it has a new rector in residence.  He is the Rev. Fr. M. Fred Himmerich, a native of South Dakota, where he grew to manhood.  Father Himmerich will conduct services at the church on Sunday and has announced the schedule of services as 7:30, 9:15 and 11 a.m.  He holds a B.A. degree from Macalester College, St. Paul, Minn., and the M.A. degree from the University of Minnesota.  He studied at the seminary, Nashotah House, and has served as curate of St. Paul's church, Beloit.   WDT
1970
06 23       FINNS LIVING HERE
<![if !vml]>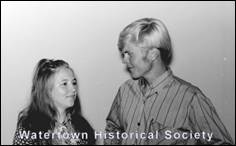 <![endif]>  
Paula Kinna and Matti Ripatti, both from Finland, are presently living in Watertown with Mr. and Mrs. Charles Kerr, 1006 Wilbur Street.  Matti is employed as a horticulturist with McKay Nursery in Waterloo, and they have come to the United States as part of a fellowship program of the Episcopal Church.
1990
12 29       BREAD AND ROSES
Gift giving and scrumptious dinners have always played a big role during the Christmas holidays, but what happens when people don't have families or can't afford gifts?  There is a place in Watertown where people in need of food or friends can go for a free dinner once a week, not just during the holidays, but all year long.  Bread and Roses, now in its fourth year, serves approximately 80 people every Friday night at St. Paul's Episcopal Church.  The dinner is free and all are welcome.  WDT
1993       REV. M. FRED HIMMERICH BRIDGE
08 04       The Main Street bridge in downtown Watertown will be known as the "Rev. M. Fred Himmerich Bridge" for the next year.  Himmerich, pastor of St. Paul's Episcopal Church, was honored at a bridge naming ceremony at Riverfest Saturday evening on the main stage.  Each year the Riverfest committee selects an individual for this honor who has been a leader in the community through service activities. Himmerich was presented with his award by Arthur Turke, a member of the Riverfest committee, and Thomas Schultz, chairman.   WDT
2005
07 24 FIRE
Fire Extensively Damages St. Paul's Episcopal
<![if !vml]>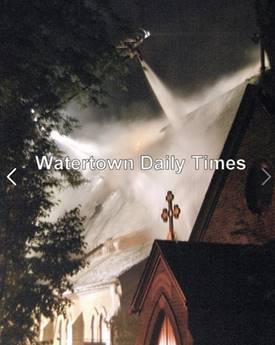 <![endif]>
Firefighters use ladder trucks to spray the roof and attic areas of St. Paul's Episcopal church with thousands of gallons of water in an effort to knock down flames and halt progress of the blaze early Sunday morning (WHS_005_228)
Lightning struck St. Paul's Episcopal church during a severe late afternoon thunderstorm on Saturday, July 23.  Fire erupted in the early hours of the next day, Sunday morning.  The beautiful church, located at the intersection of Second and Spring streets, is listed on the National Register of Historic Places.
The fire started when the roof was struck by a lightning bolt, smoldering until 10:30 in the evening, when it spread from the roof to the steeple.  Neighbors feared that some structure in the area had been hit because of the severity of the lighting strike but police were not able to find any such evidence upon investigating the concerns called in to the department.
<![if !vml]>

<![endif]>   Video clip       
08 25       Workers from Jacobson and Coughlin crane service signaled the machine operator as the bell was installed in St. Paul's Episcopal church bell tower for the second time in 115 years.  The bell was removed four weeks earlier so the bell tower could be repaired after a lightning strike started a fire that caused substantial damage to the church.  Dedicated to early members of the church, the 1,500 pound bell's inscription indicates that it was first dedicated in 1985 [should be 1890?].   WDT
2006
01 17
Fire Gives Church "New Beginning"
Officials of St. Paul's Episcopal church in Watertown say a fire that damaged their facility in July 2005 allowed the parish to start over with a clean slate and go forward with plans for the future. A rededication ceremony will be held at the church on Saturday at 4 p.m.
Usually when a fire damages a structure, those who use that facility run into a lot of trouble when it comes to the future. But officials at St. Paul's Episcopal church in Watertown say the blaze that swarmed their facility this past summer has been a blessing in disguise   [ WHS_005_236 ]
01 19       A BLESSING IN DISGUISE
Usually when a fire damages a structure, those who use that facility run into a lot of trouble when it comes to the future.  But officials at St. Paul's Episcopal Church in Watertown say the blaze that swarmed their facility this past summer has been a blessing in disguise.  "We view this as truly a new beginning for the whole church family," said Peter Wright, senior warden at the church.  "We are starting with a clean slate."  The fire at St. Paul's started July 23, 2005, after the steeple was struck by lightning early in the afternoon.  The Watertown Fire Department was not notified of the blaze until later that night because it just smoldered inside the structure before it took off inside the church itself.   WDT
07 11       Rev. MARK MOORE Appointed Full-Time Deacon
Mark T. Moore has been appointed as full-time deacon in charge at St. Paul's Episcopal church in Watertown.
Moore is returning to Wisconsin after formal pastoral training at Seabury Western Theological Seminary in Evanston, Ill., where he received a master of divinity degree in 2005, and is completing a master of theological studies with a focus on preaching. He was ordained deacon in June and will be ordained priest in December at St. Paul's.
Moore served as chaplain of Rush North Shore Medical Center and has been deeply involved in social justice and outreach projects such as Hilda's Place, a food pantry, dining hall and temporary residence for homeless people and St. Leonard's House, a halfway house.
Moore's strong, focus on outreach and community, based on a lifelong call to service and ministry, make him particularly well suited to guide and coach the St. Paul's family in developing programs to cater to the needy in the Watertown and surrounding communities.
Moore's appointment is the celebrated culmination of a year of commitment and focused work to restore the St. Paul's Episcopal church buildings, and rejuvenate its membership, in the aftermath of the lightning-induced fire that destroyed a major portion of the church building on July 23, 2005.
Joining Moore in the move to Watertown is Mary, his wife of 31 years, and the couple will make their new home in the St. Paul's rectory on South Second Street.   WDT
07 24       FIRE SPARKS NEW SPIRIT  WDTimes article  
2007
11 27        TWO EVENT CELEBRATRION / SCHUH WINDOW
St. Paul's Episcopal will celebrate two events in the life of the parish on Sunday, the dedication of the "Jesus Heals" stained glass window and the annual Advent dinner and concert by The Ancora String Quartet of Madison.  The window is significant in the life of St. Paul's, but also in the life of the community of Watertown as it is dedicated to God in memory of Drs. Ruth and Eugene Schuh, who served this community for years.  Since the Schuhs were both physicians, the theme of the window is healing of all kinds and depicts Jesus healing the blind man.  The Schuhs are remembered as a couple who cared for people of all walks of life and gave of themselves freely.  The window is a reminder of their ministry to the community, and a reminder that God gives true sight to see and respond to the needs of the world.
12 06        RESTORED CHURCH DEDICATED
Taking a look inside St. Paul's Episcopal Church many may find it hard to believe a fire tore through the building two years ago causing severe damage.  After much hard work and purchasing of new equipment, the church will be fully restored when its new organ, piano and stained glass window are dedicated.  "The organ was really the last major piece of the puzzle in finishing the restoration," Rev. Mark Moore, said.  "The whole restoration process has been fantastic."  Lightning struck St. Paul's steeple starting a fire early in the afternoon of July 23, 2005.  The fire smoldered inside the steeple before it took off inside the church.  The blaze was reported to the Watertown Fire Department at about 10:30 p.m. later that day.
2008
04 02       POLICE CHAPLAINCY PROGRAM
The Watertown Police Department has formed a police chaplaincy program and the Rev. Mark Moore of St. Paul's Episcopal Church and Pastor Doug Stein of Calvary Baptist Church will be serving the community in this new ministry.  The police chaplains will be available on a 24-hour basis to offer support to residents in need, which includes comforting grieving families during death notifications and assisting police during other traumatic incidents.
St. Paul's to note 150th Anniversary
2010
10 10
<![if !vml]>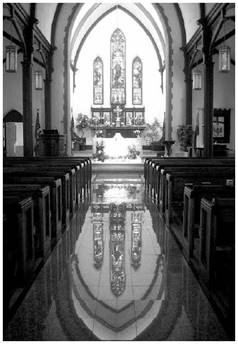 <![endif]>
The 10 a.m. liturgy will be conducted by the Rev. Mark Moore and the Rt. Rev. Bishop Steven White using the 1789 Episcopal Prayer Book.  Many parishioners will dress in the style of the period, and some may even arrive by horse and buggy.
St. Paul's church dates back to 1847.  At that time, the parish constructed a simple wood building located on Market Street, between Second and Third streets.  As the parish grew, funds were raised for a new church building.  The construction of the building began in 1859.
James Douglas, a prominent Milwaukee architect of the time, designed the church in the neogothic style.  It was consecrated in October 1860.  Final cost for the church building was a little more than $3,800.  The plaster vaulted ceiling, which contributes to outstanding acoustics, is one of a small number in Wisconsin.
There was a major church fire in 2005.  The fire was taken by the parish as an opportunity for renewal and growth.
St. Paul's has since hired a full-time priest, increased participation and membership, and renewed its obligation to serve its community.  The fire, started by lightning striking the bell tower, ignited a whole new spirit in the congregation.  For 160 years St. Paul's has strived to be a living presence in Watertown and will continue its ministry for years to come.
2012
02 16       REV. MARK MOORE called to serve at a new parish
The children of St. Paul's Episcopal church present a thank you gift to the Rev. Mark Moore for over five years of service to St. Paul's Episcopal church.  Moore has been called to serve at a new parish in Greendale.  The Rev. John Crosswaite will be serving as the interim minister while St. Paul's Search Committee begins the process of calling a new priest.   WDT
<![if !vml]>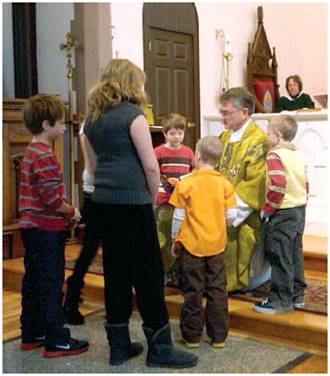 <![endif]>
Pictured are Julian Byrne, Moore, Miles Tolonen, Nicholas Tolonen, Abby Wilke, Alex Byrne and Allayah Richards.
07 11       Mary's Room, the brainchild of St. Paul's community outreach committee, where local families can receive assistance for items not covered through food stamps or the federal Women, Infants and Children program.   WDT
2018
07 17       "CENTER OF CITY" MONUMENT MOVED
Council Proceedings.  Request to move "Center of City" monument to City Hall.  St. Paul's Church has requested this monument be removed from their property.  Motion carried to remove the monument and place in safe keeping at the Street Department until a future location is determined.
2021
07 17       M. FRED HIMMERICH, 1930-2021
Milwaukee, WI - The Rev. Canon Dr. M. Fred Himmerich, 90, an Episcopal priest in the Diocese of Milwaukee, died on Friday, January 29, 2021, in his home at Saint John's on the Lake in Milwaukee.
He was born on October 16, 1930, in Grand Forks, ND, to Fred and Florence Himmerich, and grew up on farms in South Dakota and Washington state. He met his wife, Carol, when both were in the choir at St. Paul's Episcopal Church on-the-Hill in Saint Paul, MN. They were married on December 30, 1958, at Trinity Episcopal Church in Oshkosh, WI.
Father Himmerich earned a Bachelor of Arts degree from Macalester College and a Master of Arts degree from the University of Minnesota. He received a Master of Divinity degree from Nashotah House Theological Seminary and a Ph.D. in theology (patristics) from Marquette University. He was ordained to the diaconate on March 17, 1962, at St. Mark's Episcopal Church in Milwaukee. Fr. Himmerich was ordained to the priesthood by Bishop Donald Hallock on September 16, 1962, at St. Paul's Episcopal Church in Beloit, WI, where he served as assistant rector to Fr. Joseph Mazza. In 1965, he became the rector of St. Paul's Episcopal Church in Watertown, WI, and served there until his retirement in 1995.
WHILE IN WATERTOWN, Fr. Himmerich was involved in many community projects and organizations. Caring deeply about all people, he was passionate about advancing social and economic justice. With members of St. Paul's Watertown, he started the Bread and Roses free weekly community meal program; and he helped found a community daycare center. In 1993, he was named the Watertown Main Street Bridge Honoree for his service to the community. Further roles with the Diocese of Milwaukee included serving as director of Camp Webb in 1969 and 1970, and as adjunct professor at Nashotah House from 1976 to 1986. He provided training for deacons and took a leadership role in diocesan commissions. After his retirement, he filled in as supply clergy, including serving as the interim dean of All Saints' Cathedral from 1997 to 1998 and again in 2007.
Fr. Himmerich's faith was evident in his life as well as work. He was a talented organist and played the piano well into his eighties. In the 1950's, he was pleased to participate in a backing choir for Marian Anderson as part of his Macalester College Concert Choir. He was passionate about theological reading and writing. Bringing in the benefits of simplicity, he made communion wine from homegrown grapes, enjoyed using his carpentry skills, and often walked to his destinations. He loved baking bread and pies. Fr. Himmerich cherished fellowship with others whether over coffee, playing chess, or visiting with his family and friends. He attended Evensong daily at Saint John's on the Lake and continued to lead an All Saints' Cathedral Bible study, out of the Greek New Testament, until his death.
Fr. Himmerich is survived by his five children, Rebecca (the late Patrick) Kelly, Daniel (Alma), Elizabeth, Sarah, and Catherine Himmerich; nine grandchildren, Amanda, Megan, Shawn, Bethany, Madeline, Wesley, Rasmus, Elena, and Antonio; brother, Robert (Eva) Himmerich; two sisters, Sue (Richard) Beem and Dianne Johnson; sister-in-law, Marna Jenson; and numerous other relatives and friends. He was preceded in death by his parents; wife, Carol; twin brother, A. Frank (the late Jeanne); and infant granddaughter, Rachel.
A Requiem Holy Eucharist and committal will take place at 11:00 a.m. at All Saints' Cathedral in Milwaukee on October 16, 2021, with The Rt. Rev. Jeffrey Lee, Provisional Bishop of the Diocese of Milwaukee, and The Very Rev. Dean Kevin Carroll officiating.  The Rev. Dr. Julian Hills will deliver the homily.  Visitation will be held at the Cathedral from 10:00 a.m. until the time of the service.  Covid precautions will be followed.
If desired, memorials are suggested to All Saints' Cathedral, 818 E. Juneau Ave., Milwaukee, WI 53202; St. Paul's Episcopal Church, 413 S. Second St., Watertown, WI 53094; Bread and Roses, 209 N. 9th St., Watertown, WI 53094; or St. John's on the Lake, 1840 N. Prospect Ave. Milwaukee, WI 53202.
Heritage Funeral Homes
10 12       CORNERSTONE OPENED
Getting ready for its 160th anniversary celebration Oct. 24, Watertown's St. Paul's Episcopal Church members Monday opened the cornerstone on its church building, 413 S. Second St.  The cornerstone was laid on Sept. 23, 1859.
The cornerstone was protecting a treasure trove of items in a time capsule placed there by the church founders.  Among the items found were local daily newspapers from the time period in both English and German, a Holy Bible, an Episcopal prayer book from 1859, a copy of the church's constitution and other local pamphlets and church organizational documents.
The congregation plans to archive and preserve the items and create a new time capsule to be placed under the cornerstone for future generations to discover.
St. Paul's Episcopal Church is on the National Register of Historic Places.
2022
06 17       HISTORIC STAINED GLASS SHATTERED BY VANDALS
A pair of historic stained glass windows on the south side of Watertown's St. Paul's Episcopal Church were the casualties of a recent wave of downtown vandalism.
According to information provided by the church and Watertown police, a vandal caused damage to windows in the church's lancet niches and to a window in the door of the Hawkins Hall entrance over the past weekend.
The stained-glass windows date to the late 1800s and the incident is believed to have occurred late Saturday night or early Sunday morning.
"The glass landed on the organ and was shattered in some pieces to a powder," said Matt Brody of the church. "Salvageable pieces are being held for restoration work made possible by church insurance. The hall door on the corner of South Third Street was the third window destroyed that night and there were some signs of an attempted entry."
The hall door and the windows have plywood over them as they await repair.
<![if !vml]>

<![endif]>   <![if !vml]>

<![endif]>   < PORTFOLIO OF PICS
Cross References:
No 1:  Daniel Jones was a church organizer
No 2:  " . I am on a pedestrian tour of two hundred and sixty miles (going and returning).  I left Nashotah on the business of the Mission on Thursday morning of last week.  On that day I walked (November 21, 1849) forty-one miles to the north-west of our Mission, passing through Watertown on Rock River, which is one of our most populous inland towns.  On the 7th the Bishop consecrated the church that has just been erected in this place.  The Rev. M. Hoyt is the Rector and Missionary.  He depends for his support chiefly upon the weekly offerings. There are about forty communicants. Watertown is twenty-one miles west of Nashotah . . ."  [ "The Life of the Reverend James Lloyd Breck, D.D.", Chiefly from Letters Written by Himself, Compiled by Charles Breck, D.D., New York: E. & J. B. Young, 1883]
No 3:  DVD available of 1991 amateur VHS recording of history and tour by Rev. M Fred Himmerich, rector, of St. Paul's church and tower (45 min)

History of Watertown, Wisconsin