website  watertownhistory.org
    ebook  History of Watertown, Wisconsin
Ray's Red Goose Shoes
212 E Main
Bertram Beltz
<![if !vml]>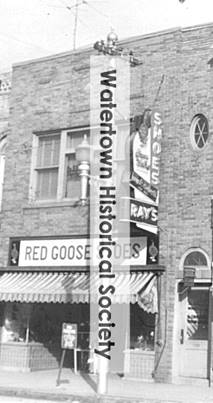 <![endif]>  c.1957
1975
<![if !vml]>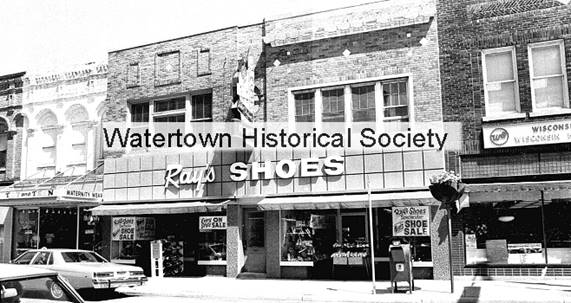 <![endif]>  1975
1984
10 23       City officials and store owner BERTRAM BELTZ will both be celebrating as Ray's Shoes cuts the ribbon commemorating the opening of its expanded and revitalized store at 212 Main Street.  The grand opening ceremonies will be held at the store Thursday beginning at 9:30 a.m.  A sale will also be held in accordance with the event Thursday through Saturday.  The shoe store has undergone extensive interior and exterior renovations.  Outside, the brick has been cleaned and patched and new signing (red letters on a green background) now extends across the length of the structure.  A red and green canopy has also been raised.
02 12       BERTRAM BELTZ, owner of Ray's Shoes in Watertown, today was elected to the board of directors of the Watertown Area Chamber of Commerce Promotive Corporation.  Beltz succeeds Paul Kehrer, vice chairman of the board of directors of First State Savings and Loan Association, who resigned his position on the promotive board.  The promotive corporation is the industrial development arm of the chamber.
1993
03 31       NEW STORE IN THE BEAVER DAM
Ray's Shoes Inc. of Watertown will open a new retail shoe store in the Beaver Dam Mall in Beaver Dam.  The shoe store is the fourth one for the retailer, according to Dan Beltz, president.  The other three locations are the flagship store in downtown Watertown, the second store in downtown Hartford and the third store in the ShopKo Plaza Mall in Wisconsin Rapids.  Ray's Shoes has been in the shoe business since 1945 when it was formed in Watertown by Bertram and Leila Beltz.  At one point in time, the Beltzes owned and operated 13 stores throughout Wisconsin, Iowa and Michigan.
1994
08 23       RAY'S SHOES ACQUIRES WISCONSIN ELECTRIC BLDG
Ray's Shoes is undertaking a major renovation and expansion of its flagship retail store in downtown Watertown.   Dan Beltz, president of the firm, said the Wisconsin Electric Power Company building at Third and Main streets has been acquired and is in the process of being renovated for expansion of the shoe store which is located immediately to the west.  Initial stages of the project have started.  The common wall between the two buildings has been removed.  When the new section is opened, Beltz said the entire retail store will be redecorated under the direction of his wife, Kristin Laramie Beltz.
2002
05 01       BROWN'S SHOE FIT COMPANY
Ray's Shoes, 212 E. Main St., one of the anchor retail stores in downtown Watertown for seven decades, has been sold to an Iowa firm. The new owner is Brown's Shoe Fit Company which is headquartered in Shenandoah, Iowa. Announcement of the sale was made today by Ken Goetsch, Bemie Niay and Dan Beltz, owners of the business. As part of the sale, Brown's will continue to operate out of the downtown Watertown location and has entered into a long-term lease agreement for the property.   WDT
04 14       DANIEL WALTER BELTZ (1958-2014)
Daniel Water Beltz, 55, died on April 14, 2014 in Sanibel Island, Fla. Dan was born Dec. 20, 1958 in Watertown, Wis., to Leila Jane Arneson Beltz and the late Bertram Daniel Beltz.  Dan grew up in Watertown, attending Watertown public schools, and he graduated Magna Cum Laude from the University of Wisconsin-Stout in 1981, majoring in Marketing and Distributive Education.
<![if !vml]>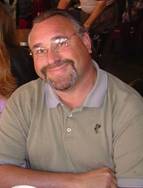 <![endif]>Dan married Kristin Laramie, daughter of James and Mary Laramie on June 28, 1986 in Whitewater, Wis. Dan and Kristin first lived in Watertown where Dan worked for Farm and Fleet before joining his father at Ray's Shoes.  Dan and his father worked together at Ray's until 1989 when his father retired and Dan purchased the business.  Together with Kristin, Dan brought freshness to the business and opened several new shoe stores in south-central Wisconsin.  As part of the downtown Watertown business community, Dan was an active member of the Watertown Chamber of Commerce.
Dan and Kristin have had close ties with Sanibel since they were children. Dan first visited the island with his parents as a 10-year-old and returned with them many times. Kristin also came to Sanibel frequently with her family, as they owned property on the island.  For each of them, this love affair with the island started early and has lasted their entire lives.  Dan and Kristin decided to purchase a home on the island, which eventually became the permanent residence for both of them when Dan sold the shoe store in Watertown to Brown's Shoes.
On Sanibel, Dan continued to make use of his retailing expertise, focusing on advertising and helping local Sanibel businesses to develop advertising and marketing campaigns.  He was a partner and owner of Paradise Advertising and Design, located on Sanibel.
Dan loved Sanibel, its people, environment, and lifestyle.  His parents, Lee and Bert, also became Sanibel residents, and Dan was very attentive to both of them, and especially his mother in recent years.  Dan is widely known in Sanibel's business community, and he has become a visible fixture in their neighborhood walking his two dogs, Boxers SonKist and Nudgie.
2022
06 09       BERTRAM BELTZ COMMUNITY PLAZA
     Named in honor of Bertram Beltz
<![if !vml]>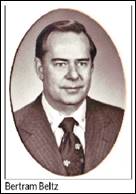 <![endif]>
A significant donation to The Bentzin Family Town Square.
Dr. John Beltz, a veterinarian, donated $250,000 in honor of his father Bertram to name the plaza by the river: the Bertram Beltz Community Plaza.
In 1947, after serving as a bomber pilot in World War II, Bertram Beltz moved to Watertown to manage Ray's Shoe Store on Main Street, now Brown Shoe Fit Co.
A hard worker and entrepreneur, Bertram purchased and grew the business, eventually owning and managing 13 stores throughout Wisconsin, Iowa, and Michigan.
Beltz "served many different organizations and worked on numerous civic projects. Even though he came from very modest beginnings, he saw opportunity in Watertown and was able to enjoy success and give back to his community."

History of Watertown, Wisconsin