website  watertownhistory.org
    ebook  History of Watertown, Wisconsin
Weltburger / Weltbuerger
Wepco Printing
Watertown Weltbürger, added masthead: Der Erzähler.
1853-54
David Blumenfeld and D. W. Ballou came here within the same year, 1853-54.  Both were able editors, loyal Democrats, powerful and fearless editors.  Blumenfeld eventually called his paper the Weltburger.  Ballou named his the Democrat.     Kiessling, Elmer C., Watertown Remembered (Watertown: Watertown Historical Society), 1976, pgs 172-73
Blumenfeld edited the Weltburger for over 50 years during an era when it was the most widely read newspaper in the city.  He was prominent in Watertown society and sired a numerous, talented family, some of whom became linked by marriage with other old families in the city, while others achieved fame abroad.  His son Ralph told the adventurous story of his boyhood in Home Town, a book he published in 1944 after a long career as editor of what was then England's, and therefore the world's, largest new paper, the London Daily Express.  The elder Blumenfeld died in 1905.
1858
12 23       Arrangements made for starting another German paper, the Weltburger; Democratic in politics serving the German population    WD
Another source states that the first Weltburger location was in the Werner building on the north side of the Main Street bridge
1875
<![if !vml]>

<![endif]> 
1879
<![if !vml]>

<![endif]>       Weltburger Printing Office, 119 North Second St
Shown:  C. Hugo Jacobi, William Voss, David Blumenfeld, Ralph Blumenfeld, Otto Krueger, Moritz Blumenfeld, Charles Blumenfeld.
1870s
Simon Melzer, employee.
1882
1883
1890s
317 E Main
<![if !vml]>

<![endif]>    
1890s     WELTBURGER SIGN, front and back sides
<![if !vml]>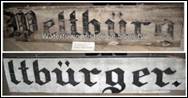 <![endif]>
Hung outside the office of the Watertown Weltburger newspaper office at 317 E Main.  Dates to the 1890s
1891
06 03       BUILDING TO BE ERECTED, SE corner 2nd & Madison
George Gerbic is preparing to erect a business building on his corner of Second and Madison streets.  We understand it will be occupied by The Weltbuerger office.     WR
1892
                William Reber employed for short while
1894
<![if !vml]>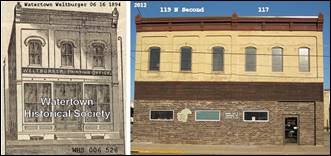 <![endif]>       119 N Second location
c.1897
<![if !vml]>

<![endif]>  
1899
02 01       BEWARE OF SOLICITORS
We wish to advise the business men and merchants of this city not to be deceived by parties from outside who are soliciting job work, and claiming that the local printers are charging twice as much as the work can be gotten for elsewhere.  If you will take the trouble to compare prices you will readily discover that Watertown printers are doing work at rock-bottom prices, and that an institution cannot exist and do work for less money.  An investigation will quickly undeceive anyone who is led away by the misrepresentations of the travelling printer.   WR
1912
Fred Nowack, son of Frank Nowack, Sr. and wife of this city, died last Sunday in Milwaukee.  Deceased was born here on May 6, 1881, and learned the printers' trade in the Watertown Weltbuerger office.  After leaving here he engaged in business in Milwaukee for seven years past, being a member of the printing firm of Nowack & Husting.  His wife survives.  On Monday his remains were brought to his parents' home here, and on Wednesday were interred in Oak Hill cemetery.   WG    [Nowack, Friedrich, b. 1881, d. 1912]
                WELTBURGER INDEX ENTRIES, 1912-1913 EDITIONS
1915       SCHEMPF CHRISTMAS AD
commands Page 1 of Weltbuerger
12 11       <![if !vml]>

<![endif]>
c.1925
INTERIOR OF, 113 N. Fourth
<![if !vml]>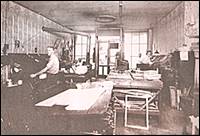 <![endif]>   
Adolph Jaeger, Emil Kuehl, Walter Maass, Emma Jaeger (sister to Adolph)
1950
04 14       EMIL KEHL, PRINTER FOR 60 YEARS, Sells Interest in Weltbuerger
       Began Working at Age of 11 Years on Weekly Paper
Emil Kehl, 502 South Second Street, for 60 years a printer, has retired and has sold his interest in the Weltbuerger Printing Co. to Charles R. Abel, former linotype operator for the Jansky Printing Co.
Mr. Kehl, shown here, is a native of Watertown but left with his parents at the age of eight and settled at Glenwood.  There, when he was 11 years of age, he went to work for the Glenwood Tribune, a weekly newspaper which is still being published.  He remained with that paper for some time, then went to work in various newspaper and printing establishments, earning as he worked.  He worked in Amery and Minneapolis among other places, later returning to Watertown.  Here his first job was with the Republican, a weekly newspaper which was edited by the late Granton Norris.
         German Weekly
He first became associated with the Weltbuerger, then a popular German weekly here, when it was edited by the late David Blumenfeld who was the father of the late Ralph D. Blumenfeld, a famous newspaper editor in London, editing the famed London Express for many years.
Later the ownership of the Weltbuerger was transferred to Milwaukee and then returned to Watertown.  Here Mr. Kehl became associated with the late Otto Krueger and the late Gustav Schwenke in publishing the paper.  In 1906 Mr. Kehl left and the paper was published by Mr. Krueger and Mr. Schwenke.  In 1930 he returned to Watertown and again affiliated with the publishing concern and remained until his retirement a few days ago.
In speaking of his experiences, Mr. Kehl said it has been an interesting career.  He witnessed the rise, and decline of the German newspaper here, for the Weltbuerger is no longer being published.  For a time, after it was no longer edited locally, it was being published in Winona, Minn., and Mr. Kehl served as the local subscription and advertising representative.  He recalls how many difficulties the late Mr. Blumenfeld had in getting out some issues of the weekly which was then in its heyday.
         Enjoys Wide Clientele
The Weltbuerger, in recent years the Weltbuerger Printing Co., has enjoyed prosperous business in the job printing line and Mr. Kehl says he feels certain that it will continue under the present owners—Adolph Jaeger, who went to work with the Weltbuerger in 1906, and the new partner, Mr. Abel.
In addition to doing all sorts of job work, the company gets out such publications as the Northwestern College monthly magazine, The Black and Red, as well as the college high school paper and it also does considerable work for the Bethesda Lutheran Home and their clients.  In recent years new equipment has been added to the printing establishment and it enjoys a wide clientele.
Mr. Kehl will continue to make his home here.  He is a former supervisor for the Twelfth ward, serving on the Jefferson County board for six years.    WDT
1956
<![if !vml]>

<![endif]>  
2003
Oct           Wepco Printing, 113 N. Fourth St., Watertown
Wepeo Printing Company is the oldest printing operation in Watertown. Founded in 1852, the original "Weltbuerger Printing Co.", published one of the leading German weekly newspapers in Wisconsin.  The newspaper, titled "der Weltbuerger" was published until 1932 when English became the dominant language and the business turned to a commercial printing operation.  At that time the business shortened its name to Wepco Printing (Weltbuerger Printing Company).
Acquired by Times Publishing, Inc. in 1997, after more than 150 years Wepeo Printing continues the traditional lead type art as well as utilizing the contemporary desktop publishing technology giving customers a wide range of quality printing options. Wepco Printing has four employees:
2015
<![if !vml]>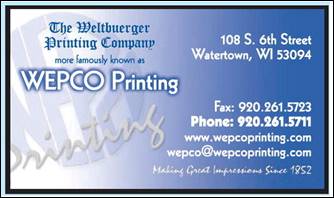 <![endif]>
Cross-References:
Time magazine, 01 02 1933:  Last week the 80-year-old weekly Watertown (Wis.) Weltburger ceased publication.  Famed German-language publication, it had been edited by Liberal Carl Schurz at one time and by Ralph Blumenfeld, now board chairman of the London Daily Express.  Since 1930 the Weltburger had been published by National Weeklies, Inc. in Winona, Minn.
01 29 1915  Moritz F. Blumenfeld appointed State Superintendent of Public Property; born in Watertown in 1859, learned the printer's trade and was associated with his father, the late D. Blumenfeld, in the publication of the Watertown Weltberger.

History of Watertown, Wisconsin