website  watertownhistory.org
    ebook  History of Watertown, Wisconsin
G. B. Lewis Company
<![if !vml]>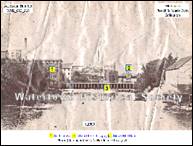 <![endif]>                <![if !vml]>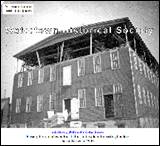 <![endif]>                <![if !vml]>

<![endif]>
G. B. Lewis, 1832-1903    Charles E. Parks, 1846-1895    G. C. Lewis, 1871-1938
G. B. Lewis, 1832-1903:  Founded the business in 1863 and became the first President when the business was incorporated in 1890, with the corporated name of the G. B. Lewis Company.  Father of G. C. Lewis.
Charles E. Parks, 1846-1895:  Some time after the business was started Mr. G. B. Lewis was joined by his son-in-law, Charles E. Parks, and the business became known as Lewis & Parks.  He was General Manager when the business was incorporated in 1890.  Father of L. W. Parks.
G. C. Lewis, 1871-1938:  The second President of the G. B. Lewis Company, who took over the management of the business after the death of father G. B. Lewis and the earlier death of Charles E. Parks.
1863, FOUNDING OF
The G. B. Lewis Company's presence in Watertown dates back to 1863 when it started as a two-man shop.
The company was known for many years as the world's largest manufacturer of beeware.
1870
THREATENED BY FIRE
Sash and Door Manufactory of G. B. Lewis threaten by Empire Mill fire.
EMPLOYEES
<![if !vml]>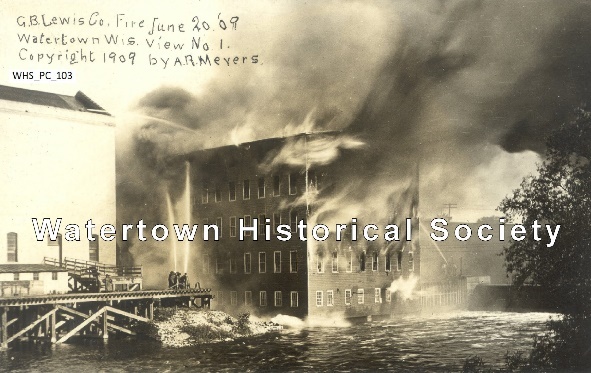 <![endif]>   
c.1887
EMPLOYEES
<![if !vml]>

<![endif]>    
1890
04 25       DESTRUCTIVE FIRE
At 2:30 o'clock last Saturday morning a destructive fire occurred in the city and at one time it looked as though a large portion of the west side would be destroyed.  The entire box, bee-hive and section factory of G. B. Lewis & Co. the and Watertown Woolen Mills, owned by Mrs. James Chapman, were totally consumed.  The loss of the former is about $15,000 insured for $4,500 . . . .  The buildings burned were located adjacent to two large lumberyards, the Empire flour mills and several frame buildings.  Had it not been for the good service of the fire department the loss would have been very great. The origin of the fire is unknown . . . .      WG
05 14       DETERMINED TO REMAIN IN WATERTOWN
Messrs. Lewis & Parks have determined to remain in Watertown, all reports to the contrary, notwithstanding, and the work of their new Bee Hive and Box manufactory is to proceed as rapidly as possible.  This determination on their part has been reached in spite of the liberal offers made to the firm by Beloit, which were very tempting and hard to withstand.  The result, while flattering to Watertown, carries with it a display of loyalty on the part of Lewis & Parks for which they deserve credit.  Tally one for Watertown and now in this same line let us have a new Woolen Mill.   WR
07 30       PROGRESS ON APIARY SUPPLY BUILDING
Lewis & Parks are making rapid progress with their new apiary supply building.  It is said to be the largest building for the manufacture of this line of goods in the United States.    WR
08 01       BUILDING COVERS MORE GROUND THAN ANY OTHER BUILDING
G.B. Lewis & Co's, new bee-hive factory begins to loom up in good shape.  It is three stories high and basement, and covers more ground than any other building in the city.       WG
10 22       BEE HIVE AND HONEY SECTION MOVED
G.B. Lewis & Co. have removed their bee hive and honey section business from the Watertown Machine company's building and now occupy their new factory on the West side.
11 05       FIRE BUG WEIGEL
Edward Weigel, aged 11 years, whose home is on North First Street, was taken before Justice Halliger, October 21, under a criminal complaint for having stolen a watch, the property of G. Boehn, and the youthful culprit was committed to the Reform school at Waukesha.  Other offenses came out against him in the examination, such as stealing dinner pails from the children of St. Henri's school, from which is was evident that he required to be taken care of.
Sometime before the boy had been charged with tempting to set fire at St. Henri's church, having sprinkled oil, obtained in the church, on the floor and then scattered matches over the surface so that a person walking might ignite the matches and set the blaze going.  But Justice Halliger, from his proofs, decided that there was no cause of action and discharged him. 
And now comes the startling denouement.  When Deputy Sheriff Graewe was leaving the Reform school to return home, young Weigel confessed to him and the keeper to having set fire to Paul Herzog's barn and since then the astounding intelligence is received that in addition to this burning he admits that he set fire to the factory of G. B. Lewis & Co. and Geo. W. Evans' livery stable, involving a destruction of some $25,000 worth of property.
It may be this boy is trying to make a great hero of himself, and that his admissions must be taken with some grains of allowance, but that he is an evil-disposed youth whose presence is dangerous to society and should be made to pass through a lengthy penitential period will not be disputed.   WR
11 21       NEW BEE HIVE FACTORY
Long article about the G.B. Lewis new bee hive factory in W Gazette.
12 05       FIRE BUGS WEIGEL and SCHLUTER
John Schluter a lad 14 years of age of the 5th ward, was arrested Thursday morning on the charge of being implicated in setting fire to Lewis & Co.'s factory which was destroyed by fire last February.  Mr. Parks visited Waukesha on Wednesday and called on young Edward Weigel, a lad 11 years of age sent from here to the reform school at that place October 21st.  It will be remembered that at that time Weigel claimed to have set fire to several places here, and on Wednesday last told Mr. Parks while in conversation with him that young Schluter was implicated with him in firing the Lewis factory.  Schluter is now in jail awaiting his examination.    WG
12 12 FIRE-BUGS CONFESS TO WOOLEN FACTORY FIRE
In our issue of last week we referred briefly to the arrest of John Schlueter charged with setting fire to G. B. Lewis & Co.'s bee hive factory in February. As stated, Mr. Parks, the junior member of the company, visited the reform school at Waukesha for the purpose of getting a confession out of Eddy Weigel, a boy 11 years of age sent from here to that institution last October, with the suspicion hanging over him that he knew all about the various fires that were kindled here the present year, involving the loss of over $25,000 worth of property in the destruction of the G. B. Lewis Co.'s bee hive factory, the Watertown woolen mill, Geo. W. Evans' livery barn and the Herzog and Lange barns.
When Mr. Parks first began interviewing young Weigel, he was reluctant to telling all he knew about these fires, but he finally made a clean breast of it. He stated that he fired Evans' and Lange's barns merely for the sake of seeing a fire, and Herzog's barn because some of the Herzog family were mad at his folks, and called him names because they did not buy beer at Herzog's saloon, and he fired the barn to get even with them.
With regard to the Lewis fire, he stated that he and Schlueter planned this fire because they had applied for work at the Lewis factory and were refused. Early in the evening they passed some time in a barn back of the William Pell house in the 5th ward, and then strolled down towards Weber's lumber yard, thence down to the river bank, and waited around the mills and factory until the electric lights went out. Weigel gave a minute description of the interior of the factory at the place therein where they started the fire on the night in question, so that there can be no doubt of his story being correct.
As soon as the electric lights were turned off, both entered the basement door on the south of the factory leading from the alley way between there and the woolen mill, Schlueter applied the match whilst Weigel stood guard outside watching so that they could not be surprised in their nefarious work. When everything was ready, Weigel went outside to watch, but returned again to inform Schlueter that a man was passing by and they had better wait awhile longer. They did so, and both returned to their respective posts.
Schlueter applied the match to a pile of shavings in the fore part of the basement and then skipped outside, calling to his partner to run. Both started on the run, got separated in Weber's lumber yard, but came together again near Jesse Stone's residence, and then proceeded to Hughes' barn nearby, where they passed the night.
On arriving home from Waukesha, Mr. Parks had Schlueter arrested. He was closely questioned as to his connection with the Lewis fire, and told substantially the same story as above. . . .
. . . . It is a relief to know that older persons were not engaged in this work. Both boys will probably spend the best years of their lives in the reform school, if not in the state prison, and it is hoped that with this as an example before them, other boys here may be prevented from ever engaging in such despicable work.
The reform school and state prison, to our mind, is altogether too mild a punishment for such acts. It now remains to discover who fired the old Lindon House barn, and let us hope that the guilty one may also be found out. WG
1894
11 14       PATENTED BOX-WEAVING MACHINE
Fred Zipsel, an employee of the G. B. Lewis Company, expects to go to Paris, France, soon to set up a box-weaving machine of C. E. Parks' patent for a manufacturing concern there.  Unless orders are received to the contrary, Mr. Zipsel will depart on the 24th inst.  He has secured his passports.   WR
1895
05 01       M/M LEWIS RETURN FROM FLORIDA
Mr. and Mrs. George B. Lewis arrived home Sunday evening from Dunedin, Fla., where they made their customary winter's residence.  Mr. Lewis looks as if he thoroughly enjoyed himself under the warm Southern skies, and is as brown as a berry.   WR
07 03       DEATH OF C. E. PARKS
Item about the death of C. E. Parks, a partner in the G. B. Lewis Co. and who held a number of patents on machinery for making barrels and packing boxes.    WR
1898
05 25       The G. B. Lewis Company last week shipped the exhibit of bee-keepers supplies which they intend making at the Omaha exposition.  The exhibit is handsomely finished and when placed in position will make a very effective appearance.  It is destined to do great credit to the company, as well as to our city and state.   WR
c.1900
<![if !vml]>

<![endif]>  
1903
09 08       The G. B. Lewis Co., manufacturers of beekeepers' supplies, shipping crates, etc., have let the contract to Chas. Huenefeld for the addition of another story to their factory on Water Street which will give them 7800 square feet more floor space, the building being 60x130 feet.  When completed all the packing and shipping will be done in this building, and the brick building to the north of the factory will be used exclusively for storage purposes.  An addition 12x20 feet is also being built on the rear of their office building, the increased business of the company demanding more office room.  When these improvements are completed the Lewis Co. will have one of the largest factories of this kind in the world, and their products are sold all over.  This is one of Watertown's most important industries, and under its present management the business has been greatly increased.   WG
1904       Painting (made in 1946)
<![if !vml]>

<![endif]>  Alex Hardie 1946 painting
Old G. B Lewis plant, barber shop on Main Street bridge seen in the distance ["The Bridge" barber shop, John Seager painting (1946) ].  Shop taken out by March 26, 1904 flood.
1905
<![if !vml]>

<![endif]>    Alex Hardie 1956 painting made from 1905 Hardie pic
Globe Mill, left; G.B. Lewis center.
Fire destroyed the Lewis Water St. building in June of 1909.
<![if !vml]>

<![endif]>   Globe Mill and dam, left; Alex Hardie 1905 picture, used in his painting, 1956
c.1905
EARLY LEWIS BUILDING
<![if !vml]>

<![endif]>       Lobegott Mollart is second from left. 
1907
01 26       The office of the G. B. Lewis has been a busy scene the past few days, the office force and a large extra force of young ladies being actively engaged in preparing for mailing 100,000 twenty-page catalogues.  Some idea of the enormity of this annual work is shown in the fact that the postage on these catalogues alone amounts to between $800 and $1,000.  These catalogues are mailed to every part of the United States and Canada, many of them going to foreign countries.  It is a means of advertising, however, for orders pour in from all sections of this country, Canada and several foreign countries.   WDT
<![if !vml]>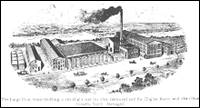 <![endif]>   
<![if !vml]>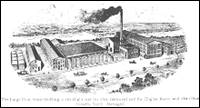 <![endif]>        Lobegott Mollart, center, front row 
1909
                FIRE
The firm was originally located in a five-story building on South Water Street along the Rock River at the location of the present lower dam.  The company moved to a new location at 426 S. Montgomery St. after a fire destroyed the Water St. building in June of 1909.
As the company evolved throughout the decades, wood and wire material handling containers, golf ball washers, wooden Venetian blinds and wooden airplane propellers became the firm's trademark products.
To remain competitive in the marketplace, in the late '40s the company began an intensive research program using fiberglass reinforced plastic as a material for industrial handling containers.  In 1949 G. B. Lewis became the first company to produce a fiberglass tote pan.
1909
   426 S Montgomery
       Watertown Gazette, 07 30 1909
G. B. Lewis Co Rebuilding
New Beeware Plant to be One of the Very Finest in the Country
The G. B Lewis Go,, manufacturers of all kinds of beeware, shipping crates, cheese boxes, etc., have let the contract for the erection of their new plant to take the place of the one recently destroyed by fire, to the Lynn B. Millikan Co. of Indianapolis, Indiana, and on Tuesday under the supervision of J. N. Millikan, the work was begun and in 60 days it is expected the main building will be completed.
The site of the new plant is the John Burns property in the Third ward south of Montgomery Street and just north of the C M & St Paul Ry., which the Lewis Co has recently purchased.
This is one of the most desirable factory sites in the city, as all goods received and shipped can be unloaded right at the factory.  The main building will be as fire proof as it is possible to erect it.  It will be solid brick and concrete with steel roof, 209 feet by 80 feet, one story high.  The building will be equipped with electric power and all the very latest modern machinery.  The main warehouse will be solid brick 200 by 80 feet, and the lumber shed 600 feet long.  The power plant will be of solid brick, concrete and steel and will be separated from the other buildings, as will be the fire-proof brick office. 
The new plant will occupy an area of five acres and its equipment will be such as to ensure a most excellent product at the least possible expense, and the Lewis Co. will be able to truthfully claim the best equipped and finest factory of its kind in the world. 
The old site in Water Street will be abandoned entirely and disposed of by the company.
09 03       Cunningham-Parks wedding, Lewis W. Parks, member of the G. B. Lewis Co.
1910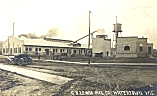 1915
  <![if !vml]>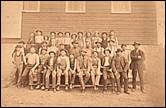 <![endif]>   American Bee Journal, Feb 1915
08 05       LEWIS CO. EMPLOYEES PICNIC
Last Saturday the employees of the G. B. Lewis Co. of this city and their families held their annual picnic at Waukesha Beach.  Three of the large new cars on the Interurban Ry. were required to carry the picnickers to and from the beach.  All report having passed a delightful day at this favorite resort.   c
09 23       ICE FACTORY FOR WATERTOWN
Cliff Parks will shortly build an ice factory on the site of the old G. B. Lewis factory just north of the Globe Mill.  Mr. Parks has been greatly encouraged to build such a plant here and many have given him the assurance of a good patronage.   WG
c.1916
-- --           WORKERS AT 426 S. MONTGOMERY PLANT
<![if !vml]>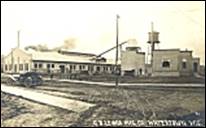 <![endif]>   
c.1917
<![if !vml]>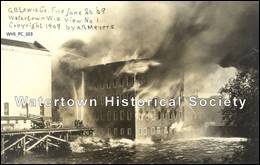 <![endif]> 
George C and Margaret Nelson Lewis family, ca. 1917, with Thomas M.N. Lewis and George Anne Lewis.  Father of George C. Lewis founded the G. B. Lewis Box Company
_____________________________________________________
1920
Dixie Beekeeper, Volume 2 (Google eBook)
Dixie Beekeeper, Volume 2 (Google eBook)
Dixie Beekeeper, Volume 2 (Google eBook)
c.1920
STORY OF THE LEWIS BOX THAT WENT TO WAR
<![if !vml]>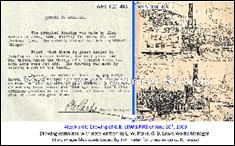 <![endif]>   On its arrival back home the box was the possessor of three gold service chevrons denoting eighteen months of foreign service, from October 1918 to April 1919, and one wound chevron earned when hit by shell fragments while in the Argonne Forest.  Construction features of the Lewis Returnable Shipping Box.
1921       THE LEWIS BOX
   Watertown High School Orbit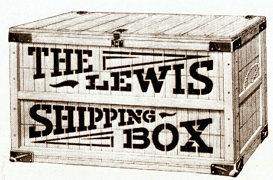 The woven wood and wire construction of the Lewis Box places it in a class by itself and makes it distinctive. It is used principally by bakers for the shipment of bread by express.  It is the first box of its kind that was ever manufactured over twenty years ago.  By virtue of the fact that it is light but very strong and durable, as well as yielding the proper ventilation for its contents, there has been an ever increasing demand for it.  These boxes are furnished, painted, and lettered in attractive designs and color combinations, and are used by the baker for advertising purposes as well as for carriers.  You see them at the express depots everywhere.  Lewis Boxes can be shipped knock down, which saves considerable in freight.  They are sent to all parts of the United States from Florida to Canada, and from Boston to San Francisco.  Watertown is widely known throughout the country among the baking trade as the home of the Lewis Box.
There are four departments concerned with the manufacture of the bread box.  The sawing, the planing, the weaving, the painting, and the assembling department.
The entire Lewis plant employs about 130 persons in the manufacturing department and thirty persons in the office force.  In addition to the home plant there are several large branch houses located in various parts of the country.
OFFICERS
G. B. Lewis  ....  President and Treasurer
L. L. Parks  ....  Secretary
L. W. Parks   ...  Work Manager
G. Bacon  .......  Sales Manager
1924       GOLF BALL WASHER invented by Lobegott Mollart  
c.1920   THOMAS MCDONALD NELSON LEWIS Joins Firm, Arkitoy Toy Division
<![if !vml]>

<![endif]>       Tom Lewis
MENTORING TOM LEWIS, by David H. Dye and Marlin F. Hawley
In this article we focus on an example of a mentoring relationship that is associated with the origins of the Society for American Archaeology.  The mentoring relationship that arose between W. C. McKern and Thomas M. N. Lewis was based on the encouragement and nurturing of a Midwestern artifact collector and toy manufacturer by the first editor of American Antiquity.  McKern practiced what he preached by reaching out to bridge the gap between avocationals and professionals, and Lewis sought whatever aid he could find to accomplish his desire to become a professional archaeologist . . .
Thomas McDonald Nelson Lewis was born in Chambersburg, Pennsylvania, on March 27, 1896, to wealthy maternal and paternal families who owned numerous entrepreneurial enterprises.  He grew up in Watertown, Wisconsin, the location of his grandfather's business, the G.B. Lewis Company, which manufactured bee ware, shipping crates, toys, boxes, and wooden propellers.
Tom Lewis developed an early interest in collecting from his maternal grandfather, with whom he walked the fields along the tributaries of the Upper Potomac River near Chambersburg.  After military service in World War I, serving as a boatswain's mate in the U. S. Naval Reserve Force, he returned to Princeton, graduating in 1920 with an economics degree.  Following in his father's footsteps, Lewis took a job in the family business.  Progressing through sales, he was eventually promoted to head of the Arkitoy division; his business travels afforded him the finances and time to seek out sites and to scout for collections to purchase.  Within a few years, he boasted of possessing one of the largest private collections in Wisconsin.
When McKern moved to Wisconsin, he set into motion an ambitious program of survey and excavation across the state. His affiliation with the Wisconsin Archeological Society (WAS) was key to both surveys and mound excavations, as he was able to enlist local collectors with knowledge of artifacts and sites.
While walking the fields near Watertown in the early spring of 1926, Lewis chanced to meet two members of the WAS who encouraged him to join the organization, which he promptly did . . .
_______________________________________________________________________________
THOMAS M.N. LEWIS:
THE MAKING OF A NEW DEAL-ERA TENNESSEE VALLEY ARCHAEOLOGIST, by Marlin F. Hawley and David H. Dye
Thomas M.N. Lewis was a noted Tennessee archaeologist, getting his start as a professional archaeologist during the heady, early years of the New Deal and Tennessee Valley Authority (TVA) archaeology program, first under William S. Webb and then at the University of Tennessee.  Lewis and his associates spent nearly a decade involved in field activities in advance of the impoundment of the Tennessee River and its major tributaries.  Out of their effort came several now classic archaeological reports, including Hiwassee Island and Eva:  An Archaic Site, both with Madeline D. Kneberg. Lewis's path to becoming a leading Tennessee archaeologist was a long and complex one, with archaeology initially pursued as an avocation around his hometown of Watertown, Wisconsin.  Lewis parlayed his success (and income) as a businessman into an expansion of his archaeological interests, venturing far from Wisconsin to collect and excavate, while devoting substantial portions of his income to amassing a collection of artifacts from across the United States.  We review what is known of Lewis's early life, from his birth in Pennsylvania in 1896 to the eve of his being hired for the TVA Norris basin project in January 1934.  Finally, we chart the influences that led him to become a professional archaeologist, including his early membership in the Wisconsin Archeological Society, which served as a model for his development of the Tennessee Archaeological Society.
1930
ARKITOY TOY DIVISION
<![if !vml]>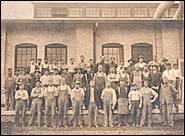 <![endif]>   Toy Division of G. B. Lewis Co.  Dec, 1930.  Arkitoy Wood Construction sets.
1931
12 12       DEATH OF GEORGE C. LEWIS, 1871-1938
<![if !vml]>

<![endif]>   
The second President of the G. B. Lewis Company, who took over the management of the business after the death of father G. B. Lewis and the earlier death of Charles E. Parks.
12 12       ARKITOY TOY BOX COVER
<![if !vml]>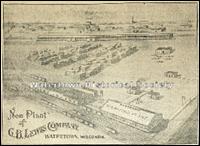 <![endif]>   
c.1931
ARKITOY TOY SET
<![if !vml]>

<![endif]>  
1939
10 27       EDWIN KAERCHER, auditor and office manager
Edwin H. Kaercher, 46, residing at 910 Western Avenue, died at St. Mary's hospital.  Death was due to septic poisoning following an operation for acute appendicitis.  Throughout the city he was known as "Esky" a nickname that had attached itself to him when he was a boy.  Mr. Kaercher, who was auditor and office manager for the G.B. Lewis company, was a World war veteran, serving with the original Company E of this city. 
1945
GOLF BALL WASHER ad (invented in 1924)
<![if !vml]>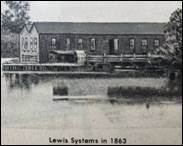 <![endif]> 
1953
09 08       LEWIS COMPANY UNION FLOAT, LOCAL 2504
<![if !vml]>

<![endif]>          Watertown's 1953 Labor Day Parade
1955, MENASHA CORP
The G. B. Lewis Company operated as an independent firm under the ownership of the Flater family until it became affiliated with Menasha Corp. in 1955. Once Menasha purchased 100 percent of the business in 1974, the company split into two divisions.
Arthur W. Kehl, 1400 North Second St, announced plans (09 29 1955) for the opening of an office and sales room here for Lewis-Dadant supplying a full and complete line of bee hives and bee ware, once the product of the G. B. Lewis Company. The Lewis Company, which was sold some time ago to the Menasha Wooden Ware Corporation, is still turning out the wooden portions of the bee-ware products and will continue to do so until around Dec. 1 when the machinery for that product will be moved to Burlington.
Arthur W. Kehl, 1400 North Second Street, today announced plans for the opening of an office and sales room here for Lewis-Dadant
The G B Lewis presence in Watertown dates back to 1863.  After a fire destroyed the original five-story building on S Water St along the Rock River at the location of the present lower dam, the company moved its headquarters to S Montgomery St.
1955
08 08       NEGOTIATIONS FOR THE PURCHASE of G.B. Lewis Co:
 It was reported today that negotiations are underway for the purchase of one of Watertown's oldest industries, the G.B. Lewis Company.  This company is considered the second largest producer of beehives in the United States and the name of Lewis Beeware is known in beekeeping circles the world over.  Through the years other products have been developed and added to the output of the local plant so that beeware is no longer its major product.
Containers for the handling of industrial products made by Lewis are widely used and among the better known of the local plant's customers for this product are the Continental Can Company and the Minneapolis-Honeywell Company, the famous producer of heat controls.  The Lewis Golf Ball washer is accepted as a standard item of equipment on all well operated golf courses.  Venetian blind slats and other similar wood products, once a more important part of the production, are still made.
08 24       G.B. LEWIS HAS BEEN PURCHASED
 by the owners of Menasha Wooden Ware Corporation together with local men holding management positions with the Lewis Company, it was announced today.  The sale consummates several weeks of activity, all tending toward the final satisfactory arrangement to the new owners and the old owners alike.  This final action brings together two long established Wisconsin companies, both of which had their start in the manufacture of wood containers back in the days when the state was a great producer of lumber.
1958
12 09       G.B. Lewis 25 year club, dinner meeting was held    WDT
1960
08 26       The G.B. Lewis Co. is expanding its line of industrial material handling containers to cover new fields.  The company is no newcomer in the production of containers for in plant handling of industrial products and has supplied many fields to date.  For many years the company has produced a lightweight, but strong and durable, container made of hardwood slats woven together with wire.  This container is widely used in the lightweight metal parts industry.   WDT
11 30       The Lewis Company Twenty-Five Year Club held a dinner last evening at Otto's Inn in honor of Otto Wendt, 301 East Water Street, who this year completed 50 years of continuous employment with the company.  The club has 15 members now in the employ of the company.  They are: Otto Wendt, Loretta Irving, Gordon Frater, Herman Gerth, Walter Kaercher, Herbert Riedemann, John Erdmann, Karl Lange, Ben Erdmann, Arthur Killian, Neil Follensbee, Carl Wollin, Carl Stark, Raymond Erdmann and Herbert Knoll, and the seven new members.  There are, in addition, 10 retired employees and members of the club: Carl Zahn, Alma Weigel, Arthur Soldner, George Reinhard, Ernest Kelm, Ben Gilles, Frances Baurichter, Elsie Behling, Ben Stiemke and Ed Wiese, most of whom were able to be present as honored attendants to the meeting.   WDT
<![if !vml]>

<![endif]>     Karl Lange
1960c     G. B. LEWIS WAS FILTHY
Derived from the book "The Meitners of Waterloo, Wisconsin", by James A. Meitner, 2013, p 50.
Howard finally found this only long-term job at the G. B. Lewis Company in Watertown where he used his farm-hewn skills to maintain and repair complex hydraulic presses in a factory that made fiberglass boxes.  The factory was filthy because they chopped fiberglass into flexible shards, blew it into molds, and bound it together with epoxy resin under heat and pressure.  He would come home from work stinking with resin and his arms glistening with fiberglass.  Mildred washed his clothes separately from ours, but I remember itching all over when I put on freshly washed clothes to go to grade school.  There were times that even my clothes glistened in the sunshine from the fiberglass.  Howard worked at G. B. Lewis for 21 years until he retired in 1976.
1962
02 14       High honors and national recognition have come to a Watertown concern, the G. B. Lewis Co., for its accomplishments in the field of reinforced plastic materials in its production, according to word out of Chicago today where the exhibition was held.  The company not only was awarded a blue ribbon but received a citation.  The Society of the Plastics Industry has been holding its annual meeting at the Edgewater Beach Hotel where a huge display of articles made of reinforced plastic materials was on exhibition.   WDT
1963
05 23       CENTENNIAL YEAR
The first of three Lewis Select-A-Shell automated storage system units, manufactured by the G. B. Lewis Company, has been completed for the Western Electric Company. The three units are 26 1/2 feet tall and will be installed at a Western Electric warehouse and repair facility in King of Prussia, Pa. The Lewis units will be used for the storage of attractive items stored for Western Electric customers. Western Electric is the manufacturing and supply unit for the Bell System.   WDT
09 10       The nearly 150 employees of G. B. Lewis Company will find it a red letter, lucky day today.  They will receive their weekly wages from an old-fashioned paymaster at 4 p.m. this afternoon.  Today's method of handling the firm's payroll is one of the many events planned to mark the centennial of the company.  For the occasion, a payout shack, with a pay window, reminiscent of its long- departed counterparts, will be set up on the Lewis grounds.  A message to the employees has been posted on the bulletin board and distributed to them explaining the reason why there will not be the regular pay check on Friday noon.  They will be asked to go along with the spirit of the occasion and line up to receive their pay in "old-fashioned medium of exchange" from the paymaster after working hours.   WDT
1964
02 11       FRANK'S GROCERY PURCHASED
Watertown's oldest continuous independent grocery store has closed its doors.  Located at 424 South Montgomery Street, the little establishment's last owners and operators were Mr. and Mrs. Fred Frank.  They came here from Illinois 20 years ago and purchased the business from Mr. and Mrs. W. A. Schauer who had operated it for a great many years.  Before that it had other owners.  Mr. Frank died in March of 1962 and since then his widow has operated the store with the assistance of her son, Jerry.  Three years ago the building and adjoining land were purchased by the G. B. Lewis Co., but the Franks continued to operate the business.   WDT
05 02       Miss Loretta Irving, 309 North Church Street, an employee of the G. B. Lewis Co., since November, 1919, covering a greater span of years than has been achieved by any person now in the employ of the company, retired yesterday.  Gordon Frater, company president, told the office employees at a gathering Thursday in honor of Miss Irving, that Loretta (as she is known to everyone, a receptionist par excellence) had established an employment record that might never be equaled by another.
07 31       Gordon Frater, president of the G.B. Lewis Co., has sent a communication on behalf of the company relative to conditions arising from complaints regarding the open ditch which runs through the company's property.  At several past meetings of the council the ditch has been the subject of discussion and complaints by aldermen, notably George Shephard, calling for remedies.  Mayor Robert White, upon being apprised of Mr. Frater's letter, said that the situation is serious enough to call for detailed study and consideration by the council in an effort to help work out a solution.   WDT
12 11       An outstanding safety record of an entire year (over 301,000 man-hours) without a single disabling injury, today won special recognition for G. B. Lewis Company from its Workmen's Compensation insurance carrier, Employers Mutuals of Wausau, Wisconsin.  Gordon Frater, president of the company, accepted a special plaque from B. N. Dewey, Milwaukee Safety and Health Services manager for the insurance company.
1966
08 30       FRATER PRESIDENT OF WATERTOWN ASSN OF COMMERCE
Allen H. Frater, vice-president of the G. B. Lewis Company, was elected president of the Watertown Association of Commerce at a special meeting called last evening by the board of directors for the purpose of electing new officers.  Dr. George E. Samquist was elected vice-president.  The meeting was held at the Association of Commerce office in the Municipal Building and was conducted by the out-going vice-president, Ira Kritz in the absence of Gerald Mallach, retiring president.   WDT
10 20       MILLION MAN HOURS WITHOUT LOST-TIME ACCIDENT
William (Bill) Person, G. B. Lewis Co. safety director, last night was honored at the monthly dinner meeting of the Watertown Safety Council at the Legion Green Bowl.  The surprise development was in recognition of Mr. Person's having led the Lewis Company to a record million man hours of production without a lost-time accident.  Gordon G. Frater, president of the G. B. Lewis Company, presented Mr. Person with an engraved award in recognition of his accomplishment.   WDT
1967
03 22       BLUE RIBBON AWARD
Announcement was made today that the G. B. Lewis Co. has received the 1967 Society of the Plastics Industries Blue Ribbon Awards in the "Material Handling Division" for their new SN2010-7 fiberglass tote pan.  The new one-piece molded fiberglass reinforced plastic pan, measuring approximately 20" x 10" x 7", is manufactured in three permanent molded-in colors . . . red, grey and green.  The pans are extremely rugged with a steel rod molded into the top rim for extra reinforcement.  Lightweight, easy to handle, the SN2010-7 Stack-n-Nest container features smooth surfaces which prevent damage to products while protecting workers against slivers, burrs and sharp edges.  These pans resist oil, water, acids, chemicals and can be easily steam-cleaned.  The patented Lewis design permits these pans to be stacked or nested within their own dimensions by simply reversing their position.   WDT
1968
06 09       THE CENTENNIAL OF PLASTICS
The year 1968 marks the centennial of plastics, an industry which has revolutionized and reshaped American industry and home life, and grown faster than any U. S. industry in the past decade. Co-operating with the Society of the Plastics Industry, Inc. (SPI) in observance of the 100th anniversary of plastics is the G. B. Lewis Company of Watertown, one of the largest users of plastic resins in the state. Lewis uses plastic resins reinforced with fiberglass in its manufacture of Stack-n-Nest containers and hopper boxes with over 2,000,000 units used by leading manufacturers across the industry for materials handling. The Lewis trade name for its fiberglass reinforced polyester plastic material used in Stack-n-Nest pans and hopper boxes is "Plexton."    WDT
1969
<![if !vml]>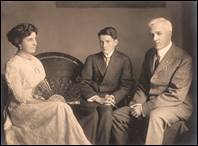 <![endif]> 
04 04       KARL LANGE RETIREMENT
A surprise retirement party was held for Karl Lange, a Lewis Company purchasing agent, who has retired after serving almost 47 years with the G.B. Lewis Company.  In paying tribute to Lange, Gordon Frater, Lewis president stated, "Karl has a record of 47 years of employment with our company, a record that is seldom equaled.  He was 20 years old when he started in our office, entering orders in the old bee supply department.  His ability to remember numbers, and to acquire and store away detail of specifications was soon apparent.  As a result, Karl was soon delegated the exacting job of proof reading the company's catalog.  Never before had the company's printed catalog been so nearly free of errors.
05 02       PRODUCTION CAPACITY INCREASED
Production capacity will be increased from 10 to 15 percent at the plant of the G. B. Lewis Company when additional hydraulic presses arrive and are placed in operation.  Orders for the presses were placed several weeks ago, Gordon Frater, company president, said today.  Frater also said that further expansion will be considered later this year.  "Long term planning is necessary in this amazingly interesting plastic field in which the local plant is operating," Frater stated.  "For example, the presses just purchased are built to the company's own specifications in order to obtain the results determined by Lewis engineers to be essential to meet the company's standards of quality.  It takes from six to eight months to build these fine presses."
06 03       IN-PLANT PRINTING DEPARTMENT
The in-plant printing department of G. B. Lewis Company recently earned a major award from the Badger Chapter of the In-Plant Printing Management Association.  The "First-In-Class" award was presented to the Lewis Company at the association's annual printing awards dinner held in Milwaukee.  The Lewis Company, a leading fabricator of plastic and fiberglass products for industrial uses, does 95 per cent of its printing within its own plant.  Its in-plant printing operation is staffed by John Winkler, art and printing supervisor, and Marc Dean and Mary Kreiziger, printers.
06 20       INTERNATIONAL TRADE FAIR AT MILAN, ITALY
Thanks to the G.B. Lewis Company, this city is becoming an international marketplace.  This spring the 106-year-old firm was invited by the U.S. Department of Commerce to display its wares at the 47th annual International Trade Fair at Milan, Italy.  It was one of three Wisconsin firms to be invited.  "We were certainly honored to be asked to participate," said Milton Frater, marketing vice president for the company.  "There were only 25 other U.S. firms represented."  A leader in the rapidly growing field of plastics, the Lewis company specializes in materials handling products for industry.  Founded in 1863, when Watertown as a small agricultural community, Lewis originally made wooden cheese boxes.    WDT
1973
03 03       Sale of a portion of Union Park and a portion of Monroe Street to the Forco Corporation for the G. B. Lewis Company was approved by the Watertown City Council.  The council approved the sale of the property at a cost of $2,500 per acre as had been originally proposed by the Forco Corporation.  The total amount of land in question amounts to approximately 1.08 acres of land.  This is divided up into approximately .54 acres of land of park property and approximately .54 of an acre in former street property.  The sale was approved by a 10-3 vote with Aldermen David Lenz, Herbert Guetzlaff and Eugene Radtke voting in opposition.  WDT
1974, LEWISystems, Orbis Division
One division remained with Menasha as LEWISystems and later became known as Orbis Division of Menasha Corp. The other was the Molded Products division which was sold in 1997.  Because of rapid growth, LEWISystems was moved at the end of 1984 to a new building at 128 Hospital Drive. By the fall of 1996, it had outgrown the Hospital Drive facility and moved to the Oconomowoc industrial park.
1981
   10 26 1981
The Menasha Corporation "Year Club" celebrated its 25th meeting with dinner for members and guests at Lindberg's By the River.  Boyd Flater, a guest of honor, retired after 24 years of service.  Flater began working when the firm was known as the G. B. Lewis Company and Container Equipment Corporation.  He has held many positions throughout the years, including office manager, secretary-treasurer, sales manager and executive vice president, and at the time of his retirement was general manager of Menasha Corporation-Molded Products Group.  Flater received a movie projector for his years of service.
1983
04 23       A sure sign of spring is beekeepers picking up honey bees from Dadant and Sons Inc
1984
02 04       Menasha to construct office building at the intersection of Boughton St, Hospital Dr and highway 16 bypass.    WDT
1985
05 26       If things go nearly as well as expected, the new 19,000-square-foot LEWISystems plant on Hospital Drive will just be the beginning for the 122-year-old company.  But for the company's general manager, John Wilde, nearly will hardly be satisfactory.  "In the next five to 10 years, I think business will be two to four times larger," he said.  "If our dreams come true, we'll be the dominant maker in the industry.  It's unlikely we'll have overseas operations, but I think we'll have strong affiliation with companies overseas."  LEWISystems, a subsidiary of Menasha Corporation since 1955, designs, manufactures and markets molded plastic container systems for industry's material handling needs.  The items include shelf boxes, small part bins, hopper boxes and bulk containers ranging in capacity from 25 pounds in the shelf boxes to 1,200 pounds in the bulk containers.   WDT
1987
05 26       HILDA HANEY, Executive Secretary to the President, 1957-87
Hildy Haney chose a career with G.B. Lewis, where she held the title of Executive Secretary to the President.  She stayed with G.B. Lewis through several transitions and retired in 1987, her 30th year anniversary with the company.
1989
05 15       Menasha Corporation Molded Products Division is celebrating 126 years of business in Watertown. The celebration, entitled "125 — Plus One," began today with an open house of the company's facility at 426 S. Montgomery St.  Employees, their families, neighbors and special guests were invited to tour the facility.  The company that is known today as the Menasha Corporation Molded Products Division actually began in 1863 as the G.B. Lewis Company, according to Den Komaromi, general manager of the Watertown plant.    WDT
1991
08 27       Officials at LEWISystems have an ambitious goal for the first half of the 1990s — the Watertown-based industry expects to double its sales from 1991 to 1995.  "We expect to see some substantial growth rates," said LEWISystems General Manager John Wilde.  LEWISystems, a division of Menasha Corp. of Neenah, sells about $40 million in plastic products a year, which represents about 7 percent of its market.  However, the firm hopes to increase its sales by going after even more of the potential $00 million market of various plastic items.  Most of LEWISystems' products are injection-molded plastics used primarily for industrial purposes, although the firm makes a few consumer goods — sold at Wal-Mart and Target stores — that have evolved from industrial products.   WDT
1994
06 25       This week's reduction of 10 management positions has been difficult, but it promises to pay dividends in the future, according to John Wilde, general manager of LEWISystems, a division of Menasha Corporation.  Wilde said the reduction was announced to affected employees over the last several days.  It includes eight based at the Watertown plant on Hospital Drive, and one each from the Iowa and Ohio production plants. He said the cuts were necessary to make the LEWISystems division competitive not only immediately but also through the latter part of the 1990s.   WDT
1996, Orbis Division
Orbis is the name of the new division within Menasha Corporation that will bring four separate operations under one management structure.  The new Orbis division will operate within the company's existing Materials Handling operations, including two in Watertown. Those two are Convoy Plastic Pallets and LEWISystems.  The others include DuraPAK of Cincinnati, Ohio, and WOLPAC, Inc., of Michigan Heights, Mich., a firm which became a wholly owned subsidiary of Menasha last month.
1997, Applied Molded Products
The Molded Products division was sold in 1997 to Universal Partners, a private investment group based in Memphis, Tenn.  That group renamed the facility to what was known as Applied Molded Products.
2000
11 17       A downturn in business has caused Applied Molded Products Corp., 426 S. Montgomery St., Watertown, to inform the Wisconsin Department of Workforce Development that up to 160 employees could be subject to permanent layoff in as few as 60 days.  A union president representing Applied Molded Products employees said that the company's operations manager has given a 60-day notice of the possible permanent layoffs at the Watertown plant.  Larry Ready, president of United Brothers of Carpenters, Local 2504, said he received a letter Wednesday from Applied Molded Products operations manager, Donald Jankowski, warning of the possible layoffs at the plant located at 426 S. Montgomery St.   WDT
2001
APPLIED MOLDED PRODUCTS CLOSED
Nearly 100 Applied Molded Products employees were given a permanent notice of layoffs in January 2001 because of a downturn in business.  The entire operation was shut down in April later that year.
The company was a custom manufacturer of sheet molded composites.  The parts were sold to original manufacturers for use in applications such as lawn and garden tractors, personal water crafts, parts for buses and basketball backboards.
2003
12 28       UP FOR AUCTION
Applied Molded Products Corp., which closed its doors in 2001, will be up for auction at a sheriff's sale Jan. 7, 2004.  The 426 S. Montgomery St., factory has seen a longtime history in Watertown, dating back to the mid 1800s.  G.B. Lewis, started the company, originally located along the banks of the Rock River, in 1849 [?].  The business specialized in making barrels and buckets, other wood handling equipment and even wooden airplane propellers and bee hives.
2005
05 12       AUCTION OF PROPERTY
The former location of one of Watertown's oldest industries is going on the auction block next month.  The former Applied Molded Products property at 426 S. Montgomery St., for many years known as the old G.B. Lewis Co., will be sold at an auction at 10 a.m. on June 29.  The property is just under two acres.  The auction will take place on the steps of the Jefferson County Courthouse and will be conducted by Sheriff Paul Milbrath.  The G.B. Lewis Company's presence in Watertown dates back to 1863 when it started as a two-man shop.  The company was known for many years as the world's largest manufacturer of beeware.
06 27       PROPERTY SOLD
The former location of one of Watertown's oldest industries was sold Wednesday at an auction on the steps of the Jefferson County Courthouse.  The former Applied Molded Products property at 426 S. Montgomery St., known for many years as the old G. B. Lewis Co., was purchased by Mooring Capital Fund LLC, of Vienna, Va., for $1 million.  According to the Jefferson County Sheriff's office, Mooring Capital Fund was the only party to place a bid.
12 10       ON THE SELLING BLOCK, AGAIN
The former home to one of the city's oldest industries is once again on the selling block, according to Dipesh Bhise, director at Mooring Financial Corp.  After purchasing the former Applied Molded Products property on South Montgomery Street, known for many decades as the old G. B. Lewis Co., in June for $1 million, Mooring Financial Corp., of Vienna, Va., is offering the parcel for $1.5 million.  Although the industrial portion and the office space are being marketed as one property, Bhise said the office area, which is approximately 16,000 square feet, could be purchased separately for a negotiated price.
2006
04 14       CITY OFFICIALS TOUR FORMER PLANT
City officials toured the former home to one of Watertown's oldest industries Tuesday in consideration of using the site as a possible location for the proposed public works facility. The former Applied Molded Products property at 426 S. Montgomery St., known for many years as the old G.B. Lewis Co., is one of two sites city aldermen and public works commission members are contemplating for the street department's new location. Following the tour of the parcel, members of the public works commission met in closed session to discuss the possibility of purchasing the land. Public Works Commission Chairman Gerald Yenser said the city will continue to investigate the site and purchasing the property would be contingent on the acceptability of a feasibility study.   WDT
06 27       FORMER PLANT PROPOSED FOR PUBLIC WORKS DEPT.
A Virginia-based financial company has accepted Watertown's counteroffer of nearly $1.5 million to purchase the former Applied Molded Products facility, which will be used as the new home of the public works department.  Mooring Financial Corp. of Vienna, Va., has accepted the city's counteroffer of $1,475,000 for the 10.3-acre property that has 195,000 square feet of building area.  The city made an original offer of just over $1 million and Mooring had been asking for $1.5 million for the parcel.  However, the accepted offer is contingent on the results of a feasibility study, which must be completed by Sept. 19.  The results from this study will show if it is cost effective for the city to convert the Applied Molded Products property to the new public works facility.   WDT
09 24       PUBLIC WORKS DEPT. NO LONGER CONSIDERED
It sounds as though the former Applied Molded Products property on South Montgomery Street will no longer be considered as the potential home for the proposed public works facility.  During a Watertown Committee of the Whole meeting Tuesday night many of the aldermen who spoke after listening to several proposals from a representative from a Janesville-based architecture and engineering firm said they could not defend constructing a building on that site.  The proposals for the new public works facility presented by Matthew Long of Angus-Young Associates varied between $8.7 and $6 million.  Those totals include the $1,475,000 to purchase the Applied Molded Products property.   WDT
2008
03 02       STREET DEPT., TEMPORARY LOCATION OF
The Watertown Street Department is in the process of temporarily moving its operation to the former Applied Molded Products building on South Montgomery Street to make way for its brand new facility on South Second Street.  Street department Superintendent Rick Schultz said today the move is going smoothly and he hopes to have all of the department's equipment and materials at the Applied Molded Products building by the end of March.  "All of the equipment and materials are heading over there and we have about a third of our department moved," Schultz said.  "We hope to be close to about a half in the next week and a half. If the weather holds, I would like to have everything over there and operating on March 31."
09 204     FORMER APPLIED MOLDED PRODUCTS BUILDING SOLD
The former Applied Molded Products building on South Montgomery Street has been sold, the previous owner confirmed Thursday.  According to Dipesh Bhise, executive vice president of Mooring Financial Corp. in Vienna, Va., the 10.3-acre site has been purchased by Montgomery Properties LLC of Waukesha.  Susan Leverson, a bookkeeper for Montgomery Properties, said her company is looking to reposition the parcel in the marketplace.  "We expect to take care of it, find tenants and draw commerce," Leverson said.  "The goal is to take care of any deferred maintenance and attract tenants into it.  Because the property has been sort of vacant for so long we can basically do anything.  Everything is open to us.  It's basically an open book right now." 
2011
04 12       REVOCATION OF CONDITIONAL USE PERMIT
Revocation hearing regarding a conditional use permit that was recently issued to the owner of the former Applied Molded Products building.  John Haim of Montgomery Properties LLC, the owner of the old Applied Molded facility at 426 S. Montgomery St. has prepared to withdraw his application for a conditional use permit and would agree to nullification or cancellation of that conditional use permit," Levi said.  "That withdrawal would obviate the need for an evidentiary hearing."
When the plan commission approved the conditional use permit on Dec. 13, 2010, its members included several conditions to help decrease the amount of noise that is being generated from the property.
One of those conditions only allowed outdoor operations to occur from 7 a.m. to 10 p.m.  The four businesses that utilize the building - Up-N-Atom LLC, Wood Graphixs Inc., Kehe Distributors Inc. and Master Mold Inc. - were also forbidden from using Monroe Street for trucking operations. In addition, the plan commission prohibited outdoor storage on the parcel, which includes the refrigerated trailers that are being used by Kehe Distributors.
By withdrawing the conditional use permit, Haim has agreed to only allow one business to use the building, Sager said. The plan commission set a deadline of 45 days for the three other businesses to move out.
Plan commission members set a date of May 23 to revisit the possible revocation of a conditional use permit that was issued in December 2010 to James Haim of Montgomery Properties LLC, owner of the former Applied Molded facility at 426 S. Montgomery St.
Montgomery Properties was issued a cease and desist order in July of 2010 because the city felt the business needed to apply for a conditional use permit for a group development. According to city code, a company needs to apply for a conditional use permit if more than one business uses a building.
A revocation hearing regarding that permit was held in front of the plan commission on Jan. 24, but that hearing was canceled when Haim withdrew his application for the permit. But city attorney Tom Levi is questioning whether Haim can legally withdraw the application because the permit has already been granted.
The plan commission on May 23 will consider revoking that permit. If the permit is revoked, Haim would not be allowed to apply for another conditional use permit for one year.
Krueger said he has been informed Kehe Distributors LLC will be moving out of the former Applied Molded Products facility starting April 30. The company is relocating to a structure on Highway 26 in the town of Emmet.
The problem with noise coming from the former Applied Molded Products building has been an ongoing issue with neighbors since Kehe Distributors started leasing space in the facility in July of 2010.
`
Plan commission members also amended a conditional use permit that was recently issued to Brad Brickham of Copper Creek Investments LLC.
Image Portfolio
Click to enlarge
Weltburger

1891 drawing

Bldg on left, Water St location

Globe Mill Dam

Pre 1909Lewis Fire

Lewis Fire

1909

Lewis Fire

1909

Lewis Fire

1909

Alex Hardie drawing of fire

1909

S Montgomery St location

1911

S Montgomery St location

1913
The Romance of "Beeware"
1921, Watertown High School Orbit
Once upon a time, when southern Wisconsin was covered with forests of linden and those who had ventured to settle in Jefferson County had found this to be a beekeeping paradise, two Watertown men grasped the opportunity of attaining a standing in the world of honey production.
Beginning with the making of a few items of equipment for the accommodation of their beekeeper neighbors, the demand for this line of goods gradually increased, until it became the most important part of their business.  From an accommodation to beekeeper neighbors, it reached the proportions of an accommodation to better beekeepers everywhere. The demands for "BEEWARE" became so heavy that a great factory was erected to be devoted entirely to supplying the wants of the honey producing industry.
The quality and workmanship of the goods made in this plant came to stand for a definite necessity among honey producers, and to give it a distinction, the words "bee" and "ware" were coined into "BEEWARE" and this registered trademark has come to mean to beekeepers every- where--something better.
During the past winter several thousand beekeepers have looked at exhibits of "BEEWARE" at their meetings. Thousands learned what this trademark stands for, through the exhibits at many state fairs. In many foreign countries, on several continents, the word stands for a definite ware, even where the language of America is not spoken. To warrant this confidence among honey producers, the quality of the goods is not enough. Through literature and personal representation in fields afar, the principles of better beekeeping are being taught by representatives of the G. B. Lewis Company, for we cannot hope to succeed unless our customers succeed too.
Those who are in touch with this world-wide interest in "BEEWARE" feel that "Once upon a time" is a suitable way to begin a resumé of the growth of this company during its forty-six years of existence. Honey production has grown in that time from an unknown industry to one which replaced sugar for foreign troops during the war, to one which increased the resources of Uncle Sam through the cross pollination of fruiting plants and the conservation of a natural sweet.
Mail and telegraph bring news of changes in the industry from England and Japan, from Egypt and from Sweden. In our effort to keep abreast of the little field in which we stand pre-eminent, we in turn supply to Watertown a portion of its wealth, gleaned in fields afar and exchanged for labor here. Therefore, there can be a romance even in so staid a product as LEWIS "BEEWARE."
Cross References:
Patrick Rogan came to Watertown in 1837.  Six or seven years later he erected a saw mill where George B. Lewis' factory was located; carried on the mill until 1858.
Lewis home, 408 S Washington.
Milton Frater, patented stack 'n nest containers; reinforcing plastic with fiberglass.
Gerard Yenser, Manager, 2008 obit
<![if !vml]>

<![endif]>   <![if !vml]>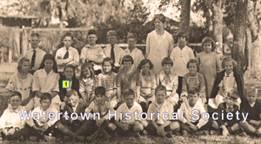 <![endif]>   <![if !vml]>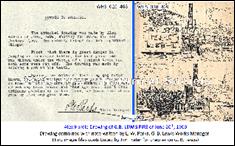 <![endif]>   
<![if !vml]>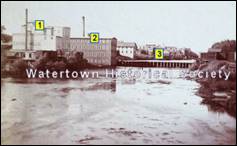 <![endif]>   <![if !vml]>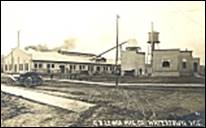 <![endif]>     < PORTFOLIO OF PICS

History of Watertown, Wisconsin