website  watertownhistory.org
   ebook  History of Watertown, Wisconsin
G. B. Lewis Company
1863, Founding of
The G. B. Lewis Company's presence in Watertown dates back to 1863 when it started as a two-man shop.
The company was known for many years as the world's largest manufacturer of beeware.
1870
               Sash and Door Manufactory of G. B. Lewis threaten by Empire Mill fire
1903
09 08     The G. B. Lewis Co., manufacturers of beekeepers' supplies, shipping crates, etc., have let the contract to Chas. Huenefeld for the addition of another story to their factory in Water Street which will give them 7800 square feet more floor space, the building being 60x130 feet.  When completed all the packing and shipping will be done in this building, and the brick building to the north of the factory will be used exclusively for storage purposes.  An addition 12x20 feet is also being built on the rear of their office building, the increased business of the company demanding more office room.  When these improvements are completed the Lewis Co. will have one of the largest factories of this kind in the world, and their products are sold all over.  This is one of Watertown's most important industries, and under its present management the business has been greatly increased.   WG
1907
01 26     The office of the G. B. Lewis has been a busy scene the past few days, the office force and a large extra force of young ladies being actively engaged in preparing for mailing 100,000 twenty-page catalogues.  Some idea of the enormity of this annual work is shown in the fact that the postage on these catalogues alone amounts to between $800 and $1,000.  These catalogues are mailed to every part of the United States and Canada, many of them going to foreign countries.  It is a means of advertising, however, for orders pour in from all sections of this country, Canada and several foreign countries.   WDT
1909 Fire
The firm was originally located in a five-story building on South Water Street along the Rock River at the location of the present lower dam. The company moved to a new location at 426 S Montgomery St after a fire destroyed the Water St building in June of 1909.
As the company evolved throughout the decades, wood and wire material handling containers, golf ball washers, wooden Venetian blinds and wooden airplane propellers became the firm's trademark products.
To remain competitive in the marketplace, in the late '40s the company began an intensive research program using fiberglass reinforced plastic as a material for industrial handling containers.  In 1949 G.B. Lewis became the first company to produce a fiberglass tote pan.
1909
   426 S Montgomery
       Watertown Gazette, 07 30 1909
G. B. Lewis Co Rebuilding
New Beeware Plant to be One of the Very Finest in the Country
The G. B Lewis Go,, manufacturers of all kinds of beeware, shipping crates, cheese boxes, etc., have let the contract for the erection of their new plant to take the place of the one recently destroyed by fire, to the Lynn B. Millikan Co. of Indianapolis, Indiana, and on Tuesday under the supervision of J. N. Millikan, the work was begun and in 60 days it is expected the main building will be completed.
The site of the new plant is the John Burns property in the Third ward south of Montgomery Street and just north of the C M & St Paul Ry., which the Lewis Co has recently purchased.
This is one of the most desirable factory sites in the city, as all goods received and shipped can be unloaded right at the factory.  The main building will be as fire proof as it is possible to erect it.  It will be solid brick and concrete with steel roof, 209 feet by 80 feet, one story high.  The building will be equipped with electric power and all the very latest modern machinery.  The main warehouse will be solid brick 200 by 80 feet, and the lumber shed 600 feet long.  The power plant will be of solid brick, concrete and steel and will be separated from the other buildings, as will be the fire-proof brick office. 
The new plant will occupy an area of five acres and its equipment will be such as to ensure a most excellent product at the least possible expense, and the Lewis Co. will be able to truthfully claim the best equipped and finest factory of its kind in the world. 
The old site in Water Street will be abandoned entirely and disposed of by the company.
1909
09 03     Cunningham-Parks wedding, Lewis W. Parks, member of the G. B. Lewis Co.
1910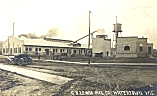 1915
  <![if !vml]>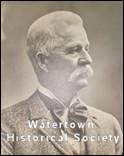 <![endif]>   American Bee Journal, Feb 1915
_____________________________________________________
1921
   Watertown High School Orbit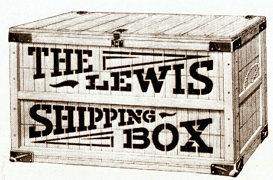 The woven wood and wire construction of the Lewis Box places it in a class by itself and makes it distinctive. It is used principally by bakers for the shipment of bread by express. It is the first box of its kind that was ever manufactured over twenty years ago. By virtue of the fact that it is light but very strong and durable, as well as yielding the proper ventilation for its contents, there has been an ever increasing demand for it. These boxes are furnished, painted, and lettered in attractive designs and color combinations, and are used by the baker for advertising purposes as well as for carriers. You see them at the express depots everywhere. Lewis Boxes can be shipped knock down, which saves considerable in freight. They are sent to all parts of the United States from Florida to Canada, and from Boston to San Francisco. Watertown is widely known throughout the country among the baking trade as the home of the Lewis Box.
There are four departments concerned with the manufacture of the bread box. The sawing, the planing, the weaving, the painting, and the assembling department.
The entire Lewis plant employs about 130 persons in the manufacturing department and thirty persons in the office force. In addition to the home plant there are several large branch houses located in various parts of the country.
OFFICERS
G. B. Lewis  ....  President and Treasurer
L. L. Parks  ....  Secretary
L. W. Parks   ...  Work Manager
G. Bacon  .......  Sales Manager
1930
  <![if !vml]>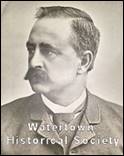 <![endif]>   Toy Division of G. B. Lewis Co.  Dec, 1930.  Arkitoy Wood Construction sets.
1955, Menasha Corp
The G. B. Lewis Company operated as an independent firm under the ownership of the Flater family until it became affiliated with Menasha Corp. in 1955. Once Menasha purchased 100 percent of the business in 1974, the company split into two divisions.
Arthur W. Kehl, 1400 North Second St, announced plans (09 29 1955) for the opening of an office and sales room here for Lewis-Dadant supplying a full and complete line of bee hives and bee ware, once the product of the G. B. Lewis Company. The Lewis Company, which was sold some time ago to the Menasha Wooden Ware Corporation, is still turning out the wooden portions of the bee-ware products and will continue to do so until around Dec. 1 when the machinery for that product will be moved to Burlington.
Arthur W. Kehl, 1400 North Second Street, today announced plans for the opening of an office and sales room here for Lewis-Dadant
The G B Lewis presence in Watertown dates back to 1863.  After a fire destroyed the original five-story building on S Water St along the Rock River at the location of the present lower dam, the company moved its headquarters to S Montgomery St.
1958
12 09     G.B. Lewis 25 year club, dinner meeting was held    WDT
1960
08 26     The G.B. Lewis Co. is expanding its line of industrial material handling containers to cover new fields.  The company is no newcomer in the production of containers for in plant handling of industrial products and has supplied many fields to date.  For many years the company has produced a lightweight, but strong and durable, container made of hardwood slats woven together with wire.  This container is widely used in the lightweight metal parts industry.   WDT
11 30     The Lewis Company Twenty-Five Year Club held a dinner last evening at Otto's Inn in honor of Otto Wendt, 301 East Water Street, who this year completed 50 years of continuous employment with the company.  The club has 15 members now in the employ of the company.  They are: Otto Wendt, Loretta Irving, Gordon Frater, Herman Gerth, Walter Kaercher, Herbert Riedemann, John Erdmann, Karl Lange, Ben Erdmann, Arthur Killian, Neil Follensbee, Carl Wollin, Carl Stark, Raymond Erdmann and Herbert Knoll, and the seven new members.  There are, in addition, 10 retired employees and members of the club: Carl Zahn, Alma Weigel, Arthur Soldner, George Reinhard, Ernest Kelm, Ben Gilles, Frances Baurichter, Elsie Behling, Ben Stiemke and Ed Wiese, most of whom were able to be present as honored attendants to the meeting.   WDT
1960c    G. B. Lewis was filthy
Derived from the book "The Meitners of Waterloo, Wisconsin", by James A. Meitner, 2013, p 50.
Howard finally found this only long-term job at the G. B. Lewis Company in Watertown where he used his farm-hewn skills to maintain and repair complex hydraulic presses in a factory that made fiberglass boxes.  The factory was filthy because they chopped fiberglass into flexible shards, blew it into molds, and bound it together with epoxy resin under heat and pressure.  He would come home from work stinking with resin and his arms glistening with fiberglass.  Mildred washed his clothes separately from ours, but I remember itching all over when I put on freshly washed clothes to go to grade school.  There were times that even my clothes glistened in the sunshine from the fiberglass.  Howard worked at G. B. Lewis for 21 years until he retired in 1976.
1962
02 14     High honors and national recognition have come to a Watertown concern, the G. B. Lewis Co., for its accomplishments in the field of reinforced plastic materials in its production, according to word out of Chicago today where the exhibition was held.  The company not only was awarded a blue ribbon but received a citation.  The Society of the Plastics Industry has been holding its annual meeting at the Edgewater Beach Hotel where a huge display of articles made of reinforced plastic materials was on exhibition.   WDT
1963
05 23     The first of three Lewis Select-A-Shell automated storage system units, manufactured by the G. B. Lewis Company, has been completed for the Western Electric Company. The three units are 26 1/2 feet tall and will be installed at a Western Electric warehouse and repair facility in King of Prussia, Pa. The Lewis units will be used for the storage of attractive items stored for Western Electric customers. Western Electric is the manufacturing and supply unit for the Bell System.   WDT
1974, LEWISystems, Orbis Division
One division remained with Menasha as LEWISystems and later became known as Orbis Division of Menasha Corp. The other was the Molded Products division which was sold in 1997.  Because of rapid growth, LEWISystems was moved at the end of 1984 to a new building at 128 Hospital Drive. By the fall of 1996, it had outgrown the Hospital Drive facility and moved to the Oconomowoc industrial park.
1981
   10 26 1981
The Menasha Corporation "Year Club" celebrated its 25th meeting with dinner for members and guests at Lindberg's By the River.  Boyd Flater, a guest of honor, retired after 24 years of service.  Flater began working when the firm was known as the G. B. Lewis Company and Container Equipment Corporation.  He has held many positions throughout the years, including office manager, secretary-treasurer, sales manager and executive vice president, and at the time of his retirement was general manager of Menasha Corporation-Molded Products Group.  Flater received a movie projector for his years of service.
1983
04 23     A sure sign of spring is beekeepers picking up honey bees from Dadant and Sons Inc
1984
02 04     Menasha to construct office building at the intersection of Boughton St, Hospital Dr and highway 16 bypass.    WDT
1985
05 26     If things go nearly as well as expected, the new 19,000-square-foot LEWISystems plant on Hospital Drive will just be the beginning for the 122-year-old company.  But for the company's general manager, John Wilde, nearly will hardly be satisfactory.  "In the next five to 10 years, I think business will be two to four times larger," he said.  "If our dreams come true, we'll be the dominant maker in the industry.  It's unlikely we'll have overseas operations, but I think we'll have strong affiliation with companies overseas."  LEWISystems, a subsidiary of Menasha Corporation since 1955, designs, manufactures and markets molded plastic container systems for industry's material handling needs.  The items include shelf boxes, small part bins, hopper boxes and bulk containers ranging in capacity from 25 pounds in the shelf boxes to 1,200 pounds in the bulk containers.   WDT
1996, Orbis Division
Orbis is the name of the new division within Menasha Corporation that will bring four separate operations under one management structure.  The new Orbis division will operate within the company's existing Materials Handling operations, including two in Watertown. Those two are Convoy Plastic Pallets and LEWISystems.  The others include DuraPAK of Cincinnati, Ohio, and WOLPAC, Inc., of Michigan Heights, Mich., a firm which became a wholly owned subsidiary of Menasha last month.
1997, Applied Molded Products
The Molded Products division was sold in 1997 to Universal Partners, a private investment group based in Memphis, Tenn.  That group renamed the facility to what was known as Applied Molded Products.
2000
11 17     A downturn in business has caused Applied Molded Products Corp., 426 S. Montgomery St., Watertown, to inform the Wisconsin Department of Workforce Development that up to 160 employees could be subject to permanent layoff in as few as 60 days.  A union president representing Applied Molded Products employees said that the company's operations manager has given a 60-day notice of the possible permanent layoffs at the Watertown plant.  Larry Ready, president of United Brothers of Carpenters, Local 2504, said he received a letter Wednesday from Applied Molded Products operations manager, Donald Jankowski, warning of the possible layoffs at the plant located at 426 S. Montgomery St.   WDT
2001, Applied Molded Products closed
Nearly 100 Applied Molded Products employees were given a permanent notice of layoffs in January 2001 because of a downturn in business.  The entire operation was shut down in April later that year.
The company was a custom manufacturer of sheet molded composites.  The parts were sold to original manufacturers for use in applications such as lawn and garden tractors, personal water crafts, parts for buses and basketball backboards.
2005, Auction of property
The 426 S Montgomery location of one of Watertown's oldest industries went on the auction block in 2005.  The former Applied Molded Products property was just under two acres. 
2011
Revocation hearing regarding a conditional use permit that was recently issued to the owner of the former Applied Molded Products building.  John Haim of Montgomery Properties LLC, the owner of the old Applied Molded facility at 426 S. Montgomery St. has prepared to withdraw his application for a conditional use permit and would agree to nullification or cancellation of that conditional use permit," Levi said. "That withdrawal would obviate the need for an evidentiary hearing."
When the plan commission approved the conditional use permit on Dec. 13, 2010, its members included several conditions to help decrease the amount of noise that is being generated from the property.
One of those conditions only allowed outdoor operations to occur from 7 a.m. to 10 p.m. The four businesses that utilize the building - Up-N-Atom LLC, Wood Graphixs Inc., Kehe Distributors Inc. and Master Mold Inc. - were also forbidden from using Monroe Street for trucking operations. In addition, the plan commission prohibited outdoor storage on the parcel, which includes the refrigerated trailers that are being used by Kehe Distributors.
By withdrawing the conditional use permit, Haim has agreed to only allow one business to use the building, Sager said. The plan commission set a deadline of 45 days for the three other businesses to move out.
Image Portfolio
Click to enlarge
Weltburger

1891 drawing

Bldg on left, Water St location

Globe Mill Dam

Pre 1909Lewis Fire

Lewis Fire

1909

Lewis Fire

1909

Lewis Fire

1909

Alex Hardie drawing of fire

1909

S Montgomery St location

1911

S Montgomery St location

1913
The Romance of "Beeware"
1921, Watertown High School Orbit
Once upon a time, when southern Wisconsin was covered with forests of linden and those who had ventured to settle in Jefferson County had found this to be a beekeeping paradise, two Watertown men grasped the opportunity of attaining a standing in the world of honey production.
Beginning with the making of a few items of equipment for the accommodation of their beekeeper neighbors, the demand for this line of goods gradually increased, until it became the most important part of their business.  From an accommodation to beekeeper neighbors, it reached the proportions of an accommodation to better beekeepers everywhere. The demands for "BEEWARE" became so heavy that a great factory was erected to be devoted entirely to supplying the wants of the honey producing industry.
The quality and workmanship of the goods made in this plant came to stand for a definite necessity among honey producers, and to give it a distinction, the words "bee" and "ware" were coined into "BEEWARE" and this registered trademark has come to mean to beekeepers every- where--something better.
During the past winter several thousand beekeepers have looked at exhibits of "BEEWARE" at their meetings. Thousands learned what this trademark stands for, through the exhibits at many state fairs. In many foreign countries, on several continents, the word stands for a definite ware, even where the language of America is not spoken. To warrant this confidence among honey producers, the quality of the goods is not enough. Through literature and personal representation in fields afar, the principles of better beekeeping are being taught by representatives of the G. B. Lewis Company, for we cannot hope to succeed unless our customers succeed too.
Those who are in touch with this world-wide interest in "BEEWARE" feel that "Once upon a time" is a suitable way to begin a resumé of the growth of this company during its forty-six years of existence. Honey production has grown in that time from an unknown industry to one which replaced sugar for foreign troops during the war, to one which increased the resources of Uncle Sam through the cross pollination of fruiting plants and the conservation of a natural sweet.
Mail and telegraph bring news of changes in the industry from England and Japan, from Egypt and from Sweden. In our effort to keep abreast of the little field in which we stand pre-eminent, we in turn supply to Watertown a portion of its wealth, gleaned in fields afar and exchanged for labor here. Therefore, there can be a romance even in so staid a product as LEWIS "BEEWARE."
Cross References:
Patrick Rogan came to Watertown in 1837.  Six or seven years later he erected a saw mill where George B. Lewis' factory was located; carried on the mill until 1858.
Lewis home, 408 S Washington.
Milton Frater, patented stack 'n nest containers; reinforcing plastic with fiberglass.
Gerard Yenser, Manager, 2008 obit