website  watertownhistory.org
    ebook  History of Watertown, Wisconsin
Cordes Brick Co
O. E. Carlson
1848      NOTE ON BRICK MAKING AND BUILDING
Our Village – It is gratifying, and speaks well for the preserving industry and enterprise of our citizens, to see the extensive preparations that are being made to "go ahead" in almost every department of improvement, in every quarter of our village.  Lumber and brick – don't start Milwaukee!
We have got real bona fide Watertown brick, just as good as – It's a fact.  True, we have not built up a "Queen City" here yet, but if the manufacture of brick can elevate a place to majesty (which of course you will not deny).  Watertown is already a princess royal.
Lumber and brick, we say [see], are piled high upon a great many hitherto vacant lots, and a number of active laborers are at work, "digging into the bowels of the earth," not in search of "villainous salt-peter," but for the peaceful purpose of excavating cellars. 
The number of buildings which will be erected during the current year will be greater than during any former two or three years; and many of them will add much to the appearance of our village.  Among them will be the steam grist mill of Messrs Cole and Bailey, which has already 'broke ground,' and is advancing on the most modern and approved "progressive principles."
- Rock River Pilot, 03 29 1848
1864
04 07       PILES OF BRICK LYING ABOUT
Building – Judging from the piles of brick lying around in different parts of the city, considerable building will be carried on here during the present season, notwithstanding the high price of wages, lumber and materials generally.  Dwelling houses are in great demand.  In fact, we do not know of an unoccupied tenement of any kind within the limits of the corporation [city].  Though the war has taken away many of our citizens our population is as large as ever and is undoubtedly increasing.   WD
1866
In 1866 two Watertown brickyards employed 109 mainly seasonal workers, more than any other industry except the St. Paul Railroad.  They produced ten million bricks each year and exported seven million.  Visible reminders of this once thriving industry are the downtown brick buildings, the hundreds of brick houses scattered throughout the city and the two little lakes near the south end of Third Street.  They were once filled with the clay used in making bricks.  Mr. O. E. Carlson operated the last brickyard in Watertown between 1925 and 1935, with an annual production of three million bricks.  The use of cement blocks in the construction industry made such inroads into the brick business that Wisconsin, which once had 30 brickyards, now has only one at Oakfield, near Fond du Lac.
Kiessling, Elmer C., Watertown Remembered (Watertown: Watertown Historical Society), 1976, p 177.
1866      OLD SWIMMING HOLE CALLED LAKE OSCALO
  <![if !vml]>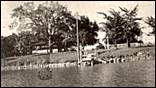 <![endif]>  The old swimming hole called Lake Oscalo.  Back in 1866, when the old brick yard was digging clay to make bricks, the pit filled up with sparkling spring water from the many springs.  This water furnished a wonderful swimming hole for many old timers who will remember the happy days at the old clay quarry in the seventh ward.  In 1936 Mr. and Mrs. Oscar E. Carlson purchased the brick yard property and made this portion of their land a beauty spot for many of their friends who enjoy swimming, fishing, and picnicking. 
Lake Oscalo was named after Oscar and Loda Carlson and was registered with the State Conservation Dept under that name.  Today Lake Victoria.  Loda Carlson was a corsetiere.
<![if !vml]>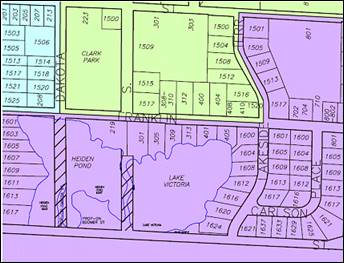 <![endif]>
1888
ADVERTISEMENT, Cordes & Co.
<![if !vml]>

<![endif]>  
1889
Joseph Terbrueggan, W. J. Toussaint and L. H. Cordes established the Watertown Electric Light plant; disposed of in 1906 to the John I. Beggs interests.
1894
05 11       L. H. CORDES & Co. began making brick at their brick yards in the 7th ward on Monday with a force of 75 men.   WG
1900
01 30       WATERTOWN BRICK AND LIMBURGER CHEESE
Our good friend, Charley Straw, has at length discovered that "Watertown is on the map."  He is in receipt of a copy of The Trade Bulletin from Fond du Lac, in which appears an advertisement listing "Watertown Brick and Limburger Cheese."  It is perhaps needless to say that Watertown is famous for its cheese as well as geese.
1907
07 18          BRICK STREET OPPOSED
Three remonstrances were presented to the council [at the last council meeting] from residents on Church Street protesting against the proposed paving of that street with brick and urging the use of macadam paving material.  They are opposed to brick for several reasons.  First, because of the high grade of that street; second, because brick is too noisy for a residence street; third, because brick paving is too expensive and would prove a burden to the tax payers.  The communications were filed in order that the parties may have an opportunity to be heard.
1912
05 23       KILLED IN RUNAWAY
Wm. Schroeder, 1201 Rockwell Street, teamster for the McGolrick Fuel Co., was killed in a runaway accident this morning near the 3d Street railway crossing.  He was hauling a load of brick with his team from the Cordes brickyard, and when near the 3rd Street crossing his team got scared, ran away and threw him to the ground, the wagon passing over his head and crushing it, causing death almost instantly.  He leaves a wife and family.   WG
2015
05 13       "THE BRICKYARD"
Lake Victoria and Heiden Pond will keep their names
The committee approved renaming the area around Heiden Pond "The Brickyard."  The name "The Brickyard" is a reference to the heritage of Watertown and the brickmaking business historically done in that area.  Eventually a sign will be put up made out of Watertown bricks recognizing that history.   WG
05 13       LAKE VICTORIA
<![if !vml]>

<![endif]>  
05 13       HEIDEN POND
<![if !vml]>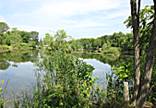 <![endif]>    <![if !vml]>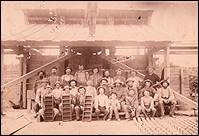 <![endif]>    <![if !vml]>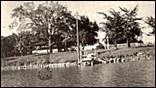 <![endif]>
Cross References:
Third, S, 406        1912, Home of L H Cordes
Sprague brickyard, 1899 mention of 
John Koehler associated with company

History of Watertown, Wisconsin