` website  watertownhistory.org
    ebook  History of Watertown, Wisconsin
          Watertown Police Department website
<![if !vml]>

<![endif]>   <![if !vml]>

<![endif]>   Portfolio of pictures   <>  UNDER CONSTRUCTION
History of the
Watertown Police Department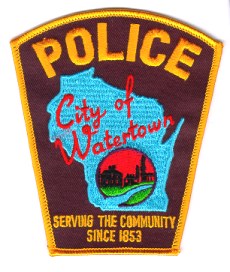 Serving the community since 1853
1842
HARRIS GILMAN AND ELI H. BOUTON, Town Constables
Up to 1842 Watertown operated under a county system of government and in April of that year Watertown held its first election for town constables.  Harris Gilman and Eli H. Bouton were chosen. 
1849
JOSEPH GILES, Village Marshal
On March 7, 1849, Watertown was incorporated as a village and a charter was adopted.  The village marshal was Joseph Giles.
Joseph Giles was one of the early day police officers in Watertown.  He was sheriff of Jefferson County many years ago, deputy sheriff, constable, in fact held office most all his life in Watertown.  Joe was always able to manage the tough boys who came to town . . .
1853
POLICE DEPARTMENT ESTABLISHED
In 1853 Watertown was incorporated as a city, and from then on operated the law and order department, with justices of the peace, city marshals and constables.  There were justices of the peace in Watertown and sometimes two or three constables in a ward.  Occasionally in an old city directory one or two would be identified as policemen.
CITY CHARTER / AN ACT  /  To Incorporate the City of Watertown
03 03       . . . Section 7.  The mayor shall be the chief executive officer and head of the police of the city.  It shall be his duty to recommend in writing to the city council such measures as he may deem expedient.  He shall keep the seal of said city, sign all commissions, licenses and permits which may be granted by the city council; he shall endeavor to maintain peace and good order, and see that the laws of the state and ordinances of the city are observed and executed; he shall have the power to administer oaths or affirmations, and to take and certify acknowledgement of deeds and other instruments in writing.  As a judicial officer, he shall have power, and by giving the bonds required by law, may exercise the jurisdiction of justice of the peace, and to prevent or suppress riot or other public disturbance, by may appoint as many special constables as he may deem proper.
In witness whereof I have hereunto set my hand a affixed the great seal of said state, at the capitol in Madison, this third day of March, A.D. 1853.
Charles D Robinson, Secretary of State.     Watertown Chronicle, 03 16 1853
-- --          LUCIUS BRUEGGER became the first city marshal in 1853 when Watertown was incorporated as a city.
1854-1857
1855
Night Watchman taken up town, filled with beer, while two sawed Maes' shanty fence and threw it into the river
1858
-- --          Harris Gilman, City Marshal
August Tanck elected City Marshal
1859
01 27          Accounts presented and referred . . . W. Bieber & Co., for rent of lock-up to March, 1859, $18.00   WD
02 10          Confer with Messrs. Bieber & Co. and ascertain the amount of rent for lock up for the ensuring year    WD
03 03          John Staub, candidate for office of City Marshal
03 10          Subject of Police Jurisdiction
06 02       Special Police or Night Watch proposed   WD
1859-1860 
-- --          August Tanck, City Marshal
1860
01 26       August Tank for three months services as City Marshall, Oct. 1st, 1859, to Dec 31, 1859, $25, allowed and charged to city general fund  WD
1861
-- --          John Haines, City Marshal
05 23        Office of police justice to be abolished, remarks by Mayor Williams   WD
1862
-- --          Frederick Herman, City Marshal
1863
-- --          J. STAUB, City Marshal
06 25       NIGHT WATCH
Common Council Proceedings:  Resolved, that his Honor the Mayor be authorized to appoint a night watch if, in his opinion, it is necessary.   WD
10 15       A THIEF CAUGHT
On the night of the 8th the warehouse of George Peeples was entered by means of cutting a hole through the floor and a considerable quantity of wool and a number of sheep pelts stolen.  Sheriff Giles immediately went in pursuit of the thief, overtook him at Madison, brought him and the property back, and after examination before Justice Ducassee, was committed to jail for trial.  The name of the burglar is Otto Esche.  He will probably have a permanent location at Waupun before long.   WD
1864
-- --          John Haines, City Marshal
01 28       KEEPING COUNTY CRIMINALS IN THE CITY LOCKUP
Ald. Dennis moved that the Mayor is hereby requested to make out the account against the county for keeping criminals in the city lockup, and that the [Jefferson County] Deputy Sheriff, Joseph Giles, should be asked to certify on the account that he used the lockup for the county prisoners, and that such account be presented for allowance at the next meeting of the county board.  Motion carried.
The Clerk read the report of the election held on the 15th day of January and on motion of Ald. Dennis the Committee of Judiciary was instructed to report at the next meeting of the Council a bill to be presented to the Assembly for the passage of an act to legalize all actions had in regard to raising a tax to pay bounties to volunteers.   WD
04 21       SALARY OF THE MARSHAL
Resolved, That the salary of the Marshal of this city for the ensuing year shall be two hundred dollars and that the sum so paid shall include and be in full for all services that the said Marshal is performing under the direction of the Common Council.  Adopted by unanimous vote.    WD
1865
10 05       JOHN HAINS, CITY MARSHAL
Common Council Proceedings:  Against General Fund, John Hains, $50, three months salary as Marshal.   WD
1866-1872
-- --          ERNST OFF, CITY MARSHAL
1869               SPECIAL POLICE
1. The common council, for the purpose of guarding against the calamities of fire, shall have power to prescribe the limits within which wooden building or buildings of other materials that shall not be considered fire proof, shall not be erected or repaired and to direct that all and any buildings within . . .
7. The common council shall have power to organize a sack [fire] company, which shall be known as sack company number one, to consist of not more than twenty members. Such company shall constitute a part of the fire department, and at fires shall be subject to the control of the chief engineer. The members of said company, either collectively or individually, are hereby authorized and empowered to act as a special police in and for the city of Watertown, and are hereby vested with all the power and authority which now is or may hereafter be vested in any police officer of said city and shall be entitled to all the rights and immunities of the fire department; at fires they shall take charge of all property which may be exposed or endangered, and shall, so far as it may be in their power, preserve the same from injury and destruction . . . Riedl, Ken, Watertown Fire Department: 1858-2007, 2007, pg 48
1870
Gas supplied to Engine house and Lockup on S. First St.
1873
-- --          John "Putt" Reichert [Reichardt], City Marshal
1874
-- --          P. Dougherty, City Marshal
1875
-- --          J. F. Barber, City Marshal
1876
-- --          WATERTOWN SPECIAL POLICE [Fire Police]
<![if !vml]>

<![endif]>A general desire seems to prevail among many of our citizens, and the matter will soon be submitted to the consideration of the Board of Street Commissioners as to the exigency of organizing a Sack Company, to act as a reinforcement to our present police force in cases of great necessity.
Although the city charter expressly provides for an organization of this description [see 1869], still no force of this kind has yet been formed, and without it the efficiency of our Fire Department seems necessarily incomplete.  The organization, as provided by the charter, is to comprise not more than twenty men, to constitute a part of the Fire Department and to be subjected to the full control of the chief engineer.
It is understood that each member belonging to the company is virtually constituted a police officer, empowered with the same rights, privileges and authority that are vested in any emissary connected with our city police.  Watertown Democrat, 06 22 1876  / Riedl, Ken, Watertown Fire Department: 1858-2007, 2007, pg 84
_____________________________________________________
Sack Company No. 1 was incorporated in 1876 for the purpose of attending fires in the capacity of a special fire police force—few now know that they even existed, much less what their role was at the time.  Special Police or Fire Police were Volunteer Fire Company members with sworn police powers.  They received special police training and were responsible for traffic control, crowd control, fire and incident scene security, apparatus security securing property and, in some instances, station security during calls for service. They hustled when the alarm of fire was heard, many times reaching the scene before the firemen themselves.  During times of large-scale or particularly serious small emergencies, the response system could become overwhelmed.  To that end, having a trained, equipped group of responders who could supplement fire personnel was an invaluable tool to incident commanders.      Riedl, Ken, Watertown Fire Department: 1858-2007, 2007, pgs 84-86
1877-1878 
-- --          D. Kehr, City Marshal
1879
-- --          GEORGE HENZE, City Marshal
A city marshal reported, and complained, to the city council in 1879 that he had arrested four persons as vagrants and brought them to the Justice of the Peace, who dismissed them all with the injunction "go and sin no more."  Later 17 others were arrested as vagrants, one was put in jail, 16 were dismissed to "go and sin no more."   WDT article 03 20 1982
c.1880s
-- --          F. P. [Peter] Brook, owner of a confectionary and fruit store on the Main St bridge, served as deputy city marshal, date uncertain   WG
1883
07 13       FARMER FILLED WITH CORN JUICE DEALT WITH TOO LENIENTLY
An Editorial:  A prominent farmer of Emmet made quite a disgraceful exhibition of himself on Main Street yesterday afternoon on account of being well filled with corn juice.  He became quite noisy and when remonstrated with by an officer, endeavored to convince the arm of the law that he could act just as he pleased on our streets.  Our deputy marshal made an effort to quiet him, found kind words of no avail, and was compelled to use his cane on the fellow's head, cutting him slightly.  At this juncture in the proceedings our rural friend's wife took a hand in [the incident] and the officer was persuaded to let the fellow alone.  Such fellows as the subject of this item have been dealt too lenient with by our officers and they imagine that they can do just as they please without being interfered with.  If this fellow's head is sore for some time to come, our verdict is that he deserves not only a sore head, but should be fined for raising a disturbance.   WG
1885
August      Charles Kerr, appointed night patrolman, becomes city marshal and first police chief; served 1885-1912.
09 04       Officer Stylow; chance to show the public just how adept he was at handling six desperate tramps
1886
05 26       Custodian of the Public's Peace Unable to Control Himself
A city officer, who is supposed to be a custodian of the public's peace, could be seen Sunday last highly intoxicated, unable to control himself, let alone other people, and at the same time dashing through the streets in a buggy and putting the whip to the horse in a manner that made said officer liable to be arrested for cruelty to animals.  Should our city tolerate this state of things much longer?   WG
07 16       Tramps Arrested After Struggle
Sheriff Illing and Marshall Zautner had quite an exciting time arresting seven tramps who were quartered near the C. & N.W. Ry. depot.  The tramps made a strong resistance, and the sheriff found it necessary to draw his revolver and for the marshal to use his billy in arresting them.  They were finally captured and placed in the lockup overnight.  Next day Commissioner Feld examined them.  Four were bound over for trial to the circuit court for being tramps, and two for resisting an officer.  The last of the gang was sentenced to the county jail for 15 days for using profane language.
1889
-- --          CHARLES ZAUTNER, City Marshal
Night police officer sleeping while on duty, Zautner prepared formal complaint regarding.
1890c
-- --          Police Dept located in City Hall, adjacent to Fire Dept

1892-1895 
-- --          CHARLES KERR, City Marshal
1894
01 23      1894 CRIME REPORT
During the year 1894 there were 226 arrests made by officers in this city. The statistics as compiled by the chief-of-police show the nature of complaint and number of arrests as follows: Assault, 29; abusive language,27; drunk and disorderly, 17; petit larceny, 11; carrying concealed weapons, 4; obtaining money by false pretenses, 3; malicious mischief, 3; indecent exposure,2; threats, 2; resisting officer, 2; bastardy, 1; grave larceny, 1; assault with intent to rob, 1; non-support, 1; jumping board bill, 1.   In addition there were papers served on 121 tramp cases, making the total 226 arrests. Besides, 1,000 persons were accorded free lodging at the jail.  WR
06 29          Julius Schoechert appointed special policeman   WG
x             Charles H. Pieritz appointed to force
1895
01 30       ANOTHER NIGHT POLICE OFFICER NEEDED
West siders are crying for another night police officer in their section.  It is claimed that one man cannot possibly render service to the business portion of that part of the city and at the same time keep a watchful eye on the horde of tramps and tough characters who infest the railroad tracks from the Junction to the Northwestern coal sheds.  It is not deemed safe for a citizen to travel over that route after nightfall.  An extra officer is urgently demanded.   WR
11 13       TRAMP DEMANDS SWEET CAPORAIS
A rude tramp had lodgings Saturday night at the police station.  He somewhat amused the officers by demanding that they provide him with cigarettes, specifying Sweet CaporaIs as the only brand that he smoked .  Such luxuries, however, are not furnished at the station.   WR
1896-1916 
HERMAN C. BLOCK: 
Member of police dept:  1893-1916  /  Police Chief:  1896-1916
<![if !vml]>

<![endif]>Watertown's first Chief of Police in the modern sense of that term was the late Herman C. Block.  He was first named in 1896 and served by appointment of the City Council from 1903 to 1910, when he was appointed to the same position by the Board of Police and Fire Commissioners, serving until 1916 when he resigned and was succeeded by Charles Pieritz. 
Mr. Block became a Milwaukee Road detective after leaving his position here.  His home for many years was at South Fourth and Market Streets, the site now [1954] occupied by the office building of Dr. A. C. Hahn, Dr. A. C. Nickels and Dr. Vernon P. Smebak.
1899
01 11       POLICE POORLY PAID
The police force of this city is probably the poorest paid of any like body of men in the state.  People must remember that these men are on duty when they are snugly ensconced in a good warm bed, and that they are obliged to face the extremes of all kinds of weather.  They have to support their families, and dress as becomes the dignity of their positions.  How are they going to do it on $35 per month?  Other cities pay about twice that sum.  Besides, it is a very hazardous occupation.  Their work is amongst the criminal classes, and the liability of bodily injury and the destruction of hard-earned uniforms continually stares them in the face.  Others might be found to take their places at the same miserable stipend, but an increase in their monthly allowance would not only be an act of justice but tend to greater zealousness.  These men have long been in the employ of the city, and their faithfulness deserves to be rewarded.   WR
01 11       TRAMPS LODGED IN LOCK-UP
(same date) Chief of Police Block reports that during the year 1898 1,648 persons mostly tramps were given lodging in the city lock-up.  The total number of arrests made on warrants was 171.  WR
01 29       PAY INCREASE FOR POLICEMEN
Times, Weltbuerger and Gazette are in hardy accord with the Republican in the movement to increase the pay of our policemen.   The Welbuerger's suggestion of $45 per month is not a dollar too much.  And even that rate is $15 less per month than Fond du Lac and Madison, and $30 less than Janesville. WG
09 12       MAN SHOT DEAD BY WATERTOWN OFFICER
At about 2 o'clock Sunday morning Officer Lucius Bruegger shot and killed Gustave Dumpke near the corner of West Main and North Warren streets.  Apparently the deed was committed in self-defense.
It is said that Dumpke, together with two companions, Edward Gruel and Henry Saum, had been drinking and carousing downtown Saturday night and the police warned them to desist and retire to their homes.  They had proceeded a portion of the way when Officer Krueger, on his return from the Junction, came across them at the place above mentioned.  The men were still boisterous and noisy and Bruegger threatened them with arrest unless the disturbance ceased.  Thereupon the three attacked the officer, knocking him down, taking away his billy and unmercifully pounding him.  Bruegger fought bravely, but was badly used up, the injuries about his head being terrible and resulting in much loss of blood.  While lying on the ground and only as a last resort, he claims, he pulled his revolver and fired, the bullet hitting Dumpke in the right neck, passing upward and lodging in the left temple.
As best he could, Officer Bruegger notified Janitor Krueger of the occurrence.  The latter gave the alarm and Officers Kerr and Pieritz were soon at work on the case, Bruegger meanwhile going to a physician to have his wounds dressed.   WR
1900
01 02       TRAMPS RELEASED EARLY?
The Watertown Daily Times publishes an article in which it says:  "It is openly charged by police officers and at least one justice of the peace in this city that men who are sent to the county jail at Jefferson as tramps are in some cases, it is alleged, allowed their liberty before the expiration of the sentence imposed."  Sheriff Jaehnke, when shown the above, denied the charge that he ever willingly allowed a tramp or other person in his custody to leave the jail before the time for which he sentenced expired.  He said that it is possible that one may have escaped from the stockade, as it is a difficult matter to prevent one from securing his freedom if he so desires, but if so it was not with his consent.  We know that Sheriff Jaehnke is endeavoring to faithfully discharge the duties of his office, and when he made the above statement we believe it to be true. Jefferson Banner.   WR
02 13       ASSAILANTS OF OFFICER BRUEGGER GUILTY
The trial of Henry Saum and Edward Gruel, of this city, charged with assaulting Policeman Lucius Bruegger on West Main Street, September 17, last, was begun in the circuit court at Jefferson last Thursday.  Attorney C. H. Gardner appeared for the defendants, while the district attorney prosecuted.  A number of witnesses from this city testified and the case went to the jury Friday afternoon, a verdict of guilty being rendered.  Judge Dunwiddie imposed a sentence of one year in the state prison for each defendant, the 17th of September to be spent in solitary confinement.  The prisoners were taken to Waupun yesterday.  It will be remembered that during the fracas of which this case was the outcome, a companion of the sentenced men, Gustave Dumpke, was shot dead by Officer Bruegger.  The assault occurred while Bruegger was in the pursuit of his duties and was apparently without justification.
04 20       BICYCLE THIEF APPREHENDED
Last Saturday afternoon a young man, a stranger in these parts, entered the hardware store of Wm. Weber & Co. and represented that he wanted to buy a bicycle.  He picked out the wheel he wanted and asked if he could try it before completing the bargain to buy.  He was granted permission, mounted the wheel and rode east.  He did not return within a reasonable time, and Mr. Weber notified the police.  Chiefs Block informed the law officers of the surrounding towns and then went to the Junction accompanied by Oscar Weber, and got on a freight train going east, the train men of which agreed to slow up the train if anyone riding a wheel was seen on the track ahead.  When the train got about two miles this side of Oconomowoc the engineer saw two men on the track, one of whom had a wheel; the train was slowed up and Messrs. Block and Weber got off, and found the fellow with the wheel was the one wanted.  He gave his name as Harry Barnes and was brought back to this city and placed in jail.  Monday morning he was taken before Justice Stacy, District Attorney Rogers being present and prosecuting.  He was bound over to the circuit court for trial, his bonds being placed at $300.  Not being able to furnish bail, he was taken to the county jail.   WG
1901
03 13       TRAMPS CAUSE DISTURBANCE (1)
Monday evening the police were called upon to quell a disturbance near the Junction which was being carried on by four tramps who were badly polluted with liquor. The tramps were very boisterous and daring, and made matters extremely unpleasant to the people of that vicinity.  Chief Block and Officer Bruegger responded to the call for help and upon arriving on the scene found the "hoboes" all ready to fight for their liberty.  Nothing daunted, the minions of the law warmed up to their task and in short order had two of the disturbers who seemed particularly anxious to battle in complete subjection.  The remaining two were also captured with the aid of other police.  Yesterday morning the tramps were brought into justice court and given county jail sentences.    WR
08 09       TRAMPS CAUSE DISTURBANCE (2)
Last Monday evening a tramp made things quite lively on the west side for police officers.  Officer Butzler ordered him out of town, and refusing to go, he was taken in charge by the officer.  At the corner of West Main and Montgomery streets, without warnings or provocation, he struck the officer in the mouth, inflicting an ugly cut, and then followed this up with another punch in the face.  Officer Butzler thought it about time to retaliate, and knocked foe fellow down.  The tramp then refused to go further, and Chief Block was sent for.  His persuasive powers had no more effect on his trampship than Butzler's, and the unruly fellow was given a ride to foe city jail in a wheelbarrow.  On Tuesday morning Justice Stacy sentenced him to 15 days in the county jail.  Nine years ago our officers had the same kind of trouble with the same tramp, and he did not visit our city again until last week.  Such fellows deserve harsh treatment.  Chief Block says he is the most utterly ugly fellow that has ever visited our city..    WG
1905
10 22       DEATH OF JOHN REICHERT
John Reichert, one of Watertown's best known and most esteemed residents died suddenly last Sunday at his home, 1129 Third Street.  While eating his supper he complained of a choking sensation and died a moment afterwards in his wife's arms.  Deceased was born in Germany, January 15, 1837, and came to America in 1853, residing for two years in New York, he then located at Fond du Lac in this state, and removed from there to this city in 1869, and has ever since made it his home. 
He was an auctioneer by profession and was quite prominent here in his younger days in politics, being city marshal and deputy city marshal a number of times, and was also chief of the fire department and founder of the hook and ladder company.  During the war of the rebellion he enlisted from Fond du Lac August 15, 1862, in Co. E, 26th Wisconsin regiment, being discharged for disability March 23m, 1863.
11 14       PATROL WAGON:  ONE WHEEL AND WITH DUMPING ARRANGEMENT
Jerry Butzler, the policeman, found a "drunk" near the corner of Main and Third streets.  He hunted up a patrol wagon consisting of one wheel and two sighting rods and loaded his find and started for the city jail down Main St. accompanied on his journey by a hundred or more interested spectators who encouraged him on the way and spit in their hands whenever Jerry became tired and great beads of perspiration trickled down his face.  When he reached the jail, the patrol wagon, being provided with an automatic dumping arrangement, the "drunk" dumped himself upon the ground while Jerry was busy unlocking the door of the bastille and endeavored to crawl away on his one leg and hands.  The crowd aided him in the effort, but the officer finally landed his man and is entitled to praise for his humanity, for the "drunk" would have frozen had he not been taken care of by the officer.
1906
12 29       Chief Block arrests poultry and seed thief  
1908
01 17       TALKING BACK TO AN OFFICER
John Walitz of Shields has learned by experience that it does not pay to talk back to an officer.  The fellow was ushered into Justice Henze's court yesterday afternoon, charged with recklessly driving a horse on Main Street.  Despite the fact that Walitz was requested by chief of Police Block to stop, the fellow disregarded the appeal and answered in an impertinent manner, whereupon the chief concluded that it was time that patience ceased to be a virtue and the "wise guy" was taken before the bar of justice with the result that he was given a small fine.  The chief "opened his heart" and interceded to have the $5 fine remitted, not taking his own fees, saving the party a good little sum.  Walitz showed that he was destitute of appreciation when he "read the riot act" to Chief Block, after luckily escaping with only the justice costs.
1910
Chief of Police:  H. C. Block
Policemen:  Lucius Bruegger, Charles Pieritz, Gerhardt Butzler, Charles Kerr
Special Policemen:  Carl Beduhn, Bert W. Smith
1912
05 02       POLICE OFFICERS SHOULD ACT AS GENTLEMEN, Not as Boors
Editor Gazette:  Complaints are being made that police officers are making use of their authority to gratify personal spite or to "get even" for political reasons.  One or two officers in particular seem to have it in for certain parties and never lose an opportunity to insult them.  Indeed, they seem to go out of their way in their efforts to provoke a quarrel.  They evidently take great delight in sneering at persons of different political belief than themselves, and in hurling low, cheap witticisms at them, which they perhaps read in the comic supplements and try to pass off as original, while others are allowed to loaf in doorways and on corners, undisturbed as long as they wish.  They appear to be under the protecting wing of these officers, and no doubt they are, since it was voters of this brand who had much to do with electing the present administration.
It is indeed cowardly for officers to shield themselves behind their stars so that people can give no back talk to their insults.  Such officers generally hold office through political "pull" and are unfit for the position.
When it is necessary to censure persons for loitering, etc., it should be done in a gentlemanly manner.  For instance the other evening a group of young men were standing in front of a candy store.  One of the older policemen came along and said "They want you inside boys."  The boys took the hint and moved along laughing.  The officer's words had no sting or insult in them to provoke anger.  – A Minor    WG
05 09       EDITOR DAILY TIMES MIGHT TAKE OWN ADVICE Before "Rushing Into Print"
Editor Gazette:—The Daily Times of Saturday evening calls an unsigned article in The Gazette against members of the police force "cowardly," that it "cast odium upon the whole department."  ………….  The Times says "Of late it seems to be the fad to discredit everybody connected with the conduct of city affairs, and the police of course come in for their share."  On the contrary, it seems to be the fad for some of those connected with the city administration to insult everyone with any claim to respectability, and the police can expect nothing else than to be discredited if they follow the lead of some of their superiors.  – A Minor.   WG  
1914
02 05       SALARIES
Police officers' salaries hereafter will be regulated upon the class in which they are placed.  In accordance with a governing statute, four classes of policemen were established by the ordinance as follows:  Class A $900, Class B $720, Class C $660, Class D $540.  At present all patrolmen are receiving $720 per year.   WG
03 05       GERHARD BUTZLER RESIGNATION
On March 1st Gerhard Butzler, who has been for the past 13 years a member of the Watertown police force, resigned from the force and he will in a short time move to Fond du Lac to make his home with his daughters.  Mr. Butzler has suffered greatly for some time with an affliction of one of his limbs and he finally decided to retire and take life easy.  Jerry was always a favorite on the police force, and we believe did not have an enemy in the city.  His many friends will regret his departure from the city very much and all wish him happiness wherever he may reside in the future.  His place is being temporarily filled by William Murphy, proprietor of the Belvidere Hotel.   WG
07 23       POLICEMAN WEIS GETS THE CRIMINALS
Policeman Herbie Weis evidently is the "right man in the right place."  Monday evening he found a man prowling in the rear of Schempf Bros. store, who acted as if he was endeavoring to effect an entrance to the store.  He was placed in the city lockup overnight and next morning Justice Rohr gave him thirty days in the county jail.
The same evening Policeman Weis rounded up a negro near the Junction.  The colored gentleman used abusive language to the policeman and refused to move on.  The officer took him in tow and was leading him to the city jail when the fellow broke away from the officer and refused to halt even after the officer fired after him to scare him.  A second shot from the officer, however, hit the fellow in the ball of the foot and he is now receiving treatment at St. Mary's Hospital.  Herbie evidently is not afraid to go after either white or colored criminals.
Wednesday afternoon a hobo and railway detective got into an alteration at the Junction and the police department was notified.  Herbie chartered an auto, made the Junction in double-quick time and placed the hobo in the jail.  Next day he was given a term in the county jail.   WG  
1915
01 21       POLICEMAN WEIS GETS HITCHED
Married.  Herbert A. Weis and Miss Marguerite S. Nabel of Madison were married at Waukegan, Ills., last week Wednesday by Rev. Mr. Gangster at the Episcopal church.  Clarence A. Schimmel and wife of this city attended them.  The groom is one of Watertown's popular policemen and his bride has been connected as a pianist for some time with one of our moving picture theatres.  She is a most excellent young lady and both she and her husband have the well wishes of all our people in the life they have just entered.  They will make their home at the Washington House.   WG
07 01          BARKER LUMBER FIRE, police presence at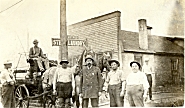 3:40 am alarm turned in by Patrolman Arthur Doerr
10 07       OFFICER DOERR'S CLOSE CALL
      Olympian Trail Bandits Thought Arrested
      Police of Watertown Engage in Midnight Revolver Fight with Three Desperados.
<![if !vml]>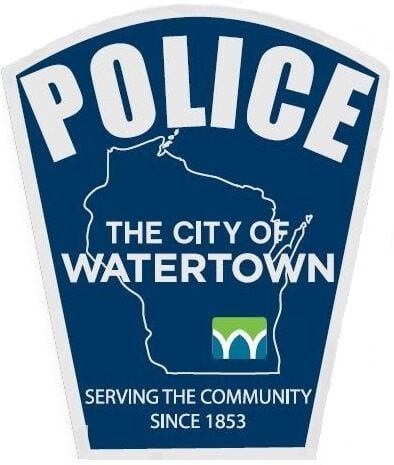 <![endif]>  
The three desperados suspected of having held up and robbed the Olympian train of the Milwaukee Road in Washington last week escaped from officials in Watertown early at 1 o'clock Wednesday morning by keeping up an incessant fire from their automatic revolvers.
Only the fortunate failure of a cartridge to explode probably saved the life of Patrolman Arthur Doerr and Lucius Bruegger of the Watertown force.  With an automatic revolver leveled at their heads, when taken by surprise, they would have been killed by the train bandits.  The shot failed to explore, but the click of the trigger warned Doerr and he dropped to the ground in darkness.  Fully fifty shots were exchanged in the fight that followed.
The Milwaukee police were warned to be on the alert for the bandits and two suspects were arrested early Wednesday morning.  They were found in a box car on an incoming rain.  Chief Herman Block of Watertown and Patrolman Doerr arrived in Milwaukee later in the day and saw the suspects in the central police station.  Block and Doerr were unable to identify them.
The Milwaukee police have every reason to believe that the men who tried to take the life of Bruegger and Doerr are the same men who held up the train near the Pacific coast.
Since the Olympian was heId up, three men, who tally to the description of the train robbers, have been working their way east, robbing station agents and citizens along the way in a manner which showed them to be desperate and dangerous.  Three stations west of Madison were ransacked in the past two nights.
In Portage early Tuesday night a citizen was held up and robbed, and according to word received here two patrolmen in that city tried to arrest the armed robbers.  Instead the officers were backed up against a barn and were disarmed of their weapons and released by their captors under threat of being murdered if they gave any alarm before the robbers would escape.
The police in Portage wired to Watertown, requesting that all incoming trains be searched.  Patrolmen Doerr, Bruegger and Weis and C. D. Lapham, night operator at the Junction, went to search a freight train which had arrived.  They found the quarry in the first car.  Not knowing that the men were in the car, Doerr took his flashlight and in the illumination saw the three men.
"What are you doing here?" he asked.  Without saying a word, one of the suspects drew an automatic revolver and pressed it against the nose of the officer.  A click of the trigger followed, but there was no explosion of the cartridge.
Doerr dropped to the ground to save himself.  The suspects jumped back into the boxcar, while Doerr began firing at them until his revolver was empty.  The suspects, every time the officer fired, answered the shots and bullets went over the officer's head, but none of them found their mark.
Officers Bruegger and Weis took a hand in the game and a running fire of revolver play ensued.  The operator agent and Officer Weis followed one of the suspects along the track, but the suspect held them at bay by frequent shots from his revolver and escaped.
"I have learned my lesson," said Doerr this morning.  "Next time I will be better armed and have enough shots with me."
Doerr attributes the escape of the train robbers to the fact that they were better armed and provided with several rounds of ammunition.
At noon on Wednesday the police department of this city received word from Johnson Creek that a man had sought surgical aid there and that a bullet had been removed from the fleshy part of his arm.  He was brought here in the afternoon and Officer Weis identified him as the man who shot at Lapham.  The fellow claims he was in the railroad yards at the time of the gun play between Watertown police force and the bandits, but was not one of them.  He says he was working his way to Chicago from the harvest fields of South Dakota.    WG
1916
11 24       CHIEF BLOCK RESIGNS
Following the action of the police and fire commission in passing a resolution prohibiting the Chief of Police to leave the city without consent of either the president or secretary of the commission, Chief of Police Herman C. Block tendered his resignation.  This action was taken by Mr. Block as he could not see his way clear to the proper exercise of his duties if restrictions were to be enforced similar to the one adopted by the police and fire commission.  Chief Block was a member of the Watertown police department 23 years and was at the head of the department for 21 years.   WDT
__________________________________________________________
1916 Rules and Regulations
Board of Police and Fire Commissioners
Regarding Watertown Police and Fire Departments
City of Watertown
Selected portions of Rules and Regulations: Adopted July 3, 1916.
Sec. 959-45. 1. The Chief of Police and the Chief of the Fire Department shall hold their respective offices during good behavior, subject, however, to suspension or removal as herein provided, at any time for cause. In suspending a chief officer the board may act on its own initiative or upon written charges made by any qualified elector of said city and filed with the president of the board. Pending the investigation of any such charges, the board may, in its discretion, suspend any such chief officer . . .
Sec. 959-45. 2. Every other officer or member of either department shall be subject to suspension, for cause, by the chief of the department or by said board. If suspension is made by the chief officer he shall immediately report the same with the cause of such suspension to the president of the board, and the board shall thereupon proceed to examine the charges against such suspended person, giving him an opportunity to be heard in his defense. After hearing the evidence the board shall determine whether said charges are sustained . . .   Riedl, Ken, Watertown Fire Department: 1858-2007, 2007, pg 194
Police and fire commissions date back to a time, more than a century ago, when the Wisconsin Legislature enacted a measure establishing such commissions as municipal bodies.  Recognizing the critical role of police officers and firefighters in assuring the public's safety, the Legislature believed that by creating an independent body, one that no political party could come to dominate, the selection and removal of police officers and fire fighters would be insulated from the vagaries of partisan politics.
When Commissions Must Be Created:  Under Wisconsin law, cities with a population of 4,000 or more must create police and fire commissions. Cities with a population of under 4,000 may, by ordinance, create a police and fire commission, but are not required to do so. (Section 62.13(2), Wisconsin Statutes.) Villages are treated differently under state law and in a manner that is sometimes confusing.   Riedl, Ken, Watertown Fire Department: 1858-2007, 2007, pg 428
1916-30
CHARLES PIERITZ:  Chief from Dec. 1, 1916 to his retirement in Dec. 31, 1930. 

   File on Pieritz
1917
08 06       WAGON FOR POLICE BADLY NEEDED
There is no question but what a patrol wagon for the use of the policy department is a needed requirement, and some sort of vehicle should be provided if better service is of any consequence, as we believe it is in this age of rapid transportation.  At present when a call for the police comes from a remote part of the city the officer is compelled to walk, which requires considerable time and in many cases defeats the end sought and required of that official.  It is claimed that in cities smaller than Watertown a police patrol is maintained.  An automobile is a popular vehicle and is one which would meet the requirements and can be purchased at a small cost; it seems that the investment should be made.     Watertown News
1918
William Grossert joins dept, substitute officer 
01 09       MOTORCYCLE FOR POLICE ARRIVES IN THE CITY
Indian enthusiasts gathered in the store of Schmutzler & Schlueter last night to welcome the first 1918 Powerplus to arrive in this city.  The new machine had been ordered by the city of Watertown for the use of the motorcycle policeman.  The agency had a busy time of it, the doors being closed only at a late hour, in order not to disappoint the late comers and to give all hands a chance to study the machine to their satisfaction.
The new model is a classy machine in all respects, being strong, light and durable. It is a government model and is painted a khaki color.  The machine is fitted with electric lighting and an electric signal.  The current for the lamps and horn is furnished by a battery, kept charged by a neat and inconspicuous generator mounted in front of the motor.  This electric generator is driven directly from the motor by a wire belt which runs in a casing. All parts are thoroughly weatherproof and operate without attention from the rider.
The headlight is fitted with a powerful main bulb and a small pilot bulb, the latter being for use in city riding, where a strong light is undesirable.  The horn can be regulated in sound, being amply powerful for any kind of traffic conditions or soft enough to give a pleasant warning at close quarters.    The Watertown News, 01 09 1918
Cross reference:  Link to online photo of 1918 Powerplus motorcycle.   
01 11          C. A. GAMM RESIGNS AS POLICE-FIRE COMMISSIONER
Charles A. Gamm today tendered his resignation as a member of the Police and Fire Commission.  He gave as a reason that he expects to be absent from the city considerably owing to poor health.  His term expires in 1922.  His successor will be appointed by Mayor Mulberger and under the rule will be a republican in politics.  Confirmation by the council is necessary.  Mr. Gamm was appointed a member of the commission when it was first organized, by Mayor H. G. Grube, and has served continuously since.
01 18       ALL GERMAN ALIENS MUST REGISTER NOW
All German aliens over 14 years of age in the city of Watertown must register with the Chief of Police at the city hall between February 4, 1918 and up to and including February 9, 1918.  The office will be open between the hours of 6 a.m. and 8 p.m. each day.
Failure to register will mean arrest and possible confinement during the war, and in severe cases, deportation from the country after the war.  And it is made the duty of every American citizen to notify the Chief of Police of any alien that he knows so that proper registration can be made.  Any person born in Germany who has not taken out his full second papers is an alien enemy. 
Notice to the above effect has been received from the United States marshal's office at Madison by me.
CHARLES PIERITZ,
Chief of Police.         The Watertown News, January 18, 1918.
08 30       PATROLMEN ASK FOR MORE PAY OR WILL RESIGN
Unless the police and fire commission and city council grants an increase in pay to the present police patrolmen they will tender their resignations.  This in effect the action taken at a meeting of the four patrolmen held on Thursday, and their action was conveyed to the police and fire commission and the city council in communications sent to those bodies today.
The men who have signed the petition are Officers Bruegger, Doerr, Rutz and Zimmermann, and they ask that their pay be raised to three dollars a day, little enough they claim under present conditions and a rate of wage which common labor is receiving.  They ask that the council take action at its first meeting, and a reasonable time will be given the city in which to fill their places, provided the council refuses their request.
At present they are receiving $2.50 a day, which they consider altogether too small in these days of high cost of living.   The Watertown News
1919
William Grossert given rank of patrolman 
1927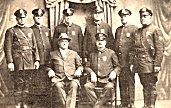 THE 1927 DEPARTMENT consisted of H. A. Weis, A. J. Doerr, Arthur Glaser, William Grossert, H. Rutz, and W. Zimmermann.  Seated: Chief of Police C. H. Pieritz, and Assistant Chief M. H. Bolger.
Uncertain date
POLICE PATROL PARADE FLOAT
<![if !vml]>

<![endif]>  
1928
12 05       NEW PATROL HERE; COUNCIL CONSIGNS IT TO BASEMENT
Watertown's new police patrol, purchased through the C. H. Tidd Co., arrived in the city was placed on exhibition at the City Hall.  The council consigned the patrol to quarters that are being prepared for it in the basement by the committee on public buildings.
Opposition to placing the patrol in the basement, at the extreme northwest end of the building, has arisen and protests were launched in the council by some aldermen who said that a more convenient place should be secured.  It was decided, however, to continue the plans as undertaken by the committee on public buildings and give the basement quarters a trial.  Remodeling of the place, the city engineer said, is not costly, and he said he felt the plan will work out alright.
Captain Bolger, in charge of the night police force, said that it was up to the council to decide where the patrol is to be housed, but he said that in his estimation, and in the estimation of some other officials, the basement quarters are in an out of the way place.
"The police patrol should be just as handy and ready for service as are the fire trucks," he said.  "When people call the police, especially at night they want quick service and at time there will be delay in getting the patrol from its quarters, especially if the alleyways about the building are covered with snow or coated with ice.  At times, I venture to say, it will be wholly impossible to get out with the machine.  We have had experience along this line and even with the Ford car we used so long it was impossible at times to mount the hill.  It must be remembered that there is no chance of getting a start from the bottom end of the city hall, because the incline starts at once."
Must Be Quartered
It was pointed out that the new machine is one that will not be allowed to stand out in any kind of weather, ready for use when needed as was the old car, but that it must be quartered between calls for its use.
The police get far more calls at night than people are aware of and the patrol goes out time after time and even the slightest delay at times will result in protest from the public requiring the services of officers.
The city engineer said that he was operating under the orders of the committee on public buildings and had no voice in the matter, but that he felt the plans of the committee would work out satisfactorily.
Following the suggestion of Alderman Stacy, the new patrol will be kept ready at all times and is to be oiled, cleaned and maintained in serviceable condition by a member of the fire department whose duty it will be to see that the car is fit for use whenever  required by the police.  Present plans are to turn this work over to Emil Luther, janitor of the city and a member of the fire department.  The service will be paid for in addition to the regular salary received by him.
A test was to be made this afternoon of the patrol in an effort to find out how the proposed new quarters will serve the convenience of drivers.  It was to be conducted by members of the department under the direction of Joseph M. Solon of the C. H. Tidd Co. who negotiated the deal for the purchase of the vehicle with the city.   WDT
1930
08 10          CHIEF PIERITZ SUSPENDED
Charles Pieritz, Chief of Police for 35 years, was suspended for 30 days without pay by the police and fire commission for non-performance of duties.  His suspension will begin Aug 10.  Capt. Michael Bolger named acting chief.   Milw Jour
               Retirement of Chief Pieritz.  (obit mistakenly gave 1932 as year of retirement)
1931-44
ALBERT N. QUEST:  Pieritz was succeeded by Quest on Jan. 1, 1931.  Mr. Quest was a retired Milwaukee police officer and his tenure here resulted in a complete overhauling of the Police Department, bringing it up to a new high standard and organization.  He was stricken with a heart attack and died on June 11, 1944.
1930s
PATROLLING THE STREETS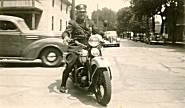 Harley motorcycle operated by Officer Raymond Brier.  Attempted to capture Rock River Sea Monster.
1934
06 06       POLICE COURT ESTABLISHED / Office of Police Justice
This city is no longer a municipality with a police force to arrest violators of ordinances but no place to try the cases of the offenders.  The peculiar status of a city without a police justice and advisability of immediate action was stressed at the council meeting by City Atty. Harold Hartwig, with the result that the office of police justice was created.  Previously all cases were tried by justices of the peace but a recent opinion by the attorney general relative to the legality of such practice in third class cities left Watertown without a court in which to try violators of ordinances.   Milw Jour
Department Report for 1934:  Chief Quest and eight officers.  The daytime detail consists of Sergeant Zimmerman, in charge, and Officer Weiss.  The night detail is in charge of Capt. Grossest, night chief, and Sergeant Doerr, in charge of the night street patrol.  The night patrol consists of the following four officers, Glaser, Novotny, Viogt, and Brier.  A patrol car has been furnished the department to facilitate its work.
1935

  Ports in windshield and shields mounted on bumper
1936
ENGELKE MURDER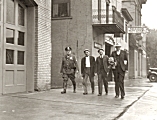 Arthur Zimmermann, William Voss [murderer], Harry O'Brien, Harold Dakin
07 02       GOOD POLICE WORK DURING 1936 CENTENNIAL
The enormous crowds which the city entertained during the festivities could not have been handled as they were without an efficiently organized and directed police force and special police assistants.  It is to the credit of the department that the traffic was handled to ably and that the enormous throngs of people were taken care of without mishap and in so orderly a manner.  Chief of Police Albert N. Quest today acknowledged the help and cooperation of the departments of Sheriff Joseph T. Lange and Walter Buschkopf and the fireman and other special officers, including American Legion members who assisted in police duty.  He also took occasion to thank the public for its cooperation in reducing traffic hazards and traffic tie-ups and for the general cooperation which the department received.
1939
DEPT PATROL CARS.  Car on right believed to be a 1938 or 39 Plymouth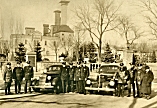 Memorial Park, today municipal bldg.  Hartig Brewery in background.
1940
06 22       NIGHT PATROL IN DOWNTOWN
Watertown business men are still-neglecting the matter of locking the doors of their stores at night: . . .  Nearly every night members of the police department in making their rounds in the business section come across doors that are unlocked after the last person in the business places have gone home. . . .  In some cases the keys are left in the door, some business men being either that careless or so forgetful.   WDT
               DEATH OF SGT. ARTHUR '"ZIMMIE"ZIMMERMANN
Joined department in 1916; one of the first motorcycle policemen.
1942
LEONARD BRAUNSCHWEIG and CLARENCE DALY join dept.  
01 03          <![if !vml]>

<![endif]>         <![if !vml]>

<![endif]>   
06 28       POLICE RESERVE [WATERTOWN AUXILIARY POLICE]
Watertown has the oldest police auxiliary group in the state.  The Watertown Police Reserve, originally known as the Watertown Auxiliary Police group, has been ongoing consecutively from 1942.  The Milwaukee Police Auxiliary is the next oldest organization, having been formed after World War II.  The American Legion was founded in 1919 and since there was no group to give the veterans of World War I military honors, a firing squad was started to provide the duty.  The squad was composed of members that could easily get away from work for funerals.   WDT
The Watertown Auxiliary Police force, not to be confused with the Watertown Special Police, was formed in 1942 as a Civil Defense Corps during World War II under the direction of a County Defense Chairman.  The primary function of the organization at that time was to assist residents in the event of an attack by a foreign country.  Upon conclusion of World War II, then Police Chief Theodore Voigt asked the group to become an Auxiliary Police squadron.  The group became the Watertown Auxiliary Police and have been assisting sworn officers at special events and major incidents demanding prolonged law enforcement services ever since.   Riedl, Ken, Watertown Fire Department: 1858-2007, 2007, pg 87
1942
RETIREMENT OF HERBERT WEIS (d.1946)
First Watertown policeman to ride a motorcycle
<![if !vml]>

<![endif]>    Joined Department in June of 1914
Sergt. Herbert A. Weis, 702 Western Avenue, will retire from the Watertown police department.
He submitted his resignation to Chief of Police Albert N. Quest today.  He has been eligible for retirement for some time and will receive a police pension.
In point of service, Sergt. Weis is one of the veterans of the department here, having joined the force on June 14, 1914.  He has served under three police chiefs, the late Herman C. Block, the late Charles Pieritz and the present chief of police. He was named sergeant two years ago upon recommendation of Chief Quest.
Sergt. Weis was the first Watertown policeman to ride a motorcycle.  In fact, when he joined the department he bought his first machine, later selling it to the city under an arrangement that was worked out at that time.  (N.B.  Harley motorcycle operated by Officer Brier noted in 1930s section)
Chief Quest said today that he had accepted the Weis resignation with regret, but that it was no surprise to him, because the sergeant had talked over his plans with him several days ago and had announced his intention of retiring from the department several times in the past year or so.  Nevertheless, the chief said, when he was handed the resignation today he was reluctant to accept it.
"Sergeant Weis has been an asset to this department and has turned in good work.  His record over the years speaks for itself," the chief said.  "I don't think there is a man on the department who has had so many friends among the children of the city as has Herb Weis.  They are going to miss him.  He has served as an escort for school children on dangerous crossings for years and hundreds of children came to know him and like him.  He has had the respect of the men on .his department and has been a most co-operative worker.  We are losing a mighty good man and we hate to see him go.  I know every man on the department joins me in this expression and that they also join me in wishing him years of good health and happiness."
1943
07 17       JOHN BENTHEIMER joins force
<![if !vml]>

<![endif]>    Died 05 22 1953.  
1944
01 01       WILLIAM GROSSERT, retirement of
<![if !vml]>

<![endif]>  Captain William Grossert Retired from Force
01 04          THEODORE VOIGT, succeeded Grossert
<![if !vml]>

<![endif]> 
Promoted sergeant to captain, succeeding William Grossert, retired.  Former U.S. Marine in charge of the night force.
06 12       ALBERT QUEST, 1885-1944
Funeral services for Albert Quest, Chief of Police, who died on Sunday at St. Mary's hospital, will be held at 9:30 a.m. Wednesday at St. Henry's church.  A former detective with the Milwaukee police force, Quest accepted the post of Watertown chief in 1932 and reorganized the local force.  He was born in Jefferson.   Milw Jour
1944           HILBERT ISFELDT, appointed patrolman
<![if !vml]>

<![endif]> 
Hilbert C. Eisfeldt, Watertown's newest police officer.  He was appointed to the position of patrolman by the board of police and fire commissioners at a recent meeting to fill one of the vacancies in the department.  Two vacancies still exist, one due to the retirement of Captain William Grossert last Jan. 1 and the other due to the death of Chief of Police Albert N. Quest, whose office has been assigned to Theodore C. Voigt, former police captain.  A third vacancy on the department is of a temporary nature, due to the leave of absence granted Clarence Daily who is now serving in the United States navy.  Eisfeldt was the last man on the eligible list for appointment.  Officials say it is virtually impossible to establish a new eligible list at this time, due to war-time conditions and selective service which makes men of minimum police age eligible for induction.
1944-1954
THEODORE C. VOIGT

Chief Theodore C. Voigt took over his duties on July 1, 1944.  The chief rose from the ranks of the Police Department.  A former member of the U. S. Marine Corps, Voigt, joined the department in 1932, serving as patrolman until 1939.  On March 25, 1939 he was named sergeant and served in that capacity until Jan. 3, 1944, when he became captain, succeeding Capt. William Grossert when the latter retired from the department.
On Sept. 20, 1950 Voigt was named a special agent of the FBI and was granted a leave of absence by the city council to accept the position.  He served until July of 1953 when his service with the FBI terminated and he returned to his duties as chief.
During his absence Herbert Vehlow served as acting Chief of Police.  Since Voigt's return, Vehlow has held the rank of police inspector.
Under Chief Quest and Chief Voigt the department has made its greatest strides toward modern police methods.  Its men have attended special schools for police training, some of them conducted by the FBI.  It has modernized its equipment, a police radio system has been installed and modern fingerprinting, photography and modern filing systems have been introduced.  The old police patrol was abandoned with the advent of the modern automobile and now the department uses squad cars and motorcycles in its work.  Through radio the department is in constant touch with sheriff's departments and police authorities in other cities.
1945
10 31         


   Herbert W. Tessman [l] and Wilbur F. Wollin [r], began their duties November 1.  Both were veterans of World War II and were appointed to their new positions following examinations.  Tessman was a platoon sergeant in the U. S. Marines and saw duty in the Pacific; Wollin was a lieutenant in the Army and served in Europe.  The two men replaced George Helmke who resigned and Arthur Glaser who had recently retired from the department.
1945c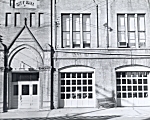 Exterior view of old City Hall.  When one walked in the main entrance of City Hall the police department was straight ahead.  A door to the Fire Department was off the right.  The jail was on the first floor, behind the police dept.  Originally consisted of 3 cells, but later on was used for storage.  Stairway to left upon entering led to offices of mayor, city clerk and city treasurer located on second floor.  City nurse and Army and Navy recruiter were on third floor. . . .
1946
01 09         

   Gordon Gerth, 23, son of Alderman and Mrs. Herman Gerth [*], took over his duties as patrolman with the local police department.  Officer Gerth was a graduate of the Watertown High School, where he played football, and attended Ripon College for two years.   WDT     Chapter on Gordon Gerth  
     [*] Herman Gerth:  1956, Last Man's Club, Company E;  1958, G B Lewis 25 year club; member of Auxiliary Police in 1960
01 10          Herbert Weis, 1887-1946
Said to be first Watertown policeman to ride a motorcycle; it was his own.  (Harley motorcycle operated by Officer Brier noted in 1930s section)

   Believed to be Herbert Weiss.  Year unknown.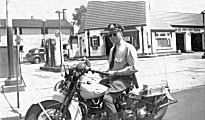 Leonard Braunschweig on motorcycle
1947
01 01          FOUR POLICEMENT APPOINTED
Palmer Freres, Raymond Berg, Edward Hoppe, Melvin Wendt
07 01          CLARENCE TESSMANN
Clarence Tessmann joined the department on July 1, 1947.
1949
11 07          ARTHUR GLASER, 1888-1949

Birth:  Mar. 4, 1888, Death:  Nov. 6, 1949, Note:  Pfc 325 Guard & Fir Co QWC WW I
Known for uncanny ability to remember license plate numbers that had been relayed in reports seeking the recovery of stolen cars.  Policeman for 22 years, retiring in 1945.  Worked in the plant of the Brandt-Dent Co. before joining the department.  WDT obit includes picture at time of retirement.  Burial in  Oak Hill Cemetery, Plot: Sec 11  
1940s
POLICEMAN AT SCHOOL CORNER
<![if !vml]>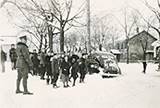 <![endif]>  
CROSS REFERENCE REGARDING POLICE NEAR SCHOOLS
Dr. Rudolph Hoermann (Renata nee Mueller) had one son, Harold Mueller, who was killed in an automobile accident (c.1920) at the age of ten years.  Following this the city put policemen on all corners near the schools for the lad was returning home from school when struck by the machine causing his death.
1950s
ALFRED ( MICKEY ) KRAHN & MARLYN ( PECKY ) MANN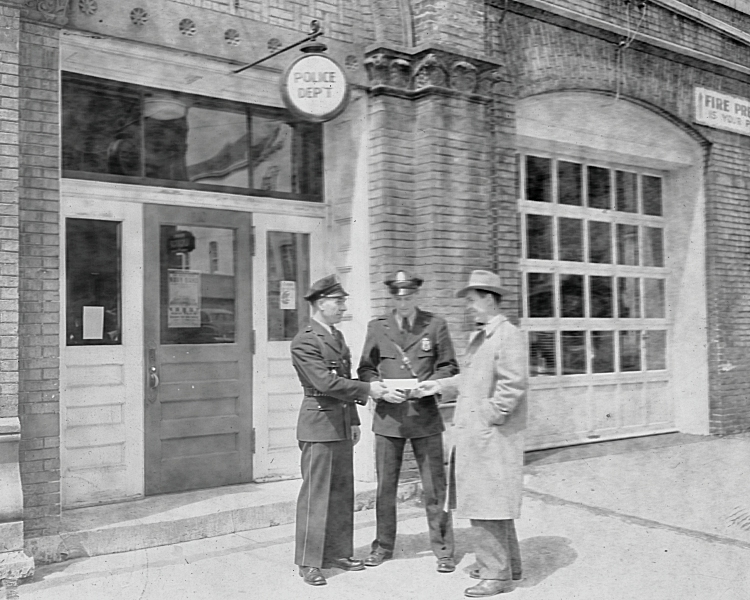 L-R:  Alfred ( Mickey ) Krahn, Marlyn ( Pecky ) Mann or Norman Behlke, unknown civilian
PEA COAT (OR REEFER), BRIDGE COAT AND CAP
<![if !vml]>

<![endif]>   Belonged to Sergeant Palmer J "Fuzzy" Freres 
1951
04 16       FLOYD MILLER joined Department (retired in 1983).
05 09       EDWARD WILDES joined Department
<![if !vml]>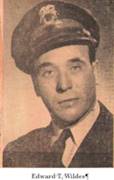 <![endif]>  
Plans to add another man to the Watertown police department, bringing the total force to 15 men, including the chief, are being discussed here.  At the same time, it was announced today that Edward T. Wildes has been named to the department to fill a vacancy caused by the recent resignation of Patrolman Robert Harthun who is leaving to accept a position with an insurance company.
Wildes has been a member of the Jefferson county traffic police for a number of years.
Wildes was confirmed for the position by, the board of police and fire commissioners on May 1, but announcement was withheld until today to iron out some technicalities in the commission's rules, according to Theodore Koerner, secretary of the board.  Wildes will begin his duties on the night force May 15, bringing the force to 14 men.
Watertown now has 13 policemen. including chief of police Herbert Vehlow who is serving in that capacity during the absence, on leave of Chief Theodore C. Voigt.  The other 12 members are Captain Patrick Kunitz, Sgt. Hilbert Eisfeldt, Sgt. Alfred Krahn, and Leonard Braunschweig, John Bentheimer, Gordon G. Gerth, Melvin Wendt, Clarence Tessmann, Edward Dusowsky, Marlyn K. Mann, John Crandall and Floyd Miller.  After May 15 it will have 14 men.
Plans to add another man to the department are to be laid before the city council with a request that the extra man be provided for in the coming budget.  The city is held to be under-policed at this time.
c.1951
DEPARTMENT GROUP PHOTO
<![if !vml]>
<![endif]>  
Leonard Braunschweig, Melvin Wendt, Alfred (Mickey) Krahn, Clarence Tessmann, Norman Behlke, Robert J. Harthun, Palmer J "Fuzzy" Freres, Gordon Gerth, Hilbert Eisfeldt, Marlyn Mann, Chief Theodore Voigt, Herbert Vehlow, Patrick Kunitz, Edward Dusowsky.
1952
ERNEST KUBLY, Officer from 1952-1955.  Died 03 13 2015.
1953
05 22       OFFICER JOHN BENTHEIMER DIES SUDDENLY.  Officer from 1943-1953. 
<![if !vml]>

<![endif]>   Second of Two Heart Attacks Proves Fatal
John F. Bentheimer, 45, of 305 South Seventh Street, a member of the Watertown Police Department for the past ten years, died late yesterday afternoon in St. Mary's Hospital after suffering the second of two heart attacks.
Mr. Bentheimer, who had never complained about a heart condition but who recently had not been feeling well due to a gall bladder condition, went to a physician's office yesterday afternoon to consult about his health.  He suffered a slight heart attack in the doctor's office and was immediately taken to the hospital in the Meyer ambulance.  At the hospital he suffered a second and more severe attack while in the elevator which was taking him to a room in an upper part of the building.  He died in the elevator.  Death occurred about 4:23 o'clock.
Only Wednesday the officer had returned from Superior where he had been the delegate from the local department to the annual convention of the Wisconsin Policemen's Protective Association.  He was in good spirits and had talked over some of the convention proceedings with fellow officers.    Link to obit  
1954
--            1954 REPORT
The one great lack of the department [1954] is a modern office and modern and spacious quarters.  This is one of the crying needs for better police work and greater efficiency.  The present quarters have been inadequate for many years.
In addition to Chief Voigt, the 1954 police force consisted of the following:
Inspector Herbert Vehlow, Captain Patrick Kunitz, Patrolmen Leonard G. Braunschweig, Alfred A. Krahn, Hilbert C. Eisfeldt, Gordon Gerth, and Melvin Wendt, Sgt. Clarence Tessmann and Patrolmen Marlyn K. Mann, Edward Dusowsky, John W. Crandall, Floyd H. Miller, Norman F. Behlke, Ernest V. Kubly and Robert D. Lund.
New Park Policeman.  Walter Kressin took over his duties as park policeman and will also serve as a special police officer whenever demands arise.  He succeeded the late Glen W. O'Brien.
Aside from the chiefs of police and others mentioned, the department has been fortunate in the rank and file membership over the years.  The late Michael Bolger, for many years police captain, was among the outstanding police officers.  Others included the late Lucius Bruegger, Arthur Zimmermann, Herbert Weis, Arthur Glaser, and John Bentheimer.
Among the men living in 1954 and who served the department ably and well for many years were Arthur Doerr, Capt. William Grossert and Capt. John Novotny and Ray Brier.
04 14       NEW PARK POLICEMAN
Walter H. Kressin, 1012 Labaree Street, last night was approved by the Board of Police and Fire Commission to be the city's new park policeman.  He succeeds the late Glenn O'Brien.  He was recommended for the position by Chief of Police Theodore C. Voigt from a list of men who were under consideration.  Mr. Kressin will begin his duties on May 1, the board reported this morning.  Mr. Kressin is a driver for the Wisconsin Transit Lines, Inc., operator of the Watertown bus service.  At one time he was associated with the Watertown Squab Company.
June         MUSTACHE GROWN
<![if !vml]>

<![endif]>    Officer Melvin Wendt
Mustache was grown for the 1954 city centennial celebration contest.   
June         OFFICERS EMEGE FROM BRUSH
<![if !vml]>

<![endif]>     Officers Alfred Krahn and Melvin Wendt
c.1954
<![if !vml]>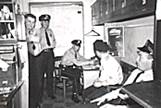 <![endif]>  
Edward Dusowsky, Patrick Kunitz, Norman Behlke, __?__, Gordon Gerth
1955
-- --          OFFICER EARL R. EBERT JOINED THE DEPARTMENT IN 1955
1955-1966 
HERBERT F. VEHLOW, Chief of Police

1955-69
EARL EBERT, 1955-1969
Died at age 47 (b.1921, d. 04 28 1969), resided at 1302 Hutson Dr.  Served on the force 14 years
1955c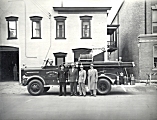 Gay Theder, Asst Fire Chief, Herb Vehlow, Police Chief, Dean Van Ness, City Manager, Al Linde, Fire Chief.
1956
RULES AND REGULATIONS Governing the Watertown Fire Department
SECTION 25. To Assist Police.  It shall be the duty of every member of the Dept. to assist the Police Officers in making arrests or quelling disturbances when called upon to do so when away from Company Quarters.  Whenever word is sent to Quarters asking for assistance to the Police, the commanding officer in Quarters shall detail as many men as may be necessary for the occasion, provided that not less than the minimum number of men required by Dept. rules shall remain in Quarters for duty in case of fire.   Riedl, Ken, Watertown Fire Department: 1858-2007, 2007, pg 314
01 15          LOUIS A. KOHLS appointed to the department.
02 29          KENNETH CEITHAMER
Watertown's newest police officer, Kenneth Ceithamer, will begin his duties on March 1, going on the night shift, it was announced today by Police Chief Herbert F. Vehlow.  The addition of this the 17th man to the force, will make possible a shift in the police lineup.  Under it, Sgt. Clarence Tessmann will be assigned to the day shift starting March 1.  He is taking a voluntary demotion to patrolman to get the daytime assignment.  Officer Earl Ebert will be assigned to a late night shift as a result of the change.   WDT
Summer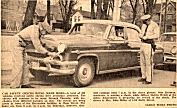 Auto Safety Checks
Otto Lierman, mechanic, Officer Melvin Wendt, Mrs. John Miller, driver
1957
02 07       Chief of Police gets Private Office
With the remodeling of the old cell block in the City Hall jail about to begin, Chief of Police Herbert F. Vehlow will for the first time have his own private office in the Police Department quarters.  Work on the remodeling will be done by William F. Bloedorn who was awarded the contract on a bid by the City Council.  It calls for a $1,200 expenditure.  The plans call for a partition to be constructed, topped by a false ceiling with a deep cabinet at the west end of the cell block portion.  A new doorway will be cut into the present west wall of the police quarters main office, leading into the new office of the chief.
12 17       Richard Reynolds, patrolman; Gordon Gerth, sergeant  
Richard Reynolds, 24, of 461 South Concord Avenue, last night was named to the position of patrolman on the Watertown Police Department effective Jan. 1, 1958.  He will fill the newly created position of an extra patrolman recently authorized by the City Council.  The appointment was made by the Board of Police and Fire Commissioners.  Reynolds has been working part-time on the department.  The board also approved the promotion of Officer Gordon Gerth to the rank of sergeant in the Police Department.   WDT
In January 1958, Richard Reynolds, age 24, was hired as a patrolman of the Watertown Police Department.  Herbert Vehlow was then chief of police, having joined the department in 1940, and served as chief from 1955 to 1966.  According to the 1958 newspaper item, Vehlow added a comment when he announced the addition of a patrolman to the police force.  "That one will make a good officer," Vehlow said.   WDT article 03 20 1982
-- --          BILL CONNOR JOINED AUXILIARY POLICE FORCE
Bill Connor joined the Watertown Auxiliary Police force in 1957, serving 52 years, the last 30 as captain.  Then Chief Charles McGee presented Bill with the Watertown Police Department Exemplary Service Award for 50 years of selfless and dedicated service to the citizens of Watertown and the Watertown Police Department, and on retirement received a plaque at Riverfest from Chief Tim Roets on Aug. 9, 2009.
1958
06 12       ENFORCEMENT OF BICYCLE CODE

   Department personnel, c1958
10 15       CHIEF VEHLOW WITH BOY SCOUTS

1959
July          LOUIS KOHLS

1960
03 09       JAN RICKERMAN
Jan D. Rickerman, of 508 Carl Schurz Drive, will begin his duties as a patrolman on the Watertown Police Department next week, April 16, following his recent appointment by the board of police and fire commissioners.  Mr. Rickerman has been an insurance representative here for the Northwestern National Life Insurance Co.  He is a native of the Farmington area but has lived here most of his life.  He is married and the father of two sons.
06 17       WATERTOWN CIVIC CENTER, Police Dept station would be part of plan 
A plan which, if carried out, will take care of a new fire station, new police station, the post office building, and also provide different quarters for the recreation department will be presented to the city council at its meeting tonight.  It will be offered by the City Plan Commission, which has been delegated by the council to come up with some possible sites for a new post office building.  The commission's suggestions were informally presented to the city council yesterday afternoon when the council held its committee session.  No details of the plan were revealed at the city hall today, but it is understood that the plan encompasses a Watertown Civic Center which would include most of the square block bordered by Madison and Jones Streets, and North First and North Second Streets.   WDT
09 14       RADAR
Radar is the newest device which the Watertown Police Department has acquired to nab unwary motorists who exceed the speed limit. The equipment replaces the electric timer which the department had used for the last couple of years. In using the timer equipment, two lines were placed across the road. In the radar equipment, a two-pronged device is attached to the side of the squad car7The device shoots a beam for at least three blocks. As soon as a car comes in range of the beam, the speed of the vehicle is noted on a speedometer, a black box on top of the hood of the car. Other equipment is placed in the rear seat of the squad car. The equipment, which cost nearly $1,100, was placed in operation about 10 days ago.   WDT
-- --          MEMBERS OF THE AUXILIARY POLICE

-- --          TURNER HALL OFFERED TO CITY FOR POLICE & FIRE STATION
City Assessor Note:  1960-61, Turner Hall offered to city for police & fire station, $75,000
1960
Jan           CAUGHT IN THE ACT
<![if !vml]>

<![endif]>     Officer Leonard Braunschweig feeding the ducks at Tivoli island
c.1960
Feb          OFFICER MELVIN WENDT
<![if !vml]>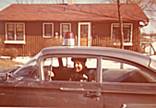 <![endif]>     On patrol.  609 N. Water St.
CAR SAFETY CHECKS
<![if !vml]>
<![endif]>   Officer Melvin Wendt, mechanic Carl Raue, Watertown citizen
Watertown Police and mechanics from different garages perform auto safety checks on Main in front of Recreation building.
1961
02 18       PLANS FOR A NEW FIRE AND POLICE STATION    
On block then housing the recreation building had two strikes against it.   WDT
03 03       SUB-STANDARD CONDITION OF POLICE AND JAIL QUARTERS
The city council which is currently involved in a long standing hassle over plans to provide new police department and jail facilities got another warning - a stern one and one that may well be final - from the state last night relative to the present and long-standing sub-standard condition of police department and jail quarters housed in the city hall - the same space and quarters the department has been forced to occupy since the present city hall was built in 1884.  Last night's warning, by letter and signed by V.A. Verhulst, representing the division of corrections, Wisconsin State Department of Public Welfare, was the latest in a series of proddings by the state that the city do something to clear up the jail issue without further delay.   WDT
03 21       PROPOSITION ON NEW POLICE AND FIRE BUILDING
With only one more regular meeting remaining for the present city council and with the deadline for action on the proposed and long-argued and hotly debated question of a new police and fire department building running out, the issue now will go over into the new administration which is expected to have its share of headaches before it can resolve the proposition one way or another.  At last night's meeting of the council, an attempt was made to approve a plan calling for a new financing venture but it lost 4 to 2.  Under the original plan, the structure, also known as the safety building, was to be financed with a $400,000 bond issue.  The new plan, contained in a resolution which was introduced last night, would have divided the financing — 50 per cent through a bond issue and the other 50 per cent by means of a ten year loan negotiated through Watertown banks.  The banks had agreed to this plan in the event it was adopted.   WDT
04 14       LAW ENFORCEMENT OFFICERS PROJECT TRAINING SCHOOL
<![if !vml]>

<![endif]>   Melvin Wendt certificate
Practical aspects of burglary investifation
05 11       State of Wisconsin through waiting for the city to bring city hall jail quarters up to standard.
06 28       Old post office bldg proposed as police headquarters.   WDT
1962
<![if !vml]>

<![endif]>   ALFRED KRAHN
Memorial Park Site for New City Hall<![if !supportNestedAnchors]><![endif]> 
Edward H. Dusowsky<![if !supportNestedAnchors]><![endif]> elected commander of American Legion Post   
June         OFFICER BRAUNSCHWEIG CHECKS UP ON HIS NIECES
<![if !vml]>

<![endif]>  
1963
AL LINDE AND HERB VEHLOW

     Al Linde and Herb Vehlow, Fire and Police Chiefs, at 1963 ground-breaking.
1964
04 21       LOCAL SCHOOL SAFETY PATROLS
Lt. Alfred Krahn of the Watertown Police Department told the Watertown Safety Council last night at the Legion Green Bowl how the city saves $36,000 from its budget every year.  Local School Safety Patrols, protecting crossings near all elementary schools accomplish this.  These school children, conscientiously doing their volunteer jobs every school day, in good weather or bad, have never had an accident occur while they were on duty, the officer said.   WDT
1965
05 16       SCHOOL SAFETY PATROL TO WISCONSIN DELLS
Police officials and the Watertown Safety Council are making final preparations to send the members of the Watertown School Safety Patrol to the 22nd annual Wisconsin Congress of School Safety Patrols at Wisconsin Dells, following receipt this morning of the program that is being planned for the more than 3,000 young people and chaperones who will attend from all parts of the state.  Through the efforts of the safety council and an appropriation from the common council, a fund was raised this year to send the membership of the patrol here to the gathering.  This is the first time this has been done. In previous years only those students who could pay or had their fee paid were in attendance.   WDT
11 24       CHIEF VEHLOW RESIGNS
Herbert F. Vehlow, chief of police of Watertown, has submitted his resignation and has asked that it take effect with his retirement on Jan. 4.  Chief Vehlow, who resides at 310 East Water Street, was absent from his desk yesterday because of illness.  His resignation was prompted by reasons of health, since he is subject to a mild heart condition.  WDT
12 11       PROCEDURE IN SELECTING NEXT CHIEF
The board of police and fire commissioners will meet next Monday evening to take up the matter of procedure in selecting the next chief of police of Watertown.  The meeting is tentatively scheduled for 4:30 p.m.  The board, it was learned, does not intend to act hastily and it will be some time next year before a successor to Chief Herbert F. Vehlow is selected.   WDT
1966
01 20       CHIEF POSITION VACANT
Watertown's position of chief of police was vacant today following the effective date of Chief Herbert F. Vehlow's resignation yesterday.  He announced his retirement some weeks ago upon advice of his physician.  The board of police and fire commissioners will meet on Feb. 7 to check on the list of applications filed for consideration as appointees.  Applications will be received until Feb. 1.  At present there are applications from several members of the department as well as from several other cities, including Milwaukee and Portage.   WDT
02 22       COMMISSIONERS TO SELECT NEW CHIEF
Watertown's five-member board of police and fire commissioners will select the city's new chief of police, now that all interviews with the ten applicants for the position have been completed.  The board consists of Leonard B. (Duke) Kramp, Seth Perry, Carl V. Kolata, Attorney Paul Hibbard and Frank H. Kreitzman.  The ten men under consideration include four from out of the city and six from Watertown, all members of the police department.   WDT
02 24       MARLYN K. MANN, NEW CHIEF OF POLICE
M. K. Mann, 43, member of the Watertown Police Department since Aug. 1, 1969, was named Watertown's new chief of police by the board of police and fire commissioners.  The announcement came at 6:10 p.m.  Mr. Mann, who has held the rank of police sergeant, resides at 207 Clark Street.  He was one of six members of the department who had applied for the appointment and was selected by the five-man commission following a series of interviews with not only the six Watertown men but four from out of town who also had filed application.  Mr. Mann assumed his new duties today.  He replaces Herbert F. Vehlow who retired as chief on Jan. 24.   WDT
02 27       CAPT. PATRICK KUNITZ RETIREMENT
Capt. Patrick Kunitz, 55, one of Watertown's veteran police officers, announced shortly after 8 o'clock this morning, upon his arrival at police headquarters, that he is retiring on pension and that he would make application to that effect immediately. He has been eligible for retirement for some time. He has been a police officer here for 26 years. Capt. Kunitz joined the police force on Jan. 4, 1940, when he was recommended for appointment by the late chief of police, Albert Quest. He became police sergeant in 1945.    WDT
03 01       MORE ON KUNITZ RETIREMENT
Attempts to have Capt. Patrick Kunitz of the Watertown Police Department reconsider his announced decision to retire on pension as soon as the pension board can act on his application have failed and the pension board will meet next week to take up his request.  Granting of the pension is automatic, since he has the required number of years to his credit and is in the age bracket to enable him to retire.  He is 55. Capt. Kunitz made public his decision to retire shortly after 8 o'clock yesterday morning upon his arrival at police headquarters.  Later in the day he sent his formal request to the proper officials, with one copy going to the office of the mayor and one to the pension board.  Capt. Kunitz told the Times in his announcement yesterday morning that he plans to remain in law enforcement work after he retires from the police force on pension.   WDT

   Location Elks Club, 117 N First St
Police Dept Photo dated 03 24 1966, 7:24 a.m. 
03 15       LOUIS A. KOHLS promoted to sergeant
04 02       DEPARTMENT REORGANIZATION
Plans to reorganize the police department were outlined to members of the common council at their committee meeting last night by Chief M. K. Mann.  Under the new plan, the position of captain and assistant chief will be abolished and will be replaced by an officer to be known as inspector of police.  The chief also intends to create two more police lieutenants so that there will be one lieutenant on each of the work shifts along with a sergeant.  WDT
05 01       BOEDER, LEHMANN, AND WEHNER HIRED
The Watertown Police Dept. has hired three officers, filling the replacement for Victor Herschi and two newly created positions.  The men filling these positions are Ronald W. Boeder, Ernest E. Lehmann, and Dale R. Wehner.  Boeder has eight years previous experience on the Jefferson County Sheriff's Dept. as patrolman.  Wehner and Lehmann will begin work on March 19, at which time they will begin a 400-hour, 10 week recruit training program at Blackhawk Tech in Beloit.   WDT
05 10       TESSMANN NAMED POLICE LIEUTENANT
Clarence A. Tessmann, 910 Clark Street, a member of the Watertown Police Department since July 1, 1947, has been named police lieutenant, it was announced by Chief of Police M. K. Mann.  The appointment becomes effective tomorrow.  Mr. Tessmann began his service with the department as a patrolman and served in that capacity until July 15, 1951 when he was advanced to the rank of sergeant.  On March 1, 1956, he requested a demotion to patrolman in order to assume daytime duties and that has again been his rank up to now.   WDT
1966-1971 
MARLYN K. MANN, Chief of Police

   Profile of Marlyn Mann
1967
01 11       WATERTOWN MERCHANTS POLICE
Watertown Merchants Police, a service provided to business places and manufacturing plants as well as homes, owned and operated by John Novotny, Sr., of 500 South Third Street, has announced the installation of a new two-way radio system to insure greater efficiency and maximum rapid service.  Besides Mr. Novotny, a retired police captain, the service employs two full-time and two part-time officers.  Three patrol cars, equipped with two-way radios, can be readily contacted from the base station located in the Novotny residence.   WDT
03 11       KEITH BECKER HIRED
Watertown's new police officer is Keith A. Becker, 23, of 423 North Church Street, it was announced by Chief of Police M. K. Mann.  The appointment has the approval of the board of police and fire commissioners.  The new officer, who is single, resides with his mother, Mrs. Helen Becker.  He is a graduate of Watertown High School and has been an employee of the city parks department.  He begins his duties as of March 15 but before being assigned to nighttime duty will undergo two weeks of special training and briefing to prepare him for the assignment.   WDT
06 24       GERTH PROMOTED TO LIEUTENANT DETECTIVE
Lt. Gordon Gerth of the Watertown Police Department today assumed the rank of lieutenant detective to which he was appointed, Chief of Police M. K. Mann announced this morning.  He has been a member of the department since Jan. 1, 1946, when he was named a patrolman on the night shift.  Two years later he was promoted to the rank of sergeant on the 4 p.m. to midnight shift, in which capacity he served until May 1960 when he resigned that position to take daytime duty.  On May 15, 1966 he was again promoted to the rank of sergeant on the day shift and on the first of July of this year he was promoted to the rank of lieutenant.
07 15       KOHLS AND EBERT PROMOTED
Two members of the Watertown Police Department today assumed new titles as a result of promotions approved by the police and fire commissioners and Chief of Police M. K. Mann.  Sgt. Louis A. Kohls has been promoted to the rank of lieutenant on the 4 p.m. to midnight shift.  He joined the department in 1956 and has been instrumental in establishing the photography division in the department.  He replaces Lt. Clarence A. Tessmann who has been transferred to a lieutenancy on the day shift.  Officer Earl R. Ebert, who joined the department in 1955, has been promoted to the rank of sergeant on the 4 p.m. to midnight shift.  He was transferred to day shift in 1966 after having worked on the night shift.
07 17       BICYCLES ON MAIN STREET SIDEWALKS
Chief of Police M. K. Mann told the common council last night that plans are underway to work out a system of coping with the problems raised by youngsters who are riding bicycles along the sidewalks in Main Street, already congested because of the Main Street reconstruction project.  The chief made his statement in reply to a question in which the "menace" of the bicycle riders was raised.  Mann said that as soon as a policy has been worked out it will be made public."  We can't arrest these youngsters, of course," the chief said, "but we are working on a system whereby violators will be warned and their parents notified.  Riding privileges may even be taken away if repeated violations persist."
12 23       OFFICERS JOHN MEYERS, WILLIAM LUECK, GERALD ARNDT
Two new police officers will be on the police force starting January 1.  They are John A. Meyers, 754 North Water street, son of Mr. and Mrs. Lawrence Meyers, and William E. Lueck of 1215 Randolph Street. Meyers, 23, is a graduate of the Watertown High School.  He is a veteran having served in the Marine Corps for four years and three months.  Part of his service time was spent in Vietnam.  His wife is the former Susan Koshelnick.  Lueck, 37, is a life long resident of Watertown, and was a member of the Wisconsin National Guard unit here for eight years.  He is married to the former Margaret Hoeffler. 
Meyers replaces Gerald C. Arndt, who has submitted his resignation, effective January 1.  He will become a full-time employee in the service department at Warren-Schey.  Arndt had joined the department on April 1, 1966.
1968
01 17          POLICE CUSHMAN SCOOTERS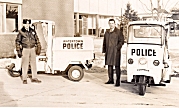 Officer Floyd Miller and Police Chief Mann
Two enclosed Cushman three wheeled motor scooters were placed in service, to be used in checking parking meters and non-metered parking areas.
02 09       CITY HALL DEMOLISHED

02 12       METER MAID TO BE ENGAGED
A meter maid is to be engaged by the police department.  At a meeting of the police and fire commission the commission authorized the acceptance of applications.  Applicants must be at least 21 years of age.  Application forms can be obtained at the police department.  Deadline for filing of applications is March 1.  The police and fire commission will interview applicants beginning at 7:30 o'clock on March 4 in the Municipal Building.
WATERTOWN'S FIRST METER MAID

   Barbara [Donald] Lee Wiese:  Employed 04/01/1968 to 03/08/74.  Graduate of Oostberg High School and attended the U of WI-Oshkosh.  As meter maid she patrolled the city's parking meters for improper and overtime parking.  Also assumed duties of police matron for women prisoners.
02 13       WATERTOWN MERCHANTS POLICE ACQUIRED
Watertown Merchants Police, which had been owned and operated by the late John Novotny, has been acquired by Arnold J. Mueller, who resides on County Trunk E.  Mr. Mueller is now employed by Hein-Werner at Waukesha.  He will complete his work with this firm this week, after which he will devote full time to his new business.  The same personnel is being employed by Mr. Mueller. T he Watertown Merchant Police was established by the late Joseph Stacy.  Following his death, the business was acquired by Mr. Novotny in July of 1956. Mr. Novotny had joined Mr. Stacy in the business on Aug. 1, 1951, following his retirement from the Watertown police department.  He was a captain with the department..
03 23       METER MAID WIESE, OFFICER SCHUMANN APPOINTED
Police Chief M. K. Mann today announced two appointments, one of Watertown's first meter maid and the other of a new police officer, as authorized by the board of police and fire commissioners.  The meter maid is Barbara Lee Wiese who will begin her duties next Monday morning, April 1 as will the new officer, Lavern E. Schumann who replaces Officer William Lueck who has submitted his resignation effective March 31.  He joined the department on Jan. 1.  Officer Schumann, who is 22, resides at 608 South Second Street.  He will begin his duties as a patrolman.
04 01       LAVERN E. SCHUMANN
Patrolman Schumann, 22, began duties as a patrolman, replacing Officer William E. Lueck who submitted his resignation effective March 31.  He joined the department on Jan. 1.  He was a graduate of Watertown High School, a veteran of Vietnam, having served with the U. S. Army as infantry team leader and grenadier.  [Wedding of]
04 25          SAFETY INSTRUCTION
               <![if !vml]>

<![endif]>     Officer believed to be Floyd Miller
05 16          RECIPROCAL AGREEMENTS IN CASES OF EMERGENCY
To insure the greatest possible protection for life and properties in cases of emergency, the common council at its meeting Tuesday night will take up a resolution which will permit local law enforcement authority, as vested in the chief of police, to enter into reciprocal agreements with counties and other municipalities to provide mutual assistance in the event of emergencies which are of such magnitude that the law enforcement agency of one particular municipality or county could find it impossible to handle.  The resolution provides that the chief of police (M. K. Mann) be authorized and directed to negotiate with the chiefs of police and the sheriffs of other municipalities and counties as he may deem advisable.
06 22          HELMETS REQUIRED
The Watertown Police Department today called attention to the new law which goes into effect July 1 under which all motorcyclists are required to wear protective headgear.  Helmets must meet specific requirements under the law and are to be strictly enforced.  Football helmets are ruled out since they do not meet state standards.  So also are old army helmets, police said.  Neither was designed to protect the skull of a cyclist who has just been pitched off his motorcycle.
07 01       BRAUNSCHWEIG REPLACES GERTH
Patrolman Leonard Braunschweig, a member of the department since Jan 2, 1942, appointed sergeant, replacing Gordon Gerth on the day shift.  Gerth appointed lieutenant, replacing the late Lt. Herbert C. Eisfeldt
Nov          OFFICER HENRY LEHMANN
LETTER OF THANKS, from the Chief
1969
04 28       EARL EBERT
Earl R. Ebert, 47, 1302 Hutson Dr., a member of the Watertown Police Department, passed away this morning at the Watertown Memorial Hospital following a brief illness.  Born Sept. 22, 1921, in Watertown, son of Mr. and Mrs. John Ebert.  Burial in Glenview Memorial Gardens, Ixonia.
11 16       SERGEANT BRAUNSCHWEIG RETIREMENT
<![if !vml]>

<![endif]>  
The 28-year veteran was the guest of honor at his retirement party.
1960s, late
DEPARTMENT BASEBALL TEAM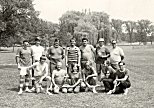 1970
ALFRED "MICKEY" KRAHN RETIREMENT.  Citizenship award established
Alfred "Mickey" Krahn mentioned recently that police work was difficult before the days of walkie talkies and communication with headquarters.  Officers were more or less on their own.  He recalled a store robbery, he and his partner had been given a good description of the "stranger in town," and they started from the store to look for him.  They surmised the culprit might try to get out of town on a train scheduled to leave within a few minutes.  The officers went to the depot, convinced the engineer to hold the train while they made a quick search.  Krahn started at one end, his partner at the other.  They came upon the guilty one sitting in a double seat, happily counting his money which was spread out in little piles in the seat opposite.    WDT article 03 20 1982
06 15       OFFICERS TESSMANN, REYNOLDS & BORTH
Lieutenant Clarence Tessmann promoted to the rank of inspector.  Tessmann joined the department on July 1, 1947, and held the rank of lieutenant since May 15, 1966.  Sergeant Richard Reynolds promoted to the rank of lieutenant.  Will head the juvenile division to the vacancy created by retirement of officer Krahn.  Officer Borth, age 25, appointed to begin duties.
1971
03 09       DEATH OF CHIEF MARLYN MANN.   Inspector Clarence Tessmann appointed temp chief.
1971-1979
GERALD P. DONOVAN, Chief of Police
06 29 1971               <![if !vml]>

<![endif]>Gerald P. Donovan of Sparta has been named Chief of the Watertown Police Department and will begin his new duties July 19.  Succeeds Marlyn Mann; during the interim period Inspector Clarence Tessmann was acting Chief of Police. 
Donovan, 42, has an extensive police background.  He was appointed patrolman with the city of Milwaukee department on April 6, 1953.  He was assigned at that time to the uniform division and remained there for six years.  In February of 1959 he was promoted to the detective bureau and was assigned to a general duty squad, investigating all major crimes.  On Jan 1, 1963 he was appointed Chief of Police for the city of Sparta, the position he held until accepting the post in Watertown.  Donovan is a graduate of Pius XI high school of Milwaukee and the Milwaukee Police Department training school.
Donovan, his wife, and eight children plan to move to Watertown in the near future.  A ninth child, Tim, 21 was married Saturday and will continue to live in Sparta, where he is deputy sheriff on Monroe County.
c.1971
BOB WEBSTER, Communications Room, New City Hall
1972
               Interior views of department facilities
01 18       DALE KREBS RESIGNATION
<![if !vml]>

<![endif]>  
Patrolman Dale Krebs, a member of the department for 2 1/2 years, resigned to accept a position with Klutterman Office Equipment.  Joined the force on July 14, 1969.
02 15       CLARENCE TESSMANN RETIREMENT
Clarence Tessmann, 918 Clark Street, a member of the department for over 24 years, will retire on Feb. 15.  Tessmann holds the position of police inspector.  He joined the force on July 1, 1947 as a patrolman and was appointed to the position of sergeant on July 15, 1951, and on May 15, 1966 he was named Lieutenant.  Upon the retirement of Alfred Krahn on July 15, 1970, Tessmann was elevated to the position of inspector.  After the death of Chief of Police M. K. Mann, Tessmann was named to the position of Acting Chief of Police and remained in that capacity until the new chief, Gerald Donovan, was selected.
02 16       THREE OFFICERS PROMOTED
Three veteran officers were promoted by Chief of Police Donovan.  They are Lieutenant Richards Reynolds to the position of Inspector, Sergeant Edward Dusowsky to Lieutenant, and officer Floyd Miller to Sergeant.  All three promotions effective March 1.  Inspector Reynolds was appointed as a patrolman on Jan. 1, 1958, was promoted to Sergeant on June 1, 1967 and to Lieutenant on Jan. 23, 1970.  Dusowsky was appointed patrolman on June 1, 1948 and promoted to Sergeant on Jan. 23, 1970.  Miller was appointed patrolman on April 16, 1951.
1973
02 02       T.I.M.E. COMPUTER NETWORK
A new and more efficient teletype system has been installed and connects the local department with state and national law enforcement agencies through a massive computer system.  The new system is called TIME for Transaction Information for Management of Enforcement and represents a vast improvement in law enforcement for the city.
11 06       KNIGHT RESIGNATIONATION
Officer David Knight has resigned to accept a similar position with the Jefferson County Sheriff's Department and Orval Quamme, 33, Madison, has accepted a position with the department.
Knight, who resigned effective Monday, began his employment with the department on Feb. 14, 1972, and has been employed as a patrolman since that time.
Quamme will begin his employment on Nov. 11.  He is presently employed by the University of Wisconsin Security in Madison and was previously employed with the Madison Police Department for a period of six years.  Quamme is married and has five children.
-- --          DETECTIVE BRUCE SANITER
Patrolman Bruce Saniter has been promoted to the rank of Detective.  Detective Saniter is the juvenile officer of the department and will continue in the capacity.
1974
OFFICERS OF THE DEPARTMENT AS OF 5/20/74
| | | | |
| --- | --- | --- | --- |
| NAME | RANK | APPOINTED | DOB |
| Donovan, Gerald P. | Chief | 7/19/1971 | 1/11/1929 |
| Reynolds, Richard L. | Inspector | 1/2/1958 | 05/26/1933 |
| Gerth, Gordon | Lieutenant | 1/1/1946 | 3/1/1922 |
| Wendt, Melvin F. | Lieutenant | 1/1/1947 | 3/15/1922 |
| Dusowsky, Edward | Lieutenant | 6/1/1948 | 4/3/1920 |
| Kohls, Louis A. | Lieutenant | 1/15/1956 | 3/22/1916 |
| Crandall, John W. | Sergeant | 3/8/1951 | 11/4/1922 |
| Miller, Floyd H. | Sergeant | 4/16/1951 | 7/25/1921 |
| Webster, Robert W. | Sergeant | 6/16/1960 | 7/20/1936 |
| Saniter, Bruce A. | Detective | 5/1/1966 | 12/19/1944 |
| Shaiken, Lyle A. | Patrolman | 4/25/1960 | 1/23/1929 |
| Lehmann, Henry H. | Patrolman | 5/1/1966 | 8/15/1936 |
| Miller, Benjamin C. | Patrolman | 6/15/1966 | 2/27/1935 |
| Becker, Keith A. | Patrolman | 3/15/1967 | 2/26/1943 |
| Kube, Robert | Patrolman | 11/1/1967 | 8/11/1944 |
| Schumann, Lavern E. | Patrolman | 4/1/1968 | 1/19/1946 |
| Sukow, Larry J. | Patrolman | 1/1/1969 | 4/27/1947 |
| Gerstner, Eugene A. | Patrolman | 1/10/1969 | 10/6/1936 |
| Triana, Terry L. | Patrolman | 9/29/1969 | 1/19/1948 |
| Schultz Larry H. | Patrolman | 1/25/1971 | 8/30/1945 |
| Fredrich, James H. | Patrolman | 1/25/1971 | 6/1/1948 |
| Henning, Dale T. | Patrolman | 2/14/1972 | 1/21/1948 |
| Boeder, Ronald W. | Patrolman | 3/5/1973 | 2/15/1944 |
| Wehner, Dale R | Patrolman | 3/19/1973 | 5/22/1947 |
| Lehmann, Ernest E. | Patrolman | 3/19/1973 | 8/5/1948 |
| Quamme, Orval | Patrolman | 11/12/1973 | 6/20/1940 |
| Schwartz, Arthur B. | Patrolman | 5/20/1974 | 12/31/1947 |
| Wellner, Richard | Patrolman | 5/20/1974 | 7/3/1952 |
| Hodan, Marjorie J. | Meter Maid | 5/13/1974 | 9/3/1927 |
| Schmidt, Diane C. | Secretary | 3/8/1971 | 3/14/1953 |
| Broeder, Roger | -- | 1975 | -- |
1975
05 13          LOUIS A. KOHLS (1916-1975), DOD May 12th
<![if !vml]>

<![endif]>  
Funeral services for Louis A. Kohls, 59, 821 Richards Avenue, lieutenant of the Watertown Police force, were held at the Pederson Funeral Home with Rev. John Hicks of the Watertown Moravian Church officiating.  Interment was in the Watertown Moravian Cemetery.  Kohls was dead on arrival at the Watertown Memorial Hospital following an apparent heart attack.  He was born in Watertown March 22, 1916, son of Mr. and Mrs. Otto Kohls.
He had been a member of the Watertown Police Force for 19 years, and at the time of his death held the position of lieutenant.  Appointed to the department on Jan. 15, 1956, promoted to sergeant on March 15, 1966, and on July 15, 1967, was promoted to rank of lieutenant.
On Oct. 6, 1940, he married the former Arline Ray at St. Olaf's Lutheran Church in Toland.  Kohls served with the U.S. Army and the National Guard.  He was a member of the American Legion, VFW, American Federation of Police, Wisconsin Professional Policeman's Association and the National Police Officers Association.  He was also a member of the Masonic Lodge, Moose Lodge, Knights of Pythias and the Watertown Moravian Church.
Lt. Kohls was involved in photography for the police department and also for the Watertown Daily Times.  Photography was his hobby and he enjoyed doing free-lance work.    WDT
1975c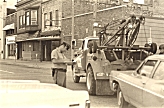 Officer Bob Webster, S Second and Market streets
1977
May         OFFICERS SIGN UP FOR FIRST AID COURSE
<![if !vml]>

<![endif]>   Officers Henry Lehman, Larry Sukow and Keith Becker.
BICYCLE SAFETY AND CUB SCOUTS OF ST. HENRY'S.
Approx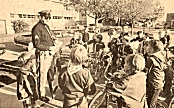 1978
FIRST WOMEN JOIN POLICE RESERVE
01 26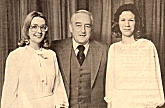 Caroline Fischer and Barbara Locke
03 03          DUSOWSKY RETIREMENT
Joined department on June 1, 1948.  Replacement as night shift lieutenant is Sgt. Bruce Saniter.
03 04          SANITER & SUKOW PROMOTIONS
With the retirement of Lieutenant Dusowsky, shift commander on the midnight to 8 a.m. shift, Sergeant Bruce A. Saniter is being promoted to the position of lieutenant and will be in charge of the same shift.  Lieutenant Saniter joined the department on May 1, 1966.  He was promoted to the position of detective on July 1, 1973 and served as a detective in the juvenile area until April 19, 1977, when he was promoted to uniform sergeant and assigned duty on the midnight shift.
Officer Larry Sukow is being promoted to the rank of sergeant and assigned to the midnight to 8 a.m. shift.  Sergeant Sukow joined the department on Jan. 1, 1969j and at the present time is assigned to the day shift, patrol duty.
1979
06 02          PERSONNEL CHANGES
Three personnel changes announced.  Lieutenant Bruce Saniter, a 13 year veteran of the department, has resigned, effective June 15.  He has accepted the position of director of building and grounds for the Watertown Unified School District.  Lieutenant John Crandall has retired after 28 years of service and Sergeant Lavern Schumann has been promoted to the position of lieutenant.
06 26          CRANDALL RETIREMENT
<![if !vml]>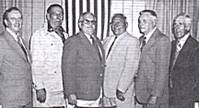 <![endif]>  
Lieutenant John Crandall was honored on his retirement after 28 years on the department.  A retirement dinner and party was held in his honor at the Watertown Elks Club.
Among those present were Captain Patrick Kunitz, a 28 year veteran; Lieutenant Melvin Wendt, 31 years; Lieutenant Crandall, Inspector and Acting Chief Clarence Tessmann, 25 years; Sergeant Leonard Braunschweig, 28 years; and Inspector Alfred Krahn, 28 years.  Kunitz retired in 1966, Braunschweig in 1969, Krahn in 1970, Tessmann in 1972, and Wendt in 1977.
1980-1993
RICHARD L. REYNOLDS, Chief of Police, 1980-1993

1980
01 31       REYNOLDS IN NEW CHIEF
Inspector Richard Reynolds, a 22 year veteran of the Watertown Police Department, is the new Chief of Police.  Reynolds, 46, assumed his new duties this morning.  The new chief succeeds Gerald Donovan, who resigned effective Jan. 1.
Reynolds is a 1952 graduate of the Baraboo high school and was employed by a Butler excavating company before beginning his 22 year career in police work.
He was a special traffic officer under Chief of Police Herbert Vehlow from 1956 until Jan. 1, 1958, when he accepted a full-time appointment as an officer on the nigh shift. 
Reynolds was appointed to the juvenile division in November of 1966 and was appointed sergeant on June 1, 1967 by Chief M. K. Mann.  He was appointed lieutenant and was assigned to the juvenile division on June 15, 1970, and on March 1, 1972 he was appointed to the position of inspector by Vhief Donovan.
Chief Reynolds has completed courses in personal management, police officer evaluation and employment relations through the University of Wisconsin Extension, is past president and life member of the Wisconsin Juvenile Officers Association and has memberships in the Dodge County Chiefs and Sheriffs Association and the Jefferson County Chiefs and Sheriffs Association.
Reynolds and his wife Shirlee reside at 218 East Water Street.  They have four children.  They are Michael, a graduate of the United States Air Force Academy and a lieutenant in the Air Force, Mrs. David Thrams of Milwaukee, Tom Reynolds of Watertown and Timothy, who is a senor at Watertown High School
02 10       FIVE PROMOTIONS ANNOUNCED
Lieut. Larry Sukow to inspector of police.  Sukow was appointed patrolman on Jan 2, 1969, sergeant on March 3, 1976 and lieutenant on June 16, 1979.
Sergeant Michael Besel of position of lieutenant.  He was appointed patrolman on Aug 1, 1977 and sergeant on July 25, 1979.
Sergeant Orval Quamme transferred to the detective bureau as a detective.  He was appointed patrolman on Nov. 12, 1973 and to the position of sergeant on July 25, 1979.
Officer Dale Weber to the position of sergeant.  He was appointed patrolman on March 19, 1973.
Officer Thomas Killmon to the position of sergeant.  He was appointed patrolman of Oct. 13, 1975
09 28       DALE HENNING: ARTIST I AND II TRAINING
Police Chief Richard L. Reynolds announced that Officer Dale Henning has successfully completed the Artist I and II Training courses at the Waukesha County Technical Institute.  The two week training course covered training and instruction in drawing suspects from descriptions provided by victims and witnesses.  With the completion of this training by Officer Henning, there is now an artist available within the department to provide these services.
1981
11 05       MICHELLE MANDERS
<![if !vml]>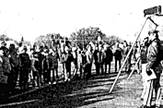 <![endif]>          <![if !vml]>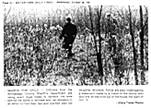 <![endif]>
<![if !vml]>

<![endif]>
The body of missing 2 ½-year-old Michelle Manders was found on a riverbank in November 1981.  Hers was the fifth in a series of mysterious disappearances and deaths over seven years.  On this page, you can explore the case, including police documents, suspects, maps and key events     A Journal Sentinel Watchdog Report     Is buried in Oak Hill cemetery.   
1982
03 20       DEPARTMENT STATUS REPORT
Reynolds was appointed chief of police in 1980.  He reports the department now [1982] has 30 sworn officers with police authority and six civilian employees.  This year the department is getting its own computer, into which will be filed the modus operandi of all break-ins and burglaries.  This information will be instantly available in investigative work.   WDT article 03 20 1982
1983
07 29       FLOYD MILLER RETIRES
<![if !vml]>

<![endif]>
Sgt. Floyd H. Miller, a member of the Watertown Police Department for 32 years, will retire July 29.  Miller, 61, 1301 Center Street, joined the department as a patrolman on April 16, 1951.  Miller worked the afternoon shift for a short time when he first joined the department, then worked the night shift for 19 years.  He moved to the day shift 13 years ago, and was promoted to sergeant on March 1, 1972.  Miller, a lifelong resident of Watertown, said he plans to take it easy for a while, although he added he might tend bar.  He said he tended bar at Charlie Howard's tavern on North Fourth Street before joining the police department.
1984
08 08       TIMOTHY ROETS, Jaycee Outstanding Young Law Enforcement Officer
Watertown Police Officer Timothy Roets was named the Watertown Jaycee Outstanding Young Law Enforcement Officer during River Days festivities Friday evening.  Jaycee president Ray Wolfram made the presentation to Roets commending him on his enthusiasm and dedication to police work.  The last law enforcement award made by the Jaycees was in 1968.  Roets joined the police force Aug. 10, 1982, as a patrol officer and is now in the juvenile division.  He is especially active in the department's educational programs.  In puppet show format students in grades kindergarten through sixth see programs on the hazards of drug abuse, vandalism and shoplifting.  The programs are credited with keeping open lines of communication between the police department and schools.
09 17       LAVERN SCHUMANN GRADUATES
Police Lieutenant Lavern E. Schumann was one of 250 police officers from around the world to graduate last week from the 138th session of the Federal Bureau of Investigation National Academy.  The degree represents 11 weeks of executive-level training including coursework in police management, ethics, law, urban police problems and behavioral sciences.  Schumann joined the Watertown Police Department in 1968 and in 1979 he was promoted to the rank of sergeant.  Later in the same year he was promoted to the rank of lieutenant.  WDT
1985
04 29       MICHAEL BESEL OFFERED POSITION
Jefferson - The Daily Times has learned Lieutenant Michael Besel of the Watertown Police Department has been offered the position of chief of police of the City of Jefferson. Jefferson City Attorney Bruce Freeberg confirmed the selection of the police and fire commission. The appointment has yet to gain the formal approval of the Jefferson City Council. However, the police and fire commission will submit its recommendation of Besel to the council next month. Besel, 1050 Kiewert Street, has been employed by the Watertown Police Department for nearly eight years. He was first appointed to the position of patrolman on Aug. 1, 1977, serving previously as a patrolman for the City of Butler Police Department.
09 17       APPLICANTS FOR FIRE CHIEF POSITION
The Watertown Police and Fire Commission has received letters from 18 applicants for the position of city fire department chief, the chairman of the panel said today.  The deadline for submitting applications was Saturday and Robert P. White said others could be accepted later today if postmarked Sept. 14.  The city is searching for a new chief to replace Donald Asmus who is retiring effective Dec. 30.  Asmus has been the fire chief for Watertown since Dec. 1, 1970.  Of the 18 candidates, two are from Watertown and three are from out of state," White said.  It is unclear how many applicants the police and fire commission will interview, he said, but it will not be the entire 18.  WDT
12 19       OFFICERS WEBSTER AND SCHULTZ HONORED
Officer Robert W. Webster received a ring for his 25 years of continuous service; Police Chief Richard L. Reynolds; Police Dept. Christmas party
Officer Larry Schultz, left, received a lapel pin for his 15 years of service. 
1986
01 06          FIRST FEMALE POLICE OFFICER
The first female police officer began her duties on Jan. 6, 1986.  Miss Marcie Jo Repta is a native of Milwaukee.  Repta filled a vacancy created by the resignation of Mark Neuman. He resigned on Nov. 22 to accept a similar position in his hometown of Beaver Dam.   WDT
07 30          MARK MEDDAUGH
A West Allis resident, Mark Meddaugh, has been appointed to the position of patrolman.  Meddaugh will attend recruit training for state certification at Waukesha County Technical School and upon completion will be assigned to the midnight to 8 a.m. shift.  Appointment is effective today.  The new officer replaces officer Mark Murphy, who resigned effective July 12 to accept a position with the Madison Police Department.  Murphy, who also worked the midnight shift, had been with the department since September 1979.   WDT
1987
01 10       1986 CRIME REPORT
The Watertown Police Department cleared a higher percentage of reported crime in 1986, but several high-priced thefts remain unsolved.  Of the 555 crime reports filed in Watertown last year, 266 were cleared for a success rate of 47.9 percent.  In 1986, Watertown police investigators cleared 43.8 percent of the reported cases.  The type of cases included in the 1986 report are theft, burglary, assault, stolen vehicle, robbery, sex offense and murder.  Chief of Police Richard Reynolds Friday was quick to give credit for the increased success to cooperation from the public and a better trained police staff.
04 14       HONORED FOR SERVICE
Police Chief Reynolds honored three members of his staff on behalf of the Watertown Professional Police Officers Association.  Those honored for their years of service were:  Pat Barry, 10-year pin; Dale Henning, 15-year pin; and Henry Lehmann, 20-year pin.
08 04       POLICE AUXILIARY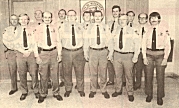 Police Auxiliary  15 members
11 12       LEON RUDER
Leon J. Ruder Jr. began his first day today as patrolman.  Ruder, 22, was appointed to fill the vacancy created by the resignation of Officer Ronald Noe who left effective Oct. 17 to work for the Verek Corp. in Madison.
12 12       BRUNNER MURDER
Resa Scobie Brunner murder; Matthew Knapp charged   WDT full text article
1989
11 03          PER CAPITA SPENDING FOR POLICE SERVICE
Watertown's per capita spending for city police service is substantially below the state average, according to a survey prepared by the Wisconsin Taxpayers Alliance.  According to the report, Watertown spent $74.55 on police-related expenditures in 1988 for each of its 18,850 residents.  The state average for all state cities and villages with a population of more than 3,000 was $120 per person.  Compared with similar-sized communities, Watertown's spending also is below the average of $99 per person for cities and villages with populations of 10,000 to 30,000.  Watertown Police Chief Richard Reynolds said the report seemed to indicate that other communities place a higher priority on police protection.  WDT
1990
03 18          ORVAL QUAMME TO RUN FOR JEFFERSON COUNTY SHERIFF
Orval Quamme, a lieutenant and shift commander with the Watertown Police Department, announced his plans to run for Jefferson County sheriff.  Quamme is the first declared candidate for the position since Sheriff Keith Mueller announced that he planned to retire at the end of his term in January, ending a career of nearly 37 years in the sheriff's department.  Quamme, a 23-year veteran of local law enforcement, believes his education and experience would be an asset to the sheriff's department.   WDT
04 01          ORVAL QUAMME NAMED SAILOR OF THE YEAR
Orval Quamme, a lieutenant in the Watertown Police Department, has been named sailor of the year for 1989 for the Naval Operations Intelligence Center in Glenview, Ill.  Quamme, 400 Dewey Ave., is a petty officer, first class, for the U.S. Naval Reserve.  He works as an analyst for naval intelligence.  Quamme, who is a candidate for Jefferson County sheriff, said he was pleased by his selection for the award.  "It's an honor because it's a selection made of only one individual of a unit a year," he said.  "It indicates high recognition by peers as well as superiors.   WDT
04 10          TIM ENGEL HIRED AS PATROLMAN
Timothy O. Engel hired as a patrolman.  Engle and wife, Robyn (Rabbach) reside at 32 Pine Ridge Court, Watertown.   Engel graduated from Watertown High School in 1981, served in the U.S. Marine Corps for four years and attended Waukesha County Technical school.  He will have his recruit training at the Madison campus of the Madison Area Technical College.    WDT
04 10          OFFICER TIMOTHY R. WAYSTEDT
[same date] Officer Timothy R. Waystedt completed his police training and has joined the Watertown Police Department.  Was hired on Sept. 18 to replace Officer James Wolf.    WDT
06 01          ANDREW GEE APPOINTED.  REPLACES HENRY LEHMANN
Andrew R. Gee has been appointed to the Watertown Police Department, according to Chief Richard L. Reynolds.  Gee will replace Officer Henry Lehmann, who is retiring after 24 years with the department.  His retirement is effective June 30.  Lehmann, who joined the force on May 1, 1966, was the department's photographer.  He was assigned to the day shift.  Gee, who will work from 4 p.m. to midnight, possesses a Bachelor of Science degree in criminal justice from the University of Wisconsin-Platteville and has state certification.   WDT
June         HENRY LEHMAN RETIREMENT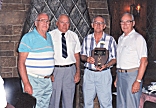 Henry Lehman retirement
08 09       OFFICER HENRY LEHMANN HONORED
Members of the Police Department honored Office Henry Lehmann for 24 years of service at a dinner on July 29 at the Elias Inn.  Lehmann, who retired effective June 30, received a plaque from his fellow officers and an honorary life membership from the Wisconsin Policeman's Protective Association.
12 16       SERVICE AWARDS
The Watertown Professional Police Association presented service awards at a banquet dinner Sunday at the Elias Inn.  Tom Killmon received a 15-year award, Sherry Ulrey a 10-year award, Dale Wehner, 15 years and Terry Triana, 20 years.
12 31       BOB WEBSTER RETIREMENT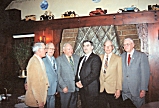 1991
01 06       ROETS PROMOTED TO LIEUTENANT
Sgt. Timothy Roets has been promoted to lieutenant on the Watertown Police Department by Police Chief Richard Reynolds.  Roets will be filling a vacancy created by the departure of Lt. Orval Quamme, who took the oath of office as Jefferson County sheriff this morning.  Roets will be assigned to the midnight to 8 a.m. shift to replace Lt. Thomas Killmon, who will be transferred to the 4 p.m. to midnight shift.  Roets joined the department on Aug. 10, 1982, as a patrolman.  He was promoted to sergeant detective on Jan. 16, 1985.   WDT
1992
911 DISPATCH CENTER SINGLE CONTACT POINT
The Fire Department worked with Police Chief Richard Reynolds on the recommendation to make the 911 dispatch center the single contact point for all incoming and outgoing emergency information.  Riedl, Ken, Watertown Fire Department: 1858-2007, 2007, pg 364
07 03       911 DISPATCH CENTER STAFFING
Three additional dispatchers will be hired this year to staff the city's 911 emergency telephone, according to a recommendation from the Watertown Finance Committee.  The committee agreed to the additional dispatchers because two people are needed to operate the 911 center at a time.  With only four dispatchers currently on staff, the police department has been forced to take uniformed officers off the street to man the center.  "We are not able to have the full complement of uniformed officers patrolling the street and it's been difficult to maintain response time on the 911 calls," said Mayor Frederick Smith.  "It is totally undermining the public safety effort in the city."   WDT
-- --          SERVICE AWARDS
<![if !vml]>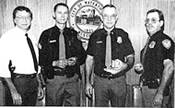 <![endif]>  
The Watertown Professional Police Association presented service awards to members of the department.  Sgt. Terry Krueger, 15 years; Lt. Robert Kube, 25 years, Officer Dale Henning, 20 years.
1993
-- --        CHIEF REYNOLDS RETIREMENT ANNOUNCED
04 02       POLICE RESERVE MEMBERS HONORED
Three members of the Watertown Police Reserve have been honored for their years of dedication to the organization.  Melvin Lange and Captain William T. Connor were honored for 35 years of service and Donald Kurtz was honored for 25 years of service.  The three received certificates of appreciation from Watertown Police Chief Richard Reynolds and Inspector Larry Sukow.  Reserve officers for this year include President Doug Clemmons, Vice President James Leslie, Secretary/Treasurer Dan Adams and board of directors Mark Ritter and Don Petig. The group is currently under the direction of Reynolds and Sukow is the liaison officer.  Connor serves as captain.
04 05       FORTY-ONE APPLICANTS FOR CHIEF OF POLICE POSITION
Forty-one applicants are seeking to become Watertown's ninth chief of police, according to City Clerk-Treasurer Michael Hoppenrath.  Richard Reynolds, chief since February 1980, announced his retirement earlier this year.  A 35-year veteran of the force, his last day in office will be May 21.  According to Hoppenrath, 35 of the applicants for the position are from Wisconsin, including several people currently working in the police department.  The other six applicants came from Illinois, Minnesota, Colorado, Florida and Virginia.  Names of the applicants have not been released.
05 19       CHIEF'S AIM WAS HELPING PEOPLE
When asked to recount some of the more sensationalistic eases of his 35-year law enforcement career, Richard Reynolds politely declines.  Instead, the retiring police chief prefers to remember his day-to-day contact with citizens, especially young people, as he served on the Watertown Police Deportment.
Reynolds' commitment to his own family led him to his law-enforcement career, which will conclude with his retirement starting Friday, just prior to his 60th birthday on May 26.  Reynolds was born in Milwaukee, but he found himself living in states as far away as Texas due to his father's construction work.  After graduating from Baraboo High School in 1951, Reynolds moved to Watertown with his parents. 
Like his father, he also worked in the construction field for a Butler company.  During his off hours from the excavation job, Reynolds began working part time in 1956 as an auxiliary policeman, directing traffic on Friday nights and supervising ball tournaments and dances at Turner Hall.  When the police department expanded in January 1958, Reynolds was hired as a fulltime sworn officer.
In his first two years on the force, he worked from 4 p.m. to midnight.  The next seven years were on the midnight to 8 a.m. shift.  With his promotion to sergeant in June 1967, Reynolds began working in the department's juvenile division under Inspector Mickey Krahn.  Reynolds worked in the juvenile department until his promotion to inspector under Chief Gerald Donovan on March 1, 1972.  After Donovan left to accept another position in January 1980, Reynolds beat out about 20 applicants to become Watertown's eighth chief of police.
After his retirement, Reynolds will leave a department that has grown to 33 sworn officers and a civilian staff of 11 full- and part-time secretaries and dispatchers.    Abstracted from WDTimes article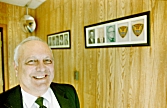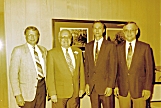 Concluded 35-years of law enforcement
Richard Reynolds
06 13       CHARLES MCGEE SELECTED AS NEXT CHIEF
Charles S. McGee II, a lieutenant with a Colorado police department, has been selected as Watertown's ninth Chief of Police.  The Watertown Police and Fire Commission chose McGee, 46, after interviewing the five finalists for the position.  McGee told the Daily Times he expected to accept the position, pending a final agreement on the terms of his employment.  David Nielsen, secretary for the commission, said the panel was unanimous on its selection of McGee, who currently serves as patrol commander for the Northglenn, Colo., police department.
07 03       CHIEF REYNOLDS RETIRES
Watertown Police Chief Richard Reynolds will conclude a 35-year career with the department when he retires this summer.  Reynolds informed the Watertown Police and Fire Commission Monday that his last day of work would be May 21, although his actual effective retirement date will be midsummer.  Reynolds believed it was time to hand the leadership of the department to a younger person.  Reynolds will turn 60 on May 26.  Reynolds started his career with the Watertown Police Department as a patrolman on Jan. 2, 1958, although for several years prior, he served on the police reserve.
07 06       CHIEF POSITION OFFERED TO CHARLES MCGEE
The Watertown Police and Fire Commission Thursday voted to formally offer the city's police chief position to Charles McGee.  In June, the commission tentatively selected McGee for the position, pending the results of a background check, as well as psychological and physical tests.  "Those reports were all in and we reviewed those and formally approved our (previous) recommended," said Gary Smith, commission chairman.  He noted that nothing turned up in the tests or McGee's background to give commissioners any concerns about hiring him.  City Clerk-Treasurer Michael Hoppenrath said a letter will be sent today to McGee to offer him the position, which has been vacant since Richard Reynolds retired in late May.  McGee has verbally accepted the Watertown job.
1993-2008
CHARLES S. MCGEE, Chief of Police

  Watertown's 9th Chief of Police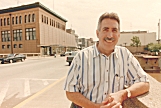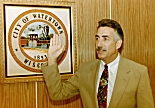 1994
NEW DEPARTMENT LOGO
08 28       POLICE LIAISON AT HIGH SCHOOL
A workshop about a police liaison at Watertown High School will be held by the board of education and the police department Thursday evening.  Sgt. Mark Meddaugh of the Watertown Police Department will conduct the discussion during a 6:30 p.m. board meeting at the Educational Service Center, 111 Dodge St.  The board of education earlier this summer had requested information about the possibility of having a police officer work as a liaison at the school.  Police Chief Charles McGee has indicated an interest in developing ways to work with the school district in juvenile issues.  Several area districts have a police liaison program, where an officer works closely with the high school but is not stationed in the building.   WDT
1995
NEW LOGO ON THREE NEWEST SQUAD CARS
1995  
EXPANSION OF POLICE BIKE PATROL PROGRAM
c.1996
SHERRY MEYER, PARKING MONITOR (METER READER)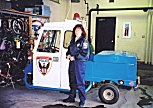 Sherry Meyer was with the department from April 3, 1978 until 1994 as the full-time dispatcher.  She briefly went part-time when the new 9-1-1 system went into place as it was no longer a position that she was interested in.  She was hired back full-time in 1994 as the parking monitor.  It was some time after she was re-hired that the photo was taken of her with the Cushman scooter which she used for a short period of time to do parking enforcement, before a little Ford pickup truck was purchased for her to use.
1997
04 05       ID CARD COMPLIANCE
Watertown Police Friday evening conducted a second undercover operation to determine if local tavern owners are checking ID cards of people suspected of being underage.  And, this time, the results showed a better compliance level than the earlier one, according to Chief of Police Charles McGee.  Nine taverns and businesses were visited by four underage volunteers.  The volunteers were able to purchase alcohol at only one of the establishments, the chief said.  "I was very pleasantly surprised at the outcome," McGee said.  "Obviously, our efforts to work cooperatively with the liquor outlets are paying off.  All we ask is that IDs be checked and that was done at every location but one."  
05 07       NEW POLICE FACILITY RECOMMENDED
The Watertown Common Council Tuesday will consider a committee's recommendation for the construction of a new facility for the police department.  The council will meet at 7 p.m. in the council chambers of the Watertown Municipal Building.  Council members have already taken one vote on the issue.  Aldermen met as a committee of the whole last week and voted, 7-2, to bring the resolution to Tuesday's council meeting for a potential vote.  Council members Kenneth Berg and Lewis Miller cast the two dissenting votes at that meeting.  The recommendation to design and construct a new police facility on a new site was recommended by the ad hoc police facility committee, which was formed by the council in June 1996.  
10 17          Safe and Sober traffic safety campaign, grant received   WDT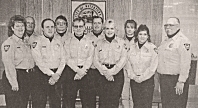 Police Auxiliary, 1997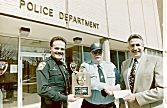 Plaque presented to Capt. Bill Connor
Appreciation for 40 years of dedicated service, Watertown Auxiliary Police, 1957-97
1998
12 10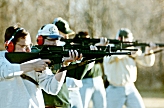 Police train with new Colt AR-15 automatic weapons 
12 19          A new Watertown Police Dept would be constructed near the high school, plan proposed   WDT
1999
02 03       Inspector Larry Sukow, 30 year veteran, retiring   WDT
03 21       $5 million cap on a new police facility and renovations to municipal building   WDT
04 03       Police facility on High School land; option allowed construction of