website  watertownhistory.org
 ebook  History of Watertown, Wisconsin
Loeb's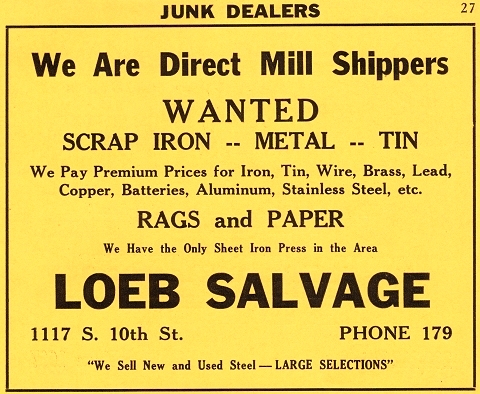 1923
For us at Loeb's, it started in Columbus, WI
In 1923. Hyman Loeb, our father, ran a small business out of his back yard.  He was called a junk collector.  Hyman would go on his horse-drawn wagon door to door.  Loeb would collect all kinds of junk including paper, rubber products, metals, and rags.  He would then take the items home and sort out and sell the items to different processors.
Hyman had the help of his five sons, Maury, Bill, Harry, Archie and Leonard, and one daughter, Rose.  But just as important he had the help and backing of the community.
1976
Now 53 years later, two of his sons, Bill and Archie, carry on his trade.  The sons have moved to Watertown and up the ladder to scrap processors.  They now use heavy equipment to produce an important man-made resource for mills, refineries and foundries.  That resource is scrap metallics from old products that can be remelted into raw materials for new products.  Along with our new title, we also have another hat, that of a recycler.
1982
07 11       Loeb Metal Recycling Company's aluminum can recycling center collected 1,740,000 used aluminum containers during the "Turn Aluminum Into Gold" Olympics recycling campaign ending June 30. William Loeb, president of Loeb Metal Recycling Company, said the recycling center at 1111 South Tenth Street collected 72,500 pounds of cans during the June activity and paid more than $22,000 to can collectors. "Recycling aluminum cans makes everyone a winner," Loeb said. "Participating in the campaign was an effective way to make more Americans aware of the benefits of recycling, to increase the number of can collectors in the Watertown area and help U.S. Olympic athletes at the same time."   WDT
1987
07 26       Lorman Iron and Metal Co Acquisiton
Economic and personal reasons have caused state Sen. Barbara Lorman to sell her business, Lorman Iron and Metal Co., to the Four L Corp., a newly formed subsidiary of Loeb Industries, 1111 South Tenth Street, company officials announced this week.  Lorman who represents the 13th Senate District, said the recession of 1980 deeply affected the foundry industry, which in turn hurts the iron processing business.  "It's a changing market . It's a change in demand," Lorman, who is president of the firm, told the Daily Times this morning.  "It (the industry) changes direction. It grows or it shrinks.  With us, it was shrinking."  WDT
Cross Reference:
Oliver H. Kirscher, 1917–2008.  Ozzy had been employed in the scrap yard at Loeb's in Watertown for 18 years