website  watertownhistory.org
    ebook  History of Watertown, Wisconsin
Dr. L. H. Nowack
Dr. L. W. Nowack
1913-2001
519 East Main Street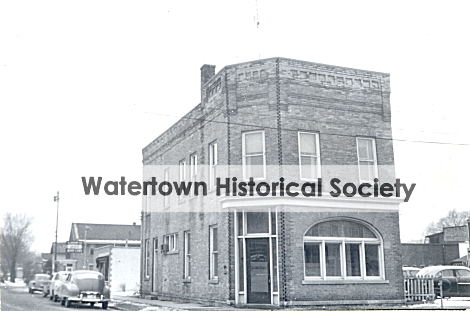 WHS_006_075b     c1957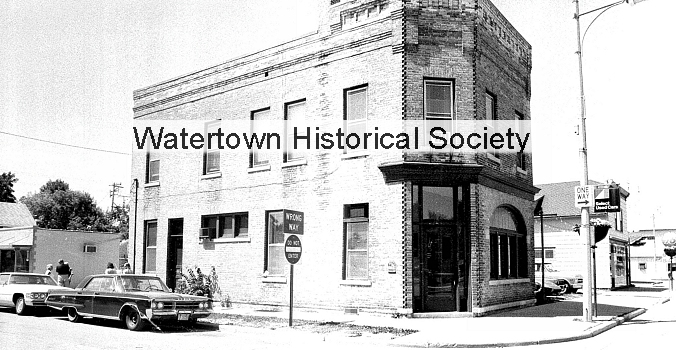 WHS_005_289     1975
1931
THE KLUB member
<![if !vml]>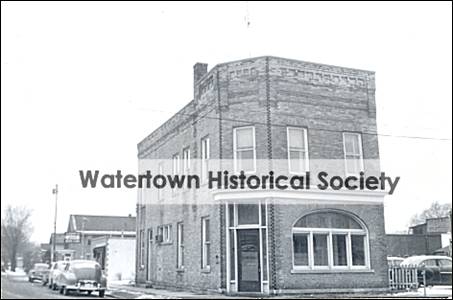 <![endif]>   Watertown High School
1953
07 20       Dr. L. H. NOWACK RESTORES REPLICA OF OCTAGON HOUSE
This year the miniature Octagon House may be said to rival its parent structure in the field of favorable criticism and attention.
In sunshine or rain it stands in all its new splendor seeking as it were the protective wing of the nigh century-old building at its side, the Octagon House itself, where it is on display.
Dr. L. H. Nowack. retired Watertown physician, has shown a decided aptitude in the restoration of the replica which was about ready to collapse due to its general debility and wasting away of its parts.
Dr. Nowack, with the skill of a veteran cabinet-maker, restored every detail of the miniature Octagon House, even to the openings for the lentils at the front door.  It required unlimited patience and expertness, which many employed regularly in the wood-makers art had refused to attempt.
The verandas with their intricate railings and the top balustrade between the four chimneys are now complete.  The front and side porch steps with the bay-window and the detailed French windows and paneled doors are very realistic.  Miniature blinds have been attached with tiny screws and the wood used throughout gives the entire structure a tone of permanence.
It has been placed on a cement foundation which makes it appear as if it is aspiring to the stature at the Octagon House itself.
Dr. L. H. Nowack has several hobbies which include floral culture and poultry raising, but he seems to have excelled in wood craft.  He is also a member of the Watertown Board of Education.   WDT
1954      APPOINTED WATERTOWN'S HEALTH OFFICER, Nov. 1, 1954.
1957
03 02       Dr. L .H. Nowack, city commissioner of health, said today that despite warnings in the past some persons here are still mixing garbage and rubbish and expect the city department to collect it.  He said that there have been numerous statements issued by him in the past which have defined what constitutes garbage and rubbish and that despite this some persons are still mixing the two in their garbage cans.   WDT
1958
02 14       Dr. L. W. Nowack, with offices at 519 Main Street, announced today that he will leave the city on April 1 to go to Bowling Green University at Bowling Green, Ohio.  His family will remain here until the schools close in June and then plans to join him in Ohio.  Dr. Nowack said that Dr. Raymond Doyle would take over his office here and that Mrs. Mary Murphy, a registered nurse who is employed in Dr. Nowack's office, will remain.  Dr. Nowack at this time declined to enlarge on his future plans.   WDT
1958
03 11       Sunday evening, in expression of their appreciation for the services rendered to them and to their families by Dr. Louis W. Nowack, a group of about 124 individuals met at the Legion Green Bowl to share in an "Auf Wiedersehen" dinner honoring the doctor.  The event was arranged as a surprise to Dr. and Mrs. Nowack.  Maurice Lawton was the master of ceremonies.  Highlight of the evening was a sketch entitled "This Is Your Life, Dr. Louis Willard Nowack."  The sketch, which was presented by Mrs. Peter McFarland, expressed in behalf of the patients present, the feeling of esteem and good fellowship each felt toward the doctor.   WDT
1959
02 27       Ralph W. McDonald, president of Bowling Green State University, Bowling Green, O., has highly commended the work a former Watertown resident, Dr. L. W. Nowack, has done since joining the faculty staff of the institution last year.  Dr. Nowack gave up his practice here to become associated with the university and he and his family moved to Bowling Green where they are now residing.  Dr. Nowack's father is Watertown's commissioner of health, Dr. L. H. Nowack.   WDT
1962
04 25       NOWACK RESIGNED AS HEALTH COMMISSIONER
Dr. L. H. Nowack, 300 Elizabeth Street, Watertown's health officer since Nov. 1, 1954, has resigned his position as of May 11.  Dr. Nowack, 78, submitted his resignation to Mayor Robert P. White.  The mayor is due to make an announcement of an appointment to the position at the next council meeting when he submits a nomination for confirmation.   WDT
05 31       A dinner was held Saturday night at the Legion Green Bowl to pay tribute to Dr. L. H. Nowack, retiring city health commissioner.  Thirty-four city officials and their wives attended the dinner to honor the doctor for his many years of service to the community.  Mayor R. P. White, master of ceremonies for the evening, pointed out many of the highlights in the life of Dr. Nowack.  Mayor White thanked him for his many years of service to the city and extended to Dr. and Mrs. Nowack the wishes of the citizens of Watertown for an enjoyable retirement.   WDT
1977
07 12       NOWACK FUND USED TO PURCHASE EQUIPMENT
Proceeds from the Nowack fund have been used to purchase equipment for the Emergency Department of Watertown Memorial Hospital. The fund was started by friends and patients of Dr. Louis W. Nowack following his recent retirement.  The money, which was donated to the local institution at his request, will be used for the purchase of three new patient carts and a vacuum attachment for the cast cutter. The fund will also be used to help underwrite the educational costs of local students entering a health field. A total of 338 persons contributed a total of $7,867 to the fund. A bronze plaque recognizing fund donors and honoring Dr. Nowack has been placed at the entrance to the emergency room.
1983
11 19       Dr. NOWACK CONTINUES AS MEDICAL DIRECTOR OF MARQUARDT MANOR 
Dr. Louis W. Nowack, a retired Watertown physician, will leave his position as health commissioner for the city, effective Dec. 30 of this year.  Mayor Kenneth Thiel announced Nowack's resignation at Tuesday evening's meeting of the Watertown City Council.  Dr. Nowack will continue as medical director of Marquardt Memorial Manor.    WDT
1984
08 06       MAIN STREET BRIDGE NAMED NOWACK
Dr. Louis W. Nowack, longtime Watertown physician who currently serves as medical director of Marquardt Memorial Manor, has been named winner of the downtown Main Street bridge naming contest.  Nowack was nominated for his work in the community and the many hours of caring for residents and employees at Marquardt, will receive the award in a ceremony at 8:15 tonight at the Riverside Park bandshell.   WDT
1991
05 23       DISTINGUISHED SERVICE CITATION
Louis Nowack, M.D., medical director at Marquardt Memorial Manor, will receive a Distinguished Service citation from Madison Area Technical College at a graduation ceremony Saturday at the Dane County Coliseum. The Distinguished Service citation is awarded to individuals and organizations who have contributed unusual or meritorious service to MATC. He was nominated for the award by MATC-Watertown teachers Jean Jacob and JoAnn Schilling for his support and contributions to the local campus.   WDT
1993
07 07       DISTINGUISHED SERVICE CITATION
A well-known Watertown physician has announced his second retirement.  Dr. Louis W. Nowack has retired from Marquardt Memorial Manor where he has served as medical director for many years.  A retirement party in his honor was held Wednesday at Marquardt.  Prior to joining Marquardt, he was active in the medical profession for 35 years before closing his local practice in 1976.  With his 80th birthday approaching on Sunday, Nowack said, "I've done my duty and I'm kind of worn out."  His duties at Marquardt included lending his medical expertise to staff members.     WDT
2001
Nowack was born July 11, 1913, in Watertown, son of Dr. Louis and Clara (Hilgendorf) Nowack.  He married the former Esther Witzke on Oct. 17, 1945, in Watertown.  She preceded him in death on Feb. 8, 1993.
Nowack was a graduate of Watertown High School, Northwestern University and Northwestern Medical School.  A physician and surgeon, he practiced in Watertown for 35 years.
Nowack was an Army flight surgeon during World War II and attained the rank of lieutenant colonel.  He was called to active duty in October 1940.  He attended flight surgeon school at Randolph Field and left for overseas in April 1943.  He served with the 8th Air Force Somber in England, and also served in France and Germany.
While in the military Dr. Nowack was the subject of a lengthy feature story written by United Press International.  That article was titled "He never lost a man who came back to his base alive," and was distributed to U.P. clients worldwide on June 29, 1944.  The article detailed his incredible military successes of saving the lives of soldiers injured in the war.
Nowack served as a flight surgeon in combat and on reconnaissance missions. He coordinated military ambulances and doctors meeting returning aircraft as well as directing ambulances and doctors in the field.  He devised, designed and implemented techniques to prevent amputation of limbs of injured soldiers.
Among his many military decorations were the Air Medal, Bronze Star, Soldiers Medal, Flight Surgeon Wings, Lt. Colonel Silver Oak Leaf Cluster, Unit Presidential Citation, Theater of Operations Medical and Theater of Operations - European Active Theater.
Nowack also served as Watertown Commissioner of Health, director of the former Marine Bank Watertown, Johnson Arms board of directors, Watertown Memorial Hospital board of directors and in retirement served as medical director at Marquardt Memorial Manor.
Nowack received a citation on Dec. 29, 1976, for his 35 years of selfless dedication and sacrifice demonstrated while serving the Watertown community and its hospital.  He received the Outstanding Community Leader citation from the Jefferson County chapter of the Reserve Officer Association on May 18, 1982.  The Watertown Jaycees honored him on April 7, 1970, for outstanding and unselfish medical service during the previous 31 years.  In 1958 he received a citation from the Bowling Green State University football team.  He had served at Bowling Green for several years.
The Main Street bridge in Watertown was renamed the Dr. L. W. Nowack Bridge on Aug. 18, 1984, during Watertown River Days.  The bridge naming for one year was in recognition of his contributions to the city of Watertown.
On May 18, 1991, he received the Madison Area Technical College Distinguished Service Citation for his exceptional effort on behalf of the college.
He served as a grand marshal for the annual Fourth of July parade and was awarded the Paul Harris Fellowship, the highest award given by Rotary International.
He presented scholarships to more than 20 local young people and established a fund to purchase medical equipment for Watertown Memorial Hospital.   WDT

History of Watertown, Wisconsin