website† watertownhistory.org
††† ebook† History of Watertown, Wisconsin
Cady Street Bridge
First Constructed in 1874
1865
02 09†††††† REPAIRS NECESSARY†
The Mayor called a meeting at the request of the Committee on Streets and Bridges, repairs being necessary on Cady Street to a larger extent than said Committee would order to be made without the consent of the Council.† Alderman Prentiss moved to authorize the Committee of Streets and Bridges to cause all necessary repairs on Cady Street to be done without delay and report the cost thereof after completion.† Motion carried.†† WD
04 06†††††† REPAIRS NECESSARY†
Alderman Moak, Chairman of the Committee on Streets and Bridges, reported to allow the accounts of A. Bornschein, $105 for repairing Cady Street bridge, $15.75 for replanking sidewalks on Main Street bridge.† Clerk directed to issue orders for the amounts on the city general fund.† Common Council Proceedings.†† WD
1872
12 04†††††† NEW CADY STREET BRIDGE PROPOSED
The propriety has been suggested to us of building a bridge across the river at Cady Street, for the use of the city while the new Main Street bridge is being erected.† In building a bridge at the point mentioned it was thought the city might get consider able assistance from individual sources that could not be obtained if this site was not selected.† During the winter would be a good time to get the piers down.†† Watertown Republican, 12 04 1872††† [Cady St bridge constructed in 1874-75]
PRE 1874 THERE WAS NO BRIDGE† /† conflicts with 1865 entries††
<![if !vml]>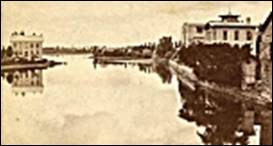 <![endif]>††††††† Click to enlarge
View, pre 1874, from Main Street Bridge, of Cady Street before bridge was constructed in 1874†
<![if !vml]>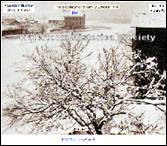 <![endif]>†
12 31†††††† VIEW SOUTH FROM BRIDGE
<![if !vml]>

<![endif]>
The Iron Bridge, known as the Cady Street bridge, is now in course of construction, which is all right, and no one is opposed to have a passage over Rock River at that point.† But it seems the city, or rather the sapient Committee on Streets and Bridges, have got themselves in something of a scrap.† We are told the contractors for building the bridge insisted on the city furnishing the measurements from abutment to pier, and from pier to pier on each span.† The committee on Streets and Bridges took this job, which they never ought to have done, but to have compelled the contractors to make their own measurement, as is usually the case.† The committee made the measurement, and at the same time made a mistake of some six feet as to the length of one of the arches.† The consequence is that in making the castings, the east arch projects some six feet beyond the abutment, and cannot be fastened on it and made secure and permanent as it should be.
Here is a pretty kettle of fish - the old story of meddling and muddling whatever a set of stupid ignoramuses undertake.† We should like to know how long the upright, fair-minded men of this city purpose [propose] to submit to this chronic kind of folly before they awake to the necessity of taking public affairs into their own hands, as they can do any moment when they see fit to arouse themselves to the earnest efforts imperatively demanded by the crisis.†† WD
1886
<![if !vml]>

<![endif]>
Cady St Bridge and Rock River, view from Main St Bridge, looking north, 1886.
1890
12 19†††††† DRUNKEN FOOL FALLS FROM BRIDGE
The intoxicated individual who fell from the Cady Street bridge onto the ice last Wednesday night and made night hideous by his yells for nearly an hour, will probably not fare so well next time.† It was a fortunate thing for him that the ice was strong enough to aid in preventing him from drowning.† As it was, he broke through and got a good ducking, and but for timely assistance he would have drowned.† Itís whiskey and not water he was looking for.† It's too bad a man can make such a fool of himself.
c1895
<![if !vml]>

<![endif]>
View north, from Main St bridge, c1895
1900
10 26†††††† UNSAFE AND LIABLE TO FALL AT ANY TIME
The Cady Street bridge has been closed to traffic by order of the Board of Public Works.† It was recently inspected by an expert who declared it unsafe and liable to fall at any time, the braces and supports being in poor condition.† The council is considering the matter of giving it a thorough repairing or the building of a new bridge.††† WG
1901
02 06†††††† KUNERT MANUFACTURING TO BUILD NEW BRIDGE
The material for the new Cady bridge is being received by the E. Kunert Manufacturing company and work will begin shortly.† The contract calls for the completion of the structure by April 20.†† WR
05 01†††††† CONSTRUCTION OF NEW CADY STREET BRIDGE
On Friday the A. Kunert Manufacturing Company began the construction of the new Cady Street bridge.† The structure will consist of six spans, each fifty-seven feet long and weighing six tons apiece.† It is expected to have the bridge completed by June 1.††††† WR
06 14†††††† NEW CADY STREET BRIDGE
Last Monday the Board of Public Works inspected and accepted the new Cady Street bridge just erected by the Kunert Manufacturing Co., and on Tuesday afternoon it was opened to traffic.† The bridge is a first-class one, and reflects much credit on our home institution.† It is built entirely of iron, excepting the paved roadway and sidewalks.† The work was under the personal supervision of our fellow-citizen, A. F. Baumann, one of the best-posted bridgemen in the state and a member of the Kunert Co.† He scrupulously looked after every detail.† The result is a first-class job.† It is a three-span steel bridge, 18 feet wide, and cost $6000.†††† WG
1905
FLOOD OF 1905
<![if !vml]>

<![endif]>†††
c.1905
<![if !vml]>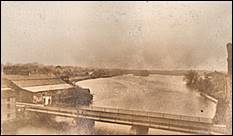 <![endif]>††
View to the north from top of Fuermann brewery of iron bridge built in 1901
††† S. M. Eaton ice house with chute for harvesting ice from the river
08 28†††††† BRIDGE RAILING REPURPOSED
A portion of the old Cady Street bridge railing, which was salvaged when that structure was demolished, has been set up as a rail on the west side of Main Street bridge.† It replaces a wooden railing which had been put there to fill in the gap when the old shoe repair shop which was last occupied by George Keller was torn down.†
c.1940
<![if !vml]>

<![endif]>††††
† <![if !vml]>

<![endif]>†††††undated image
<![if !vml]>

<![endif]>†† Image Portfolio† ††††††

History of Watertown, Wisconsin