website  watertownhistory.org
    ebook  History of Watertown, Wisconsin
Miscellaneous set
Watertown Daily Times, 12 28 1904
Watertown, a city of 10,000 inhabitants, growing steadily, has cancelled its bonds. Improvement much in evidence.  Factories are reviving, 5 already here; the Henry Box Factory employing 150 to 200 girls, the Lewis Beehive Factory, employing 100 hands, the Wells Shoe Factory employing 150 hands, the Beals & Torey Shoe Factory, employing 200 hands The Brandt- & Dent Cash Register Co., employing 50 hands, besides machine shops and foundries.
Two colleges are here, The Northwestern Lutheran, modeled after the Prussian Gymnasium, with 200 students, and the Sacred Heart, Catholic with 100 boys.
Watertown Methodism consists of one flourishing German church and a commodious campground near the city.  One English M. E. church, which is the older of the two by seven years and which, though long languishing, is beginning to bestir itself.  We have also a promising appointment at Pipersville with a comfortable church building five miles up, not Salt, but Rock River. [Wisconsin Christian Advocates]
Watertown Daily Times, 11 13 1965
A marker dedicated to the memory of William "Cogan" of Watertown, Wis., killed by Indians on May 4, 1876, was recently unveiled along an interstate project east of Rapid City, S.D.  The name actually is "Coogan."  Mr. Coogan was from Watertown and still has numerous relatives here, including Christie P. Coogan, head of the Coogan Agency.  The name will be corrected on the marker, relatives here have been informed.  Mr. Coogan was killed by Sioux Indians after he left a wagon train with which he had been traveling en route to the gold fields.  His grave was recently uncovered during highway construction work.  The remains have been reburied in a small roadside park just off the interchange.
Watertown Gazette, 06 19 1896
P. J. Euper's fine new sprinkler has arrived from Milwaukee.
St. Mark's Lutheran congregation are enjoying themselves today picnicking at Concordia Island.
Seibel's pony sale was well attended on Tuesday and good price s were paid for a number of the little horses.
Harry Beurhaus won the 100-yard dash in the field day exercises at St. John's Military Academy at Delafield last Tuesday.
William F. Quentmeyer and a number of Watertown masons are now employed by W. H. Wheller & Co., putting up a standpipe at Belvidere, Ill.
Schlueter Bros. exhibited a novel buttonhole bouquet at their cigar store on Wednesday and John Beisner had a beautiful and novel bouquet at this place of business on Thursday.
The excursion of the Germania Society of Madison to this city on Sunday brought a large number of Madisonians to our city.
Watertown Daily Times, 03 03 1966
A 27-year-old Watertown resident, James Markl, who was Watertown High School football and basketball player and captain of the football team in his senior year, has been launched on a business career here which deserves community support.  Markl, who resides at 412 South Church Street, is a physically handicapped individual as the result of an automobile accident which took place near the outskirts of Jefferson in December, 1958 when the car he was driving skidded on gravel and overturned.  He suffered a dislocated neck and pinched nerve which has hospitalized him for long periods.  After the accident he was taken to Fort Atkinson Memorial Hospital but shortly after was transferred to St. Mary's Hospital in Madison and to the Wisconsin University Rehabilitation Center and the Wisconsin Neurological Center which since has been taken over by the University of Wisconsin.  Today, after some seven years, he has only partial use of his hands and is unable to stand or walk and his world has been largely confined to a wheelchair with which he now gets about with considerable dexterity.
Give Up Malleable Iron Project
Watertown Gazette, 02 19 1914
The committee which had been soliciting funds for the establishment of a malleable iron plant here met last week and decided to give up the project.  The committee had received signatures for $20,000 worth of stock, with a promise of $50,000 from Milwaukee parties if a like amount could be collected here.  The committee, after good hard work, decided they could not land the $50,000 of local capital and finally abandoned the project.
Sidewalks on Main St.
Watertown Daily Times, 03 03 1966
According to the established grade on Main Street a new sidewalk constructed in front of H. T. Eberele's drug store is about four inches lower than the connecting walks.  The matter will wait the action of the board of public works, one of the members, Harlow Pease, being absent from the city.  The city engineer says that the grade is proper according to the existing ordinance, and when the sidewalks which connect with the same are placed at the same grade the work will be all right.  Several doors east of the Eberele sidewalk the grade of the walks will be raised.  The present work is laid in conformity with the rules for street paving.
_____________________ more on sidewalks _____________________
Watertown Republican, 03 03 1966
A newly established grade sidewalks on Main Street is not meeting with much favor.  A walk just completed in front of Eberle's drug store is several inches lower than the adjoining walks, rendering considerable inconvenience to pedestrians.  It is expected that ultimately a uniformity in the grade will be in vogue.
Main Street Pavement
Watertown Republican, 06 13 1899
Work has commenced on the street pavement and after a short time, if everything goes well, our citizens will no longer complain of the bad roads on Main Street.  Contractor Shoenlaub finds little difficulty in getting laborers, but the upper crust is exceedingly hard and the work therefore rather slow.  A concrete bed will be made up of Richwood quarry stone owned by P. J. Euper & Co.
New Factory Desired
Watertown Republican, 06 20 1899
The Business Men's Association is working hard to get a good factory started in this city.  Two are of special interest and are now being considered.  One is a concern in Appleton that manufactures toy furniture and toys.  The other is a Philadelphia firm manufacturing woolen good.  Representatives from both these firms will be here to look around.  It is hoped that the association will meet with good success, as this city can well afford to have a few good factories.
Proposal to extend South Washington Street
Watertown Republican, 06 13 1899
Meeting of the City Council A petition was read by the city clerk from residents of the Third ward, principally from the residents on Washington Street, to have the same street extended across the C.M.&St. Paul tracks and Rock river ending at Utah street in the Seventh ward.  Alderman Mayer moved to refer it to the committee on streets and bridges; Alderman Wertheimer amended and moved to put it on the table, which was done.
Watertown Daily Times, 03 26 1966
One of Watertown's best known downtown business places — Block's Market at 112 South Second Street — is closing.  Block's Market has long been known as the home of one of Watertown's most widely used products — Buerger's sausage.  The owner and operator of the market — Wallace Block — said today that the famed sausage, which sold to customers in every state of the Union and many countries abroad, will continue.  The recipe and rights to the sausage are being taken over by George Tyson of Badger Beefland, Inc.  The manufacture of the sausage will be resumed later and announcement regarding those plans will be made in due time.
New Richmond is gone
Watertown Republican, 06 20 1899
Since yesterday the little Wisconsin city of New Richmond has gone out of existence, and of the 2200 inhabitants few, if any, escaped death, injury or bereavment.  Scarcely a home but has lost one or more members and many still walk about hopelessly seeking those who are only to be found on the increasing list of dead.
Just how many lives were lost in that sudden whirling tempest may never be known, but the. most conservative figures are forty nine dead and 200 or more injured, while other estimates reach 200 dead . . . . The main business district is a smoldering heap of stone and ashes in which an occasional explosion marks the location of a hardware store.  The four-story hotel is as as flat as the lowest cottage and the whole scene is one of devastation and desolation.  The people are impoverished by the storm and the supplies that were hurried down by special train during the night and early morning were most necessary and welcome.
Inspector of Street Paving
Watertown Republican, 06 20 1899
Gus. Glaser has been appointed inspector of street paving by the board of public works.  Mr. Glaser thoroughly understands this line of work and his appointment is considered a good one.
Western Union Telegraph Company
Four standard clocks installed
Watertown Republican, 06 27 1899
The Western Union Telegraph company (107 S. First St in 1899) has placed in this city four standard clocks and correct time will be gotten once a day at the telegraph office, where the master clock will be placed.  The others are in Wiggenhorn's jewelry store, Goeldner's department store and the New Commercial hotel.  The timepieces are of the most modern kind, self-winding, and will be regulated from the master clock each hour.  They work by electricity.
<![if !vml]>

<![endif]>
1899-1900 City Directory
Knowing when a woman has done a day's work
Watertown Gazette, 06 30 1899
Nowadays when women are trying to do everything it is not strange that many things are overdone.  It is not strange that there are all kinds of physical and mental disturbances.  If a woman who is a doctor, or a lawyer, or a journalist, or in business would not try to be a society woman too it might be different, but the woman who knows when she had done a day's work has yet to be born.  Usually a woman's way is to keep doing until she drops.  Working in this manner has manifold evils.  The most common trouble resulting from over exert ion, either mentally or physically, is constipation of the bowels, with all its attendant horrors.
Watertown Sheet Metal and Heating Co
Watertown Daily Times, 06 14 1954
<![if !vml]>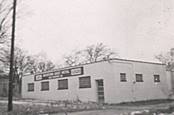 <![endif]>  
The Watertown Sheet Metal and Heating Company, with a downtown store located at 117 South Third Street, has added to its facilities a modern one-story building located on Clyman Street between Fourth and Fifth streets.  This building will house the sheet metal, heating and ventilating departments.  In announcing the completion of the new building, Lee Wilkes, proprietor, reports that the expanding needs of his business required the added facilities and states that the separate building for these departments will make it possible for the firm to serve the public to an even greater extent than it was in the past.  The building is 60 by 30 feet and provides 1,800 square feet of floor space.  Cement blocks were used in the construction.
Watertown Gazette, 06 30 1899
Paul Deminski received on Saturday last two fine dogs from Chicago which he prizes very much.  They were sent to him by Paul Valerius, whom he commissioned to get him a fine dog, the dog poisoner having recently having poisoned a valuable dog of Paul's.  The dogs arrived by mail, and though not just the kind Paul wanted, he prizes them very much.  One is white in color, the other black, and will no doubt ornament Paul's watch chain.  Mr. Valerius sent instructions that if the dogs were not wanted by Mr. Deminski should hand them over to Geo. W. Evans, but Mr. Evans refuses to accept them before the dog tax is paid up.
Watertown Gazette, 06 30 1899
Oscar Lawrence visited the premises of Paul Fuerstnan, town of Ixonia, last Friday evening, and found Fuerstnan cutting grass near his home.  Lawerence asked him if that was his place of residence and if the lady of the house was his wife.  Affirmative replies were given, Lawrence walked into the house, and in a moment the lady called her husband.  Lawrence was ordered out by him and when he reached the front stoop he pulled a revolver and uttering curses said he would shoot Fuerstnan.  The latter went into his house and the visitor started for this city.  He induced a farmer he met on the way to hitch up and bring him to town.
Mr. Fuerstnan also hitched up and followed, and when Main Street was reached in this city Mr. Fuerstnan jumped from his rig, caught his man, dragged him into a saloon and held him captive until Chief Block arrived to arrest him.  Lawrence denied having a revolver, but on being searched one was found on his person.  He was placed in the jail overnight and next morning he had a hearing before Justice Henze. He was placed undetr $1000 bail to appear for examination July 3, 1899, in default of which he was placed in the county jail.  Lawrence claimed he was drunk the evening before and did not know what he was doing.  Two years previous he claims to have done some painting at Fuerstnan's home. 
The gang drinks with you
Watertown Gazette, 06 30 1899
The following is from the pen of a Missouri editor: 
"Drink and the gang drinks with you, swear off and you go it alone, but a barroom bum who drinks your rum has a quenchless thirst of his own.  Feast and your friends are many, fast and they cut you dead, they do not get mad if you treat them bad so long as their stomachs are fed.  Steal and you get a million, for then you can furnish bail; it's a great big thief who gets out on leave, where the little one goes to jail.  Advertize and the dollars will come; quit and they fail to arrive; for how are men who have money to spend going to know you are still alive.
Wild man taken into captivity
The wild man who was taken into captivity by a deputy at Tony, Chippewa county, last Sunday and who gave the officer and two assistants a desperate battle, has been put into clothes.  The marshal at Tony donated a pair of overalls and a pair of shoaes, also a hat, in place of the coonskin cap he wore when captured.  He is still in the county jail awaiting examination, which will occur as soon as his mind is quieted sufficiently to have him understand what is wanted.  A physician who visited him is of the opinion that the man will regain his sense of speech as he has so far improved in this gift as to be able to state that he came from Canada, but what place and at what time he cannot tell, although he makes an effort to.
The identity of this man is still a mystery.  One popular theory which has been advanced has been he is an escaped inmate of an insane asylum somewhere.  He has been roaming in the woods for a long time, however, and has evidently wandered many miles from where he belongs.  Aside from the violence he exhibited at the time of his capture, he has acted quite rationally.  An effort is being made by the authorities to locate his former home.  Before an examination is made his beard and hair will be trimmed down, and he will be given a new suit of clothes.  The man insists on wearing the clothe she was captured in, consisting chiefly of a gunnysack.
He raises a strong objection when motioned to remove his gruesome attire.
Possessed with Power Over Animals
Watertown Gazette, 07 07 1899
A young lady living near the city is possessed with a wonderful power over animals.  Indeed, so elective is this influence that the moment she speaks to them they at once become the very picture of docility.  A fractious horse is in a moment reduced into complete submission.  The cows are subject to the same discipline, and when milking time comes "Bossy" gives every indication of a desire to win the good opinion of her amiable mistress.  Turkeys and geese are no exception, and gather around her when called.  It is amusing to watch how quickly a couple of pugilistic roosters are reduced to a condition of humility.  A word of chastisement makes them hang their heads with mortification, and they quietly steal away to hide behind the walls of the chicken house. 
This lady does not appear to realize that she is possessed of any unusual power, and it was first observed by the hired help, who frequently avail themselves of her good offices instead of applying drastic remedies to any of the animals when a stubborn case arises.
Many of the neighbors became interested, and they are wondering if it is not a case of hypnotism.
Horseless Truck
Watertown Republican, 07 11 1899
New York truck drivers were startled recently to see a massive automobile wagon threading its way through the tangled maze of the busy city streets.  It was the first time that the horseless truck had been seen in the street and its appearance created excitement.  The truck is run on the electric motor system, but supplies its own power by a 14-horse gasoline engine which charges the dynamo.  It is capable of running 8 miles an hour with a load of three tons.  The truck itself weighs 8500 pounds. 
Watertown Gazette, 07 07 1899
The grand pool and billiard exhibition will be given at the Buffet pool and sample room, 113 West Main Street, Saturday evening, July 7, 1899, and Sunday afternoon and evening, July 9, by G. H. Sutton, the champion Wisconsin pool and billiard expert.  Mr. Sutton will play all covers 125 balls 100 during the evening, and during the afternoon will play all kinds of fancy shots.  Do not fail to see this, the greatest wonder the billiard world ever produced.  All are cordially invited to attend.  No admission.
Arbuckle Coffee Firm
Watertown Republican, 07 11 1899
It is estimated that there are fifty million coffee drinkers in America.  We have long since passed the mark of being the largest coffee consumers in the world, one third of the entire coffee grown being used in America.  This proportion has been steadily growing since 1851, when the total amount of coffee imported was only 79,000 tons . . . But the greater portion of the coffee imported is retained in New York by the famous firm of Arbuckle Bros. the largest coffee dealers in the world.  They buy more than all other dealers combined, and the name Arbuckle has become synonymous for immense dealings in the favorite breakfast beverage
Tramps at Johnson's Creek
Watertown Gazette, 10 05 1900
Johnson's Creek, Wis. October 2 — Sheriff Fred Jaenhnke of Jefferson and four assistants arrested five tramps in the stockyards here today after a desperate fight.  Two of the tramps had a lot of cutlery and several revolvers which they had been trying to sell.  It is supposed that the goods were stolen from the Percy Gun Company store at Oshkosh two nights ago.  The tramps are held pending identification on the articles found upon them.
THE BOX LUNCH FOR YOUR MAN
. . . WHILE RATIONING DURING WWII
The box lunch, as much as any other meal, is part of the daily food program.  This meal must contribute its share — frequently one-third — of the food value your worker gets each day.  It must count towards building brawn and brain as much as the home breakfast, lunch, or dinner.  That makes the box lunch a mighty important meal — a meal worth planning carefully these days.
Remember, now you must know the point values of some several hundred foods — reckon your daily expenditure of points — balance the monthly point income against out-go. This figuring cannot be left to haphazard guesswork at the grocers. Your grocer has his hands full totaling sales for Government records and repurchase.
Remember, hard-working men need plenty of food to keep them going — that they like to slip a snack out of the box while they're busy at the press or lathe — that between meal pick-ups are good, and good for a man, as well.
When there is a regular lunch hour most men leave their boxes in the lockers. But going full tilt, the way so many plants are now, men do their eating when they can — snatching a snack between shifts, munching a sandwich during a lull on the job.
Working under pressure this way, a man likes to have his lunch box handy — placed on a nearby bench, or tucked up on a girder.
Remember, these are sandwiches for men — men who will be charging open hearths, assembling tanks, riveting sheets of steel on destroyers.  Doing strenuous work like that a man wants downright honest flavors.  So make good use of condiments, relishes, and sauces to pep up sandwiches.
Derived from "A Guide to Wartime Cooking":  Description:  46 pages, photos and recipes, tips, 9-point plan for wartime eating, two pages on the salvage program, "Buy Bonds for Victory" ad on back cover.
Winter
Watertown Gazette, 11 16 1900
Winter set in last Wednesday night in fine style.  Low zero mark was nearly reached and Rock River was frozen sufficiently solid for skaters to enjoy a spin on the ice next day.  It is hardly safe though yet for this kind of sport, and it would be well for parents to see that their children are kept off the ice a few days longer.
"Quick Lunch"
Watertown Gazette, 10 12 1900
"Quick lunch" is one of the commonest of city signs.  The sign doesn't say "A healthy lunch or good food — the character of the food apparently is not considered.  It is just a quick lunch — eat and get away.  Is it any wonder that the stomach breaks down?  Food is thrown at it, sloppy, indigestible and non-nutritionist food, very often, and the stomach has to do the best it can.
Watertown Gazette, 11 23 1900
Recent reports from Alaska are that Alfred Lester is earning $12 a day in the service of a gold dredging company near Dawson.  His many friends here are pleased to learn that he is prosperous and enjoying the best of health.
Watertown Daily Times, 05 09 1899
A petition is being circulated by property owners on Washington Street asking that the street be macadamized this year.  The street is badly in need of repair as in some places it is away above grade.  It is understood that a majority of the frontage is favorable to the measure.
_____________________ more on S. Washington _____________________
Watertown Republican, 05 09 1899
Some of the property owners on Washington Street are agitating the question of macadamizing that beautiful street.  There is no question but that it would be a desirable improvement, and besides the beautiful effect, much enhance the value of the realty.
_____________________ more on S. Washington _____________________
Watertown Republican, 06 13 1899
Report from the board of public works, to whom was referred the petition as to the macadamizing of Washington Street, was submitted, the board recommending to have the street paved with macadam [1], by the property owners, from West Main south to West Street.  Report adopted. 
[1] Macadam:  broken stone of even size used in successively compacted layers for surfacing roads and paths, and typically bound with tar or bitumen.
Watertown Daily Times, 03 29 1991
The Greyhound Bus Company will discontinue its passenger and freight service in Watertown, effective April 7.  The company has abandoned its Milwaukee-to-Minocqua route, including a stop in Watertown, due to lack of ridership, according to Rex Kemp, Greyhound customer service manager in the Milwaukee district office.  "The passenger traffic was nonsufficient to make a profit," Kemp said.  "You just can't sustain losses for a lengthy amount of time, which we have done."  The route had two stops daily in Watertown at 11:05 a.m. and 6:25 p.m.  The last bus will run on April 6.  It ran from Milwaukee and included stops in Delafield, Oconomowoc, Beaver Dam, Waupun, Brandon, Ripon, Berlin, Redgranite, Stevens Point, Wausau and Rhinelander.
Van Brunt a Different Clothes Pin
Watertown Republican, 12 02 1905
William A. Van Brunt, the Horicon millionaire, has given the Consistory F.&A.M. of this state a $100,000 farm, known as the Edgerton farm, in Waukesha county, for a home for masons.  He provides in the gift, that the home shall not be named after him, no monument erected in his honor, or his name in anyway mentioned.  He is evidently not a Carnegie nor a Rockefeller or he would have provided in the gift that his name be painted on every fence board on the place and a bronze statue be placed on every forty-acre tract of land comprising the farm — but then, he is not that kind of a clothes pin.   WR
St. Coletta's
100-year Anniversary
Watertown Daily Times, 09 05 2004
JEFFERSON — St. Coletta of Wisconsin will celebrate its 100-year anniversary this weekend that marks the founding of one of the oldest organizations in the United States supporting people with developmental and other challenges.  Bishop Robert Morlino of the Diocese of Madison, along with community leaders, elected officials, members of the founding organization of the Sisters of St. Francis of Assisi, St. Coletta employees, clients, families, board members and benefactors will gather Friday to celebrate the 100th anniversary of the founding of St. Coletta of Wisconsin.
Watertown Daily Times, 04 01 1966
The Central Bake Shop at 411 Main Street, operated by Mr. and Mrs. Lois Dokoupil for the past 20 years, has been sold.  The new owners are Mr. and Mrs. James G. Frick who will take over the business on Monday.  Mr. Frick has had ten years of bakery experience and he said today he will continue to operate the bakery with the same high set of standards and produce the same fine bakery products that have won for the business the high degree of popularity it has enjoyed for many years.
Labor Day, 1905
Watertown Republican, 08 30 1905
Labor Day, Monday, September 4th, is to be observed in the city by all of the labor organizations. It is right and proper that labor should set aside one day in t he year for the purpose of association and enjoyment.  Without labor nothing would be accompanied in this world which would soon lapse into barbarism.  The highest and best civilization is found where men labor either with hand or brain presenting the grand results that make for comfort and culture.  In no country in the world is labor better paid and more highly respected than in the United States.  To it we owe our progress and advancement in material wealth — without it, there would be industrial stagnation and decay.
_____________________ more on Labor Day, 1905 _____________________
Watertown Republican, 09 06 1905
Monday being Labor Day, it was appropriately observed in this city by the labor organizations several turning out in uniforms emblematical of their trade and they made a fine appearance.  The business streets and many of the business places in the city were decorated for the occasion and the stores, factories, shops, offices etc., were closed that all might have an opportunity to enjoy the freedom and pleasures of the day.  All wealth comes from labor; without it, there would be retrogression, which would ultimate in stagnation and decay.  To labor, more than to any other cause we assign our progress and civilization.  It gives strength and perpetuity to a nation and character to a people.  The committee having the mater in charge can certainly congratulate themselves on their splendid success.
Rain-in-the Face
Watertown Republican, 09 27 1905
News come from Grand River N. D., of the death there Monday of that celebrated old Sioux warrior, Rain-in-the Face, who was one of the leaders in the Custer Massacre.  He was 63 years of age, and had been an Indian policeman for many years.  The famous Sioux and David F. Barry of Superior were great friends, the latter having helped to get the Indians his police appointment at Standing Rock.  Mr. Barry had known Rain-in-the-Face since 1875 or 1876, and the grim red man liked much the frontier photographer in the early days.  Among the many famous men, both red and white, that Mr. Barry came to know there, he has always admired Rain-in- the-Face.  The Indian called the Superior man, in the Sioux tongue,''The Little Shadow Catcher".
Races at the Fair Grounds
Watertown Republican, 09 06 1905
The races Sunday afternoon at the Fair Grounds were very good indeed and excellent time was made in spite of the fact that the track was a trifle muddy because of the rain fall the previous night.  There was a large crowd in attendance at the grounds and every body was pleased, especially those whose horses won out in the several entries.
Sparks from Threshing Engine
Watertown Republican, 09 06 1905
Sparks from the threshing engine set fire to some grain stacks in Theo Baars's farm last week Tuesday and did some damage.  A number from here went out to give what aid they could.
Mayor Curtis of Madison
Watertown Republican, 08 16 1905
Sunday while Mayor Curtis and his daughter, of Madison, were driving overland to Milwaukee and when within a couple of miles of this city they alighted to pick wild flowers by the roadside, while thus engaged, the team, a fine pair of bays, became frightened and ran away.  The team came into the city and ran east on Main Street as far as the post office, where one of the animals fell down and becoming entangled in the harness were easily caught.  The mayor and his daughter soon made their appearance, none the worse for their walk, but still lovers of flowers.
Dwellings Needed to Rent
Watertown Republican, 08 16 1905
Recently parties came here with the intention of erecting a large factory building and engaging in the manufacture of shoes, but went away again because they could not obtain dwelling houses for their employees, and finally located at Racine.  There is an abundance of money held by parties in this city who could not turn it to a better advantage than erecting dwellings for rent.  Much more could be realized on the investment than loaning the money at six per cent, and at the same time aid in the growth and prosperity of the city.  The trouble, it appears to this writer, is that our moneyed men are too conservative and not sufficiently interested in the city to aid in its prosperity.  A little more enterprise upon the part of our local capitalists would go a long way in increasing our population and making Watertown one of the very business points in the state.
The Panama Canal
Watertown Republican, 08 16 1905
Work on the Panama Canal is progressing with the same rapidity as the beef trust investigation and if the same venue of action is maintained, it will take all of eternity to make a beginning.  Taft is cavorting around in the Orient and the frogs and fever have control of the ditch.
Watertown Republican, 07 26 1905
Last Wednesday, the Watertown Concrete Block Company began the manufacture of concrete building blocks in the Neinow & Bursinger factory building on First Street, having purchased the rights from the patentee for Jefferson and Dodge counties.  The company consists of Fred Ullerich of the grocery firm of Ullerich & Ohm of this city and Julius Pacius of Milwaukee.  The blocks are made of sand and cement of such proportions as to give them strength and durability equal to most of the varieties of stone used for building purposes.  For the present, but two sizes will be made.: 12x24x8 inches which equals 30 bricks and 9x24x8 inches which equals 22 1/2 bricks.  The blocks have openings to prevent frosted walls and dampness, and renders them easier to handle.  The blocks have been subjected to severe tests and have proven satisfactory to such an extent that the government is now using them in preference to stone.
____________________ more on Concrete Block Co _____________________
Watertown Republican, 10 05 1905
The Watertown Concrete Block Company has received and now has in operation its new "mixer" and have orders ahead for 8,000 block to be delivered as soon as manufactured and ready for use.  Last week a carload of the blocks was shipped to Beaver Dam and more are to follow as soon as they can be forwarded.
_____________________ more on Concrete Block Co _____________________
<![if !vml]>

<![endif]>
Eclipse of the Sun
Watertown Republican, 08 23 1905
Get your smoked glasses ready for there is to be an eclipse of the sun Wednesday morning, August 30, beginning at 6:38.  The eclipse will only be partial in this country but total in Europe and Africa and many of the leading astronomers in this country have gone east to take observations and photographs for a total eclipse is very rare.
Bluebirds on West Main
Watertown Republican, 02 20 1901
Those bluebirds which Officer Eiffler claims to have seen perched on a tree in West Main Street Saturday morning must have since become thoroughly disgusted with our Arctic-like climate and taken their departure.
American Troops in the Philippines
Watertown Gazette, 11 02 1900
American troops darken the shores of the Philippines, hospital ships laden with sick soldiers to our returning, other ships with fresh recruits are going over, passing ships with dead men returning; great sums are being drained from the people to pay for it, and what it is all for and what good it is all going to do no one can tell.
Watertown Republican, 02 20 1901
While operating a circle saw on the farm of Herman Grulke, in the town of Lebanon, on Tuesday last, August Lindert, of that town, met with an accident that resulted in instant death.  Mr. Lindert was engaged in taking away the pieces of wood as fast as they were being sawed, when all of a sudden the saw burst and the pieces flew in various directions, one of them unfortunately striking Mr. Lindert just under the eyes.  It passed through the top of his skull, completely decapitating it from the body.
Mr. Lindert was formerly a resident of this city, and later resided in the town of Clyman.  Mr. Lindert, subsequently moving to Lebanon, where he had lived nearly two years.  He worked with John Bumby at the carpenter trade about two years ago and was well known in this city and vicinity.  The unfortunate man is survived by a wife and three small children. 
Watertown Republican, 02 06 1901
One of those periodical accidents that come from the careless handling of firearms happened Sunday afternoon at the home of M. F. Newton, 913 Third Street.  Mr. Newton's son, Hal, and Charley Mackay, son of Mr. and Mrs. Charles Mackay — boys about 15 years of age — were playing with a 38-calibre revolver which they supposed was not loaded.  The boys had snapped the trigger several times without any reports, but to their great surprise there was at length an explosion, one of the chambers evidently having contained a cartridge.  The revolver was in the hands of young Newton when the explosion occurred and the bullet entered the fleshy part of his companion's right arm just above the elbow.
It ploughed a furrow the full length to the shoulder and passed from the boy's person, being found subsequently in his clothing.  Just as the shot took effect young Mackay raised his arm and this action no doubt saved his life, as he would otherwise probably have been struck in the head.  The wound is not a serious one.
Watertown Gazette, 11 16 1900
Last Friday evening a very interesting parade was witnessed on West Main and Main streets, the result of bets made on the recent election.  The procession formed at the Fountain Square on West Main Street and marched to the corner of Fourth and Main streets and then back again to Fountain Square in the following order:  Thos. Brooks and Jas. Roy, Mr. Brooks furnishing the locomotive power for the wheelbarrow, and Mr. Roy occupying a decorated seat in the vehicle.
W. J. Stacy was next in line, harnessed in a light buggy, he tripped sadly along the street, while Chas. Lynch occupying the seat in the buggy, was all smiles, and occasionally reminded Mr. Stacy to move along a little faster.
Frank Brusenbach trailed after the Stacy-Lynch outfit.  He was harnessed in a brewery grain outfit, carting along Arthur Lange, who tauntingly asked Frank at different stations along the street if he had 10 cents, and if so they would have one that his expense.
Herman Hartvorker was assigned a place in the tail of the procession, and he had for a passenger Bert. Smith in a 16th century road wagon.
At various places along the procession halted to hear if any late returns had command [come in] that might possibly give Bryan the election and change the composition of the parade.  The participants in this parade all enjoyed the fun, and so did the spectators, but Messrs. Brooks, Stacy, Brusenbach and Began swear vengeance and promise to turn the tables to on Messrs. Roy, Lynch, Lange and Smith at the close of the election of 1904.
Watertown Gazette, 01 04 1901
Buggy thieves are getting in their work recently in this city.  December 24th a buggy, buffalo robe and two blankets, the property of John Buckley was stolen from the barnyard of S. Molzahn in N. Third Street, and the same evening an old buggy was left in Nic Simon's barn yard on Third Street which it is supposed was left there by the person who took the buggy out of Molzahn's yard.  A reward of $50 is offered for information that will lead to the arrest of the thief.
Mrs.Celeste Dudley
Watertown Republican, 02 13 1901
The death of Mrs.Celeste Dudley, an early resident of Watertown and mother of Mrs. Ezra Poirior, occurred Monday at her home in Merrill.  Deceased was a native of Vermont and in her 87h year.  In 1844 she came to Wisconsin with her husband, locating on a farm on the Milford road near the southern limits of this city, the neighborhood being then known as the "French Settlement." Here she continued to live until 1866, when she removed to Berlin.
Liquid Air
Watertown Republican, 02 13 1901
Arrangements are making for an experimental demonstration of the great phenomenon, liquid air, which has recently caused such universal amazement in scientific and reading circles. A n agent has been in the city arousing interest in the contemplated entertainment and has succeeded well enough to practically assure the giving of the demonstration here on the night of February 28.  It will be necessary to transport a quantity of the wonderful fluid from New York, also the apparatus utilized in the experiments and a lecturer to explain the subject, thus entailing a large expense which must be met by subscriptions for seats.  The project should have hearty support on all sides.
The liquid which boils on ice, which freezes alcohol into solid icicles, which softens tin and iron so they are like pasteboard, which burns steel and electric light carbons, and does other paradoxical and startling things, is a subject of general interest to young and old.  Liquid air looks and flows like water; it is ordinary atmospheric air reduced under enormous pressure to one-eight hundredths of its usual volume, and reduced in temperature to 312 degrees below zero. 
Washington's Birthday, 1901
Watertown Republican, 02 27 1901
Aside from the closing of the banks, the post office and a few other places of business, there was no observance of Washington's birthday in Watertown.  The day was one of the coldest of the winter.
M/M William Connor
Watertown Republican, 02 22 1901
About 30 ladies and gentlemen enjoyed the fine sleighing hereabouts last Monday night by taking a sleigh ride to the home of Wm. Connor and wife just east of the city.  It was in the nature of an agreeable surprise party to Mr. and Mrs. Connor, who received their visitors in their customary manner, and several hours were most pleasantly passed beneath their hospitable roof.  Dancing and games occupied the attention of those present, and a fine supper was served.  The hour for parting came too soon, and all voted it one of the most pleasant social gatherings they have ever participated in.
Watertown Gazette, 07 13 1883
EDITOR REPUBLICAN — Is there no law for the punishment of "Street-walkers?"  There are several brazen things here who are making perfect nuisances of themselves, and who are a disgrace to this community.  What are the parents of these girls thinking about?
CITIZEN
The above, taken from The Republican, speaks of a nuisance which we have frequently called public attention to, and we hope our officers will see to it that the parties above alluded to will hereafter conduct themselves in a more respectable manner.  Aside from being a nuisance on our streets, these same parties visit nearly every entertainment which is given in our city and make their presence obnoxious to respectable people.
____________________ more on street walkers _____________________
Watertown Gazette, 07 13 1883
Some of the "street walkers" say they are going to present us with a box of cigars, while others say they are going to "knock us silly" for publishing that article in our paper last week in regard to them.  We will accept the cigars, as that would be "silly" enough coming from such a source.
Females
Watertown Gazette, 07 20 1883
The biggest portion of all church congregations is composed of females.  It is claimed that men would go oftener if they had new bonnets and feather which they desired to show off.
No matter if the postage is reduced it is just as much trouble to lick a two cent stamp as a three cent one.  And it will take a woman just as long to mail a letter and keep fourteen me waiting for her to get away from the post office window.
Ringing of Bells on Streets
Watertown Gazette, 03 08 1883
The Common Council of the City of Watertown do ordain as follows:
Section 1. Section 3 of said ordinance is hereby amended by striking out the following words contained therein and immediately following the word "offense," to-wit "unless permission is given by the Board of Street Commissioners to ring bells on streets, " so that said section when so amended shall read as follows:  Any person who shall ring or employ any other person to ring any bell or bells upon the street or sidewalk in the city of Watertown for the purpose of advertisement, show or amusement, shall upon conviction thereof, forfeit and pay a penalty of not less than two dollars nor more than twenty dollars for each offense.
Watertown Gazette, 03 05 1914
H. H. Bladow, local manager of the Wear-U-Well Shoe store at No. 11 Main Street for the past two years, left on Sunday for St. Paul, where he was given a better position by the company.  John Semmler of Lodi succeeds him here.
Attempt to Organize Bartenders
Meeting of Bartenders
Watertown Gazette, 02 26 1914
Josh Brady, general organizer for the International Bartenders League and district organizer for the American Federation of Labor, is in the city doing organization work and will remain several days.  He has called a meeting of bartenders to be held Thursday evening at the Liederkranz rooms on North Fourth Street, and urges all bartenders in the city to attend.  Mr. Brady will be a guest of the Central Labor Union at its meeting Friday evening and will address that body.
Watertown Gazette, 05 24 1901
Fred Buntrock, a resident of the 5th ward, employed by Tezlaff & Co. at the North road stone quarry was seriously injured last Thursday while blasting rock, a blast of powder being prematurely discharged; small pieces of stone were forced by the explosion into his head and other portions of his body, and parts of his clothing were burned.  The explosion occurred while tamping the blast, and it is supposed a match got into the powder in some way.
Watertown Gazette, 04 19 1901
While William Herzog and wife were attending the theatre last Sunday night their home was entered by a thief and $10 in cash taken from the pocket of a pants Mr. Herzog left hanging in their room in the upper story of his house.  His mother was down stairs all evening but did not hear the thief enter the house.
Watertown Gazette, 04 12 1901
Miss Ella Koenig will open her kindergarten school in the St. Paul's school house on 6th Street [?] next Monday.  Parents having small children to send to school will do well to place them in her charge.
Marriage a Civil Contract
Watertown Gazette, 05 31 1901
Marriage may be a civil contract, but some people believe it a very uncivil matter after entering it.
Tobacco Warehouse
Watertown Gazette, 05 31 1901
The tobacco warehouse that was expected to locate here has been located at Sparta.
Horse Died
Watertown Gazette, 05 31 1901
A few days ago Dr. Sleicher purchased a horse for $140; the animal died last Friday night.
Late Frost
Watertown Gazette, 05 31 1901
Frost the latter part of last week destroyed most of the corn, potatoes and bean crop in this vicinity.
Watertown Gazette, 05 31 1901
While accompanying a young lady home last Friday night from a party, Arnold Krisch discovered a man trying to break into a First ward residence, and he let out a Sioux-lndian warwhoop out of him and the fellow beat a hasty retreat.
Construction of Main St. bridge [1856]
<![if !vml]>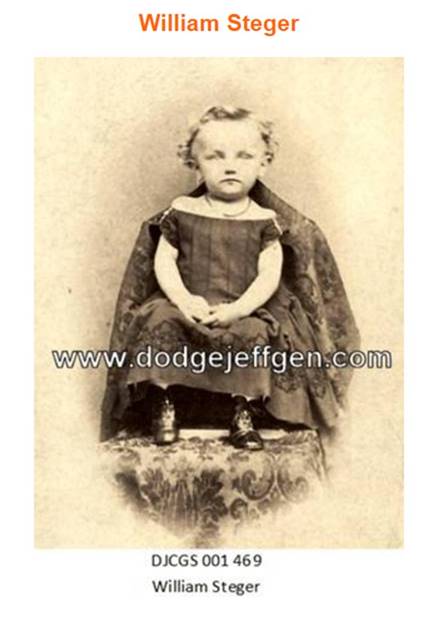 <![endif]>
HENRY STEGER was city engineer and responsible for construction of the Main St. bridge [1856]. 
William Steger, born 1858 in Watertown. Son of Henry and Theodora Steger.
Henry was city engineer and responsible for construction of the downtown [Main Street] bridge.
Henry was a 48er. Married the daughter of another 48er, Peter Bodien.
Also involved in local theater.
Apparently died around 1866. Grave site unknown. Recently located Theodora's remains with son William at a crematorium in Saint Louis. Little was known of her last years but notes with her urn show she died in 1907.
Henry and Theodora were listed in 1860 census. Only Theodora was listed in 1870, as widowed. (1880 census showed her living with daughter in Iowa) So, the 1856 bridge had to be the one in question.
Contributed by Charles Fredrick

History of Watertown, Wisconsin