website  watertownhistory.org
    ebook  History of Watertown, Wisconsin
410 S Fourth
Edward J. Brandt
<![if !vml]>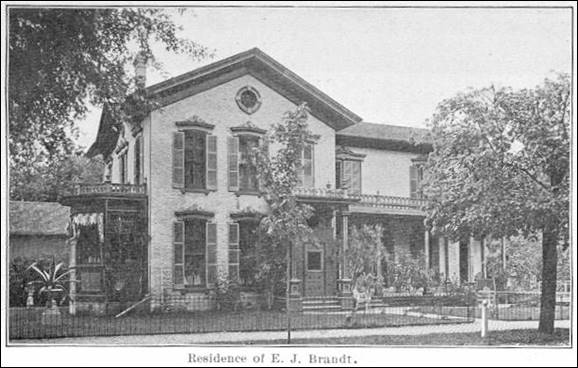 <![endif]>
Built in 1875
(1980 Owner: Catherine Jean Quirk)
Frederick William Brandt, great-grandfather of Miss Quirk, built this house in modified Greek revival style at the beginning of the Civil War.  Until recently it housed two generations of the family, and at times three, with separate quarters for parents and grandparents.
Mr. Brandt, a native of Lippe-Detmold, Germany, came to Watertown in 1853. He was the city's first drayman and later established a general store which was carried on by his elder son and grandson and eventually became a dry goods store, F. W. Brandt & Son Co., on southeast corner of Main and Third Streets.
Early in this century, after the death of his parents, Edward Julius Brandt, younger son of F. W. Brandt, remodeled his parents' house to accommodate his daughter and family, the Earl William Quirks.  He created two front entrances and built an attached garage and porte-cochere.  About twenty years later Mr. Quirk further remodeled the house on the north side, adding a bay window, fireplace and many decorative furnishings.  He eliminated the double entrance, but maintained the two-family interior division.
A three-inch thick inner entrance door with double elongated panels and transom of etched glass, some parquet flooring, tile fireplaces, decorative moldings and door panels, marble wash- bowls and porcelain doorknobs attest to the age of the house as do the plaster medallions and coving in the south part of the house and the carved scrollwork at the base of the south front stairway.
The plaster work was executed by a family friend and artist, J. B. Murphy, following the direction of Mr. Brandt, who also placed the imposing ionic pillars in the living-dining areas and designed a lyre motif that is carved in the base of the column in the music room.
Many musicals were held in this room, and here Mr. Brandt often improvised on the little pump organ he bought with his early savings.  He became a leader in local musical affairs and president of the Concordia Musical Society.  In 1921 he composed a "Festival Gloria" for St. Bernard's Church choir which he directed for nearly fifty years.  He participated in church and community musical programs as baritone soloist, in duets with his wife, Thekla Wiggenhorn Brandt, soprano, and with his daughter, Eugenia Brandt Quirk, as accompanist.
As civic leader Mr. Brandt headed the Board of Park Commissioners when Riverside Park was established and in 1905 organized the Outdoor Art Association for the beautification of homes.
Mr. Brandt's inventive talent came to the fore while he was employed as a cashier in the Bank of Watertown following his studies at Northwestern College.  Tiring of counting money for railroad payrolls, he invented an automatic cashier and in 1890 founded his own company to manufacture this product, known now as Brandt Inc.
In 1926 upon Mr. Brandt's becoming Chairman of the Board his daughter's husband, Earl William Quirk, succeeded him as president of the company; the latter upon his death in 1960 was succeeded by their son, Edward James Quirk, who was president until 1980 when he became Chairman of the Board and Chief Executive Officer.  His son, James Brandt Quirk, Assistant Vice President, is the great-grandson of the founder.
Brandt Inc. has expanded its line from the original cashier to a comprehensive line of money-handling equipment and sells its products throughout the world.
_______________________________________________________________
The history of the Brandt Quirk family is well known by Jim and Deborah Quirk.  Jim is a member of the Watertown Quirk family.  The couple recently purchased the 1875 Victorian mansion after it spent years as a bed and breakfast.  The Quirks are working to register the house as a historical building and plan to make it into a museum.
Edward Brandt, inventor of the Brandt Automatic Cashier and founder of what was known as Brandt, Inc. for many years, purchased and converted the once two family property into a family home when he remodeled it in 1919.  At this time he also enlarged the Brandt home to 5,500 square feet with a maid's quarters on the second floor.
1890
02 12       CHURCH CHOIR AND St. CECILIAN SOCIETY MEETING
Mr. and Mrs. E.J. Brandt entertained a large company of friends at "drive whist" at their residence on Fourth Street, Monday evening.  Mrs. J. B. May won the ladies' prize, while Mrs. M. Maldenar received the booby trophy.  Fred Prentiss was the winner of the gentlemen's prize and C. E. Emmerling carried off the booby honor for his sex.  Miss Emma Bernhard, a scholar of Luening's conservatory, Milwaukee, and Miss Bertha Miller presided at the piano during the supper.  The spacious rooms were decorated with potted plants.  The guests departed at a late hour having passed a delightful evening.   WR
1892
06 17       CHURCH CHOIR AND St. CECILIAN SOCIETY MEETING
The first regular monthly meeting of St. Bernard's church choir and St. Cecilian Society met on last Tuesday evening at the home of Mr. And Mrs. E. J. Brandt.  There was almost a full attendance of the society present, and all enjoyed a pleasant evening.  After the business meeting was concluded, the social part of the program followed, and refreshments were served by host and hostess.  The next meeting of the society will be held at the home of the Misses Angeline and Eva Boyne.   WG
1898
03 30       CONCERT IN OCONOMOWOC
Father McBride has about completed arrangements with St. Bernard's choir for a sacred concert in Oconomowoc shortly after Easter.  St. Bernard's choir is under the direction of Edward J. Brandt, and is one of the best choirs in the state outside of Milwaukee . . .   WR
1899
09 26       ED BRANDT'S DIAMOND STOLEN
Friday was the day set for the preliminary examination of George Harey, arrested during the carnival on a charge of take Edward J. Brandt's diamond from his person.  The prisoner asked for a continuance until September 27, which was granted.   WR
1901
10 18       UNDERGOING TREATMENT
Edw. J. Brandt, undergoing treatment at the Waldheim sanatorium at Oconomowoc for a month past, visited over Sunday at his home here.  He has almost fully recovered and expects to be able to attend to business in a few weeks.  He returned on Monday to the sanatorium.   WG
1911
02 02        WAS VOCAL SOLOIST
Last Sunday at the concert given in the auditorium in Milwaukee by Bach's Milwaukee Symphony Orchestra, Edward J. Brandt of this city was the vocal soloist.  He sang a Recitative Aria from Hayden's Creation with orchestral accompaniment.  He responded to an encore, with the "Evening Star" from Wagner's Tannhauser.   WG
1923
04 25       LECTURE ON "FOREIGN CATHEDRALS"
Given by Mr. and Mrs. E. J. Brandt    WG
1952
ASSESSOR IMAGE
<![if !vml]>

<![endif]>  
01 08       BRANDT FAMILY MEMBER BACK ON BOARD OF DIRECTORS
The Bank of Watertown held its annual meeting last night. Elected to the board of directors are Ray J. Kern, Edgar J. Kellmeran, L. J. Lange, A. W. Weihert, L. B. Kramp, Gerald E. Flynn and E. James Quirk. Mr. Quirk is the newest member of the board of directors. This rounds out the board membership by bringing in a Watertown industrialist. This brings a member of the E. J. Brandt family back into the Bank of Watertown organization, Mr. Quirk's grandfather, the late E. J. Brandt, having been cashier of the bank many years ago.
1974
<![if !vml]>

<![endif]>   
1980
08 24       Miss Catherine Jean Quirk, 410 South Fourth Street, is a new member of the Board of Governors of Mount Mary College, Milwaukee, it was announced by Sister Ellen Lorenz, president of the college.  She is a member of the Advisory Council of the Elvehjem Art Museum of the University of Wisconsin-Madison.  She also is a charter board member of Watertown Memorial Hospital, the Humane Society and the Arts Council, all of Watertown.  She serves on the advisory board of the Historical Society and is secretary of the League of Women Voters, both of Watertown.  She is a member of the Woman's Club of Wisconsin and the University Club, Milwaukee.   WDT
1988
08 12       Two members of a prominent Watertown family were honored by having the downtown Main Street bridge named after them during ceremonies at Riverfest Friday evening at Riverside Park.  E. James Quirk and Catherine Jean Quirk, members of the family that formerly owned Brandt, Inc., were selected for the honor from a list of names submitted to the Watertown Clergy Roundtable.  The award was presented by the Rev. T. Thomas Nustad of Christ United Methodist Church, president of the clergy roundtable.   WDT
1989       WOMEN OF MERIT RECOGNIZED
06 11       Two prominent Watertown women have been recognized as Women of Merit by the Watertown chapter of American Association of University Women.  Eileen M. Scott, Cambridge, and Catherine Jean Quirk, 410 S. Fourth Street, were honored for their civic involvement and influence.  She has been in education from elementary through graduate levels all of her professional life.  She began her teaching career at a rural school.  After many years of classroom teaching, and after the attainment of higher educational levels, she became a school counselor and held positions related to guidance and counseling until her acceptance of the area coordinator for the Madison Area Technical College campus in Watertown in 1975.  She has since retired from the position.
Quirk is the third generation member of the AAUW.  Her grandmother, Lillian Park Quirk, was a charter member of the chapter in which Catherine Jean was born, San Diego, Calif.  Her mother, Eugenia Brandt Quirk, was a member of the Watertown branch.  Quirk was also a member of the Watertown branch, having served as program chairman, publicity chairman and served as a delegate to the national convention.  She also served on the state's board as publicity chairman.
1989
07 29       CATHERINE J. QUIRK Health, Science and Education Resource Center
The new medical library being planned at Watertown Memorial Hospital will be named the "Catherine J. Quirk Health, Science and Education Resource Center" in honor of her longtime association and support of the hospital.  The hospital's medical staff had previously recommended that the new library be named in her honor and the hospital's board of directors unanimously approved the decision this week.  The new library will be completed sometime next year as part of the hospital's outpatient department expansion.  Quirk served on the Watertown Memorial Hospital Association Board of Directors since the inception of the association in 1985. She served as association secretary from the first board meeting on April 21, 1958 until Nov. 11, 1966. Quirk continued to serve on the hospital board until Dec. 1, 1983, a span of 25 years as an active board member. WDT
1990
09 01       RESTORATION OF THE 115-YEAR-OLD HOME
Memories of the Civil War were still very fresh in people's minds when Frederick Quirk completed his 17room mansion at the corner of Fourth and Spring streets in 19th century Watertown.  Today, thanks to a meticulous restoration project by its new owners, the 115-year-old home looks little different than it did just after its initial construction.  "Except for new paint and wallpaper we've tried to keep the home as close to its original state as possible," says new owner Wayne Zuleger of his summer-long restoration effort.  "We have furnished the guest rooms with antiques as much as possible and hope some day to have the home on the Historic Register."   WDT
Chicago Tribune, Sept. 9, 1990
<![if !vml]>

<![endif]>
Date for home should be 1875, not 1865
2003
04 29       BRANDT QUIRK MANOR OPEN HOUSE
The Brandt Quirk Manor is one of three bed and breakfast inns in the area that plan to host open houses on Sunday, May 11, from 1 to 4 p.m.  Brandt Quirk Manor at 410 S. Fourth St. in Watertown, Sweet Autumn Inn at 1019 S. Main st. in Lake Mills, and Stoppenbach House at 244. E Racine St. in Jefferson are joining over 120 bed and breakfast inns in the Wisconsin Bed and Breakfast Association's statewide Open House Inn Tour to be held on Mother's Day.
Brandt Quirk Manor specializes in period antiques, coffee at the room and chocolates on the bed.  Owners Wayne and Elda Zuleger, former teachers, have been welcoming guests at the manor for 12 years.  "We are delighted to share the former Brandt/Quirk home with its Victorian charm," Wayne Zuleger said.  The home was built by Frederick Brandt in 1875.  The 27-room home was constructed in Greek revival style architecture, and was originally built as a two family side-by-side.
2004
01 10       PURCHASED BY JAMES AND DEBBIE QUIRK
A historical Watertown home once owned by the prominent Quirk family is again back in the hands of family descendants.  Brandt Quirk Manor bed and breakfast, 410 S. Fourth St., has been purchased by James and Debbie Quirk of Oconomowoc.  James is a descendant of the family that originally built the home. Brandt Quirk Manor has been operated as a bed and breakfast for over 13 years by Wayne and Elda Zuleger, who purchased the home from the Brandt Quirk estate following the death of Catherine Quirk, a relative of James.  The Zulegers, both retired teachers, plan to move to a smaller home in Watertown.
2007
10 24       REGISTER OF HISTORIC PLACES
The Brandt House in Watertown and a historic house barn in the town of Emmet have both been placed on the state's Register of Historic Places in recent days — and both are now likely candidates for inclusion on the National Register of Historic Places.  The placement of the two structures on the state register occurred at a recent meeting of the Wisconsin Historic Preservation Review Board at the Frank Lloyd Wright Visitor Center near Spring Green . According to Wisconsin Historical Society National Register Coordinator Daina Penkiunas, the Brandt home, built in 1875, is of substantial historical value because of its architecture, as well as its close association with Edward Brandt.  Brandt was an inventor and industrialist who created the Brandt Automatic Cashier, a money-counting machine.  Brandt also started the Brandt Cashier Company, a major industry in Watertown in its day.
2008
05 10       NATIONAL REGISTER DESIGNATION
The Wisconsin Historical Society today announced the listing of the Brandt House in Watertown on the National Register of Historic Places.  National Register designation provides access to certain benefits, including qualification for grants and for rehabilitation income tax credits, while it does not restrict private property owners in the use of their property.
Friedrich and Wilhelm`ine Brandt built the original Brandt House in 1874.  By 1884 their son, Edward J. Brandt, was the Bank of Watertown's cashier, or manager.  While managing the bank, in 1893 Brandt invented the Automatic Cashier, a machine that revolutionized cash handling for payrolls and banks.  It would be a great success and was the foundation of Brandt, Inc., a manufacturer of cash-handling equipment and supplies that was an industrial leader in Watertown during the 20th century.
Cross References:
                2007 - The Edward J. Brandt House is being considered for placement on the National Register of Historic Places    WDT 10 10
1964:  E. James Quirk elected to board of directors, Bank of Watertown.  This brings a member of the E. J. Brandt family back into the Bank of Watertown organization, Mr. Quirk's grandfather, the late E. J. Brandt, having been cashier of the bank many years ago.

History of Watertown, Wisconsin