website  watertownhistory.org
    ebook  History of Watertown, Wisconsin
Maas Brothers Construction
Founded 1922
| | | |
| --- | --- | --- |
| <![if !vml]><![endif]> | <![if !vml]><![endif]> | <![if !vml]><![endif]> |
| Albert Maas | Albert Maas Jr. | Earl Maas |
Maas Brothers Construction, Inc. has long been a successful family business.  Established by brothers Albert W. and Alvin (Ollie) Maas in 1922 in Watertown, it is one of Wisconsin's oldest general contracting firms.
After surviving the Great Depression, the company thrived during the post-World War II construction boom.  In the 1940s, Albert's sons, Earl and Albert Jr., joined the company.  Together, they ran the family business from 1949 until 1990, when they retired and handed management of the company over to Earl's son, Robert.
Because of Maas Brothers' reputation for providing quality work, many clients from the 1940s and '50s still rely on the company for their construction and plant maintenance needs.
1922      FOUNDED
1940s
WEST MAIN STREET LOCATION
<![if !vml]>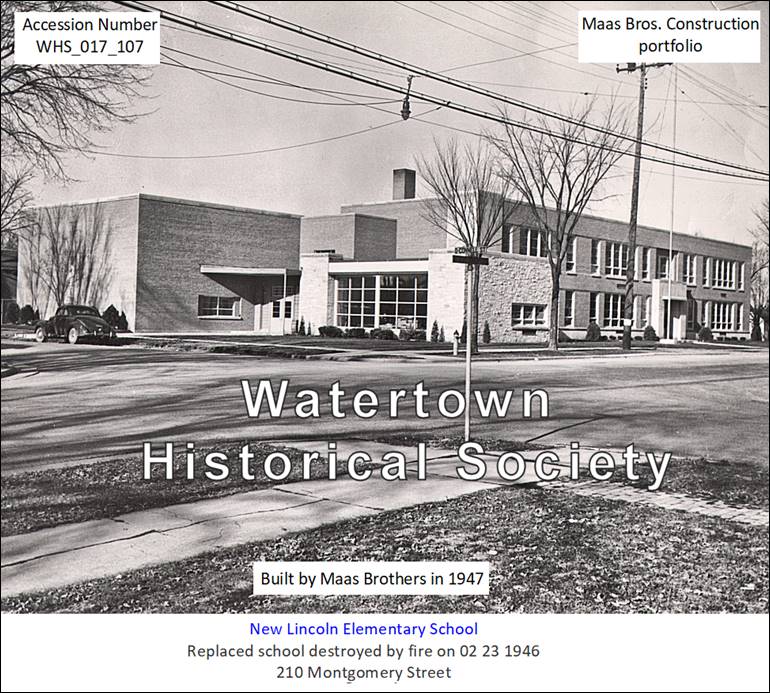 <![endif]>      <![if !vml]>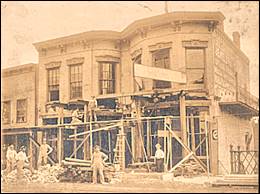 <![endif]>
1960
12 28          OPPOSE POLICE-FIRE STATION AT EIGHTH AND MADISON
Three members who served on a committee named by Attorney Charles E. Kading, while he was serving as acting city manager here, to study city hall expansion needs today issued a statement opposing the proposed construction of a new police and fire station at the corner of North Eighth and Madison streets and suggested that maybe "it is time to hold another referendum" on the matter.  The three are Arthur Kuenzi, a registered professional engineer who was president of the old Otto Biefeld Co., now the Otto Biefeld Corp.; Albert W. Maas, general contractor and head of the Maas Bros. Construction Company and a former city councilman; and O. E. Carlson, for many years a building materials supplier here.   WDT
1961
04 08          SACRED HEART CHAPEL
Final preparations were being made at Sacred Heart Military Academy for the visit on Thursday of the Rt. Rev. William P. O'Connor, bishop of Madison, when he comes to the city to officiate at ceremonies marking the blessing of the newly renovated Sacred Heart Military Chapel.  The newly renovated chapel is a project that has been underway for three years . . . The general contractor was the Maas Brothers Construction Co. of Watertown.    WDT
1983
11 17          HUS APARTMENTS
Ground was broken Monday for Hus Apartments, a senior citizen facility to be operated as part of Marquardt Memorial Manor.  Taking part in the ceremony were future residents of the new apartments, officials from Marquardt Manor and Mueller Apartments, and members of the Moravian clergy.  Hus Apartments is the fifth construction project by Maas Brothers Construction Company on the site of Marquardt Manor.    WDT
1986
01 24          DIRECTOR OF MARINE BANK WEST
Earl Maas, 106 Lynn Street, has resigned as a director of Marine Bank West, officials of the bank announced on Friday.  Maas, who is a partner in Maas Brothers Construction, Inc., of Watertown, has been a director at the bank for the past 21 years.  Maas said he decided to resign as part of his plans to reduce his work schedule.  He was first named a director of the old Merchants National Bank in 1965, and was subsequently elected to the board of directors of the Marine Bank of Watertown when it was purchased by the Marine Corporation in the early 1970s.   WDT
2002
08 28       80th ANNIVERSARY
Buildings are made of brick and mortar, but building a business is done by people.  "People are what have made this place go," said Robert "Bob" Maas, third-generation owner of Maas Brothers Construction which is observing its 80th anniversary this year.  The company survived during the Great Depression and thrived during the post-World War II construction boom.  It has also had to survive changes in technology and the manner in which a general contractor/construction management business is operated.  The focus of the business has always been to erect quality buildings, but the scope of the business has changed with the times, ensuring that the business will be carried on by the fourth generation of the Maas family.   WDT
2009     
02 19          ST. MARK'S LUTHERAN SCHOOL DEDICATION
               School building addition and renovation project.  General contractor was Maas Brothers. 
2012      "BUBBLE TECHNOLOGY" used in hospital construction project
2018
04 17          EARL R. MAAS, 1920-2018
Born July 23, 1920, in Mauston, Earl grew up in Watertown and graduated from Watertown High School in 1938 and UW-Madison with a degree in civil engineering. On Feb. 12, 1944,  he was married to Grace Cushman in Watertown.
Shortly after college he enlisted in the U.S. Navy and served as a naval officer on active duty for two years during World War II.  He was stationed in the Philippine Islands as a member of the "Seabees" (Construction Battalion).
After the war he went to work for Maas Brothers Construction Co., a company founded by his father in 1922.  He served for many years as president and the firm grew and prospered under his energetic and capable management.  Many of the buildings in this city and the surrounding communities were built under his leadership:  schools, factories, and city and county buildings including Watertown Hospital, Riverside Middle School, Webster, Douglas and Lincoln schools, St. Henry School, much of the Marquardt campus, the Jefferson County Courthouse and many more.    Full obituary    

History of Watertown, Wisconsin