website  watertownhistory.org
    ebook  History of Watertown, Wisconsin
Cole's Hall
Cole's Block
Cole Building
1858
08 12       FALL OF CEILING
Last Sunday evening a space of ceiling, nearly forty feet square, in Cole's Hall, came crashing down on the third floor with a heavy noise, and materially injuring the roof of that large block.  The cause of the break was the giving away of one of the main beams, the point where the break occurred being rotten.  Mr. Cole is now engaged in repairing the damage caused by this fall.  He intends to make the hall and everything about the building substantial and safe, and strengthen the whole in such a way as to prevent the occurrence of another break down like the present.   WD
1860
COLE BUILDING USED FOR EARLY MEETINGS OF WATERTOWN TURNERS
Watertown Turners, originally named the Independent Gymnastic Society of Watertown, was formed on Aug. 21, 1860.  Early meetings were held in the old Cole building at the corner of South Second and Main streets.  Within a year, the Turners had put on their first theatrical performance.  By 1869, the original Turner Hall was constructed at 301 S. Fourth St.
1863
05 02       CONCERT IN COLE'S HALL, under direction of E. C. Gaebler
<![if !vml]>

<![endif]>  
1864
01 21       GRAND MASQUERADE AND FANCY DRESS BALL
at Cole's Hall on Carnival Tuesday, February the 9th.
Parties or private clubs wishing to perform special quadrilles or dances will please notify Capt. Jaehrling or Mr. Emil Rothe in time to have the music arranged.  During the ball the program of dances will not be changed and rules, order and decorum are to be strictly observed.  Dressing rooms for ladies and gentlemen will be provided.  The ball will commence at half past 8.  At 12 the unmasking will take place and a splendid supper be served in the lower hall.  The committee of arrangements will endeavor to make the entertainment in every respect satisfactory to the public and worthy of general patronage.   WD
01 21       FIREMEN'S BALL
Monday evening Engine Company No. 1 will give their annual ball at Cole's Hall.  They propose to devote the proceeds of the entertainment to the relief of the suffering and destitute in this city.  The organization deserves well of our citizens and we hope a large and gay assembly will be present.  All who attend will not only be able to pass a pleasant evening but will at the same time contribute to a benevolent object.   WD
1865
11 30       FENIAN BALL
Next Tuesday evening, December 5th, "The Tara Hall Circle" will give a grand ball at Cole's Hall in this city.  Great preparations have been made to make this a brilliant affair and we have no doubt that it will be successful in all respects.  There is every reason to believe that the ample rooms in Cole Block will be crowded with those who delight in this kind of social and public entertainment.  All who take any interest in the Fenian movement will be sure to attend and by their presence show their favor towards a cause which has for its object the freedom and liberation of Ireland.  All fond of music, a good supper and a happy time generally should attend.   WD
Cross Reference:  Online citation 1     Online citation 2
1866
June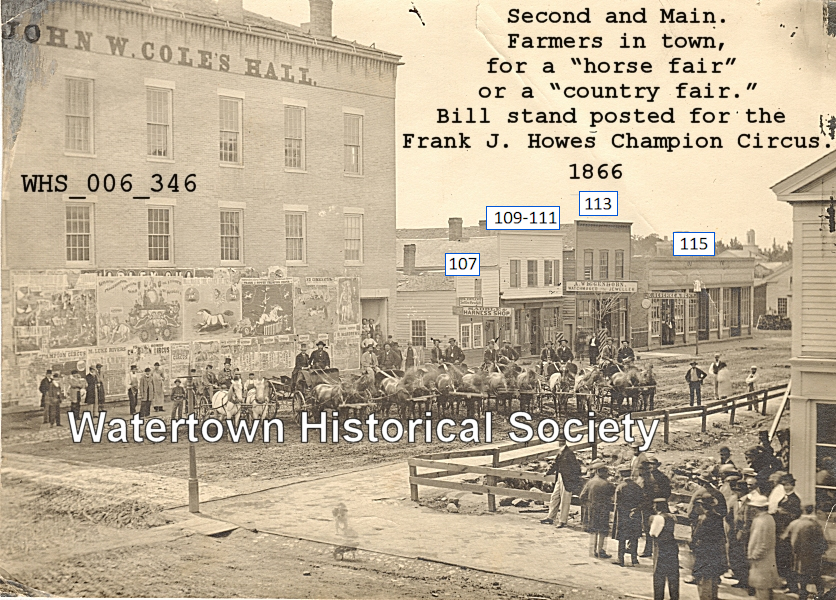 Second and Main, looking south on Second, showing farmers in town, possibly for a "horse fair" or a "country fair."
Cole's Hall, Eiffler Harness, A Wiggenhorn, C Geschke
Bill stand posted for the Frank J. Howes Champion Circus
(Mention of Howes Champion Circus)
1866
Cole Building, Cole Hall; later occupied by Achtenhagen & Borchardt, street scene
1880-1885
<![if !vml]>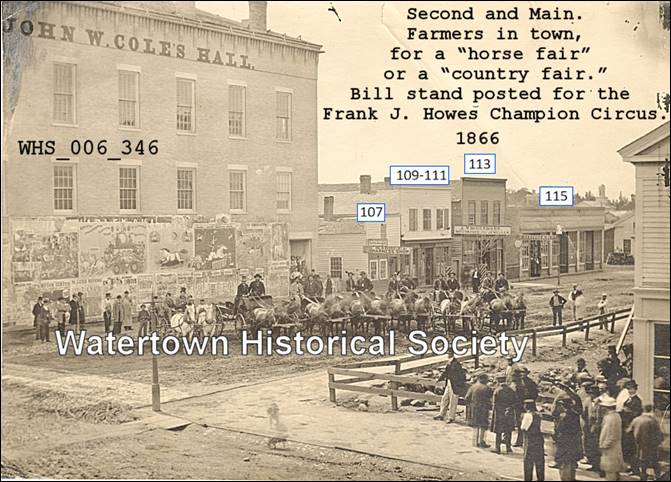 <![endif]>  
Note the woman on the balcony.  This may have been Mrs. John W. Cole (Eliza Fisk Cole), who resided in an apartment on the second floor of the building at one time.
1894
1894, Achtenhagen & Borchardt, opening of, "Cole's Block", 201 E Main
1905
1905, Achtenhagen & Borchardt, General Merchandise, 201 E Main
09 13       CONDITION OF SIDEWALK
Two weeks ago the Republican referred to the condition of the sidewalk along the Cole building north of Main on Second streets, and called the attention of the committee on streets and bridges to the same.  At the last regular meeting of the council the following order was authorized: "Sidewalks around the Cole building at Main and North Second streets and at the Henry Breunig's place in North Second Street were declared unsafe and the board of public works ordered to see that walks were constructed within ten days of the publication of the action."   WR
1908
1908, Achtenhagen & Borchardt, General Merchandise, WHS_005_114, 201 E Main
<![if !vml]>

<![endif]>  Image Portfolio     

History of Watertown, Wisconsin