website  watertownhistory.org
    ebook  History of Watertown, Wisconsin
J. C. Penney's
117 E Main
201-203 E Main
Highway 26 South
1916
03 24       NEW STORE IN WATERTOWN.  "The Golden Rule" is the name of a new store which will open in the Strauss and Sette building in Watertown tomorrow, Saturday, March 25, 1916.  The proprietors are J.C. Penney Co. who own and operate 125 stores.
1924
-- --           BACK TO SCHOOL SALE
<![if !vml]>

<![endif]>        117 E Main
1925       PENNEY'S, THE GOLDEN RULE, 117 E Main
<![if !vml]>

<![endif]> 
1927
-- --           REMODEL OF 201-203 E. MAIN
      J. C. Penney Company will occupy largest portion of Cole block
<![if !vml]>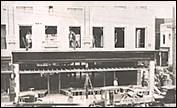 <![endif]>    
Renovation in preparation of J. C. Penney relocating from 117 E. Main across Second St. to 201-203 E. Main.  A Maas Brothers Construction project, 1927.
07 05 1928  <>  The new Penney Company store will consist of present quarters of the Olympia Candy Store and Bittner and Tetzlaff's Drug Store [201 & 203 E. Main].  The main floor and the second floor are to be used for the business.  A balcony is also to be constructed.  The third store in the block [205 E. Main] which now houses a fruit market will be taken over by the Olympia.  The quarters of the Pythian Lodge located on the top floor of the block will continue to be the lodge quarters.  Bittner and Tetzlaff's Drug Store will be moved to the building at Main and N. 2nd Streets [116 E. Main] which is now occupied by the National Tea Co.  The National Tea has purchased the building located at 2nd and Main streets [117 E. Main] which is now occupied by the Penney store.
1936       DOLL BUGGY PARADE, CENTENNIAL CELEBRATION
<![if !vml]>

<![endif]>  
1944       MONTGOMERY WARD, KRESGE'S AND PENNEY'S
1950
08 29       BACK-TO-SCHOOL MOVIE PARTY
<![if !vml]>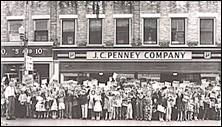 <![endif]>   
1953
08 21       BACK-TO-SCHOOL MOVIE PARTY
<![if !vml]>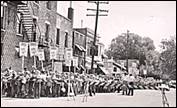 <![endif]>   
Nearly 900 kids attended the Classic Theater for a Roy Rogers western, three cartoons and two comedies, sponsored by J. C. Penney store.  Pictured lined up on west side of Penney store, corner of E. Main and S. Second streets, preparatory to leaving for the theater.
<![if !vml]>

<![endif]>   
1959
03 04       A remodeling program which included new decorating, new fixtures, enlarging departments and increased office space has just been completed by the Watertown J. C. Penney Co. store.  A gain of 50 square feet of selling space was accomplished on the second floor by moving the office to vacant space in the Kresge building.  At the same time the maze of tubes centering in the cashier's office were removed and replaced with cash registers in each department.   WDT
1969
03 04       ROTARY CLUB PRESENTER
<![if !vml]>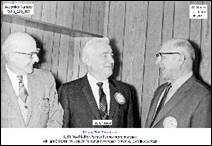 <![endif]> 
Roy Pfeiffer, former Penney store manager, William O'Herrin, Wisconsin Telephone manager, Mayor A. E. (Mike) Bentzin
1972
Nov          <![if !vml]>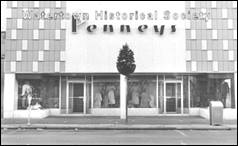 <![endif]>  
1983
06 28       The J. C. Penney Store, located at 201 Main Street, will move this fall to the former Schuler Super Valu building, adjacent to ShopKo, 701 South Church Street, according to James Frisch of Milwaukee, developer of the South Church Street property.  Frisch said, "We have entered into a lease agreement with the Penney people on that location.  We expect remodeling work in the new building will get underway this summer and the store should move into its new quarters this fall."  The Schuler store became vacant earlier this month when Ed Schuler opened his new Pick 'n' Save store at the north end of the shopping center.
10 06       The new Penney's Store on highway 26 south will open for business and celebrate its grand opening on Wednesday, Nov. 9, at 9 a.m., according to Larry Dodd, manager of the store.  Ken Clausen, former manager of Penney's, and other officials will attend the grand opening.  The new facility will open at the former site of Schuler's Food Store.  It is now located at 201 East Main Street.  Dodd said the new store will double the amount of space for merchandise and there will be "an enlarged merchandise mix in all departments."
11 07       Penney's will have a bright new look in a new facility starting Sunday when the new store on highway 26 south opens for business.  The old store at 201 East Main Street will close its doors for the last time today.  Grand opening for the new store is set for 9:30 a.m. Wednesday, Nov. 9, when city officials and other dignitaries will be on hand for the ribbon cutting ceremony.  Participating at the opening will be Mayor Ken Thiel, Chamber of Commerce President Reno Sukow, Miss Watertown, and other city officials.  Mike Ashpole of the regional office, Schaumburg, Ill., and Dale Myhre of the district office, Davenport, Iowa, will attend as well as managers of other Penney's stores from the area.   WDT
1984
05 05       GRADE OPENING OF KLINE'S (former Kresge and J C Penney bldg.)
Ralph Adams, manager of Kline's Department Store in Watertown since 1968, has retired, and is being succeeded by Norman Weirick, a member of the Kline's management team for the past 18 years. The firm also announced that on Thursday, Friday, Saturday and Sunday of this week a special grand opening sale will be held at the store, heralding completion of the remodeled and expanded store at its new location. The new store, completely remodeled and redecorated, now encompasses the entire locations of the former JC Penney Store and the SS Kresge Store. Kresge's has left the city and Penney's is now located in the ShopKo building complex.   WDT
1992
11 27       PENNEY'S TO CLOSE
Watertown's J. C. Penney Store, a part of the Watertown retail community for many years, will close its doors in late 1993.  The announcement was made today by Karen Steffen, district manager for J. C. Penney Stores in this area.  She said current plans call for the store to be closed on or about Nov. 20, 1993.  Until that time the store will continue with business as usual.  The firm will operate the catalog department as part of the business until the store closes and plans to find a new location for it after the closing.
1997
07 05       EMPLOYEES TO REMINISCE
The J. C. Penney Co. has been gone from Watertown for several years, but the memories lingered when 46 past and full-time employees met to reminisce at Plattdeutscher Hall. The idea of a reunion became a reality after Ruthie Pugh and Bonnie Gallup initiated the event and started contacting people. With the help of Lois Bartz and Donna Koser, former employees responded with enthusiasm.  Old acquaintances were renewed during the social hour, followed by dinner. Interesting and humorous incidents that happened over the years were recalled.   WDT
2009
03 02        Penney catalog service returns J. C. Penney, for many years an anchor store in downtown Watertown and later in the South Church Street shopping complex, will return to Watertown next month in the form of a catalog service.  A J. C. Penney Catalog Service Center will be located in Draeger's Floral and Gifts, 616 E. Main St.  Operated by Palmer and Judith Draeger, the catalog merchant center will offer shop-at-home and online catalog ordering services beginning April 28.  Orders may be picked up at the service center or delivered directly to homes or offices.  Copies of the spring and summer catalogs will be available when the service center opens for business on April 28.    WDT
Cross References:
     Gerda Allermann, 30 year employee
Rememberances: 
+ Juhl photography where I work was part of JC Penny; so many stories in those places.  The building we are in actually has an underground tunnel that was dug and constructed during the prohibition to transport alcohol under the buildings.  It's pretty cool.
+ Made our clothes and would go to Penney's to buy fabric.  The sewing section was in the balcony area.
+ I used to love trying on hats on the third floor.
<![if !vml]>

<![endif]>
History of Watertown, Wisconsin