website  watertownhistory.org
    ebook  History of Watertown, Wisconsin
Washington Park
A prominent feature of the Richards Hill neighborhood is Washington Park, which was originally known as Richards Picnic Grounds.  The park was a prime gathering spot as early as the 1860s.  William Thomas, Richards' grandson, developed his ancestor's land into a city park, and by the early 1900s it became a center for sporting events, such as baseball and football games.
c.1895
               BICYCLE RACING
<![if !vml]>

<![endif]>     <![if !vml]>

<![endif]>   
1898
04 06       OPENING FOR THE SEASON
W. R. Thomas has had numerous inquiries of late as to the reopening and maintenance during the season, of Washington Park, the popular pleasure resort in the First ward.  He desires to say that the park will be kept up as it was last year, providing sufficient membership tickets are placed to help defray expenses.  He intends issuing tickets, granting privileges to tennis courts and bicycle track, at one dollar for the season, and requests all who desire to subscribe for these privileges to advise him at once.     WR
05 11       PARK IMPROVEMENTS AND RULES
The above-named pleasure resort, greatly improved since a year ago, was opened to the public yesterday and will continue to be numbered among our places of amusement the balance of the season, under the accommodating management of W. R. Thomas.  The bicycle track has been banked higher and otherwise made better, another tennis court has been added, a fine baseball diamond has been laid out and other desirable improvements made. 
The following rules have been posted for the guidance of visitors:
The park is open to the public, except the use of track and tennis courts, and on special days of bicycle races or baseball games.
Anyone caught taking flowers or doing any damage will be prosecuted
No profane language allowed in the park.
No one allowed in the park after 10 p.m.
Small children must be accompanied by someone, as no one will be held responsible for their getting hurt.
Season tickets are not transferable, and will be revoked if presented by any other person than the one whose name is written thereon.
A 5-cent admission fee will be charged to all persons using the track or course not holding a season ticket.
Season ticket to park is $1.
<![if !vml]>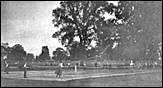 <![endif]>       c.1898        <![if !vml]>

<![endif]>        c.1904
1899
05 23       FENCE AROUNDWASHINGTON PARK
The members of the baseball association are very thankful for the donation of Wm. Hartig, the brewer.  He was asked to subscribe to the fund, and forthwith agreed to erect the necessary fence around Washington park.   WR
05 30       THREE PERSONS BACK BASEBALL TEAM
Three persons have agreed to back the baseball team this year.  They are Gustav Buchheit, Albert Fredrich and Reinhold Schott.  A lease has been granted for Washington park and everything will be done in the proper way.  The season will open about June 2 and it is hoped that only success awaits the undertaking.   WR
08 29       POSSIBLE INTEREST IN PURCHASING PARK
It has been reported that parties from Milwaukee have been in the city recently taking a look at Washington park and adjoining property with a view of purchasing the same.  To what use it is going to be put is not known.  Washington park is a very desirable spot and should remain in the hands of our citizens to be used for park purposes.   WR
1925
02 18       WASHINGTON PARK CONVERTED INTO A CITY ATHLETIC FIELD
The purchase of the tract of land known as Washington Park, to be turned into a city athletic field, was under discussion at the city council meeting.
A communication from the board of education petitioning the city to purchase the eight and one-half acres of land known as Washington Park and turning it into a city athletic field was taken up and after considerable discussion it was referred to the board of education requesting them to obtain an option on a twenty foot strip of land which lies between Washington Park and Twelfth Street.. This strip of land is owned by the Col. A. Solliday estate.  Members of the council expressed themselves as being unwilling to take action at present unless some arrangement can be made regarding the purchase of the additional twenty foot strip.
The Washington Park area can now be purchased for $5,000 it was said, and this is considered a bargain by many.  Action must be taken soon, however, it is said, in order to get the property.  It was pointed out as an ideal spot for sports.  Just what action will be taken will depend upon the school board's next report to the council.   WDTimes
1958
09 10       Colorful new scoreboard is really a "shot in the arm" for the high school athletic      WDT
2008
MERKLE FIELD AT WASHINGTON PARK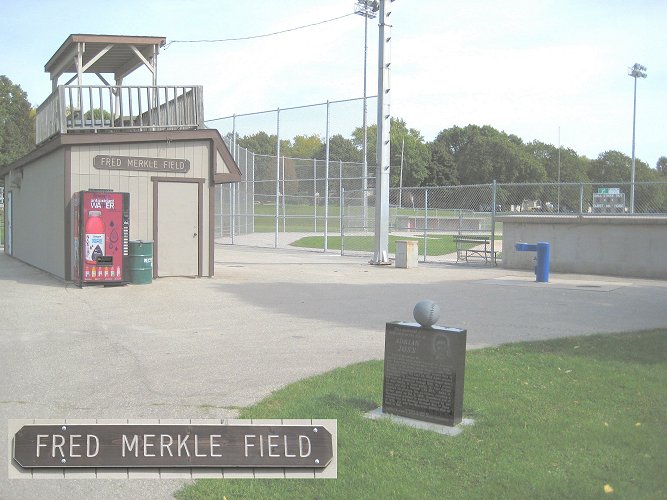 2008             WHS_005_884
Cross References:
               Fred Merkle, chapter on

History of Watertown, Wisconsin