website  watertownhistory.org
    ebook  History of Watertown, Wisconsin
<>  THE BENTZIN FAMILY TOWN SQUARE  <>
1 West Main Street
___ 2021 __________________
11 05       TOWN SQUARE PROJECT
The city's redevelopment authority approved Maas Brothers Construction Inc. of Watertown for construction management services to work with SmithGroup Inc. in overseeing the development of the Town Square project.
The board made the decision after the public request for proposals closed in mid-October and submissions were reviewed.
Within the next few weeks, a project manager from Maas Brothers will conduct a review of plans, identify long lead items   establish a schedule, and provide a buildable construction bid package to be released for public bidding in early 2022, if not sooner. Items identified as "long lead" may be put out for public bid earlier.
To reduce added costs of winter construction, the project is anticipated to begin in early spring with an estimated late summer, early fall completion date.
Efforts will be made to coordinate staging areas and identify possible work sharing opportunities with T. Wall Enterprises, the development company building a mixed-use, high-end apartment complex to the south of the square.
11 15       BENTZIN FAMILY MAKES $1M DONATION TO TOWN SQUARE
The Watertown Redevelopment Authority (RDA) has received a $1 million gift from the Bentzin Family for construction of the City of Watertown's new Town Square.  Continuing a legacy of generosity and civic engagement, the Bentzin Family's contribution puts the fundraising committee at the edge of its goal.
"I've always connected with the idea that you don't truly know where you are going until you know where you have been," said Barton Bentzin, representing the family on this donation.  Barton is the son of Watertown native Charles G. Bentzin.  "Dad was a firm believer in wanting Watertown to keep its identity," he continued . "Watertown has a unique and rich history full of innovative thinkers. I join my dad and my family in believing that the history of the community needs to be remembered and celebrated as a reflection of what the future holds."
As part of the Bentzin Family contribution, an additional donation will sponsor the installation of a public art piece on the Town Square commemorating Watertown's history.
Many can still recall the family name from the Bentzin's Red Bell Market which, from the early 1900s to 1963, was located on what is now Sharp Corner Park.  Owner A. E. "Mike" Bentzin "knew everyone," Barton recalls his father telling him.  "Besides running the store, he was the local Blatz beer distributor.  Back then, beer didn't come in cans or bottles, it was on tap.  Your Grandpa went from place to place delivering beer.  That's how he got to know everyone in town."  A. E. "Mike" Bentzin was elected mayor of Watertown in 1967, holding the position until 1969 and a member of the Watertown School District Board of Education from 1952 to 1960, serving as president from 1959-1960.  
The dollar amount provides the needed matching funds to support a grant request from the State, which has been presented to the Wisconsin Joint Finance Committee.
The Bentzin Family is currently considering Town Square naming options and ways to create a lasting legacy for Watertown's history and the city itself.  Charles Bentzin's 2020 obituary states, "Charles' hometown was always kept near and dear to him."  Through this contribution, the RDA and the City hope to fulfill Charles' passion for Watertown and inspire that passion in the next generation.
11 24       TOWN SQUARE AND RIVERWALK GRANT
<![if !vml]>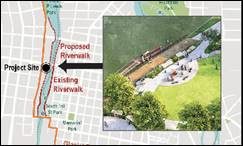 <![endif]>  
The Wisconsin Department of Natural Resources (DNR) selected Watertown's Town Square and Riverwalk to receive a Knowles Nelson Stewardship grant in the amount of $907,636
___ 2022 __________________
04 23       GROUND BREAKING CEREMONY
THE BENTZIN FAMILY TOWN SQUARE
Link to ground breaking video clip 
04 23       FUTURE FUND ESTABLISHED
The Future Fund will provide funds to offer a year-round slate of events.  The Fund will also provide financial resources for maintenance and operations.
The Joseph and Sharon Darcey Foundation is donating $150,000 to launch the Future Fund – an endowment fund to support programming and operations of the newly named Bentzin Family Town Square.  Watertown Regional Medical Center is matching the gift by providing $50,000 annually for the next three years.
06 09       BERTRAM BELTZ COMMUNITY PLAZA
      Named in honor of Bertram Beltz
<![if !vml]>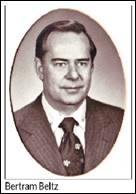 <![endif]>
A significant donation to The Bentzin Family Town Square
Dr. John Beltz, a veterinarian, donated $250,000 in honor of his father Bertram to name the plaza by the river: the Bertram Beltz Community Plaza.
In 1947, after serving as a bomber pilot in World War II, Bertram Beltz moved to Watertown to manage Ray's Shoe Store on Main Street, now Brown Shoe Fit Co.
A hard worker and entrepreneur, Bertram purchased and grew the business, eventually owning and managing 13 stores throughout Wisconsin, Iowa, and Michigan.
Beltz "served many different organizations and worked on numerous civic projects. Even though he came from very modest beginnings, he saw opportunity in Watertown and was able to enjoy success and give back to his community."
07 14       CONSTRUCTION MOVING ALONG NICELY  /  Maas Bros Construction, general contractor
<![if !vml]>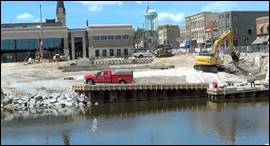 <![endif]>     <  Link to online video

History of Watertown, Wisconsin