ebook  History of Watertown, Wisconsin
Wisconsin National Guard
1851
WATERTOWN RIFLES
In May of 1851 Watertown's first active unit was formed as the Watertown Rifle Company.  These men were farmers, merchants, small business owners who bonded together.
1882-88
Col. Solliday held several positions of trust in Watertown, among them, in the Wisconsin National Guard, he served six years as captain of the Watertown Rifles, 1882-88.
1898
06 08       CALL FOR LOCAL MILITARY COMPANY
A half-hundred or more of Watertown's young men whose names adorn the list of volunteers for a local military company met at the city hall last Thursday evening, pursuant to call, for the purpose of taking preliminary steps towards organization.  Several others not belonging to the ranks were present to lend encouragement to the movement, which, it is to be hoped, will meet with signal success.  There is no occasion for Watertown to be a laggard in responding to our country's call.  There is plenty of excellent material for soldiers of this grand union, and the patriotic boys who have signified their willingness to go to the front should meet with every encouragement in their laudable purpose.  This undertaking should be treated as a matter of the utmost seriousness, and we doubt not that every brave youth who has offered his services fully realizes the importance of his position.   WR
1905
08 30       MILITIA COMPANY DESIRED
It is surprising that in a city the size of Watertown, there is no militia company.  There are any number of places with not half of its population that have companies in the National Guard.  There is an abundance material here for a good company, which would be a great advertisement for the city in attention toward it, for it shows enterprise in public spirit upon the part if the members and the citizens in general.  At the present time, the infantry branch of the state's militia consists of forty-four companies, and that number is already organized and assigned, but from time to time companies for various reasons disband, leaving vacancies in the regiment to be filled, and it is quite probable that, should a company be organized here, it would not be very long before it would receive regimental assignment . . . There are several gentlemen in the city who have been members of militia companies and have had experience, and should they take the initial steps looking to the organization of a company, a sufficient number of young men would respond to make the efforts a success.   WR
1914
07 16       GUARDSMEN TO MOBILIZE
On July 18 the members of the Wisconsin National Guard of Milwaukee will take a train for Camp Douglas, where the entire strength of the Wisconsin guards will be mobilized for an eight-day camp of instruction.  Beside the five companies of infantry companies A, D, E, F and K, Milwaukee will send Troop A and Battery A, the only artillery and cavalry Wisconsin can boast.  The camp will include, besides the usual medical corps, the newly-organized field hospital.
The training of the men will consist less in drills and routine than in field maneuvering and miniature battle tactics.  The Mexican conditions of fighting will be duplicated as nearly as possible and various strategies reported from the scene of war will be re-enacted and possible moves tried out.
The old-fashioned knapsack which placed the strain on the shoulders is now discarded for the newer pack, which distributes the weight along the back and chest, and comprises a blanket, half the tent shared by two messmates, and the necessary personal effects.  The volunteer is required to furnish his own personal outfit, except in case of sudden call to the front.   WG
1917
07 05       LOCAL BOARD HAS TOTAL OF 68 RECRUITS
A total of 68 men have been received in the Watertown company formed for the Wisconsin National Guard, a number sufficient to enable the command to be mustered into the state service as a company of infantry.
It will now be the endeavor to enlist sufficient men to comply with the regular army requirement of 100 men on a war footing, and this Captain A. F .Solliday proposes doing, and the chance to enlist in the local company is still open.
Tuesday evening the armory proved too small for drill, so Main street was utilized for the extended maneuvers.  Captain Solliday is looking for a drill ground near town where drills can be held.  This field could be used for the manual drill, which has not been started owing to a lack of arms, which are expected to arrive within a week or two.
Governor Philipp has written a letter to Captain Solliday complimenting the work done here, and expressed the hope that the company would be recruited up to the full war strength.
06 11       HIGH SCHOOL TO BECOME ARMORY
      Old high school building to be used
The National Guard Company now forming in Watertown will use the old high school building for an armory and drilling station.  The use of the building was given them at a special meeting of the board of education held Friday evening.  The city council had already given its permission.     Watertown News, 06 11 1917
07 06       COMPANY MUSTERED INTO WISCONSIN NATIONAL GUARD
The recently organized military company in Watertown was yesterday mustered into the Wisconsin National Guard.  A telegram to that effect was received here by Captain A. F. Solliday.  The new company has a total enrollment of 68 men but it is expected to recruit up to war strength.
The Watertown company is now Co. E, 5th regiment of infantry.  So far they have not received their equipment but Captain Solliday expects the necessary blanks soon when the uniforms will be secured.  When the men have been equipped they will go into camp at Camp Douglas.
With the exception of the captain, no officers have been named for the company.  The captain and first and second lieutenants are appointed by the governor and the officers of lesser rank are named by the captain.  These will not be named until the men have been drilled so that the proper selections can be made for efficiency and capability.
The First, Second and Third Infantry regiments of the Wisconsin National Guard are expected to mobilize at Camp Douglas July 15 to be followed by the Fourth, Fifth and Sixth regiments.  The war department announced yesterday that the guard units of the nation would be called out in three divisions July 15, July 25 and August 5.  National Guard officers feel certain that the entire Badger guard will have been mobilized at the state reservation before August 1.              The Watertown News, 06 Jul 1917
1918
09 30       GUN EQUIPMENT RECEIVED BY LOCAL GUARD COMPANY
At the weekly drill Friday evening the members of the Watertown Separate company received their arms.  The rifles are of Springfield make.  The boys were formerly using the old rifles which had been loaned to Northwestern college.  A group picture of the company was taken on Sunday by A. R. Meyers at the Armory.
> LOCAL UNIT IS A "SEPARATE" COMPANY
This Watertown company is no longer a "home guard" company but under the oath they must respond to duty call any place in the United States.  They are an unassigned or separate company of the Wisconsin National Guard.
The company is planning for bowling teams for the winter season and other indoor sports.
09 30       BANQUET FOR SERGEANTS AT ARMORY
[same date] Members of Watertown Separate company, Wisconsin National Guard, will entertain at a banquet for Sergts. Joseph Kioes and Fred Hollenbeck in the Armory this evening.  A plentiful supply of good things for the inner man will be provided and when the guests and members sit down to the banquet board at 8 o'clock there can be no regrets as satisfying the epicurean tastes of all present.  Music will also be provided and story telling, anecdotes of life on the battle lines, etc. will form an interesting part of the program.  Sergeants Kioes and Hollenbeck have recently returned from the trenches in France and will leave on Wednesday for Camp, Lewis, near Tacoma, Wash., as instructors in machine gun action.
1920
03 17       ALDERMEN AGAIN CONSIDER TRAINING SCHOOL AND ARMORY
       FOR OLD HIGH SCHOOL SITE
Nothing can be done until Dodge and Jefferson Counties committees decide
Chairman Harte of the council committee, to which was referred the conversion of the old high school building into an armory for a cavalry unit, stated that he had nothing to report as the committees of the two counties who are considering it as a training school for teachers had not met. 
Mr. Harte. said that the [cavalry] boys were doing the right thing in going on with the organization of the unit as he saw no chance for a training school . . . must not also lose the chance for a cavalry troop.
Alderman Raue inquired if the building had not been condemned as a school, which elicited the information that it had been condemned as a high school on account of insufficient ventilation.
Alderman Lutovsky, who represents the ward in which the building is located, said that he believed those in the neighborhood would prefer a training school, but that he had grave doubts about it being accepted as such by the two counties.
Mayor Mulberger stated that he was very much in favor of the cavalry troop, and although at the, present time the disposition of the building was out of the hands of the council, he was glad that the members had gone on record affirmatively.
His honor further stated that a military organization such as the calvary unit would be one of the best things for the boys of the town and something for this city to be proud of.
07 21       OLD HIGH SCHOOL BUILDING RETURN ACCEPTED BY COUNCIL
      Must be re-roofed at once in order to keep it from going to ruin
            Arrangement to be made for use as Armory
Formal acceptance of the old high school building by the board of education was made at the council meeting last evening.
When the matter came up Mayor Wertheimer took occasion to say that the people of this city desired and expected that the same should be remodeled for use as an armory for Troop G.  Referring to some questions that had been raised as to technical compliance with the law, the mayor said that the will of the people could be accomplished in a manner fully legal and that Watertown should go forward in this matter and have at least as good an armory as some of the smaller cities that have already established military units.
At the conclusion of his remarks, the ladies and gentlemen who were in attendance at the meeting, which by the way was unusually large for Watertown, applauded the utterance by hearty hand claps.
Aldermen Gruetzmacher, Krueger and Block made suggestions as to safe guarding the interests of the city in the property in all events.
Capt. Sproesser of Troop G was present and, upon invitation of the mayor, stated that he was of the opinion that the city should put the building in shape for occupancy by putting on a new roof and installing a new heating plant.  The cavalry organization is to keep the same in repair and police the grounds, which meant the keeping down of weeds, shoveling of snow, and general up keep of grounds and building.  The contract is to be between the city and Troop G.
Ald. Harte, chairman of the committee on public buildings, informed the council that he had made a thorough examination of the building and that preservation of the building demands that it be fixed at once -- regardless of whether or not it is to be used as an armory.  The water comes in all over when it rains, water and steam pipes are busted, and all the walls have become effected.  "It will be ruined in a few years and should be roofed and fixed up before winter sets in" said the alderman from the Twelfth.
This seemed to be the prevailing opinion of the council, and on motion of Ald. Gruetzmacher the whole subject was referred to a joint committee composed of the committee on public buildings, finance and judiciary.  A definite report is expected at the next meeting.                WDTimes  
Cross reference info:
On 28 May 1920, Troop G of the 1st Wisconsin Cavalry Regiment was organized in Watertown with Captain Jacob Sproesser in command.
Troop G's horses were stabled near the west side fire station; later they were moved to stables in the area of the old fair grounds.  During the cavalry troop's existence its members and their horses participated in every parade that Watertown held.
On 1 April 1921, Troop G of the 1ST Wisconsin Cavalry Regiment was redesignated as Troop D, 105TH Cavalry Regiment.
1928
The Watertown unit of the Wisconsin National Guard was housed in Turner Hall at the time of the 1928 fire that destroyed the building.
1936
02 18       Troop K, local unit of the 105th cavalry of the Wisconsin National Guard, will assist the sick and injured and those in need of food and fuel in isolated places in every manner possible, Major J. W. Sproesser stated today upon receiving a message from Adjutant General Ralph Immell that all national guard units in Wisconsin have been asked to aid in every manner possible.  Major Sproesser announced this morning that the local cavalry unit would organize for the emergency work this evening at the troop rooms at the Turner Hall.   WDT
1939
10 27       EDWIN KAERCHER (1893-1939)
Edwin H. Kaercher, 46, died at St. Mary's hospital.  Mr. Kaercher, who was auditor and office manager for the G.B. Lewis company, was a World war veteran, serving with the original Company E of this city.  He was a past commander of the Sergt. Frank L. Pitterle post of the American Legion and was president of the Last Man's Club made up of men in Company E.  Mr. Kaercher was a charter member of what is now Troop K, 105th Cavalry, Wisconsin National Guard, joining in 1929 and rose to the office of captain.  He held that rank when he resigned in 1937.
Major J. W. Sproesser in a statement today said that Mr. Kaercher had an outstanding record as a soldier and as a member of the national guard.  He added that few men have taken the interest in cavalry work and few have been so faithful in their work and association as was he.  The major said that members of the troop feel a personal loss in his death and expressed his personal regrets at his passing.
07 11       COMPANY M PRIOR TO DEPARTING FOR SUMMER TRAINING
<![if !vml]>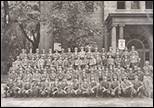 <![endif]>   
Beaudoin, D, Ret; Beyer, K, Pfc; Beyer, L, Ret; Beyer, R, Ret; Blaese, M, Pvt.; Block, R, Pfc; Bongard, W, Pvt; Bowman, E, Ret; Breunig, E, Ret.; Busshardt, D, Pvt; Checkai, L, Pfc; Dittman, G, Corp; Dittman, W, Sgt. 1/c; Dobbratz, R, Cpl; Ferry, D, Ret; Finnel, R, Pfc; Freson, E, Pvt; Garfield, M, Sgt; Goecke, G, Lt; Hackbarth, G, Cpl; Hackbarth, W, Sgt; Hamann, R, Pfc; Haney, F, Sgt; Hartman, S, Ret; Henson, C, Ret; Hilgendorf, H, Ret; Hoeffler, R, Pfc; Hupbel, H, Sgt; Jensch, R, Cpl; Juderjahn, J, Ret; Jurick, D, Cpl; Kersten, W, Ret; Knight, W, Lt; Kohloff, K, Pfc; Korth, E, Ret; Kressin, G, 1st Sgt; Kressin, W, Pvt; Krueger, D, Pfc; Krueger, R, Sgt. 1/c; Kuckhahn, G, Pfc; Kuckkan, G, Pfc; Kuckkan, L, Pfc; Kurtz, K, Ret; Lawton, L, Pfc; Lenius, H, Pfc; Liebe, N, Ret; Lueck, L, Ret; Marek, D, Pvt; McKee, R, Ret; Meske, D, Ret; Neel, A, Pfc; Neubauer, M, Sgt; Pagel, R, Pfc; Preinfalk, I, Pfc; Radtke, E, Pfc; Radtke, R, Ret; Rehbaum, E, Corp; Reinhard, L, Capt; Rickart, J, Ret; Rollert, E, Pvt; Rome, A, Ret; Rupnow, C, Pfc; Schauer, J, Pfc; Schmidt, R, Pfc; Schuenemann, A, Sgt; Schuenemann, P, Sgt; Schwefel, R, Pvt; Seefeldt, B, Cpl; Sehiling, D, Pfc; Sehwefel, R, Cpl; Steckling, J, Pfc; Sterwald, A, Pfc; Strahota, R, Pfc; Strege, A, Pvt; Strege, R, Pvt; Sylvester, C, Pfc; Thauer, J, Cpl; Topel, G, Sgt. 1st class; Tremain, L, Sgt; Verhalen, J, Ret; Wade, G, Cpl; Wade, J, Pfc; Weaver, R, Pfc; Ziebell, M, Pfc;
1950
05 27       Capt. LYLE G. REINHARD, First Lieut. GORDON P. GOECKE
<![if !vml]>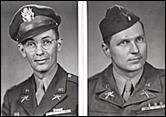 <![endif]>  
Capt. Lyle G. Reinhard, commanding officer of Co. M. 426th infantry, 32nd division, Wisconsin National Guard, has been recommended for assignment to the post of battalion operations and training officer for the 3rd battalion, 426th Infantry regiment, it has been announced by Milton P. Ziebell, lieutenant colonel, 426th Infantry, Wisconsin National guard, commanding the 3rd battalion.
Captain Reinhard is to be succeeded here as commanding officer by First Lieut. Gordon P. Goecke, present executive officer of Co M.  Both men are veterans of World War II and have long been active in Wisconsin National guard circles.
Text of Letter
Lt. Col. Ziebell has sent the Daily Times a copy of the letter announcing the promotion for Capt. Reinhard.  It states:
"Because of the excellent manner in which Capt. Reinhard has handled his duties as commanding officer, Co. M, and because he has fully demonstrated his ability to fulfill the duties of a higher assignment in the National Guard, Capt. Reinhard is being recommended for assignment to the post of battalion operations and training officer for the third battalion, 426th Inf. Regt. Wisconsin National Guard.  His duties in this position will include training — planning, and supervision for the units of the 3rd battalion.  In combat he would assist the battalion commander in the planning of the operations of the battalion and the supervision of those plans when put into effect.
"Upon his assignment to his new position, Capt. Reinhard will maintain an office at the Watertown armory but will be succeeded in command of Co. M. by First Lieutenant Gordon P. Goecke, now executive officer of Co. M.
07 22       COMPANY M DEPARTS FOR SUMMER TRAINING
<![if !vml]>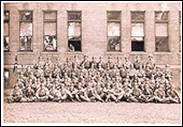 <![endif]>        Company M outside old armory before departing for Fort McCoy on July 22, 1950.
08 02       COMPANY M AT TWO-WEEK CAMP AT CAMP McCOY
<![if !vml]>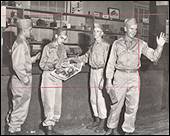 <![endif]>  
Recruits Donald Schoechert, Eugene Martin, Phillip Bongard and Pfc. Sam Hartmann
08 07       COMPANY M RETURNS HOME
<![if !vml]>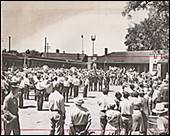 <![endif]>            <![if !vml]>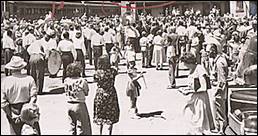 <![endif]>
After two weeks at Camp McCoy, a special train pulled into Union depot.  Portion of welcoming crown is shown.  Greeted by American Legion and Musicians Union bands.Line of march extended through flag-bedecked Main Street.
1953
08 22       RICHARD JAYE AND SON AT CAMP RIPLEY
<![if !vml]>

<![endif]>  
Richard Jaye and son James flew to Camp Ripley to take part in the Legislatures' and Employers' Day.
The Watertown National Guard unit is completing its first of a two-week period of training.
Richard Jaye, James Jaye, Guardsmen Kenneth Beyer, Don Krueger, Lloyd Schmidt and Louis Checkai
09 08       COMPANY M AT CAMP RIPLEY, MN
<![if !vml]>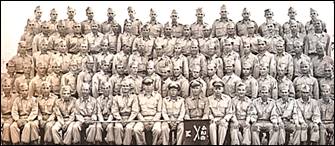 <![endif]>   
Front row: [L-R]  SFC R. C. Schwefel, Pfc. R. Schwenkner, Pvt. F. Fendt, Pfc. F. Griep, Pvt. D. Steffen, Pvt. R. Loeffler, SFC J. Wade, WOJG G. Kressin, 1st Lt. W. Johnston, 1st Lt. W. Dittmann, 1st Lt. L. Tremain, SFC G. Dittmann, SFC K. Beyer, Col. D. Burnett, Pvt. E. Kaercher, Cpl. G. Kuckkan.
Second row: Cpl. A. Strege, M/Sgt. R. Jenseh, Pfc. K. Toebe, Cpl. J. Dittmann, Cpl. P. Bongard, Pvt. J. Kaercher, Pfc. E. Ohrmundt, Pfc. R. Burdick, Pfc. P. Wade, Pvt. H. Engelbrecht, Pvt. G. Godfrey, Pvt. M. Draves, Pfc. E. Hoffer, Cpl. G. Rabbach, Sgt. R. Weaver, Pvt. O. Kohlhoff, Cpl. E. Parker, Pvt. H. Dittmann, SFC H. Huebel, Cpl. W, Lueck.
Third row: Pvt. A. Angus, Sgt. L. Checkai, Sgt. L. Schmidt; Sgt. R. Kusel, Pfc. F. Kittle, Pvt. H. Templeton, Pvt. H. Herold, Pvt. B. Schmidt, Pvt. P. Bast, Pfc. R. Otto, Sgt. L. Kuckkan, Pvt. R. Tietz, Cpl. R. Finnel, Cpl. D. Beaudoin, Cpl. S. Hartman, Sgt. J. Lawton, M/Sgt. P. Garfield.
Fourth row: Pvt. W.T. Bergin, Cpl. K. Kohlhoff, Sgt. J. Steckling, Pvt. R. Hildebrandt, Cpl. D. Krueger, Cpl. A. Rome, Pfc. M. Folz, Pvt. D. Swanton, Sgt. E. Bowman, SFC G. Hackbarth, Sgt. J. Richardt, Sgt. D. Busshardt, Pvt. W. Engel, Cpl. R. Franz, Pfc. D. Oestreieher, Pvt. D.  Copsey.
Top row: M/Sgt. D. Jurick, SFC R. Schmidt, Pvt. G. Umland, Pfc. J. Kuckkahn, Cpl. R. Pagel, Sgt. C. Bast, Cpl. H. Schaller, Pvt. R. Oestreich, Sgt O. Beyer, M/Sgt. E. Rehbaum, Sgt. E. Nienow, Cpl. D. Asmus, Sgt. R. Beyer, Sgt. R. Schwefel.
1954
08 20       RETURN FROM SUMMER CAMP
Watertown's Co. M, 426th Infantry Regiment, National Guard, returned home Sunday afternoon following a two-week encampment period at Camp McCoy.  The unit received an overall rating of "superior," based upon military courtesy, training, marksmanship, squad and platoon bests, administration and supply, mess and motor pool.  This is the second year Co. M has received the "superior" rating.  Lt. William R. Dittmann is the commanding officer.  WDT
1955       MEMORIAL DAY PARADE
  <![if !vml]>

<![endif]>        <![if !vml]>

<![endif]>        <![if !vml]>
<![endif]>        <![if !vml]>

<![endif]>
1955
07 27       NEW ARMORY
Watertown's new Armory, home of Company M of the Wisconsin National Guard, will be dedicated at public ceremonies Sunday afternoon.  Col. Milton F. Ziebel, regimental commander of the 426th Infantry, Lt. William Dittmann, commanding officer of Company M, City Manager Dean Van Ness, Col. J. W. Sproesser and Capt. George Iwen will speak at the ceremonies.  Members of the old 105th Cavalry Band will reunite for a concert during the afternoon program which will run from 2 to 5 o'clock. Weapons will be on display and members of Company M will serve as guides.  There will be a dance in the evening.  The Armory is located on highway 26 near the south city limits.   WDT
1955
COMPANY M OF THE WISCONSIN NATIONAL GUARD
<![if !vml]>

<![endif]>        Click on image
1956 
02 21       CAPTAIN WILLIAM DITTMANN
William Dittmann, head of Watertown's National Guard unit, Company M, recently was promoted to the rank of captain, the adjutant general's office at Madison reports.  Dittmann, a son of George Dittmann, Cleveland Street, has held the rank of first lieutenant for two years and before that held the rating of second lieutenant for three years.  Dittmann, age 37, resides at 305 Concord Avenue.  The Dittmanns have three children, Janet, 16, Daniel, 14, and Clarence, age 6.  Captain Dittmann took command of the local guard unit in June of 1953 when Captain Gordon Goecke left Watertown and moved to Milwaukee where he is now associated with the Milwaukee Headquarters unit.  WDT
10 23       OLD TROOP K AND THE 105TH CAVALRY BAND
Clem H. Schoechert, Watertown, yesterday was elected president of the association of former members of old Troop K and the 105th Cavalry Band of the National Guard which held its second annual reunion at the Armory here.  The reunion was well attended.  Lorenz Wesemann was named vice president and Conrad Ott secretary.  Treasurer is Chester J. McGuire. A board of directors is still to be appointed.   WDT
1959
07 21       Municipal Band concert dedicated to the 105th Cavalry   WDT
1961
09 08       COMPANY C ALERTED FOR CALLUP
Officers of Watertown's Company C, 3rd Battle Group, 127th Infantry, Wisconsin Army National Guard were on notice today that beginning immediately they are to implement an intensified training program to increase their combat readiness, following the announcement out of Washington on Tuesday that Wisconsin's 32nd Infantry Division, the famed Red Arrow Division, is among those alerted for possible callup for military duty.  The order to all units to step up their program came from Maj. Gen. Ralph J. Olson, adjutant general for Wisconsin.  WDT
09 15       MEMBERS OF COMPANY C MOBILIZED
Two National Guard divisions, the 32nd Infantry Division of Wisconsin and the 49th Armored of Texas, are being called to active duty.  Watertown's Company C is a unit of the guard.  Defense Secretary Robert S. McNamara issued the formal announcement at a news conference. Maj. Gen. Herbert Smith, commander of the 32nd National Guard "Red Arrow" division, said the unit will begin assembling Oct. 15 and "I don't know exactly when we'll start rolling." He said the division will train at Fort Lewis, Wash.   WASHINGTON (UPI)
09 17       ORDERED TO REPORT FOR MOBILIZATION
Members of Watertown Company C, one of the 32nd Division units ordered to report for mobilization Oct. 15 for active duty, were announced yesterday afternoon at the National Guard Armory here.  Here is a list of officers and top enlisted people:  Capt. Donald R. Green, 1st Lt. Kenneth F. Beyer, 1st Lt. Miles.D. Duckert, 2nd Lt. John R. Erdman, 2nd Lt. John R. Lonergan, 2nd Lt, Harold Matteson Jr.  Platoon Sergeants – Robert W. Jensch, Robbin L. Kusel, Elmer R. Stark, James A. Wade.  Staff Sergeants - Louis R. Checkai, George E. Dittmann, Wayne A. Engel, George E. W. Hackbarth, Robert J. Heiden, Donald W. Hewitt, Carol K. Lipsey.  WDT
1962
08 02       The 30 members of Company C, who arrived in recent days from Fort Lewis, Wash., to ready the armory for the regular company drills, now are awaiting the arrival of the company's equipment.  The equipment will be shipped on truck by rail "piggy back" and will be unloaded at some point near Watertown.  Other men in Watertown's company were released yesterday, and are expected to reach Watertown shortly.  None will travel by rail.  Most of the men will return by auto.  Most of the men in the unit will have reached Watertown by Thursday, August 10, when the local unit, as well as all units of the 32nd Division, will be released from the army, and return to National Guard status, under state control.   WDT
08 24       Members of Company C and the wives and sweethearts turned out in force last night for the official community welcome home dinner party held at the Legion Green Bowl.  The dinner was preceded by a social hour and was followed by a dance.  Principal speaker at the gathering was Mayor Robert P. White who extended, in behalf of the city, an official welcome home.  Company C left Watertown last October for Fort Lewis, Wash., for training with other units of Wisconsin's 32nd Division.  The division was called up as a result of the Berlin crisis.   WDT
09 19       Capt. Donald R. Green, commanding officer of Company C, 3d Battle Group, 127th Infantry, announced today that a local recruiting drive is underway for the Wisconsin Army National Guard, and that enlistments are now being accepted at the local armory.  Capt. Green said that the state of Wisconsin has been allotted a considerable amount of spaces for entry of non-prior service personnel between the ages of 17 and 35 into the six month training program during the period September 1962 to June 1963.  The six months program means that non-prior service personnel spend six months on active duty and then return to their home town unit to fulfill the remainder of their military obligation.  WDT
1964
11 08       Maj. Gen. Ralph J. Olson, adjutant general of Wisconsin, today informed the city of Watertown that it has become necessary to relocate the two Army National Guard Aviation Battalion units currently housed in Watertown's National Guard Armory to West Bend by Dec. 1 of this year.  The letter from the adjutant general was addressed to Mayor Robert P. White.  Maj. Gen. Olson said that except for the loss of flight activities, Watertown will not be seriously affected by the change since Company C, 2nd Battalion, 128th Infantry will be moved to Watertown as soon as the present aviation units vacate the armory.   WDT
11 12       Jefferson will lose its Army National Guard unit under a plan announced Friday by the state adjutant general's office to relocate three guard units. Watertown's two units — Headquarters and Headquarters Detachment and Co. B of the 32nd Aviation Battalion, will move to West Bend, said adjutant general Maj. Gen. Ralph Olson. Jefferson's Co. C, 2nd Battalion, 128th Infantry, will move to Watertown.   WDT
12 13       MADISON, Wis. — Wisconsin's 32nd Division has survived two world wars and the threat of a third, and state National Guard officials were confident today it would withstand its latest challenge — the defense department's realignment of reserve and guard units. Maj. Gen. Ralph Olson, state adjutant general, and 32nd Commander Maj. Gen. John Dunlap voiced optimism at a Sunday news conference that the plan announced Saturday by Defense Secretary Robert McNamara would see the 32nd retain current strength and possibly even gain manpower.    WDT
1965
10 22       COMPANY C, SECOND BATTALION, 12th INFANTRY
Forty-one Wisconsin communities, including Watertown, will contribute a total of 26 units to the new National Guard "selected reserve force," according to an announcement issued late Sunday by Gov. Warren P. Knowles who is, by virtue of his office, commander in chief of the national guard in the state.  He said the change will become effective Nov. 1 and that it will increase the readiness of the nation's reserve forces. Under the plan, Watertown and Fort Atkinson will make up Company C, as they are now designated, and both will be part of the Second Battalion, 12th Infantry.  Each community will have two platoons with headquarters at Watertown.    WDT
1967
06 30       CALL-UP:  TEENAGE RIOTS AT LAKE GENEVA
Eighty-six members of the Watertown unit of the Wisconsin National Guard participated with guardsmen from at least six other guard units in assisting police in controlling the teenage riots at Lake Geneva and the Lake Geneva area on Tuesday, July 4th. The Watertown unit left here from the armory at 5 p.m. on Monday and stayed overnight in one of the fair ground buildings at Elkhorn. The guardsmen, from 600 to 650 strong, patrolled the Lake Geneva area until 10 p.m. on Tuesday. The Watertown guardsmen returned to the armory here about midnight on Tues day. Members of the local unit had been called to the armory here at 1 a.m. Monday, but were allowed to return to their homes at 3 a.m. They were back at the armory at 4 p.m. on Monday and left at 5 p.m. Other guard units participating were from Elkhorn, Fort Atkinson, Hartford, Oconomowoc and Oak Creek.
07 29       CALL-UP:  RIOTS IN MILWAUKEE
The call-up of about 1,300 Wisconsin Army National Guardsmen to Milwaukee to bring calm to downtown Milwaukee in the wake of rioting which was sweeping through several large cities in the country.  About 1,300 guardsmen were called up, including about 90 from the Watertown unit.  On duty four days before being released.  The Watertown unit was part of the 2nd Battalion, 128th Infantry which also included units from Oconomowoc, Hartford and Fort Atkinson.   WDT article  
08 04       UNIT RETURNS FROM MILWAUKEE CALL-UP
Members of the Watertown unit of the Wisconsin National Guard returned to Watertown last evening after being on duty in Milwaukee as a result of the recent racial disturbances in that city.  The Watertown unit was among some 1,300 guardsmen released from duty in Milwaukee late yesterday afternoon.  They remain on "standby duty" and can be called out again if the need arises.  Members of the guard here were "rounded up" by telephone early last Sunday after the racial troubles broke out in Milwaukee.  They had just returned from their two-week's annual encampment at Camp Riley, Minn., the day before.    WDT
1969
06 14       LEAVING FOR CAMP McCOY
<![if !vml]>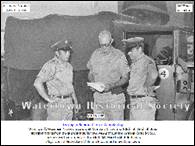 <![endif]> 
Watertown's Wisconsin National Guard Unit, Company C, 2nd Bn., 128th Inf, 32nd Inf. Bde., left this morning from the guard armory for two weeks of summer camp at Camp McCoy.  Looking over their orders are, from left: Sgt. Gary Dickhut, Jefferson, S/Sgt. Donald Meske, Lake Mills, and Pfc. James Finley, Watertown.
06 25       TWO WEEK ENCAMPMENT AT CAMP McCOY
<![if !vml]>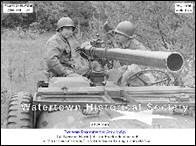 <![endif]>        <![if !vml]>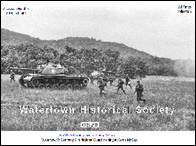 <![endif]>
<![if !vml]>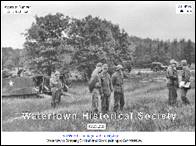 <![endif]>        <![if !vml]>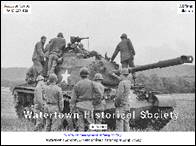 <![endif]>
Watertown's Company C in National Guard training at Camp McCoy.
09 30       CALLED OUT FOR DUTY AT THE STATE CAPITOL
<![if !vml]>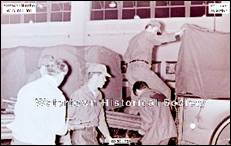 <![endif]>     < < Scroll through set of 5 images
Guardsmen prepare to leave.  The local National Guard was called out for duty at the state capitol at Madison
1970
07 11       LEAVING FOR CAMP
<![if !vml]>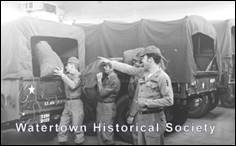 <![endif]>  
1973 & 1974
Camp McCoy was aligned under U.S. Army Forces Command July 1, 1973, and officially was re-designated as Fort McCoy Sept. 30, 1974.
1979
01 27       It's a new National Guard with new opportunities and benefits   WDT
1985
03 04       GUARD LEAVES FOR EUROPE
Watertown's National Guard unit will be training in Europe during early 1986, the Department of the Army has announced.  The department announced earlier that the 32nd Infantry Brigade would be training in Europe, and this latest announcement includes several other separate units of which Watertown's is a part.  The latest announcement significantly increases the size of the guard force scheduled to train in Europe.  The brigade alone was the largest single guard unit to deploy in Europe in recent times.   WDT
1986
01 11       GUARD LEAVES FOR WEST GERMANY
The orange forces are ready to roll, and the objective of their mission is to advance as far as they can behind the blue forces' lines.  Does that sound like an action packed, adventure movie or a plot from an episode of "The A- Team"?  Actually, it will be part of the maneuvers of the Wisconsin National Guard when 5,000 guardsmen depart for Germany to participate in the United States European Command's "REFORGER 86" project.  Forty-two men of the National Guard unit in Watertown, Company C of the 2nd Battalion 128th Infantry, packed their gear and boarded a bus bound for Fort McCoy today.  The troops will be flown to West Germany Friday night.   WDT
1988
08 13       GUARD LEAVES FOR WEST GERMANY
About 60 Army National Guard soldiers from Watertown's Company C will participate in REFORGER '88 military training exercises in West Germany in September, joining 75,000 U.S. troops.  The 20th annual exercise is intended to demonstrate the United States' capability to quickly deploy its military to support the North Atlantic Treaty Organization.  REFORGER stands for Return of Forces to Germany.  "REFORGER is a show of force ... that the United States is willing to support its allies," said Sgt. 1st Class Herb Kauper of Company C.   WDT
1989
03 17       FIRST SERGEANT LOUIS CHECKAI RETIREMENT
Checkai, 905 Highland Ave., Watertown, a member of the Wisconsin Army National Guard for the past 41 years, was honored at a dinner Saturday evening.  The annual "dining-in" was held at the guard armory at 1700 River drive, and was used as the opportunity to pay tribute to Checkai who will be retiring from the guard in July.  Guard speaker for the evening was Brigadier General Charles Scharine.  Checkai enlisted in the Wisconsin Army National Guard Company M 426th regiment of the 32nd Division, in June of 1948.  This was a heavy weapons company and he was assigned as a radio operator with the mortar platoon.  WDT
1991
01 19       WEAPONS OF WAR DISPLAYED
For many area residents who walked among the weapons of war displayed Wednesday night at the Watertown armory's open house, the war in the Persian Gulf seemed much closer.  "We want to see what's being used in the field to help us understand what's going on over there," Jerome George of Watertown said.  For Pat George, Jerome's wife, it brought the war and the soldiers fighting it closer to home.  "It certainly does make it more real," she said.  The Georges were among about 250 people who filed through the headquarters of Company C of the Wisconsin Army National Guard.  Spec. Bill Burdick, who originated the idea, said the unit sponsored the open house to show support for fellow soldiers fighting in the gulf.  WDT
12 19       COMPANY C COULD BE DISSOLVED
The fate of Watertown's National Guard armory could be sealed by the signature of President George Bush on a bill proposing troop reductions.  A federal bureau report released in May listed Watertown's Company C one of five companies of the 2nd Battalion, 28th Infantry, that could be dissolved if the plan goes into effect.  Company C, which has 83 part-time soldiers and three full-time active National Guard soldiers, was reported to have a payroll of $344,000.  It was reported the unit receives $120,000 in federal money for capital projects, utility costs, fuel and other expenses.  WDT
1992
01 31       COMPANY C DEACTIVATED
Watertown's Company C National Guard unit is being deactivated due to cuts in the budget of the Defense Department.  But Army officials expect the local armory will continued to be used by other units from within the state.  Wisconsin Major General Jerald Slack said that the National Guard is working on plans to relocate portions of remaining units to take advantage of facilities of affected armories, including Watertown's.  Soldiers in the 128th Infantry are expected to be relocated to units which do not have 100 percent enlistment.  But this year's cut of 500 positions could be just the tip of the iceberg, the major general admitted, and dramatic cutbacks could follow in 1993.   WDT
02 02       GUARD TO CONTINUE USE OF FACILITIES
The captain of the Watertown National Guard armory says despite the announced deactivation of his unit he knows there will be National Guard soldiers using the local facilities.  "My leaders are working on a plan.  I will be briefed very shortly, and by this weekend I will be briefing my men on the National Guard in this unit," Capt. Vern Langholff said.  "Right now, I'm very upbeat about what's going to happen," he said.  Langholff met with Guard officials this morning, but said specific details would not be available until the plan was finalized.  There are 91 soldiers in the Company C unit, which will be deactivated before Sept. 30.
02 10       DEACTIVATION OF THE 128th INFANTRY'S COMPANY C
The Watertown armory will continue to be used by the National Guard, but its troop strength will be reduced in half, the deputy adjutant general for Wisconsin's Army National Guard said Monday morning.  Gen. Jerome Berard said the Watertown unit will be a joint one with Oconomowoc, and will become part of the 2nd Battalion, 127th Infantry headquartered in Appleton.  Watertown's troop strength will be reduced from 96 to 46.  Currently 91 soldiers are on the roster at Watertown.  "We will go over strength with this new plan.  No one will go without opportunity to be in the Guard," Berard said.  The plan released this morning deactivates the 128th Infantry of the 32nd Brigade headquartered in Elkhorn, and will put the Watertown unit on a different mission.  Berard said the infantry's mission will change from TOE missiles and humvees to armored personnel carriers (APC).
Watertown's armory couldn't have gotten a better outcome from realignments within the 32nd Brigade of the Army National Guard, the commander of Watertown's unit said Monday.  Capt. Vern Langholff said despite cuts in troop strength at Watertown and the deactivation of the 128th Infantry's Company C, Watertown will remain a flag station for a new unit with more positions than previous.  Langholff said he has been informed he will be captain of the 127th Infantry's Company D, which will have nearly 120 positions due to the combination of the deactivated Watertown and Oconomowoc units.  "Before they were two separate companies," Langholff said of Watertown and Oconomowoc.  "Now we have one company with headquarters in Watertown, the flag company."
03 25       TO BE ACTIVATED
Watertown's Wisconsin Army National Guard unit with 91 individuals is on the list of units to be affected by reductions planned by the Defense Department.  The Defense Department said the 2nd Battalion 128th Infantry (TLAT) unit based in Elkhorn is among those that will be reduced this year.  It said 529 positions would be affected.  Watertown's Company C unit is part of the 128th Infantry. The board announced last month that the 128th was to be deactivated later this year, and made part of the 2nd Battalion, 127th Infantry, in Appleton.
07 11       ROLE CHANGED TO FOOT SOLDIERS
The end of the Cold War has led to a changing role for local Army National Guard units, including the Watertown unit, based at 1700 River Drive.  Capt. Vernon Langholff, commander of the newly combined Watertown and Oconomowoc unit, said his troops learned their new mission during a two-week training session at Fort McCoy completed on June 27.  "During the Cold War, in case of a war in Germany, our mission was to destroy tanks," Langholff said.  "With the end of the Cold War, our mission went away."  Along with the mission, the Watertown armory's 24 TOW- missile launchers have left and have been replaced with armored personnel carriers.  Troops in the local National Guard unit now will serve as foot soldiers.  "We're back to being regular infantrymen," Langholff said.
08 31       30th REUNION
Former members of the Watertown National Guard, Company C, 3rd Battle Group, 127th Infantry Regiment, 32nd Infantry Division, and their wives and guests, held its 30th reunion at Lindberg's By the River.  The reunion celebrated the return of the Watertown unit from active duty at Fort Lewis, Wash., during the Berlin crisis in 1961-62. Master of ceremonies was Wayne Winter.   Members of the reunion committee were John Becker, Louis Checkai, George Dittmann, George Hackbarth and Wayne Winter.
1993
11 10       WORLD WAR II NAZI HELMET
A World War II Nazi helmet which has been rattling around bars and basements for about 50 years has found a new home. U.S. Army veterans from Watertown used to reminisce about the helmet at a local watering hole for several years before it disappeared to give way to more recent memories.  The heavy metal helmet, signed by seven Watertown men while serving in Italy in the early 1940s, was formerly owned by a German soldier.  It was found by the Watertown men who were called to active duty about 1940 as part of the local National Guard unit.  They were part of the 32nd Division and their section of the unit later became Battery C, 173rd Field Artillery which served overseas in Africa and then in Italy where the tale began.  The helmet was painted white, signed with the names of the men, and sent by mail to Elmer and Beats Tavern where it was prominently displayed behind the bar.  The tavern was a popular spot for the men, and they sent the helmet as a way to keep in touch with owners Elmer and Beatrice Schmidt as well as other friends back home.
1996
10 26       COMPANY E TO BE UNITED
Company E will be united at the Watertown Armory under a reorganizational plan recently announced by the Wisconsin National Guard.  The company, part of the 2nd Battalion, 127th Infantry, will no longer be split between the two cities.  Instead, the Appleton detachment will be absorbed into the Watertown unit, consolidating Company E in Watertown.  "It will get more cohesion with the unit," said Sgt. 1st Class Craig Thayer, who is one of three full-time personnel stationed at the Watertown Armory.  With the consolidation, about 85 guard members will be stationed at Watertown.  Previously, about 35 people were assigned to the Watertown Armory.   WDT
1998
11 20        Turner Hall served as the Armory for the Wisconsin National Guard in Watertown. There have been at least three buildings in Watertown that have served as an Armory for the Wisconsin National Guard.  The current Armory, built in 1954, is the only one of the three that has served solely as a dedicated Armory for the Wisconsin National Guard.  The other two buildings were owned and operated by the Turners which allowed the Watertown National Guard unit to conduct its part-time drills there.  The third building was part Watertown school system and the building was torn down a number of years ago and a hotel now occupies the site.   WDT
2000
07 24       Company E, 2/127th Infantry, of the National Guard unit located in Watertown, held its annual training at Gowen Field, Idaho.  Company E is the anti-armor unit of the 2/127th Infantry of the 32nd "Red Arrow" Mechanized Infantry Brigade.  Gowen Field is an Idaho Army and Air National Guard base located on the south end of Boise in the southwestern corner of Idaho.  The majority of the tactical training took place in the Orchard Training Area, which is a vast expanse of high-desert wilderness about 15 miles south of Gowen Field.  WDT
12 11       Soldiers from the Watertown-based unit of the Wisconsin National Guard faced protesters in the late afternoon snow Saturday as part of a training exercise in conjunction with the State Patrol.  Civil disturbance was the topic of Saturday's training mission, which culminated with a simulated situation in which the Guard faced volunteers who acted as an unruly crowd.  Dressed in riot gear, the guardsmen advanced and put into practice the day's lessons.  Capt. Mike Hanson, commander of the National Guard's Company E, 2nd Battalion, 127th infantry, said the exercise honed skills the soldiers could be called upon to use.  Hanson, who is employed as a state trooper, said the joint training between the Guard and State Patrol helped closely mirror how the two entities would work together in an actual incident. WDT
2001
02 23       Company E, 2/127th Infantry held its February drill weekend at its armory in Watertown.  Company E is the anti-armor unit of the 2/127th Infantry of the 32nd Red Arrow Mechanized Infantry Brigade  The primary focus for the weekend's training was the completion of the gunner's skill test (GST).  The gunner's skill test consists of the 18 most important individual tasks for the anti-armor soldiers in Company E.  The first half of the test was completed during the January drill.  The second half was completed last weekend.  WDT
07 07       BECOMES COMPANY D, 2nd BATTALION, 128th INFANTRY - Watertown's Army National Guard unit will be part of a conversion of the 32nd Infantry Brigade from mechanized to light infantry according to Brig. Gen. Kerry G. Denson, Wisconsin's deputy adjutant general for the Army.  Company E, Second Battalion, 127th Infantry, a mechanized unit, will keep its present anti-armor mission when it becomes Company D, 2nd Battalion, 128th Infantry, a light unit.  Thirty-six other Wisconsin cities will also experience changes in their guard units as part of the conversion according to Col. James Krueck, 32nd Brigade commander.  "We're redesigning the unit but keeping the same personnel," he said.  "Soldiers who train in Watertown will continue to do so and the redesignated unit will gain their experience and dedication."  WDT
2002
09 21       The local National Guard unit, Company D, 2/128th Infantry, held a drill weekend at its armory in Watertown earlier this month.  Company D is the anti-armor unit of the 2nd Battalion, 128th Infantry, which is part of the 32nd Red Arrow Light Infantry Brigade.  The soldiers spent much of the weekend becoming familiar with some of the new equipment they are being issued.  The unit is receiving new equipment as part of an ongoing reorganization of the 32nd Brigade.  The brigade is transitioning from a heavy, mechanized unit to a lighter, faster, more mobile force.  As a result, the Watertown soldiers have traded in their old armored personnel carriers for new Humvees.  HMMWV stands for high mobility, multipurpose wheeled vehicle.  The general public commonly refers to these vehicles as hummers.  WDT
2005
05 14       POSSIBLE MOBILIZATION
Watertown's National Guard unit is among several which received alert notification over the weekend.  The alert notification is a step away from a deployment, according to Sgt. 1st Class Craig Boehlke, of Waukesha, a full-time member of the local unit's staff, but no deployment has been issued.  Boehlke said, "This alert basically tells us we need to focus on preparing for a possible mobilization.  It gives us a heads-up for that possibility."  Lt. Col. Tim Donovan, director of public affairs for the Wisconsin Army and Air National Guard, said if any of these units are actually mobilized, either in full or in part, affected soldiers would expect to be on active duty for about 18 months, with as much as one full year deployed overseas.   WDT
06 04       MOBILIZED FOR ACTIVE DUTY
Watertown's Army National Guard unit has been mobilized for active duty and will be deployed in August, according to officials with the guard's state headquarters in Madison.  The Watertown unit is currently in the midst of its' two weeks of annual training at Fort McCoy  Members of the unit will return to the local armory at 1700 River Drive on Saturday.  Because of the training, the Daily Times was unable to contact an official with the local unit this morning.  Watertown's unit is part of the 2nd Battalion, 128th Infantry, headquartered in Madison, which has been activated.  The unit was placed on alert in mid- May with the strong potential that it would be activated.   WDT
07 17       SOUTHEAST ASIA ASSIGNMENT
Watertown's unit of National Guard soldiers in the 2-128th Infantry and their families enjoyed a picnic Saturday afternoon at the Watertown Armory and were given Blue Star Service Banners from the American Legion.  The soldiers who are part of Wisconsin's 32nd Infantry Brigade will report for active duty Aug. 17 and will fill in with other companies from Fort Atkinson, Oconomowoc and Madison to travel to southeast Asia.  "I guess I'm both excited and nervous," Sgt. 1st Class Craig Boehlke, of the Watertown Armory said.  "In the current environment with all of the deployments we knew we'd eventually be called for duty.  It wasn't a matter of if, but when." Steve and Jeanne Gillis of the American Legion Post No. 189 distributed the Blue Star Banners for families to hang in their windows.   WDT
08 13       A SEND-OFF FOR THE GUARD
A send-off for Watertown's unit of National Guard soldiers in the Company D 2-128th Infantry will be held Thursday starting at 6:10 p.m. at the intersection of Washington and West Main streets.  Soldiers will be escorted on Main Street to College Avenue, back to South Third Street to Veterans Memorial Park.  The ceremony will include guest speakers Mayor John David, Company D Commander 1st Lt. John Burback, Dodge County Veterans Service Officer Mark Grams and retired 1st Sgt. Louis Checkai.  All of the veterans organizations in Watertown will be represented.   WDT
09 03       GUARD WEATHERS THE HURRICANE
A send-off for All National Guard soldiers training at Camp Shelby in Mississippi are alive and in good condition following the hurricane that swept through the Gulf of Mexico, according to Lt. Col. Tim Donovan, director of public affairs for Wisconsin Army and Air National Guard.  Among the soldiers at the camp is the Watertown Company D, 128th Infantry of the 32nd Red Arrow Infantry Brigade.  The unit was sent for training in Mississippi on Aug. 20.  Donovan said all of the soldiers weathered the storm and are in good spirits.  He added the guardsmen were given a couple of days off after the storm had passed.   WDT
2008
05 05       PREP FOR MOBILIZATION
Watertown's National Guard unit will brief employers Tuesday night about its expected mobilization as part of the 32nd Brigade's 2009 deployment to Iraq.  The briefing, which will begin at 6 p.m., will include information about training events and expected mobilization dates for Troop B, 105th Cavalry; soldiers' rights under the Uniformed Services Employment and Re-employment Rights Act; and the role of the Committee for Employer Support of the Guard and Reserve.  Members of the Committee for Employer Support of the Guard and Reserve and the 105th Cavalry will also be on hand to answer questions and to share experiences from previous deployments.  WDT
09 07       10 MONTHS IN IRAQ
Members of the Wisconsin National Guard's largest unit, the 32nd Infantry Brigade Combat Team, have been called up to serve in Iraq.  The unit includes Troop B, 1st Squadron, 105th Cavalry based in Watertown, according to Lt. Co. Tim Donovan.  They will report for training in February and spend 10 months in Iraq.  The 32nd Infantry Brigade Combat Team has about 3,450 soldiers with units in 36 Wisconsin communities.   WDT
10 18       LARGEST DEPLOYMENT SINCE WORLD WAR II
MADISON — The Wisconsin National Guard hosted a media day at its headquarters in Madison on Wednesday to give journalists in the area more information on the largest operational deployment of state National Guard forces since World War II.  The Wisconsin National Guard's largest unit, the 32nd Infantry Brigade Combat Team, received a mobilization order in September that calls up approximately 3,500 soldiers for an active duty mission in Iraq.  The 32nd Infantry Brigade Combat Team, which consists of soldiers from over 35 state communities, has been on alert since December 2007.  Some of the local units in the 32nd Infantry Brigade Combat Team include Troop B, 1st Squadron, 105th Cavalry in Watertown; Troop A, 1st Squadron, 105th Cavalry in Fort Atkinson; Company A, 2nd Battalion, 127th Infantry in Waupun; and Det. 1, 32nd Military Police Company in Oconomowoc.   WDT
2009
02 18       DEPLOYED TO IRAQ:  A community send-off
      Troop B, 1st Squadron, 105th Cavalry Send-off
      Wisconsin's 32nd Brigade Combat Team
      Watertown National Guard
Over 600 people, including mothers, wives and young children, from 82 different communities gathered at Watertown High School Tuesday night as part of a special ceremony in honor of their loved ones who are leaving to serve in Iraq.
The Watertown National Guard Armory is home to Troop B, 1st Squadron, 105th Cavalry, which is part of nearly 3,500 Wisconsin soldiers of Wisconsin's 32nd Brigade Combat Team that have been called to active duty.
The community send-off began with soldiers taking a bus ride from the Watertown National Guard Armory to Watertown High School. Red, white and blue flags waved through the streets of downtown Watertown as many local families came to show their support. Many of those families waving flags have no personal connection to the soldiers, they just came to show their support.
The soldiers from throughout the state started the day off in the morning at a special service in Madison where Gov. Jim Doyle and other state officials bid them farewell. The mobilization of about 3,200 Wisconsin National Guard members is the largest operational deployment since World War II. The 32nd Brigade will be joined by 25 Minnesota troops from the 34th Division.
Tuesday evening local soldiers where honored by area veterans groups. The 1st Brigade Band played several different patriotic songs including a special rendition of "The Star-Spangled Banner."
The soldiers with the 32nd Brigade will report for duty at their local armories in mid-February and train for two months at Fort Bliss near El Paso, Texas, before being deployed to Iraq, where they will stay for about 10 months. This is the largest operational deployment of state National Guard forces since World War II.     WDT
09 07       REPORT FROM IRAQ
BAGHDAD, Iraq — More than seven months after they entered active duty in the United States Army — and now about halfway through the time they will spend in Iraq — the 3,200 men and women of the Wisconsin National Guard's 32nd Infantry Brigade Combat Team are focused on a number of different missions. According to Tim Donovan, public affairs officer with the Wisconsin National Guard, the 105th Cavalry's Watertown, Wis.based Bravo Troop is one of the Wisconsin units serving at Camp Cropper, which is near Baghdad International Airport. Approximately 130 troopers rotate between manning entry control points and operating as a quick reaction force for Cropper and the western portion of Victory Base Complex, Donovan said. The rotating assignments allow soldiers a change of scenery and a little variety in their duties, he added.
2016
02 04       KENNETH BEYER, 1927-2016
Kenneth F. Beyer, age 88, of Watertown, passed away on Feb. 4, 2016.  Funeral services will be held on Monday at noon at Trinity Lutheran Church in Watertown with the Rev. Brett Brauer officiating.  Burial, with military graveside rites performed by the Watertown American Legion Post No. 189, will take place at Lutheran Cemetery in Watertown.
Kenneth Francis Beyer was born on Nov. 9, 1927, in Lake Mills, the son of Carl F. and Lydia (nee Albrecht) Beyer. He was a 1945 graduate of Watertown High School and he attended one year at the University of Wisconsin-Madison. Ken served in the United States Navy during World War II and was company commander of the Army National Guard units in Jefferson and later in Watertown.
On Sept. 8, 1951, he married Elaine Hensler at St. Mark's Lutheran Church in Watertown.  Ken owned and operated Keck Furniture in Watertown.  He was a member of Trinity Lutheran Church and the Watertown American Legion Post No. 189.  Ken was a former member and past president of the Watertown Rotary Club where he received the Paul Harris Fellow Recognition.  He was also a member of the Watertown Central Business Association and the Watertown Area Chamber of Commerce.
2017
09 11       WATERTOWN GUARDSMEN AND HURRICANE IRMA RELIEF EFFORTS
As part of Gov. Scott Walker's executive order allowing Wisconsin National Guard troops to assist in Hurricane Irma relief efforts, over 100 Watertown guardsmen were to be sent to Florida.  According to Capt. Joe Trovato, spokesman for the Wisconsin National Guard, units from Oconomowoc and Fort Atkinson would also make up part of the large force being sent south to aid Floridians in their effort to survive the storm.
Members of the Wisconsin Army National Guard's 105th Cavalry, which includes the Fort Atkinson's Alpha Company and Watertown's Bravo Company, were among the units traveling to Florida when orders came in to turn around Tuesday.
More than 2,500 Wisconsin National Guard troops were originally mobilized to state active duty this week after Florida sought the state's assistance via an Emergency Management Assistance Compact (EMAC) request.
Capt. Joe Trovato, Wisconsin Army National Guard public affairs officer, noted that the Wisconsin troops originally had been alerted to a potential deployment in relation to Hurricane Harvey.  "We were identified as part of a force pool that was available to assist in Texas, but we ultimately were not requested," the captain said.
For the Jefferson County-based Guard units, the deployment was the third time they have deployed together as part of a larger mobilization.  The two Jefferson County units served in Kuwait and Iraq as part of the former 2nd Battalion 128th Infantry in 2005. Collectively, they and a third company formed Alpha Company.
Alpha Company was selected for the security and quick reaction force assignment at Camp Navistar in Kuwait. Known as the Navistar Reaction Force, it is the Camp Navistar version of calling 911 and it covered the first 40 or 50 kilometers inside Iraq.
The Alpha Males, as they became known, played a key role in defending the camp, reacting to convoy hijackings or suspicious activity, conducting reconnaissance and providing escorts for various operations.
A significant portion of the 32nd Brigade went through a reorganization in 2007, leading to Fort Atkinson and Watertown's transition to the 1st Squadron, 105th Cavalry. Fort Atkinson retained its designation as Alpha Troop.  Members of both units were deployed again as part of the Red Arrow Brigade to Iraq from 2009 to 2010.   Abstracted from Daily Jefferson County Union   
2021
11 28       GEORGE E. HACKBARTH, 1927-2021, death of
U.S. Navy, U.S. Army, National Guard.  Death of   
12 21       WATERTOWN POLICE DEPT OFFICER SGT. JON CAUCUTT RECEIVED PATRIOT AWARD
<![if !vml]>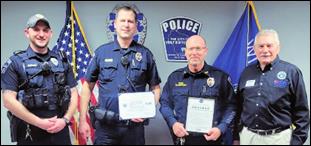 <![endif]>
Jeffery Hensley who nominated the officer, Caucutt, Watertown Police Chief Robert Kaminski, and Mike Williams, of the ESGR
Awarded by the Employer Support of the Guard and Reserve Committee.
Watertown Police Department Sgt. Jon Caucutt was presented with a Patriot Award by the Wisconsin Committee for Employer Support of the Guard and Reserve Committee.  Colonel Mike Williams, state chair emeritus of the Wisconsin Committee for ESGR made the announcement and presented the award along with ESGR representative Mike Williams.  The award is in recognition of extraordinary support of one of their employees serving in the Wisconsin Army National Guard.
The presentation took take place at the Watertown Police Department.
According to Williams, "Sgt. Jon Caucutt was nominated for this prestigious national award by their employee Jeffrey Hensley who is a member of the Wisconsin Army National Guard and assigned to the 1-120th Field Artillery Battalion in Stevens Point.  The Patriot Award is only presented to employers who not only hire guard and reserve members, but demonstrate superior support to the military employee and his/ her family.  The National Guard and Reserve Forces are the cornerstone of our national defense.  Caucutt has provided outstanding support and cooperation and has exhibited a patriotic spirit which is reflected in the significance of being a recipient of the Patriot Award."
Hensley, battery commander of B Battery, 1-120th Field Artillery, said, "Sgt. Caucutt has been an outstanding supporter of me in regards to my military career.  He displays a true appreciation of my service in the Wisconsin National Guard and goes above and beyond to assist.  Caucutt takes his support further than just the workplace, making me aware of his willingness to help with home issues while I am away.  Having a supportive supervisor such as Caucutt makes balancing my civilian and military careers much easier.  I am truly appreciative to have such a leader."
Watertown Police Chief Robert Kaminski said, "The Watertown Police Department has hired numerous employees that have or are members of the guard and reserve.  As a department we understand the difficulties of managing a civilian career and a military career and want to make both as stress free as possible for our employees."
"The department and I appreciate the recognition," said Caucutt.  "Officer Hensley does an excellent job of balancing his service at Watertown PD and with the national guard.  Hensley is a topnotch police officer.  His organization, communication, and commitment to both make this a rather easy relationship.  We are proud of Officer Hensley's service and happy to assist as he participates in protecting both the local and national communities. "
ESGR, a Department of Defense program, seeks to foster a culture in which all employers support and value the employment and military service of members of the national guard and reserve in the United States.
<![if !vml]>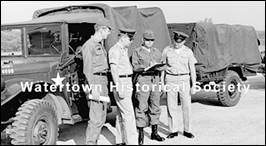 <![endif]>   <![if !vml]>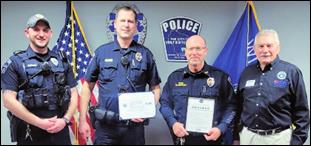 <![endif]>   < PORTFOLIO OF PICS

History of Watertown, Wisconsin