This file portion of www.watertownhistory.org website
††† Chapter on Watertown Bands/Orchestras†
Imperial Band
Watertown Military Band
Watertown Municipal Band
Founded 1915
Watertown City Band
1906††††† Military Band
<![if !vml]>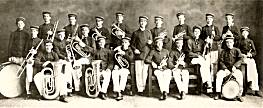 <![endif]>††
(Sitting l-r): A. Krueger, G. Krueger, E. Vick, A. Zimmermann, W. Schmidt, Ed Reichert, F. Kopp, W. Simon, A. Polzin, D. Ickmann, George Wencke.
Standing, l-r: F. Newbauer, J. O'Brien, A. Radtke, P. Wackholtz, Mr. Herzog, Prof. Thacker, T. Sonmann, H. Borchardt, T. Grabow, A. Bayerlein.
1909††††† Imperial Band
05 28††††††††† Memorial Day participants††† WG
1910††††† Military Band
<![if !vml]>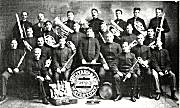 <![endif]>†††
c.1910
Military Band, 1910 approx, also see Homecoming Dance, postcard
Military Hall, 1910 approx, also see Homecoming Dance, postcard
1911††††† Imperial Band AND Military Band
08 10†††††† Military Band Plays at State Fair
H. S. Wheller, director of the Military Band, has closed a contract with the special attraction committee of the Wisconsin State Fair Association to have the Military Band play during the state fair on Wednesday.† This is quite an honor for our Watertown band and speaks well for it as a musical organization, and the boys have every reason to feel proud of having been engaged to furnish the music on so important an occasion.†† WG
1914††††† Wheeler Made Director
10 01†††††† H. S. Wheeler, director of the Watertown Military Band, has accepted a position as musical director of St. Johnís Military Academy at Delafield.† He will have charge of the band, orchestra and chorus.† The new connection will not be allowed to interfere with Mr. Wheelerís many interests here, as he will go back and forth each school day.
c.1914†† Watertown Imperial Band
<![if !vml]>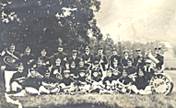 <![endif]>††
1915††††† WATERTOWN CITY BAND FORMED
The Watertown Municipal Band's history dates back to 1915, when members of the Imperial Band decided to change the name to the Watertown City Band and incorporate the same. On Sept. 14, 1915, the first meeting was scheduled, but in the meantime the military band disbanded and wanted to join so the meeting was postponed to Sept. 28 at the Imperial Band rooms at the intersection of Jones and North First streets.
Military Band Quarters
The Watertown City Band was organized in the old brewery office on North First Street, but the quarters were too small so they moved to East Madison Street, above the former Military Band quarters.† The band later remodeled the third floor of the former Farmers & Citizens Bank for its rehearsals.
1921††††† Watertown City Band††
<![if !vml]>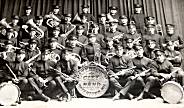 <![endif]>†
1959
07 21†††††† Municipal Band concert dedicated to the 105th Cavalry†† WDT
1964
06 04†††††† ARNOLD LEHMANN named conductor of Municipal Band
Prof. Arnold O. Lehmann, director of music at Northwestern College, has been named conductor of the Watertown Municipal Band and will make his first public appearance in his new capacity at Thursday nightís opening concert of the summer series at Riverside Park.† Announcement of Prof. Lehmannís acceptance of the offer to conduct the band was made today.† He succeeds Gerald Stich of Waterloo who resigned because he will be attending a summer school.† Since coming to Watertown to take over his duties at Northwestern College, Prof. Lehmann has developed an outstanding musical activities program and has presented, as part of his duties, numerous college concerts, many of them for the public.† WDT
1965
01 02†††††† ROLAND HARDER ELECTED PRESIDENT
Roland Harder has been elected president of the Watertown Municipal Band.† The election was held at the Legion Green Bowl at a dinner meeting following a concert which the band presented at Bethesda Lutheran Home on New Year's Day.† The concert was made possible through the Music Performance Fund.† Other officers elected are:† Vice president, Wayne A. Saniter; secretary, Bonnie Rupnow; treasurer, Ray Fredrich; manager, Arthur Rupnow; trustees, Lorenz Wesemann (three years). Ben Pieper (replaces Arthur Rupnow who resigned to run
Cross References:
†††††††††††††† Benny Maass, secretary of the Watertown City Band
File on Bands
<![if !vml]>

<![endif]>
History of Watertown, Wisconsin