website  watertownhistory.org
    ebook  History of Watertown, Wisconsin
Constance Wiggenhorn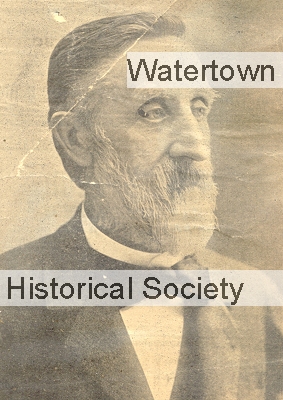 1876      William Wiggenhorn obit, son
1903      Pallbearer, double funeral of Anna and Orlena Moak
1908      Mention of
1909
Banquet honoring John Beggs and interurban
St. Paul's Episcopal, 50th anniv
St. Paul's Episcopal Church official
1912      DIED
08 29       Thursday afternoon, August 22, 1912, Constance Wiggenhorn died at the family home on Sixth Street of general debility.  He had been in poor health for nearly a year, but at times was able to be out and called occasionally at his place of business.  Though expected at most any time for several weeks, his death is none the less a source of great sorrow to his family and our citizens in general, for Mr. Wiggenhorn was one Watertown's best-known and most esteemed citizens and his familiar figure will be greatly missed in business circles in our city.  
He was a native of Prussia, where he was born June 5, 1828, and emigrated to America in 1848, locating in this city shortly after his arrival on October 19th of that year.  He learned the jewelers' trade in his native country, but did not engage in that line of work.  His father conducted the Buena Vista House in this city and he assisted him for a time in its management and in 1856 engaged in the general merchandise business at Hustisford, Dodge Co.  He retired from that business in about seven years and in 1865 in company with his brother Eugene embarked in the tobacco and cigar business, the firm name being Wiggenhorn Bros.  His brother retired from the firm many years ago, but the firm name was retained, and Mr. Wiggenhorn and his sons conducted the business, which at the time of his death is one of the largest cigar manufacturing establishments in the west, the trade of the company extending to many states of the union.
Mr. Wiggenhorn's life was a useful and busy one.  He held many public offices, among them being treasurer of Hustisford and supervisor in the Dodge county board.  He also held other minor offices and for a time held a clerkship in the Watertown post office.  He was also a director of the Bank of Watertown for many years.  He was married in 1853 to Ernestine Waither of Saxony, who died in this city a number of years ago.
He is survived by three sons, Julius and Arthur Wiggenhorn of this city, Guido Wiggehhorn and an adopted daughter, Mrs. Zeno Meyer of Milwaukee.  Two brothers and two sisters also survive him, being August Wiggenhorn, Watertown; Eugene Wiggenhorn, Pasadena and Mrs. August Frohne, Pasadena, California, and Mrs. Wm. Meyer of Ripon.
Sunday afternoon his funeral took place from his late home; W. O. Soubron of Milwaukee, an old friend of the family, conducting the services.  The interment was in Oak Hill Cemetery.
In the death of Mr. Wiggenhorn this city has lost one of its very best citizens and one whose presence for good in the community was always the very best.  He gave encouragement to every public and business enterprise, both financially and otherwise, was liberal and broad in all his views, still his influence was always on the side of right and justice and he took particular pride in helping along every thing that would uplift the morals and culture of the city.  In a business way he was strictly honest, and as a consequence the goods manufactured by his firm always found ready sale, as people who used them had a good word to say for their quality and excellence.  Socially, Mr. Wiggenhorn was always a pleasant man to meet, and he was a gentleman in every sense of the word.  His pleasant greeting will be greatly missed here, for one always felt better after meeting him, his cheerful good morning and "how do you do" generally made a person of a moody character forget himself and for a time at least put on a more cheerful face.  The Gazette joins our citizens in general in sympathizing with the bereaved family and in mourning Mr. Wiggenhorn's death most sincerely.   WG

History of Watertown, Wisconsin