website  watertownhistory.org
    ebook  History of Watertown, Wisconsin
Cross reference chapters:
Constance Wiggenhorn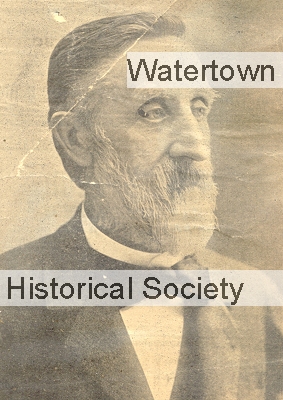 1876       William Wiggenhorn obit, son
c.1885
<![if !vml]>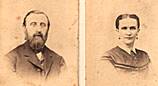 <![endif]>  
Constance Wiggenhorn, Ernestine Walther Wiggenhorn, wife of Constance.  
Constance was first in Watertown to embrace Christian Science.  Wiggenhorn Cigar Manufactory.  
MIRACULOUS CURE OF CONSTANCE WIGGENHORN
In October of 1888, Gustave A. Walther, C.S.D., Christian Scientist, of Wymore, Nebraska, a student of Mary Baker Eddy, enroute home from Boston, decided to stop off at Watertown to visit with his sister, Mrs. Ernestine (Walther) Wiggenhorn.  Upon arriving at his sister's home, he found her grief-stricken over the serious illness of her husband, Constance Wiggenhorn, whom the doctors said could not live more than a few days, due to asthma.  Mr. Walther went to the sick man and asked him if he was willing to turn to God, and Mr. Wiggenhorn, being unable to speak, weakly nodded "yes."  Mr. Walther immediately began to give him Christian Science treatment, and after an hour and a half left him sleeping, the first natural sleep he had had in three weeks.  The next morning when Mr. Wiggenhorn awoke, he asked his wife for a big breakfast and ate heartily.  Two weeks later, he went back to his business fully healed.
Following the healing of Mr. Wiggenhorn, Mr. Walther also healed Dr. Arthur Meyer, dentist, and the doctor's mother, Mrs. Herman Meyer, of illness and other discordant conditions.  These healings aroused great interest in Christian Science among relatives and friends, and thus the Faith began to gain followers in Watertown.  - Derived from "Historical Sketch of First Church of Christ, Scientist, Watertown, Wisconsin," a 3-page digitized document (WHS_001_004_PDF Christian Science Church Collection)
1890
05 21       PRIVATE FORTUNE
Constance Wiggenhorn has received a package from Japan containing two curiosities from that far-off and quaint country, being a couple of wax candles, one for himself and one for his mother.  They were sent by Mr. Wiggenhorn's niece, Miss Mattie Meyer, who has been engaged in missionary work in Japan under the auspices of the American missionary society for three years past.  The candles are cone shape and are lighted on the large end.  They are tastefully hand-painted.
c.1890
CONSTANCE WIGGENHORN at manufactory
<![if !vml]>

<![endif]>     Portion of archived image WHS_008_689
108 E. Main Street
1893
07 26       PRIVATE FORTUNE PLEDGED in case of bank bankruptcy  
1894       PROFILE OF CONSTANCE WIGGENHORN
From Memorial and Genealogical Record of Dodge and Jefferson Counties, Wisconsin, publ. 1894 - Page 40-43
This gentleman being a member of the firm of WIGGENHORN Bros., cigar manufacturers of Watertown, is a native of Westphalia, Germany, born June 6, 1828, and is a son of William and Josephina (BECKHAUS) WIGGENHORN, who were also natives of Westphalia.  The latter was born in Stadtlohn, of which town her father, Engelbert BECKHAUS, a well-education man, served as mayor.
In 1848 the parents of our subject bade adieu to their old home, and with their family of eight children, boarded a sailing vessel at Bremen, on which they crossed the Atlantic to New York City.  They came to Wisconsin, partly by lake and partly by rail, and took up their residence in Watertown.
In Germany the father engaged in merchandising, and also served as postmaster of Schoeppingen. After coming to Watertown, he purchased the Buena Vista House, which is still standing, and for several years engaged in hotel-keeping, but at length retired from active business life.  His death occurred in 1876.  His wife is still living, in her ninety-seventh year, and her mental faculties are very well preserved.
To Mr. and Mrs. WIGGENHORN were born nine children, of whom one died in Germany and one in America. The others are Mrs. William MEYER, of Ripon, Wis.; Mrs. R. DIESEL, of Woodstock, Ill.; Constance, of this sketch; Alex E., who is engaged in the banking business at Ashland, Neb.; Mrs. A. FROHNE, of Berlin, Wis.; Eugene, who resides in La Crosse; and August, who makes his home in Watertown.
In taking up the personal history of our subject, we present to our readers the life record of one who is both widely and favorably known in this community.  He was educated in Germany, and there learned the jewelers' trade.  At the age of twenty he sailed for the New World, accompanied by his sister, now Mrs. MEYER, and landed in New York City after fifty-two days spent upon the ocean.  There Mr. WIGGENHORN followed his trade for a few months, after which he determined to seek a home and fortune in the West.
He landed in Watertown, Wis., in October 1848, being accompanied by his parents, who in the mean time, had also crossed the Atlantic.  He remained with his father, who was proprietor of the Buena Vista Hotel, for about five years, and then embarked in merchandising at Hustisford, Wis., where he carried on business for seven years.  On the expiration of that period Mr. WIGGENHORN returned to Watertown and went into business with his brother Eugene, manufacturing cigars.  He has since carried on business along that line, and enjoys a good trade.
For some years he has been sole proprietor, although the firm name of WIGGENHORN Bros. is still retained.  He has a large establishment, and his business has now assumed extensive proportions.  He has associated with him his two sons, Julius and Guido, and employs two traveling salesmen.
Mr. WIGGENHORN was married on the 11th of January 1853, the lady of his choice being Miss Erastena WALTHER, a native of Germany.   To them were born four children, three of whom are yet living, namely: Julius, Guido and Arthur.
While living in Hustiford, Mr. WIGGENHORN served as supervisor, and was also town treasurer, but he has never sought or desired political preferment, and on various occasions has refused public office.
He exercises his right of franchise in support of the Democracy. Mr. WIGGENHORN came to Watertown when it was a small village, and has been interested in its growth and development into a wealthy city.
He comes of one of the sturdy German families, and by economy and industry has accumulated a competence.
1903       Pallbearer, double funeral of Anna and Orlena Moak
c.1907
HOME AT 215 S. SIXTH STREET
<![if !vml]>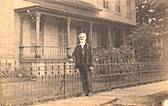 <![endif]>  
1908       Mention of
1909
Banquet honoring John Beggs and interurban 
St. Paul's Episcopal, 50th anniv 
St. Paul's Episcopal Church official
c.1910
CONSTANCE WIGGENHORN HOME
<![if !vml]>

<![endif]>       215 S. Sixth Street
1912
08 29       DEATH OF CONSTANCE WIGGENHORN
Thursday afternoon, August 22, 1912, Constance Wiggenhorn died at the family home on Sixth Street of general debility.  He had been in poor health for nearly a year, but at times was able to be out and called occasionally at his place of business.  Though expected at most any time for several weeks, his death is none the less a source of great sorrow to his family and our citizens in general, for Mr. Wiggenhorn was one Watertown's best-known and most esteemed citizens and his familiar figure will be greatly missed in business circles in our city. 
He was a native of Prussia, where he was born June 5, 1828, and emigrated to America in 1848, locating in this city shortly after his arrival on October 19th of that year.  He learned the jewelers' trade in his native country, but did not engage in that line of work.  His father conducted the Buena Vista House in this city and he assisted him for a time in its management and in 1856 engaged in the general merchandise business at Hustisford, Dodge Co.  He retired from that business in about seven years and in 1865 in company with his brother Eugene embarked in the tobacco and cigar business, the firm name being Wiggenhorn Bros.  His brother retired from the firm many years ago, but the firm name was retained, and Mr. Wiggenhorn and his sons conducted the business, which at the time of his death is one of the largest cigar manufacturing establishments in the west, the trade of the company extending to many states of the union.
Mr. Wiggenhorn's life was a useful and busy one.  He held many public offices, among them being treasurer of Hustisford and supervisor in the Dodge county board.  He also held other minor offices and for a time held a clerkship in the Watertown post office.  He was also a director of the Bank of Watertown for many years.  He was married in 1853 to Ernestine Walther of Saxony, who died in this city a number of years ago.
He is survived by three sons, Julius and Arthur Wiggenhorn of this city, Guido Wiggehhorn and an adopted daughter, Mrs. Zeno Meyer of Milwaukee.  Two brothers and two sisters also survive him, being August Wiggenhorn, Watertown; Eugene Wiggenhorn, Pasadena and Mrs. August Frohne, Pasadena, California, and Mrs. Wm. Meyer of Ripon.
Sunday afternoon his funeral took place from his late home; W. O. Soubron of Milwaukee, an old friend of the family, conducting the services.  The interment was in Oak Hill cemetery.
In the death of Mr. Wiggenhorn this city has lost one of its very best citizens and one whose presence for good in the community was always the very best.  He gave encouragement to every public and business enterprise, both financially and otherwise, was liberal and broad in all his views, still his influence was always on the side of right and justice and he took particular pride in helping along every thing that would uplift the morals and culture of the city.  In a business way he was strictly honest, and as a consequence the goods manufactured by his firm always found ready sale, as people who used them had a good word to say for their quality and excellence.  Socially, Mr. Wiggenhorn was always a pleasant man to meet, and he was a gentleman in every sense of the word.  His pleasant greeting will be greatly missed here, for one always felt better after meeting him, his cheerful good morning and "how do you do" generally made a person of a moody character forget himself and for a time at least put on a more cheerful face.  The Gazette joins our citizens in general in sympathizing with the bereaved family and in mourning Mr. Wiggenhorn's death most sincerely.   WG

History of Watertown, Wisconsin