website  watertownhistory.org
    ebook  History of Watertown, Wisconsin
Hartig Brewery
1884–1946
100 E Cady
William Hartig
1851–1923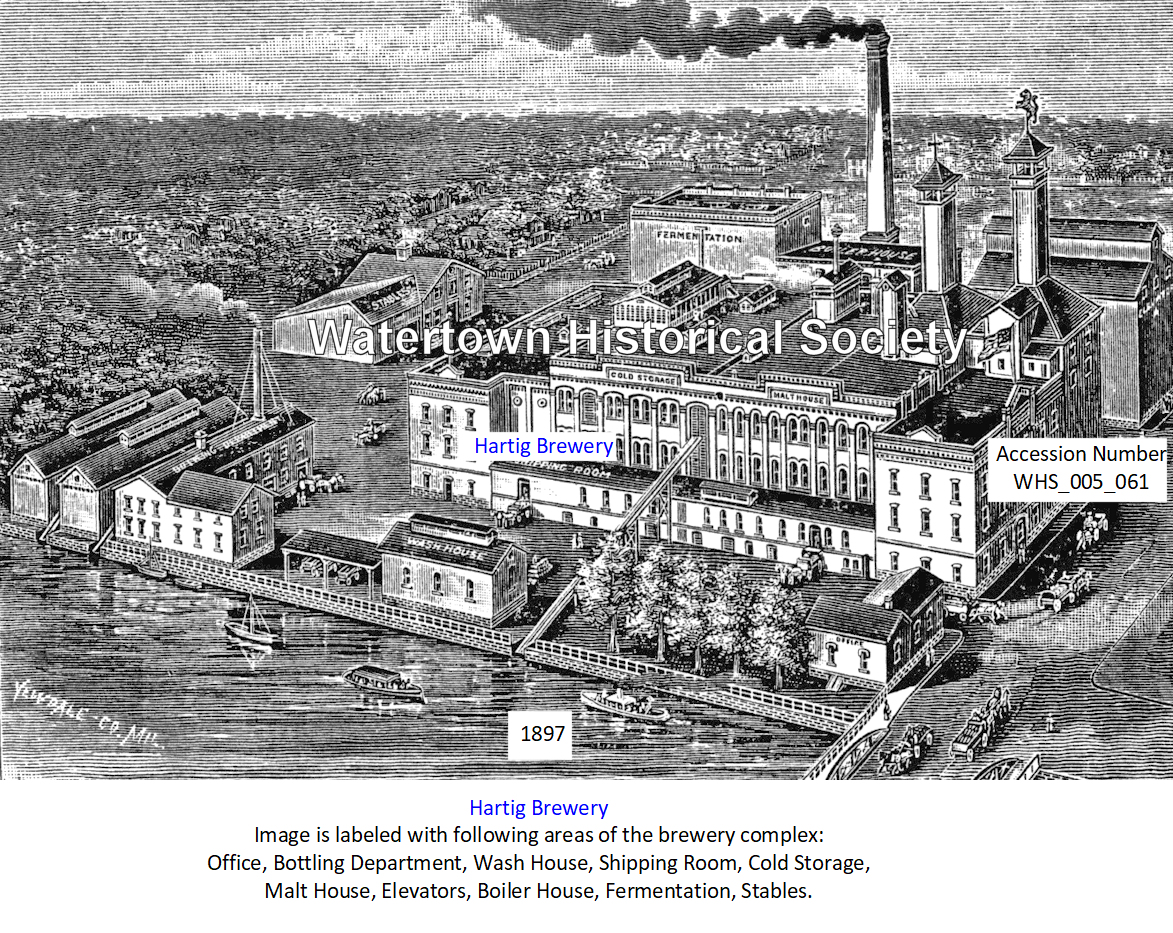 1897 image [WHS_005_061] labeled with following areas of the brewery complex:
Office, Bottling Department, Wash House, Shipping Room, Cold Storage,
Malt House, Elevators, Boiler House, Fermentation, Stables.
OCCUPANTS OF THIS SITE:
  Manz-Hartig Brewery      1884 - 1896
  Hartig Brewery           1896 - 1947
  National Tea Grocery     1954 - 1977
  Tom's United Foods       1977 - 2007
  Breselow's Family Market 2007 -
1884 – 1896:  MANZ-HARTIG BREWERY
The brewery was started in 1884 by cousins William Hartig and Carl Manz, both of Milwaukee.  William Hartig had come from Slinger where he had been in the brewery business with Charles Storck.
<![if !vml]>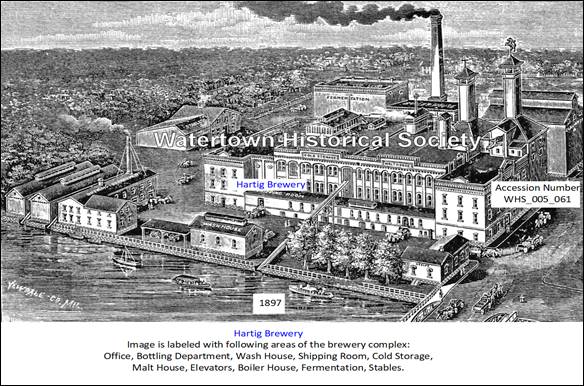 <![endif]>  Charles or Carl (Karl) Manz was the nephew of the late August Krug, founder of the Schlitz Brewery in Milwaukee.  Charles was the son of Anna Krug, August's sister, and may have been a beneficiary to his late Uncle Krug's estate.
In 1896 Hartig bought out Manz and the brewery became known as the William Hartig Brewery and operated until Prohibition.  William Hartig died in 1923 and is buried in Oak Hill Cemetery in Watertown. 
His family re-opened the brewery in 1933 and ran it with modest success until the early 1940s when they sold it to out of town investors.  The quality began to suffer and it shut down in 1946 and declared bankruptcy in 1947.  The buildings were torn down in 1953 and a supermarket was built on the site in 1954.
Cross-Reference:
William Hartig Family Genealogy & Brewery History  [Compiled, Edited & Written by Mike Reilly]
c.1885
HARTIG & MANZ EMPLOYEES WITH WORK TOOLS
<![if !vml]>

<![endif]>  
Banners:  "Hartig & Manz Maltsters, Watertown, Wis" and "Hartig & Manz Celebrated Watertown Lager Beer"
c.1886
HARTIG & MANZ EMPLOYEES
<![if !vml]>

<![endif]>  
1888
<![if !vml]>

<![endif]>  
c.1890
HARTIG & MANZ BREWERY EMPLOYEES
<![if !vml]>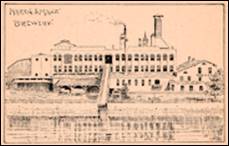 <![endif]>   William Hartig and Charles Manz with employees
1895
12 04          STORAGE VATS ADDED
                    Hartig & Manz are placing in their brewery a dozen storage vats, holding 150 barrels each.    WR
c.1895
               HARTIG & MANZ SIGNAGE OUTSIDE S. MOLZAHN SALOON
<![if !vml]>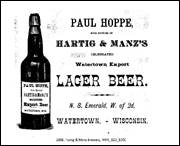 <![endif]> 
01 18       950,000 BUSHELS OF MALT
Over 950,000 bushels of malt were made here last year, of which the Wm. Buchheit Malting Co. made about 700,000 bushels, and Hartig & Manz and the A. Feurmann Brewing Co. made about 250,000 bushels.  This would indicate that Watertown is an excellent barley market.   WG
06 05       CHARLES TIMM, EMPLOYEE
Another freak of nature is reported from the Sixth ward – it is a four-legged duckling, hatched last Thursday, the owner being Charles Timm, an employee of Hartig & Manz.  The duckling is healthy and thriving.    WR
c.1897   HARTIG BREWERY ICE HOUSE BECAME HABHEGGER COLD STORAGE
<![if !vml]>

<![endif]>   Ice house behind the Hartig Brewery.  Later the Habhegger Cold Storage plant. 
1897
HARTIG AD
<![if !vml]>

<![endif]> 
Is one of the most complete and the quality of Beer that is turned out cannot be excelled.  The plant covers an area of 80 x 300 feet and is complete in every detail.  The annual product is about 20,000 barrels of Beer and 200,000 bushels of Malt.  Bottled Beer for Family Use.
1898
11 30          Albert Fuermann is making arrangements for establishing a Weis beer brewery here.  The plant will be located in a portion of the old Fuermann brewery, now owned by William Hartig, and it is expected that operation will begin the middle of December.   WR
12 21          Ohm Bros, began their ice harvest last week, and has been engaged in filling the large ice house in the Sixth ward formerly owned by the A. Fuermann company and which they recently purchased from William Hartig.   WR
01 18          ICE MACHINE INSTALLATION TO IMPACT ICE HARVESTING BUSINESS
William Hartig is having placed in his brewery an ice machine, or in other words, a new process for cooling beer.  Lager beer, to be kept in prime condition, should have an even temperature, and this is almost impossible to secure under the old system.  This comparatively new process gives the desired result regardless of the extremes of weather.  The new outfit consists of a Corliss engine and ammonia compressor, and between 5,000 and 6,000 feet of piping.  This piping is carried all through the cellars, overhanging the large beer cask, and is continually covered by a uniform coating of ice.  The expense of the new outfit will exceed $5,000. 
This change will be regretted by a large number of men who find the labor of cutting and storing ice very profitable work during an otherwise dull season, but brewers find the old system not only very cumbersome but not thoroughly reliable.  This brewery produces an excellent quality of beer, and Mr. Hartig will not stop at any expense to maintain its already high standard.   WR
05 23       FENCE AROUND WASHINGTON PARK
The members of the baseball association are very thankful for the donation of Wm. Hartig, the brewer.  He was asked to subscribe to the fund, and forthwith agreed to erect the necessary fence around Washington park.   WR
Sept         HARVEST FESTIVAL, 1899, HARTIG FLOAT
<![if !vml]>

<![endif]>   Lining up for the parade
William Hartig Brewing Co. float as entered in the Harvest Carnival, Sept. 1899.  The man on the far left wearing a hat is thought to be William Hartig.  This image was taken at the intersection of Jones and North First Streets.  The Fuermann Brewery office can be seen on the far left.
09 22       Watertown s first attempt in the carnival line last week was a great success, a success as regards attendance, entertainment and a good time for the thousands of visitors. The weather was delightful throughout, and a larger or better-pleased crowd was never attracted to any interior city of the state, and the visitors were provided for in a manner that speaks well for our citizens.  One pleasant feature of the carnival was that it was not necessary to make a single arrest for unruly conduct, and the immense crowds of people behaved themselves admirably well . . . The float of Wm. Hartig Brewing Co. in the latter part of the parade took fire as it reached Main Street from red fire sticks carried by attendants.  The alarm of fire was sounded, the float was drawn to First Street when the department put the fire out.  This was the only accident during the entire carnival.
Many persons have speculated as to whether all that was seen here during carnival week was the product of Watertown genius, some professing to believe it to be impossible.  To all those we desire to assure them that no outside help was sought or accepted, and that what was seen in our parades or otherwise was not in the least taken with borrowed plumage.   WG
1900
11 28          RAILROAD SIDETRACK FOR HARTIG BREWERY
It is rumored that a side-track from the Northwestern railway to the William Hartig brewery is a probability of the not distant future.  This facility is needed to assist in the transportation of the brewery's product, which now has to be hauled by team to the railway stations, entailing a considerable item of expense.  It is said that the right-of-way has been secured through certain property in the Fifth ward and that the side-track will be laid from a point north of the James Hall crossing east to the river and thence along the west shore of the river to Rock Street.  From the foot Rock Street a trestle bridge is eventually to be built across the river to the brewery.   WR
Cross Reference:  See chapter on railroad spur  
12 07          RAILROAD SIDETRACK
The opposition to the building of the sidetrack of the C. N. W. Ry. in the fifth ward asked for by Wm. Hartig, is gradually dying out, as it should.  Mr. Hartig's business is one of the greatest in the city, and is of much benefit to our people, and everything so reasonable asked for by him should be granted.  This side track would also be of great benefit to S. M. Eaton & Son, the Woodard-Stone Co., the Watertown Cold Storage Co., and other large shippers here.  We hope to see the side track a reality in a short time.   WG
1901
06 21       TEAMSTER EDWARD RIMESTEAD INJURED
     Fell from hook and ladder truck
During the noon hour last Monday a fire in an outhouse in the rear of Herman Dobbratz's brought out the fire department.  It was promptly extinguished.  Edward Rimestead, while trying to board the hook and ladder truck at the corner of Main and First streets, fell and narrowly escaped death, being flung against the wheel of the truck with terrific force.  He was taken to Dr. Werner's office and medical attention given him at once.  He was badly shaken up and bruised, and his injuries will lay him up for several days.  He is employed as a teamster by Wm. Hartig.
1902
HARTIG BOTTLING
<![if !vml]>

<![endif]>   Destroyed in 1914 tornado   
Cross Reference:      <![if !vml]>

<![endif]>  Image Portfolio on tornado 
c.1903
BREWERY COMPLEX
<![if !vml]>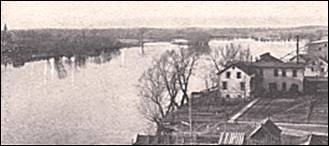 <![endif]>   <![if !vml]>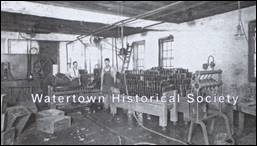 <![endif]>   
1905
FLOOD OF 1905
<![if !vml]>

<![endif]>   
1906
04 20          OLD ICE HOUSE REMOVED
William Hartig, the enterprising and progressive brewer, has equipped his institution with a large new boiler, reshingled his barn and removed the old ice house north of the brewery and cleaned things up generally and is making everything about the establishment as neat as a new pin.
1908
HARTIG'S BREWERS BASEBALL TEAM
<![if !vml]>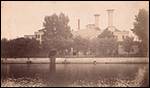 <![endif]>  
1910
CORNER OF N. SECOND AND CADY.  Jacob Hoeffner home
<![if !vml]>

<![endif]>  
1912
11 20          JOHN KEHR, OFFICE MANAGER
John Kehr, office manager for the Hartig Brewery, and the late Anton von Heiden made an election bet.  Von Heiden lost and as a result had to give Mr. Kehr a ride in a wheelbarrow along Main Street.  Hundreds turned out to cheer. 
1913
07 03          HAVE NEW RAMBLERS.  Edward L. Schempf and William Hartig have recently purchased two of the latest model Ramblers.   WG
1914
HARTIG BOTTLING DESTROYED IN 1914 TORNADO
06 23          <![if !vml]>

<![endif]>     <![if !vml]>

<![endif]>    Chapter on 1914 tornado   
12 10       Fire at Clyman / Hartig [assumed] Saloon and Hotel Building
Fire destroyed about $20,000 worth of property at Clyman.  This city was called on for assistance to help fight the fire, which threatened to destroy all the business portion of Clyman.  A number of our firemen and one of our fire engines and hose carts were sent to the scene of the fire on the C.&N.W. Ry. and Juneau also sent their fire apparatus.  The engines were not unloaded at Clyman, owing to there being no water available.  The hose, however, was attached to a standpipe reservoir there and put into service as long as the water lasted.  The firemen, however, with the assistance of residents of Clyman, controlled the fire in a short time and confined it to the vicinity where it originated.  The double store building owned by Mrs. G. Coler and occupied by H. Lekachman Mercantile Co. was totally destroyed, with contents, and the saloon and hotel building adjoining, owned by Wm. Hartwig [Hartig assumed] of this city, and occupied by Emil Kressine, was also badly damaged.  The fire is said to have originated by the explosion of the gasoline lighting system in the Lekachman store while the proprietor was lighting it.  He was badly burned about the face and neck.   WG
1916
HARTIG BREWERY OFFICE
09 08       <![if !vml]>

<![endif]>   William Hartig and possibly John Kehr
DOG COMMITS SUICIDE (article headline)
"Muhnka," an Airedale pup belonging to John L. Kehr (office manager for the Hartig Brewery), committed suicide early this morning by jumping from the roof of Hartig's Brewery.  Death was instantaneous.  The pup has always been an avowed enemy of cats and it was because of this hatred that he met his death.  Having chased a cat through the brewery, he reached the roof through a skylight.  In the chase he came to the edge of the roof and jumped to a lower roof.  Landing on his head, he was stunned and fell from there to the ground.  When found he was dead.  The dog was a familiar figure to citizens and will be greatly missed.  Persons who knew the dog say he had been grieving over the Volstead Act and the world series.  – Watertown Times.  Reprinted in The Representative (Fox Lake, WI), 10 27 1921, pg 3
1923      WILLIAM HARTIG DIED, buried in Oak Hill cemetery. 
1930      TASTING ROOM, Hartig Brewery
<![if !vml]>

<![endif]>   Donated to the city in 1930 by Mrs. Carry Mowder Hill in memory of the Mowder and Hill families and installed in Memorial Park.  View is to the north and the building in the background was the tasting room of the Hartig brewery.  Statue moved to Octagon Museum grounds in 1970. 
1936      FLOAT IN CENTENNIAL PARADE
<![if !vml]>

<![endif]>   Hartig's Beer and Ice Cream, parade portfolio  
1939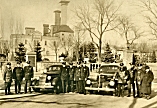 PoliceDept, photo taken in Memorial Park, Hartig Brewery in background

1946
11 01       BEER IS ORDERED DESTROYED
MADISON — The U. S. district attorney's office announced today that 1,703 cases of beer were destroyed at the Hartig Co. in Watertown yesterday on order of the federal distinct court in Madison.  The beer was condemned in court proceedings after Harold F. McEvoy, president of the Hartig Co., had declined to contest charges of food and drug law administrators that the beer was adulterated by a type of acid resulting from the use of molasses in brewing.  The government's charges specified that the adulteration was not harmful.   AP story
1948
Brewery tunnels, cellars, of early days discovered
1940s
THREE IMAGE SET
<![if !vml]>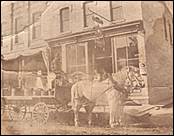 <![endif]>    <![if !vml]>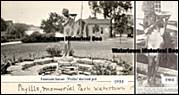 <![endif]>    <![if !vml]>

<![endif]>
1952-53
BREWERY BUILDINGS WERE TORN DOWN
The Hartig brewery buildings were torn down in 1952-53 for a National Tea Store.  Later the site for Tom's Grocery (United Foods), still later Breselow's Family Market
1957
05 14       DEATH OF ED KAERCHER
Edward F. Kaercher, 85.  Was born Jan. 16, 1866, a son of Mr. and Mrs. John Kaercher and lived all of his life in Watertown.  He had worked at the Hartig Co. plant for 40 years, retiring at the age of 77.
1971
RELIC OF A HAPPIER ERA
An object which many older residents of Watertown will view as a sentimental relic of a happier era was taken from Rock River here the other day by Bruce Kaesermann, aged 11, son of Mr. and Mrs. Ronald Kaesermann, No. 10 Pawnee Street.  He found it while playing in the area of Schaller Park.  It turned out to be a beer keg from the period of the Hartig Brewing Co. which produced some of the best and most palatable beer every brewed in Wisconsin or almost anywhere else for that matter.
The keg still has on it a brass plate bearing the name of the Hartig Brewing Co. whose plant was located in the block which now houses the National Food Store in Cady Street, opposite the old Memorial Park which somehow got turned into a site for Watertown's present municipal building.
The brewery was the largest single building in Watertown.  It was but one of several breweries here, but it was the last to survive, having gone through the Prohibition era when it converted to making "near beer" and ice cream. When Prohibition ended it converted back to making beer.  Along, with most smaller breweries in the state, it finally faded from the scene, leaving the field to the major breweries and monopolies which now turn out beer that does not even approach the fine brew which Hartig's and other smaller breweries produced years and years ago.
   <![if !vml]>

<![endif]>  Image Portfolio
Cross-References:
Philip Hartig, obit, president of Hartig Co after father's (William) death and up until business was sold to outside interests in 1947.
Goose Brand Beer, reference to Watertown Stuffed Geese
Hops processing plant considered, 1986

History of Watertown, Wisconsin