website  watertownhistory.org
    ebook  History of Watertown, Wisconsin
Fuermann Brewery
Founded 1848, Closed 1896
August Fuermann, Sr and Jr
<![if !vml]>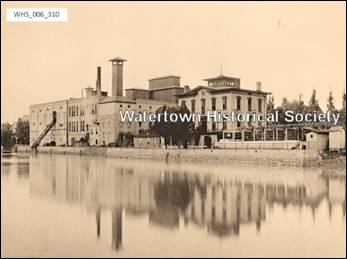 <![endif]>
WHS_006_310
August Fuermann Brewery and Buildings.   Fuermann home is to the right of brewery
Today the site of City Hall, Police and Fire Departments
August Fuermann, Sr, 1822 - 1894
     

"The History of Jefferson County, Wisconsin", published: Chicago:

  

Western Historical Company, 1879.
August Fuermann, Sr, brewer; was born in Germany Jan. 8, 1822; came to Wisconsin in 1847, locating in Milwaukee, where he opened a grocery and saloon; he then moved to Watertown and engaged in the brewing of lager beer.
He married, in 1846, Christiana Hengott, of Prussia; he has nine children – Charlie, August, Amelia, Julius, Aida, Henry, Lette, Albert and Gerhard.
August Fuermann was uncle of Henry Daub
Watertown Gazette, 09 07 1894
Death claims another old citizen this week-August Fuermann, who passed away at 2:10 P.M. on Wednesday, September 5, 1894, the cause of his death being stomach troubles, with which he has suffered for several months past. 
Deceased was born in Germany on January 8, 1822, hence was in his 73d year.  He came to America in 1847 locating in Milwaukee, where he opened a grocery and saloon; he shortly afterward came to Watertown and engaged in the brewing of lager beer in a building 24 x 50 feet, and gradually made additions to the same, until at the time of his death he was president of one of the largest breweries in the state. 
He was married in 1846 to Miss Christiana Hengott, of Prussia, who died several years ago. 
His surviving children are: Charles, Albert and Gerhardt Fuermann, Mrs. F. Bursinger and Mrs. A. Weiss, of this city, Julius and Henry Fuermann, and Mrs. Henry Wollering, of Chicago. 
Mr. Fuermann was a fine businessman an enterprising citizen, and a good neighbor.  His death is much regretted by his extensive acquaintance.  On Sunday afternoon his funeral will be held from his late home on North First Street.
August Fuermann, Jr, 1850 - 1893
August Fuermann, Jr., son of August Fuermann, who established the A. Fuermann Brewing Company, died at the Wauwatosa sanitarium on November 10, 1893, at age 42.
Deceased had been in failing health for more than a year, a sufferer from softening of the brain, and his death was therefore not unexpected.
Mr. Fuermann was a person of pleasant, quiet demeanor and possessed a host of warm friends. 
He leaves a wife and two children.
The body was taken to his home at 506 [should be 500] Third St.
<![if !vml]>

<![endif]>  
The funeral was held under the auspices of Washington lodge, I. O. O. F., of which Mr. Fuermann was a member for many years.  Rev. Dr. Jewell of St. Paul's Church officiated.
The remains were laid to rest in Oak Hill Cemetery.   WG, 11 15 1893
<![if !vml]>
<![endif]>          <![if !vml]>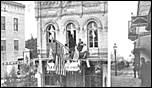 <![endif]>
Fuermann Jr., saloon and restaurant, 117 E Main, c.1885
August Fuermann, Jr., proprietor of saloon; born in Watertown Sept. 3, 1850; associated with his father in the brewing business here, and Chicago agent of the Fuermann Brewing Company from October, 1871, until he returned to Watertown, and engaged in present business in February, 1878. Dec. 19, 1874, he was married to Eliza Speer (daughter of Ferdinand Speer); she was born in Watertown; they have one child – Amanda, born April 29, 1878. Mr. F. is a member of A. F. & A. M., I.O.O.F., Turners and Concordia Musical Societies.   "The History of Jefferson County, Wisconsin", published: Chicago:  Western Historical Company, 1879.
Cross Reference:
                    August Fuermann, Jr., home at 500 S. Third (s.w. corner 3rd and Spring streets)
_____________________________________________
1859
05 19       FUERMANN'S BEST
[Letter from Omaha] To the Editor of the Watertown Democrat:  If emigration is any test, the times have been harder in Wisconsin than any where else as eight-tenths of the teams passing here are from that State . . . There are now from one hundred and fifty to two hundred teams passing here daily, beside foot men, hand carts, etc . . . Many have inscribed the place whence they hail on the side of their wagons . . . Many of my acquaintances from Janesville, Ft. Atkinson and Jefferson have passed but as yet not one from Watertown that I have been able to find, but am anxiously looking for the advent of "Doc" and his company.  I shall stick it out until he comes, as he promised to bring a keg of "Fuermann's Best" with him and not to touch it until he reached this point, and if he will keep his promise—especially the last part of it—won't we have one good nip before we leave for the diggings?  But I'll not let my mind dwell upon it for after all "Doc" is an indifferent ox teamster and may upset and spill it . . . D.S.P.   WG
1864
12 15       FUERMANN'S ROTARY at VanAlstine House Fire
A dwelling house belonging to Mr. J. B. Van Alstine caught fire on the 7th and came pretty near burning up.  Mr. August Fuermann was promptly on hand with his rotary engine and by his efforts and activity put out the flames before much damage was done.  Engine Company No. 1 showed their good will by coming out, but Fuermann's rotary had already finished the business.  Mr. Van Alstine's loss is covered by insurance in the Aetna.   WD
1865
04 06       PETITION FOR SIDEWALK
Common Council Proceedings.  Petition of A. Fuermann and others for sidewalk on Jones Street in the second ward of this city.   WD
c.1870
                    <![if !vml]>

<![endif]>  
                    <![if !vml]>

<![endif]>   
1871
02 01       ENLARGEMENT AT FUERMANN'S
The brewery of Mr. August Feurmann is receiving a large addition in the form of a mammoth building which is intended for the beer cellar, ice house and fermenting room.   WR
c.1875
DISTANT VIEW
<![if !vml]>

<![endif]>  
1877
12 26       WATERTOWN LAGER BEER BOTTLED
I am now bottling Watertown Lager Beer and am prepared to furnish it (either Bursinger's or Fuerman's) in any quantities to families or saloons.
1890
FIRE INSURANCE MAP
<![if !vml]>

<![endif]>  
02 12       HARVESTING DAY AND NIGHT
For some days past the work of storing ice has been rushed through with rapidity, men being at work on the river day and night.  Monday the work of filling the ice house of S. M. Eaton & Son was completed, 3,500 tons being stored for summer's use by this enterprising firm.  The breweries of A. Fuermann Co. and Hartig & Manz will be supplied with all the ice they want by the close of this week.  The former stores about 8,000 tons and the latter about 3,500.  S.M. Eaton & Son shipped several carloads of ice to Aurora this week.     WR
04 11       HORSE BREEDING
Last Wednesday the grounds of the Central Wisconsin Agricultural and Mechanical Association was sold to Chas. Fuermann and Dr. N. P. Valarius & Co., who will use it for horse-breeding purposes.  The association intends to purchase other grounds nearer the city and fit them up for fair purposes.      WG
05 14       HOF-BRAEU AND PILSNER BEER
The A. Fuermann Brewing Company are distributing portmonies with the imprint upon them of their celebrated "Hof-braeu and Pilsner Beer."  One of these souvenirs we have been presented with, though its use to a newspaperman is not always apparent, but it will be kept in memory of the donors and with the hope that when the "good time," always expected, will come we will have some wealth to put into it.     WR
c.1890
                    FUERMANN BREWERY HEADQUARTERS ON MADISION STREET
                    <![if !vml]>

<![endif]>  
                    Today (2016) this building is that of Rock River Pizza on East Madison.
                    BREWERY EMPLOYEES
                    <![if !vml]>

<![endif]>  
left to right, bottom row: Albert Stuhlmacher, Mr. Behnke, William Luther, Gerhard Fuermann, Ferdinand Grossert, Charles Fuermann, Julius Doerr and Henry Rutz. Second row--Fritz Lange, Mr. Fleuter, August Kleck Jr., Theodore Wiese, Fritz Prey, William Buchholz, Mr. Forncrook (veterinarian); top row--August Erdmann, Herman Stuhlmacher, Albert Neitzel, August Kleck Sr., Pat Tietz and Mr. Lattamer.
BREWERY BEER BARREL
<![if !vml]>

<![endif]>      Brewery had branch in Chicago at No. 9 West Ohio St.
August Fuermann, Jr., was agent for the company in Chicago.
August Fuermann, Jr., proprietor of saloon; born in Watertown Sept. 3, 1850; associated with his father in the brewing business here, and Chicago agent of the Fuermann Brewing Company from October, 1871, until he returned to Watertown, and engaged in present business in February, 1878. Dec. 19, 1874, he was married to Eliza Speer (daughter of Ferdinand Speer); she was born in Watertown; they have one child – Amanda, born April 29, 1878. Mr. F. is a member of A. F. & A. M., I.O.O.F., Turners and Concordia Musical Societies.   "The History of Jefferson County, Wisconsin", published: Chicago:  Western Historical Company, 1879.
1891
01 21       THE HARVEST OF ICE
Last week S. M. Eaton & Son and the breweries of the A. Fuermann company and Hartig & Manz сompleted the work of filling their ice-houses, securing the nicest stock of ice cut from the river here for some years.  It is without any impurities and has an average thickness of from 12 to 13 inches.  S.M. Eaton & Son stored 3,000 tons.     WR
02 27        CHARLES FEURMANN'S INCUBATOR
Chas. Feurmann's incubator, in the repair shop of Jos. Salick, Jr., is a curious piece of machinery, and is viewed daily by crowds of people.  Its capacity is 40 dozen, and can turn out about that many chickens every three weeks.      WG
1894
10 10       MAUD WINS FIRST MONEY
Maud F., black mare, owned by Charles Fuermann of this city, won first money in the 2:26 race at the Jefferson fair Friday afternoon, taking three straight heats 
12 12       FIRE WHILE "PITCHING" BARRELS
A peculiar accident happened last Wednesday afternoon at the A. Fuermann Brewing Company.  Two workmen, Albert Behnke, of 1413 North Second Street, and Fred Fleuter, of 319 North Warren Street, were engaged in "pitching" barrels – that is, coating them with hot melted pitch.  They were on the inside of a large cask, when in some unaccountable manner, the pitch was ignited, enveloping the men in flames.  For a few moments death by fire stared Flueter and Behnke in the face, but they luckily escaped from the barrel before they were seriously burned.  Their hands and faces, however, were quite painfully affected.  Dr. Feld attended the injured men and they are getting along nicely.   WR
c.1895
                    ALBERT FUERMANN OUTSIDE BREWERY OFFICE
                    <![if !vml]>

<![endif]>   (son of August).  100 Jones Street office
                    FUERMANN BREWERY TESTING (TASTING?) ROOM
                    <![if !vml]>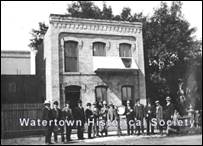 <![endif]>   < portion of this bldg. noted in WHS_007_KR100  
                    102 Jones Street  /  Members of the "Old Dutch Band"
                FUERMANN SIGNAGE OUTSIDE S. MOLZAHN SALOON
                    <![if !vml]>

<![endif]>  
                    OLD DUTCH BAND
                    <![if !vml]>

<![endif]>  
Members of the "Old Dutch Band" rehearsing in the office of the old Fuermann Brewery
(l-r) William Grossert, Don Harbeck, H. Riemstead, and William Sergel, the director.
Spectators (l-r) Theodore Koerner and William Goecke.
1895
01 18       950,000 BUSHELS OF MALT
Over 950,000 bushels of malt were made here last year, of which the Wm. Buchheit Malting Co. made about 700,000 bushels, and Hartig & Manz and the A. Feurmann Brewing Co. made about 250, 000 bushels.  This would indicate that Watertown is an excellent barley market.   WG
1897
02 17       FUERMANN BREWING FAILS
At a late hour last Thursday afternoon the A. Fuermann Brewing company made a voluntary assignment for the benefit of its creditors.  The intentions of the company were kept quiet, and a clean assignment, without other legal complications, was the result.  The necessary papers were filed with the clerk of the circuit court at Jefferson about supper time by Attorney Harlow Pease and Court Commissioner O. C. Hahn. Attorney William H. Woodard was named as assignee and qualified with a bond of $12,000.
The news of the assignment was known by but very few until the following morning, when it caused considerable surprise in business circles.  It was supposed the company was doing as well under the existing circumstances as could be hoped for, but the heavy liabilities which it assumed upon the reorganization some two and one half years ago proved too much of a load to carry and finally forced it to the wall.  Against these odds the officers of the company have fought unceasingly and have accomplished considerable in the way of liquidating outstanding obligations and building up a substantial trade, but the hard times and other unfavorable conditions were against them.  The officers hope and think that by the assignment every creditor will be paid in full.
The assets include the brewery plant, a farm of twenty-seven acres in the western portion of the city, some Chicago real estate, and book accounts, stock on hand, etc , amounting to about $12,000.  The liabilities are estimated at about $35,000, a mortgage on the plant for $22,000, held by H. Biefeld, of Milwaukee, being the principal indebtedness.
Judge Bennett, of the circuit court, has issued an order directing Assignee Woodard to continue the running of the plant as long as it shall be for the interest of the creditors to do so.  The plant is therefore being operated as usual and the trade may be supplied and accommodated the same as heretofore.  The assignee is at present engaged in taking an inventory of the property and when his report is filed more will be known concerning the company's affairs.
The A. Fuermann Brewing company is one of the oldest institutions of its kind in the state, having been founded fifty years ago by the late August Fuermann.  The plant has an annual capacity of 35,000 barrels of beer and 50,000 bushels of malt.  The officers are: Albert Fuermann, president; Gerhard Fuermann, vice-president; Henry Fuermann, secretary and treasurer.        Watertown Republican, February 17, 1897
03 31       CARBONATED BEVERAGE FACTORY STARTED BY FUERMANN
                Albert Fuermann, who recently severed his connection with the A. Feurmann Brewing Company, has made arrangements to start a carbonated beverage factory here about May 1.  It will be located on his property at 1026 North Second Street, where there is excellent spring water convenient for the manufacture of the line of beverages he will handle.  Mr. Feurmann was in Chicago last week purchasing the necessary machinery and supplies for his business.    WR
05 06       CARBONATED BEVERAGE BOTTLING FACTORY
                Albert Fuermann's new bottling works, located at 1026 North Second Street, are nearly ready to begin operations, experts being here this week from Chicago to set up the machinery.  Carbonated beverages and the likes will be handled.  Mr. Fuermann has placed two handsome delivery wagons on the streets.   WR
                Cross Reference:  Home at 1026 N. Second in c.1950.
<![if !supportLists]>- <![endif]>Louis Eggersgluess brewer at Fuermann.
1898
Sept         HARVEST FESTIVAL, 1899, HARTIG FLOAT
<![if !vml]>

<![endif]>  
William Hartig Brewing Co. float as entered in the Harvest Carnival, Sept. 1899.  The man on the far left wearing a hat is thought to be William Hartig.  This image was taken at the intersection of Madison and North First Streets.  The Fuermann Brewery office can be seen on the far left.
Sept             WATERTOWN'S FAMOUS BAND
<![if !vml]>

<![endif]>        <![if !vml]>

<![endif]>
A comic band, circa 1899, the "Watertown's Famous Band."  This was obviously a joke or comic band created during the Harvest Jubilee in Sept., 1899.  This image was taken inside the office of the old Fuermann brewery on S. First and Jones streets.  Instruments are all made of cardboard, and also note the various music titles.  The two gents on the floor are wearing uniforms of the Sinnissippi Band.
09 21       FUERMANN PLANT USED BY WILLIAM HARTIG
                Foreclosure sale of the property of the defunct A. Fuermann Brewing Company occurred at 1 o'clock Saturday afternoon.  Sheriff Roach conducted it and the plant and other realty was bid in at $15,000 by Attorney George H. Wahl, of Milwaukee, who acted as the representative of William Hartig.  The sale price is several thousand dollars short of the mortgage, which is held by C. H. Meyer, of Milwaukee.  A portion of the Fuermann plant has been used by William Hartig for several months for malting purposes, and it is given out that this will be continued.  Very shortly, however, some needed improvements will be made to the plant, new floors and roofs will be built, and the capacity greatly enlarged, the idea being to convert the plant into an immense malthouse.  The improvements contemplate the removal of the ice houses and the erection of a new elevator.  When completed this plant, in connection with the present plant of Mr. Hartig, will form one of the most extensive enterprises in our city, the material benefits and importance of which will be a matter for due appreciation.   WR
FUERMANN BREWERY SOLD TO WILLIAM HARTIG
Fuermann Brewery sold to William Hartig.   
11 30       Albert Fuermann is making arrangements for establishing a Weiss beer brewery here.  The plant will be located in a portion of the old Fuermann brewery, now owned by William Hartig, and it is expected that operation will begin the middle of December.   WR
12 21       Ohm Bros, began their ice harvest last week and has been engaged in filling the large ice house in the Sixth ward formerly owned by the A. Fuermann company and which they recently purchased from William Hartig.   WR
1901
05 10       DISCONTINUE WEISS BEER
                In connection with the saloon business he is now conducting, Henry Diekoff will engage in the bottling business and has taken the contract for John Grafs weiss beer.  August Feurmann, who has been engaged in that line of business, has discontinued it.   WR
1905
FLOOD OF 1905
<![if !vml]>

<![endif]>   
<![if !vml]>

<![endif]>   1905  
There used to be good carp fishing off the stone wall where the sewerage from the brewery emptied into the Rock River.
1906
05 08       Mr. Brautchek, the Milwaukee tanner, was in the city Saturday conferring with the members of the Advancement Association relative to removing his business to Watertown.  A proposition was made to William Hartig, the owner of the old Fuermann brewing building, to repair the old building and gave free rental for two years, at the end of which time the building should be bought at a price to be agreed upon at the beginning and paid for in yearly installments.  Mr. Hartig very generously offered to give the rental free for one year and the tanning company could repair the building to its convenience and at the end of that period purchase the building at a price that would be satisfactory and pay for it out of the profits of the building.  Watertown wants the tannery and it is hoped that a satisfactory arrangement will yet be perfected by which the industry will locate here and give employment to labor and wealth to the city.
1912
07 19       ALBERT FUERMANN IN NEW QUARTERS
Albert Fuermann is now located in his new quarters at 107 North Third Street.  His cafe is one of the neatest arranged in the city, the building having just been completed and fitted out especially for Mr. Fuermann's business.  He has it well stocked with a choice line of wines, liquors and cigars.  Farmers especially will find his place of business a very desirable one to visit.  An excellent free lunch is served in connection.
1914
04 24       Charles Fuermann, formerly engaged in the brewery business here, died last Saturday at his home in Jamestown, New York.  His remains were interred at Jamestown.  He was about 65 years of age and is survived by his wife, three sons and two daughters.  Four brothers and two sisters also survive him, being Julius and Henry of Chicago, Albert and Gerhard and Mrs. Emilie Bursinger of this city, and Mrs. Henry Wollering of Johnson Creek.  His many old friends here learned of his death with sincere sorrow.  WG
1915
03 04       ALBERT FUERMANN BUYS ORPHEUM THEATRE
Albert Fuermann has purchased the Orpheum theatre of Jerome Kostermann, who has conducted the theatre for the past two years.  Mr. Fuermann will have associated with him in the management of the theatre his son "Riz," one of the best pianists in the state.  Albert and Riz will be two great drawing cards at this popular theatre.  They are two of Watertown's most excellent citizens and the Orpheum under their management will certainly be a grand success.  The Gazette extends its best wishes.  WG
11 04       BIDS FOR TEARING DOWN OLD FUERMANN BREWERY
Old bricks used for new high school
Carl H. Block and Mallow & Kaddatz were the lowest bidders for tearing down the old Fuermann brewery plant, at the foot of North First Street, recently acquired by the city, their bid being $7150.  The bid includes tearing down the building, cleaning the bricks and hauling 800,000 of them to the site of the new high school building, drawing all nails from lumber and storing lumber.  The other bids were . . . .    WG
1916
-- --               DISMANTLING OF FUERMANN BREWERY
                    <![if !vml]>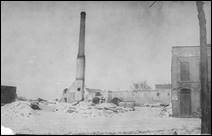 <![endif]>                    <![if !vml]>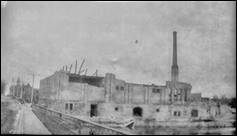 <![endif]>  
1923
06 01       WELL AT THIS LOCATION
The city property adjoining N. First and Cady Streets contains a flowing well which has been preserved but in such a manner that it would require the talents of an acrobat to secure a drink of water even though there was a cup to drink from.
1925
02 18       "BREWERY LOT" PROPOSED FOR NEW MEMORIAL PARK
                The Memorial Park has been under discussion for some time and the city has already purchased the tract of land on Rock River between Cady and Jones streets known as the "brewery lot."  Properties on the east end of the block, which includes the tract owned by the city, and the property on the southeast corner of the tract, however, are still owned by individuals.  It has been proposed to purchase these properties and include the entire block in the memorial park area.  This matter was taken up by the council last evening and there seemed little opposition to such a purchase. 
Members of the park board appeared before the council and spoke in favor of the establishment of a memorial park to include the whole block between Rock River and North Second Street from Cady to Jones streets.
A number of aldermen also strongly endorsed the idea and the building and grounds committee and the city attorney were instructed to go ahead with the proposition and purchase the additional property.  The prices for the property include $6,500 for two houses and lots on which the houses are located.  These are owned by Mrs. Mae Davler.  The sum of $2,500 is asked for two lots owned by Mrs. Sophie Delmel and $7,500 is asked by Reinhold Neumann for the house and lot owned by him.
1932
04 02            WORK OF FILLING IN CAVE-INS TO START
            Memorial Park Will Be Closed For Repairs  /  Public Is Warned
Memorial Park will be closed to the public for a period of several weeks beginning Monday it was announced by Ewald Brumm, City Superintendent of Parks.
The closing of the park is a necessity at this time to protect the public while the work of repairing the damage done by cave-ins last summer is underway.  Several places in the park caved in above several old underground tunnels which were formerly part of a brewery located on the site.  Much of this has been filled in but due to washouts future cave-ins may result with the arrival of spring weather and it is due to this fact that the Board of Park Commissioners has decided to close the park to the public while the repairs are underway..
1948       BEER AND CHEESE TUNNELS (CELLARS) OF EARLY DAYS UNCOVERED
More people here are familiar with the old beer cellars that are located under Memorial Park, which was once the site of the Fuermann brewery.  After the brewery was destroyed and remained only a ruin and an eyesore the old cellars came into partial view and boys playing on the lot used them for hideouts.  When the city acquired the property and the development of the park began one of the first tasks was to fill in the old passages.  A part of the park area caused trouble for years.  A lot of old refuse, tin cans, etc. had been used to fill in a portion of the place and over the years a section of it began to cave in.  This caused a great deal of trouble for city and park board officials and the great memorial arch,  which originally stood at the southwest entrance of the park, had to be repaired and replaced, as the settling ground caused it to crack and break.  After repairs had been made several times and a portion of the original arch had been removed entirely the entire structure was torn down and rebuilt at the southeast entrance of the park where it now stands.  That section of the park had never been used for cellars and consequently provided a better location for such a heavy structure as the arch.
1962
01 14       UNDERGROUND BREWERY CELLARS CONSIDERED FOR CIVIL DEFENSE PURPOSES
Watertown is one of the cities in southeastern Wisconsin which already have been examined by a representative from the Civil Defense organization as possible fallout shelters in case of nuclear attack.  The survey is continuing.  A representative of Civil Defense told the Times he was here to make a check and asked for information regarding the old underground passages on the city's west side — in the North Church and West Cady Street district.  He also made inquiries regarding the old underground brewery cellars in the Memorial Park area which were used many years ago in the lagering of beer.  He was told, however, that those cellars had been filled in when the park was developed but he said he would seek a check on them, if possible.
<![if !vml]>

<![endif]>  Image Portfolio  
Cross References:
Henry Fuermann visited relatives and friends here on Tuesday.  This celebrated photographer, who of late has gained such a record in Chicago that his two sons have been forced to take a hand in the business in order that the demands on the concern will receive attention.  Watertown people in Chicago are probably not aware that Henry ranks among "the first."  Watertown Gazette, 10 16 1908
Hops processing plant considered, 1986
1878:  Charles Fuermann, manufacturer and dealer in White Wine and Cider Vinegar
1910:  Death of Mrs. Albert Weiss, daughter of August Fuermann
On Monday, March 14, 1910, Mrs. Albert J. Weiss died at the sanitarian in Madison, where she was taken several months ago for treatment.  Deceased was born in this city Match 3, 1863, and passed most of her life here.  She was a daughter of the late August Fuermann and wife, and wife of the late Albert J. Weiss, who died six years ago.  One son survives her; also five brothers and two sisters, being Charles Fuermann of Jamestown, New York, Julius and Henry Fuermann of Chicago, Albert and Gerbard Fuermann and Mrs. Emelia Bursinger of this city and Mrs. Henry Wollering of Chicago.  Wednesday her remains were brought to this city and her funeral was held from St Paul's Episcopal Church.  The news of Mrs. Weiss' death was learned of in Watertown with sincere sorrow, for she was a most excellent lady, and a neighbor whom everybody liked and esteemed.  She possessed a mild, charitable disposition, and always led the life of a good and noble Christian lady.
Mrs. Charles Fuermann
<![if !vml]>

<![endif]>    

History of Watertown, Wisconsin