website  watertownhistory.org
    ebook  History of Watertown, Wisconsin
Ice Harvesting
1859
01 27       THE 1859 HARVEST SEASON
During the two or three days past the ice packers [harvesters] have been taking as fine, clear and solid ice out of the river as we have ever seen.   WD
1876
EATON ICE HOUSES
Fifteen thousand tons of ice are now (August 1879) stored in the icehouses of Watertown.  S. M. Eaton built the first establishment of this kind in Watertown in 1870.  He has two buildings, one in the rear of his soda factory, and the other half a mile up the river, with an aggregate capacity of 15,000 tons.  A Chicago firm erected a large building near Mr. Eaton's upper repository last winter, where they now have 10,000 tons stored.  Large shipments are made to Chicago during the summer.  Near the close of the ice harvest of 1876, when there was a prospect for a decided scarcity of this article in Chicago, several enterprising individuals of that city came to Watertown, and marshaling every available man and horse in the community, commenced the work of gathering ice from Rock River and shipping it to the Garden City.  Over two hundred men were employed in the work for several weeks, about $10,000 being invested in the enterprise.  On one occasion, while this army of men were being paid off at the saloon of O. Auwers, near the North Western depot, the floor of the saloon gave way and thirty or forty persons were precipitated into the cellar below.  No one was injured, however, but several very laughable incidents occurred.  One man was doubled up like a jack knife in a barrel of soft soap.  Another was stopped suddenly in his descent by a basket of eggs.    The History of Jefferson County, Wisconsin: Containing a History of Jeff . . . 1879, 733 pgs
01 15       OUTLOOK FOR 1890 SEASON
The outlook for clear ice this season from this standpoint is rather poor, the rains just before the present freeze-up washing in surface water from the clay lands and making the water of a muddy character.     WR
01 22       NO ICE FAMINE
Winter has at last taken a solid hold.  Yesterday morning thermometers indicated from 10 to 12 degrees below zero and this morning we are refreshed with the mercury 20 degrees below zero at 6 o'clock.  No longer do people tread the streets with fear and trembling lest there might be an ice famine in the land.     WR
01 22       HARVEST COMMENCED
[same date] Yesterday S. M. Eaton & Son commenced cutting ice for the brewery of Hartig & Manz, which is the beginning of the ice harvest here for this season.  The ice is about 7 1/2 inches thick and of a clear, good quality.  Last year ice cutting began Jan. 28, one week later than this winter.  An abundant ice crop is assured on the river here, notwithstanding the great scare among ice men only a little while ago.     WR
02 05       HARVEST STOPPED
The ice harvest has stopped here Thursday by the soft weather, the ice having become so porous and rotten as to make it dangerous to continue cutting.  One of the horses of S. M. Eaton's team, Thursday afternoon, broke through the ice and was only saved after considerable work.  At present the outlook is rather unfavorable for ice cutting very soon, although only one-half the ice needed to fill the ice-houses have been procured as yet.    WR
02 07       EATON & SON FILL ICE HOUSES
S. M. Eaton & Son have secured a fine quality of ice and completed filling their ice houses this week.  They have also filled the ice houses of Hartig & Manz's and Wm. Buchheit.  The A. Fuermann Brewing Co. is also nearly finished with its ice harvest.      WG
02 12       HARVESTING DAY AND NIGHT
For some days past the work of storing ice has been rushed through with rapidity, men being at work on the river day and night.  Monday the work of filling the ice house of S. M. Eaton & Son was completed, 3,500 tons being stored for summer's use by this enterprising firm.  The breweries of A. Fuermann Co. and Hartig & Manz will be supplied with all the ice they want by the close of this week.  The former stores about 8,000 tons and the latter about 3,500.  S.M. Eaton & Son shipped several carloads of ice to Aurora this week.     WR
The parties here last week from Chicago and Aurora, IL., looking over the ground and prospects for cutting and storing ice at this point, went away without effecting any arrangements.  They could not guarantee enough freight to make it an object to the Northwestern railway to build a sidetrack to the river, and therefore the project had to be dropped.  The parties have gone to Necedah to cut.    WR
c.1890
S. M. EATON & SON ICE HOUSE
<![if !vml]>

<![endif]>     <![if !vml]>

<![endif]>   < Badger logo and birdhouses, S. M. Eaton ice house  
<![if !vml]>

<![endif]>     <![if !vml]>

<![endif]>
<![if !vml]>

<![endif]>        <![if !vml]>

<![endif]>    
Blocks of ice being positioned in channel in Rock river prior to being placed on elevator to store in Eaton ice house
Once the field was marked, it had to be plowed (or grooved) and this job was done by a horse-drawn ice plow.  Each tooth of the plow was set to cut one-quarter inch deeper than the one in front of it; consequently, one trip with an eight-tooth plow would deepen a groove by two inches.  Multiple trips by two plows could deepen the grooves to seven inches, sufficiently deep for l2-inch ice (the most common cut for retail trade).  The cakes could then be split off with a breaking bar and, if done correctly, would break evenly, leaving no lips on the cakes.
1895
01 23       THE 1895 HARVEST SEASON
Ice cutting on the river is nearly finished, most of the firms having filled their houses with a yearly supply.   WR
c.1897
12 22       COLD STORAGE SUPERSTRUCTURE
The contract for the superstructure of the Watertown Cold Storage building has been let to Ferdinand Behlke.  It must be ready for the reception of ice by January 15.      Watertown Republican, 12 22 1897
ICE CHUTE, HARTIG BREWERY, HABHEGGER COLD STORAGE
<![if !vml]>

<![endif]>  
1899
01 11       LITTLE GIRLS RESCUED FROM RIVER
Two little girls, aged about 12 years, the daughters of Charles H. Gardner and of William Meyer, came near being drowned in Rock river last Friday not far from Ohm Bros.' ice-house.  The little ones undertook to cross the river at that point, and not suspecting danger, walked onto a very thin coating of ice, which gave way and dumped them into the water.  Fortunately Henry Arndt, Herman Schlieve and Henry Dahl were cutting ice nearby for S. M. Eaton & Son, and hearing the screams of the little girls quickly hurried to their rescue.  With the aid of a pike pole and boards they soon had the little sufferers safely landed from their perilous predicament.  The ice had been taken from that portion of the river a day or two previous, and the thin coating of ice had been covered with a light fall of snow the night previous, thus completely obliterating its dangerous condition.  Mr. Arndt, one of the rescuers, slipped in, but aside from a cold bath received no injury.   WR
01 18       ICE MACHINE INSTALLATION TO IMPACT ICE HARVESTING BUSINESS
William Hartig is having placed in his brewery an ice machine, or in other words, a new process for cooling beer.  Lager beer, to be kept in prime condition, should have an even temperature, and this is almost impossible to secure under the old system.  This comparatively new process gives the desired result regardless of the extremes of weather.  The new outfit consists of a Corliss engine and ammonia compressor, and between 5,000 and 6,000 feet of piping.  This piping is carried all through the cellars, overhanging the large beer cask, and is continually covered by a uniform coating of ice.  The expense of the new outfit will exceed $5,000.  This change will be regretted by a large number of men who find the labor of cutting and storing ice very profitable work during an otherwise dull season, but brewers find the old system not only very cumbersome but not thoroughly reliable.  This brewery produces an excellent quality of beer, and Mr. Hartig will not stop at any expense to maintain its already high standard.   WR
c.1900
<![if !vml]>

<![endif]>  
c.1915-1920
ICE HARVESTING
<![if !vml]>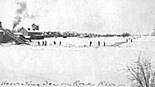 <![endif]>  
<![if !vml]>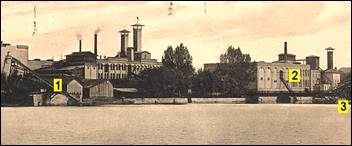 <![endif]>   <![if !vml]>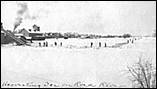 <![endif]>   < PORTFOLIO OF PICS
Cross References:
Online article on ice harvesting  
Online video on ice harvesting  
<![if !vml]>

<![endif]>   Video clip       
:  <![if !vml]>

<![endif]>  Video clip  Segment on ice house and ice harvesting in Society video recording.

History of Watertown, Wisconsin