website  watertownhistory.org
    ebook  History of Watertown, Wisconsin
Paying off Election Bet
<![if !vml]>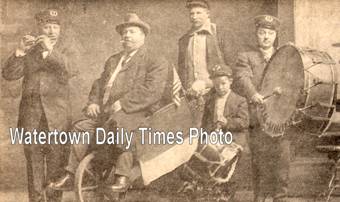 <![endif]>
Click to enlarge
Watertown Daily Times photo, 03 02 1967
Nov. 20, 1912
Alderman Kehr Gets Wheelbarrow Ride — Anton von Heiden paid an election bet last week Wednesday night by giving Alderman John L. Kehr a wheelbarrow ride from "Schwager" Diekoff's cafe to Robert Woelfer's hotel in West Main Street, accompanied by a fife and drum corps and a large number of friends of the triumphant alderman.
Von Heiden bet on the Bull Moose candidate for president and Alderman Kehr bet on Wilson.
John Kehr, who was office manager for the Wm. Hartig Brewery and the late Anton von Heiden made an election bet.  Von Heiden, a maintenance man here, lost and as a result had to give Mr. Kehr a ride in a wheelbarrow along Main Street.  Hundreds turned out to cheer. 
Shown in a picture above, taken at the time, are, left to right, Charles Wenck, Mr. Kehr, enjoying the ride, Mr. von Heiden, who lost the bet, Fred (Fritzie) Dornfeld and Fred Bittner, who for many years operated a saloon and grocery store at North Fourth and Cole Streets.  The picture is owned by Mrs. William Grossert, widow of a Watertown police captain and for many years assistant chief of the police department.

History of Watertown, Wisconsin