website  watertownhistory.org
    ebook  History of Watertown, Wisconsin
William D. Sproesser
William Sproesser
W. D. Sproesser
NAME CLARIFICATION: 
William D. Sproesser founded a jewelry store in Watertown in 1856.
After his death he was succeeded by his son also named William D. Sproesser better known as W. D. Sproesser after whom the company was finally named. 
He, in turn, was succeeded in the business by his son, named William Sproesser who died in 1953.  He was also called William D. Sproesser, but, in fact had no middle name so the "D" was not warranted, even though many people called him William D. Sproesser, because the store bore the name of the W. D. Sproesser Co.
THE SPROESSERS
William David Sproesser, founder, came to Watertown from Philadelphia in 1855
W. D. Sproesser:  The founder's son, headed the concern for many years
William (no middle name) Sproesser:  Since March 7, 1920, the grandson had been head of the company
Sproesser Jewelry Store
est. 1856
111 E Main
213 E Main
1860
08 02       W. D. SPROESSER RESCUES LAD
A Narrow Escape.  Last Thursday morning, the 26th ult., two small boys, the sons of Mr. Steinfeld, accidentally fell into the river, under the west end of Main Street Bridge.  They were first discovered by a daughter of Mr. Jacob Jussen, who immediately gave the alarm and called for help.  Carl, a lad about eight years old, was immediately rescued by Mr. W. D. Sproesser, but the other, Henry, about a year younger, went down where the water was near six feet deep.  One or two who were first on the ground made unsuccessful attempts to get him by diving, but he remained there until Frederick Karst took him out.  As near as we can ascertain, he was in the water from six to eight minutes.  When taken out he appeared lifeless.  Fortunately, Mr. Edward Johnson, Dr. Quinney, an Indian physician, Mr. A. Baum, Mr. T. Dervin and others were present, who instantly began the work of resuscitation.   WD
1890
10 10       212 E. MAIN STORE REMODELED AND ENLARGED
W. D. Sproesser is having the interior of his jewelry and music store remodeled and enlarged.  Besides the lower floor of the building he will hereafter occupy the rear half of the upper floor, the latter being devoted to the display of children's carriages.  A large and convenient stairway on the interior of the building now connects both floors.
<![if !vml]>

<![endif]>
12 10       HOLIDAY OPENING OF SPROESSER'S, Dec. 11th
<![if !vml]>
<![endif]>          THE PUBLIC IS INVITED
One of the special features will be the rendering of Tannhauser March on two Rohlfing Upright Pianos by Mrs. William F. Whyte, Miss Guynori Lewis, Miss Minnie Sproesser and Mr. Will Sproesser.
Overture to William Tell, on a Steinway Parlor Grand, procured especially for this occasion, Will Sproesser and Minnie Sproesser.
In the second story will be shown a fine selection of Wisconsin pearls, diamonds and other precious stones. 
Positively no Goods Sold During the Evening. No Cards.
Respectfully, W. D. SPROESSER.
1894
CHRISTMAS AD
<![if !vml]>

<![endif]>  
1898       KRANICH & BACH PIANOS added to Sproesser Store
<![if !vml]>

<![endif]> 
11 23       KRANICH & BACH "PARLOR GRAND,"
The W. D. Sproesser Company has lately made a splendid addition to the stock of high-classed pianos it carries to satisfy the fancies of the musical purchasing public.  The instrument in question is the Kranich & Bach "Parlor Grand," which is now ready for inspection at their salesrooms.  It is finished in mahogany and has a most beautiful appearance.  In musical worth, this instrument is not excelled, and it holds a high place in the estimation of all piano builders and trades.  It is truly a pleasure to hear its fine tone, while its remarkable sustaining power is another leading recommendation.  The Sproesser Company intends to keep these "Parlor Grands" constantly in stock and solicits the inspection of the public.   WR
12 07       KRANICH & BACH, IVERS & POND, BRAUMUELLER, PEASE AND KIMBALL PIANOS
                The W. D. Sproesser Company is offering an unusually large and attractive line of musical instruments at prices that will be found right.  The assortment consists of grand and upright pianos made by such old and renowned concerns as Kranich & Bach, Ivers & Pond, Braumueller, Pease and Kimball.  Also parlor, self-playing piano-organs of national reputation.  Employing no canvassing agents, a great saving is assured to purchasers.    WR
1899
MRS. W. D. SPROESSER, HARVEST CARNIVAL FLOWERED CARRIAGE
<![if !vml]>

<![endif]>       <![if !vml]>

<![endif]>  
Harvest Carnival flowered carriage, Sept., 1899.  Mrs. W. D. Sproesser with Mrs. Dr. Carl Feld and Mrs. Frank Woodard.
1900
03 13       WILLIAM SPROESSER, MARRIAGE
On invitation of William Sproesser and Charles R. Blumenfeld the Iroquois Club partook of a "Benedict's luncheon" at the club rooms Saturday evening to celebrate the recent entry of these two young gentlemen into the married state.  All the Benedicts, except the "Major", were present, as well as a number of prospective ones and the confirmed bachelors.  Full justice was done the appetizing "spread", after which there were numerous diversions that go to make the enjoyable "stag".  The regular club quartette and another quartette formed for the special occasion "made the welkin ring" with their jolly songs, and altogether the affair was a most happy one.
06 05       FLATWARE IN SHOW WINDOW
No doubt the handsomest and costliest set of flatware ever seen in Watertown now occupies a place in the W. D. Sproesser company's show window.  The ware reposes in an antique oak chest of three apartments, one for the spoons, another for the forks, and still another for the knives.  Each apartment is lined with chamois.  The set consists of 144 pieces and is of the celebrated Gorham make of massive sterling silver.  We understand the set was purchased by Watertown relatives as a wedding gift to out-of-town parties who are to be married this month.    WR
12 14       No. 5 CARTRIDGE KODAK CAMERA
From the dollar Brownie, for the boys and girls, up to the No. 5 Cartridge Kodak, with its most expensive equipment, every size and style of kodak is in our stock, and any of them makes an appropriate Christmas present.  For the young folks there can be nothing more fitting — nothing that will give more pleasure or more instruction.  Amateur photography cultivates a taste for the beautiful in nature and in art.  It teaches observation.  It often develops in the inquiring mind a love for the mysteries of chemistry and the laws of optics.  Its influences are all of the highest, the best.  Put a Kodak in your Christmas list.  If it isn't an Eastman it isn't a Kodak.  For sale only by the W. D. Sproesser Co.   WG
Cross Reference:  The No. 5 Cartridge Kodak Camera was manufactured by the Eastman Kodak Company from 1898 to 1907.  It was constructed with a wood front on the early versions until 1900, after that time, the front was constructed with metal. The later improvements included the metal front mount, bed extensions, and a longer bellows.  Designed to incorporate the simplicity of a cartridge system with the needed adjustment capabilities to accomplish all around work.  Other features included locking rising front, Kodak automatic shutter, rapid rectilinear lens, aluminum construction with seal grain leather covering, two spirit levels, two brilliant finders, rack and pinion focusing adjustment.  Capable of using glass plates or 12 exposures on No. 115 roll film without reloading, taking images 4 x 5 inches in size.  The camera measures 3 3/8 x 8 1/2 x 10 inches when closed and weighs 4 lbs, 8 ozs.  Original price in 1905 was $25.00 to $99.00.  
1901
FIRE INSURANCE MAP
<![if !vml]>

<![endif]>   200 block E Main, compared to 1909
O5 15       MASTER MASON, GRAND LODGE
<![if !vml]>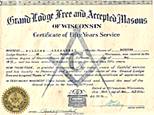 <![endif]>       Chapter on Masons 
11 22       VOCAL NUMBER
Turner Opera House was well filled with people Thursday evening of last week to witness the entertainment given by the Watertown Dramatic Club, and the Amateur Musical Club, assisted in vocal numbers by Miss Lula Bertram, and Wm. Sproesser.  Edw. L. Schempf directed the musical part of the program in his customary efficient manner.  The music furnished was high-class and was most excellently rendered.  The singing of Miss Bertram and Mr. Sproesser was very much appreciated, both responding to enthusiastic encores.  Miss Lydia Pease accompanied the former, and the latter was accompanied by his wife.    WG
1902
<![if !vml]>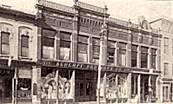 <![endif]>  
Sproesser building, 213 E Main BECAME PART OF SCHEMPF BUILDING SOMETIME AFTER 1903
1903
Hosts Terbrueggen 70th Birthday banquet
1905
Sproesser, William D 1905, Daniel Jones funeral, quartette
1906
09 28       W. D. Sproesser Company, watch-makers and retail dealers in art, good pianos, gold and silverware, celebrate their fiftieth anniversary of the establishment of the business at their store on Main Street for three days of last week, Thursday, Friday, and Saturday.
The founder of the house, the late W. D. Sproesser, was born in Germany in 1812.  He received a liberal education and held numerous positions of trust and confidence in his native country.  He not only possessed mechanical ability of more than ordinary scope, but could be truly called a horologist, having studied the art of watch making under some of the most eminent masters of Germany and Switzerland . . .
In 1894, at the time William D. Sproesser assumed the management of the Merchant Bank, the business was incorporated under the name of W. D. Sproesser . . .
The firm's motto has ever been "Reliable Goods at Reasonable Prices" and strict adherence to this has been one of the secrets of a successful business career which together with the ever courteous and popular management bids fair to continue in its prosperous career.
<![if !vml]>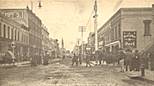 <![endif]>   1906
1909
02 19       M/M William Sproesser had singing parts in sacred cantata at St. Paul's Episcopal    WG
07 16       First Congregational Church, cornerstone laying. M/M William Sproesser. 
07 30       Jacob Sproesser, son of William D, left for Milner, Idaho   WG
<![if !vml]>

<![endif]>
1913
06 19       FORMER SPROESSER BLDG. ENLARGED by adjacent Schempf Bros.
<![if !vml]>

<![endif]>
Owing to a large increase in their business Schempf Bros. Co. have increased their capital from $100,000 to $150,000, and are adding another story to the east end of their building [former Sproesser bldg, 213 E Main] and also adding 20 more feet in the rear [same bldg], which will allow more room to display the large stock of goods carried by this popular dry goods firm.   WG    / The final phase of the existing building configuration.  It was during this last phase that Watertown's first elevator was installed.  [In 1913 W D Sproesser was located at 111 E Main].
1914
09 03       Mrs. William Sproesser, Clyman  Street, entertained about seventy-five ladies at a reception from 3 to 6 o'clock last Saturday afternoon.  In the receiving line beside Mrs. Sproesser were Mrs. Max Rohr, the Misses Minna and Louise Sproesser and Mrs. Alan Yorhies of New Orleans.  Music was furnished by Mr. and Mrs. Frank Bramer.  The dining room was presided over by the Misses Elsie and Margaret Sproesser.  The afternoon was a most pleasant one for all.   WG
12 03       ELSA SPROESSER, FRED GREEN Wedding
At six o'clock on Tuesday evening, December 1, 1914, Fred Green and Miss Elsa Sproesser were united in marriage by Rev. M. Laurenson, pastor of St. Paul's Episcopal church, at the home of the bride's parents, Mr. and Mrs. W. D. Sproesser, 703 Clyman Street.  The wedding took place in the alcove of the parlor beneath an elaborate bower of flowers and greenery.  Mrs. Wm. Sproesser rendered on the piano the "Midsummer's Night Dream" wedding march as the bridal party descended the broad staircase to the appointed place for the ceremony.  The bride entered upon the arm of her father, and she was attended by her sisters Miss Margaret and Miss Helen Sproesser as bridesmaids.  Howard Green, of Janesville, brother of the groom, was groomsman.  Little Miss Josephine Sproesser, niece of the bride, was flower girl and her nephew, Master Max Rohr, Jr., was ring bearer.  The bride wore an elegant gown of Worth satin with crystal trimmings and court train, and a tulle veil and cap and she carried a bridal shower bouquet of roses and lilies of the valley.  Miss Margaret Sproesser was gowned in green satin with spangled tunic, and Miss Helen Sproesser wore a white lace and Emerald green gown and they carried arm bouquets of American beauty roses.  As a matter of sentiment, the veil and cap was the same one that her sister wore as a bride three months ago at her marriage to Donald S. Montgomery, and it is said this same cap and veil will be worn by all future brides in the Sproesser family.
Following the wedding ceremony dinner was served, the dining room decorations being in white and green, the centerpiece on the dining table being American beauty roses.  At the conclusion of the wedding feast the bride and groom left on a two weeks' wedding trip, at the expiration of which they will return to this city and be at home to their friends after February 1 at 408 North Washington Street . . .   WG
c.1955
703 CLYMAN HOME
<![if !vml]>

<![endif]>    
12 17       VICTROLAS, VICTORS for Christmas
<![if !vml]>

<![endif]>   There's sure to be a Merry Christmas wherever there is a Victrola. The beautiful music of this superb instrument will be a source of great pleasure and will make Christmas a real Christmas to every member of the family.  It will be a big help in making every day in the year a brighter and happier day.  And all this can easily be yours.  Stop in and see and hear the Victrola, and find out about our easy terms.  Victrolas, $15 to $200.  Victors $10 to $100.   WG: 
10 24       FARE-REFUNDING SALE, full page Weltburger ad 
1915, Orbit, Ad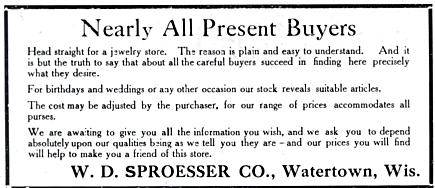 1915
01 21       WATERTOWN SYMPHONY ORCHESTRA
When enumerating the things for which Watertown is conspicuous, do not fail to mention along with the stuffed geese, manufacturing plants, banks and stores, our own Watertown Symphony Orchestra of thirty-five pieces.  That you may know just how many adjectives to use in "cracking up" this worthy institution, make up your mind to treat yourself to one or more tickets for this our first concert to be held at Turner Opera house February 15.  Seat sale at Bittner & Tetzlaff drug store at 9 a. m., February 8. Paste these dates in your hat.
That this concert will be of a high order is guaranteed by the fact that Mr. Henke, Mr. Sproesser and Mr. Bramer will assist the orchestra with solos.  The program will not be a long drawn out affair as there will be no attempt on the part of the orchestra to play its entire repertoire at this time — our aim being quality rather than quantity.
In view of the fact that fifteen years have elapsed since the appearance of the Apollo orchestra, and in view of the fact that Watertown needs an orchestra of this type badly, we sincerely hope that by February 15 every seat will have been sold.  Our aim is to give Watertown frequent concerts at popular prices and we sincerely hope that the extent of your patronage on February 15 will demonstrate that your wishes also run in this direction.
Decide now to attend this concert and tell your friends you're going — rain, hail, sleet or snow – and we will be very grateful indeed, as you will in this way show your appreciation of our efforts.
Watertown Symphony Orchestra, L. W. Parks, Librarian.    WG
02 11       WATERTOWN SYMPHONY ORCHESTRA
Long Looked for Musical Event At Turner Opera House, Feb, 15.
45 Piece Symphony Orchestra  /  95 Per Cent Home Talent.
On next Monday evening local music lovers as well as the general theatre-going public will have an opportunity of witnessing the modest and blushing debut of the Watertown Symphony Orchestra which has been preparing for this event for the past eighteen months.  In addition to six orchestra numbers, the program includes a cello solo by Herbert Henke, violin solo by Frank Bramer, and two baritone solos by Will Sproesser – however, the program will last no later than 10 o'clock. 
Don't let your neighbor rave about this concert without being able to do a little raving on your own account.  Attend and enjoy yourself and dispel the depressing effect of the war news and war talk.
You will thereby do yourself as well as ourselves a very great kindness.
Watertown Symphony Orchestra.
02 04       Letter from Germany to W. D. Sproesser [1],
   written by the wife of Major General Hermine von Sproesser.
<![if !vml]>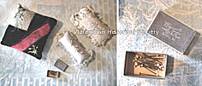 <![endif]>        Unknown date
1919
<![if !vml]>

<![endif]>  
1920
William D Sproesser
1845 - 1920
LAST SAD RITES PERFORMED TODAY FOR W. D. SPROESSER
Body of Prominent Citizen Laid At Rest in Oak Hill Cemetery
Honorary and Active Pallbearers
<![if !vml]>

<![endif]>
The funeral of William D. Sproesser was held from the residence in Clyman Street this afternoon, with burial in Oak Hill Cemetery.  Services at the home were conducted by the Rev. N. C. Daniell of the Congregational Church.  Flags were at half mast on public buildings out of respect to his memory.  A quartette from Milwaukee rendered several selections.  The floral offerings were many and were especially beautiful.
The honorary pallbearers were chosen from the directors of the Merchants National Bank and close friends of the deceased, and the active pallbearers were members of the Mason fraternity as follows:
Honorary – W. A. Buerhaus, L. C. Cordes, C. E. Frey, O. C. Hahn, William Hartig, John Schempf, Ferd. Schmutzler, F. E. Woodard, William F. Voss, Herman Wertheimer, T. A. Wondreyka, C. H. Jacobi, Gus Meissner, Oconomowoc, John G. Conway, Dr. C. J. Habhegger, Dr. William F. Whyte, Madison.
Active – H. G. Davies, Paul H. Behlke, Carl Melzer, William E. Brandt, A. A. Frattinger, George A. Richards. 
The funeral was largely attended.  Many relatives and friends from other cities were present, testifying to the great esteem in which he was held.
<![if !vml]>

<![endif]>
1949
09 18 [article includes pic]
William Sproessers Observe Golden Wedding
An open house Sunday afternoon from to heralded the golden wedding anniversary which Mr. and Mrs. William Sproesser, 907 Clyman Street, are observing today.  Yesterday's affair was held at the Sproesser home and was attended by a host of friends and relatives.
Today the occasion will be marked by a family dinner at at the residence.
Mr. Sproesser and the former Miss Josephine Buchheit were married Sept 19, 1899, the ceremony taking place at the home of the bride's parents, the late Mr. and Mrs. William Buchheit, 605 South Fourth Street.  The Rev. H. S. Foster of St. Paul's Episcopal Church officiated.
Attendants at their wedding 50 years ago were Miss Veina Sleeper and Robert Kniesel.  Ushers were Alexander Buchheit, Edward L. Schempf and Dr. Albert Buchheit.
Mr. Sproesser is president of the W. D. Sproesser Co, one of the city's oldest and better known business establishments.  Over the years he has been actively associated with many of the city's civic and fraternal organizations, and in addition both he and his wife have been prominent in local music circles.
The couple has one daughter, Josephine, who resides with them.
Mr. and Mrs. Sproesser, two of Watertown's most esteemed people, received many messages of congratulations yesterday and today from old friends and acquaintances in this and other cities.
1953
William Sproesser
1871 - 1953
Watertown's "Mr. Music"
<![if !vml]>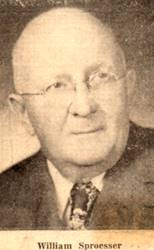 <![endif]>
12 09 1953
THE SPROESSERS:
William David Sproesser, founder, came to Watertown from Philadelphia in 1855
W. D. Sproesser:  The founder's son, headed the concern for many years
William (no middle name) Sproesser:  Since March 7, 1920, the grandson had been head of the company
William Sproesser, 82, president of the W. D. Sproesser Co., and for 65 years a jeweler here, died at his residence, 907 Clyman Street last night.  He had been confined to his home for more than a year by failing health which began soon after he slipped in the hallway of his home and suffered a fractured leg which hospitalized him for a long time.
His death came peacefully last night while he slept.  His wife, the former Josephine Buchheit, has also been confined to the home for a long time due to a heart condition.
Mr. Sproesser was the third member of the family to head the jewelry concern which was founded by his grandfather, William David Sproesser, who came here from Philadelphia in 1855.  The founder's son, W. D. Sproesser, headed the concern for many years and since March 7, 1920, the grandson had been head of the company.
In addition to being the head of the store, Mr. Sproesser, like his grandfather and father before him, was a watchmaker.  He was also for many-years an optometrist.
Unlike his grandfather and father, Mr. Sproesser had no middle name and was baptized simply "William."  But many called him or referred to him as "William D." Sproesser.
He was born in Watertown on July 15, 1871, and was educated in local schools.  He then went to work in his father's store.  He learned the watchmaker's craft from his father.
The W. D. Sproesser Co. was reorganized and incorporated in 1897.  At the time of his death Mr. Sproesser was president, his wife, Josephine B. Sproesser is vice president, and his sister, Miss Minnie Sproesser, is secretary-treasurer.
Mr. and Mrs. Sproesser observed their golden wedding on Sept. 19. 1949.  They had one daughter, Miss Josephine Sproesser, who preceded her father in death.
Mr. Sproesser was Watertown's "Mr. Music."  He was active in music all his life and was among its most staunch supporters in the community.  For years he spent an hour each forenoon on the second floor of his store rehearsing and vocalizing, providing his own accompaniment.  He was an excellent singer and many musical events were held here in which he participated.
Aside from his work as a soloist, he was a member of the old Watertown Elks Quartet, one of the finest male groups which ever sang in this city.  Other members were Dr. O. E. Meyer, the late Max Rohr and the late Edward L. Schempf.
He was also an outstanding chorus director and led many local groups in the more than 50 years he was active in music.  At one time he directed the Watertown Civic Male Chorus, which became an important factor in music locally.  He was also for some years the director of the old 105th Cavalry Band.
With his wife, who was long a talented musician and accomplished pianist, he shared many concert programs here and in other communities.  He retained his interest in music even through his last illness.  Music here has been enriched by the many contributions he and his wife made to it in the years both were actively engaged in promoting good music.
During the years of World War I Mr. Sproesser was in great demand as a song leader for patriotic programs, Liberty Bond rallies and other similar events when music was needed to pep up the spirits of the people on the home front.
He was also for many years the song leader of the Watertown Rotary Club, of which he was a member.  He and John W. Keck worked together in many Rotary musical programs, Mr. Keck being one of Mr. Sproesser's favorite accompanists on such occasions.
The Sproesser Co. had the distinction of being among the very first authorized Victor dealers.  The associations with Victor extended from the time the very first Victor talking machines were manufactured and put on the market.  At one time the company carried the largest line of such gramophones and records in the city.  The store was one of the leading music houses here for many years and dealt in pianos, in addition to its jewelry business.
Under the leadership of Mr. Sproesser the business grew and prospered, enjoying an enviable reputation for quality merchandise and service to the public.
In Watertown's community and cultural life Mr. Sproesser was highly regarded.   He was a man of integrity and good will and in his business dealing was fair and honest. 
Mr. Sproesser became a member of the Watertown Board of Library Commissioners in 1912 and in 1921 succeeded to the presidency of it upon the, death of William E. Voss.  He held the presidency until last month when he was succeeded in the presidency by L. J. Lange.
Mr. Sproesser was also a vice president of the Merchants National Bank for many years and a member of its board of directors.  His father had been one of the founders of the bank and was its first president, serving down to the time of his death in 1920.
Mr. Sproesser was a member of the First Congregational Church, an honorary member of the Rotary Club and a 50-year member of Watertown Lodge No. 49, F. and A. M.  He was also a member of the Watertown Chapter of the Royal Arch Masons, the Watertown Curtain Club and Watertown Lodge No. 666, B.P.O.E.
Funeral on Friday
Surviving are his wife, five sisters and one brother, Miss Minnie Sproesser and Mrs. Max Rohr, Sr., this city; Mrs. Louise Montgomery, Cincinnati, O.; Mrs. W. F. Reinhardt, New York City; Mrs. Helen Hathaway, Washington, D.C., and Col. J. W. Sproesser, this city.  There also are numerous nieces and nephews.
The funeral will take place at 2 p.m. Friday at the Schmutzler Funeral Home.  The Masons and the Rev. Herbert E. Bauck of the Congregational Church will share in the service.  Interment will be in Oak Hill cemetery.
Sproesser Home, 703 Clyman Street
1900
03 20       The yearly social of the Euterpe Club took place Saturday evening at the palatial home of Mr. and Mrs. W. D. Sproesser, 703 Clyman Street, their daughters, the Misses Minnie and Jennie (married Max Rohr, Sr), being the hostesses.  As is the usual custom the club members were privileged to invite two guests each, and a company of about seventy was thus gathered to enjoy the very excellent program arranged for the occasion.  The special feature of which was Miss Marion Jean Craig, the Chicago elocutionist, in dramatic readings.   WR
Cross reference:  This home became part of St. Joseph's Home for the Aged. 
Sproesser Home, 907 Clyman Street
1902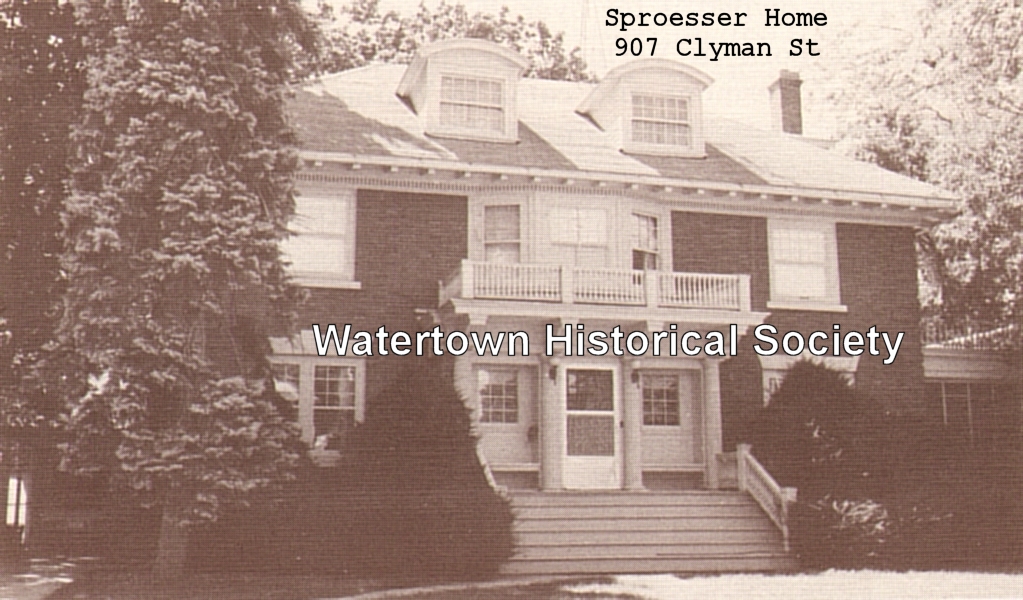 1902
1914
<![if !vml]>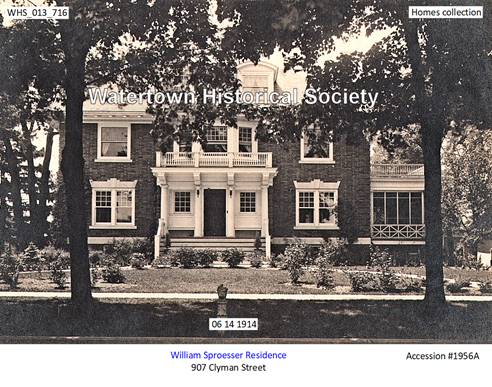 <![endif]>
<![if !vml]>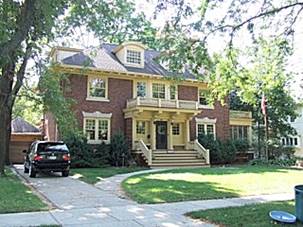 <![endif]>2011
c.1910
SPROESSER JEWELRY STOREFRONT
<![if !vml]>

<![endif]>     assumed
Warren's Jewelry Store
1954
04 16       One of Watertown's oldest business establishments changed hands in 1954.  Announcement was made of the sale of the W. D. Sproesser Company jewelry store located at 111 E Main Street, to Clifford Warren, proprietor of Warren's Jewelry Store, located at 13 Main Street.
The transaction also included the sale of the three story building to Mr. Warren.  Mr. Warren moved to the Sproesser building soon afterwards.
1961
09 16       WARREN-SCHEY MUSIC CO. BEGINS OPERATIONS
The old W. D. Sproesser Co. building at 111 Main Street, which for many years housed on its second floor one of the leading music stores in southern Wisconsin, is again to vibrate to the sound of music when the newly formed Warren-Schey Music Co. begins operations with its grand opening set for Friday and Saturday, Sept. 22 and 23.  Plans for the opening were announced today, following an earlier announcement of the new company's formation.  The Warren-Schey Music Co. has been appointed exclusive dealer in this area for the famed Baldwin pianos and organs.  The Baldwin is among the world's top concert instruments and many famous pianists use it exclusively in their concert appearances.  It is also used by leading symphony orchestras and noted accompanists.  It has a long and distinguished record and the late famed concert pianist, Vladimir de Pachmann would use no other piano in his American tours.
1966
06 29       WARREN-SCHEY PARTNERSHIP TERMINATED
Clete Schey has taken over full control and ownership of the Warren-Schey House of Music.  He and Clifford Warren have terminated their partnership.  The termination of the partnership was by mutual and friendly understanding and will serve the best interests and desires of both parties, a statement issued today said.  
1967
11 04       WARREN'S JEWELRY IMPROVES STORE FRONT
Business Place Dates Back to Founding in 1856
<![if !vml]>

<![endif]>   
Warren's Jewelry at 111 Main Street, is another downtown business place which has improved its store front.  Not only does it permit more attractive window displays, it makes possible a better view of the interior from the street.
Owned and operated by Clifford Warren, Warren's Jewelry dates back to a business that began here in 1856 when the late William D. Sproesser, who arrived from Philadelphia in 1855, founded a jewelry store.  He had been born in Germany in 1812 and by 1842 had been well established in business in Winnenden, Wuertenberg.  He decided to leave Germany for America after the 1848 revolution in which he had played a rather active and dangerous part.
After his death he was succeeded by his son also named William D. Sproesser better known as W. D. Sproesser after whom the company was finally named.  He, in turn, was succeeded in the business by his son, named William Sproesser who died in 1953.  He was also called William D. Sproesser, but, in fact had no middle name so the "D" was not warranted, even though many people called him William D. Sproesser, because the store bore the name of the W. D. Sproesser Co.
Bought Business in 1955
Mr. Warren acquired the Sproesser business by purchase in 1955.  He had purchased the former Wiggenhorn Jewelry Store from Mrs. Lydia Wiggenhorn in 1946 and after acquiring the Sproesser business moved his business to the present location at 111 Main Street.
Besides Mr. and Mrs. Warren the staff consists of Tom Armstrong, Ervin Hosfeld, Marie Bush, Beverly Schmidt, Barbara Van der Hoogt, and Beverly Osterndorf.
Under the late William Sproesser, who was active in music circles, the store became widely known as a music store and the company was the second Wisconsin concern to be granted the Victor dealer franchise, selling both the old Victor Talking Machines and the Victrola as well as the famed Victor Red Seal Records.
The store no longer deals in records or musical instruments, that line having been taken over by the Warren-Schey House of Music in South Second Street.
2015       GENERATION JEWELERS
AN OLD BUSINESS DISAPPEARS
A Watertown business with ties back to 1856 has closed, ending an era of about 160 years.  Generation Jewelers, 111 Main St., closed at the end of the year after a long affiliation in Watertown. 
The business was known as Generation Jewelers and was owned by the Beduze family for a long time.  Bill Beduze purchased the business from Cliff Warren back in 1978 when it was known as Warren's Jewelry.  Bill continued to use the name Warren's Jewelry.  In December of 1995 Bill sold the business to his son, Dave, who later changed the name to Generation Jewelers.
Dave continued to operate the business under the Generation Jewelers name until his unexpected death back on Sept. 1, 2015.  After his death, the family decided to liquidate the assets of the business and it was closed at the end of the year following a large sale, ending that long affiliation with Watertown.
The business was actually started back in 1856 when William D. Sproesser founded the jewelry store.  Sproesser had arrived in Watertown from Philadelphia a year earlier.  Sproesser was a well-known name in business circles. He was born in Germany in 1812 and by 1842 he had a well-established business in Germany.  He decided to leave Germany for America after the 1848 revolution in which he played a very active and dangerous part.
He operated the business until it was purchased by his son, who had the same name of William D. Sproesser.  He operated the business until his death and was succeeded by his son William Sproesser.
The business continued in the Sproesser family until 1955 when Clifford Warren purchased it.
Warren had purchased the Wiggenhorn Jewelry Store from Mrs. Lydia Wiggenhorn in 1946 and then after he purchased the Sproesser store, Warren combined the two businesses into one and located the new and expanded store at the 111 E. Main St. location which was the location of the store until the very end a few days ago.
By the early 1960s the music business was split off from the jewelry business and became a new entity known as Warren-Schey House of Music that was located on the second floor of the jewelry business and later moved to its own location on South Second Street.    WDTimes story  
Cross References and Footnotes:
Sproesser, William D, M/M 1930s, Watertown Male Chorus members
Sproesser, William D 1917, Watertown library citation
Sproesser, William D Civil War veteran, GAR Personal War Sketch, 1890
Sproesser, William D Forty-Eighter, watchmaker and jeweler
W D Sproesser Co., Jewelers and Music Dealers, Sewing pins 
[1] Letter from Germany to W. D. Sproesser.
Watertown Gazette, 02 04 1915
Editor Gazette: Please find here with a letter written by the wife of Major General Hermine von Sproesser, which I think will be of interest to the majority of your readers, not because of its news value, but for another evidence of that lofty patriotism and devotion to the fatherland with which the women of Germany, from the lowest to the highest in rank, appear to be imbued. I am indebted to Prof. C. F. Viebahn for the translation.
W. D. Sproesser.
Stuttgart, Jan. 3, 1915.
My Dear Cousin:
Although I felt that your thoughts would often be with us in anxiety and doubt, to my regret I did not manage to write to you that long intended letter.  I cannot ascribe my neglect entirely to the lack of time, but also to the feeling that we have been shamefully maligned, and that one ought to be too proud to exculpate oneself from slander.  It is better to pursue one's course and let time reveal the truth. 
Now, there arrived your precious letter, with enclosure, for which many thanks in the name of the Red Cross; also the marriage notice of your dear daughter Elsa.  My heartiest congratulations for you and your dear wife, as well as the happy young couple.  Your family is constantly growing in size, and at the same time in happiness and well being.  The very thought of this is a great pleasure.
That all these hopeful young people entertain such warm feelings for us makes me very happy.  My saying "me" conveys to you the fact that I have been alone since the beginning of September.  My husband is in the Vosges; but I have, thank God, always good reports, though narrow escapes by him have not been lacking.  One dares not think of what the coming days will bring.  We must all be steadfast and trust in God.
You could hardly believe that we are involved in such a terrible war if you saw our beautiful Stuttgart, lying so happily, day after day, in the most glorious sunshine; and everything goes on its accustomed course.  The appearance of the streets is unchanged.  Only here and there we meet a wounded soldier who needs the support of his cane or one who cheerfully passes along with his arm in a sling.  But we all work and help with all our strength and hope that the war may be a process of purification for every one.  We are going to strive for more general efficiency and for all the virtues that make a people great. 
We witness inspiring examples of heroic sacrifices and the deepest sorrows patiently borne so that no one can escape the feeling of living in an extraordinary and great time.  To experience a world war, this great reckoning of all the nations, each of which feels that the limit has been reached.  And do we know whether this conflagration will not spread still further? 
I myself belong to those that are entirely for peace.  For me a war is such a bitter calamity that I cannot express it.  I would save every creature from suffering.  But it is fortunate that the whole world is not made up of milksops, that there are men and heroes for the hour of danger.
Not until the first of August did I return from Switzerland, where for ten days I stayed with a friend in the mountains hoping to enjoy glorious nature for a few weeks.  A telegram called us home.  In Chur, and in the whole of Switzerland the landstrum had already been called to arms.  Every body was excited.  The trains were terribly crowded.  Total strangers accosted one another.  All were brothers.  Still more crowded was the steamer on Lake Constance.  In Friedrichshafen we learned of the mobilization.  Notwithstanding the immense multitude that were being transported, everywhere there was discretion and prudence, quiet and order. 
And so it was from the next morning on as the troops were transported, everywhere enthusiasm and great impressiveness.  After a few days we already had a million volunteers for the war.  I cannot tell you everything; but you would have been deeply moved to have seen our people, and proud of belonging to them by birth.  What I am personally so much ashamed of, and so it is with innumerable others, is that we at home here have everything, and if our conscience permitted, we could have every comfort; while abroad in the field the best of our nation and our hopeful youths have to suffer the greatest privations and hardships, and the peril of death.
I send you at the same time with this letter a book, as printed matter, and I shall be anxious to learn whether it will reach you.
We have made Christmas for our brothers in the field as comfortable and pleasant as possible.  Each received his package on which the name of the sender was plainly given, but chance determined who the recipient would be.  The letters of acknowledgment that were received caused much joy.
What is very difficult for me is to do alone everything that must be done; and yet I could not go to my brother, for the house must always be ready to receive my husband should he return wounded — as has already happened to both Sproesser cousins, who, after having hardly recovered, again hastened to the front.  Both have served with much distinction.
Delight me soon again with a few lines; I too will write every few weeks.  Many cordial greetings for you and your loved ones, from your devoted cousin.
Hermine von Sproesser.

History of Watertown, Wisconsin