website  watertownhistory.org
    ebook  History of Watertown, Wisconsin
Euterpe club
Euterpe: the Greek Muse of music
1896       FOUNDING OF
1900
03 20       The yearly social of the Euterpe club took place Saturday evening at the palatial home of Mr. and Mrs. W. D. Sproesser, 703 Clyman Street, their daughters, the Misses Minnie and Jennie, being the hostesses.  As is the usual custom the club members were privileged to invite two guests each, and a company of about seventy was thus gathered to enjoy the very excellent program arranged for the occasion.  The special feature of which was Miss Marion Jean Craig, the Chicago elocutionist, in dramatic readings.   WR
1909
01 15       EUTERPE CLUB DONATION FOR LIBRARY GROUNDS
The Euterpe club has donated $15.00 towards fixing up the grounds in the rear of the library building. This is very commendable and it is hoped other generously inclined clubs and residents of Watertown will quickly follow suit for the Library Board would like to beautify the park in the rear of the public library as early as possible in the spring.    WG
1914       STIMULATE MUSICAL TALENT
03 28       The Euterpe club was entertained at the home of Mrs. W. C. Stone last Saturday afternoon.  The following program was rendered:  A Summary of Musical History, Mrs. W. C. Stone; Descriptive Analyses of Musical Numbers, Miss Elizabeth Ernst.
05 07       It has long been the purpose of the Euterpe club to stimulate musical interest in Watertown.  Other cities are doing much to supply the demands of those who realize the need of good music, and to create in others a longing for the best that life has to offer us.  The Euterpe club is now going to try and do for Watertown, if only in a small way, what other great musicians and organizations are doing for the world in a big way.  That is, to create a desire and understanding of artistic production.  For music is an important element in education, not merely a pleasant pastime.
The next season's recitals will take place in the Masonic Temple, every alternate Saturday, dating from October 3, from 3 to 5 p. m., to April 3, inclusive.
There has been enrolled twenty five active members, eight student members and forty five associate members.  They invite any musical-loving citizen to become an associate member for the nominal sum of two dollars.  In addition to regular recitals they expect to give Watertown one big musical annually by outside artists.  It is the sole aim and purpose of the Euterpe club to be in every sense missionary, to help those who unaided could not see the depth and beauty in music.
The Euterpe CLUB gives music its serious attention, and gives most careful study to music's inner and significant side, not its superficial side.
On Thursday, May 14, the club will have an amateur concert that will demonstrate that they are qualified to undertake this big movement of musical evangelism in Watertown.  Help to make Watertown a musical city.  WDT
11 26       PUBLIC LIBRARY NOTES
The Euterpe club of Watertown has helped the library purchase "The American History and Encyclopedia of Music."  The set covers twelve volumes in all — a musical dictionary, instruments, operas, oratorios and masses, American music, foreign music, essentials, theory, musical biographies and a complete index.  The club has much use for information on all musical subjects and the use of the encyclopedia will not only be of service to the club, but to the general public as well.  Coming with the set are folios of music scores.  The separate sheets of music may be borrowed as books from the library.  The reading room will be open Thanksgiving afternoon from 2 to 5 o'clock but no books will be circulated that day.  The library is closed one day each year in order that the floors may be oiled.  This will be done next Saturday, November 28, and books due that day will be due Monday.   WG
1935
04 05       MUSIC EXHIBIT IS PLANNED IN CITY
A sectional meeting of the Watertown Historical Society was held last night to determine plans for an exhibition on Watertown's musical history and it was decided to sponsor such an exhibit at the public library the latter part of May.  The society will work in conjunction with the Euterpe club and it is planned to assemble data and exhibition pieces for the display.
Mrs. R. C. Guenther, president of the Euterpe club, has accepted the chairmanship of the committee and plans to release publicity data of music in Watertown, its history and background, prior to the opening of the exhibit.
05 17       MUSIC EXHIBIT TO OPEN HERE MONDAY
<![if !vml]>

<![endif]>A music exhibit, featuring Watertown compositions and mementoes of the city's musical history, will open Monday at the public library and will be open daily until June 1.
The exhibit is being sponsored by the Watertown Historical Society and the Euterpe club is cooperating in the venture.
H. D. Gaebler is chairman of the Euterpe division.
Mr. Gaebler said today that the committee would like to get copies of any composition by Watertown musicians and if any residents are in possession of any they will be conferring a great favor by loaning them for the exhibit.
Anyone having such material is asked to communicate with Mr. Gaebler.
05 24       EUTERPE CLUB'S VITAL PART IN MUSIC SHOWN AT EXHIBIT
[1935 article]  Persons who visit the music exhibit, now in progress at the public library, will note with interest the share which the Euterpe club has had in the city's development of music, because there has been no single agency in the community which has played so important a part in this art.
Organized in 1896, the club has played its part in promoting fine music in the city and the exhibit, though as complete as possible, gives only a small measure of the work which this group of women has accomplished.
The Euterpe club has a special section in the exhibit and those who visit the display are invited to study the items at their convenience. They will find it worthwhile.
First Officers
It was on November 14, 1896 that a small group of women met to consider the question of organizing a society to promote the art of music. The organization meeting proper took place on November 21 of that year when Mrs. Edward Racek was named the first president. Mrs. E. J. Brandt was elected vice president and Miss Laura Barber was chosen secretary and treasurer.
Among the women who are credited with being influential in bringing the organization about one finds such names as Mrs. Dura Marshall Woodard, Miss Laura Barber, Mrs. William C. Stone, Mrs. C. F. Viebahn, Miss Elizabeth Green, Mrs. Edward Racek, Mrs. E. J. Brandt, Mrs. Ida L. Eberle, Miss Anna B. Whiting and Miss Edith M. Brown.
Purpose Stated
When the club was organized it had a definite purpose in mind and this was clearly stated at the time. According to the records, which are still in possession of the society, it was set forth that "This society shall be known as the Euterpe club and its purpose shall be to develop the musical talent of its members and to stimulate the musical interests of the city."
How carefully this aim has been adhered to is evident when one scans the exhibit at the library. There are the year books, setting forth the annual programs of the organization and listing the officers who have served the society from its inception down to the present time. There are any number of programs of musical events which the society has sponsored and there are some photographs which will bring back vivid memories to many of the older people who view them.
Artists Sponsored
While the chief aim of the organization in the many years it has functioned has been to promote local talent and give local musicians a chance to appear on programs, the club has brought countless numbers of distinguished musicians to its meetings.  In addition it has sponsored a number of concerts by artists whose names loom large in the contemporary world of music. Among these have been Mischa Elman, the celebrated violinist; Arthur Shattuck, the eminent pianist; the Little symphony orchestra of Chicago, directed by George Daseh; the Dvorak trio, the Duncan sisters, dancers; Howard O. Stein, Milwaukee pianist; Alfred Hiles Bergin, Milwaukee vocalist and director; Raymond O'Brien, distinguished baritone, and many others too numerous to list here.
One Inactive Season
The Euterpe club has been active every season, with the exception of one when there was a temporary lull to consider plans for the reorganization. This was accomplished under the leadership of Mrs. Sara J. Woodard, who now resides in New York, but who is still loyal to Watertown and all that stands for its best interests. Mrs. Woodard led the movement at the time of the revival and in the years that the society has been in existence it has been headed by many Watertown women, all devoted to its cause and all loyal workers in the field to promote good music in the community.
At present Mrs. R. C. Guenther is president of the organization and under her leadership the club has retained its place as a potent force in this community. That it has earned a rightful place in Watertown's musical history is not to be disputed and that it has done much good for the cause of music locally goes without saying. That it may continue to function and that it may live for many more years and continue to be a power in the musical life of Watertown is the wish of all who are familiar with its past record and its aims and purposes. 
1941       PRO ARTE STRING QUARTET played in Watertown / TIME magazine article
01 27       Strings in Watertown.  Last week Watertown made news:  it had its best, and almost its only, high-brow concerts since Fritz Kreisler played there 20 years ago.
From Chicago, through miles of sleet and snow, drove Manager Leon Perssion and one of the finest string quartets in the world — the Pro Arte.  This quartet still calls Brussels its home, but only in a far, faint voice.  Its members: Spanish First Fiddler Antonio Brosa, 44; Belgian Second Fiddler Laurent Halleux, 43; Belgian Violist Germain Prévost, 49; British Cellist Warwick Evans, 56.  It took the Pro Arte men four hours to plow from Chicago to Watertown, and once, in a bad skid, M. Prevost's $5,000 viola nearly went through the window.  By the time the quartet reached Watertown High School, 700 youngsters, who had stayed after school to hear them, had begun to fidget.  Said a 14-year-old to a friend: "Are you gonna stay for this?  I am. I'm the intellectual type."
The audience forgot its fidgets when the quartet began playing Mozart.  Twenty youths walked out between movements — they were newsboys, already late for their routes.  The next piece, Brahms, was harder going for the kids, but they stood it.  A Haydn quartet recaptured their interest, earned the Pro Arte three noisy curtain calls.
Afterwards Floyd Bordsen, the high school's young music director, took the quartet to his home, poured them Scotch & soda while Mrs. Bordsen got dinner ready.  From the kitchen she could hear Violist Prévost pick up her own viola, try a few passages on it.
After dinner the quartet went on to Northwestern College, where nearly all the 150 students and 550 people from the town and countryside sat in the gym, ranged about the basketball court.  In evening dress the Pro Arte men wound up a staircase from the dressing rooms, bowed gravely, sat down on a platform under a basketball goal.  They played Haydn, Beethoven, Brahms.  They were applauded con brio.  As the audience filed out, many were heard to praise the Pro Arte Quartet, and to vow that the 50¢ admission was cheap:  the sponsors (the college and Watertown's Euterpe club) could easily have charged $1.50.  Next day, Newsman Clarence Wetter said in the Watertown Times: "It was an artistic triumph."
The Pro Arte's standard fee is $500. For playing in Watertown it got nothing. The Watertown sponsors put up $250, which the University of Wisconsin collected. For this year the university pays the quartet a salary ($10,000, contributed by four Wisconsin friends and alumni—among them, Joe Davies). The Pro Arte's duties are to teach university students, coach the string section of the university symphony, give 35 concerts. The double-header in Watertown was the first of a small-town series. Wisconsin prices the quartet at $500, but will take less.
CROSS REFERENCE:  The Pro Arte String Quartet was founded in Belgium in 1912 and transferred permanently to Madison in 1941.  Their first visit to Madison was in 1938.  Two years later, the musicians were stranded in Madison by the outbreak of World War II and accepted a residency at the University of Wisconsin–Madison, the first such residency in a major American university.  The Pro Arte became the faculty string quartet of the University of Wisconsin–Madison in the late 1950s, an appointment that continues till this day.
1962
09 10       CANDLELIGHT MUSICALE
Watertown's Octagon House last evening relived a page from its heyday when it was a center of the social life of the community.  The occasion was a candlelight musicale which was presented under auspices of the Watertown Euterpe Music club.  The Watertown Historical Society, which owns and maintains the old 57 room mansion, threw open its doors to make the musical event possible.  It was a fine gesture, for the musicale brought together a large group of people for both concerts, one at 5:30 p.m. and the other at 8 p.m., to enjoy music in a setting that is authentic of Watertown's past.  Lighted by candles for the first concert, the setting was further enhanced at the 8 p.m. performance by the addition of old kerosene lamps which cast their light rays and caused shadows to dance on the walls and flicker on the ceilings, just as they did in the era when John Richards and his wife entertained guests.   WDT
1991
11 30       CONCERT AT MARQUARDT MEMORIAL MANOR
The holiday season began Monday evening for the Euterpe music club Chorus as they performed a concert in the Karl Fischer Activity Center and Bethany Chapel at Marquardt Memorial Manor.  The group is under the direction of Joyce Hughes.  Members of the chorus include Anne D'Olivo, Barb Fischer, Ruth Jones, Marjorie Lauersdorf, Jeannine Mallach, Ellen Roehl, Corrine Thompson, Donna Zinke, Lorene Bloomer, Donna Borchardt, Ruth Christensen, Elaine Kirst, Cathy Kwapil, Pat Neuberger, Janet Radloff, Judy Zillmer, Elaine Zimmerman, Grace Bentzin, Ruth Borbe, Theres Bradisse, Bonita Friedl, Karren Franz, Carol Grunewald, Vicki Larsen, Maggie Marquis and Sandy Rullman.  Ruth Christensen is the accompanist.   WDT
2004
08 30       DON CHRISTENSEN, DIRECTOR
Don Christensen, retired choral director from Watertown High School, will direct the Euterpe Women's Chorus for this year's Christmas season.
"I'm excited about this new venture and in working with members of Euterpe Women's Chorus," Christensen said.  "I have found very exciting and challenging pieces for the Christmas season, and am anxious to work with these experienced singers."
Founded by director Joyce Hughes, the chorus has been in existence for 35 years, and is an arm of the Euterpe Music Club.  The club was founded in 1896 and has been in continuous operation since that time.
2006
03 22       FIVE EUTERPE SCHOLARSHIP WINNERS
June Stuebs-Prochaska, Justin chairwoman, will introduce the five Euterpe scholarship winners at a meeting on Monday at 7:30 p.m. at the home of Mary Reiss, W706 County Highway CW.  Scholarship winners include Justin Pratt, 1216 Sand St., son of Michael and Jackie Pratt; Peter Burleson, 230 Elizabeth St., son of Polk and Elizabeth Burleson; Levi Henkel, 1025 Kiewert St., son of Larry and Linda Henkel; Erin Edington, 620 Deer Trail, daughter of William and Juanita Edington; and Lauren Zelinski, W2156 Gary Lane, Ixonia, daughter of Todd and Mary Zelinski.   WDT
2007
05 18       RECOGNITION DINNER
The Euterpe music club closed its 2006-07 season with a dinner meeting at The Market.  Past presidents were recognized and each was presented a long-stemmed rose by the current president, Becky Palmer.  Roses were given to Grace Bentzin, Joanne Dommer, Tracy Gautsch, Maggie Marquis, Judy Zillmer, Joyce Hughes, Mary Ellen Christensen, Elaine Kirst and Palmer. Marquis installed the officers for the 2007-08 season. They include Rebecca Palmer, president; Carol Senn-Ruffin, vice president; Beverly Hawkins, secretary; and Diane Krebs, treasurer.   WDT
2008
03 31       SCHOLARSHIP WINNERS
Euterpe Music Club scholarship winners will perform during a meeting on Monday, April 7, at 7:30 p.m. in St. Paul's Episcopal Church, 413 S. Second St.  The winners are Jackson Palmer, a senior at Watertown High School and son of Gary and Rebekah Palmer; Moses Balian, a junior at Watertown High School and son of Japheth and Karen Balian; Jonathan Means, a junior at Watertown High School and son of Ed and Mary Means; Jessica Hoof, a sophomore at Watertown High School and daughter of Bill and Eileen Hoof; Philip Warnecke, a freshman at Luther Preparatory School in Watertown and son of the Rev. Rodney and Mary Warnecke; and Emmit Larsen, a junior at Watertown High School and son of Lisa and Kurt Larsen.
11 29       JONATHAN MEANS AWARDED FIRST PLACE AT PIANO FESTIVAL
Jonathan Means, Watertown High School senior, was awarded first place at the annual Piano Festival at Cardinal Stritch University in Milwaukee on Saturday.  He competed against 12 other high school seniors and received a perfect score from the judges.  The first place award is a scholarship of $15,900 renewable annually if Means chooses to attend Cardinal Stritch University.  He has four weeks from the date of the festival to make a decision.  Means, the son of Ed and Mary Means, has been studying piano since kindergarten.  His teachers include Lorraine Endres and the late Susan Heninger, both local teachers.
11 30       EUTERPE MUSIC CLUB CHORUS MEMBERS
The Euterpe Music Club chorus members have been rehearsing since August for their Christmas concerts.  Members of the chorus include Juliet Slavens, Juanita Edington, Janet Krause, Barb Fischer, Kathy Kwapil, Brenda Robillard, Donna Borchardt, Lorene Bloomer, Elaine Kirst, Ruth Borbe, Judy Zillmer, Joan Kentopp, Grace Bentzin and Diane Lund. The group is directed by Vicki Larsen, assisted by Judy Zillmer. Carol Erickson is the accompanist.
Cross References:
                1921, Armistice celebration participant
<![if !vml]>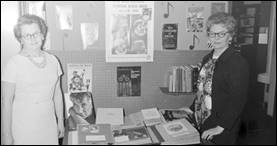 <![endif]>
History of Watertown, Wisconsin