website  watertownhistory.org
    ebook  History of Watertown, Wisconsin
Drs. Carl R. Feld, Sr. & Jr.
1858 – 1914
<![if !vml]>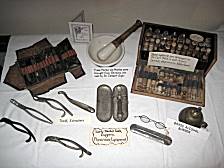 <![endif]>
Watertown Historical Society Collection
Tooth extractors/early dental tools, cuppers,
physician tools, vials belonging to Drs. Carl Feld
and Clement Eger, early Watertown physicians.
1866-67   Feld, Carl, 1866-67, Watertown City Directory, pg 22.  (may not be Dr. Feld)
1886
Carl Feld, 1886, Justice of the Peace, Mention of  (may not be Dr. Feld)
1895
---           Carl R Feld, M.D., 1895 Commissioner of Public Health; Report on public health
06 05       MARRIAGE TO MISS BERTHA LOTZ
Article on wedding of Dr. Feld and Miss Bertha Lotz in Chicago.  Watertown Republican
1898      12 OUTHOUSES ALONG ONE BLOCK OF DOWNTOWN
12 21       To the Honorable, the Mayor and Common Council of the city of Watertown.
Gentlemen: 
Complying with your resolution of October 4, 1898, I have the honor to submit the result of my examination of the pubic alley running from First street to Second street in Block 11 in the First ward [*] and all the premises abutting thereon . . . Said alley is lined on both sides with a row of twelve outhouses, the vaults of some of which have not been emptied and cleaned for many years.  Such privy vaults, in my opinion, constitute a public nuisance endangering the public health . . . I would suggest that an ordinance be passed requiring all premises facing on Main Street within the densely populated district of said thoroughfare to be connected with the city sewer . . . Privies should be absolutely abolished unless they are placed far from any well and made perfectly water-tight.  Instead of a privy vault, it is better to use dry earth closets where connection with sewers and waterworks cannot be made . . .
Respectfully submitted,
Carl R. Feld M.D.
Commissioner Public Health.     WR
[*] Alley behind the south side of the 100 block of East Main.
<![if !vml]>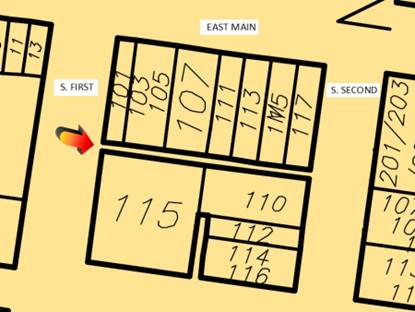 <![endif]>              <![if !vml]>

<![endif]>
1899
04 05       MRS. FELD ENCHANTED THE AUDIENCE . . .
The concert Monday evening at Concordia Opera House given under the auspices of the Concordia Society, was one of the most remarkable musical entertainments ever given in our city.  And with such distinguished and accomplished artists as Messrs. B. Steindel, E. Bare, J. G. Beyer and Mrs. C. R. Feld, how could it be otherwise?  . . . Mrs. Feld enchanted the audience with her charming vocalization of "One Spring Morning," which necessitated a response to an encore.  Mr. Beyer, the tenor, rendered two waltz songs, which were well received . . .
Mrs. Feld is especially to be congratulated on the great success scored by her.  Her stage presence was a perfect picture of composure, and her beautiful voice, while not of a strong or robust character, is as musical and enchanting as is that of the sweet bird warbler.  Her work at the piano in the trios was also a marvel of correct and exquisite finish, and greatly delighted her audience with its superior excellence.  When it is taken into consideration that Mrs. Feld sung two numbers, took part in two trios, one in German and one in English, and responded to an encore in the second number, besides her work at the piano, it will be seen that her labors were necessarily severe and exacting.  Our music-loving people are also under obligations to this lady for securing the talented gentlemen, Messrs. Steindel, Bare and Beyer.   WR
06 13       PRIVY VAULTS FACING OUR MAIN STREET
To the most honorable Mayor and Common Council of the City of Watertown:
Sometime last fall I submitted to your honorable body a report recommending that all privy vaults belonging to property facing our Main Street be abolished, and that owners of such premises be obliged to connect their closets with the public sewer.  This report was referred to the Board of Public Works, but no action was taken on the same.  It is unnecessary, therefore, to repeat my message on that subject.
I would recommend that you request the Board of Public Works to take speedy action on said matter.  Now, before street paving has proceeded too far, is the proper time to make this necessary change.  Simply requiring privy vaults to be cleaned is not sufficient.  Where this has been done heretofore the outhouses, in many instances, were simply removed from one place to another and thus many back yards have become honeycombed with filthy privy vaults, endangering the public health.
An inspection of alleys and back yards are needed to clean up, we can expect that the police force of Watertown be instructed to assist, if need be, in carrying out my orders, and also to keep watch over alleys and back yards in the more thickly populated districts and to call the attention of property owners and occupants to existing violations of health department orders wherever we may find them.
As long as privy vaults are tolerated in such densely populated blocks as those facing on a portion of Main Street a radical change for the better cannot be hoped for, as they constitute the chief danger to health.
Dr. Feld, Health Officer
1899
MRS. CARL FELD, HARVEST CARNIVAL FLOWERED CARRIAGE
<![if !vml]>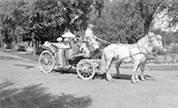 <![endif]>     <![if !vml]>

<![endif]>  
Harvest Carnival flowered carriage, Sept., 1899.  Mrs. W. D. Sproesser with Mrs. Dr. Carl Feld and Mrs. Frank Woodard. 
1907
Feld, C R, Dr        1907, physician of first hospital.
1908
Apollo Musical Club, Feld, C R, Dr, Mrs
Participant, Board of Education event, Feld, C R, Dr, Mrs
1909
Joseph Terbrueggen 70th birthday, Feld, C R, Dr
First Congregational Church, cornerstone laying, Feld, C R, Dr, Mrs
Participant in program honoring librarian MacPherson, Feld, C R, Dr, Mrs
Music at Congregational Church, Feld, C R, Dr, Mrs
Congregational Church dedication ceremony, Feld, C R, Dr
1910
1913
Carl R Feld, 1913, 200 N Second, physician
1914
05 15       DEATH Of Dr. CARL R. FELD
It grieves us this week to be called upon to announce the death of our esteemed friend and distinguished fellow citizen, Dr. Carl Robert Feld, which took place at 1 o'clock on Tuesday morning, May 12, 1914, at his home, 200 North Second Street.
Dr. Feld's death comes as a great surprise to most of our people.  For the past year he had been failing in health, but he kept his illness closely guarded, and even his wife knew not of its seriousness.  He had been a victim of heart trouble and diabetes, which finally ended in death.  On Sunday, May 3rd, he was quite ill and remained in bed all day Monday, but on Tuesday he looked after his usual duties and attended the meeting of the Board of Education on Wednesday evening, of which he was clerk; on Friday morning he attended several of his patients, and then went to bed with a high fever; Monday afternoon he became unconscious and remained so till he died.
Dr. Feld was born in Watertown, December 14, 1858, and resided here all his life, excepting the years he was attending school out of the city, and a few years that the family resided in Milwaukee, removing from here to that city and back again while the doctor was a child.  In his early manhood Dr. Feld studied law at the Evanston, Ill., school, now a part of Northwestern University, from which he graduated with high honors, and returned to Watertown to practice law.  He wanted to study medicine, but his father objected and induced him to take up law.
In later years, however, his father's objections were withdrawn, and Dr. Feld took up the study of medicine at Rush Medical College, Chicago, graduating with the class of 1891.  Shortly after he began the practice of medicine and also for a time he was a member of the drug firm of Raue & Feld. 
In 1895 he was married to Miss Bertha Lotz of Chicago, who survives him, she being his only surviving relative. 
He was one of Watertown's most eminent physicians, and a man of a splendid education and character.  His death was a great shock to our people, for he was always a leader in all that makes for the best interests of our city and its development.  Of quiet, unobtrusive manner, he was a man of acknowledged foresight and force, conciliatory in temperament, in character a man of integrity, and strongly disposed toward justice and good will to his fellow man.  He was the embodiment of all the highest qualities that can be found in human nature.  Of course he had his faults, but his virtues far outweighed all imperfections. There never beat in any human bosom a braver, more unselfish and generous heart than that of Dr. Feld.
For 19 long years the editor served in the Watertown Board of Education with Dr. Feld as Clerk, and knew him intimately as a business man, as a member of the same political party and as a neighbor and a friend, and at all times found him to be ever mindful of the precept:
"Do ye unto others as ye would have others do unto you."
Aside from serving as Clerk of the Board of Education since February, 1894, Dr. Feld has frequently been honored with other positions of honor and trust.  In 1892 he was a delegate to the Democratic National Convention in Chicago which nominated the late Grover Cleveland for president; he has frequently been a delegate to state, county and city democratic conventions, was elected as a democrat to the state legislature in 1885, 1887 and 1889, he served as jury commissioner of this county up to the time of his death for 15 years, was the present health commissioner of Watertown and served for nearly 20 successive years excepting one term; was health commissioner of the town of Lebanon and was a member of the county medical society since its organization, the duties of all of which positions he fulfilled with eminent success and honor. 
His bereaved wife in her sad affliction has the heartfelt and sincere sympathy of all the people of Watertown. The funeral of the deceased was held this afternoon at 3 o'clock from his late home, H. C. Rehm, former pastor of the Congregational Church, conducting the services.  The interment was in Oak Hill Cemetery. 
The pallbearers were: Julius Wiggenhorn, Max Gaebler, Wm. Sproesser, Chas. Feisst, Wm. F. Voss and C. H. Jacobi.  The honorary pallbearers were: W. D. Sproesser, Otto J. Kirchensteiner, James W. Moore, Chas. E. Frey, John Schempf, Herman Grube, Fred Miller, O. F. Viebahn, W. A. Beurhaus, Dr. C. J. Habhegger, Wm. H. Rohr and Dr. Hoermann.   Watertown Gazette, 05 14 1914
1914      Mrs. Feld Defends Husband's Memory.
06 04       On reading the article in The Times of last Saturday, May 30, headed "New Policy by Health Officer," I feel called upon to answer certain statements which reflect upon the memory of my departed husband, Dr. Carl R. Feld.
The policy on quarantine printed in the Times is not new.  The same was rigidly enforced during Dr. Feld's term of office.  No one could have been more conscientious in the fulfillment of his duties as health commissioner, nor more tactful in his dealings with all classes of citizens than Dr. Feld.  He merely avoided publicity.
Every family that was quarantined and every physician who reported cases of contagious disease will, I am sure, uphold me when I state that Dr. Feld kept families quarantined much longer than they or their physicians expected them to be and that he never allowed any member of the family living at home while the house was quarantined, to attend church, school or moving picture shows.
Watertown has for years been one of the healthiest cities of its size in the state of Wisconsin.  Dr. Feld was convinced that his rigid enforcement of the rules of the State Board of Health made the city what it has been and it was always a satisfaction to him to know this.
The superintendent and principals of our schools and managers of moving picture shows can testify that Dr. Feld never shirked his duty in any office he ever held but went about his work quietly and without ostentation.
I owe this publication to the memory of a good man who can no longer defend himself.
Mrs. Feld.     WG
Cross References:
| | |
| --- | --- |
| Feld, Carl R, Jr, Dr | Forty-Eighters: Builders of Watertown,  pg 46 |
| Feld, Carl R, Sr, Dr | Forty-Eighters: Builders of Watertown,  pg 46 |
| Feld, Carl Sr | |

History of Watertown, Wisconsin