website  watertownhistory.org
    ebook  History of Watertown, Wisconsin
St. Joseph's Home
705 Clyman
<![if !supportLineBreakNewLine]>
<![endif]>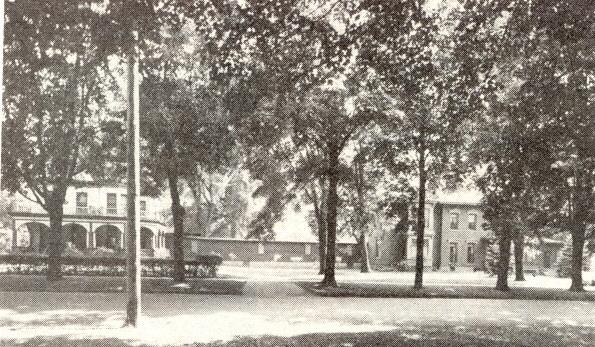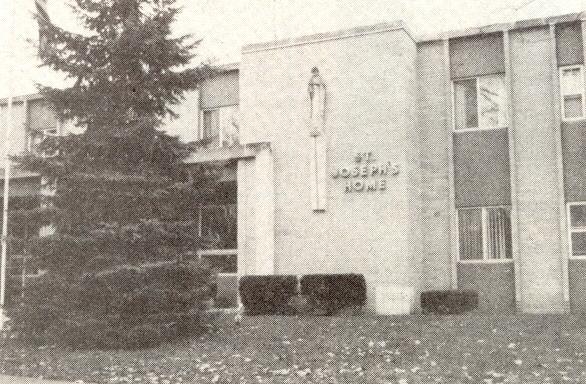 The old St. Joe's Home     The new St. Joe's Home
CLICK UPON IMAGE TO ENLARGE
---
1942
Nov        OPENING OF
St. Joseph's was opened in November of 1942 in a home formerly owned by Dr. Adolf Wallner, once was the home of William D. Sproesser.
1953
04 30       DEDICATION OF LATEST UNIT
The latest unit to be added to St. Joseph's Home for the Aged, Clyman Street, will be dedicated on Sunday afternoon at 3 o clock, with Bishop William P. O'Connor of the Madison Diocese officiating.  The public is invited to the dedication service and also is invited to inspect the new building from 10 a m up to 2:45 p.m.  The new unit, which is 33 feet wide and 11 feet long, is constructed between the original unit and the second.  The original unit, acquired by the Sisters of Charity from Dr. A. A. Wallner in February of 1952, once was the home of the late William D. Sproesser and the second unit, which for many years was owned by Jacob Jossi, was acquired from George Fischer in July of 1945.  The Resnick home, located to the south of the former Fischer home, was acquired several years ago, and is used as the residence of novitiates.  Construction of the latest unit started a year ago.  The cost, originally figured at $100,000, has run about 50 per cent more, the Sisters report.
05 06       MORE ON DEDICATION OF LATEST UNIT
Yesterday was a big day for the Sisters of Charity who operate St. Joseph's Home for the Aged in Clyman Street.  It was another milestone in the brief 10-year history of this Watertown institution.  A new addition, a structure costing well over $100,000 was dedicated.  The dedication program was held in the afternoon with the Rt. Rev. William P. O'Connor, Madison, bishop of the Madison diocese, officiating at the dedication service.  Bishop O'Connor praised the Sisters for the outstanding work of charity they are performing in Watertown.  "The erection of this building really is a great accomplishment," the Bishop said.  "Great sacrifices have been made to make this new building possible, and the Home possible."
12 08       GIFTS FROM WATERTOWN VOCATIONAL SCHOOL HOMEMAKER'S CLUB
<![if !vml]>

<![endif]>          <![if !vml]>

<![endif]>
c.1955
703 CLYMAN & 1007 S SEVENTH (approx)
<![if !vml]>

<![endif]>    
1956
09 27       JOE DAVIES DONATION
Joseph E. Davies, Watertown-born former U.S. ambassador to Russia, has sent a check to the sisters who operate St. Joseph's Home for the Aged in Watertown.  Mrs. Bertha Voss, a resident at the home, said she read an article in the Times some months ago about Mr. Davies' plans to turn over his Washington estate to the Federal government as an official residence for vice presidents and that this inspired her to write to Mr. Davies.  She suggested that if he wished he could do some good by helping the "good sisters who operate this home in Watertown."  He wrote back asking to whom he has to make out the check and Mrs. Voss replied to his inquiry and today the check was received.      WDT
1958
01 09       DEATH OF FOUNDER AND FORMER SISTER SUPERIOR
Funeral services will be conducted Saturday morning at 9:30 o'clock in St. Henry's Catholic Church for Sister Valesia, C.S.V.P., founder and former sister superior of St. Joseph's Home for the Aged in Clyman Street.  She died yesterday in St. Mary's Hospital following a protracted illness.  The funeral services will be conducted by fathers of the Redemptorist Order of Lac LaBelle, Oconomowoc.    WDT
1963
03 30       LARGE NEW ADDITION
<![if !vml]>

<![endif]>    
Later became The Landmark Building, Independent Senior Apartments 
Construction of a large new unit at St. Joseph's Home in Clyman Street, to run from South Seventh to South Eighth Streets, announced some time ago will run to an estimate of $225,000.  The project is the first major construction listed for the city so far this year.  It helped send the total of new building permits issued in March to $283,024.  The Maas Bros. Construction Co. of Watertown holds the general contract.  Also included in the March permits are four new residences, bringing the total of new homes here so far this year to eight.  Last year in the comparable period only three new homes had been approved.    WDT
Cross reference note:  House was moved from S. Eighth/Clyman streets to make room for St. Joseph's new building.  Was moved down Clyman to Tenth, then out to 10th to the street along the railroad, then to its present location.  
1964
03 29       OPEN HOUSE FOR NEW ADDITION
Mother Gamelberta of St. Joseph's Home for the Aged, 705 Clyman Street, today announced that there will be open house at the home on Sunday afternoon, April 12, from 1 to 4 o'clock so that interested persons may see the newly completed addition to the institution.  St. Joseph's Home is owned and operated by the Sisters of Charity of St. Vincent De Paul.  The new building provides facilities for 30 additional residents and sisters.  Four new dining rooms, a sisters' novitiate chapel and 15 resident rooms are included in the addition.
1992
11 28       RETROSPECTIVE
When St. Joseph's Home for the Aged was opened 50 years ago by the Sisters of Charity, it was struggling for food and money to take care of its six bedridden residents.
"I can remember an ice cream social on the front lawn to raise money to help the sisters get started" said Madge Kwapil, 94, now a resident of the home where she established St. Joseph's Auxiliary many years ago and served as its first president. "The first sisters had no money at all. They depended on food donations from the community to feed residents. Notre Dame donated the beds and individual people donated the mattresses. Back in those days, most mattresses were double and there was a sister who remade the double mattresses into single ones for the residents."
Thanks to the faith of the sisters and support from the community, the home grew through several expansions to its present sprawling two-story facility at 705 Clyman St. It is tucked away in a residential section of the city filled with large homes.
St. Joseph's has kept a low-key profile over the years in keeping with the quiet neighborhood and the soft-spoken nature of the sisters. It serves 26 residents and has rooms available for two more. "We aren't full because people don't know about us," said Mother M. Christine O'Connor, S.C.M.C., who has been administrator since March.
The two grand old homes where St. Joseph's began are long gone, but money is still in short supply due to expenses and needed repairs. The home classified by the state as a community-based care facility or CBRF, does not fall under Medicare payment criteria. Its only income is from residents, some of whom are unable to pay the $40 a day rate.
"We must charge that much to keep up with expenses," said Mother Christine, successor to Mother Elodie who had been administrator of the home for five years. "We have 18 staff members on the payroll which is a big expense. Some of our residents can't pay the full amount and we won't put them out. We accept what they can pay," said the nun, who has taken a vow of poverty along with other sisters in her convent. She is considering adding an adult day-care center to serve the community and for increased revenue.
St. Joseph's is owned and operated by Sisters of Charity of Our Lady the Mother of the Church, headquartered in Baltic, Conn. In addition to Mother Christine, the staff includes Sister Marie Antoinette, who has been secretary and bookkeeper for the past six years, and Sister Marie Elizabeth, who performs housekeeping duties. All have taken a vow to do charitable works.
Mother Christine has been involved in health care for over 30 years. A native of Willimantic, Conn., she served it St. Elizabeth's in Janesville and at homes in Willimantic and Pomfret Center, Conn., before coming to Watertown. While in Willimantic, she was involved in construction of a 37-bed home and establishment of an adult day-care center and shelter for homeless families. She is a certified food services manager.
The facility, popularly known as St. Joe's, is home to elderly residents from Watertown and surrounding communities who are unable to live by themselves, but do not need nursing home care. All residents have single rooms with many of them filled with their own furniture, afghans, family photos and other personal touches. Meals, laundry and hair care as well as other services are provided. Residents are free to come and go according to their own schedules. A nurse is on duty to dispense medications. Special meals are prepared according to individual diets. The cook visits Fair Day each month to take advantage of seasonal fruits and vegetables.
Although the sisters are Catholic, persons of any denomination are welcome to fill the two vacant resident rooms. The religious statues in the halls are remnants of a bygone era in the Catholic church and do not reflect the ecumenical nature of residents.
"We only have six or seven Catholic residents now. We're not trying to win residents over. We never push anyone - that wouldn't be proper," said Mother Christine. She added that any of the residents are welcome to come to the chapel for church services which are well attended by visitors from outside the home on Saturdays and Sundays. The services are conducted every day at 7 a.m. by the Rev. Ray Ashenbrenner, resident chaplain and Dominican priest who came to the home in July from Chicago.
St. Joseph's was opened in November of 1942 in a home formerly owned by Dr. Adolf Wallner. One of the three sisters who opened the facility was Sister Valesia who died in 1958 and is buried in St. Henry's Cemetery. Another large home was purchased and the two homes were connected by an enclosed corridor. One of the homes purchased by the order was moved intact to South Twelfth St. Units were added in 1945, 1952 and 1963. The sisters from Baltic, Conn., took over operation of the home in 1974.
1998
03 20       Plans to deal with the expected shortage of priests in the Madison Diocese are continuing with a report expected in the near future, according to Bishop William H. Bullock of Madison.  Bullock was in Watertown to say Mass and visit with residents of St. Joseph's Home Thursday in honor of the feast day of St. Joseph, patron saint of the retirement home.  Co-celebrating the Mass with Bullock was Father Kevin Akagha, of the Diocese of Owerii, Nigeria, who is on a two-year sabbatical.  He is currently serving as secretary and master of ceremonies for the diocese.
09 19       St. Joseph's Retirement Home, a longtime Watertown institution, is closing its doors after 57 years of service to the community.  The Sisters of Charity of Our Lady Mother of the Church, based in Baltic, Conn., made the announcement today.  The sisters own and operate St. Joseph's home, located at 705 Clyman St.  "It's a sad day at the home today," said Mother Theresita, superior general of the Sisters of Charity.  She said St. Joseph's officials were meeting today with residents and their families to inform them of the decision and to discuss placement options.
2004
07 14       ST. JOSEPH'S HOME NOW THE LANDMARK BUILDING
with its independent senior living apartments.
A former old folk's home on the south side of town is opening as a rejuvenated haven for senior citizens following an extensive renovation.  The former St. Joseph's Home for the Aged at 705 Clyman St. has been renamed The Landmark Building, catering to independent seniors age 55 and older.  Owners Steve and Amy Bothe of Cedarburg hope to carry on the tradition of hominess of St. Joe's Home, which closed in 1998 after over 56 years of service to the community.
09 23       The grand opening for the Landmark Building Luxury Senior Apartments for active adults 55 and older will be held Saturday and Sunday.  The grand opening celebration will be held to allow the community to view and celebrate the newly renovated Landmark Building, formerly St. Joseph's Home, at 705 Clyman St.  The celebration marks the completion of a 2 1/2 year extreme renovation of a building that has been historically significant within the Watertown community.  The project included complete demolition of the interior structure, addition of a pitched roof, all new electrical, heating and plumbing as well as the construction of 18 completely new, unique and spacious luxury apartments.
<![if !vml]>

<![endif]>
History of Watertown, Wisconsin