website  watertownhistory.org
    ebook  History of Watertown, Wisconsin
Chapter on Bands & Orchestras
1847       A BAND
07 07       A few young men of this village are making another attempt to get up a band of music.  It is proposed that our citizens purchase the instruments and give the band the use of them.  About $150 would be required for this purpose—a sum which we presume might readily be raised.  A good band is much needed here, and we see not why we may not have one.   WC
1860
10 05       Watertown Brass Band at County Fair at Jefferson   WR
12 13       Watertown Brass Band at New Year's celebration   WD
1866       WATERTOWN'S FIRST BAND
A picture of Watertown's first band organized in 1866, composed of Al Rutherford, Otto Schulerman, W. D. Sproesser, William F. Quentmeyer, Carl Nowack, William Sommerfelt, Frank Kartak, Fred Pohlmann, one unknown.
1870
WATERTOWN EARLY GERMAN TRUMPET BAND (same as Cornet Band?)
<![if !vml]>

<![endif]>      Organized in 1870.
1883
06 27       PHILHARMONIC CORNET BAND / The Fourth at Concordia
Concordia Island will be an attractive spot on the Fourth next Wednesday.  Picnicking will be the order of the day amid the sylvan shades in this favorite retreat and the hours will be enlivened with sweet chords of music from the Philharmonic Cornet Band.  Arrangements have been made for grand balloon ascensions and other amusements during the afternoon.   WR
07 04       Philharmonic Band, 1883, Parade, school children to Concordia Island 
1800s, late
<![if !vml]>

<![endif]>  George Spohn, pictured with zither, late 1800s.
1890
07 09       NEW CORNET BAND
The Fourth of July has passed in this city had a sort of free-for- all turn about it, our people mostly rendering homage to the anniversary with a true spirit of independence.  Bunting was profusely displayed along the streets, and the fire cracker was ever present and of good report.  The largest muster of people was at Turner park, where the new cornet band held forth from the pavilion, and Miss Pauline Voss read the declaration of independence.  In the city park a number of families partook of their dinner, which was spread from numerous well-filled baskets taken to the grounds, tables and seats having been provided.  Many pleasantly chatted and visited under the teepees during the afternoon, while the young people, with a few older ones mixed in for variety, engaged in frolic and amusement in the shaded recesses of the enclosure.     WR
HARDEGE'S ORCHESTRA
<![if !vml]>

<![endif]>
06 04       EIGHT-PIECE BAND
Watertown is at last possessed of a band, one having been recently organized under the leadership of C. J. Wenck, composed of eight pieces.  The band practices in rooms in the Electric Light building.  It has seemed one of the strangest of strange things for a musical city like Watertown to be without a band.  We trust that the new organization will meet with every encouragement and be well supported.  It is due to the interest of our city that the band be well sustained.     WR
1895
03 13       "HAYSEED" BAND OF THE "JOSH SPIUCEBY
The "Hayseed" band of the "Josh Spiuceby" company appeared on the streets shortly before noon yesterday, singly or in pairs, dressed in typical "hayseed" attire, and mingled with the crowds of country people, causing considerable merriment to those who watched them.  Finally the members gathered at the post office corner and a band concert was given.    WR
05 22       BAND CONCERTS AT CITY PARK
The open-air band concerts at the city park were inaugurated last evening by the Watertown Cornet band.  A large crowd was on hand to listen to the music, and the concerts, which will be given regularly until further notice, promise to be quite popular.  The common council has granted the band the use of the land for this purpose.   WR
c.1895
                    OLD DUTCH BAND
                    <![if !vml]>

<![endif]>  
Members of the "Old Dutch Band" rehearsing in the office of the old Fuermann Brewery.  
(l-r) William Grossert, Don Harbeck, H. Riemstead, and William Sergel, the director.
Spectators (l-r) Theodore Koerner and William Goecke.
                    OLD DUTCH BAND (assumed)
<![if !vml]>

<![endif]>  
Men in front of the Fuermann Brewery office, presumably members of the "Old Dutch Band"
1898       WATERTOWN BAND IN 1898
<![if !vml]>

<![endif]>  
Members were: W. Jones, E. Haack, A. Polzin, A. Dietor, A. Krebs, G. Stube, M. Voight, G. Kunert, W. Kusel, E. Tank, G. Goodnette, and G, Henke.
c.1899   WATERTOWN'S FAMOUS BAND
<![if !vml]>

<![endif]>     <![if !vml]>

<![endif]>
A comic band, circa 1899, the "Watertown's Famous Band."  This was obviously a joke or comic band created during the Harvest Jubilee in Sept., 1899.  This image was taken inside the office of the old Fuermann brewery on S. First and Jones streets.  Instruments are all made of cardboard, and also note the various music titles.  The two gents on the floor are wearing uniforms of the Sinnissippi Band.
1900
02 13       NEW ORCHESTRA FORMED
It may not be generally known that a new orchestra has been organized in this city, consisting of twenty members.  The organization has for its purpose the production of the better class of orchestral music, and will prove of special value, in an instructive way, to its members.  The founders have labored incessantly to interest the players of the city in the enterprise, and the result is a very creditable organization, which ought to be encouraged by our citizens in every way.  The club will make its initial appearance tomorrow evening at the entertainment arranged for the visiting dairymen at Turner Opera house, for which it has offered its services.  WR
1902
03 14       JOHN PHILIP SOUSA PERFORMS IN WATERTOWN
Our music-loving people have not been given such a treat for many a day as was vouchsafed to them last Monday afternoon when John Philip Sousa and the famous band visited our city, giving one concert.  Turner Hall Opera House was filled with a most admiring and appreciative audience, composed of some of our best people, and quite a large contingent from neighboring towns, special trains being run to accommodate them.  From the moment that Sousa, with his fine military bearing and the numerous decorations bestowed upon him during his recent visit to Europe, made his appearance on the stage, until the close of the concert, the interest manifested was intense; each number was enthusiastically applauded and the musicians were very generous in responding to encores.  The trombone solo by Arthur Pryor, the soprano solo by Miss Maud Reese Davies, and violin solo by Miss Dorothy Hale, were all very much enjoyed and heartily applauded.  While every number was good, we think the ones most enjoyed were the part from La Tosca and "The Night Hall."  Sousa went from here by special train to Fond du Lac.   WG
03 15       SOUSA'S BAND CONCERT
The young men who have special charge of providing entertainments for our city are to be commended for their efforts to secure the highest class of talent and the best of its class.  The coming of Sousa's band demonstrated the fact that our people will patronize merit.  Turner Opera House was seldom filled with a larger or more appreciative audience than the one that assembled Monday afternoon to welcome the great musician and his corps of trained artists. 
Almost every city and village within a radius of thirty miles was represented.  Oconomowoc, Fort Atkinson, Jefferson, Johnson Creek, Clyman, Juneau and towns of lesser note had fair delegations of the music loving. 
Manager Wertheimer is to be congratulated upon his latest success.     WR
03 28       PHILHARMONIC ORCHESTRA ORGANIZED
A new orchestra to be known as the Philharmonic orchestra with William Bethke (*) leader, is being organize in this city and will make its first public appearance shortly after Easter, when it will give a benefit concert and dance.  The orchestra will be composed of seven instruments, violin, piano, cornet, clarinet, viola, trombone and traps (**).  A good orchestra is one of the needs of a city the size of Watertown and the organization should be helped in every way possible by liberal patronage.  A musical organization like the one contemplated can be maintained but in no other way and the fact that it encourages local talent should not be lost sight of.  There is plenty of musical talent in Watertown which may be encouraged and this is one way of doing so.
(*)  Wm. Bethke was named manager of the Turner Opera House in July of 1904.
(**)  A trap set is a collection of drums and other percussion instruments, typically cymbals, played by a single player.
08 02       THACKER'S BAND PRIDE OF OUR CITIZENS
All Recognize Them as Musicians of Proficiency
     Free Open Air Concerts Given
          Only Hope of Reward is Appreciation
              That Should Be Most Liberal
There is no doubt but that our citizens appreciate Thacker's band, but we are inclined to the belief, not to the extent the band deserves.  All who have heard the band, and we presume that there is not a person in the city who has not, recognize the members as musicians of merit, entitled to consideration because of their proficiency and disposition to favor the public with concerts without other hope of reward than appreciation for their efforts to please and entertain.
Wednesday evenings they give free concerts upon Main Street to which all are invited to listen and be entertained.
The members are all excellent young men, among the best in the city and an honor and credit to Watertown for whom the city should not withhold encouragement and support, which should be of a substantial character.  Mr. Thacker, the director, has been indefatigable in his efforts to bring the band up to a high standard of excellence and the members have been faithful in their practice as is evidenced by their playing, which shows that they have been painstaking in their work.
The members of the band are:
Director, Frank Thacker
Fifes, George Wenck, Chris Oreding
Clairinets. Max Beyerlein, E. Schultz, Fred De Wald, Art Bolzin
Cornets, Frank Kopp, E. Haak, J. Fowle, Theo. Sonneman, Herman Borchardt, W. Simon
Baritones, Aug. Model, A. Zimmerman, A. Radtke
Trombones, James O'Brien, Earl Fix, A. Krueger
Bass. Geo. Krueger, W. Schmidt
Drums, F. Kehr, Joe Koester.     WR
1907
02 15       IMPERIAL MINSTRELS
The Imperial Minstrels scored a decided hit at the Turner Opera House, the hall being packed to its utmost capacity and hundreds were turned away and refused tickets of admittance of even standing room. 
1908
05 01       VIOLIN MADE BY CHARLES WITTE
Harry J. Stube of the Weber-Stube orchestra is playing a violin made by Charles Witte, a young man residing on rural route No. 3.  The instrument is that perfect in construction and tone that Mr. Stube has laid his $65.00 instrument aside and is using the one manufactured by the young farmer.  Mr. Witte has given of ability as a mechanic.  His first attempt was about two years ago, when he made a violin out of a cigar box.  Later he contrived an instrument of a rather crude shape, but nearer the perfect.  The third attempt was the modern instrument now being played by Mr. Stube.  He (Witte) spent some time in studying the rudiments of construction and last winter applied his knowledge to a practical test and the result is that he has an instrument that will demand a good price . . . It is said that Mr. Witte had nothing but crude tools, but nevertheless he has accomplished a perfect piece of workmanship.  The violin was left with Mr. Stube to place a value on the same.   WL
<![if !vml]>

<![endif]>  
Watertown Band in 1908.  Ed King, Lou Arndt, Harry Warner, Capt. Carl Block, L. Pimple, William Struck, Bob Archie, Otto Kohls, Henry Moser, Adolph Krebs, James O'Brien, Ed Lemke, William Kuester, G. Sauer, Herman Hilgendorf. Mr. Rose, Hubert Pagel, Martin Koenig, Art Goeldner; W. Korguist, George Terwedo, Ed Prochnow, J. Butzler, & Carl Otto.
1909
01 01       JUVENILE BAND AT RICHWOOD
Ed. Boch, William Thauer, Irving Schoeberle, Herbert Lange, Percy Volkert, Raymond Volkert, Winfield McCall, Francis McCall, Edward McCall, Vernon Etscheid, Raymond Carroll, Bennie Carroll, Freddie Ihde, Arthur Seibel, Oscar Lemmerhirt, Edw. Giese, Leo Zoellick, Theo. Hoefs and Oscar Hoefs have organized a juvenile band at Richwood, with Herbert Schroeder as instructor. Shortly after organizing, the band paraded around Richwood, headed by Peter Thauer, John Scheberle, John Carroll, H. F. Lange and F. J. McCall. H. F. Lange officiated as drum major and F. J. McCall as sergeant at-arms.   WG
01 08       MORE ON BANDS IN RICHWOOD / OLD-TIME RICHWOOD BAND
The Juneau Telephone of last week says:
And once upon a time, in the dim and distant past, there was another band in Richwood. It was organized in 1869 or 1870, with Prof. John Miller of Watertown as instructor. The band consisted of twelve members, as follows: John Driscol, leader; Jerry Driscol, John Kelley, John Carroll, John McCall, William Hanley, Philip Riley, John Kerr, Henry Bergen, Michael Quinn, James J. Solon and Stephen White. The rehearsals, once or twice a week, were held in the old red school house at Richwood and the meetings were a source of considerable pleasure to the members, as they greatly relieved an otherwise monotonous life. The first time the band attempted to march and play, at the same time, there was a "parting of the ways." The great feat was attempted at a picnic in Adam Schneider's grove. Each player had his eyes glued to his little book and, with red face and bulging cheeks, he proceeded on his journey over sticks, stones and logs. When the "tune" was finished two of the boys were in Norton's marsh, one fell down and the other nine were scattered through the brush, several rods apart. The marked feature of the selection were explosive notes caused by high stepping. Later on, however, the boys learned how to play some and in 1872 came right to the front in the Greeley campaign [Horace Greeley, an unsuccessful candidate for President in 1872]. About the year 1874, some of the original members began to drop out and others took their places. The organization continued to exist until the instruments were sold to the Sacred Heart College boys in Watertown about 1877 or 1878. Of the twelve original members, all are living except Bill Hanley, who died many years ago. John Discoll lives in Janesville, Jerry Driscoll resides at Superior . . .   WG
-- --           JUVENILE BAND AT WATERLOO, YOUNGEST BOY BAND IN U.S.
<![if !vml]>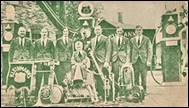 <![endif]>

      Waterloo, Wisconsin
c.1910   SMALL TRIO
<![if !vml]>

<![endif]>  
A small trio made of up William Jones, drums, Mr. Guse, violin, and Mr. Zoellick on accordion, circa 1910.
c.1910   UNIDENTIFIED WATERTOWN BAND
<![if !vml]>

<![endif]>  
An unidentified Watertown Band, circa 1910 or so.  It is worth noting that most of these players drifted between bands and later were the founding members of the Watertown Municipal Band.
c.1910   KLEINMANN'S PHILLIPS "66" RADIO ORCHESTRA
<![if !vml]>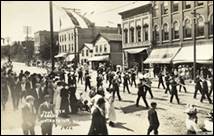 <![endif]>       Lowell, WI
1911
09 14       MILITARY BAND AT STATE FAIR
The Watertown Military Band furnished the music at the state fair on Wednesday and a large delegation of Watertown people accompanied the band, it requiring four interurban cars to accommodate them.   WG
-- --           MILITARY BAND AT TURNER HALL
<![if !vml]>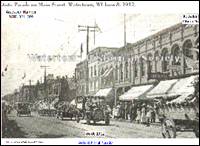 <![endif]>    
-- --           SLOAN ORCHESTRA MILITARY BAND
<![if !vml]>

<![endif]>         <![if !vml]>

<![endif]>       
<![if !vml]>

<![endif]>          <![if !vml]>

<![endif]>       1911
1912
05 30       BAND CONVENTION SLATED FOR WATERTOWN
The big band convention to be held at Watertown, Saturday and Sunday, June 8 and 9, promises to be one of the largest gatherings of musicians ever held in the state.  At least 30 bands from the southern part of the state will participate — some of the best organizations in the country.  Elaborate preparations are being made for the entertainment of visitors and a big time is promised all who attend.  Among the special features for Saturday will be a gorgeous floral parade, which promises to be the finest spectacle ever witnessed in this vicinity.  Another feature will be a ball game.  Saturday evening there will be a beautiful illuminated parade, followed by band concerts, dances at musician's headquarters, etc.  On Sunday, at noon, a grand parade of over 500 musicians will be held, followed by a monster picnic on Tivoli Island, one of the finest picnic parks in the state, at which there will be special band concerts by each of the visiting bands, with plenty of other amusement features.  In the evening the park will be brilliantly illuminated and the festivities will close with band concerts and a dance in the pavilion.
The convention will attract thousands of visitors who can count on being royally entertained.  Watertown never does anything by halves and everything possible is being done to make this the most successful gathering of musicians ever held.
Arrangements have been completed whereby the C. M. & St. P. Ry. will run special trains from Madison and Portage to Watertown on Sunday morning, returning late in the evening.  A special train will also leave for intermediate points Sunday evening.  Visitors from south of Watertown will be accommodated by the regular Sunday excursion trains.  For further particulars address Herman Wertheimer, president, Watertown, Wis.   WG
06 08       BAND CONVENTION PARTICIPANTS
<![if !vml]>

<![endif]>  
Northwestern College Band and Military Company
BAND CONVENTION DECIDED SUCCESS
Watertown Was Visited by the Largest Crowds in the History of the City 
The band convention held in the city on Saturday and Sunday was a marked success in every particular.  It was pronounced the best and most largely attended band convention ever held in southern Wisconsin.  The weather throughout the two days was ideal.  Business places and many residences were decorated for the occasion and Main Street presented a beautiful spectacle in its gala attire.  The first big event of the convention was the automobile floral parade Saturday afternoon.  The bands participating were the T.M.E.R.&L. Cos., Milwaukee; Imperial, Northwestern College and military company, Watertown.
A feature of the parade was the military aspect furnished by the Northwestern College military company in uniform and carrying arms.  The boys were given generous cheers and plaudits, which was shared by their band which accompanied them.
1914
-- --           WATERTOWN MILITARY BAND OUTING
 <![if !vml]>

<![endif]>         <![if !vml]>
<![endif]>         <![if !vml]>

<![endif]>    
11 19       WATERTOWN SAXOPHONE ORCHESTRA
The popularity of this celebrated orchestra is steadily and rapidly increasing as can readily be seen from the number of engagements they have for this fall and the coming winter, among which is that at Doylestown, Wis., where they will play Thanksgiving evening at the C.O.I. Ball.  Manager P. Neitzel says they have purchased new instruments and music and that they are kept busy filling their engagements.   WG
12 24       WATERTOWN SAXOPHONE ORCHESTRA
This popular orchestra will play at dances at the following places:  Richwood, December 28, 1914; Cambridge, Dec. 29, 1914; Rio, Dec. 30, 1914; Watertown, Dec. 31, 1914; Randolph, Jan. 1, 1915.  After these dates are filled, Manager Neitzel says the orchestra will go on a three weeks' tour giving concerts and furnishing music for some of the high class dances throughout the state, at the conclusion of which their services will be given, for a medium charge, to any one desiring a high class orchestra, either for concerts or dances.  For engagements call on P. Neitzel 1005 Fifth Street. Phone 75-x, Watertown, Wis.   WG
1915
09 30       WATERTOWN CITY BAND FOUNDED
      Watertown Band Newly Organized.
The Watertown Military Band and the Watertown Imperial Band were merged at a meeting of the respective organizations held on Tuesday evening.  The band will hereafter be known as the Watertown City Band, which has been incorporated, the register number being 234828. The following officers were chosen:
President — William Hose.
Vice President — Edward Woelffer.
Secretary — W. Weihert.
Treasurer — A. M. Schmeichel.
Directors — George Krueger, one year; W. Weihert, two years; William Hose, three years.    WG
12 17       WATERTOWN SAXOPHONE ORCHESTRA
A flaring full-page poster on our desk announces a Grand Mask Ball in Turner Hall, Watertown, tomorrow evening, Dec. 18, 1915.  The ball is given under the auspices of the Watertown Boosters' Pleasure and Social Club.  About 50 prizes will be distributed among the winning maskers.  Music by the Watertown Saxophone Orchestra.   WG
1920s     PAT NEITZEL'S JAZZOPATORS of Watertown, Banjo Alex, Paul Hoppe
  <![if !vml]>

<![endif]>       <![if !vml]>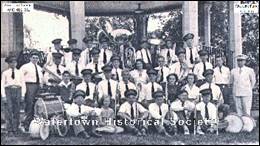 <![endif]>       <![if !vml]>

<![endif]>       <![if !vml]>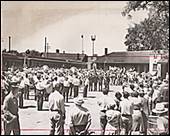 <![endif]>
  <![if !vml]>

<![endif]>  <-  At Kraemer's Dance Hall
1920s     HY COLEMAN'S ORCHESTRA of Milwaukee 
  <![if !vml]>

<![endif]>  
1920s     While he was still a boy, Alton Gritzner organized a dance band and continued it for some years as the "Casino Rhythm Kings."  The leader played a banjo.
1921       WATERTOWN CITY BAND  
<![if !vml]>

<![endif]> 
1925
02 18       BANDSTAND SUGGESTED for new Memorial Park
Ex-Mayor Wertheimer stated that if the park plan be put into a reality that a bandstand be erected on the premises. 
1930s     McKINNEY'S SERENADERS, Ray McKinney
  <![if !vml]>

<![endif]>         <![if !vml]>

<![endif]>        <![if !vml]>

<![endif]>        <![if !vml]>

<![endif]>   
                WEBER-HOPPE ORCHESTRA
  <![if !vml]>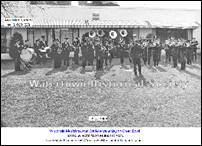 <![endif]>  
1935
05 29       PHOTO OF FIRST WATERTOWN CORNET BAND
The music exhibit is now under way at the public library . . . A picture of considerable interest displayed at the exhibit is the photograph of the first Watertown cornet band.  It was organized in 1870 and was composed of the following members: Charles Nowack, William Sommerfeld, Charles Wenck, A. Gritzner, Otto Nowack, Alex Nowack, William Roeder, Fred Pohlmann, A. Schuelermann, Frank Kartak, John Weissert, W. D. Sproesser.
Webmasters Note: Watertown Cornet Band assumed to be the same as the Watertown Philharmonic Cornet Band.
1940       WATERTOWN CITY BAND, 25TH ANNIVERSARY OF
<![if !vml]>

<![endif]>  
1946       Herb Bredow Orchestra
  <![if !vml]>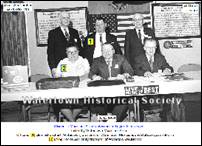 <![endif]>   
1950
09 27       ANNUAL BALL OF MUSICIANS / A Battle of Music
11 Dance Bands to participate at Turner Hall
The annual Musicians' ball, sponsored by Local No. 469, American Federation of Musicians, will be held at Turner hall in Watertown Thursday night.  The ball this year promises to be the greatest in the history of the series, with 11 dance bands participating.  They will engage in a battle of music.  Among the dance bands will be those of Herbert Bredow, Will Eske, Jimmy Hartwig, the Ritzy Royal players, Gib Untz, Bud Breitkreutz, Wally Klinger, Shorty Schumacher, Bob Strege, "Peanuts" Schuld and the Fats Firehouse five.  Both modern and old time music will be featured.  All of the musicians are known far and wide in this area for their music and entertainment and they will combine tomorrow night in putting on one of the greatest dance nights ever seen in this or any other city of the state. The dance is open to the public and everyone is invited.   WDT
07 24       The Funsters Club Kitchen Band honored retiring director Marilyn Moran at its annual dinner meeting at Vandre's Riverside Inn.  She was presented with a music box in the shape of a church from the band.  Mrs. Moran recently retired from the Watertown Park and Recreation Department as supervisor and director of the Funster Club for 18 years.  Led by Mrs. Alvira Hamann, who is replacing Mrs. Moran, the group sang songs reminiscent of their times together.  A number of stories were told and games played.  Winners of the guessing games were Herman Kaczor, Mary Oestreicher and Marilyn Moran.   WDT
11 18       Ron LeRoy, Senior High School Band Director, Teacher of the Year   WDT
1953
WATERTOWN LEGION BAND, also known as the WATERTOWN CIVIC BAND
<![if !vml]>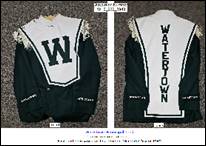 <![endif]>   
WALT GOODIE FAMILY ORCHESTRA, Walter Goodlette
1956
12 14       WATERTOWN MUSICIANS ASSOCIATION OFFICERS
Clem Schoechert was elected president of the Watertown Musicians Association Local No. 469, at the annual meeting of the association held at the East Gate Inn last night.  Other officers named are: George Flint, vice president for his 15th consecutive term; Mrs. Erline Torres, corresponding secretary for her 12th consecutive term; Herbert Bredow, financial secretary and treasurer; James Hartwig, Percey Krebs and Arthur Rupnow, trustees for three, two and one years respectively; Alton F. Gritzner, Ray Frederich and Wallace Klinger Jr., directors for one year; Edward Schroeder, sergeant-at-arms.  WDT
c.1960   "PARADE OF BANDS"
<![if !vml]>

<![endif]>  
1964       FREDDY DETTMANN BAND
03 21       Freddy Dettmann and His Band, a local old-time orchestra group, has announced that the band is in the stage of reorganizing and adding two trumpets.  The band in the past has been playing with three, four and five piece jobs, but in the future will be booking with six.  The personnel of the band includes Eddie Peirick, who plays concertina.  He has been playing concertina for 33 years and is considered one of the finest in this area.  Very few old time bands in Wisconsin use a concertina in the band, therefore, the group feels that it will add something extra to its music.  With concertina, the music can be styled in the Dutchmen swing and sway dance way as most Dutchmen bands from Minnesota use concertina.  WDT
06 04       ARNOLD LEHMANN named conductor of Municipal Band
Prof. Arnold O. Lehmann, director of music at Northwestern College, has been named conductor of the Watertown Municipal Band and will make his first public appearance in his new capacity at Thursday night's opening concert of the summer series at Riverside Park.  Announcement of Prof. Lehmann's acceptance of the offer to conduct the band was made today.  He succeeds Gerald Stich of Waterloo who resigned because he will be attending a summer school.  Since coming to Watertown to take over his duties at Northwestern College, Prof. Lehmann has developed an outstanding musical activities program and has presented, as part of his duties, numerous college concerts, many of them for the public.  WDT
1965       CLEM SCHOECHERT HONORED
01 21       Clem Schoechert, who organized the local musicians' union back in 1937, and who was elected president at that time, and has served as president ever since, was honored at a testimonial dinner last night at Turner Hall.  Over 200 persons attended to pay tribute to him.  Mayor Robert P. White presented Schoechert with a certificate of recognition, and William Kehl, in behalf of the union, presented the guest of honor with a plaque in recognition of the outstanding leadership he has provided the local since its organization.   WDT
04 14       WATERTOWN MUSICIANS ASSN BALL
The silver jubilee ball of the Watertown Musicians Association Local, 469, A.F.M., will take place at Turner Hall on Thursday night, April 22 with over 100 musicians taking part in providing the music and entertainment.  The bands and orchestra on the main stage will include the Musical Stars, Merlin Braasch and his orchestra, Freddy Dettmann and his band, Will Eske and his orchestra, Bud Hughlett and the Melodiers, the Push and Pull Orchestra and Ole Gjerald and his orchestra. Combos in the lower ballroom include the following: Tom Voigt and his group, Bill, Will 'n Roy, the Slovanians, the Blue Notes, Jolly Cholly, Trio or More, the Three Naturals and Scratch and his Nuclears.   WDT
1966
05 18       HERB BREDOW AND HIS ORCHESTRA
Herbert A. Bredow, 207 Riverlawn Avenue, has closed his musical career as leader of Herb Bredow and his Orchestra.  He played his last engagement at the Watertown Country Club Saturday night for the Watertown Senior Dancing Club.  Mr. Bredow's career as a musician spans some 46 years.  He began playing in 1920, the year he graduated from Watertown High School.  Piano was his chief instrument, although he has also played banjo, trumpet and sax.  In 1920 he helped launch a group called "The Night Hawk Or-Jaz-tra."  In it were Otto Vogel, Max Nehring, Charles Dott and Gust Boehm and Mr. Bredow.
1967
12 12       WATERTOWN MUSICIANS ASSOCIATION OFFICERS
At the annual nomination and election of officers of the Watertown Musicians held Tuesday evening at the East Gate Inn, the following officers were elected for the year 1968.  Clem Schoechert, president; Wayne Saniter, vice president; Harry Erickson, corresponding secretary; Erline Torres, financial secretary and business agent; Roland Harder, trustee for three years; Tom Voigt, Will Eske, James Hartwig, directors; Alton F. Gritzner, sergeant at arms. Two trustees holding over are Merlin Braasch and William Kehl.
1968
12 21       DOWNTOWN CHRISTMAS CONCERT
The Watertown Municipal Band, directed by Dr. Arnold O. Lehmann, will play its annual downtown Christmas concert on Monday evening, the last nighttime shopping period for the Christmas season.  The band will be playing in the lobby of the Merchants National Bank starting at 7 o'clock.  A one hour program has been arranged.  There will be loud speakers to carry the music to the streets.  This concert will be an actual performance by the band and will not be presented in taped form as has been done on some past occasions.
1990
07 01       LEBANON BAND 100th ANNIVERSARY
LEBANON — The Lebanon Band, this year celebrating 100 years of dedication to music and fellowship, is one of the biggest bands from one of the smallest towns in the United States.  The band, with close to 50 members, will be performing in Watertown's Fourth of July Parade this year as a part of its extensive centennial year schedule.  As the band performs this summer, parade-goers from all over Wisconsin will be treated to a proud and historic group in action.  The band's founders were music-loving German immigrants. In 1885, Henry F. Seeger, a German born parochial school teacher, came to Immanuel Lutheran Church in Lebanon to serve as a teacher, organist, choir director, and instructor of instrumental music for which he received 10 cents per lesson.  After five years his teaching had produced enough instrumentalists to form a band in Lebanon in 1890.   WDT
Cross References:
German Serenaders       1855, Early Band
Watertown Municipal Band [same as Watertown City Band]
Thacker's Concert Band. 1905, Homecoming Day
Thacker's Band, 1906, Labor Day celebration
Band Shell, Riverside Park, dedicated 1954
Edwin Woelffer, 1890-1944.   Edwin Woelffer, 54, Band Leader, Dies
06/01/1944 – E. J. Woelffer, widely known band leader, died here today at his home, 912 South Fourth street.  He had been in ill health for a long time and passed away at 6 o'clock this morning.
Mr. Woelffer was born in Waterloo on Jan 31, 1890, a son of Mrs. Robert Woelffer and the late Robert Woelffer.  He came to Watertown as a boy when his parents moved here and his father engaged in the tavern business.  His father was a widely known man in this community for many years.
Mr. Woelffer was married on Oct. 1, 1912 to Miss Mabel Riebe.  She survives, as do a daughter and a son, Mrs. Donald Snyder and John H. Woelffer, both of this city.  His mother also resides here as do a sister, Mrs. Robert Hills, and a brother, George Woelffer.  Two other brothers preceded him in death.  There are two grandchildren.
Mr. Woelffer was associated with the Watertown Memorial Co.  He was a member of First Methodist church, Lincoln Lodge No.20, Knight of Pythias, the Plattdeutscher Verein and the Watertown Turner society.
Over the period of years in which Mr.Woelffer was a band leader he had conducted the Watertown City band and the old 105th Cavalry band with which he was associated many years.  He also led the band of Branch 120, Catholic Knights of Wisconsin, the K. of P. band and more recently had been the leader of the Lebanon band.
As a band leader he was a hard worker and a thorough musician, a man with whom players liked to work.  He inspired his musicians to their best efforts and was looked upon as a competent leader.  In his business affairs Mr. Woelffer was a man who stood for fair dealing and honesty.  He had the confidence of his associates and the people with whom he dealt.  He was kind and considerate of others.  To his family he leaves a heritage which reflects credit upon him as a man and a citizen of the community where his friends were legion.
The funeral will take place Monday afternoon.  There will be a service at First Methodist church at 2 o'clock. The Rev. William B. Petherick, who has recently been assigned to Marinette, will conduct the services and burial will be in Oak Hill cemetery.
The Hafemeister funeral home is in charge of the arrangements.  It was not known definitely today whether the funeral will be from the funeral home or from the residence and this will be announced tomorrow, together with the period during which friends may call to pay their respects.  In any event, the casket is not to be opened at the church but friends will be given an opportunity to call at either the funeral home or the residence Sunday afternoon and evening and Monday up to the time of the funeral, as soon as it is decided from which place the last rites will be conducted.

History of Watertown, Wisconsin