website  watertownhistory.org
    ebook  History of Watertown, Wisconsin
Alton F Gritzner
Fats Gritzner
1904 - 1968
1953
12 17 1953
Wisconsin's best known, most popular and most photographed Santa Claus hails from Watertown.
He is Alton F. Gritzner, 900 South Third Street.
This season, for the 15th year, Mr. Gritzner is portraying Santa Claus in the toy department of the Boston Store in Milwaukee. In the years that he has been there he has greeted more youngsters and their parents than any other Santa Claus in the state or perhaps in the nation, for he has been at it longer than most men who portray the jolly red-clad character at Christmastime.
Mr. Gritzner this year has an assistant, so that the chair of Santa Claus is occupied at all times during the store hours.
1968
Gritzner, Alton F., b. Jul 16, 1904, d. Sep 24, 1968  / East Gate Inn
<![if !vml]>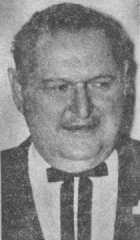 <![endif]>
Alton F Gritzner, 64, East Gate Drive, route 3, Watertown, passed away suddenly this morning at the Watertown Memorial Hospital although he had been in ill health.
He was born July 16, 1904 in Reeseville, the son of Mr. and Mrs. Frank Gritzner. On Oct. 25, 1923 he married Irma Erdmann.
Survivors include his wife; two daughters, Mrs. Donald Hake, New Berlin; Mrs. Herbert Sterwald, Watertown; one son, Lynn Gritzner, Watertown; 11 grandchildren; one sister, Mrs. Angelo Torres, Watertown; one brother, Harvey Gritzner, Watertown; nieces and nephews.
Mr. Gritzner was owner and operator of the East Gate Inn and for many years had operated Fat's Barbeque on [900] South Third Street.  He was active in the Watertown Musicians Association Local 439, A.F.M. and at present was serving as sergeant at arms, an honorary member of the Turners, and a member of the Jefferson County Tavern League.
At one time he was active in politics and served here as an alderman for the first ward.  He had also been a candidate for mayor.
Mr. Gritzner had become widely known for his magic acts in which he was billed as "Nova, the Mystic."  He also portrayed Santa Claus on many occasions and year after year was the official Santa Claus at the Boston Store in Milwaukee where he greeted thousands upon thousands of children during the Christmas shopping season year after year.  Officials of the store said "He was one of the finest Santa Claus characters we had ever engaged" and they sought his services year after year.
Mr. Gritzner was a showman and never lost his love for the stage and entertainment.
He was a man of many fine qualities and enjoyed being with people. He enjoyed his role as Santa Claus almost more than anything.
Services will be held Thursday at 2 p.m. at the Hafemeister Funeral Home, the Rev. H. C. Milius officiating.  Interment will be in Oak Hill Cemetery.
Friends may pay their respects at the funeral home on Wednesday from 3 to 9 p.m. and Thursday up to the time of services.
Members of the Watertown Musicians Association Local 469, A.F.M. and of the Turners are asked to meet at the funeral home at 7 p.m Wednesday evening to pay their respects.
The East Gate Inn will be closed as of today and through Thursday.
<![if !vml]>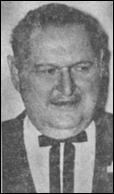 <![endif]>
1968
Children Lose a Friend         Abstracted from the Milwaukee Journal, 09 25 1968
Santa Claus died Tuesday, along with Nova the Magician and the southeastern Wisconsin charleston champion of 1926. They were all wrapped up in the ample frame of Alton Gritzner, who once ran for alderman in Watertown on the platform; "If you want harmony in the city council, you can get 365 pounds of it by electing me."
Until he opened the East Gate Inn in Watertown in 1954, Mr. Gritzner spent his Decembers playing Santa Claus at the Boston Store, where he become known to a multitude of children and their parents.  He once estimated that he lifted 10 tons of children to his lap daily, at an average of 40 pounds a child.
He was not the usual stand-in for Santa.  For one thing, he needed no padding or pillow to fill out his red suit.  For another, he brought with him no air of forced jollity — he considered the job mostly fun.
"I get a big kick out of playing Santa Claus,°he said.  "It's not done for the pay alone.  Santa Claus wants all the kids to get what they ask for because he didn't always when he was a kid — my folks were poor." 
While he was still a boy, Mr. Gritzner organized a dance band and continued it for some years as the "Casino Rhythm Kings."  The leader played a banjo.
In those days he weighed only 280 and was an enthusiastic dancer. After winning the 1929 charleston contest in Oconomowoc, he competed in others around the midwest.
Mr. Gritzner branched out into magic after watching an inept practitioner of the art and deciding that he could do better.  In recent years, he sometimes combined his Nova the Magician act with a Santa Claus suit at company Christmas parties, where those attending were too old to be satisfied with promises of Christmas toys.
Mr. Gritzner served as alderman in Watertown for eight years and ran unsuccessfully for mayor and sheriff.  He often wore a derby hat and smoked big cigars.  A diamond stickpin flashed in his necktie.
Some years ago, a reporter described his appearance as a cross between Hollywood's version of a hotel detective and President Howard A. Taft.  In recent years, he joined the trend toward facial adornment by adding a handsome goatee.
2002
12 27       Santa Claus is fading from memory for another year following his annual visit, but one of his biggest helpers is remembered by his daughters.  The late Alton "Fats" Gritzner was one of the best known Santas in the state, and didn't need any padding to prove it, according to Myrna Sterwald of Watertown, who always remembers her dad in a special way at Christmas.  Gritzner died Sept. 24, 1968, leaving behind many memories of his years of playing Santa and also accomplishing many other feats.  He was a businessman, professional magician, politician, musician and dancer.  Weighing in at well over 300 pounds, Gritzner was asked more than once how he could navigate a chimney but he always managed to give children some sort of plausible answer.
______________________________________
Cross Reference:
"Grew up on Clyman St.  One block away on 3rd St. was a small restaurant owned by the Gritzner family.  It was called FATS.  They had the best barb-b-q recipe I have ever tasted.  It was a very popular place for many years.  Everyone loved the sandwiches they sold.  I have never tasted anything even close to their secret recipe.  Is there anyway the Watertown Historical Society could find out some information that might lead to getting that recipe again.  I just want it for my own satisfaction.  I'm hungry to bring that flavor back to my taste buds!  Any info at all would be greatly appreciated.  Thanks."
Ah, Fats Gritzner's place, known as the Maple-Leaf Barbeque.  I remember it well.  Their hot beef was sublime, but it was the relish that truly made it a special dish.
The only people privy to that recipe are his children and grandchildren and they will not give up the recipe for love nor money.  Many have tried to get it, but no one has succeeded.
I wish there was some way to help you out, but short of marrying into the family there isn't a ghost of a chance.
Bill Jannke

History of Watertown, Wisconsin