website  watertownhistory.org
 ebook  History of Watertown, Wisconsin
<![if !vml]>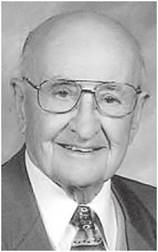 <![endif]>
Dr. Arnold O. Lehmann
1963
03 05       Arnold O. Lehmann, a professor at Northwestern College, has been awarded an Aid Association for Lutherans Faculty Fellowship to do additional graduate work during the 1963-64 school year.  He will also study during the 1963 summer session.  Prof. Lehmann will study for his doctor of philosophy degree at Western Reserve University, Cleveland.
1964
06 04       Arnold Lehmann named conductor of Municipal Band
Prof. Arnold O. Lehmann, director of music at Northwestern College, has been named conductor of the Watertown Municipal Band and will make his first public appearance in his new capacity at Thursday night's opening concert of the summer series at Riverside Park.  Announcement of Prof. Lehmann's acceptance of the offer to conduct the band was made today.  He succeeds Gerald Stich of Waterloo who resigned because he will be attending a summer school.  Since coming to Watertown to take over his duties at Northwestern College, Prof. Lehmann has developed an outstanding musical activities program and has presented, as part of his duties, numerous college concerts, many of them for the public.  WDT
2009
08 24       Dr. Arnold O. Lehmann, 1914-2009
Dr. Arnold O. Lehmann, 95, of Watertown, passed away on Monday, Aug. 24, 2009, at Watertown Regional Medical Center.
Funeral services will be held on Saturday at 11 a.m. at St. Luke's Lutheran Church in Watertown with the Rev. Mark Gartner and the Rev. Anthony Schultz officiating.  Relatives and friends may call to pay their respects at the Hafemeister Funeral Home on Friday from 5 to 9 p.m. and at the church on Saturday from 10 a.m. until the time of the service.  Burial will be in Southern Wisconsin Veterans Memorial Cemetery in Union Grove.
In lieu of flowers, memorials are suggested to the Dr. Arnold O. and Esther J. Lehmann Music Scholarship Awards at Luther Preparatory School in Watertown, the Philipp and Elenore Lehmann Scholarship Fund at Martin Luther College, St. Luke's Lutheran Church or the charity of one's choice.
Arnold was born on April 14, 1914, in Stanton, Neb., son of the Rev. Philipp L.H. and Elenore F.A. (Grosnick) Lehmann. On Oct. 3, 1941, he married the former Esther J. Burhop at Calvary Lutheran Church in Madison.
Arnold served in the U.S Army during World War II in the Signal Corps-Signal Intelligence as a cryptographer from 1942 until his honorable discharge in 1945.
Arnold received his bachelor of arts degree from the former Northwestern College in Watertown in 1936, a bachelor of music degree from the University of Wisconsin-Madison in 1938, a master of arts degree in music from the University of Wisconsin-Madison in 1940, and finally his Ph.D. in musicology from Case Western Reserve University in Cleveland, Ohio, in 1966.
Over the years Arnold held various music positions including assistant band director at the University of Wisconsin-Madison from 1937-1939; part-time music director, Fall River schools, from 1938-1940; music director, Colfax schools, from 1940-1942; chairman of the music department and music director at Concordia College in Fort Wayne, Ind., and lecturer in music at Indiana University-Fort Wayne Extension both from January 1946 to June 1950; choral director at Cleveland Lutheran High School, Cleveland, Ohio, from 1950-1962 (while being a student at Western Reserve University at the same time.); he was then the head of the music department and music director at Northwestern College in Watertown from 1962-1979.
Arnold was the organist and choir director at Calvary Lutheran University Chapel in Madison from 1936-1940 and at Gethsemane Lutheran Church in Lakewood, Ohio, from 1951 until 1959. He was the choir director and assistant organist at Pilgrim Lutheran Church in Lake-wood, Ohio, from 1959 until 1962. Arnold was the assistant organist at Trinity Lutheran Church in Water-town as well as the choir director and organist at St. Luke's Lutheran Church in Watertown from 1988 until 1997.
He was a member of the American Musicological Society for 60 years and the American Legion. Arnold was a former member of the College Band Directors Association and the American Guild of Organists. He was on the founding board and on the board of the WELS Historical Institute and was the editor of the institute's Journal and Newsletter from 1990 until the present. He served on the WELS Hymnal Committee in connection with the preparation and publication of "Christian Worship," a Lutheran hymnal.
Survivors include his three sons, Rev. Philipp Lehmann of Zilwaukee, Mich., Rev. Richard (Debra) Lehmann of Janesville and Rev. Edwin (Elizabeth) Lehmann of Marshfield, Mo.; 11 grandchildren; three great-grandchildren; a sister, Ruth Bentley of Maine; and other relatives and friends.
He was preceded in death by his parents; his wife, Esther on May 12, 2005; and sisters, Winfred Lehmann and Doris Urban.
Hafemeister Funeral Home 611 E. Main St. Watertown
Cross Reference:  NWesternDays_DrLehmann.doc

History of Watertown, Wisconsin