website  watertownhistory.org
    ebook  History of Watertown, Wisconsin
Prof. Richard Hardege
Hardege, Richard, b. Sept 1, 1853,  d. Jan 12, 1922,  Prof. Musician & composer
Hardege, Richard, 1913, 103 E Main, music teacher
<![if !vml]>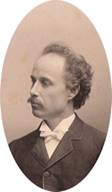 <![endif]>
Click to enlarge
1890
HARDEGE'S ORCHESTRA
<![if !vml]>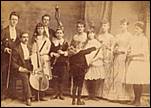 <![endif]>
1893
PROFESSOR OF MUSIC at North Western University
<![if !vml]>

<![endif]>
1893 Watertown City Directory
1894
12 05       HARDEGE'S ORCHESTRA AT ANNUAL THANKSGIVING BALL
The annual Thanksgiving Ball of the Concordia Society was held at the Opera House.  The attendance, while not large, was select, and the pleasures of the dance, enhanced by the excellent music of Hardege's Orchestra, was zealously entered into.  At midnight luncheon was served in the lower hall.  WR
c.1910
HARDEGE'S STUDIO IN WATERTOWN
<![if !vml]>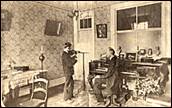 <![endif]>  
1922      Death of Prof. Richard Hardege
Prof. Richard Hardege
Musician and composer
1853 - 1922
Was a Noted Violinist and Teacher of Piano and Violin
Studied Music in Leipsig, Germany
The death of Prof. Richard Hardege, noted musician and musical composer and teacher of music for many years in Watertown, occurred in the family home, 408 Lincoln Street, Thursday afternoon.  Death followed an attack of pneumonia from which he had suffered but a few days, and but few of his friends were aware that his condition was serious.  Up to the time he was stricken he was in his usual health and able to attend to his musical teaching, and his death will be a shock to his many friends in Watertown and elsewhere where he was well known in musical circles.
Richard Hardege first saw the light of day at Haverstraw, N.Y., where he was born September 1, 1853 the son of the late Henry Hardege and Mrs. Louisa Hardege.  When a child of three the family removed to Watertown and with the exception of a few years spent in Columbus he has resided in Watertown every since.  Here he received his education in the public schools.  He early evinced talent for music and began the self study of the art, soon acquiring skill on the piano and later on the violin, both of which instruments he mastered.  He then went to Europe where he studied under the masters at Leipsig, Germany, remaining there more than three years, when he returned to Watertown a master of the instruments he loved so well, and opened a studio for the teaching of music which he followed the rest of his life.
He became widely known as an artist of great merit and a musical composer of considerable talent and he appeared in some of the best appointed orchestras of the country.  But he cared little for the plaudits of the world and preferred the quiet life of his studio and the teaching of his pupils.  Music was with him a passion to which his whole life was devoted and he was always the apt student.
His compositions for violin and piano were many, but few of them were published.  His compositions also included orchestra numbers and an operetta, but never allowed but one to be published as he cared little for the publicity which his cherished art would bring him.  He was heard on several occasions in Watertown and delighted his audiences who were enraptured with the melodies with which he favored them when prevailed upon to do so.
During his early career Prof. Hardege served as director of the old Concordia Society, and the Harmony Singing Society and was also director of the musical department of the Turner Society.
Mr. Hardege was possessed of a fine character and was endowed with many fine attainments.  To those who knew him best he was a friend and adviser whose friendship was of the kind that lasts.  He possessed a genial disposition which was ever in evidence when with friends and was kindhearted and charitable to a remarkable degree.  But his whole soul was wrapped up in music, which developed in the cradle and lasted until the whisper of the angel of death.
He is survived by his mother, 93 years of age and an invalid, one sister, Miss Emma Hardege, at home and two brothers, Arthur and Eugene Hardege, at home.
The funeral will take place on Sunday afternoon from the chapel of the Schmutzler Furniture Co. at 1:30 o'clock where service will be held. 
The burial will be in Oak Hill cemetery.
1962
08 09       UNMARKED GRAVE
The Watertown Historical Society held a meeting of the board of directors at the Octagon House last night.  A committee was named to check into circumstances for a marker on the grave of Prof. Richard Hardege in Oak Hill cemetery.
Prof. Hardege, who died many years ago, was an outstanding musical talent here and his grave to this date has not been marked with a stone or monument, although at one time, shortly after his death, the Euterpe Club had expressed a wish that something be done along that line to honor a Watertown genius.   WDT
______________________________________________
MR. MUSIC OF WATERTOWN
Following from Watertown Remembered, by Elmer Kiessling, 1976.
E. C. Gaebler's successor as Mr. Music of Watertown was Richard Hardege, a graduate of the Leipzig Conservatory.  A violin concert he gave on his return home in May, 1876, received this accolade in the Watertown Republican:
Last Friday evening Turner Hall was filled with one of the largest and most, appreciative audiences ever assembled in Watertown to greet a young violinist, Mr. Richard Hardege, and bear testimonial to his merits and ability as a musician.
He was equally proficient as a pianist, teacher and conductor. His orchestras sometimes furnished music for the prestigious "socials" of Watertown's most famous dancing master, Paul Thom.  Hardege was rather shy and absent-minded.  He was the man who allegedly left the train without his bride on their honeymoon.  Someone composed this couplet on him:
Richard ja stets sehr puenktlich ist,
Wenn er die Stunde nicht vergisst.
(Richard is punctual and never late,
Except when he forgets the date.)
Well known is the anecdote about Hardege and the Danish concert violinist Skovgaard.  The latter happened to be on a concert tour and was practicing in a Watertown hotel room when he heard an answering theme played on a violin not far away.  After several responses of this kind, Skovgaard determined to look for the invisible fiddler.  His search led him to Hardege's studio, which was then located downtown.  The two men became friends.
In his later years Hardege taught his pupils in a simple room in his home on Lincoln Street.  Though he was usually dressed in frayed clothes, there was something striking about the old master, and a violin lesson with him was always a moving experience.  He had the custom of playing completely through a difficult exercise in his brilliant way to show a less than brilliant student how it should be done.  He once confided that his two best violin pupils had been the late Frank Bramer and Hugo Anhalt of Jefferson, a longtime professor of music at Milwaukee Normal, now the University of Wisconsin-Milwaukee.  Frank Bramer and his wife Edna were a violin-piano duo that provided the music for countless local affairs.  Hardege had composed two songs, and there was a widespread belief that he had stacks of other compositions hidden somewhere among his belongings, but nothing was found after his death in the 1920s.
<![if !vml]>

<![endif]>  Image Portfolio  

History of Watertown, Wisconsin