website  watertownhistory.org
    ebook  History of Watertown, Wisconsin
Wiggenhorn Cigar Manufactory
Established 1858
108 E Main
Moved to 104 W Main in 1895
<![if !vml]>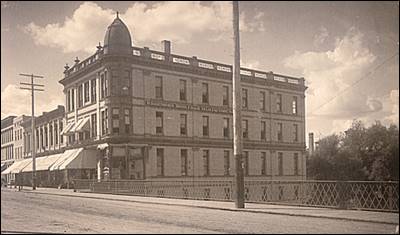 <![endif]>
LOCATIONS:
1858:  Buena Vista House
c.1859:  Began business at corner of Market and Second streets
1866:  103 West Main Street
1868:  Moved into the Fred Miller building on Main Street, between First and Second streets, and their increasing business compelled them to rent the upper floors of what was then known as the Chappell block.  Here they remained until 1895 when they moved to 102-104 W. Main
1895: Moved into their present quarters (102-104 W Main)
GENEALOGY:
1858:  William (Wilhelm) Wiggenhorn (1797 – 1876) came to Watertown directly from Germany in the year 1848, and for some years was landlord of the Buena Vista House.
1858:  Business founded           Eugene Wiggenhorn, in Buena Vista House; began business in the buildings at the corner of Market and Second streets
1858-1864:  Run by Eugene
1864:  Brother Constance became partner
1912:  Constance died, Julius and brother Guido assume charge
1918:  Business closes after 60 years 
1858       ESTABLISHED
1865
03 23       NEW STORE, OWN MANUFACTURED CIGARS
New wholesale and retail cigar and tobacco store, post office block, Second Street, of E. Wiggenhorn. 
Complete in all respects.  Constantly on hand a large stock of seasoned, own manufactured domestic and Havana cigars.  Fine cut, plug, smoking and snuff tobaccos, in all varieties of the best manufacture.  Meerschaum, French Briar, China, and fancy wood pipes; all kinds of other fancy articles.  Smoking tobacco by the barrel, for less than Chicago prices.  WG
1878
07 24       "SHORT BUT SWEET"
This is the name given to a new brand of cigars manufactured by the well-known firm of Wiggenhorn Bros., of this city.  These cigars are smaller than ordinary cigars, but are manufactured of clear Havana tobacco, long filler, warranted to be such by the manufacturers, and are sold at $35 per thousand.  They are in every respect equal to the best brands manufactured by the firm, except in regard to size, and are without doubt bound to become popular when they shall come to be generally known to the smoking fraternity.  It has been a study for a long time among cigar makers to produce a five cent cigar, that would give satisfaction to users of the weed, and we think Wiggenhorn Bros. have struck the key note, not by using inferior tobacco, but by giving the best tobacco in a smaller cigar.  Smokers should try the new cigar.   WR
1881
<![if !vml]>

<![endif]>      1881 snow storm street scene
1880s
MAENNERCHOR SINGERS POSE OUTSIDE WIGGENHORN CIGAR MANUFACTORY
   <![if !vml]>

<![endif]>     
Maennerchor (men's chorus) singers pose outside the Wiggenhorn cigar and tobacco store (108 E. Main) on a street decorated for a Sängerbund competition.  Name given to German social clubs.  These clubs where "singing societies" that perpetuated traditional choral music, both German and German-American culture, providing Gemuetlichkeit for new immigrants.
c.1890
<![if !vml]>

<![endif]>        108 E Main         <![if !vml]>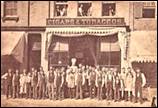 <![endif]>  
1895       MOVED TO 104 W. MAIN
01 23       In taking leave of their old quarters last evening, after a hard day's work of moving, the employees of Wiggenhorn Bros. formed a procession, headed by the Watertown band, and marched to the new factory on the west side.  This was in the nature of a pleasant surprise to the firm, the senior member of which, C. Wiggenhorn, extended to the employees a warm welcome, and feelingly expressed the thought that the congenial relations existing would ever be so.  A response was made for the men by John Muth, the firm's trusted foreman, with a few well-chosen words, and the men forthwith made themselves at home in their new quarters.  It was a happy moment for all concerned.   WR
Same     It has long been an established fact that the manufacture of cigars in this city is of no small moment in business circles.  A visit to the different concerns by the average citizen would be one of surprise at the number of men employed and the amount of material used.  There are eight firms here engaged in this enterprise, whose combined output the past year reached the enormous total of 3,220,000 cigars.  The old-established house of Wiggenhorn Bros. took the lead, their manufacture amounting to 1,600,000, and besides this they sold 500,000 cigars for a Pennsylvania firm.  The other firms doing business here are Wilkowski Bros., Schlueter Bros., Kramer and Neumann, J. S. Miller, William Buending, Charles Becker and J. Goodnetter . . .   WR
Same     The business block of Constance Wiggenhorn and D.& S. Kusel, at 104 and 106 West Main Street, is about completed, the finishing touches on the WIggenhorn half having been put on last week and the firm of Wiggenhorn Bros, is now located there.  It is safe to say that in all its appointments there is no finer structure in the city, and a person is well repaid by a visit to it.  An idea of the building's massiveness is gained from an exterior view, but an inspection of the interior is sure to greatly enlarge one's first impression in this regard.  The height of the building lends a far-reaching view from the uppermost windows.   WR    (This article rates printing in entirety)  
1895
Wiggenhorn Bros Cigar Manufactory, drawing, 1895   /   WHS_005_912.jpg
c.1895
TOBACCO STRIPPING AT FACTORY
<![if !vml]>

<![endif]>  
1898
VIEW FROM MAIN STREET
<![if !vml]>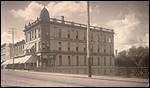 <![endif]>  
PART OF STREET SCENE  
<![if !vml]>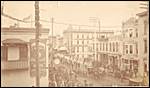 <![endif]>  
c.1900
<![if !vml]>
<![endif]>          <![if !vml]>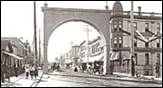 <![endif]>           <![if !vml]>

<![endif]>     
1901
04 19       POSSIBLE LARGE TOBACCO WAREHOUSE
An agent of a large tobacco company was in the city during the past week looking over the desirability of this locality as a place for locating a large tobacco warehouse, which if located here, would give employment during the winter months to over 500 people.  Henry Mulberger, president of the Advancement Association showed him several sites and he was very favorably impressed with the city.  The tobacco would be shipped here and sorted in the warehouse for shipment to dealers.  The object in locating here is the advantage of getting the class of labor desired at a season of the year when there is a great deal of idle labor in our city.  This enterprise would be of much benefit to our citizens, and we hope to see it located here.   WG
1902
JULIUS WIGGENHORN HOME, 510 CLYMAN ST.
<![if !vml]>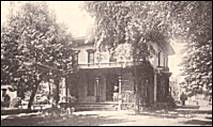 <![endif]>              <![if !vml]>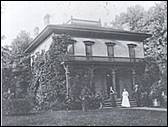 <![endif]>
1905
04 02       EMPTY CIGAR BOXES MUST BE DESTROYED.
They can no longer be used for display purposes, if they have trademarks or other decorations upon them.  The new order, it is expected, will cause a stir among dealers.  Boxes which have been emptied of cigars, or empty, unstamped, labeled boxes sent out from factories for decorative purposes were used by dealers to fill up shelves and give stores appearance of fullness.  This no longer can be done, according to the ruling of the international department at Washington ... It will be unlawful for any dealer to make any use of empty cigar boxes, if there remains upon the box either the government revenue stamp, the caution notice required on all boxes or the brand mark including the factory and federal district number.  The order says dealers must be punished if boxes with any of the marks enumerated are displayed.  The punishment is a fine for $50 to $500.      WL
1905
04 05       JOHN MUTH RETIREMENT
    Held Position 32 Years
After having served in the capacity of foreman of Wiggenhorn Brothers' cigar factory for a period of thirty-two years, John Muth last Friday severed his connection with the above firm and retired from active labor, and will now enjoy the remainder of his days in the rest he so well deserves.
Mr. Muth took leave of the men who had worked under him for so many years most affectionately and invited them to a "smoker" at William Dickoff's place.  Not one of the "boys" were missing, and the event was made a most memorable one.  Nor were the girls employed in the stripping department forgotten by Mr. Muth, for they were royally entertained at Radtke's ice cream parlor.  The high esteem in which Mr. Muth is held was fittingly demonstrated by the gift of a handsome reclining chair from the cigarmakers, and a pretty foot rest from the strippers; and that his employers appreciated their old foreman was evidenced by the gift of a handsome gold watch.
A service covering so many years certainly shows rare faithfulness for the company's interests and a little biographical sketch of Mr. Muth will be read with interest by our readers.
Mr. Muth's connection with cigarmaking dates back to his boyhood days when he began work as an apprentice, at the age of eleven years, and he has continued at the business ever since, with the exception of a few years during the Civil War.  He was born in Birlenbach, Germany, October 16, 1838, and came to America with his mother when a infant two years old, landing at New Orleans.  The family returned to Germany in time to celebrate his third birthday anniversary and again returned to New Orleans, reaching that city in 1848.
The family moved to Watertown the following year and Mr. Muth secured a position as apprentice in the cigar factory conducted by Rothe & Bernhard.  He later worked for Grossmann Bros, and in 1858 began work for Eugene Wiggenhorn, the business practically continuing until the present time. 
In March, 1862 he opened a factory for himself but after a few months sold to Eugene Wiggenhorn and enlisted in Co. E. 20th Wis. Infantry, August 10, 1862, known as Siegel's regiment.  He served during the war and was mustered out at Galveston Texas, July 14, 1865. 
In 1869 he resumed work for Wiggenhorn Bros, as a maker and on May 10, 1873, was appointed foreman and has held that position ever since.  He has practically been in the cigarmaking business fifty five years. The present force over which Mr. Muth has been foreman for so many years, consists of forty-eight men at the bench besides the strippers, and the oldest bench employee in point of years of service is John Kuester, who began as an apprentice in 1863 and still works there.
Mr. Muth was married in Watertown in 1861 to Mary Beisner, who is still living, and they are parents of several grown up children.    WR
11 18       INCORPORATED, 1905
Last week, the Wiggenhorn Bros., the extensive cigar manufactures of this city was incorporated as the Wiggenhorn Bros. Co., and capitalized at $50,000.  The corporation organized by the election of the following officers: President, Constance Wiggenhorn; vice-president, Guido W. Wiggenhorn; Sec'y, and Treas. Julius W. Wiggenhorn.  It is one of the largest manufacturers of cigars in the west, and their cigars are in great demand all over the country because of the excellent quality of tobacco and manufacture.     WL
1908       WIGGENHORN BROS. 50th ANNIVERSARY
Will Celebrate the Event on Saturday, August 1st, 1908
On Saturday of this week the well-known cigar manufacturing firm of Wiggenhorn Bros. of this city will celebrate its 50th anniversary of its business career in Watertown. From a small beginning in 1858 the business of the firm has grown to one of the largest of the kind in the northwest, and but few if any firm in the country has the reputation of making as fine cigars as Wiggenhorn Bros. The product of the firm is sold all over this section of the country and in fact all over the northwest. This success of the firm could not exist unless it made fine cigars, for the reason that in no other business is there so much competition. The firm of Wiggenhorn Bros. was launched in Watertown in 1858 for the manufacture of cigars by Constance Wiggenhorn and Eugene Wiggenhorn as partners. The latter retired from the firm in 1886, and the two sons of the former, Julius Wiggenhorn and Guido E. Wiggenhorn became members thereof, which is now known as the Wiggenhorn Bros. Co., and besides the factory in this city, it has three branches elsewhere.    July 31 WG
In 1894, the firm erected the magnificent building now occupied.  This is 50x106 feet, four stories high.  The lower floor is used for storage purposes. The second floor is devoted to the office, shipping room and cigar storage. The third floor contains the manufacturing departments, and the fourth storage and drying room. The accompanying cut will give an idea of the exterior of the building. The interior is finished in a most attractive and convenient manner.  An elevator connects all the floors, and the entire building is steam heated and electric lighted. It also has a complete waterworks system of its own. The sanitary arrangements for the convenience, comfort and health of the inmates of the building are complete, and cleanliness on the part of employees is one of the strict rules of the establishment, so that the cigars are entirely free from any contamination.
This old reliable firm has been the source of great gratification to the people of Watertown, and its members have done a great deal for the advancement and prosperity of our city, hence all our people hope to see it continue as prosperous in the future as in the past. The Milwaukee Free Press of last Sunday said in a writeup of the firm as follows:
Wiggenhorn cigars are made in the same honest way today as in the pioneer days. The steady growth and enlargement of the business have not in one whit altered the firm's time-honored policy of putting nothing but honest value into their cigars.  Competition and the deceptive blending of inferior tobaccos, practiced by many manufacturers and made possible by modern ingenuity, have not swayed the firm in their determination to give their customers the same honest Wiggenhorn quality, nor have they shattered their confidence in their customer's ability to appreciate quality.
This statement can be substantiated when it is known that in a few years one of the latest products of the firm, Modern Flora, have had a sale of 50,000,000.  The La Flora, the Commercial and the Latest Out and other well known and popular brands are made by the Wiggenhorn Bros. Co.
1908
08 07       C. D. WIGGENHORN and R. G. WIGGENHORN
The sons of Julius Wiggenhorn left here on Tuesday for Montana, the former on a business trip, and the latter to locate at Red Ledge in that state, where he will practice law.  He recently graduated from the law department of the state university.  His many Watertown friends wish him success    WG
1909
01 08       ALBERT FUERMANN, travelling salesman for Wiggenhorn Bros.
Albert Fuermann has gone on the road as travelling salesman for Wiggenhorn Bros.  He is one of the most popular travelling salesmen in Wisconsin and with Wiggenhorn Bros. fine line of goods he will certainly add to his popularity.
1911
<![if !vml]>

<![endif]>  
07 25       DEATH OF FRANK KOCH
One of the saddest deaths that has occurred in this city for a long time was the sudden death of Mr. Frank Koch, a cigarmaker, 20 years of age who had his back broken while diving in the mill race back of the old electric light plant Wednesday evening, July 16.  He lived but a few hours after the accident.  Mr. Koch was born in Watertown February 19, 1893.  He was a member of the Imperial Band and the Schott-Millenkockel Orchestra.  He sang in the choir of St. Henry's church and was a member of St. Philip's Society. He is survived by his parents, Mr. and Mrs. Frank H. Koch, three brothers and one sister. 
The funeral took place Monday morning and was an exceedingly large one.  The employees of Wiggenhorn's cigar factory attended the funeral in a body, marching from the home to St. Henry's church.   There were many eyes of the marchers that were wet with tears, showing the great attachment which his friends had for him.    Watertown Weekly Leader
Buried in St. Henry's cemetery   
1917
08 15       EMPTY CIGAR BOXES
    BEER BOXES, CASES AND KEGS ARE RE-USED
. . . WHY NOT CIGAR BOXES?
BEER BOXES, CASES AND KEGS ARE RE-USED
. . . WHY NOT CIGAR BOXES?
LOCAL CIGAR MANUFACTURERS WANT TO AMEND REVENUE LAW TO PERMIT RE-USE OF CIGAR BOXES
For many years it has been apparent to the ordinary individual that the breaking up of perfectly good cigar boxes was a waste of material, pure and simple, and that the law compelling this act was wrong in some way.  To see a man hand out the last cigar from a box costing from nine to eighteen cents, and then with a blow of the fist break the box cover and throw the useless receptacle into the scrap heap seems a waste.
In the making of beer, the same boxes and cases are used over and over again many times.  The kegs are also used until they wear out. 
A number of the leading cigar manufacturers of Watertown were interviewed and asked their opinion.  None of the Watertown manufacturers interviewed had heard of the movement, but all were in favor of the act being passed.  "Just how a law compelling the destruction of the emptied cigar boxes came to be passed is beyond me," said one dealer.  "The majority of boxes emptied are every bit as good for use as when they were first filled.  If an act permitting the re-use of boxes was passed, more care than ever would be taken of cigar boxes, with the end in view of selling them back to the manufacturer.  We could well afford to pay even five cents each for the ordinary cigar box, for they cost us nine now, and some of our boxes cost as high as eighteen cents."
"I have no doubt," he continued "that such a movement has been started.  I looked for it long ago.  It has doubtless been agitated by the 'big fellows," who could readily save thousands of dollars every month by re-using cigar boxes.  We little fellows here in Watertown are but a drop in the bucket compared with them, but the law would enable us to use better stock, pay better wages and benefit the dealer—in fact, make it better from every standpoint for the business.  The sooner this law is passed, the better, and it would be a real step in the way of conserving material which is going higher every day."
One other big manufacturer in Watertown said that boxes could be re lined at a minimum cost, and in a great many cases this was not even necessary.  "It goes without saying," said he, "that the boxes would only be used for the same kind of cigars that had first been put into them.  A taking apart of the box and cleaning and re-building the same would not be economy, but a large percentage of the boxes as they are emptied could be used as they are, simply by destroying the used revenue stamp and pasting a new one on.  I don't know why this move has not been started before, but the cigar box manufacturing business is a very extensive one, and there may be a reason."     The Watertown News
12 17       CARL SCHURZ CIGAR
<![if !vml]>

<![endif]>        Among brands manufactured by Wiggenhorn Bros.  
07 10       BUSINESS ENDS
Had Wiggenhorn Bros., cigar manufacturers, remained in business in Watertown until August 1, they would have rounded out sixty years in business, but they were succeeded here a short while ago by the Westbound Cigar company, which will endeavor to build up a big business in this city for the jobbing trade.  They need help and will employ 150 people here if they can be secured.
Mr. Julius Wiggenhorn. who with his brother Guido are the only surviving members of the firm of Wiggenhorn Bros., will leave next week for Billings, Montana where with his son he will engage in the wholesale drug trade, and the well wishes of many in Watertown will accompany the family.
The business was established sixty years ago [1858] by Eugene Wiggenhorn, who upon his retirement a number of years ago, turned the business over to his brother, the late Constance Wiggenhorn.  His sons, Julius and Guido Wiggenhorn, were admitted to partnership and have conducted the business until it was disposed of a few weeks ago.
The factory was founded August 1, 1858, by Eugene Wiggenhorn.  It was then located in the Buena Vista House.  Mr. Wiggenhorn had served his apprenticeship with the firm of Kothe & Bernhard and launching into the business himself conducted it until 1864, when he took in as a partner, his brother, Constance Wiggenhorn, who died a few years ago.
The new firm began business in the buildings at the corner of Market and Second streets, now occupied by Richard Geschke and Glaus & Jaeger.  Here they remained until 1866, when they moved into the building at 103 West Main Street.
In 1868 the firm moved into the Fred Miller building in Main Street, between First and Second streets, and their increasing business compelled them to rent the upper floors of what was then known as the Chappell block.  Here they remained until 1895 when they removed into their present quarters.
In January 1886 Eugene Wiggenhorn severed his connection with the firm and moved to La Crosse where he formed a partnership with John Pamperine in the cigar business. 
Upon his retirement, Julius Wiggenhorn and Guido Wiggenhorn, sons of Constance Wiggenhorn. were taken into the company, the title of the firm remaining the same.     The Watertown News
1920
04 23       WIGGENHORN BLDG LEASED TO BRANDT'S
<![if !vml]>
<![endif]>
The three-story building with basement at 102 and 104 West Main Street has been leased for a term of years by the Brandt Manufacturing Co.  The entire first floor will house the general and administrative offices of the company while the upper stories will be used for assembling.
The constantly growing demand for the Brandt Automatic Cashier and other Brandt products caused the company to make immediate plans for additional space.  All departments of the main plant are crowded and to relieve the congestion it is planned to make several changes whereby the main plant will be devoted entirely to the manufacture and assembly of the Cashier.
It has been conservatively estimated that the yearly mechanically computed payments made by the Brandt Automatic Cashier are over 450,000,000 while the number of coins paid mechanically are over 1,575,000,000, saving in time over 1,250,000 hours to the users and a further saving to the public of 6,250,000 hours.
Executive & Manufacturing Divisions
E. J. Brandt, Chairman
C. R. Acker, General Sales Manager
O. E. Hoffman, Auditor
A. W. Guetzlaff, Service Manager
H. Breunig, Production Manager
F. W. Kleeman, Foreman
G. Sauer, Foreman
Henry Breunig, Foreman
E. W. Quirk, Foreign Manager
R. J. McAdams, Purchasing Agent
W. G. Halfpap, Superintendent
Edward J. Cavanaugh, Shipping Division
Albert Schultz, Foreman
M. Novotny, Foreman
Carl Kopfer, Foreman
Gust Erdman, Foreman
The 1920 sales convention will take place late this month.  Special drawing room sleepers have been chartered which will be side tracked in Watertown during part of the five-day meeting.  An educational trip will be made through the factory after which other interesting points of the state will be visited.                 WDTimes, 04 23 1920
1920s
WIDER WINDOWS?
Windows on the 1st and 2nd floors on the east side of the building appear to have been widened in the 1920s.
1950
06 06       SAVOY THEATER FIRE
<![if !vml]>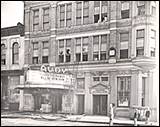 <![endif]>          <![if !vml]>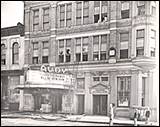 <![endif]>       chapter on the Savoy 
1985
<![if !vml]>

<![endif]>  
The two tin urns shown at the upper left of the roof-line are now part of the collections of the Watertown Historical Society.  At this time items are too large for our public display spaces, but we are proud to care for them nonetheless.
06 21       CIGAR MANUFACTURING MURAL
<![if !vml]>

<![endif]>  
Another mural has been added to Watertown's growing collection adorning the walls of downtown businesses.  The newest addition was scheduled to go up this weekend on the side of the Golden Dragon restaurant at the corner of North Sixth Street and Main Street.  Watertown artist Gail Towers-MacAskill created the latest piece of wall art which highlights the history of Watertown's cigar manufacturing industry.  From a historical perspective, cigar manufacturing was a big part of the city's society from the mid-1800s to mid-1900s, offering employment and pleasure to many.  Originally tobacco grown in Pennsylvania and Cuba was used to create inexpensive, yet excellent quality cigars.  Later cigar manufacturers used native tobacco grown around Watertown.  This tobacco eventually earned a reputation as the world's best binder leaf.  The binder leaf is the inner wrap of a cigar.
2021
05 14       WIGGENHORN URN ADDED TO MUSEUM GROUNDS
<![if !vml]>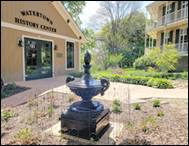 <![endif]>          <![if !vml]>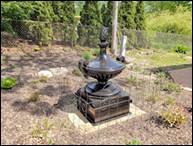 <![endif]>
Cross Reference:
CIGER MAKER ITEMS
<![if !vml]>

<![endif]>        <![if !vml]>

<![endif]>        <![if !vml]>

<![endif]>        <![if !vml]>

<![endif]>   
<![if !vml]>

<![endif]>
__________________________
Cross References:
Dr. E. J. Hoermann had dental offices in the Wiggenhorn building.
Eugene Wiggenhorn was the son of the famous Watertown Wiggenhorns.  His father, William, owned and operated the Buena Vista House, now known as Loops, on N. Fourth St, in 1848, shortly after he arrived here with his family. 
Look for more info on the family in the late Charles Wallman's book, The German-Speaking 48ers, Builders of Watertown. 
Constance Wiggenhorn, portrait
Wiggenhorn Bros Cigar Manufactory, 1890c, Souvenir plate. 
                                                 Back "The cleanest and best equipped CIGAR MANUFACTORY in the northwest, est 1858"
Wiggenhorn Bros Cigar Manufactory, 102-104 W Main (PC_064),  
Wiggenhorn Bros Cigar Manufactory, 1902, from Picturesque Watertown booklet
Wiggenhorn Bros Cigar Manufactory, drawing
Wiggenhorn Bros Cigar Manufactory, Cigarmakers, may or may not be Wiggenhorns
Wiggenhorn Bros Cigar Manufactory, 1897 ad
Wiggenhorn Bros. Vintage Watertown Wisconsin Factory Original Cigar Label Art.  1908 / Proof by Schlegel Litho.  Originally they imported tobacco for their cigars, but eventually started growing tobacco locally, which became famous for how great of a binder leaf it produced.   Approximate size: 6" x 9".  drawing   WHS_006_418.jpg
Wiggenhorn Bldg, c.1985 view 
Wiggenhorn Bros float, 107 and 109-115 N Water St in background
William Schimmel (William Schimmel & Son cigar store) worked for Wiggenhorn Brothers when he was but 15 years of age
Edw. Schultz, traveling salesman for Wiggenhorn
\\\\\\\\\\\\\\\\\\\\\\
The old Wiggenhorn cigar factory, c.1895, NW end of Main St. bridge, became the Wisconsin National Bank, Valley Bank.  Torn down in 1985 and Town & Country Bank constructed.  WTTN radio started in Wiggenhorn building, Dr. E. Allen Miller had his offices on the second floor, Mr. Clifford, the lawyer, had his office on the second floor and just before it was torn down the old Nickel & Dime Theatre Co. met on the third floor.
<![if !vml]>

<![endif]>   <![if !vml]>

<![endif]>   < PORTFOLIO OF PICS

History of Watertown, Wisconsin