This file part of www.watertownhistory.org website
Previoius portion of this chapter on Watertown High School
1952
First High School senior class to have a post-prom party at the Watertown Elks Lodge.   WDTimes, 08 13 2012, p4
First High School class to receive a Joe Davies Scholarship    WDTimes, 08 13 2012, p4
1954
First steps taken to secure properties which would make up the new High School addition.
1955

   High School principal Edward Hinterberg addresses student assembly on first day of 1955-56 school year, at which time text books were issued.
The 1955 State Champion Watertown High School Baseball Team
1955      1955 State Champion / Watertown High School Baseball Team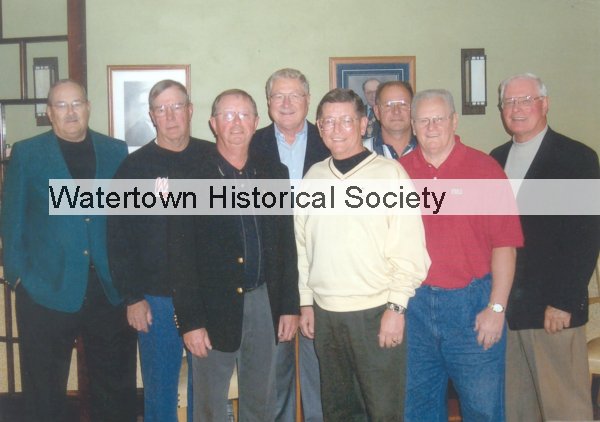 WHS_005_844
The 1955 State Champion Watertown High School Baseball Team
A reunion party was held in 2004 at the Elks Club and about half of the team was in attendance.
[L-R] Ken Rose, Mike Mullen, Rich Block, Myron Jahnke, Jack Bast,
Chuck Brumm, Jerry Sell and Dave Veldhuizen.
1955      The 1955 State Champion Watertown High School Baseball Team
The Watertown Goslings won the state baseball championship.  It was the first time for such an achievement.  A planned article will document the occasion by commemorating the team and team players.  The author, Dave Stalker, researched the newspaper clippings and box score's associated with each game and contacted most of the championship team members so to add updating information and perspective.
1956
03 07     The City Council decided not to sell the old Home Management House in Dodge Street which is to be cleared away to provide part of the site for the new high school addition.  A bid had been entered by Clarence Wesemann for it, but the council decided the condition of the building is such that it should not be moved and that it would be to the city's advantage to demolish the house and dispose of the salvaged materials.   WDT
1957
05 09     Junior prom   WDT
10 19     Sometime in the next couple of weeks, members of the Board of Education are going to determine if they want to include a laundry in the high school building project.  At present the subject is under study, with the provision that a decision be made later.  If a laundry is installed it will make possible the washing of towels used by students, such as athletes and others who make use of the showers.  It will also enable washing athletic suits and sports equipment.  If the school does go in for such laundry service it will merely be following what some other schools are now doing.   WDT
11 20     Preliminary plans for the remodeling of the Watertown High School, a project which cannot be carried out until after the new addition, now under construction, is completed, have been approved and the architects, Durrant and Bergquist of Boscobel, Wis., and Dubuque, Iowa, have been authorized by the Board of Education to begin work on the formal plans and sketches, along with specifications.  WDT
1958
01 05     Edward Hinterberg, principal of the Watertown Senior High School, retires   WDT
04 18     Eugene Tornow replaces Hinterberg   WDT
05 03     New gymnasium-auditorium used first time for graduation.  Hinterberg presenter for last time.   WDT
06 16     Council approves contracts for remodeling of high school   WDT
07 01     Eugene Tornow, new principal, began his duties   WDT
07 21     Science instructor Frank James attends GE Fellowship program   WDT
08 22     Remodeling programs delays start of school.   WDT
09 04     New high school addition due to open with the first full day of classes on Monday, Sept. 15.  WDT
10 11     Special scholarship committee; five faculty members named to   WDT
10 27     1958 Watertown High School football squad    WDT
11 17     Stage equipment for High School approved   WDT
12 15     New addition dedication plans    WDT
1959
03 18     Senior Class trip to Washington, D.C., and New York City   WDT
03 26     Eugene Tornow, WHS principal, selected as new superintendent of schools   WDT
04 10     Junior Prom, "Bali Ha'i"   WDT
05 09     Arnold Landsverk, physical education instructor and athletic director and former coach, resigns    WTD
05 21     Russell Twesme new principal, replaced Tornow   WTD
07 18     New daily seven day class period   WDT
07 24     High School Football Team   WTD
09 02     New City Hall proposed for old High School/Armory site on E Main   WDT
10 14     Open House, High School addition   WDT
10 15     New theatre, Dedication, open house   WDT
11 14     Homecoming Parade Vandalism   WDT
12 04     Christmas pageant cast   WDT
12 09     Wrestling squad   WDT
1960
               Windows Door Ad, new High School, Marmet Corp
03 18     First journey to state tournament in 21 years   WDT
05 25     Commencement exercises   WDT
08 19     Married students in high school, policy relative to   WDT
1961
Watertown Daily Times, 04 25 & 28 1961
The Watertown High School gymnasium was transformed into an underwater paradise for the 1961 junior prom held Friday night.  The junior class chose the theme "Ebb Tide" for the gala party.  The theme decorations will be carried out with an underwater scene in the gymnasium and a beach scene in the cafeteria.  Music for dancing was played by Jimmy Hartwig and his orchestra.  Spectators filled the balcony to watch the coronation ceremony, the grand march and the dancing.  Reigning as king and queen were Dennis Turke and Carolyn Gnewuch. In their court of honor were Arthur Kehl and Kate Nelson, Peter Uttech and Linda Quirk, Robert Langer and Wanda Pas, Ed Buckland and Rita Peirick, Ed Meyers and Janet Koshelnick and John Schuch and Ruth Neitzel. 
08 19     Frank James awarded a NSF grant in chemistry and physics  WDT
08 20     Watertown High School's first foreign exchange student, Carlos Marcelletti of Ancona, Italy will reach Watertown Tuesday afternoon, Aug. 22.  He is due in Milwaukee at 1:30 p.m. where he will be met by members of the Earl R. Maas family of 106 Lynn Street at whose home he will live while spending a year in Watertown.  The family will drive him to Watertown and here it is planned to have Mayor Robert P. White and others meet the party on the outskirts of the city and welcome the Italian youth who is 17. WDT
12 21     The board of education is proceeding with its previously announced plans calling for the addition of four classrooms to the Watertown High School building to meet expansion needs for the 1962-63 school term.  At last night's meeting of the board it was disclosed that the working plans for the additional classrooms will be ready for the January meeting.  At the same time, with the board following the time table it set up last month in connection with the project so it will be completed in time for the next term, it was disclosed that bids are to be ready for opening in February.  A bid notice has already appeared in The Western Builder.  WDT
1962
02 28       The city of Watertown, named in the last will and testament of the late Dr. Ella Ruebhausen, at one time a teacher in Watertown High School and later for many years a teacher in Chicago, will be represented at a hearing scheduled for March 7 in the Superior Court of Cook County, Ill., seeking a clarification of the will and an order to settle the estate and make a sum of money, under terms of the will, available for Watertown High School scholarships at the University of Wisconsin.  Attending the hearing will be City Attorney James A. Fitzpatrick and Superintendent of Schools Eugene W. Tornow.  Under terms of the will, a Self Help Junior College was to be established in Watertown by the board of regents of the University of Wisconsin, but the regents and the city contend this is not feasible.   WDT
06 01       50th anniversary edition of The Orbit
1968
04 18       High School athletes honored.  Elks all-sports dinner.   WDT
1983
05 09     Principal Hugh Burkett , resignation accepted   WDT
12 17     Specifications for a New High School   WDT
1984
03 17     Asbestos in ceilings at Watertown High School and Schurz Elementary may be removed   WDT
04 29     Child care center at Watertown High School investigated; a School Age Mother (SAM) program   WDT
09 26     Child care lab; school age mothers program   WDT
10 01     Homecoming activities   WDT
11 17     Improved high school facilities, study of   WDT
1985
02 24     Basketball team wins Little Ten Conference title with a perfect record   WDT
05 05     Senior High prom   WDT
06 21     Specifications for new High School   WDT
08 16     Purchase of Stangler farm considered for future high school   WDT
09 24     After a brief discussion and no expressed opposition, the Watertown Plan Commission approved a conditional use permit for the construction of a new high school on the northeast corner of the city.  The permit allows for the construction of the school on a 120-acre site at 1531 North Fourth Street.  The permit was necessary since the new school would be built on a parcel of land now zoned residential.  Appearing before the commission were administrators of the school district and Robert Stangler, current owner of the property who accepted the district's offer to purchase in May.   WDT
11 18     Ron LeRoy, Senior High School Band Director, Teacher of the Year   WDT
12 18     Members of a committee charged with determining which of the three options for an improved High School should be followed, were presented to the board of education of the Watertown Unified School District.  Mrs. Jeanne Reed, president of the board, said the seven who have agreed to serve are Jan Quest, William Mullen, James Clifford, Jerry Theder, Dr. Ed Hoy, Sandra Philipsen, Andrea Turke and Ray Dobbratz.  She said several others have also been asked to serve on the committee but they have not confirmed their intention to serve.   WDT
1986
04 29       The Watertown Daily Times has surveyed other public schools in the Little 10 Conference as well as several others of similar size in this area, and found few offerings of Latin classes.  School districts which do not offer Latin include Fort Atkinson, Hartford, Hartland, West Bend West and West Bend East.  Jefferson High School offers one Latin class.  Next year the lone class will be second year Latin for the about six students who have indicated an interest.  Oconomowoc High School has one Latin class, and Beaver Dam schools offer Latin at the junior high school. Senior high school students in that district must attend the classes in the junior high school.   WDT
The ceiling was filled with streamers and balloons were floating in the air, as Jason Jones and Patty Shumaker were announced king and queen of the 1986 Watertown Senior High School prom Saturday night.  The court members included Jones and Shumaker; Rob Adler and Julie Larson; Daryl Peirick and Ellen Zgonc; David Andrews and Kim Sevenz; Mike Frommgen and Shana Kaddatz; Rod Bachler and Sue Chapman; and Tim Radloff and Trish Da Walt. Presenting the king and queen with flowers and crowns were the miniature couple of Trevor Peirick, son of Mr. and Mrs. James Peirick, and Stephanie Buchholtz, daughter of Dr. and Mrs. William Buchholtz. 
07 16       The Latin program will be phased out over three years rather than dropped immediately.  The decision was on a narrow 5-4 vote.  The Latin program modification was one of several budget changes which were approved by the board.    WDT
08 20       An architect hired to perform a feasibility study on a new Watertown High School dodged giving cost estimates and when he did they never received a nod of acceptance from a school official, the school superintendent says.  The arbitration hearing between the Watertown Unified School District and Hackworthy Juerisson Associates, Inc. entered its second day Friday as Superintendent Richard Stolsmark disputed much of the testimony of Ray Juerisson, one of the two principals of the architectural firm.  The West Allis firm claims the school district owes it $172,196 for work it performed on the development of a new high school facility.    WDT
1996
08 28     The Watertown Planning Commission Monday night approved the second step in a plan to renovate the old Watertown High School into a health club, child care center and elderly apartment building. The plan commission paved the way for developers Peter M. Hanson and the Watertown Athletic Club to continue toward a general development plan, which, when approved, is equivalent to achieving zoning. In approving the developers' concept Monday, the commission brought up several areas which need more detailed information. Under the concept plan, the athletic club would use the gymnasium area and Mary Linsmeir School would use classroom space in the newer portion of the former high school. Watertown Community Church, a 30-member congregation, would use the auditorium area on Sunday mornings and occasionally on a week night.  WDT
1998
05 19     Scholarships and awards ceremony  WDT
08 27     Rest room plans at High School Stadium  WDT
08 04     To build rest rooms with money from sale of old Watertown High School  WDT
08 30     Peace Garden transforms bus turn around area    WDT
10 18     Federally Subsidized School Breakfast Program, Watertown High School will join the initiative.  WDT
12 19     A new Watertown Police Department proposed for near high school   WDT
1999
03 06     End of Latin program   WDT
04 01     Proposal to introduce girls bowling as a letter sport   WDT
04 03     Police facility on High School land; option allowed construction of    WDT
05 01     Junior prom court    WDT
05 04     Graduation moved to High School gym from Riverside Park    WDT
05 13     Two graduation ceremonies planned, Riverside Park and school gymnasium   WDT
07 29     Health and Wellness Center to be located at the former high school, 415 S. Eighth St    WDT
07 22     Budget for school food service introduced   WDT
09 19     Athletics program will continue to be run by interim director   WDT
10 13     Orange Bowl parade; band trip to Miami; to perform in   WDT
2000
09 13     The passing of a fondly remembered era ended this summer with the demolition of the oldest portion of the former Watertown High School on South Eighth Street.  The red brick building where students used to rush to classes is now on its way to becoming a parking lot and playground for the new Health and Wellness Center.  The transformation is slated to be completed by Oct. 1.  The building held many memories for those that taught or attended school there.  While the newer portion of the former school has been remodeled to house numerous community service agencies as part of HAWC, no financially feasible use could be found for the old portion because of the building's age, noncompliance of safety codes and neighborhood issues.  The high school building opened its doors to students for the first time on Jan. 2, 1917.  An addition was constructed in 1926 to eliminate crowded space and a larger addition was added in 1956.
2001
03 03     Percentage of students graduating on the rise; dropout rates decline   WDT
03 07     Replacement of two sections of the Watertown High School gymnasium floor was discussed at the Board of Education Buildings and Grounds Committee meeting.  Dennis Mudler, director of business services and transportation, told the committee the substructure, or particle board, below the polyurethane top structure of two basketball courts on the east and west ends of the gymnasium is failing and is only 7 years old.  The wood section of the floor is not affected.  Vibrations are causing the substructure to give way.  Patches were placed in January but staples are beginning to come up.  The top structure remains in good condition.   WDT
05 26     Dr. Frederick Lemke scholarship program, WACF   WDT
2008
11 05     $22,385,000 referendum approved for additions and renovations; second referendum to exceed revenue limits defeated   WDT
2009
02 10     Frank James, 1913-2009, High School chemistry teacher, 1944-1975
02 10     Doug Keiser's Education Blog:  Douglas W. Keiser, Ph.D., Superintendent of schools, Watertown Unified School District
07 09     Three wall murals, painted by Brianna Baurichter   WDT, no link
Peace Garden
The Peace Garden is a showpiece for Watertown High School, used at graduation and other outdoor events.  It is the first thing the students, staff, and visitors see when they approach the high school. The garden was the inspiration of Steve Jacobson, much beloved teacher, who passed away in 2008 ago.
Watertown Daily Times, 11 25 1996
"He has forever changed the opportunities available to the students, staff and community of Watertown." Dr. Suzanne Hotter, superintendent of the Watertown Unified School District, let the words hang in the auditorium of the high school this morning.
After a pause, a standing ovation recognized the man who helped create a technology center at the school and who, most recently, presented the district with a $35,000 gift for a more artistic endeavor. Tom Jeffris of the Jeffris Family Foundation of Janesville attended the ceremony to dedicate Meridian, the steel sculpture now located in front of the school. It was a celebration of sculptor Ed McCullough's work and also of efforts to move education beyond the walls of the classrooms. Fittingly, it occurred during American Education Week.
Watertown High School Orbit, 1998
The Peace Garden has come a long way in the past two years. The two-acre plot in front of the school is filled with plants and trees from over 30 countries around the world. In addition to the greenery, benches provide a place to relax, and the Meridian decorates the south end of the Garden.
The idea of the Peace Garden started with Mr. Jacobson. Two Peace Gardens have already been established in the world. One is in Hiroshima, where the atomic bomb hit, and the other is on the Canadian-States border. With these as an inspiration, the project was started. We live in a world of hate and where peace is not taught. Mr. Jacobson wanted to teach it. He wanted a place where people would walk by this garden every day and say to themselves, "Peace." The more they would hear it, the more they would question and think about it, and they would learn.
Watertown High School was chosen as the place to put the garden. Could there be a more appropriate spot to put an International Peace Garden than the community's educational center? The garden would be a place for students to reflect not only on their day-to-day problems but also to remind them of the friends they have across the globe. It would be a beautiful and living memorial to everlasting peace between all individuals and all nations.
Many have contributed their time and money in order to see the garden grow. Donations have come from the students and individuals throughout the community. Many students and faculty have also contributed their time to work in the garden.
Much has been done with the Peace Garden, but there is still a lot to do. This summer an amphitheater made with natural stones will be put in at the north end of the Garden. This will provide a place for class instruction, concerts, and such. They are also planning on putting in a Community Garden at the north end, which will consist of plants given from gardens throughout the community. An integrated watering system is also going to be installed. With all of this being done, there is still a need for continuing maintenance. The garden, like peace, must not only be planted, but nurtured so it will grow into something so wonderful that it will consume all people. - Suzie Zobrist
The Meridian represents the circle of life. Life doesn't flow in a circle, though. It has its bumps and bruises, but it is still continuous. It is a symbol of hope and life.
Image Portfolio
Click to enlarge
   1982                1989