website  watertownhistory.org
    ebook  History of Watertown, Wisconsin
   Chapter on Watertown Police Department
   Chapter on Watertown Fire Department
John Reichardt [Reichert]
City Marshal & Fire Dept Founder
<![if !vml]>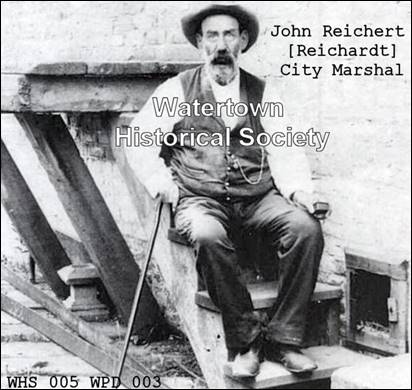 <![endif]>
1851      Reichardt, John, 1SG, Watertown Rifle Co member
1869      Reichardt officer of Hook and Ladder Co when founded
Riedl, Ken, Watertown Fire Department: 1858-2007, 2007, pg 45
The Watertown Fire Department (The Pioneer Company) was incorporated under an act of the Legislature approved March 6, 1869.  The following were the officers of the newly legalized department:  President, Leonard Jaehrling, Vice President, Joseph Miller; Secretary, Gustavus Werlich; Treasurer, William H. Rohr; Collector, John Muth.
The city also finally agreed to organize a Hook and Ladder Company.  The Badger State Hook and Ladder Company No. 1 was organized on April 17, 1869.  First officers:  Foreman, John Reichardt; First Assistant, Nic Bruegger; Second Assistant, Fred Stylow; Secretary, Gustav Barthmann; Treasurer, Carl Goeldner.  The H&L Company vehicle occupied a portion of the South First Street engine house, alongside the pumper.
Firefighters were still all volunteers and most often, upon the sounding of an alarm of fire, had to hasten home and put on their belts and helmets and then rush to the station of man the Water Witch. The old hand engine pumper, manned by Reichardt (also an early police constable) and others, did yeoman service in those days.  She could be set on a river bank, a creek or alongside a tub of water and be worked like a Trojan.  But there were not many regrets when the steamers were put into service in 1876.
1873      John Reichardt, City Marshal

  Unknown date
1879
07 31       NO CAUSE OF ACTION
Jacob Schaller, of the 4th ward, was arrested by Deputy Marshal Reichert last Tuesday, charged with stealing a whitewash brush, valued at $3, from William Quentmeyer.  The alleged offender was arraigned before Justice Arnold, and was asked by the court to state whether he was guilty or not guilty.  The defendant very emphatically replied that he was not guilty.  Several witnesses were examined, but the evidence elicited was wholly circumstantial.  Finally Jake got up and addressed the court in the following strain:
"I beg the indulgence of the court for a few moments.  Your honor, I am charged with stealing a whitewash brush.  This is a serious accusation, one which no honorable citizen would wish to bear.  I have lived in Watertown some twenty years, and was never before accused of theft.  I can bring your honor affidavits from a dozen citizens testifying to my good character.  They know me to be honest, and a man who would not stoop to commit such a paltry offence.  There is not a particle of truth here to show that I stole the brush.  Someone has been "putting on a job" on the complaining witness.  The law presumes a man innocent until proven guilty.  Now then your honor, the evidence against me is only circumstantial, nothing positive has been brought out, consequently, as long as the law gives me the benefit of a doubt, I ask you to dismiss the suit on the ground that there is no cause of action."
After hearing the above speech the court decided that there was no cause of action and then discharged the prisoner.   WD
07 31       DISORDERLY
Two Indians were arrested last Friday for drunk and disorderly conduct.  They were taken before Justice Arnold and examined.  The principal witness against them was Deputy Marshal Reichert.  He had seen them in a beastly state of intoxication, throwing stones at some children, and had also heard them use obscene language.  It also appears, though the matter was not mentioned in court, that the prisoners were guilty of breaking windows in one or more houses in the 1st ward.  One of the Indians claimed to be a doctor, and had come from Manitowoc.  The other was so stupid, from the effects of drink, that he didn't seem to know where he was or where he was going. The Justice, after considering the case, sent one of them up for fifteen and the other for twenty days.  The saloon keeper who supplied them with whisky ought to be punished.  There is a stringent law on that point in this state, and if a saloonist is found guilty of selling any intoxicant to an Indian he would be made, no doubt, to suffer a penalty.   WD
1881
-- --          FIREMEN CARDS
<![if !vml]>

<![endif]>    
Society holding, previously owned by John "Putt" Reichardt, early Fire Department member
04 14       WARNING
The bummers and loafers who stand about the street corners, making smutty and insulting remarks to and about passing ladies are hereby notified that a day of reckoning is at hand.  –  John Reichert, Marshal    WD
Kiessling, Elmer C, Watertown Remembered, 1976.
1881 (Hugo Jacobi: "Reminiscences"): There is general satisfaction that Mr. John Reichert has been appointed city marshal.
He has had plenty of experience as a policeman and will certainly clear the street corners of young bums and loiterers who insult our girls and older women with unseemly gestures and remarks.   Reichert has been known to scatter a gang of boys simply by shouting "Putt."
Ralph Blumenfeld in Home Town presents the marshal in a less favorable light [N.B. uses "Put" instead of "Putt"]:
This "Put" Reichert was a character.  In his far-off Germany days he had been a circus rider.   He was nicknamed "Put" because he had the habit of coming up in a hurry when young boys were frolicking, hammering his great stick on the ground [pic at top shows the stick], and shouting, "Put, boys, Put!"  Wherefore the tricks that were played on him were endless.
"The History of Jefferson County, Wisconsin", Chicago:  Western Historical Company.  1879.
John Reichardt, Deputy City Marshal; born in Germany Jan. 15, 1837; came to America in 1853; located in New York two years; he then came to Fond du Lac, where he was engaged in clerking until 1869, when he came to Watertown; since he came here he has been Marshal, is now Deputy; also doing business as auctioneer; started the Hook and Ladder Co.; he is a member of the Fire Department, Turner Society, I.O.O.F., etc.  He was married in Fond du Lac in October, 1856, to Leopuoltena [Leopoldina] Lopper [Loeffler];  he was born in Germany; they have seven children – Lena, Willie, Anna, Emma, John, Tilda and Louis; lost a pair of twins, they died at the age of 6 months.
1905
10 22       DEATH OF JOHN REICHERT
Reichert, John, b. Jan 15, 1837, d. Oct 22, 1905, Sec 25   
Reichert, Leopoldina, b. Jan 6, 1834, d. Apr 3, 1891, Sec 25
John Reichert, one of Watertown's best known and most esteemed residents died suddenly last Sunday at his home, 1129 Third Street.  While eating his supper he complained of a choking sensation and died a moment afterwards in his wife's arms.
Deceased was born in Germany, January 15, 1837, and came to America in 1853, residing for two years in New York, he then located at Fond du Lac in this state, and removed from there to this city in 1869, and has ever since made it his home. 
He was an auctioneer by profession and was quite prominent here in his younger days in politics, being city marshal and deputy city marshal a number of times, and was also chief of the fire department and founder of the hook and ladder company.  During the war of the rebellion he enlisted from Fond du Lac August 15, 1862, in Co. E, 26th Wisconsin regiment, being discharged for disability March 23, 1863.
He was married in 1856 to Leopoldine [Leopoldina] Loeffler, who died in 1890, seven children from this marriage surviving him, being Mrs. Peter Adler, Jefferson; Mrs. Peter Rapenus, Denver, Col.; Mrs. Joseph Ruesch, Neosho; Miss Tillie Reichert, Racine; Louis Reichert, Milwaukee; John Reichert, Iowa City, Iowa; and William Reichert, Watertown.  His second wife and two children also survive him. 
Mr. Reichert's remains were interred in Oak Hill cemetery.  
Cross Reference:
<![if !vml]>

<![endif]>  This Watertown Fire Dept. badge belonged to my ancestor, John 'Put' ["Putt"] Reichardt (Reichert).  His son Willie, married Bernadine Werner and they lived in her family home at 109 N. 5th St.  Their son Hilary, married Bernadette Scheiber and they lived in the 5th St. house.  Their son John, married Patricia Krueger. My parents.   - Contributed by Anthony Reichardt.

History of Watertown, Wisconsin