website  watertownhistory.org
    ebook  History of Watertown, Wisconsin
Lewis Woodworth Parks
1881 - 1952
<![if !vml]>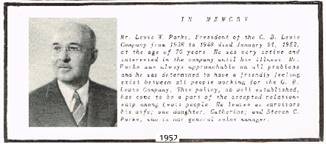 <![endif]>
Parks, Lewis W., b. 1881, d. 1952
Funeral For L. W. Parks
Business Leader Stricken at His Home Yesterday
Funeral services for Lewis Woodworth Parks, 70, of 214 South Washington Street, will be conducted Thursday at 2 p.m. at the Schmutzler Funeral home and interment will be in Oak Hill cemetery.  The Rev. Herbert E. Bauck of the Congregational church will officiate.
Mr. Parks died yesterday afternoon at his home.  His death followed a long illness and was due to cancer.  He had first suffered a heart attack in 1948 and had been in delicate health since that time, forcing his retirement from active business as president of the G. B. Lewis Co. that year.
He was born in Watertown on May 13, 1881, his parents being Charles E. and Lilia Lewis Parks.  He attended the public schools in Watertown and then attended the University of Wisconsin, receiving his B.S. degree in commerce in 1904.
On Aug. 28, 1909, he was married to Miss Marguerite Cunningham of Princeton, IL., daughter of Mr. and Mrs. Thomas Cunningham.  Three children were born of this union, Steven, Catherine and Charles Parks.  Charles died in 1918.
Surviving Mr. Parks are his wife, one son, Steven C. Parks, Watertown, and a daughter Mrs. Catherine Parks Baumgardner, Lancaster, O.  There is one sister, Miss Olive Parks, Watertown, and also four grandchildren survive.
Active Career
The death of Mr., Parks has ended a long and notable business career here.  Until his retirement a few years ago he had been active in the operation and management of the G. B. Lewis Co. which he joined in 1905.  In the interval he worked and advanced in its various departments.  At one time he was plant superintendent, but had also worked in production, purchases and sales, until he became president of the company in 1938 upon the death of George C. Lewis.
The Lewis Co. was founded in 1861 by Mr. Parks' grandfather, George B. Lewis, who was later joined by Mr. Parks' father, Charles E. Parks.  The company was incorporated in 1890.
The company grew to become the world's largest manufacturing concern of beware, but in recent years it has also added many other products to its line of goods.
On Honey Institute
Mr. Parks was one of the founders and chairman of the Board of American Honey institute for some 25 years.
Throughout his life Mr. Parks was devoted to business, but he also took an interest in many other things, including music and promotion of civic movements in the community. It was only when ill health forced him to relinquish his activity that he retired, but even then, he retained a strong interest in the community.
His entire career and private life, it may truly be said, was actuated by high principles such as always command confidence and respect.
"Lew" Parks was more than a friend to countless numbers of people here and elsewhere.  They looked upon him as a companion.  He was ever ready to support and take part in any worthwhile endeavor and things that go to make a community better and advance its progress.
Active As Rotarian  /  His private life was exemplary
He was friendly and cheerful, with a keen sense of humor and a deep appreciation of the best in life.  Friends will remember him as a man who always had a good word to say and saying it cheerfully.  In the Rotary club, where he was long active, he was one of the most popular members of his time.  He was a-charter member of the Watertown Rotary club and also one of its past presidents.  In its early years he helped lay the foundation for a firm organization and was always devoted to its high principles.  Rotarians who shared many good times and serious times with him will go on remembering with appreciation the companionship they had with him.
Mr. Parks enjoyed his home life and found restful and stimulating relaxation in reading and music.  He was one of the city's true music lovers and also took an active part in numerous musical groups here.  He was a violinist.  He played with the old Watertown symphony orchestra and also was a member of various string quartets which devoted itself to the playing of light classics.  He also was a singer and was a member of the Watertown Male chorus for many years.
Mr. Parks was affiliated with the First Congregational church and served as a trustee and had also been a member of its choir for many years.
With all his other interests, Mr. Parks found time for much civic and community work.  One of his chief interests was the Boy Scout movement and he contributed valuable service and leadership to its promotion in the community.  He was a past president of the Potawatomi area council of the Boy Scouts of America.
Mr. Parks was a member of Watertown lodge No. 666, B.P.O. Elks.
In both World War I and World War II he played a leading part in war bond drives and campaigns.  He was always ready to give assistance in such undertakings and throughout his life was a loyal and devoted American.
His many friends will remember him as a man of unfaltering integrity and honor, a man who was warmhearted and genuine.

History of Watertown, Wisconsin