website  watertownhistory.org
    ebook  History of Watertown, Wisconsin
<![if !vml]>

<![endif]>
Should be G. B. Lewis
c.1905
EARLY LEWIS BUILDING
<![if !vml]>

<![endif]>       Lobegott Mollart is second from left 
c.1908
<![if !vml]>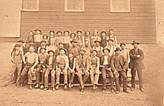 <![endif]>        Lobegott Mollart, center, front row 
1932
05 19       LEWIS GOLF BALL WASHER ADVERTISES WATERTOWN
Wherever the ancient game of golf is played a little ball cleaning device will be found at one or more of the tees.
Most of the 6,000 clubs in the United States use the Lewis golf ball washer exclusively and it can be found on courses in the British Iles, France, Spain, Hawaiian Islands, Mexico, Virgin Islands, Japan and China.
After his retirement as master mechanic of the G. B. Lewis Company, L. Mollart began playing golf at Watertown Country Club, where he soon found the need of some, practical device for quickly cleaning Silver Creek mud and grass stains from his golf ball.
The Lewis golf ball washer, having a plunger with oval slot, which is moved up and down between the two ordinary scrubbing brushes set in a tank of soapy water, is the result of his inventive genius.
Taking out a patent in 1925 [1924?] Mr. Mollart licensed his ball washer to the G. B. Lewis Company, whose sales of this device, as well as other golf tee equipment, such as tee stakes, waste containers, tee data plates, bag racks, etc., amounted to $28,000 in 1929.
Each washer shows conspicuously the city of its manufacture — Watertown, Wisconsin, and numerous former citizens are reminded of their old home town whenever they play the ancient game of golf.     WG
1924
U.S. Patent Number 1,747,724, "Golf Ball Washer"
  <![if !vml]>

<![endif]>  
Applied for November 12, 1924.  Application renewed April 6, 1929.
Issued February 18, 1930, and assigned to Lobegott Mollart of Watertown, Wisconsin
Claim:  A device comprising a container adapted to contain a liquid, a plurality of cleaning members positioned in the container with their cleaning faces opposed, frictional retaining means within the container adapted to maintain the cleaning elements therein, means for reciprocating a ball to be cleaned between said members, and means carried by the cleaning members and bearing upon the walls of the container for adjusting the cleaning members with respect to each other.
1946       LEWIS GOLF BALL WASHER
  <![if !vml]>

<![endif]>  
Cross Reference:
Father of Gladys Mollart (1895–1987), a founder of the Watertown Historical Society in 1933.

History of Watertown, Wisconsin