website  watertownhistory.org
    ebook  History of Watertown, Wisconsin
Notes, Quotes, and Anecdotes
A collection of folksy historical stories based on actual city newspaper articles
Compiled and contributed by Ben Feld [1922-2011]
<![if !vml]>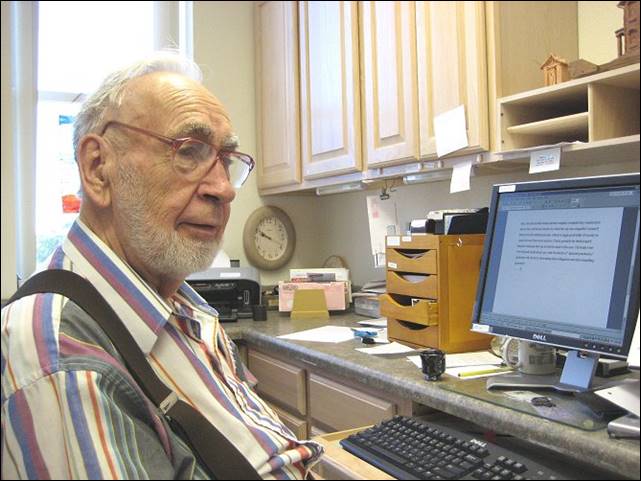 <![endif]>
Ben Feld in his "scriptorium"     08 2008      Ken Riedl photo
ARTICLES:
            Don't Try To Make A Fool Out Of Me
            The Best Damned Lawyer in Watertown:  The Bill Cody Story 
                   Girls will be Girls
                    And Men will be Men
                    And Women will be Women
            Ellen McDermott ["Crazy Nellie"]
            Peccadilloes in the Police Department 
            Clever Woman Outwits Merchants 
            What Happens When You "Give Someone the Finger"
            When There is Work to be Done 'tis Folly to Play 
            Saloon Patron Bites The Bullet 
            From Mud to Bricks or What Took Them So Long? 
Above collection preserved as file within Historical Society digitalization set as WHS_005_121
BOOK AND VIDEO RECORDING:
__________________________
1962      STAFF ASSOCIATE AT UNIVERSITY OF CHICAGO
Watertown Daily Times, 11 27 1962
The University of Chicago announced yesterday the nomination of Reuben A. Feld, principal of Schurz School, as candidate for an appointment as staff associate in the graduate school and department of education at the University of Chicago.  During the two year period of this appointment, staff associates assume administrative degree.  Mr. Feld is in the process of acquiring his masters degree in education administration at the University of Wisconsin.
2002      MAMMOTH CLASS REUNION PROJECT
Watertown Daily Times, 07 20 2002, "In Times Square"
Ben Feld is a 1940 graduate of Algoma High School.  On July 27 he will make the trek back to Algoma for his 62nd annual reunion. He expects about 25 classmates from the 66 who graduated to be in attendance.  This year Ben is bringing along a two-volume set of all the news items the Algoma Record Herald carried from Aug. 28, 1936, to June 14, 1940, that pertained to his class. Being a small weekly newspaper, school news was always given a good amount of space, and as a result, his compilation is over 290 pages in length.  Ben said it took him a year and a half by using the Algoma paper's microfilm he received from an interlibrary loan program. Gradually he went through all of those papers, page by page. 
2007      GOLDEN OPTIONS VOLUNTEER
Watertown Daily Times, 02 24 2007
Reuben Feld of Watertown, whose volunteer service to St. Coletta's in Jefferson was called "priceless" today by the facility's officials, is retiring.  Since 1998, Reuben, or "Ben," as he prefers to be called, has been a faithful volunteer at Golden Options, an adult day services program of St. Coletta of Wisconsin.  For the past 10 years Feld has faithfully logged over 100 hours at Golden Options presenting a monthly slide show of his travels across America and overseas.  Feld credits his late wife, Ruth, for putting together the slide presentations that chronicle their world travels throughout the course of their lives.  It almost appears a tribute to Ruth that these travels live on and bring pleasure to others as it did for them.  The Felds traveled to Europe 12 times and organized and conducted tours throughout the United States, visiting all but four states.  It is from these adventures that their stories come alive and are shared each month with his friends at Golden Options.

History of Watertown, Wisconsin