website  watertownhistory.org
    ebook  History of Watertown, Wisconsin
Watertown Male Chorus
1930's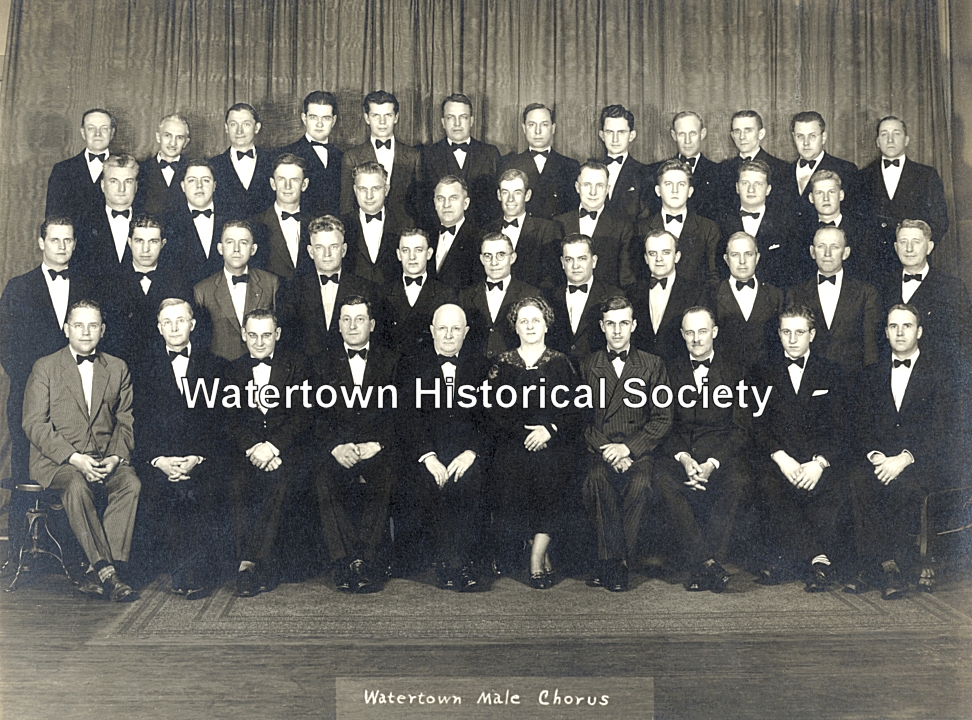 Early 1930's                                                                                                   WHS_005_566
Front row, sitting:  2nd, Dr Louis Nowack; 5 & 6 Mr. & Mrs. William Sproesser; last David Nowack
Third row:  1st, Mr. Wills, teacher; 8th Jerome Herreid
Fourth row:  8th, George Dieter
1966
07 27 1966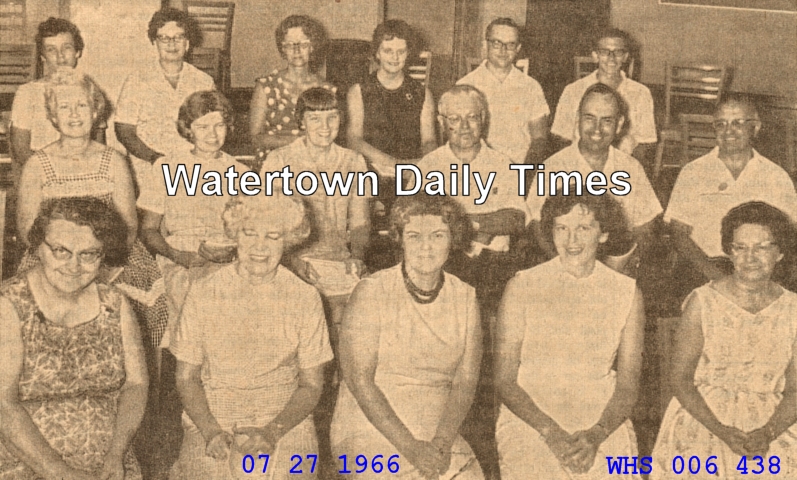 Watertown's newly formed Municipal Chorus, directed by Prof. Arnold O. Lehmann, is due to make its first public appearance Thursday evening at the concert by the Watertown Municipal Band at Riverside Park bandshell.
Members of the chorus are:
Front row, left to right, Mrs. Palmer Strache, Mrs. Thomas Nack, Mrs. D. D. Pederson, Mrs. Donald Wittchow, Mrs. Arthur Rupnow.
Center row, same order, Mrs. Reuben Feld, Mrs. Eugene Kirst, Mrs. Bud Wollin, G. F. Paeske, Reuben Feld, Prof. Lehmann.
Top row, same order, Mrs. Clyde Rickerman, Mrs. George Oestreich, Mrs. Frank Twomey, Mrs. David Fritze, Don Wittchow, John Sullivan.
The new group is sponsored by the Watertown Recreation Department.
1967
04 20       TO APPEAR WITH THE MILWAUKEE FLORENTINE OPERA CO
Reuben Feld, principal of the Schurz School in Watertown, has been selected to appear with the Milwaukee Florentine Opera Co. in the organization's summer concert series in Milwaukee known as "Music Under the Stars."  A true tenor, Mr. Feld is well known in local music circles.  He is an active member of the choir of Immanuel Lutheran Church, and is president of the Watertown Municipal Chorus.  At Valparaiso University, where he studied voice under Dr. Richard Schoenbohm, he was soloist with the University Choir.  Most recently he appeared locally as the male lead in Curtain Club's production of "Pajama Game."

History of Watertown, Wisconsin