website  watertownhistory.org
    ebook  History of Watertown, Wisconsin
Lotz-Stuebe
712 North Second
404 East Main
406 East Main
1898
06 01          FLOWER BEDS
Agent Webb of the Chicago, Milwaukee & St. Paul Railway is very proud of the flower beds which now adorn the lawns of the depot grounds. The plants are from the greenhouses of Mrs. C. T. Lotz and the work of laying out the beds was done under her supervision. The effect produced is artistic and attractive. WR
1900
712 NORTH SECOND
<![if !vml]>

<![endif]>  
1905
08 02       BEAUTIFYING S. SECOND STREET
One of the prettiest and most inviting streets in this city is Second Street, south from Main.  It is lined on either side at regular distances with flower beds which are watered and cared for by the owners of the abutting properties.  The flowers were bought and paid for out of a private subscription funds contributed by the owners of the property and were set out by L. Lotz & Co. florists, No. 406 Main Street.  The flowers are an object lesson and demonstrate what can be done by individual efforts in beautifying the city, and should be an incentive in the future for those living on the other residence streets.  We are informed that the project was the conception of Mr. Joe E. Davies, who carried it to a successful issue by interesting all the property owners in the work of making either side of the street a flower garden.
1908
404 EAST MAIN and 401 EAST WATER
<![if !vml]>

<![endif]>   < Wright's Watertown Directory, 1908-1909  
c.1912
"MOTHER AND HER STORE" / 404 EAST MAIN
<![if !vml]>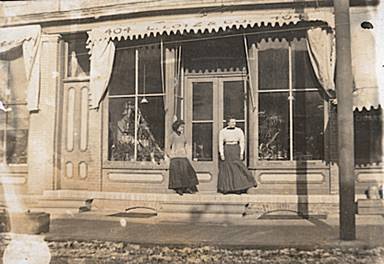 <![endif]>   Mrs. Stuebe assumed 
      click to enlarge
Louise Lotz & Co was succeeded in 1909 by Stuebe Floral Co., but the name Lotz & Co was retained until 1912 (The Florists' Review, Dec 1912)
404 East Main (relocated to 406 E Main around 1921)
404 East Main was a flower shop between 1907 and 1921.
<![if !vml]>

<![endif]>
History of Watertown, Wisconsin