website  watertownhistory.org
    ebook  History of Watertown, Wisconsin
Rock River
<![if !vml]>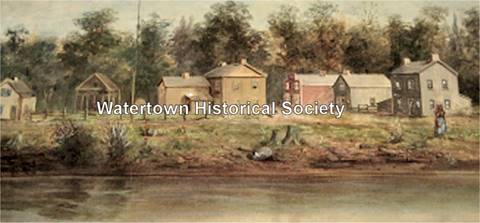 <![endif]>
Society Holding 00053:   Early Watertown along the Rock River   
Revised City Charter of City of Watertown, 1894
SECTION 230 - Jurisdiction of River and Bridges
All that part of Rock river within the boundaries of said city, shall be under the exclusive jurisdiction of the said city and its council, and all bridges over the said river, within the limits aforesaid, shall be under its jurisdiction, and the mayor and council of said city are fully empowered to build bridges over said river, remove obstructions and filth, and cause the said river to be kept as clean and as pure as possible; and the said common council shall have power to prevent the erection of buildings or structures of any kind in or upon said river, and to prevent the repairing of any building or structure of any kind now erected in and upon said river, within the limits of said city.  All buildings which are or hereafter may be erected in or upon said river, and adjoining or communicating with any bridge crossing said river, shall be liable to a special tax each year, to be levied and expended under the direction of the common council, for the purpose of insuring said bridge against loss or damage by fire, which said sum so to be levied and expended, shall be fixed by the common council, and shall be apportioned among the said buildings, respectively, according to the proportionate risk that in the opinion of the common council each ought to bear; provided, that the taxing of said buildings shall confer no right to continue the same beyond the time for which the insurance may be effected.
1839
MAP OF ROCK RIVER, Wiskonsin Territory, WHS_005_009   
1876 [or 1878]
07 24       THE FLORIETTA
The excursionists who came up from Jefferson on board the Florietta Saturday morning, having spent a few hours quite pleasantly in this city, started on their return trip shortly after 5 o'clock in the afternoon.  Busses were provided at the Tivoli to convey passengers to the little steamer, which stood waiting a few rods south of Boomer's dam to receive her cargo of human freight.  Before the boat started some sixty persons were on board, including a band of musicians, and several individuals from this town . . . The boat reached her destination at half past eight o'clock in the evening, and as she slowly entered the dock, the band played "God save the Queen."  Hundreds of people stood waiting for the boat's return, and before she fairly landed, loud exclamations of joy went up from the gay and merry throng.  The boat will be here some time during the present week, to carry passengers to Jefferson and back.    WD
1881
FLOOD TAKES OUT MAIN STREET BRIDGE
1885
03 14       BAPTISMS IN THE ROCK RIVER
Fourteen persons were baptized Sunday in Rock river, at Watertown, Wisconsin.  The ceremony was postponed for some hours, on account of riotous acts by the assemblage on the bank. – The Prairie Farmer, 03 14 1885.
1890
06 13       BATHING IN THE ROCK RIVER
Notice is hereby given that all persons found bathing in Rock river within the city limits will be arrested and fined.  So those who have been violating the city ordinance on bathing will please take notice and as avoid trouble.   CHAS. KERR, City Marshal.
10 08       BUILDINGS IN CENTER OF THE RIVER
Judge Bennett has decided at Janesville that the Rock river is not a navigable stream, and that buildings may be erected in the center of the stream.  He refused to dissolve the injunction by which the chief of police was prevented from tearing down the buildings already erected.      WR
c.1890
ICE HARVESTING ON THE ROCK RIVER
S. M. EATON & SON ICE HOUSE
<![if !vml]>
<![endif]>     <![if !vml]>

<![endif]>     < Badger logo and birdhouses, S. M. Eaton ice house  
<![if !vml]>

<![endif]>     <![if !vml]>

<![endif]>
<![if !vml]>

<![endif]>   Blocks of ice being positioned in channel in Rock river prior to being placed on elevator to store in Eaton ice house
Cross References:    Chapter on ice harvesting  
<![if !vml]>

<![endif]>   Video clip       
1891
01 30       SKATING CRAZE
The skating craze has struck this city in great shape.  One dealer has sold over 400 pairs of skates this season.  Old and young engage in the sport on the river every afternoon, and in the evening long after 9 o'clock.     WG
02 06       BROKE THROUGH THE ICE
Last Sunday while skating on Rock river above Cady street bridge Miss Mamie Usher and Miss Katie Killian broke through the ice, but were immediately rescued by several of the many gallant young men skating on the river at the time.     WG
1892
06 10       HIGH RIVER TAKES OUT PART OF DAM
The water in Rock river is at high water mark, being as high as it was in 1881 when the old bridge and several buildings were swept downstream.  Part of the Rough and Ready dam gave away Wednesday, so great was the water pressure.   WG
1895
05 22       PIKE FRY ADDED TO ROCK RIVER
Through the efforts of Senator Solliday, the propagation of fish in Rock river at this point is receiving some attention.  Forty thousand pike fry from the state hatchery at Milwaukee were planted in the river last Wednesday evening by a number of our angling enthusiasts, and it is expected that some black bass and other fry will also be placed here shortly.   WR
1899
03 29       CARP ADDED TO ROCK RIVER
There has been quite a number of German carp caught here this winter, each weighing from 4 to 5 pounds.  No doubt they are from fry put in by J. McCall some ten years ago.  The water in Rock River is the lowest in forty years or more.   WR
05 16       CARLOAD OF FISH FRY ADDED TO RICK RIVER
On Saturday Assemblymen Grube and Kessler were the recipients of a carload of fish fry from the fish hatchery at Oshkosh.  These were planted in the river at different points.  And now our local fisherman can no longer complain that there are no fish in the river because they were not fortunate enough in landing some.   WR
1900
05 29       STREAM BOAT ON ROCK RIVER
Messrs. Simon Molzahn, Charles Feisst and Andrew Roegner are the owners and officers of a neat little steam launch which has its moorings in Rock river, below Boomers dam.  The boat is twenty-two feet in length, will accommodate a dozen persons, is fitted with an eight horse-power engine and is propelled by a steam wheel.  It is of light draft and capable of developing a speed of eight miles an hour.  The launch was given a trial trip to Hahn's lake last week and it is proposed during the summer to make excursions down the river as far as Jefferson — a most delightful and picturesque trip.  S. Molzahn is captain of the craft, Mr. Roegner chief engineer, and Mr. Feisst navigating officer.    WR
1901
06 28       SEWERS EMPTYING IN THE RIVER
There are several sewers emptying in the river between Cady and Milwaukee street bridges which should be abated.  These old sewers should connect with the proper sewer.  There is no doubt of the water in the river being polluted and running through the race where men come in contact in the various factories and mills located on the west side.   WG
1906
08 24       ROCK RIVER POLLUTED WITH REFUSE
The following from the Jefferson County Union, published at Fort Atkinson, is also applicable to this city:  The blue Danube would look pretty gray if the water of the Rock River were turned into it.  What should be a beautiful stream is polluted with refuse in many places as it runs through the city.  The practice of merchants adjoining the river of throwing all their rubbish into it is a bad one.  Recently the man that cleaned out one of the blocks after papering threw all the refuse in the river, making it look like a sewer for a quarter of a mile.  It is very offensive to people who appreciate the river for its beauty to see such desecration going on.   Watertown Weekly Leader
1908
09 18       OPENING OF ROCK RIVER CALLED FOR
       Steamboats may be running from Watertown to the Mississippi
<![if !vml]>

<![endif]>
Few are aware of the fact that Watertown is at the head of navigation on the Rock river. 
The above statement is prompted by the announcement that an important deep water-way meeting is to be held at Sterling, Illinois., when Illinois and Wisconsin congressional delegations and mayors of towns along the Rock river will assemble to consider plans for making the Rock river navigable from its source in Wisconsin to the Mississippi, thus opening a new waterway from Wisconsin to the Gulf of Mexico. . . .
The proposed improvement includes the building of a number of power dams along the river, sites for nineteen of which have already been secured, not including the government's big plant at Sterling.
Should the proposed plan succeed and the river be made navigable to the Mississippi river, the people of Watertown, in the course of a few years, may have the pleasure of seeing steamboats coming to and departing from our city.                           Weekly Watertown Leader, September 18, 1908
1917c
Rock River, view south of Milwaukee St Bridge, west bank of river, c1917    WHS_006_Semrich_104
1936
09 30       CARP NETTED . . . ALONG WITH DEBRIS
       River "Catch" Yields Buggy, Bike, Bedstead
While scores of Watertown residents looked on, Wisconsin Conservation Department workmen pulled in their nets just south of the Main Street Bridge Tuesday, 9/29/36.  The men were clearing rough fish from the Rock River in this vicinity.  The "bag" included a bicycle, a baby buggy, a bedstead, oil cans and wire netting.  Only 36 carp were taken.  The heavy articles had ripped several holes in the net permitting the greater part of the catch to escape.
1941
08 12       NOTZ PAINTING DONATED TO WATERTOWN HISTORICAL SOCIETY
<![if !vml]>

<![endif]>
A painting by the late Dr. F.A. Notz, professor of Greek at Northwestern College and a painter of note, has been donated to the Watertown Historical Society by the daughters of Dr. Notz, it was announced by Dr. E. C. Kiessling of Northwestern College.
The picture arrived Sunday morning and the announcement of its arrival was made during the Pioneer Day program at the Octagon House by Dr. Kiessling.  It was he who suggested to the daughters that they contribute one of their father's works to the society. This suggestion was made some months ago during the exhibit of paintings by Watertown artists which was held at the Elks Club.
The daughters at that time agreed to the suggestion and made a special effort to get it here on Sunday.  The painting is entitled "Rock River at Watertown."  It is a water color and is to be placed permanently in the Octagon House.
Dr. Notz and his family used to live in Western Avenue.  Dr. Notz, who is still remembered here by a great many people, taught at the college more than 40 years and painted numerous Watertown scenes.
The 3 daughters now reside in Washington where one of them, Mrs. Cornelia, is one of the head departmental librarians of the Congressional library.  Getting this painting by the man who distinguished himself in the field of education here is something every member of the historical society will appreciate, and it is certainly worth preserving in the permanent collection of objects at the Octagon House. 
1977
05 20       RESTOCKING OF RIVER
Restocking of game fish and forage minnows in the Rock River is on schedule, but a third chemical treatment of the lower portion of the river is being considered, according to Department of Natural Resources (DNR) Area Fish Manager James Congdon.  The third treatment might be necessary because of the number of fish that survived last fall's carp kill.  A survey will be made by DNR crews to determine just how large the carp population is.  No plans to re-treat portions of the river will be made until that study is completed.  The section of the river from Hustisford to Watertown has been restocked with the following species: 7,500 adult yellow perch (spawners); 1,400 adult channel catfish (spawners averaging two pounds); 13 million northern pike fry, stocked in shallow marshes and sloughs in the river system where they propagate; five million walleye fry; and more than five million minnows normally found in the-Rock River (10 different species).  Condon said within the next several months 53,000 largemouth and 225,000 smallmouth bass fingerlings will be stocked in the river.
1988
09 07       FOUNTAIN IN THE RIVER
Watertown's downtown will be beautified on Tuesday with the installation of the long awaited water fountain in the Rock River, according to officials of the Watertown Arts Council.  The fountain, a joint project of the arts council and the city of Watertown, is scheduled to be installed about 150 feet north of the lower dam, and will be easily visible from Main Street.  The fountain is about 32 feet in diameter and 16 feet in height.  It is scheduled to be installed on Tuesday and tested during the week before it is formally dedicated and placed into use on Friday.  The project has been four years in planning.
2014       KAYAK ENTIRE ROCK RIVER
                Maranatha Baptist University students.    WDTimes article.
2017
09 13       RIVER DRAW DOWN DURING DAM REPAIR
<![if !vml]>

<![endif]>   <![if !vml]>

<![endif]>   < PORTFOLIO OF PICS
THIS PORTION IS UNDER CONSTRUCTION / BEING EDITED
Cross References:
Rock River, 1913 ?            WHS_004_NT013
Rock River, 1915 ?            WHS_004_NT071
Rock River, Above Rough & Ready Dam, view from Octagon House, 1944 WHS_001_PC_101
Rock River, Below Rough & Ready Dam   WHS_002_PC_297
Rock River, Map, portion within Territory of Wiskonsin, 1839 (1) WHS_005_009
Rock River, Map, portion within Territory of Wiskonsin, 1839 (2) WHS_005_010
Rock River, Picturesque view, from Tivoli Island, c1899     WHS_005_497
Rock River, Prochazka's Picnic Place         WHS_002_PC_359
Rock River, Scene at Riverside Park           WHS_001_PC_278
Rock River, Scene at Riverside Park           WHS_002_PC_284
Rock River, Scene at Riverside Park, 1940s             WHS_002_PC_286
Rock River, Scene on       WHS_001_PC_273
Rock River, Scene on       WHS_001_PC_277
Rock River, view from Main St bridge, looking north, c1874            WHS_005_434
Rock River, view from Main Street Bridge, looking north, 1886      WHS_005_435
Rock River, view north fr Milwaukee St Bridge, fake steamboat, compare to PC_156          WHS_001_PC_145
Rock River, view north from Cady St bridge, Hartig ice shoot         WHS_001_PC_147
Rock River, view north from Main St bridge          WHS_001_PC_153
Rock River, view north, from Milwaukee St Bridge             WHS_002_PC_372
Rock River, view south from Cady St bridge, Fuermann Brewery WHS_001_PC_146
Rock River, view south from Milwaukee St Bridge              WHS_001_PC_150
Rock River, view south from Milwaukee St Bridge, c1905 WHS_002_PC_362
Rock River, view south of Milwaukee St Bridge, west bank of river, c1917                WHS_006_Semrich_104
Rock River, view west, from N Fourth St Bridge   WHS_002_PC_369
Rock River, Viewed from roof of Octagon House, 1903     WHS_005_210
Rock River, Viewed from roof of Octagon House, 1903     WHS_005_211
\\\\\\\\\\\\\\\\\\
Silver Creek and Days of Good Ice.  Winter in Wisconsin brings me a bittersweet feeling whenever I drive over the Division Street Bridge by Riverside Park in Watertown.  On a crisp winter's day with clear blue skies and pristine snowdrifts, this was a magical place 45 years ago.  Every weekend and most school nights, when there was good ice, we were skating on the Rock River.  Watertown, back then, was a small German city with 4 parochial grade schools, two Lutheran, two Catholic and several public grade schools.  But when it came to skating, the Rock River was nondenominational; it was just good ice. There was a small warming house that sizzled with the sound and smell of wet woolen mittens drying on the heater, the thunk thunk thunk of our skates on the wooden floor and laughter . . . The river itself spoke to us with deep-throated cracks as it shifted its load of ice.  We skated until we could barely stand.  We were cold, wet and tired, but so energized by socializing, skating and the perfect setting it didn't matter.  We played crack-the-whip and oh the music!  The warming house had a blaring speaker system and the Beatles were the rage.  To this day I know every word of every early Beatle song from those days of skating and singing at the top of our lungs to songs like "8 days a week".  Our parents told us never to go under the bridges because the ice wasn't safe, so of course we did.  We skated to the Silver Creek warming house, a few bridges and miles down river, just for the adventure especially at night.  The Beatle songs and frozen river remain, but the warming house, the kids and the laughter are no more.  This saddens me because I cannot imagine a childhood without those days of good ice.   Anonymous
Another Memory: Yes, it does evoke memories!!  I was just in Watertown last weekend and drove over the Division St. Bridge and fondly remembered the hours spent skating.  The warming house was the old Girl Scout building I think!  I remember that some of the boys would bring their snowmobiles to the rink and we would sneak rides!  I would also skate at the "Brick Yard" rink.  They too had a TV in the warming house and I remember seeing the Beatles!
Another Memory:  I have shared so many times how great it was to skate at Riverside Park and to take skating class in PE there. I learned so much and loved it.  When I left for college in Missouri in 1980, I couldn't wait to come home for Christmas so I could skate. It was late at night and the park was dark, but I put on my skates and skated by moonlight. It was awesome! I was truly free and had all the space I needed.  It was not too long when I saw a tall figure come walking out in boots on the ice toward me. I was a little nervous, and it wasn't until he was fairly close that I realized it was my dad. He taught me how to skate when I was three years old. He took us to rinks and also flooded the yard each year. He just wanted to be with me and make sure I was safe. I will never forget that night.  A few years later while at college in Minneapolis, I was able to skate at the park rink in front of my dormitory. It was there that another man came out on the ice in boots to boot skate with me. It was my husband and soon after he proposed and we married in 1984.  I have made sure to teach each of my kids to skate. I even host skating parties at my home here in Southern Indiana on the rare years when our pond freezes enough to skate. I have several pairs of skates on hand for those who need them . . . . I still have my skates. Although I am not as nimble as I used to be, I continue to love the freedom, excitement and camaraderie that skating brings. I'm looking forward to the next chapter when I can pass the baton on and teach my grandchildren.
<![if !vml]>

<![endif]>
History of Watertown, Wisconsin