website  watertownhistory.org
    ebook  History of Watertown, Wisconsin
Maranatha Baptist Bible College
SACRED HEART CAMPUS SITE
NOW MARANATHA BAPTIST BIBLE COLLEGE
1968
   Watertown Daily Times, 02 03 2001
Sacred Heart and now Maranatha Baptist Bible College have a long history and a close relationship with Watertown.
It was in the fall of 1871 that the authorities of the Congregation of Holy Cross at Notre Dame purchased the 65-acre site from Col. Henry Bertram who had purchased it from Patrick Rogen. In addition to the land, the property consisted of a large two-story residence of white brick and other smaller buildings. That was the original school, and it later became a guest house.
One year later, on Sept. 9, 1872, the facility opened as the University of Our Lady of Sacred Cross. The first enrollment consisted of 27 students. The first president of the school was the Rev. William Corby, C.S.C., one of the original founders.
The institution grew rapidly, and before the end of the first semester there were 66 students, five of whom were living on campus. To accommodate the increasing numbers the Provincial Council a year later approved construction of the central section of the main building.
Father Corby was a pretty busy man that year. At the same time he was leading this construction project, he was also pastor of St. Bernard's Catholic Church, and the huge structure now at the corner of Church and Main streets was being constructed.
On May 25, 1874, the university was chartered by the state of Wisconsin, making the college a fully recognized institution with the privilege of conferring degrees in science arts and commerce.
Back at that time the board of trustees of the university consisted of the Rev. William Corby, president; the Rev. Patrick J. Colovin, vice president; the Rev. John O'Connell, secretary; Bernard Smith, chancellor; and John Crowley, treasurer.
Sacred Heart College continued until 1886 when it was closed as a university by a decree of the General Chapter of the Congregation of Holy Cross. At that time it was converted to a normal school for the brothers as well as a preparatory school for young men who aspired to become brothers.
This new concept was short-lived, and in 1888 it was abandoned with 30 men planning to become brothers transferred to the newly created St. Joseph Novitiate in Notre Dame, Ind. At that point the school returned to being a university.
During the next five years there was an ambitious building program. The entire east wing was constructed in 1889. The northwest addition, which included the refectory and chapel, was completed in 1891, and the southwest wing, which housed the gymnasium and two bowling lanes, was constructed in 1894.
From 1888 to 1912 the school operated as a university, but it was closed that year and once again it returned to the status of a normal school for young men who planned to become brothers.
From 1928 to 1955 the school also operated a regular high school course of study which was recognized by the University of Notre Dame. The graduates of that normal school could then easily be accepted to Notre Dame to complete their training as brothers.
The school was operated just as the name indicates - as a military academy. The young boys were taught strict discipline in addition to their academic and religious studies. We can remember them dressed in military uniforms performing various close order drills. They always looked pretty sharp as they went through their drills on the campus.
These young men came from all over the country and even some foreign countries. When they completed their education here, they were well educated through the eighth grade, well disciplined and well versed on the Bible.
Sacred Heart continued with this mission until 1955 when it opened as a military academy. It continued in that mission until 1968 when the Notre Dame officials decided to move the school to Indiana and the buildings were put up for sale.
The final class to graduate from Sacred Heart Military Academy consisted of 35 eighth-grade men. It was the 13th graduating class. The graduation took place on Sunday afternoon, May 26, 1968, with over 700 well-wishers looking on. There was a Mass at 10:45 a.m., a dinner for all of the guests at 11:30 a.m. and a military review at 1:30 p.m.
That review consisted of the honor drill platoon, drum corps and a competition drill among the four platoons of the company. Declamation winners gave their presentations, academic and citizenship awards were presented and diplomas were issued to the 35 eighth-graders.
And by the end of the day, the 17-member faculty, including the school's priest, had completed their work, and the planned move to Indiana became the main order of business.
It didn't take long before Dr. B. Myron Cedarholm visited the site with a vision of turning it into a Baptist Bible college, and by later that year the deal had been consummated and Maranatha Baptist Bible College was born. Maranatha has a rich history since that time. The list of improvements and new facilities on the campus has been staggering since that time, and there is much more to come.
It's kind of ironic that the brothers decided back in 1967 that the campus simply needed too much money to make the facilities acceptable for the purpose intended, but the Maranatha team a year later saw great opportunities when they purchased the facility for what surely appeared as a bargain price of $150,000.
Since that time Maranatha has expanded academically and is now an accredited college offering bachelor's and master's degrees in a number of disciplines.  It also operates a child care and preschool and has plans for further expansions on the site and on some recently acquired property just north of Main Street.  Maranatha also offers a full high school curriculum on the campus and has enjoyed rising enrollments at both the high school and college levels. In addition, the college has a close affiliation with Calvary Baptist Church which operates a Christian elementary school.  As a result, children can be educated in the Baptist philosophy from preschool all the way through a master's degree.
_________________________________________________________________________
1982
01 30       A new educational radio station run by Maranatha Baptist Bible College may soon be operating in Watertown, if the college can secure a construction permit from the Federal Communications Commission.  If the permit is granted soon, Dr. Edward Caughill said, construction of a studio and transmitter on the campus will begin as soon as the weather allows.  The station, said Caughill, Maranatha business manager, will serve both to provide a laboratory for training of students and as an outlet for the college.  Types of programming will probably range from chapel services at Maranatha to national religious programs, along with classical and religious music.    WDT
1983
05 15       Dr. Arno Q. Weniger Jr. named president, succeeded Dr. B. Myron Cedarholm     WDT
08 14       College opens its 16th year with Dr. Arno Q. Weniger Jr. as new president    WDT
08 16       Dr. B. Myron Cedarholm, outgoing president, founder and new chancellor, honored   WDT
10 17       Doug Dupre, school sophomore, received reward   WDT
1987
04 05       Maranatha Baptist Bible College will be celebrating its Founder's Day on Friday.  MBBC was founded by Dr. B. Myron Cedarholm on July 1, 1968.  He proceeded to build and guide the college through 15 years of service as its president.  Dr. Cedarholm desired to direct students into full-time Christian service.  Dr. Cedarholm started Maranatha's Graduate School of Theology back in 1970, and three years later he founded the Maranatha Baptist Academy.  In the fall of 1983, Dr. Cedarholm turned over the presidency to present leader, Dr. Arno Q. Weniger Jr., who left his 19-year pastorate of Calvary Baptist Church in Normal, Ill.  Dr. Cedarholm now serves as chancellor of the college.
1993
02 27       Maranatha Baptist Bible College officials learned Thursday afternoon their school has received accreditation — a status which will open many doors, the vice president for academic affairs said.  The college, in its 25th year, began seeking accreditation two years ago.  In an unusually short period of time, the school has gained approval from the North Central Association, one of the main accrediting bodies in the United States, said Dr. John Brock.  Staff and students broke into applause when told of the accreditation this morning.
1995
08 24       Growth at Maranatha Baptist Bible College could provide more opportunities for the Watertown business community.  The college invited Watertown business leaders to an informal breakfast meeting at the campus to discuss Maranatha's plans and how they could affect local businesses.  President Dr. Amo Q. Weniger said the college is expecting tremendous growth in enrollments.  One year ago, enrollments at Maranatha increased by 21 percent to 625 students.  When students arrive for the start of classes this week, school officials expect the school's total enrollment to increase to about 725, based upon the number of applications from new students.
1996
08 30       New $2.4 million new library dedicated   WDT
1998
08 16       Dr. Arno Q. Weniger Jr., college president, resigned after 15 years    WDT
12 15       Dr. David Jaspers appointed new college president   WDT
1999
05 05       Dr. David Jaspers inaugurated third college president    WDT
10 16       Students clean up downtown area    WDT
2000
03 29       Proposal to build preschool and day-care center    WDT
05 05       To build a preschool and day-care center   WDT
05 25       Proposal to build 73-bed men's dormitory    WDT
2001
01 14       Maranatha is looking to the past to prepare its students for the future.  Seventy-two rare first and early-edition books from as early as the 15th century are being used as learning tools to educate students about liberty and the principles on which this country was founded.  As a hands-on history lesson, Maranatha has contracted with The Remnant Trust Inc. to display books on loan from a collection called The Wisdom of the Ages Athenaeum.  The exhibit will be on display starting today through May 4 on campus in the Heritage Room of the Cedarholm Memorial Library and Resource Center.   WDT
08 19       Maranatha has been approved to participate in the Academic Quality Improvement Project of the Higher Learning Commission of the North Central Association of Colleges and Schools.  Moving beyond the boundaries of traditional accreditation, the quality improvement project model is designed to align accreditation with Maranatha's program of continuous quality improvement in order to meet the rapidly shifting needs of educational institutions in the 21st century.  By joining this program, Maranatha is demonstrating a willingness to identify concrete targets for continuous improvement and to hold itself accountable for re-engineering its processes and operations to improve the results and activities for itself and for its students.   WDT
2002
08 17       More than 40 community leaders attended the annual Breakfast for the Business Community this morning at Maranatha Baptist Bible College.  Approximately 800 students are enrolled at the college for this fall, compared to 791 last year.  The college's enrollment has increased each year for the past three years, Dr. David Jaspers, president of Maranatha, said.  He shared the challenges the college faces in the near future.  Plans are being discussed to construct a new $3.1 million dining hall on the north side of campus.  Modular classrooms would be taken down to make room for the building.  The present dining facility was expanded in 1988 when enrollment was 465.  The current dining area would be made remodeled into classrooms.    WDT
2003
08 15       As enrollment figures continue to reach record numbers, Maranatha Baptist Bible College plans to expand to meet the demands. Dr. Dave Jaspers, president of the college, told several business representatives this morning about plans to break ground for a new science building next spring.  The new facility would be located north of the gymnasium.  It will be necessary to raze the current modular homes located on the site for construction of the new building.  Jaspers said plans are to begin taking down the old structures in April with groundbreaking for the new building in early spring.  The college is still aggressively raising funds for a $3.1 million dining hall for the students, Jaspers said.
2004
03 14       Watertown officials got a glimpse at the future of the city's west side on Monday.  Representatives from Maranatha Baptist Bible College went before the site plan review committee with a preliminary overview of the college's long-term plans for campus development.  Maranatha expects enrollment to climb over 1,000 within the next decade, prompting a need for more parking and additional facilities.  Over the next 10 years, the college plans to add or move about 950 parking stalls and will construct or renovate six buildings.  The first phase of the project will begin this summer, when two temporary structures are removed to make way for a new 6,600-square-foot science building.  Work is expected to begin on a new 40,000-square-foot dining commons in autumn.  The structure will also house 10 classrooms.
08 12       Maranatha Baptist Bible College broke ground Thursday afternoon for a new, $4.7 million dining commons that will total 43,000 square feet over two floors.  The two-story building will replace a 182-seat dining room with one that seats almost 400 people and will include eight new state-of the art classrooms and two computer labs.  The dining commons is scheduled for completion by next July and will be ready for use in fall of 2005.
08 14       Maranatha Baptist Bible College will be offering a nursing program with the start of the 2005 school year, college officials announced at today's business community breakfast.  The nursing program is just one of the many changes being made at the campus in Watertown.  Two years ago the board of trustees approved the nursing program, Brock said.  Beginning with the 2005 term, the college will offer a Bachelor of Arts program in nursing, along with a Bachelor of Science degree program.
2005
05 27       PLAN FOR NEW COFFEE SHOP
The Watertown Site Plan Review Committee has approved a concept plan for a new coffee shop near Maranatha Baptist Bible College after the panel made a few revisions.  The cafe, Sweet Bitter Brew, would be located at 838 W. Main St.  Owner Paul Phelps is proposing to raze the existing building on the property and to build a new structure with an outside patio area.  To approve the concept plan, the committee recommended to Phelps the driveway used to enter should be narrowed to one lane with some additional landscaping.  They noted the exit drive should also be one lane wide.  Parking on the street was discouraged by the panel because of visibility problems.  The parking lot will hold close to 10 cars.
08 05       NEW DINING COMMONS FACILITY
Maranatha Baptist Bible College held a ribbon cutting ceremony in honor of the new dining commons facility that was completed the beginning of August.  Maranatha's annual community business breakfast preceded the ceremony.  "We're thrilled to have the enhanced facility that is worthy of the wonderful food program we've had for the past few years," Dr. Dave Jaspers, president, said.  The 42,000-square-foot building cost about $5.6 million, seats about 400 for dining and has 10 classrooms in the lower level.  The arch-like architecture and outside brick match the other campus buildings and a number of windows overlook the campus football field.
12 21       CHRISTMAS CAROLING: String Preparatory Program students
Thirty Maranatha String Preparatory Program students went Christmas caroling with violins, violas and cellos for those at the Watertown Hospital, local nursing homes and other locations. The traditional sounds of "Carol of the Bells," "Away in a Manger," "Silent Night," and other favorite Christmas songs echoed through the high-ceilinged lobby as the group of children, ranging from the age of 5 to 15, performed for hospital patients in wheelchairs, visitors and employees. The group then divided into smaller groups and traveled with parents and string instructors to various destinations, including Highland Village, Highland Terrace, Beverly Terrace, Marquardt Village, and seven area homes. Anna, a resident at Beverly Terrace, showed her appreciation by singing along as the string group played "Silent Night."
2006
08 08       MARANATHA CAREER SERVICES
Maranatha Career Services is offering a new online program to connect students at the college and academy with Watertown businesses.  The new program was announced at this morning's annual business community breakfast held on the campus.  About 50 Watertown businesses were represented as John Davis, director of alumni affairs, discussed the new placement service.  "We are thankful for the partnership we have with the business community," Davis said.
08 09       DAY HALL DEDICATED
Maranatha Baptist Bible College will dedicate its newest women's dorm, Day Hall, Friday at 1:30 p.m.  This ceremony, which includes light refreshments, is open to the public and will honor Priscilla Day, a 1973 alumna of Maranatha.  In addition to attending Maranatha, Day worked for nine years as the personal nurse and caregiver to Marilyn Hilsen Weniger, who was diagnosed with multiple sclerosis in 1968 and was the wife of Maranatha's second president, Dr. Arno Q. Weniger.
2007
05 01       Dr. CHUCK PHELPS
The Board of Trustees of Maranatha Baptist Bible College has selected Dr. Chuck Phelps as the fourth president of Maranatha.  Phelps comes to Maranatha from Trinity Baptist Church in Concord, N.H., where he has served as the senior pastor since 1989.  Under his leadership, the church has grown remarkably and has been instrumental in assisting in the opening of new churches in New England.  Interim president Dr. Larry Oats said he is looking forward to having Dr. Phelps' leadership in training students and shaping lives.
Cross Reference:  Dr. Chuck Phelps selected as the fourth president of Maranatha.   WDTimes story
08 09       Dr. CHUCK PHELPS
Maranatha Baptist Bible College's new president, Dr. Chuck Phelps, of New Hampshire, greeted local business owners this morning at the college's annual business community breakfast.  "We have a bumper crop enrollment this year and the credit goes to the stability of this institution and the work of the staff and faculty to fulfill the founder's vision," Phelps said.  "There's something in Watertown that draws students here from over 40 states.  This college is a conservative, traditional, Bible-based, gospelpreaching school that people need."  Phelps and his wife, Linda, come to Maranatha from Trinity Baptist Church in Concord, N.H., where he has served as the senior pastor since 1989.  Under his leadership, the church has grown and has helped in opening new churches in New England.
2010
05 01       Dr. Marty Marriott, fifth president of Maranatha.   WDT
__________________________________________________________________________________________________________
MARANATHA BAPTIST BIBLE COLLEGE
BECOMES
MARANATHA BAPTIST UNIVERSITY
2013
12 13         Maranatha Press Release 
A three-year strategic initiative to "make the message plain" has culminated in the official name change of Maranatha Baptist Bible College to Maranatha Baptist University.
Maranatha Baptist University offers 31 majors, 34 minors, 4 associate programs, and a Master of Education degree through the College of Arts and Sciences (which includes the Departments of Applied Science, Humanities, and Music), the College of Bible and Church Ministries, the School of Business, the School of Nursing and the School of Education.
2014      MBU STUDENTS KAYAK entire Rock River.    WDTimes article.
2015
07 30       MBU LANDSCAPING PROJECT fronting Old Main       <![if !vml]>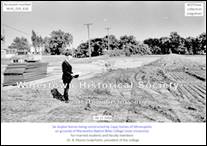 <![endif]>  Image Portfolio 
Built in four stages over 21 years beginning in 1873, the four-story Old Main building dominates the campus.
Cross References:
               Sacred Heart [University of Our Lady of Sacred Cross]

History of Watertown, Wisconsin