website  watertownhistory.org
    ebook  History of Watertown, Wisconsin
Andrew Roegner
Marble and Granite Works
1888
ALBERT J. KRINGEL, MARBLE WORKS
<![if !vml]>

<![endif]>  
1889
ROEGNER BUSINESS ESTABLISHED
Business established in 1889 by Andrew Roegner; succeeded in January, 1912 by Odgers & Dalgarno.   WG, 03 21 1912
1892
05 18       STONE SAW MADE BY ROEGNER
A stone saw, which does great work, has been made by A. Roegner and may be seen at the building stone yard of Roegner & Block, north of Misegades' building on North West Water Street.  It is a powerful machine and works with fine accuracy.  It is the first machine of the kind ever put up in the city.   WR
1894
04 20          ROEGNER-KRUEGER PARTNERSHIP
 Albert C. Krueger and Andrew Roegner have formed a partnership for the purpose of engaging in the stone and marble business.  They will build a mill on the site of the old Bennett foundry on First Street and stock it with all the latest improved machinery, the power for which will be furnished by water.  The firm is a strong one and will no doubt do a thriving business.  Success to their undertaking.    WG
1898
01 26          THAUER AND HEIN MONUMENTS
Andrew Roegner desires to announce that he has on hand a large quantity of the celebrated Barre granite for fine monumental work.  Out of this he recently constructed a massive and expensive monument ordered by the Register of Deeds John Thauer, of Juneau, which has been erected over the grave of Mr. Thauer's departed wife in the Union cemetery, town of Emmet.  Another fine monument of the same material adorns the burial lot of Christian Hein and wife in the Aztalan cemetery.  Orders for this Iine of work are solicited and may be left at Mr. Roegner's shop, 208 North Fourth Street.     WR
1899
<![if !vml]>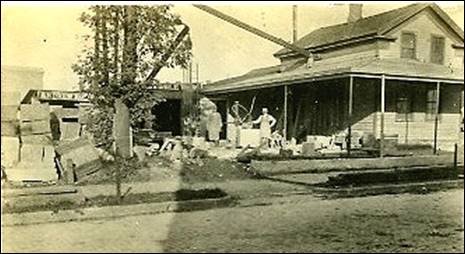 <![endif]>
208 N. Fourth St (1899-1900 Watertown City Directory).
1900
05 29          OWNER AND OFFICER OF A STEAM LAUNCH
Messrs. Simon Molzahn, Charles Feisst and Andrew Roegner are the owners and officers of a neat little steam launch which has its moorings in Rock river, below Boomers dam.  The boat is twenty-two feet in length, will accommodate a dozen persons, is fitted with an eight horse-power engine and is propelled by a steam wheel.  It is of light draft and capable of developing a speed of eight miles an hour.  The launch was given a trial trip to Hahn's lake last week and it is proposed during the summer to make excursions down the river as far as Jefferson — a most delightful and picturesque trip.  S. Molzahn is captain of the craft, Mr. Roegner chief engineer, and Mr. Feisst navigating officer.    WR
1909
COME, LOOK OVER, BEFORE YOU BUY
<![if !vml]>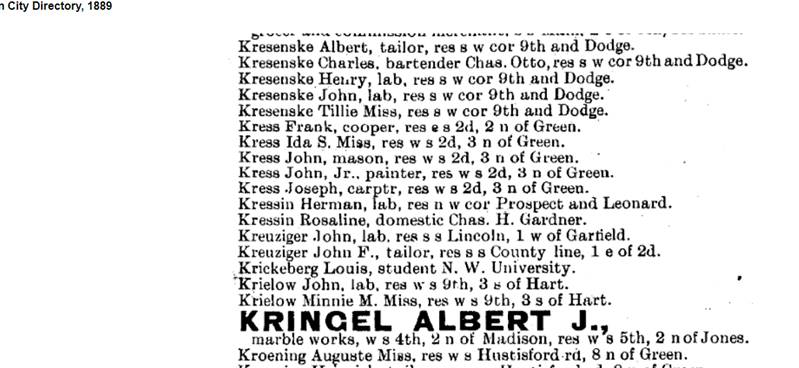 <![endif]>  
[Free translation accompanying the above] A. Roegner's Granite and Marble Works. 116 North Fourth Street, one block north of Main Street.  If someone in spring wants to purchase a nice gravestone he shouldn't wait to choose what he wishes and speak to me.  I have a large selection of monuments in stock as shown in the picture.  All stones are of the best granite available and finished in my establishment.  My price is lower than others in the business as I purchase them in the raw and manufacture them in my establishment with the best machinery – there's no profit for an agent or middle man.  Come, look over, before you buy somewhere else and from an agent be led astray.  Everyone with me is dealt honestly.  All work is guaranteed and freely estimated/installed.  That the street car [interurban] and alight on Fourth Street, 1 block north.
07 09       $2600 MONUMENT
A fine Barre granite monument valued at $2600 has been disposed of by Andrew Roegner of this city to the Labuwi family at Neosho.  This is one of the many fine monuments Mr. Roegner is placing in and around Watertown, his product being popular wherever introduced.   WG
Cross References:
Roegner, Andrew, 1861-1928; buried in St. Henry's cemetery
Krueger, Albert C & Son     402 Third, granite & marble works, 1913

History of Watertown, Wisconsin